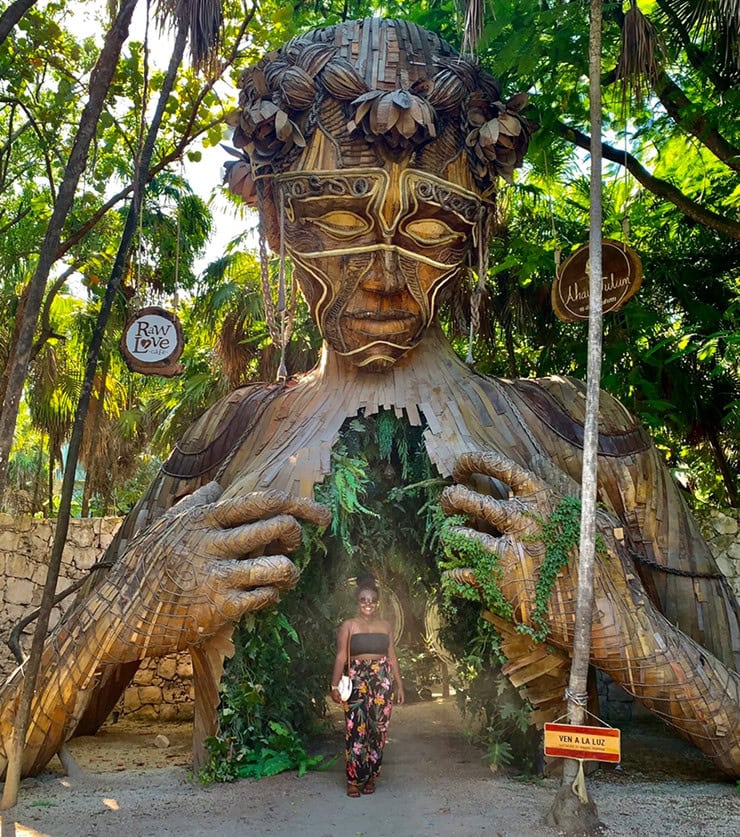 solo travel guide to tulum, mexico
I spent two weeks traveling in Tulum and would love to share some tips and things that will help you make the most of your trip and prepare to land in Mexico!
My Tulum Vlog: https://youtu.be/D2-e0QnTBvM
Tulum Highlights: @beingchristinajane
FLIGHT
The total cost of my flight was $203.59. I always fly out of Florida, but the airport I choose to fly out of varies depending on how I feel! This time, I decided to fly out of the Fort Lauderdale-Hollywood International airport (FLL) with JetBlue. It was my first time flying with this airline, which is always exciting to me. Check-in bags were $35/piece (there and back), so I decided to go with a carry-on and a personal bag to save some coins, which was also a first.
FLL airport had a decent number of people in it, but nowhere near what the "normal" is. Everyone was masked up, social distancing for the most part, etc.
On the plane, we boarded from the back to the front. I want all airlines to keep this energy once COVID is over because it was the quickest time I have ever seen a plane fill up in my life! Snacks were given in baggies, and the middle seat was kept clear unless you were seated next to family members. We also received two forms to fill out and give to the officers upon arrival. One of the forms you have to keep throughout your stay, and if you lose it you have to pay $30 and wait in line for a new one allegedly, so don't 🙂
The flight was only one hour and 30 minutes, a record for me as well! So overall, I'm pretty happy with Jetblue and the flight.
CANCUN AIRPORT
This airport was so empty when we arrived! Just me and my flight buddies. Honestly, it was the shortest time I spent going through Immigration/Customs. No questions were asked, I got my stamp in my passport, and was on my way.
The airport has a currency exchange area. Please do not exchange all of your money. I would say $100 at the most because they have the lowest exchange rates. I changed $200 for 19.50 pesos, but saw rates for 20-22 outside of the airport once I was into Cancun.
There's mostly a bunch of car rental, taxi shuttle places that try to get your attention and call you from every direction lol.
I don't even recall seeing a food place inside, or a SIM card post, but I'm pretty sure the airport is very different due to COVID. Either way, it is one of the smallest airports I have ever been to.
Once you get outside, more taxi companies are trying to offer you a ride, and private shuttles are waiting for people. There were also two food/drink stands to buy from. The ADO bus area is past where the private shuttles are parked.
You have the option of getting a rental or taxi ride out of the airport too. The taxis seemed to want to charge me anywhere from $80 – $120, which isn't bad honestly for a 2-hour ride. I was just on a strict budget and did not plan for that cost just getting out of the airport.
If you are with a group of people, you can always split the cost so that it won't be a big deal anyway. Just figure it out before you get here. Ask other people on Facebook who their drivers were, look on Viator, or TripAdvisor to schedule one in advance for the best rates. You won't regret it!
COVID RESTRICTIONS
Most places and restaurants close every night at 11 pm due to the virus. If you're with a group of people, I can imagine how annoying this is, but if you are flying solo like me, who cares! I feel 11 pm is a pretty good time anyway considering the circumstances. Just stock up on snacks and to-go orders if you'll be up late.
Everyone is wearing their masks even if this hot Mexican heat! Temperatures are taken at the doors and entrances of some places (not a lot in Tulum downtown), and feet and hand sanitizers are everywhere.
Some of the "touristy" places like Azulik are closed. Not a lot, but it's best to ask others and call before you just show up anywhere because there is always that risk of the place not being open.
Other than that, considering the circumstances, there is still a lot to do!
CURRENCY
The currency in Mexico is the Mexican Peso. One U.S dollar is equal to about 20 pesos at the moment.
To get an idea of what pesos can get you/how much you need, check out my Instagram highlight for the prices of some of what I paid for.
You will get the lowest exchange rate at the airport at 19 pesos like me, so I would only exchange $50-$100 there. Just enough to get out of the airport and pay for your ride to your accommodation.
I've heard and personally didn't see any ATMs near the Tulum beach area, but many ATMs are in the Tulum downtown area where all the shops are. They are mostly attached to the banks though, so keep that in mind. Look for banks, not ATMs alone! I used Santander, which was great, and I had no issues with it.
ELECTRICAL OUTLET
Mexico uses the same 2-pronged outlets that are used in the United States. So there isn't a need for any adapters or converters. Just bring your appliances as they are!
TRANSPORTATION
There are a few methods of transportation, depending on where you want to go.
TAXIS – This is what I used most of the time I was there! I had a reliable driver that I used almost every day, which was awesome. I've gotten permission from him to share his contact information, so reach out if you would like it! If you don't have a consistent driver, it's easy to wave and flag one down. Make eye contact and wave them over! They range from $2-7 for short trips and can be $25 for 30 mins+.
COLLECTIVOS – This is the more local mode of transportation. It's a huge van that makes many stops along the route. You tell the driver where you are going, and it can cost as little as $2 for an hour or more. They get packed, but honestly, I didn't mind riding them, I just got lost a lot/never knew where to get off when traveling.
I combatted this by typing where I wanted to go on Google Translate and telling the driver to please let me know when to get off, haha!
ADO BUS – This bus was like a more professional way of traveling to long distances compared to the collectivos. You just find the closest station to you (ask the drivers and they will know where to take you). Once there, you go to the booth to buy a ticket and wait to board.
BIKES – If you have done your research on Tulum, or even if you haven't and this is your first stop, just know that bikes are heavily talked about and used here! You can find bike rental shops near the main downtown shops. They are more expensive to rent around the beach area, but it is to be expected as it is the beach 🙂
WHERE I STAYED
In Tulum, I stayed at 2 different places that I booked through Airbnb.
A private room + shared space in a local apartment
https://www.airbnb.com/rooms/39513335?s=67&unique_share_id=6110c296-7305-4f79-ae27-2d7df88cebd0
It was my first time staying in a private room, aside from college living. For $16/night, the room was beautiful and similar to the vibe; I would decorate my own personal one. I stayed with the host (who was always very helpful), and other guests that I rarely saw. It wasn't the quietest neighborhood, and the neighbors were a bit noisy, but nothing too unbearable. Cleaning was also done frequently during my stay.
The only thing I didn't like was the bathroom, which was shared. That's more of personal preference, as I hate sharing space in general lol. I wanted to try something new, and while I doubt I will be doing private rooms in the future, this was a good one to have experienced on a budget.
The Sanah Villa
https://www.airbnb.com/rooms/40753863?s=67&unique_share_id=9a4525d5-f602-4604-8465-1803c03e8014
This was a hotspot to stay at from some of my favorite influencers who traveled to Tulum as well, so I wanted to splurge just a bit for a night. It's priced at $59/night, but for once night I totaled at $128.16 (the college student in me is screaming). Was it worth it?
It was a nature vibe, but for the price I don't think it was worth it. There was a frog in my pool LOL, so I couldn't enjoy that too much. There was a fridge in the room, but no microwave or ironer.
The outdoor shower was a nice touch. I love outdoor showering! It's outside, but it's really still inside of your room with mosquito nets. Long story short, it's great for pictures and Instagram ,but as far as being AMAZING, in my opinion I am not that impressed. Would I stay again? nah.
GETTING A SIM CARD
I always try to get a SIM card for any traveling abroad. I couldn't find a place to get one at the airport, but once I got into town, there were many TelCel facilities.
I was able to get a SIM card with data and minutes to communicate even if I was away from wifi. This was big for me in case I got lost, which I did many times!
WHERE TO EAT
First off, it is so much cheaper to eat downtown vs. on the beach as expected. Just something to keep in mind if you are on a budget. There are so many restaurants and options to choose from, but here are some of my favorites/popular choices:
Babel Cafe
This is a small little cafe right on the corner of a busy intersection smack in the middle of Tulum downtown. I am a breakfast queen and needed somewhere to do some work one day.
The waffles here are the best I've ever had in my life and I'm not over exaggerating! Also, the smoothies and juices are to die for!
Definitely a great place with wifi to go to if you want to catch up on some work and be productive while getting a good meal in.
Burrito Amor
This is a well-known place in Tulum and has probably been or will be recommended to you. The burritos are amazing! My favorite was the simple one with scrambled eggs and chipotle sauce.
Aldo's
Aldo's is the Coldstone of Tulum lol! It is a gelato shop that also has cafe items and sandwiches. I had a croissant here and some juice (very light), but the gelato is amazing! Definitely pass by here and get you a scoop!
There are SO many places to eat in Tulum! I've seen Italian, Chinese, and restaurants from many other cultures during my stay. I'm sure you will find your favorites too.
THINGS TO DO
Tulum is very big on water-based activities if you didn't know already. I knew the beach was. big deal, but I thought there would be more to do that didn't involve water. It ended up being fine because I love water, but as a non-swimmer, I had to be more cautious. I live my Airbnb experiences for a variety of things to do by locals. These were my favorite activities during my time in Tulum:
Kayaking
https://www.airbnb.com/experiences/233416?s=67&unique_share_id=cc8b26f7-5ba1-481d-8b5e-fa7ee1e7f48a
Kore Spa Day
They were having a day spa special for people who weren't guests at their facility for $40 USD!
Get a Massage!
I got a 90-minute massage special for $70 USD from a local massage therapist, Carlos Cardona, who has his own place. It was great! You can book him at massagetulum.com or email him at cardona_carlos@hotmail.com
LAST TIPS
1. Use Tomato.mxto have food delivered to you at your hotel/Airbnb.
2. Most experiences on Airbnb will not let you book or state that you have to wait until a certain date in order to do so, but just message the hosts and ask to book outside of the app and they will 9/10 let you!
3. Google translate will be your best friend if you don't speak Spanish. English is not as widespread as people made it seem. Download Spanish so you don't need an internet connection to use it as well.
4. To take advantage of the Airbnb deals use my code for $65 off of your first trip! : https://www.airbnb.com/c/christinap7729?referral_share_id=ba5d27fc-82b7-4f07-88c2-90fcd488aa5f
FINAL THOUGHTS:
Overall, I think Tulum is a great place to go for a beach getaway/vacation. As far as traveling the way I like my travel to be it honestly didn't do it for me. I just felt like something was missing. This doesn't mean I don't recommend coming here, but it depends on what your goal is for this trip. Coming from Florida, I just felt like I was staying at my local beach and I'm not much of a resort/beachy kind of gal, so I wasn't that impressed for the hype that was behind it!
I hope this guide was informative for you and that you have an amazing time in Tulum! If you are more of a visual person, my vlog just went up: https://youtu.be/D2-e0QnTBvM
Enjoy.
Love Always,