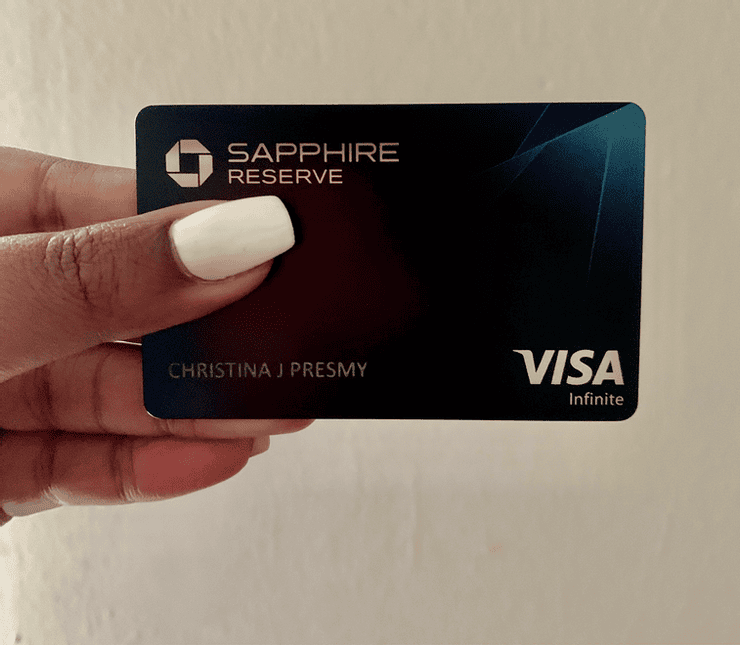 chase sapphire reserve travel card: one-month review
One month ago I applied for the Chase Sapphire Reserve Credit Card and was approved! With all of the traveling I have been doing, the next best move was for me to go ahead and start earning points towards travel on the money I would be spending anyways. As a young adult who is starting to invest and learn more about the financial world, I have been sharing the behind the scenes of being a CSR card holder on my Instagram stories and now doing this review to help you see the pros and cons I've experienced so far in case you're wanting to become a member as well!
Let's start with the cons first and end this thing on a positive note:
The annual fee *cringes*
So yes, the $550 annual fee is the #1 reason most people don't even bat an eye at this card, but one-month in, I have already taken advantage of so many of the pros making the annual fee SO WORTH IT! Plus, you receive a $300 in statement credits EVERY YEAR so really the annual fee is more like $250 when it's all said and done. My annual fee hit as a charge once my first statement cycle was over, so have that ready in the bank to pay off so it doesn't accumulate interest eventually.
High interest rate *double cringe*
At a 23.99% interest rate, this card is on the high end when it comes to interest, which is why I pay my balance off as soon as payments go through because I do not plan on paying interest on this card…EVER. The interest rate is 24.99% for cash advances, which is when you use your card at an ATM for cash back or attach it to a third-party app (according to a representative from Chase) to send cash, so there really isn't a point as you will pay more money back then what you took out.
No referral program
I was sad to find out that there is no referral program for this card :(, but there is one for the Chase Preferred Card, which is another great option from what I've heard. Check out a review of that card here. It's always nice to earn points by referring others to something, but not a huge deal!
–Now for the pros and whew, there are A LOT, so I'll just cover my favorites:
$300 in statement credit YEARLY
YUP, $300 basically for free as long as it is travel related! Chase even threw in groceries and gas in there! Lord knows I have gotten my tank filled up twice already not knowing it would be covered! You can buy a whole plane ticket and have it covered! You just charge the expenses onto your card and you will see it deducted once it posts on your statement. I haven't used all of mine yet, but it's such a great perk and makes up for the large annual fee cost!
$60 in Doordash statement credit + Dash Pass
As if the $300 statement credit wasn't enough, free DoorDash is thrown in there! Up to $60 for free including the delivery so whatever your total is, it's covered up to $60. Not all at once of course, but over time! My first order was about $15 so I had $45 left in credits. This was useful during my layover at my Airbnb!
Global Entry/TSA Precheck Paid For!
This is one of the main things that attracted me to this card, as I was looking to get Global Entry anyways! Once I found out getting this card would cover the $100 fee for Global Entry, I waited and sure enough it was covered. I have another blog post coming out about my Global Entry experience so stay tuned, but it allows you to skip those long lines when going through customs at the airport!
Priority Pass For Worldwide Lounges
Getting the Chase Sapphire Reserve Card means that you have access to over 1,300+ lounges around the world at airports. No waiting at the gate anymore (whew, can't wait to test it out). I just activated it and received my card in the mail too! Learn more about priority pass here.
Lounges are also lit because you get complementary snacks/meals, beverages, working stations, outlets, and the list goes on, so I can't wait to use it later this year!
60,000 point bonus = $900 worth of travel
In addition to earning 3x points on dining and travel, new card holders can earn 60,000 points in bonus points after spending $4,000 on purchases in the first 3 months from account opening. This is equal to $900 toward travel when you redeem through Chase Ultimate Rewards! It sounds like a lot of money, but you can pay for other people's expenses like rent, put you subscriptions on the card, etc. to meet that amount! 60,000 is almost enough for a whole flight and is in some cases just to put it into perspective!
So there you have it! The pros and cons I have experienced or become aware of during my first month as a Chase Sapphire Reserve Card holder member. Let me know if you decide to get this card 🙂
Love Always,