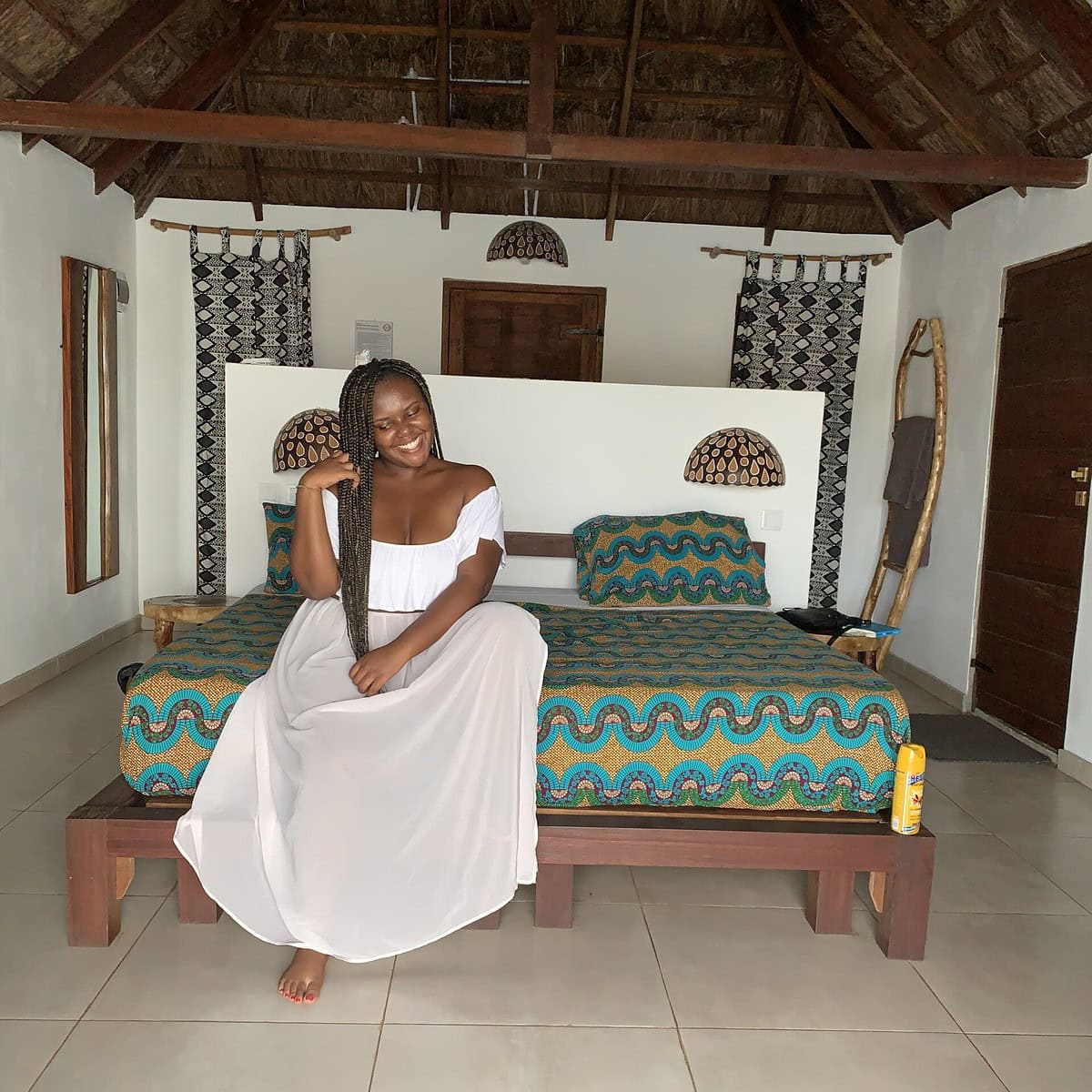 Meet Me There African Home Lodge is a serene, relaxing, not-for-profit lodge located in the Dzita community of the Volta Region in Ghana. The lodge being not-for-profit means that all proceeds go right back into up keeping the lodge and supporting the work of their NGO, Dream Big Ghana, that creates projects to support sanitation, education, and healthcare efforts for the locals.
I recently planned a successful staycation at the lodge and this review will help you plan yours or a nice getaway with friends, so you can experience the calming impact Meet Me There African Home Lodge has to offer while supporting a great cause.
BOOKING
It took me WEEKS to book at Meet Me There Lodge just because at first I was trying to book during the weekend, which is always super booked months in advance and go fast. If you can, book during the week as there is a better chance that dates will be available when you are emailing the front desk back and forth to book. Instructions on how to book a room and contact form can be found here.
You do have to pay in advance to secure your date and room. I paid the facility via Momo Money and had no issues.
GETTING THERE
The lodge is about 3 hours away from Accra, Ghana's capital, so you have to plan for reliable transportation and account for traffic going out of Accra. Uber and Bolt are not reliable ways, as the fare will say 170 – 250 cedes ($28 – $40 USD), but that is super low considering the fact that the driver has to go and come back. Uber and Bolt are not active in the Volta Region, so the drivers would not be able to find customers to go back to Accra. They expect you to pay for transportation costs both ways even if you are just coming and not yet going. Many drivers quoted me 600-800 cedes ($100 – $133 USD). This isn't bad considering the drive, but Meet Me There Lodge would have provided me with transportation for 400 cedes, so I was trying to stick with that range. Thinking that I would easily get into an Uber for 200 cedes costed me 3 hours while I tried to find a reliable ride. I finally settled on 450 cedes with a driver in cash and got to Meet Me There Lodge with no issues.
You can also take public transportation (tro tro) to get there, but I prefer not to for long trips as reliability can be an issue. They list directions on how to use a two too on their website!
CHECK IN
The check-in time at Meet Me There Lodge is 2pm local time. As soon as I arrived I received a warm greeting, a rundown of how to use certain things in my room like the compost bathroom and the lights. Check-in was very smooth and Amanda at the front desk even called me on my way to the lodge to ask if I wanted to place an order for dinner!
SUITES AVAILABLE
Meet Me There Lodge has a variety of rooms available at different price points and offerings.
-Twin Double
-Double Plus
-Queen Plus
-Honeymoon Suite
-Chief Suite
-Sea View Suite
-Sunrise Suite
-Sunset Suite
You can visit the website here to see pictures and descriptions of what each room has to offer and what works best for you!
THE SUNSET SUITE
I opted in for the Sunset Suite at 400 GHS/night ($66 USD). It is absolutely gorgeous and perfect for a getaway.
ACTIVITIES
Meet Me There Lodge has great activities you can opt-in for during your stay.
Dream Big Ghana Program Tour (FREE) – This was my favorite activity because I got to see the sustainable sanitation projects that this organization has created for the local community. I visited a school and saw how the NGO built toilets, urinals, and even specific menstrual-oriented bathroom areas that ran from using compost.
Massage (30 mins – 80 GHS| $13 USD) (1 hour – 150 | $25 USD)
Volta Boat Cruise (300 GHS | $50 USD divided by how many guests ride the boat)
Anyanui Market – The market runs only on Wednesdays. I took a taxi there and back for 2.50 GHS each way thanks to staff members telling me the cost or else I would have paid way more. The market is not that far from the Meet Me There Lodge site.
Bonfire on the Beach – 30 cedes – Sit or lay on the beach (bring a towel) and enjoy the flames as they rise and fall against the sea breeze.
Swimming and Canoeing (FREE)
Beach (FREE)
There is also an option to visit Fort Prinzenstein, which is an hour away from the lodge for $$.
All activities can be booked at the bar with a staff member. They are always super helpful and attentive.
FOOD + DRINKS
You are not allowed to bring food to the lodge and my suite did not have a microwave or a fridge, but there is an on-site restaurant and bar with affordable prices you can buy from. They keep a tab of all activities and food purchases you make and you pay at check-out!
However, bring small snacks to hold you over between meals as the portion sizes depend on what you order and may or may not fill you up! I also love that as part of eco-friendly measures, plastic bottles are not used.
The food is made to order and made fresh! For the most part I enjoyed all of the food and think the prices are more than fair!
THE NON PROFIT
Funds obtained from the Meet Me There Lodge support Dream Big Ghana, the NGO that supports projects around the community. I took the free tour to one of the local schools and was able to see the work in action. The NGO has re-vamped old toilets in the community that were not sustainable and have created new sustainable ones with a user-friendly experience to promote sanitation and sustainability. The organization also works to relieve poverty in the Volta Region through other projects like installing hand washing stations, access to healthcare materials, and tree planting initiatives around the Volta Region.
On-site at the Meet Me There Lodge, there is also a learning center called the Dream Big Community Learning Centre that hosts a library, provides laptops, and courses for children and adults in the fall community.
TOTAL SPENT
Sunset Suite Total: 800 GHS ($133.33 USD)
Food + Activities Tab: 269 GHS ($44.83 USD)
Transportation To & From: 850 GHS ($141.66 USD)
FINAL TOTAL: 1,919 GHS ($319.8 USD)
Keep in mind this amount could have been WAY cheaper if I traveled with someone, used public transportation to travel to and from the region, and stayed in a cheaper suite!
LEAVING:
Checkout time is at 11am, but can be extended depending on if there is a guest that has booked or not.
It took a minute to get my total tab and payout, then I was on my way back home!
The staff scheduled a taxi driver to drive me home to Accra for 400 GHS, so that was a smooth process.
IMPORTANT THINGS TO NOTE
Meet Me There Lodge does not have any wi-fi. I brought my own portable wi-fi through MTN and it did not work, but I was able to use my phone data without any major issues, just a little spotty at times. This is not the place to bring a ton of must-do work or think that you will be able to be productive.
There is no AC, but there is a strong overhead fan and if you stay in one of the suites with a balcony, the breeze is amazing.
The prices of the rooms are raising in 2022. You can check out the new prices here.
The shower is not supposed to be hot, but the sun warms it up as you are showering so it is not extremely cold.
Laundry is available on-site if you need it.
OVERALL RATINGS
Room: 10/10
Service: 10/10
Facility: 10/10
Food: 8/10
I had an amazing and relaxing time at the Meet Me There Lodge, highly recommend staying here, and look forward to being back.
Let me know if I've convinced you to set your booking here, and feel free to comment any questions you have 🙂
Love Always,