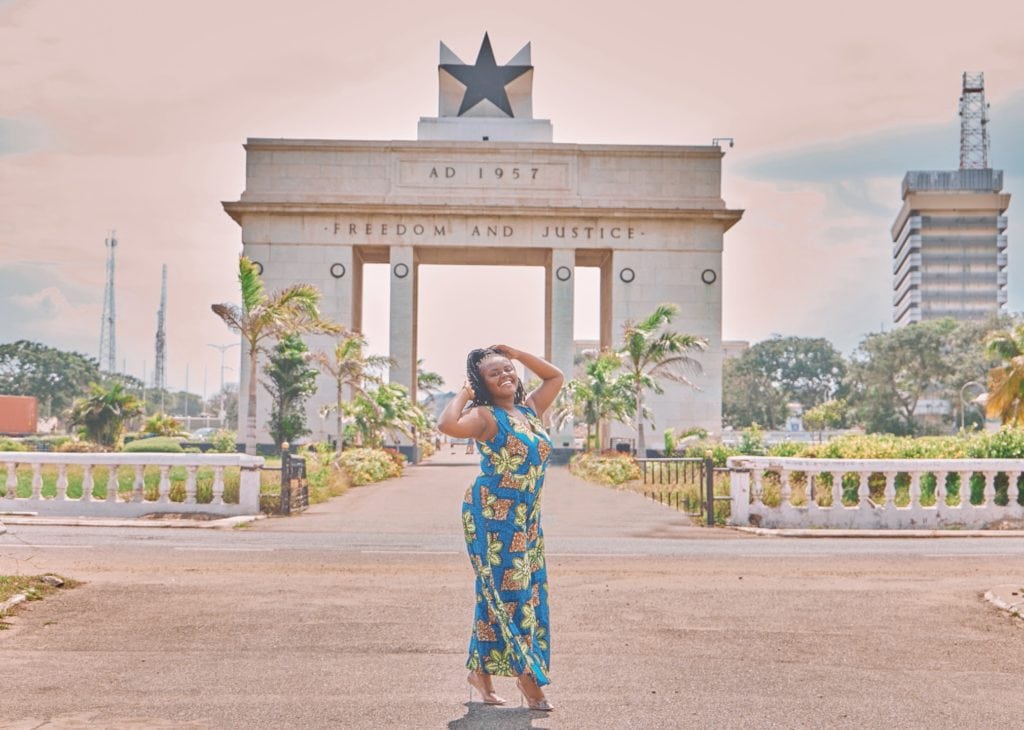 Ghana is one of my favorite countries. I moved to Accra in August 2021 for graduate school and as a traveler, I have been in awe since. Every day is an adventure for me here, and I'm certain you will enjoy exploring Accra on your visit. Accra offers its visitors a little bit of everything from cultural traditions to modern establishments located in areas like Osu, Airport City, and Cantonments. This travel guide is filled with tips and helpful things to know to help you explore Accra freely and make the most of your visits!
Watch my Ghana vlogs here for visuals of what life in the city looks like!
—————————————————————————————
COVID REQUIREMENTS TO ENTER:
*PLEASE NOTE THAT ENTRY REQUIREMENTS ARE CONSTANTLY CHANGING AND YOU NOW NEED TO BE VACCINATED TO ENTER GHANA. FIND ADDITIONAL INFORMATION REGARDING THIS ON THE STATE DEPARTMENT'S WEBSITE*
• Vaccinated travelers are not required to take a PCR test from their country of departure when heading to Ghana. They will also not have to take a test upon arrival.
• Non-vaccinated travelers will have to provide a negative PCR COVID Test taken at least 48 hours before departure: I always get mine for free at CVS or Walgreens and take one at each facility in case one facility does not come through! (Yes, this has happened to me).
•Non-vaccinated travelers will also have to take an antigen test upon arrival.
GETTING A VISA:
U.S. Citizens DO need a visa to visit Ghana. Luckily, I did a detailed blog post about my experience applying for a visa. You can read about the process here.
REQUIRED VACCINES:
Yellow Fever – I got my shot back in 2019 for $300. You can Google local health clinics or hospitals and call around to see if they offer the vaccine. While others say they have not been asked to show proof of vaccination, I was checked twice at the airport upon arrival, and you can be asked before boarding.
*While not required, I would bring Malaria pills with you to Ghana or plan to get them when you land in Accra at any pharmacy. They tend to be cheaper in Accra. I have not been taking malaria pills since moving to Accra and have yet to catch malaria because I am big on bug spray, but taking that risk is for you to decide!
AIRPORT
You will fly into the Kotoka International Airport (ACC) in Accra.
There is no place to get a SIM card at the airport. I recommend having $50 worth of Ghanaian cedes to leave the airport with in case you have to use a taxi to get to your accommodation.
If you do not come with money on you or do not want to use the ATMs at the airport, it's fine just ask the driver to stop at an ATM along the way. They are always happy to do so!
LEAVING THE AIRPORT
I HIGHLY recommend pre-booking airport transportation before your arrival date in Accra if you are coming with a large group or have a party of 3 or more persons. It can get overwhelming once you step outside, and this will be one less thing to have to worry about. A reliable company that does airport transfers is Abusua Travels.
If you did not pre-book, you can get a taxi to your accommodation. If you are a budget traveler, try to use Uber or Bolt, but sometimes the drivers have a difficult time getting into the airport and have restricted access. Also in Ghana, cash is the preferred payment method. If you are coming from abroad and don't have a SIM card yet, your app may not reflect the cash option because it is not recognizing that you are in Ghana. This may create an issue of not being able to order a ride.
Keep in mind taxi drivers create their fares and are the most expensive form of transportation in Accra. PLEASE make sure that you and the taxi driver have both agreed on the fare before you enter. Repeat it back 3x if you have to. Taxis are generally very safe, as with Uber and Bolt. The worst thing that may happen is some drivers may try to quote you a different price once you reach the destination.
The idea is to have a smooth transition from the airport to your accommodation, and having pre-booked transportation is usually the best way to go!
LANGUAGE
Many different languages are spoken around Accra, as there are so many local ethnic groups: Twi, Ewe, Ga, etc.
However, English is primarily spoken in Accra, and all signs around the city are in English. Therefore, you will have no issues navigating Accra as an English-Speaking visitor.
WI-FI
The wi-fi here is a HIT or a MISS depending on your location. Areas like East Legon, Osu, and Cantonments seem to have great signal. I find that my wi-fi gets iffy in areas like Adjringanor and Adenta.
Expect slow wi-fi unless you are staying at a big-name hotel or in a signal boosting location. If you need to do work, it is best to go to a cafe like Vida E Caffe and use the wi-fi there! I would not come to Ghana with a lot of remote meetings to attend. It can be risky.
MONEY
$1 is currently about 7 Ghanaian Cedes, so your dollars can take you far. To determine the price of an item or service in $, take the amount of the price in C and divide it by 7. For Example: if a drink costs C20, it would be $2.86.
As a visitor, certain things will seem cheaper like Uber rides, but Accra is not a cheap city and if you are on a budget it's good to manage your money to make sure it lasts.

An international ATM for withdrawing large amounts of money is Stanbic Bank! There are also other ATMs everywhere around the city.

You can exchange your money for the local currency (Ghanaian Cedes) at exchange shops if you have cash, often titled FOREX. One that is known here in Accra is Dellino Forex. From then on, there are ATMs mostly everywhere around Accra you can use to withdraw money. Depending on your bank/card, you will be charged a withdrawal fee, but this is usually the quickest way to get cash.
These fees do add up so aim to withdraw a decent amount of cash to avoid them.
SIM CARD
If your phone is unlocked, getting a SIM card in Ghana is one of the most important things you can do. Accra is a very "speak to people to get things done" type of place. You will need to contact your drivers, call shops and markets to check things, etc. You need to have data wherever you are so you can get a ride back home and make phone calls as needed during your stay.

I got my SIM card from Vodafone, but other phone companies include Airtel Tigo and MTN.
ACCOMMODATION:
I stayed at this Airbnb for one week before I found my apartment. It was gated, safe, and I practically had my own mini house as it included a bathroom, shower, and kitchen I could cook in!
There are a lot of Airbnbs and hotels to choose from in Ghana. A few are:
You have to research and decide what will best fit your needs. I recommend using a VPN when searching to get more options to come up besides the popular ones.
TRANSPORTATION AROUND GHANA
Bolt & Uber:
Uber and Bolt will be your best friends until they aren't! This is when drivers keep cancelling, and drivers don't look at their maps.
The one thing to know is that drivers like cash only. Your ride will keep getting denied if you use a card because the drivers don't get the money quickly from card transactions, and fees are deducted.
*Use my link for money off of your first ride if it's your first time downloading the BOLT app!*
Bolt is usually always cheaper than Uber, but sometimes Uber is cheaper, so I would check both apps to compare fares whenever you can.
Tro-Tro:
Tro-Tro is the most local form of transportation you can take! It's essentially a mid-size van with multiple seats that people hop on and off for rides around Accra or further. It is super cheap, like maybe $3 for a 30-minute ride, but it is unreliable.
The vans stop A LOT to pick up passengers along the road and drop people off, so it may take longer to reach your final destination. They are also very crowded, hot, and packed. You do have to know the area your desired destination is in to take a tro-tro effectively, but the "mate" (conductor) of the tro-tro can also help with this.
There is a learning curve associated with taking a tro-tro, but it's a cost-effective option and always an adventure. I recommend trying it at least one time while visiting and have a mini guide on how to take a tro-tro to make your life easier as a foreigner.
Intercity STC Bus
Ghana does have a public bus transportation system that comes in handy for long trips for the low! You can look up stations on the website here and compare prices according to times and dates.
FOOD
There are SO many food options in Accra, so for the sake of this guide, I'll stick to the must-try traditional foods and some restaurants to try for specific things!
•Jolloff Rice – If you don't have this, did you even come to Ghana?! You have to try the street versions and the ones in restaurants!
•Rice Balls + Groundnut Soup – I LOVE rice balls as they are an easier option than banku and fufu if you are a beginner to straight-up swallowing foods.
•Tatale – If you are a vegan (and even if you aren't) I highly recommend giving Tatale a try. The owner Ben has such a genuine heart and the meals are delicious.

•Rice Water/Porridge – Traditional Ghanaian breakfast (often found on the street) sells out fast. Street food shops tend to stop serving breakfast early, so try to get breakfast by 8 am if you can help it.
•Tom Brown – A brown paste-like breakfast porridge.
•Plain Rice + Stew – White rice with a tomato-based sauce-like stew usually served with meat.
•Banku + Palmnut Soup:
•Oseikrom Aduanipa – A 24-hour restaurant serving traditional Ghanaian foods. I love this spot because the environment is always chill and you can try several meals at an affordable price point.
•Breakfast to Breakfast – A 24-hour breakfast, lunch + dinner spot. The place to be after a fun night out.
This is a very short list, as choices are endless. I promise it's very hard to go hungry in Accra. You will likely have the option to try traditional foods at most restaurants you go to. There is always an option for whatever your taste buds are in the mood for!
Fair warning: The quality of food at restaurants has gone down in my opinion in Accra over the last few years. The best food is the street food and customer service is always an issue!
FOOD DELIVERY
There are many food delivery apps, but Glovo, Jumia Food, and Bolt Food are well-known. If your accommodation is not recognized on the app's map, use a nearby landmark and give the driver directions.
I have found that addresses are not as common on the apps to be recognized.
SOME THINGS TO DO IN ACCRA
Kwame Nkrumah Memorial Park – A memorial park detailing the life of Ghana's first President who led the country to independence. Ghana's history is very rich, and this is a site you will want to visit to learn more.
Legon Botanical Gardens – An outdoor space for people of all ages to go and enjoy different activities. You can try your hand at one of the high rope courses where you are harnessed up in the air and have to complete various challenging exercises to get to the end! There are also canoe rides, canopy walks, and more.
Fly A Plane – Mooove Africa on Instagram offers thrilling activities for you to do during your time in Ghana, and plane flying is on the list! They also have pottery, paintball, zip-lining, and more.
Arts Centre – One of the best places to go for great souvenirs at an affordable price. You'll find decorative bags, clothes, shoes, magnets, keychains, and everything else you'll want to take home to your loved ones.
Makola Market – This open-air market will make you feel the hustle and bustle side of Accra. This market has any and everything you could need, from household items to colorful fabric. It can be overwhelming for first-timers so I highly recommend going with someone.
*I would list more, but I would be here all day! Just know that you won't be bored here AT ALL. There is so much to do in Accra alone.
NIGHTLIFE
If you come to Ghana, know the nightlife is a MUST. It is a vibe to say the least. Accra mostly has lounges, but there are a few nightclubs. Here are some spots to visit:
•Garage – This is the hottest venue in Accra currently. It does get very crowded, but you are bound to have a good time if you don't mind the crowds.
•Firefly Lounge – My favorite venue so far in Accra. Firefly always understands the assignment when it comes to having fun, low lights, and great music.
*Twist – Twist is a nightclub that gives me Miami vibes personally. Not my favourite venue, but it may be yours so give it a try 🙂
Other venues include:
•Bloombar
•Elite Lounge
•Exhale Lounge
FOR THE SOLO TRAVELER:
Y'all know I am a solo traveler at heart. My solo travel journey actually began in Accra, so I can promise you it is solo-travel friendly! Uber + Bolt are reliable like I mentioned, so getting to and from places within Accra won't be much of an issue. You need to know mainly that being alone will make you a target for merchants and sellers (especially on the street) to come up to you and pressure you to buy, but be firm and keep it moving. They can be very persuasive. If you stop for one, many will swarm you. This does not mean to be alarmed/scared, but be AWARE of your personal items.
It's also so easy to meet people in Ghana. Everyone is super friendly, so be open to new connections, but trust your intuition! You will likely get a lot of questions about where you're from out of genuine curiosity. However, some people will just want money from you or have other underlying agendas. You will know when you're faced with that issue, but don't focus too much on it. It's just something that is good to know!
I have met people for the first time earlier in the day and have had lunch or dinner with them later as if we had known each other our entire lives. This is what draws me to Ghana: The human connection.
It is also safe to go out at night alone if you want to as transportation is reliable. I have done it before many times — just follow the basics: Watch your drinks, don't drink too much, and have a good time 🙂 Always be aware! Petty theft does occur.
SAFETY:
Ghana is known for its hospitable natives and being generally safe! The most you will likely have to worry about on your trip is petty theft, so always be mindful of where you keep your phone and don't be unecessarily flashy.
That does not mean that more severe events can't happen, but Ghana has an excellent reputation for safety. I have never had an issue.
COVID TEST GOING HOME:
I highly recommend using LEDing Medical Lab for taking a COVID test to go back home! I took a PCR test around 2pm one day and received my results the same day around 11pm even though I chose the 24 hour option! I was also in and out within 5 minutes.
My test cost me 250 GHS = $41.66 USD
Book your test here:
GENERAL TIPS BEFORE COMING:
•Notify all of your bank cards + create travel notifications before you touch down. You do not want to have any issues with getting money here, it will be a pain!
•If you bring cash to exchange at a FOREX office, bring big bills ($100 is best). The smaller the bill, the lower the rate they will exchange it for.
•Know that it is wise always to have cedes on you and do not depend on solely your card to pay EVER. The POS machines in Ghana are down often, and you don't want to be like me and have to plea with the employee to let you run to an ATM and come back 🙂
•Stanbic Bank will allow you to withdraw large amounts of money, as it is a Foreign Exchange Bank.
•Ghana is known for being safe, but always be on the watch for pickpockets and make sure your bag is secure, especially at markets.
•My fellow Black girls: wear braids if you can help it and thank me later. Wearing wigs in this heat will not do you well!
•Always be aware of who is watching you because Ghanaians, in general, are very observant, so just keep that in mind if you are solo.
•Your Bolt and Uber drivers may ask you if it's okay to pull over for gas. It usually only takes 1 minute literally, but say no if you do not feel comfortable with this.

•Don't tell anyone you are alone until you feel comfortable. Your drivers will ask out of genuine curiousity, and only you will know what feels right for you!

*Most businesses in Ghana have Instagram pages as opposed to websites. So look for similar pages for anything you are looking for.
•Ask locals if you can't find something or need a referral. It will save you a lot of time and headache.

•Please don't come here and be naive to romantic initiatives – especially those that are fast and quick even though they barely know you.
• DO NOT stick your phone out of the window to take pictures and videos and when you are walking be mindful of holding your phone. People are known to drive by on motorbikes and grab your phone. You won't ever see it again!
•Bring your patience. Keep your Western perspectives and expectations in check. Ghana is developing and that comes with its ups and downs, especially if you come from a country with fast systems.
FINAL THOUGHTS:
Your trip to Ghana will be one to remember. Ghana is my favorite country to-date. There is something about this country that will bring a calming spirit over you and make you want to be so creative while here.
I hope this guide has made you even more excited for the memories you will make here.
Please let me know how you enjoy your trip to Accra via IG DM @beingchristinajane!
Love Always & Safe Travels,