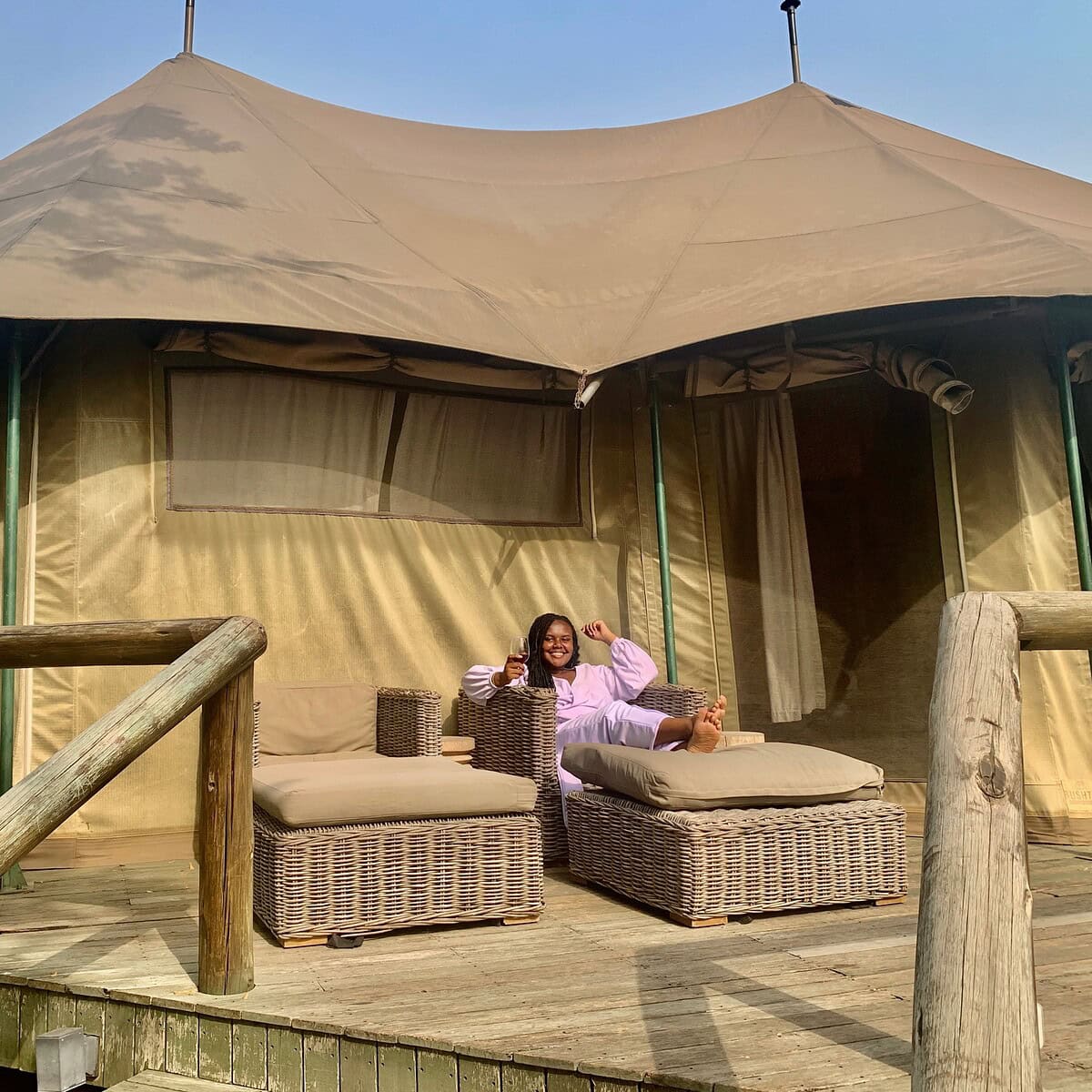 I headed up to Shai Hills this week to experience my first ever glamping experience! As someone who has never been camping and has honestly never had the desire to experience the overnight aspects that comes with camping, glamping sounds more like my thing! This blog post will detail my experience in the Shai Hills Luxury Glamping Tents and provide you with an honest review to help you decide if this is worth experiencing!
Booking
The most current version of the website for Shai Hills is not that informative, and bookings are also not done through the website.
To book a stay at Shai Hills Resource Reserve, you reach out to the reserve on WhatsApp or via email with your desired booking date and the type of tent you would like to book. The WhatsApp contact information is +233 24 724 1073, and the email is bookings.shrr@gmail.com.
Once I reached out, I was sent a PDF document detailing information on the booking requirements, including the deposit policy and outlining some of the rules of staying at the luxury tents.
•Bookings must be secured via Momo money with a 50% non-refundable deposit. *Foreigners would have to ask about alternative deposit methods or ask a trusted individual they know to send your booking deposit*
The response times of the facility were extremely slow for booking. It took several days to settle on a date and get officially booked. Communication can definitely be improved on the part of the facility to make the booking experience more pleasant.
Upon Arrival
I traveled to Shai Hills with a friend who has a car, and the drive was about 1 1/2 hours from Accra (Madina). Upon arrival at the facility, we were greeted and given the meals we ordered ahead of time.
Check-in time is at 4pm, and checkout is at 12pm the following morning.
I also paid the other half of the total stay. This can be done with Momo money or cash, but I opted in for Momo money, an online method of exchanging cash. It's like cash app, but your cash balance is connected directly to your phone!
We were escorted by a resource guide on his motorcycle from the reception to the luxury glamping tents. The tents are about 30 minutes away from the reception, and we followed the guide with our own car.
It's important to note that the roads leading to the tents are very rough as they are mainly rocks, so be mindful of the type of car you bring. Jeeps and heavy-set vehicles will be best.
Our car ended up very scratched up from all of the trees and leaves as we passed by as well. We were told upon checking out that for visitors who come with small cars, there are pickups available to use to get to the tents. However, this was not mentioned during booking, before arrival, or during our stay. So be sure to ask about it!
The Luxury Tent Experience
Exterior
The tent's exterior was very nice as there is also a balcony with seating for you to enjoy the view and space to walk around the perimeter.
There are also "window" coverings on the outside to ensure privacy. They are rolled up but can be unclipped and rolled down whenever ready. There is also a zipping to the main entrance of the tent.
Interior
The interior of the tent was spacious, well decorated, and cozy. From the outside looking in, you wouldn't be able to tell that there is so much space inside, so I was very impressed.
Inside the tent are:
•A private desk that was perfect for reading or writing. •A mini living room with two medium-sized couches that can be used for sleeping.
•A large bed perfect for two.
•A wardrobe where you can store some of your clothes and items.
•An eatery/bar area with plates, a wine glass, cups, and kettles.
•A bathroom that is even more spacious than I could have imagined with a bathtub, his/her replicated mirror areas, a toilet, and a large mirror.
•A fridge, microwave, and a fan.
—
Overnight
Despite the bugs making it hard to fall asleep, I did sleep pretty well throughout the night until I was woken up by rats!
We were woken up around 11pm by a lot of rustling on the outside and entrance of the tent. I'm not a light sleeper, so I initially thought someone was breaking in, but we saw that the trash can filled with food we ate the night before had been tipped over with the food spilled out.
I was surprised because we zipped up the entranceway, yet they could still get in, so that was an experience.
They actually returned later in the night and got into our bathroom soap!
Food
You can opt-in to bring your own food. Still, honestly, after seeing how long it takes to get to the tents from reception, it is not worth bringing fresh food unless you want to save money by cooking and bringing your own meals as there is a microwave.
There is also the option to order from the reception meals from Stella's Kitchen and Basilissa Premium restaurants.
We ended up ordering the cheeseburger with fries, fried rice with beef braised, jolloff rice, and grilled fish. We ordered enough food for lunch and dinner but were told that it would all be ready at once and we could just microwave it.
Either way, due to the reception distance from the tents, the food would not be fresh, so I was okay with it.
Electricity
We were told in advance that the electricity in the tents only runs from 6pm – 8am, so when we arrived at 5pm, we did not expect any electricity. However, we ended up getting lights around 8pm due to an issue with the generator.
When the electricity was on, it worked pretty great! During the day, it isn't a huge deal. I would just have portable chargers available. The natural light from outside is enough to light up the tent from inside once the shades are up!
Tour
The cost of the luxury tent comes with breakfast and a 2-hour tour of the facility.
Breakfast was served at 9:00am (we were told 7:30am) and consisted of eggs, bread, milo hot chocolate, and Lipton iced tea. Our tour guide brought it to us!
The tour includes visiting two historic caves once used by the Shai people and seeing some of the animals at the facility.
The tour of the first cave was about 30-40 minutes. First, we climbed up a very rocky route, then up a large ladder, and had to navigate more rocks at the top. Honestly, I questioned how safe this was the entire time because the rocks were very slippy, and one wrong step could end badly as there is no safety gear.
Thankfully, my guide helped me the entire time and made sure I stepped in all the right places!
The second tour was about 10-15 minutes and much easier. There is a bit of rope climbing involved, but nothing too harsh, and the views were amazing.
The animal sights were very underwhelming, to say the least. We saw one ostrich and were told that there was the only one left because the others kept dying. The ostrich left looked like it was in poor condition, and its feathers were falling off and appeared to be very brittle. There were zebras which were nice, antelopes, and baboons. Don't go to Shai Hills Resource Reserve expecting to see many animals, but upon speaking with some members from the Forestry Commission, we learned that it is something being improved.
Cost
The fee per night at one of the luxury tents is 750 GHS ($125).
For food, the bill totaled 223 GHS ($37.16).
So in total, for this experience, I paid 973 GHS ($162.16).
Overall Thoughts
I can't say that I would've made it through the night without someone with me, so I'm glad I did not have to do this experience solo!
Keep in mind this is more of a relaxation, unplug getaway so besides the games in the tent, bring your own entertainment that does not require electricity!
I do not feel that the value for the price being charged is fair based on the upkeep of the facility and experience. I would say 300 – 400 GHS ( would be a more accurate representation.
Communication of the site/reception staff needs to be improved as well.
This is an experience that I think is worth having if you are in Ghana, but not one I would experience again personally.
Have you been glamping before? If yes, is it something you would be willing to experience again? If no, I did it! So would you be willing to tackle nature the cute way?!