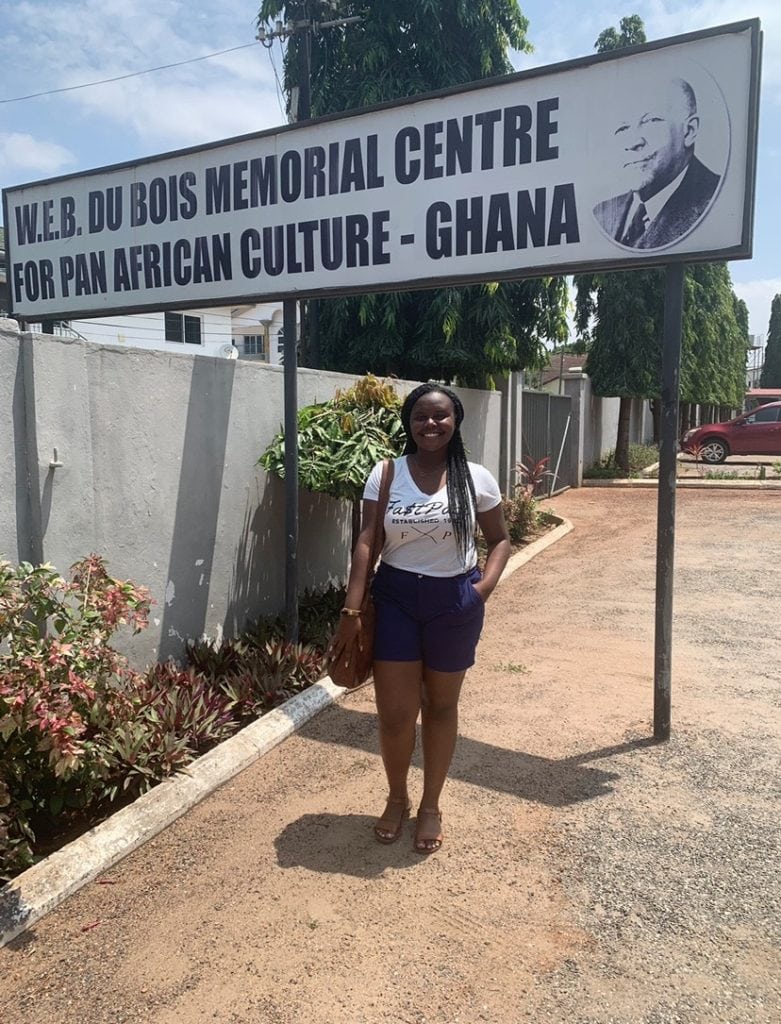 How I'm Getting My Master's Degree for Free in Ghana
As a first-generation student, I'm known for always finding financial opportunities that will lessen the financial burden of education. For my bachelor's degree, I paid a total of $700, which was only because my school made a mistake. Otherwise, that would have been free too. I believe in "working the system" as much as possible and obtaining scholarships to fund your education. In this blog post, I will tell you about a fellowship I applied for in 2020 that changed the course of my life and is allowing me to earn my Master's in International Relations for FREE (yes, $0.00) in one of my favorite countries, Ghana.
The Fellowship
The Charles B. Rangel Fellowship selects 45 fellows annually to eventually become Foreign Service Officers for the U.S Department of State (USDOS). Fellows receive $42,000 annually for two years. Up to $24,000 goes towards academic tuition and fees for any U.S-based institution. $18,000 goes directly to fellows to cover other costs like housing, food, transportation, etc.
In exchange, fellows enter a contract that requires a 5-year commitment to working for the USDOS OR will have to pay everything back.
The fellowship also includes two summer internships: one on Capitol Hill and one overseas at a U.S embassy.
My Fellowship Experience
The fellowship is extremely competitive. I applied in 2020 to be part of the 2021 cohort, and there were over 1000 applicants. From 1,000+, the numbers are narrowed to 90 as finalists, then the final 45.
Despite having applied to many scholarships and earning over $100,000 in financial aid during my lifetime, I can honestly say this was the hardest program I have ever applied to. I woke up at 8 am for months to work with a writing tutor and perfect my personal essay. I studied the Department of State's goals and learned everything I could about being a Foreign Service Officer. Thankfully, I came out on top and was selected to be one of the 45 2021 fellows.
The program states that the school has to be U.S based, so when people hear that I am schooling in Ghana, it usually confuses them! I attend Webster University, which has a campus in Saint Louis, Missouri, and other campuses worldwide.
The Netherlands, Ghana, Greece, Austria, Switzerland, and Thailand are just a few of the countries I could have chosen to study at within the rules of the fellowship.
My Graduate School Program
The total cost of my program at Webster University Ghana, which is one year 1/2, is about $16,000, so I don't even use the entire $24,000/year that is allowed towards my academic fees. While I don't get the difference of funds, it is still a win-win! Many Masters Degrees in the U.S go over $24,000/year, so some of my cohort members had to cover the difference despite having the fellowship.
Studying in Ghana has been beyond rewarding for my personal and academic growth. Being a student in a non-Western system has exposed me to a lot of the issues worldwide from a different angle, and I am grateful. I'll cover more of this in a separate blog post!
Similar Fellowships
If you are also interested in becoming a Foreign Service Officer, there are two other fellowships that are similar to the benefits fellows receive from the Rangel Fellowship:
•Thomas R. Pickering Fellowship
•Donald M. Payne Fellowship
I did apply for these as well but did not move forward in the process as a finalist.
All of the fellowships usually open for applications during the summer or August, so be on the lookout and join the email lists, so you don't miss out!
Even if you are not interested in applying for these specific fellowships, you can use this as a blueprint for your own career track and goals. If you want to be a nurse, start researching nursing fellowships!
There are opportunities out there for any and everything. You just have to take the initiative to research and apply.
To stay updated on financial opportunities like scholarships and fellowships like the Charles B. Rangel Fellowship, I highly recommend following @scholarship.savvy and other pages on Instagram, as they post opportunities daily!
Tips for Applying to the Rangel Fellowship + Other Programs in General:
Applying for a huge fellowship like this can be intimidating and nerve-wracking, so here are a few tips to help:
•Study the 13 Dimensions that can be found here. They will help you begin to understand what qualities you need to be a Foreign Service Officer and how to start thinking about issues.
•Understand what you are applying for! Many programs will have webinars to guide you through their expectations and the approach you should take on your application. Study those instructions, take notes, and understand what the goal of your program is so it can reflect on your application.
•Work with a writing tutor on your application! The personal statement was 600 words for me, and as a blogger, this was horrible news! I am so used to writing in detail, and 600 words did not seem like enough range to explain to strangers why they should invest thousands of dollars into me. Working with a writing tutor helped me to get my main point across in a concise manner.
•Do a little bit of the application every day. To avoid getting overwhelmed, break it down. One day, focus on filling out the general information and work on your essay another day. You will find that you come back to the application with a fresh pair of eyes.
•Be specific about your intentions for being a fellow and how the fellowship will impact the world/people.
I hope this blog post was helpful and informative for you on your journey to obtaining free education. Leave any questions you may have below. I would love to help in any way that I can!
**Disclaimer** THIS BLOG DOES NOT REFLECT THE VIEWS OF THE U.S. DEPARTMENT OF STATE OR THE CHARLES B. RANGEL PROGRAM. ALL VIEWS ARE MY OWN.
Love Always,