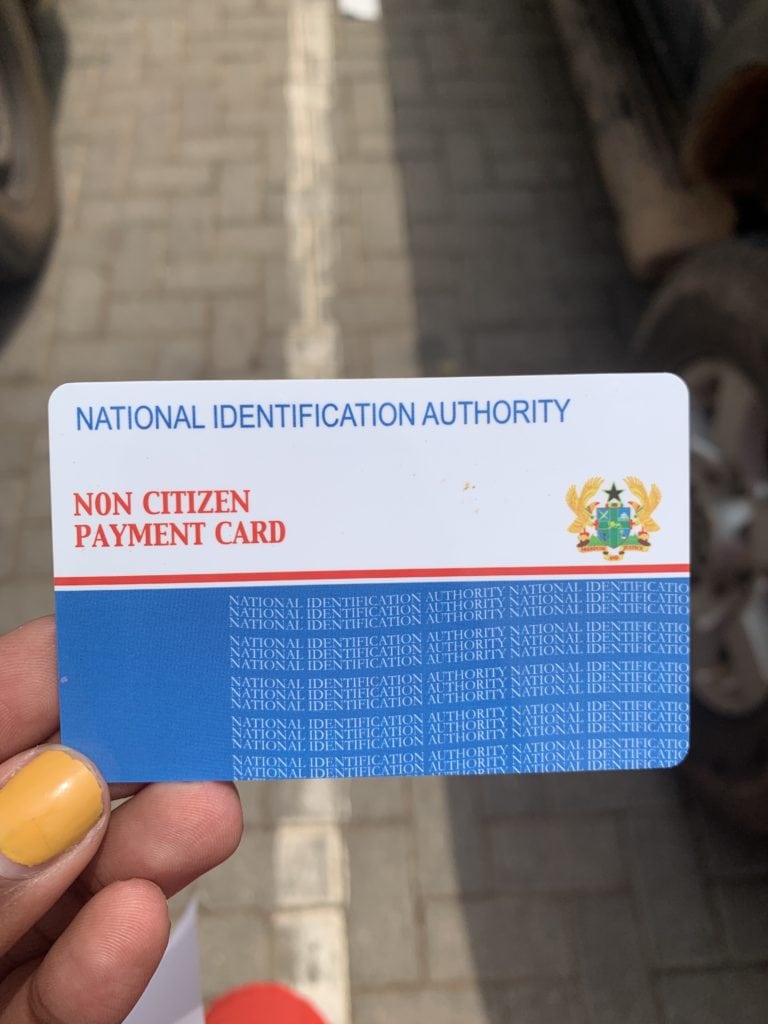 Ghana Non-Citizen ID Card
If you're moving to Ghana, you'll eventually go through the Ghana card registration process. For non-citizens it is also referred to as a Non Citizen ID card. Having a Ghana card will allow you to register your SIM card so you don't lose your Ghanaian phone number, get a drivers license, open a bank account, and more!
This post will outline how to get a Non Citizen ID card and my experience with the process.
Go to any CalBank branch in Ghana for a scratch card
You'll want to go to any CalBank branch in Ghana and tell them you need a Ghana Non-Citizen ID Card. I went to the East Legon CalBank branch. Be sure to tell the staff members that you are there for a Ghana Non Citizen ID Card. This will prevent you from being placed in the regular bank due with those there for bank transactions.
I paid 804 GHC ($132) at the East Legon Branch (Cash and Momo only accepted, no credit or edit cards) and they gave me a receipt with a "scratch card" to show you paid. The entire process took me 30 minutes because I made sure someone knew I was there to pay for a Non Citizen ID Card and not a regular transaction. It could have easily been over 30 minutes if I did not.
Go to a National Identification Authority Office
Next, you'll take your receipt and scratch card from CalBank to a National Identification Authority (NIA) office. I went to the main office located in Accra.
Upon arrival, there are several blue and white tents with easily 300+ people underneath. The only signs that were visible were "Replacement Cards Here". There were crowds of people in que, no signs directing non-citizens where to go, and no "official" employees standing around to guide customers.
I tried to get inside of the main building, but other people were trying to rush in to the door, creating a mass crowd. Police would not allow anyone in. I didn't see how I was going to make it inside and was about to go home. Thankfully I ended up meeting another man working at the NIA who escorted me inside. If you are not able to go inside, check the front office to your left as you walk in for someone that can help you.
If you aren't in Accra, you can find other branches to do your Ghana card registration here.
Ghana Non Citizen ID Card Form
You'll be brought into a room where the processing go the Ghana Non Citizen ID cards are happening. First, you'll sit down at a small desk across from an employee who will fill out a form with you for the card. The forms just asks for basic information like your name, country of origin, address, etc.
Identification Picture and Processing
In the same room, you'll move to a different que where pictures are being taken for your ID card and the quick processing of your paperwork. From there, you will be sent to another room to pick up your finished card, have it validated, then you are on your way!
—
The process only took me 2 hours! If you know Ghana, you shouldn't be surprised that I budgeted 5 hours for the process. I am so thankful for that man who helped me get inside of the building. The hospitality of Ghanaians is unmatched and worked in my favor today, love it!
Leave a comment below if you have any questions!