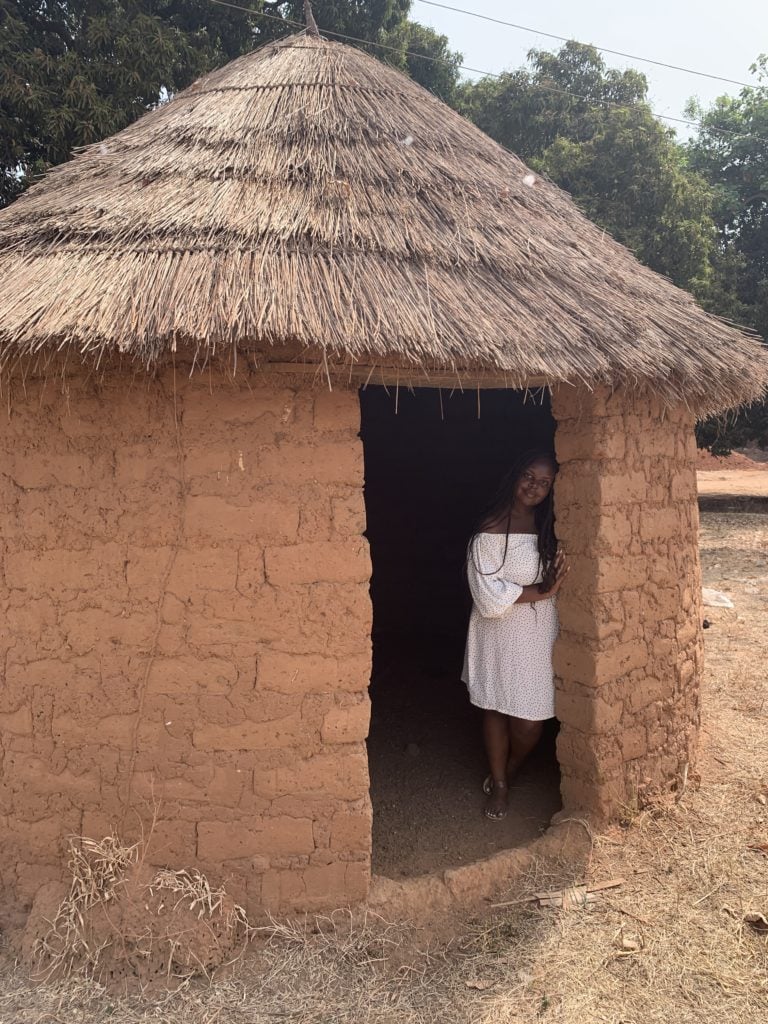 Mognori Eco Village – Northern Region, Ghana
The Northern Region of Ghana is my favorite region so far because it allows me to embrace an authentic, refreshing side of Ghana that can be hard to come by living in Accra. Northern Ghana is filled with many things to do and opportunities to connect with welcoming Northerns who don't hesitate to share pieces of their culture with guests.
The Mognori Eco Village is about 20 minutes away from the Mole National Park and makes for a great stop when visiting the forest.
The Mognori Eco Village is positioned on the side of a secluded brown-reddish road covered in uneven potholes making the destination to the village a bumpy one as I sat on the back of a motorbike driven by my tour guide Shani! Our bike the only one on the rough road for miles with leafless trees passing us by and his curly locs flying up as the wind passed through.
As we pulled into the village, one by one the elders would come out of their homes to see who was riding through and greet us. At 9am we did arrive earlier than usual and waited in the shade under a large tree as I took in my surroundings.
One thing I admire greatly about tourism in the Northern Region is that is is not overly curated and tailored to meet certain standards of visitors. The exact way things are done daily is what you will get to experience.
THE VILLAGE
CANOE SAFARI
For C20 ($2.86) two paddlers will take you on a canoe safari at Mongori Eco Village through the swamp mangroves of the village.
Shani and I followed the paddles as they led the way to the canoes on a bike following a similar path we took to get to the village.
I navigated my way through a few rocky bumps descending to the lake and met the two paddlers, one at each end of the canoe with their paddles in hand ready to take me on a 30-minute journey through the forest.
For those 30 minutes nothing else mattered as I enjoyed every second of being in the middle of nature.
While I only saw a few birds and a snake, elephant foot print trails were found along the sides of the lake, indicating their occasional presence to rehydrate at the Mongori Eco Village site.
SHEA BUTTER
The Mongori Eco Village manufactures and sell their own handmade shea butter for profit! Although I didn't get to see the step by step process on this visit, I was taken through the steps and got to take a small sample of already made Shea Butter.
HOMESTAYS
You do have the option of doing a homestay at the village! This means staying in one of the housing structures for a night or more. You'll get to wake up and fall asleep with villagers and get a personalised insight into what a day in the life is like.
Mongori Eco Village also offers cultural performances upon request (I would call to set this up before arrival).
RECOMMENDATIONS FOR VISITING:
Use Bug spray – There are mot only mosquitos, but tsetse flies, which bite through clothing so spray well before heading to Mongori Eco Village.
Use a motorbike and not a car! If you aren't using your own vehicle, drivers may charge you more for the rough route alone and it will take you longer to get through the bumps with a car.
Tip! There are fees for certain things like the homestay and canoe safari, but be sure to purchase some shea butter or tip well if you can to thank the Mongori residents for opening up their homes.
—
The Mongori Eco Village is a must-do when visiting the Northern Region of Ghana or Mole National Park. With a tagline of "In Tune with Nature" a visit to this village will leave you wanting to go beyond the typical tourist attractions and dig deeper.