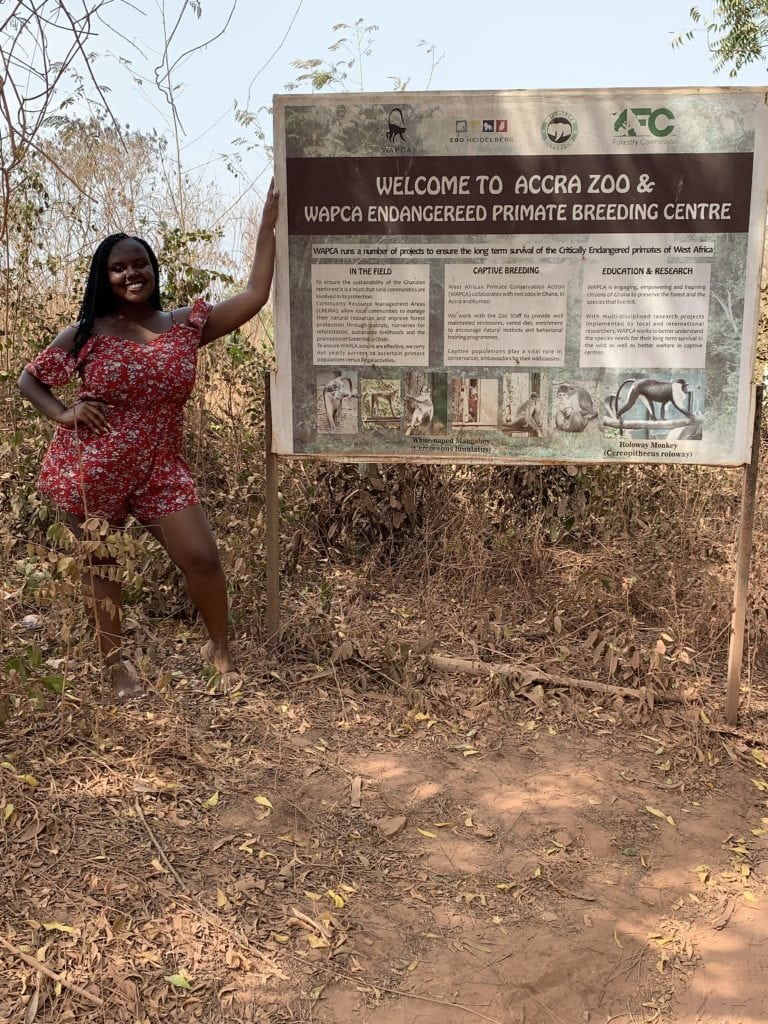 The Accra Zoo
Known as the Achimota Forest, the Accra Zoo is a site that has been on my very long Accra bucket list for a long time. I took advantage of a friend being in town and finally decided to check it off!
WORKING HOURS
The Accra Zoo is from Monday – Sunday 9am – 4:30pm. The zoo is closed on Sundays.
UPON ARRIVAL
Upon arrival, you'll see a large banner with "Accra Zoo" written, welcoming you into the forest. As your car enters the parking space, to your right will be a variety of vendors and merchants with small booths you can support before or after your zoo tour.

Directly in front of the entrance is a green booth office where you will call someone to your attention to purchase a ticket.
The actual zoo is a 10-15 minute drive from the entrance to purchase your tickets. With this in mind, if you visit the Accra Zoo using an Uber/Bolt/taxi, do not end the trip once you arrive!
Buy your ticket and have them drop you off at the zoo animal entrance. You may even want to have your driver stay, and you'll see why later in this post!
PRICE
I paid 20 GHC for being a non-citizen of Ghana, and I believe the price is 10 GHC for Ghanaian adult citizens.
ZOO TOUR
At the zoo entrance where the animals are, we immediately spotted monkeys through their cages and a table surrounded by the zoo employees who appeared to be having a meeting.
We were asked for our names and origin location for the activity logbook, then assigned a tour guide.

Our tour guide seemed less than enthusiastic about taking us around the zoo and rather as if we were running her relaxation time.

We began with the Endangered Primate Breeding Centre, where the monkeys are hosted. Unfortunately, no detailed information was provided about the animals throughout the tour besides their names and the type of food they eat unless we probed for more questions.
I liked how the Accra zoo displays the bones and body parts of certain animals: zebra skin, the skull of a baby elephant, the head of a sea turtle, etc.
We saw tortoises, lions, birds, alligators, a porcupine, an ostrich animals in the deer family, snakes, and more.
The lions are kept about 5 minutes away from the other animals by car in another secluded area in the forest. We were told this is because it roars in the presence of other animals and scares them.
We let our Uber driver leave as we did not know this, so I had to call one again to come and drive us. I don't see why there are no golf carts or a safari-type jeep for this activity of bringing guests to the zoo entrance and lions.
REVIEW
The animals were a bit hard to see at times through the large cages and did impact the experience, but there were more animals to see than I expected.
Our tour guide was in a very obvious rush the entire time. We could never spend more than 1 minute at a time without her saying, "please can we go." The zoo is here to spectate and take pictures of the animals. I did not like this at all. I thought she was rushing us due to another scheduled tour, but she just wanted to leave the zoo to go somewhere before the closing time in 2 hours..not okay.
The guide did mention that the zoo is three years old, and there was a lot of construction happening, which is a great sign of development. However, for 3 years, I expect better explanations of the animals.
The cages for many of the animals are also insanely small. The male lion's cage was especially concerning because there is not a reasonable amount of space.
RECOMMENDATIONS:
Bring your own personal vehicle if you can, or have a driver to stay throughout the duration of the short tour (20-30 mins).
Wear bug spray and sunscreen to protect yourself from the heat
I personally would not spend the time to come here again, but I love new experiences, and my visit to Accra Zoo was just that!