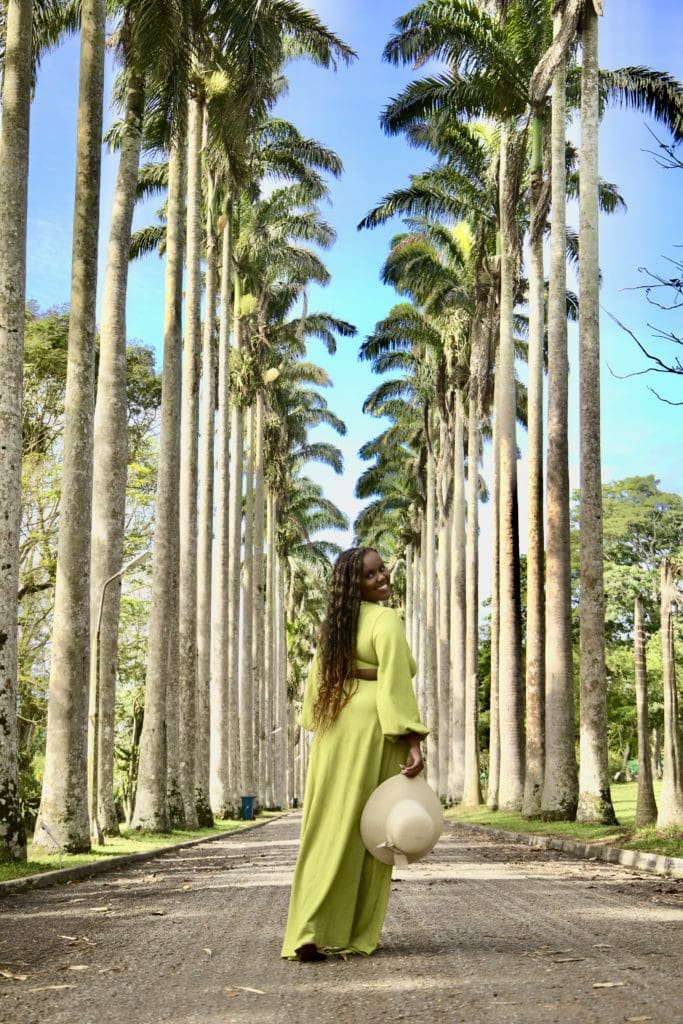 A Mini-Guide to Visiting Aburi Botanical Gardens
The Aburi Botanical Gardens in the Eastern region of Ghana is a compilation of various lush plants and greenery. With botanic plants originating from all over the world in places like Mexico and Southern Florida, the Aburi Botanical Gardens is perfect for a mini-retreat away from Accra, a family outing, couples picnic, and other leisurely activities.
How to Get There
Depending on where you are coming from in Accra, the Aburi Botanical Gardens is about 40 minutes – to 1 hour. The most convenient way is using Uber or Bolt. However, many drivers complain of not being able to possibly get a rider back towards Accra once they drop you off. They may try to raise the given price of the trip to make up for it, so be prepared for this to happen possibly. You can also take a tro-tro, my favorite way to get to and from Aburi, because the ride is only C8 ($1.14) instead of C60 ($8.57). If you choose to drive yourself, there is plenty of parking at the facility.
Aburi is known for its mountains, as you'll see surreal views on your way up to the Aburi Botanical Gardens. Aburi is a small town, so once you pass the ramp up to the site, the road pathways are surrounded by village establishments. The green Mcdonald-style arch will mark your arrival at the Aburi Botanical Gardens.
Entry Fees
You do have to pay to enter the Aburi Botanical Gardens. Foreigners pay a rate of C10 ($1.43), while Ghanaians pay C5 ($0.71). There are additional rates for video and photography footage taken and other events. You can be "strategic" about taking pictures with a camera, but you will have to pay if seen.
Inside the Aburi Botanical Gardens
Upon entering the Aburi Botanical Gardens, you are met with a long pathway lined with tropical palm trees from Southern Florida (where I'm originally from!). This made me feel like I was right back home in Florida for a minute. You can walk around the garden and look at the different plants and trees.
This may not sound like the most exciting thing if you don't appreciate plant life. Still, there are some beautiful formed plants around:
Kids Playground and Airplane
There is a small playground on-site for small children. There is also an airplane that could serve as a cool photo-op!
Snack Shop and Kebabs
Near the back is also an extensive snack shop with cold drinks served and fresh kebabs being charcoaled.
Souvenir Art Center
Towards the back of the Aburi Botanical Gardens is a mini art center where you can shop for mini souvenirs to take home! From dresses, decorative bags, African-printed fans, hats, and more, don't plan on leaving empty-handed! The prices are very affordable as well.
Restaurant
A restaurant is also located at Aburi Botanical Gardens if you want to stop by for lunch after a long walk around the garden.
Things to Know Before You Go
Bring bug spray and sunscreen! You will be completely outdoors, and the mosquitos can be crazy!
2. Getting an Uber/Bolt from Aburi can sometimes be challenging, but many taxis operate in the area. You can use a taxi to go to a tro-tro central point and take a tro-tro back into Accra or a taxi (it will be pricier).
The Aburi Botanical Gardens is a great place to visit for a relaxing, chill day. It's up in the mountains, secluded, and allows you to be one with nature. If you decide to visit after reading this post, leave a comment letting me know how you liked it!