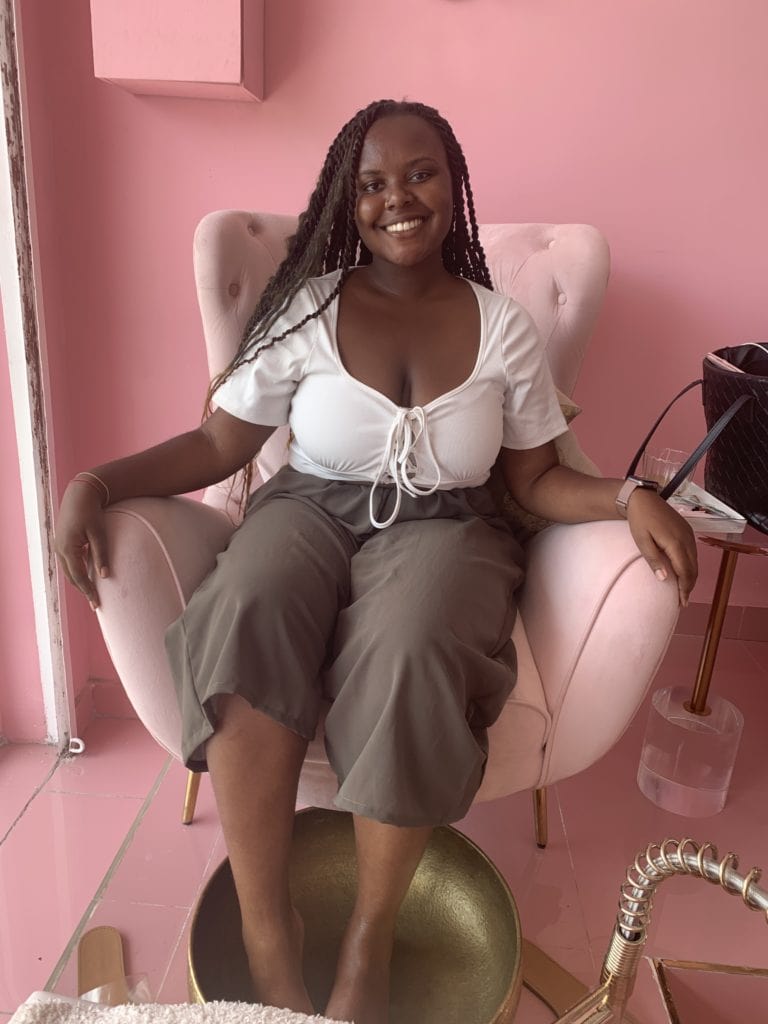 Lynette's: The Pretty and Pink Spa in East Legon
Lynette's is a new spa in the East Legon neighborhood of Accra, Ghana, building a reputation for providing a detailed, chic, high-end experience to its guests. Specializing in a variety of fingernail and toe services, from vegan manicures to nail whitening treatments, Lynette's prides itself on providing a serene atmosphere for some much-needed spa time.
Location
I came across Lynette's on Instagram! Their marketing was top-notch, and once I saw how pretty and pink everything was, I knew I had to visit. The spa's address is 19 Lagos Avenue and is located in the same plaza as the smoothie place Clean Eats. You can't miss the stunning soft pink building while driving on the busy streets of East Legon.
Setting an Appointment
Lynette's uses the "Fresha" booking system, which provided me with a seamless booking experience. Many businesses in Accra make the mistake of making customers book with them via WhatsApp, which causes a lot of unnecessary back and forth and delays in the booking. I booked an appointment the night before in 5 minutes without speaking with anyone. All of the information was on the website. I selected a time slot and was sent an email confirmation with relevant details of my appointment.
Initial Impression
My appointment time was at 9 am (opening time). I arrived exactly at that time (the American in me is still working on not being exactly on time because it's always a disappointment. Sadly, it was in this case and did not set a great tone for what I thought the experience would be like at Lynette's.
My appointment did not start until 9:20 am. I arrived to see employees sweeping, cleaning, and doing other things that should have been done before 9 am as I waited outside for a few minutes before being invited in. I was barely greeted but understood that they were trying to get settled. The environment was just cold, and I wondered if I had made a mistake booking service here.
Decor
The decor of Lynette's is stunning, from the ceiling to the flooring. I can see that the details of putting the shop together were well thought out and pieced together to exude a chic, luxury vibe. I find pink to be a soothing color for me and immediately fell in love with the ambiance. I love how accents of gold compliment the pink as part of the decor at the spa. I'll let the pictures do the rest of the talking:
Service
I booked a gel manicure and pedicure. Despite the rough start, the vibe turned into a chic, relaxing atmosphere once everyone settled in. My pedicure specialist Alexia provided me with an unexpected 2-hour pedicure. For two hours, I laid back and listened to the Settling Podcast by Cindy Nwachukwu and enjoyed the detailed scrubbing, cleaning, and much-appreciated massage given to me. I can honestly say it is the best pedicure I have ever gotten.
I loved how the nail colors are displayed in a bookcase, making it easy for clients to see and compare the different shades of colors against their skin.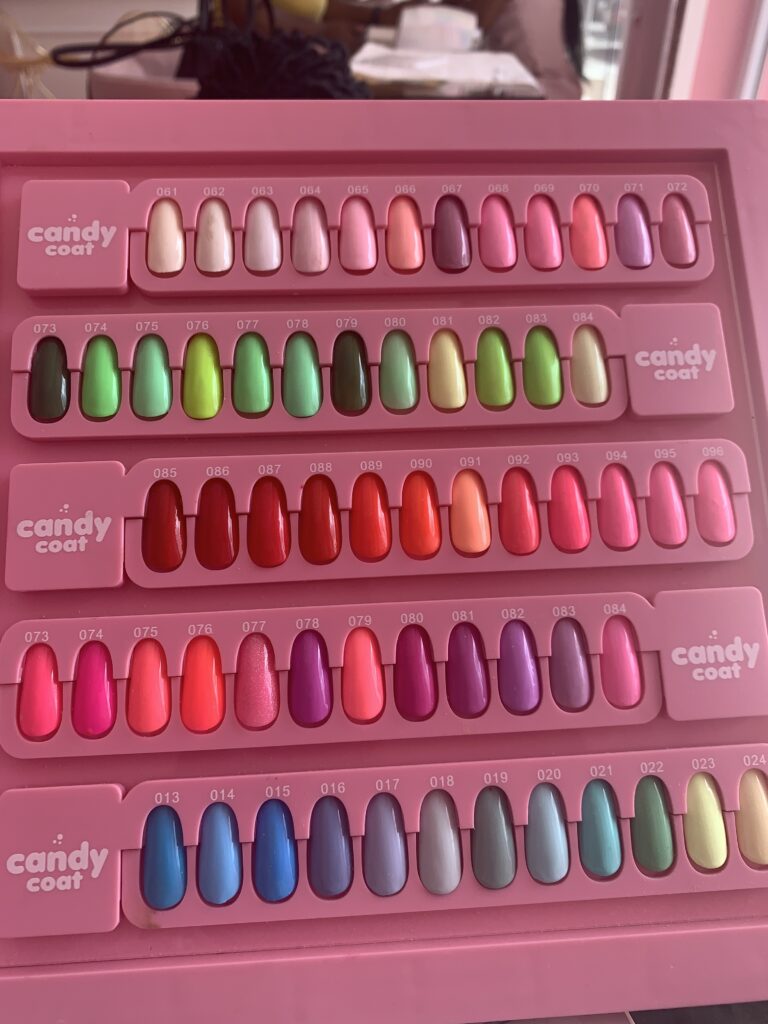 I was also offered tea, coffee, or water and settled for a delicious cup of tea with milk and sugar. The receptionist and other managing staff members were very attentive to me and asked if I needed anything occasionally.
Once my pedicure was over (sadly), I was escorted for a short walk to the manicure station, where Stephanie took care of my nails. My favorite part of the spa was the Cookie scrub she rubbed over the back and palm of my hands and wrist, leaving my hands feeling smooth and rehydrated.

Overall, I enjoyed my experience with the services. Upon booking, it did say the duration of time for both the manicure and pedicure would be 3 hours (which was accurate), but I doubted it! It was a great surprise for me to have gotten a 2-hour pedicure, but keep this in mind if you are in a rush. In total a gel manicure and pedicure cost me C250 ($40).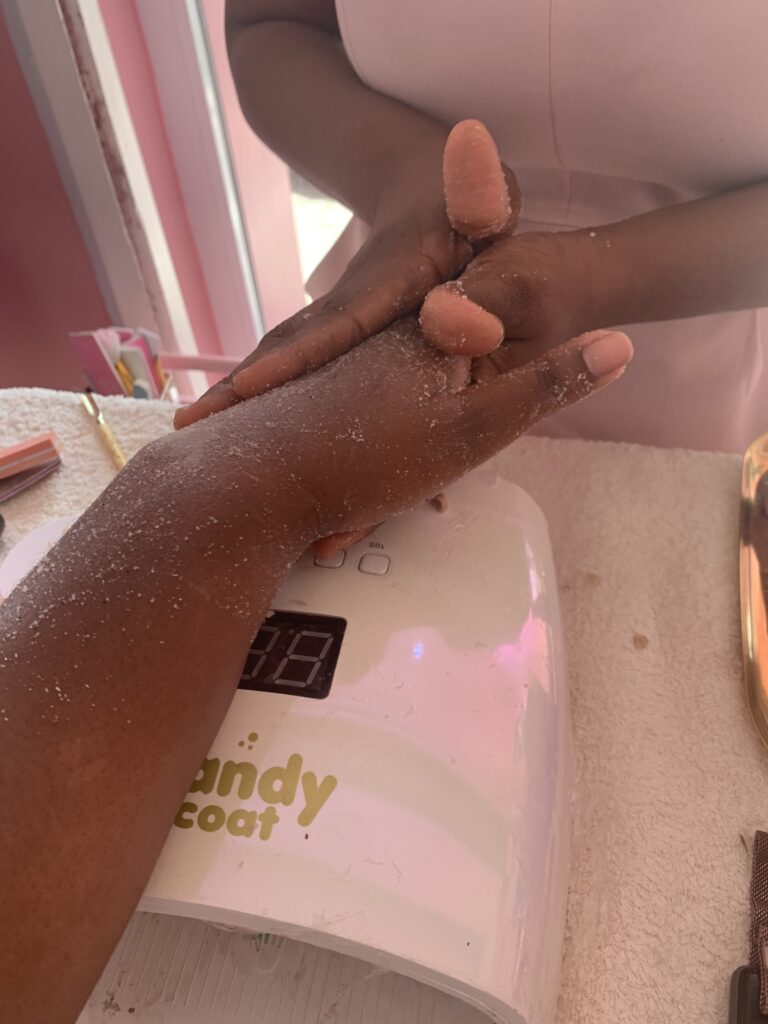 Payment
Card, cash, and Mobile money are accepted at Lynette's for payment. I opted in for Mobile Money.
Final Thoughts
Lynette's is not only a gorgeous environment, but the first spa I have ever visited that takes its time on its clients. Setting an appointment is highly advised because my time there took me 3 hours, and I only budgeted time for 2 hours. I would recommend booking an appointment for 10 am or later to give the ladies time to set the mood, but I have no complaints and will be back!