When you hear the bursts of jazz tunes from the Second Line, smell the creole-centered cuisine, and see the historical architectural structures, you know you've arrived in New Orleans, Louisiana. New Orleans is certainly one of the most lively and culturally rich cities in the United States. If it's your first time heading to New Orleans and you've heard about how much there is to do, you may wonder if 3 days in New Orleans is enough time to soak in all the city has to offer. 
While I explored New Orleans for 5 days, 3 days is more than enough time to get a good grasp of the city. Whether it's for a week or a few days, my itinerary will guarantee that you make the most of your time. This 3 day New Orleans itinerary will help you plan what to see in New Orleans in just a few days! 
Day 1: Explore some of what New Orleans is most known for 
Start your day with a New Orleans staple, a beignet 
Served hot and made to order, you can't come to New Orleans without trying a beignet! Cafe Beignet and Cafe Du Monde are one of the most popular go-to spots in New Orleans for beignets, and they certainly don't disappoint. Beignets are fried square-shaped pieces of dough loaded with powdered sugar on top. They make a great breakfast starter or a quick snack while exploring! With lines wrapped out the door in the mornings, most locals don't hesitate to grab their daily dose of beignets and a freshly brewed cup of coffee to get the day started.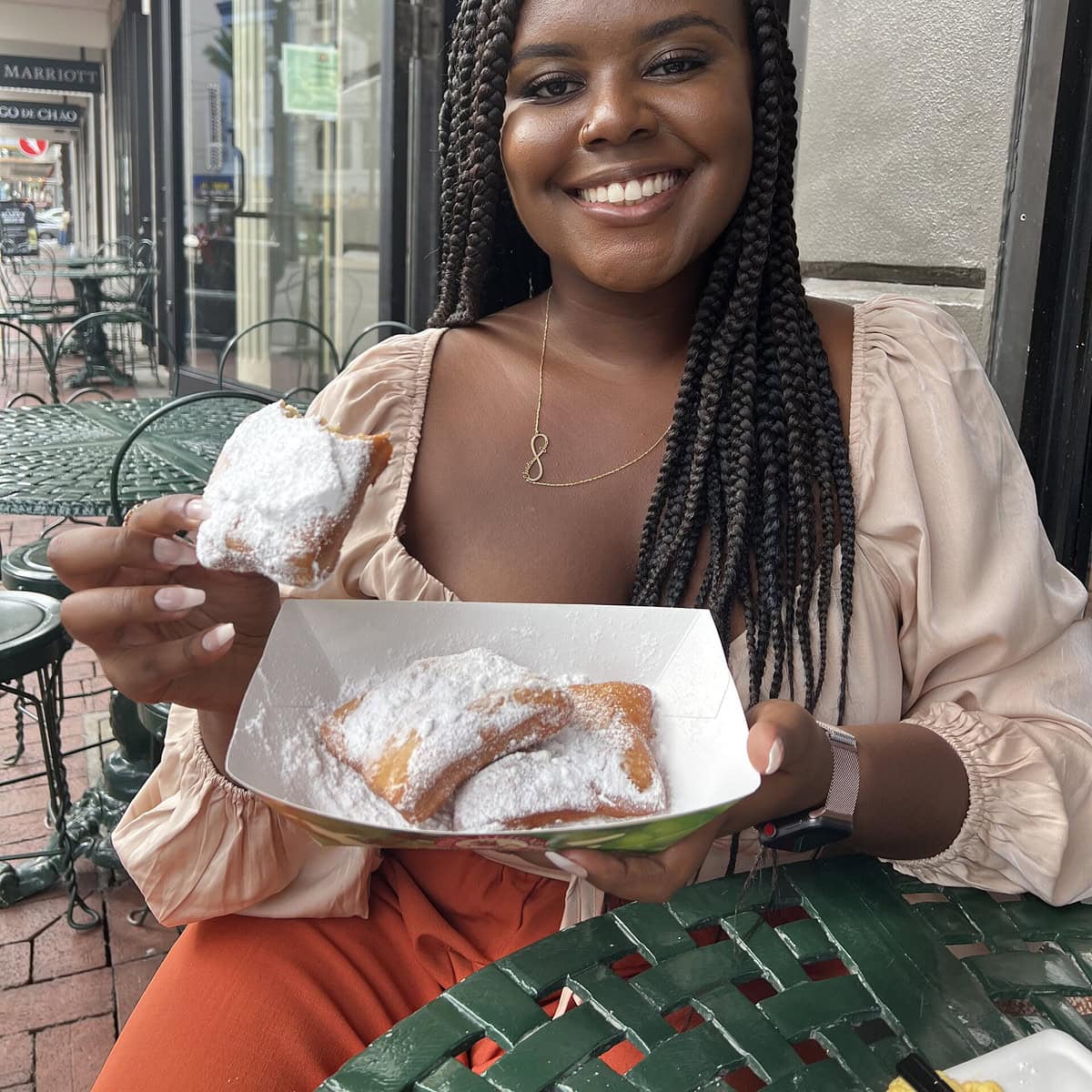 Beignets aren't the only thing you have to look forward to if you visit Cafe Beignet. Cafe Beignet has an impressive breakfast menu from a variety of specialty omelets to belgian waffles. If you're in the mood for something a bit heavier to start your day, items like gumbo and crawfish etouffee are also highlighted on the menu. 
Pose in front of the "Greetings from NOLA" art mural
You're bound to spot elaborate, colorful murals all around the city that convey uplifting messages. What better way to pay your greetings to the city than with a formal picture in front of this stunning mural? The work of art is painted with vivid colors and includes distinctive aspects of New Orleans' culture. The Greetings from NOLA mural is located at 2104 Magazine St and in a pretty lowkey area, so you can spend as much time as you need getting those good angles!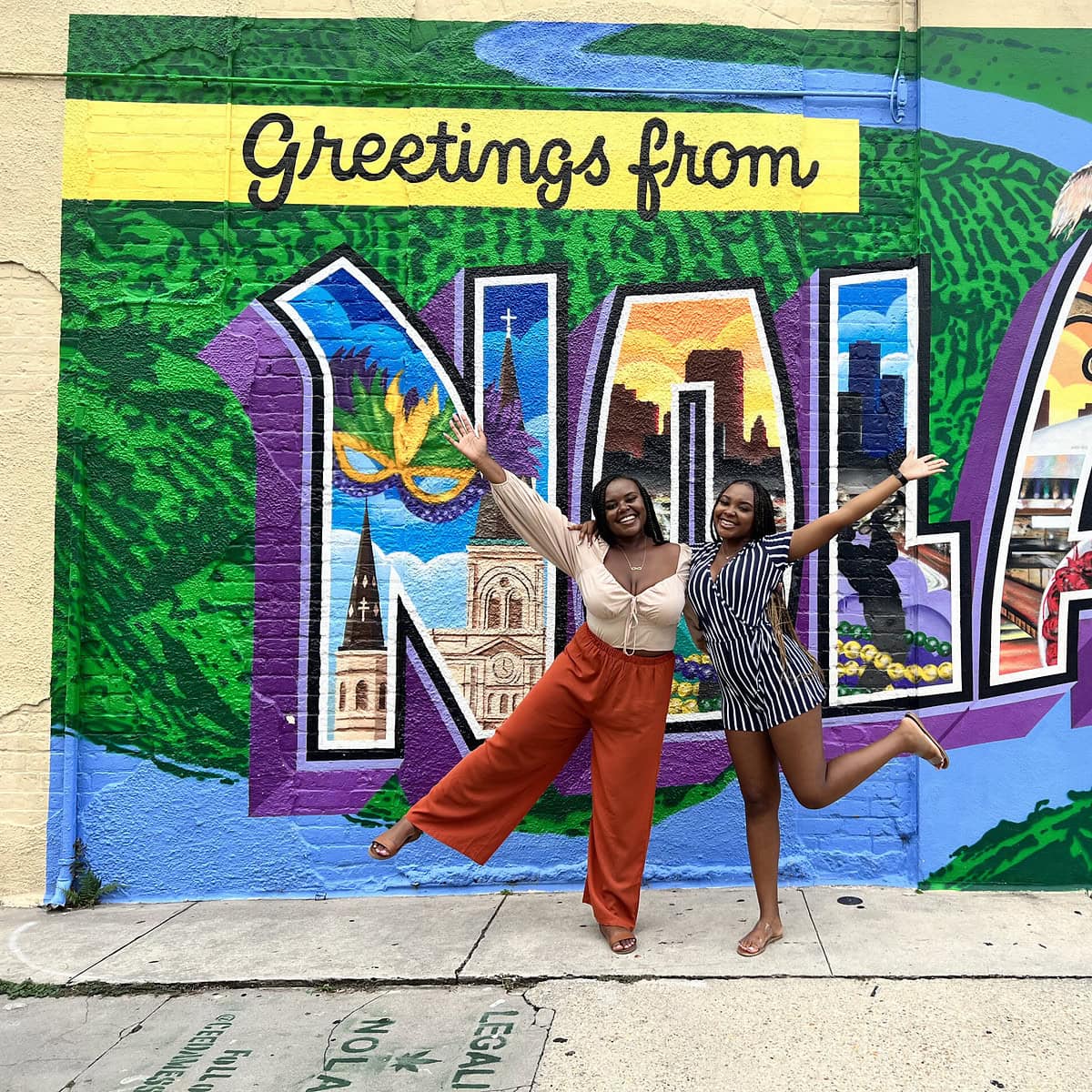 Immerse yourself into an underwater world at the aquarium 
With its reputation as one of the best aquariums in the country, the Audubon Aquarium of the Americas is a great stop for a more relaxed scenic view of sea animals. As you walk through the tunnels of the aquarium, you'll spot penguins, sharks, jellyfish, and over 3,000 other animals. The aquarium also leads you to a replica of an Amazon Rainforest where you'll get to see some piranhas. On a more honest note, if you're running low on time, I suggest skipping the aquarium. While it is an experience and considered one of the top things to do in New Orleans, ticket prices are pricey, and you can get through the aquarium in 1.5 hours. 
Planning Tip: The aquarium is closed on Tuesdays and Wednesdays, so double-check if the days you'll be in town are also the days the facility is open! Also, purchase your ticket online to skip the long line at the entrance. 
Ride around New Orleans on a streetcar 
Streetcars in New Orleans have been around since the 1800s and are a part of the city's charm. Stopping at various stops around the city, I recommend hopping on a streetcar to say you did it and to get the experience! You can use New Orleans' transportation app through the NOLA Regional Transit Authority (RTA) to see how far streetcars are from a stop near you. Tickets can be purchased on the app or with cash as you board a streetcar. Passes are sold for single rides and multi-use for a varied number of days. Once you've boarded, you'll get to see New Orleans from a unique angle.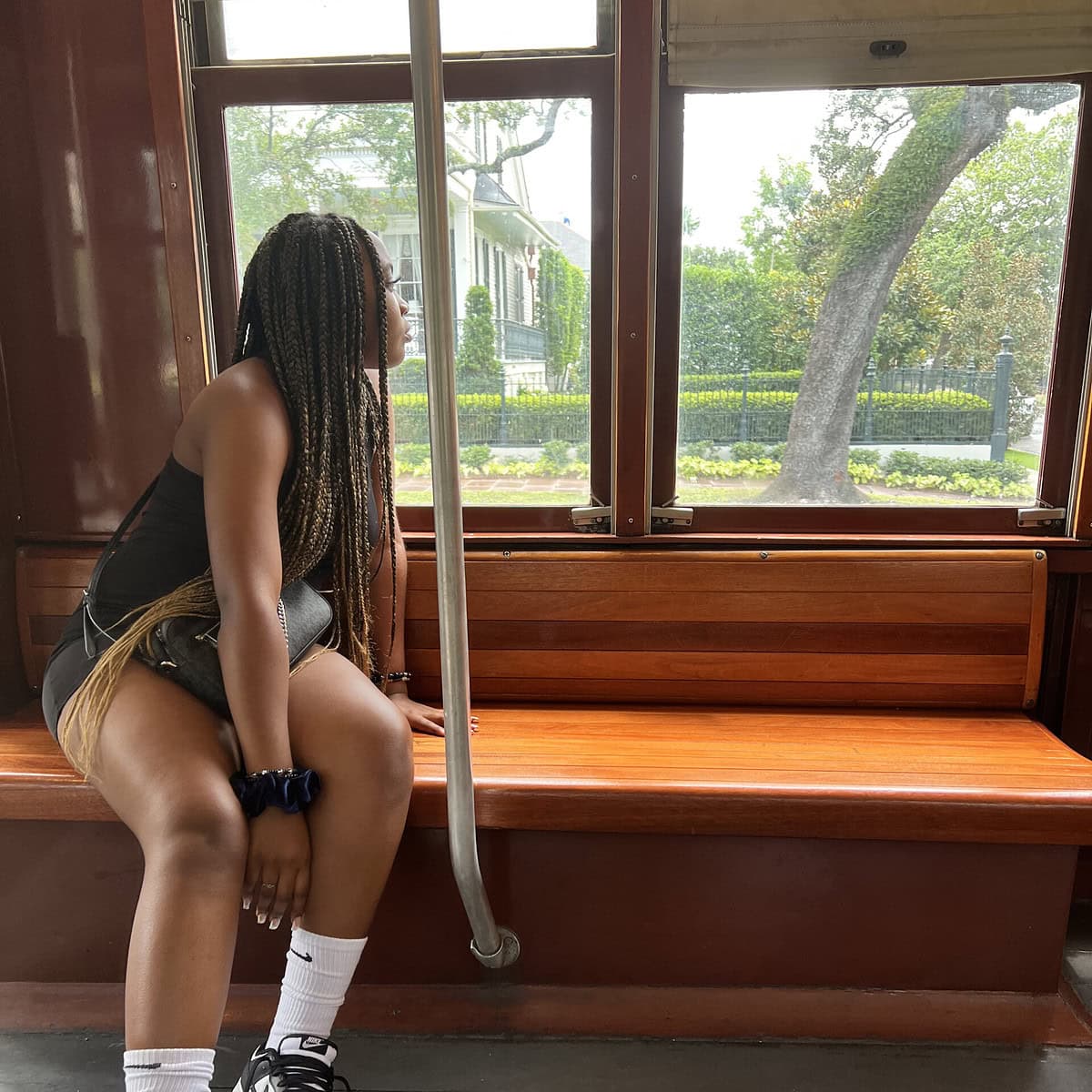 Have lunch at the French Market 
The French Market is a flea market and farmers market all in one! Open daily from 10 am – 5p m, you'll walk through the shade-friendly market and hop from table to table, visiting vendors displaying their products. Clothing, fresh produce, sunglasses, purses, and an abundance of other goods are sold at the French Market. Aside from goods, the market is also used for festivals and events. 
Once you pass the long walkway of products, you enter the food court towards the back of the market, which introduces dozens of food stalls where you'll have your lunch. Whether you're in the mood for shrimp and grits or a good-ole po'boy sandwich, lunch at the French Market will satisfy you before enjoying the rest of your day in New Orleans. 
The market is located at 1008 N Peters St.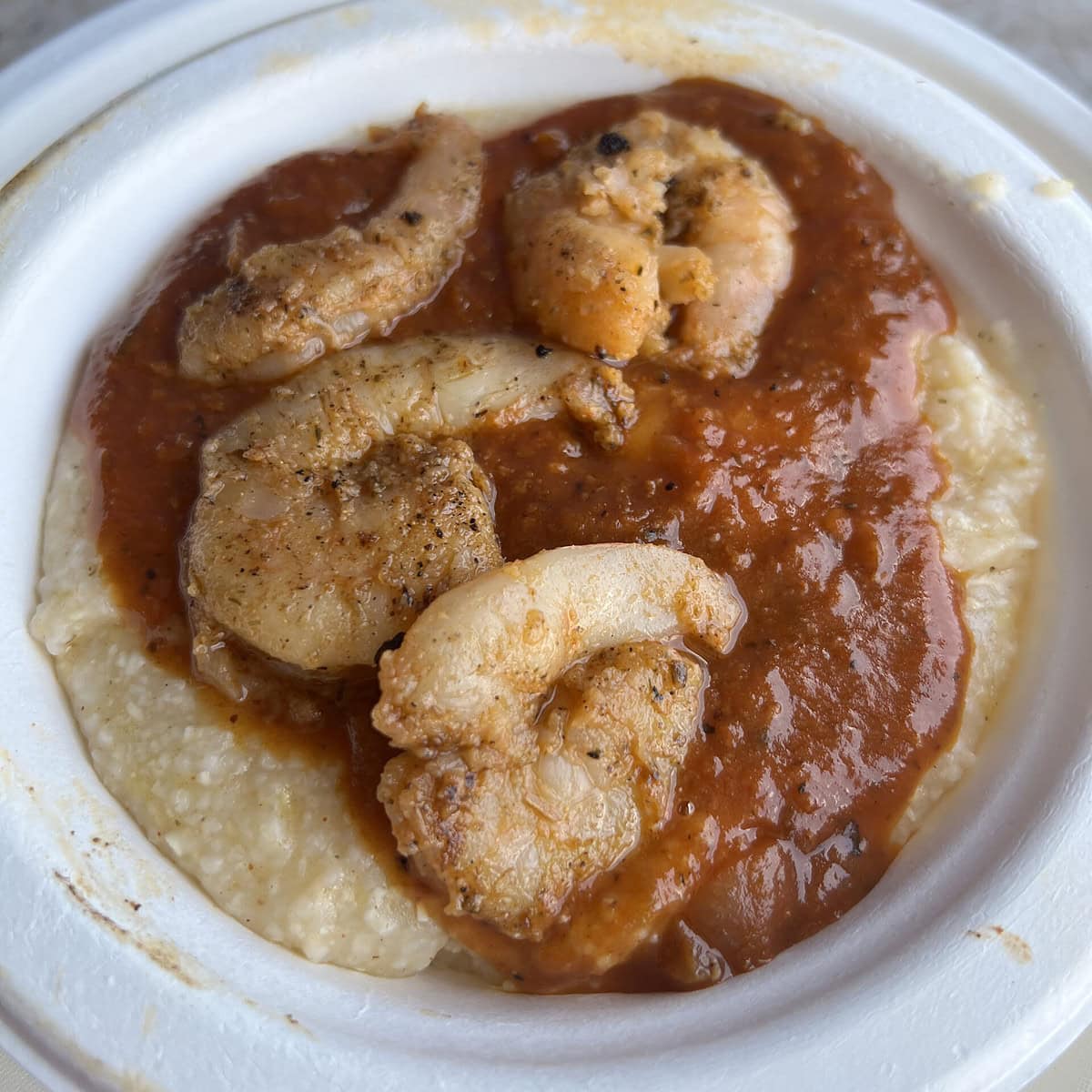 Explore the French Quarter 
I can guarantee that you've probably heard about the French Quarter hundreds of times while trying to plan your trip to New Orleans. After all, it is the oldest and arguably the most popular city in New Orleans. So what is so special about the French Quarter? Well, it's the center of the excitement in the city. It's where you'll find some of the best eats, places to stay, pubs to crawl, and things to see in New Orleans. It's a very lively place to be as there is always something going on. 
Allow yourself time to explore the corners of the French Quarter. Go in and out of the beautiful local art galleries, stop and take pictures in front of the colorful doors, and even hop on a pedicab that will save you the energy of walking around, as the French Quarter comprises over 70 blocks. With shops, restaurants, and bookstores covering almost every block, there's something you'll find that catches your eye!  
Party on Bourbon Street 
Home to an impressive lineup of bars and clubs, Bourbon Street, is considered the livest party street for nightlife in the city. Once the lights go down, you've entered a whole new world. The brass bands start blaring, and people crowd around them to start dance circles that go on into the night. You'll see a few pythons and have the chance to pose with them if you're up to it. Street performances are endless, from little boys using buckets and sticks as drum sets and random men painted in metallic paint to channel their inner characters.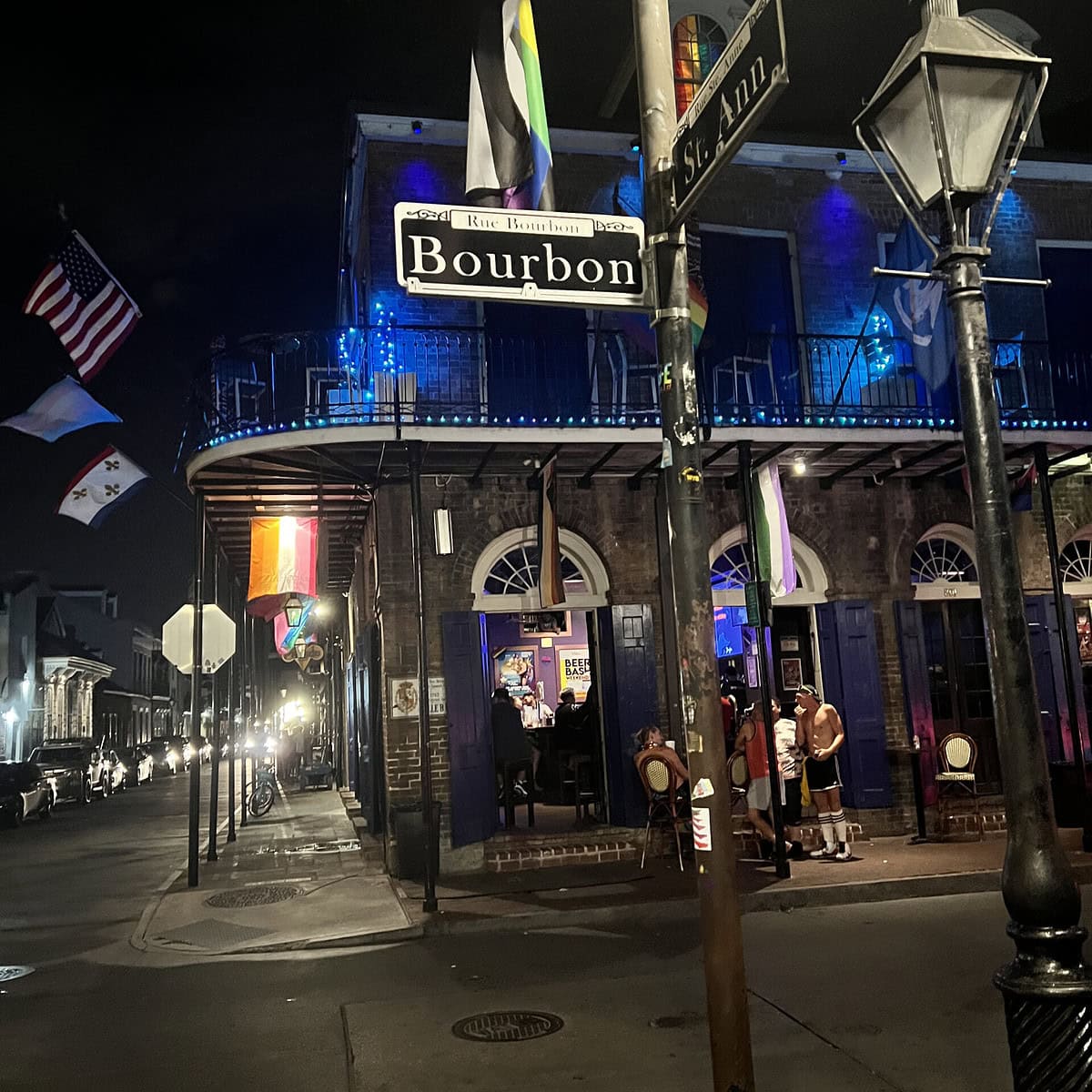 Planning Tip: Bourbon Street is usually packed with tourists, so it's best not to bring a bag if you can help it, but if you do, keep it in front of you and have your street smarts activated! Pickpockets are hard at work out here. 
Day 2: Visit the wonders of the city  
Indulge in a breakfast buffet at the Court of Two Sisters
The Court of Two Sisters is a popular spot for some of the best breakfasts in New Orleans. The restaurant has a setting of an elegant courtyard and is best known for its live jazz brunch buffet. Served every day from 9 am – 3 pm, the Court of Two Sisters has breakfast classics, fine New Orleans cuisine, and dessert as part of its buffet line. All of this while enjoying the background melodies from the live jazz band. The Court of Two Sisters has been around for decades and is a stop on this 3 day New Orleans itinerary I know you'll love! 
Planning Tip: Be sure to set a reservation ahead of time! As mentioned, this is a hot spot for tourists and locals, so secure your spot to avoid any delays. I promise you'll want to eat here!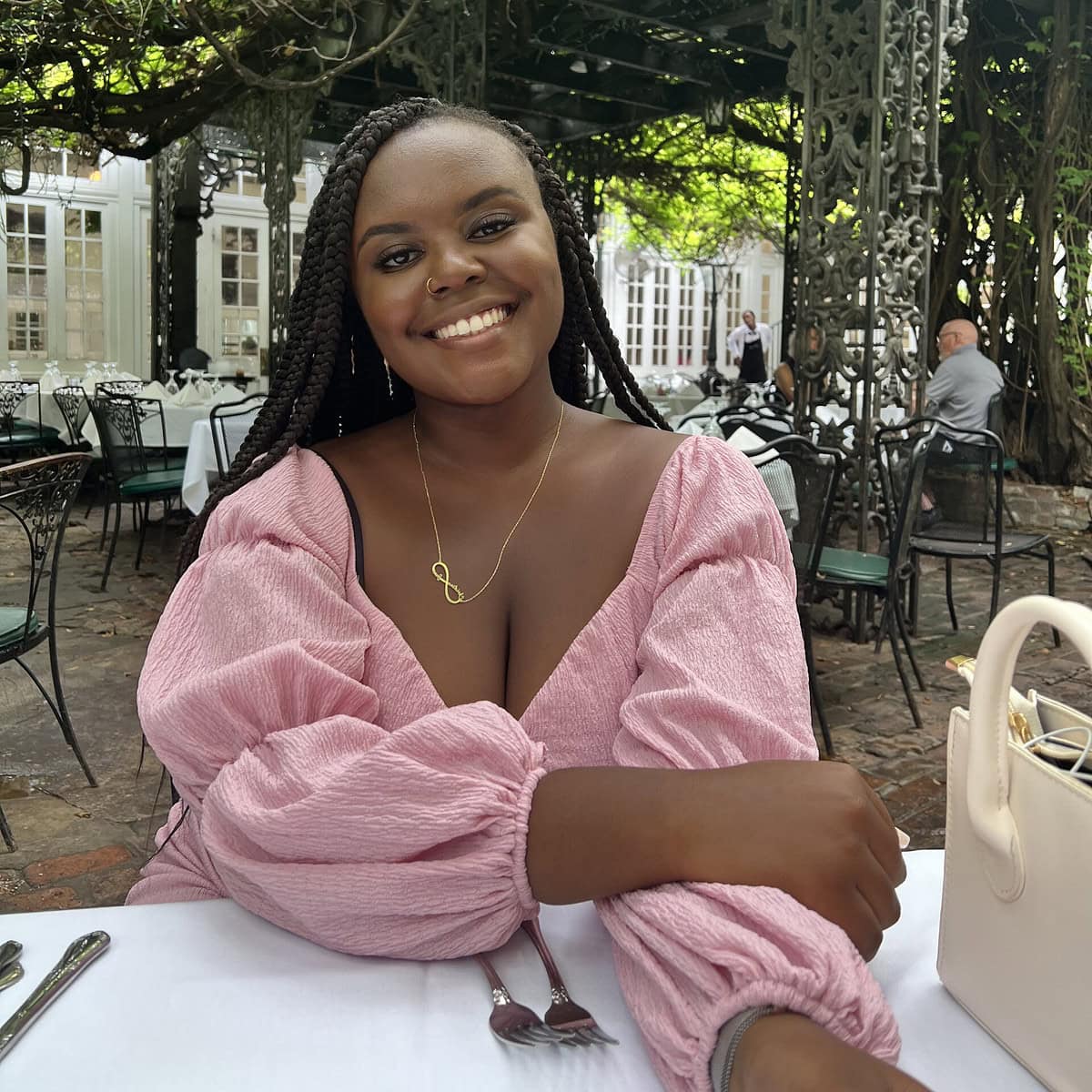 See the Jackson Square and say yes to a horse carriage tour 
Jackson Square is an exciting part of New Orleans in the French Quarter. Its main attraction is the gigantic statue of Andrew Jackson on a horse at the Battle of New Orleans. The Battle took place in 1815 against the British, and today the statue stands as one of the most visited in the city. Aside from seeing the depiction of Andrew Jackson, the square is where you can go to see many artists showcase their artwork just outside the fence of the park.
On the side of the main road, you'll see a lineup of horses and carriages for 30-45 minute tours around the French Quarter for $20-$35/person, depending on the tour operator. Say yes to the experience, and you'll soon see New Orleans from yet another angle. 
If you get hungry or are in the mood to shop, there are many restaurants and stores around, like Landry's Seafood House. 
Planning Tip: This map will give you an idea of what is close to you as you explore the city. This will be helpful in allowing you to see what stores are around you and that you can visit while in the area! The horse carriage operators prefer cash and don't usually have a lot of change on them, so have small and large bills.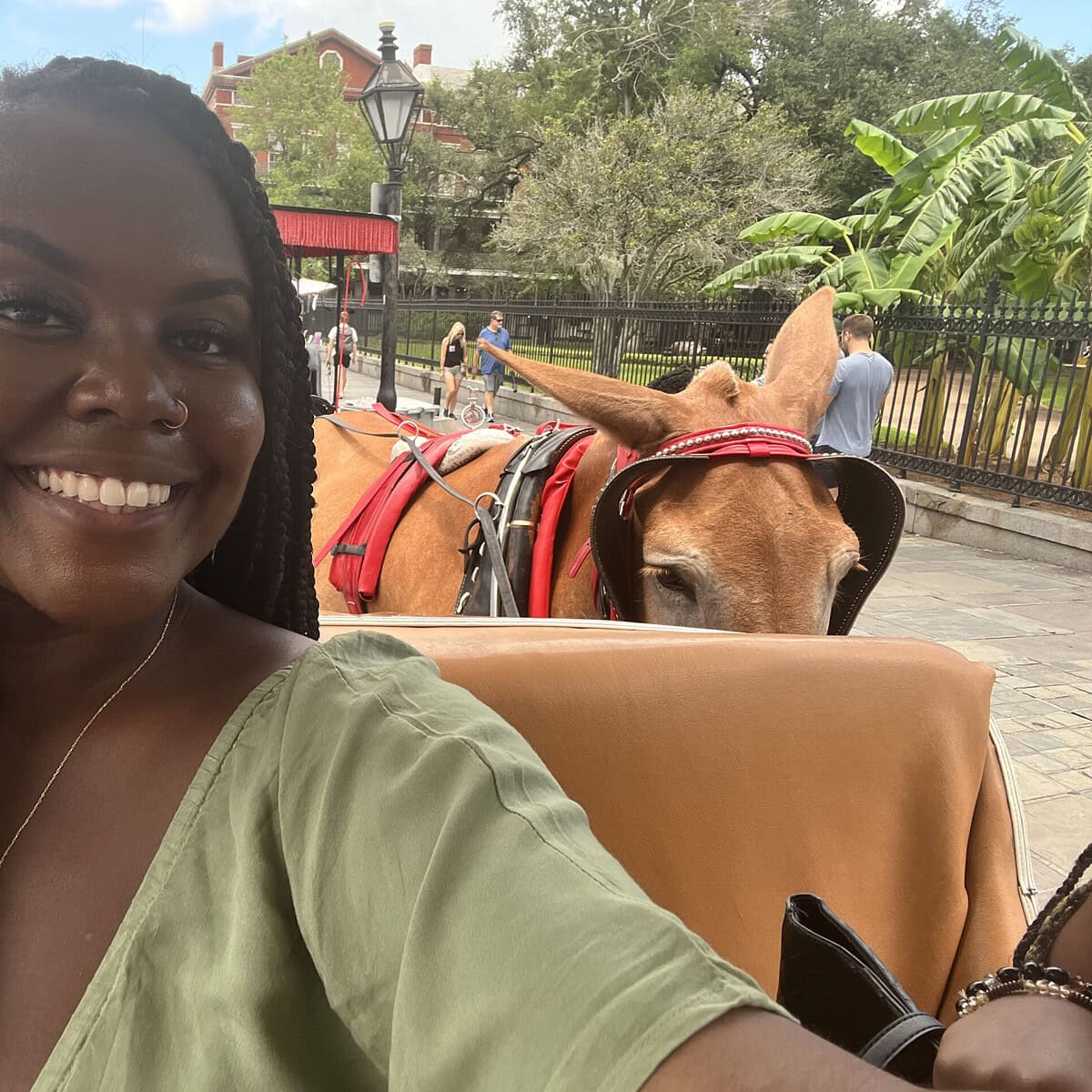 Brush up on the history of voodoo
The word "voodoo" either sends tingles through your body or sparks your curiosity. Either way, what better place to learn the history of voodoo than the city the religion was brought to by enslaved Africans? For only $10, the New Orleans Historic Voodoo Museum has a walkthrough self-led museum where you can read about the origins of voodoo from West Africa, Haiti and its role in New Orleans. The museum is a great place to start and debunks many common misconceptions associated with voodoo. 
Dine at Bijou Restaurant and Bar 
Only 2 minutes from the New Orleans Voodoo Museum is the Bijou Restaurant and Bar, where you can enjoy lunch. Bijou is a fairly new restaurant and bar in the French Quarter specializing in cocktails, wine, and international cuisine. The restaurant strays away from New Orleans' typical creole and cajun flavors. Instead, it brings a different element to the food scene. The 3-course meal is something to look into with a starter, entree, and dessert leaving you more than satisfied. 
Understand the significance of World War II  
The National World War II Museum takes its visitors through the details of the war that involved and changed so much of the world. Taking up six acres of land that includes a dinner theater and several restaurants, it's going to take you some time to get through the museum. The World War II Museum has collections that include thousands of artifacts and personal recollections of the time period, short films, and more to really take you through the significance of the war and how it has impacted our lives today. 
End the night on Frenchmen Street 
A contrast to what you may have experienced on Bourbon Street the night before, Frenchmen Street offes an alternative vibe to nightlife in New Orleans. This street is less known for having a dynamic party scene but is considered the hub for live music. As you turn the corner onto the street, you'll immediately hear the blasts of instruments ringing through the air. Some bands perform right on the street, gathering a supportive crowd, while others play inside popular venues like the Spotted Cat, a music club where different bands play every night while you enjoy a drink. 
Planning Tip: Many venues on Frenchmen Street are 21+ years old or older to enter. When visiting the menus of some establishments on their website, you'll notice they only have drinks on them, so this may be a big reason why. 
Day 3: Spend your final day cruising and shopping around New Orleans 
Cruise down the Mississippi River on a jazz cruise 
If there's one thing New Orleans is good for, it's a good jazz cruise with some food. Thankfully, you'll get to spend two hours of your last day in town cruising down the Mississippi River as a passenger on the Steamboat Natchez Cruise. Departing six days a week from Monday – Saturday, you'll board the boat at Toulouse Street Wharf behind Jax Brewery in the French Quarter. Once on board, you can take your time climbing between the different levels of the boat or immediately dive into your lunch. On the upper level of the boat will be a seated area where you can jam to the jazz band.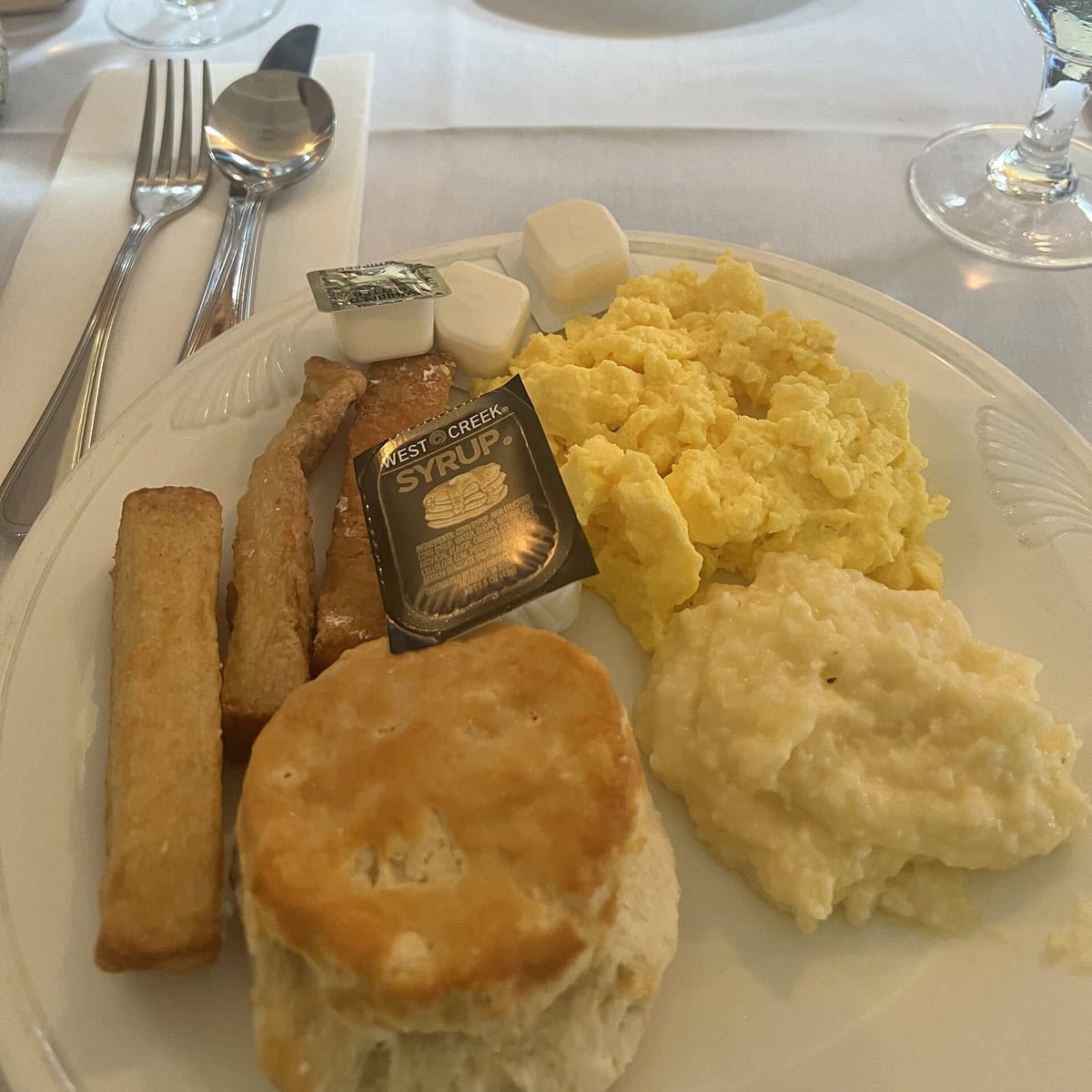 Planning Tip: If you are in New Orleans on Sunday, I recommend opting in for the brunch jazz cruise to experience a breakfast menu if your taste buds are in the mood for it! This was another one of my favorite experiences in New Orleans. 
Tour the oldest African American neighborhood in the United States 
Visiting New Orleans, you should know that you will be landing in one of the richest cities in the country as it relates to African American history, and that starts in Tremé. Tremé is the oldest African American neighborhood in the United States and is where free people settled in the early nineteenth century. There is so much history rooted in this one neighborhood, and you can learn all about it with a tour of Tremé by Treme Luxury Experiences. The owner Hollis takes you and a group of other attendees through and to important structures like the historic Congo Square and will give you the good, bad, and ugly about the neighborhood. This was personally my favorite part of my trip!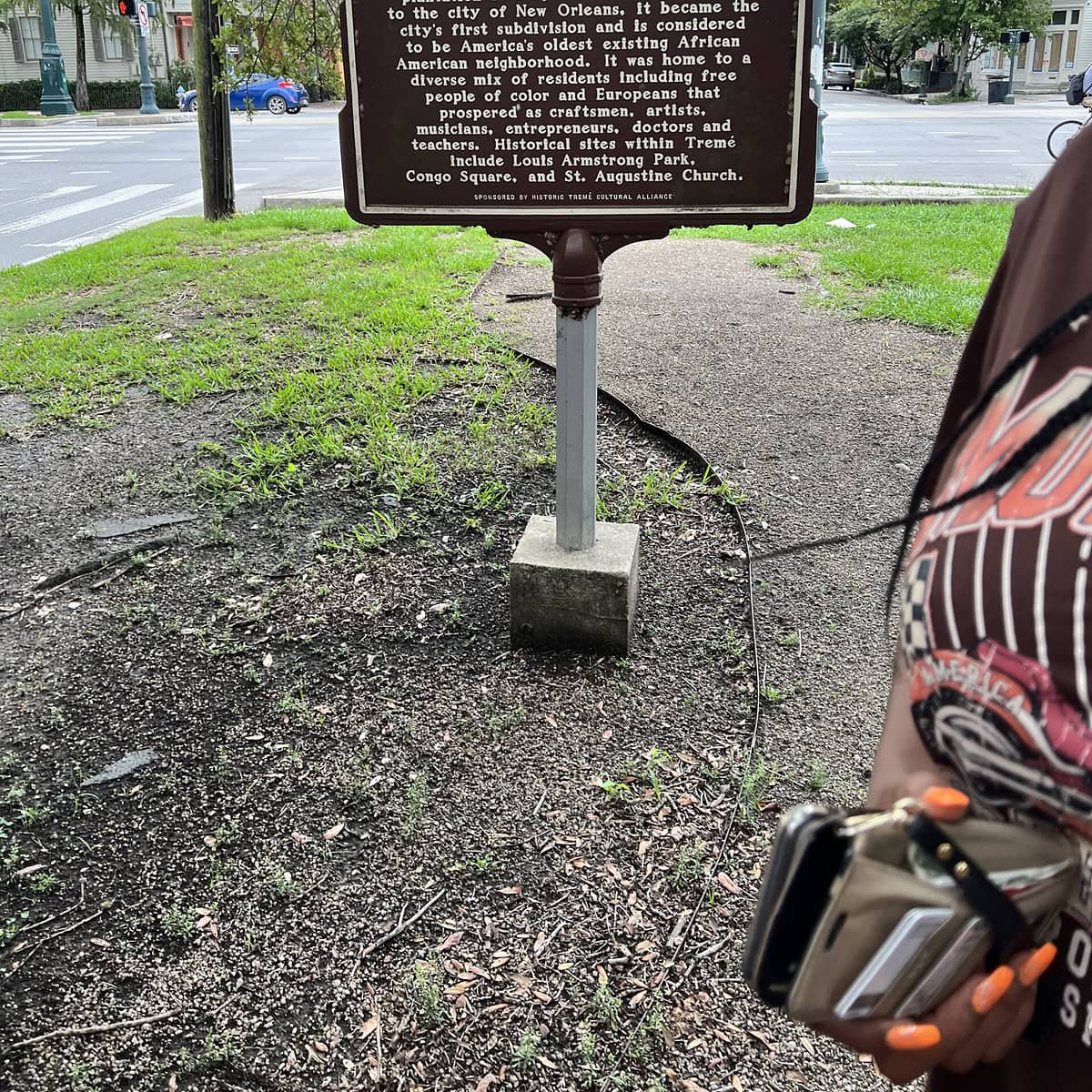 Eat at the Restaurant Former President Barack Obama Visited
Open since 1941, Dooky Chase's is a staple in New Orleans and, more specifically, the Tremé area while you are already close! In the 1900s, the restaurant was a meeting spot for civil rights leaders and public figures like Martin Luther King Jr. to discuss issues in the community and the world. Excitingly, former President Barack Obama appeared at the restaurant during his presidency. Nonetheless, Dooky Chase's has had a great name in the community for decades and is a chance to try one of the most historic restaurants in New Orleans! 
Shop til you drop at Canal Place 
Where upscale and boutique shops collide is Canal Place, a 3-floor shopping mall with dozens of luxury stores filling its corners. Upon entering the mall, the shiny marble-tiled floors and clear glass elevators grab your attention as you prepare yourself to enter the modern world of retail. Don't feel like walking around with your accompiant as they shop? Pass time at the movie theater located inside the mall. Canal Place has salons, nail bars, and a stylish selection of men's clothing. As your trip to New Orleans ends, allow yourself to pick up one last item from Canal Place.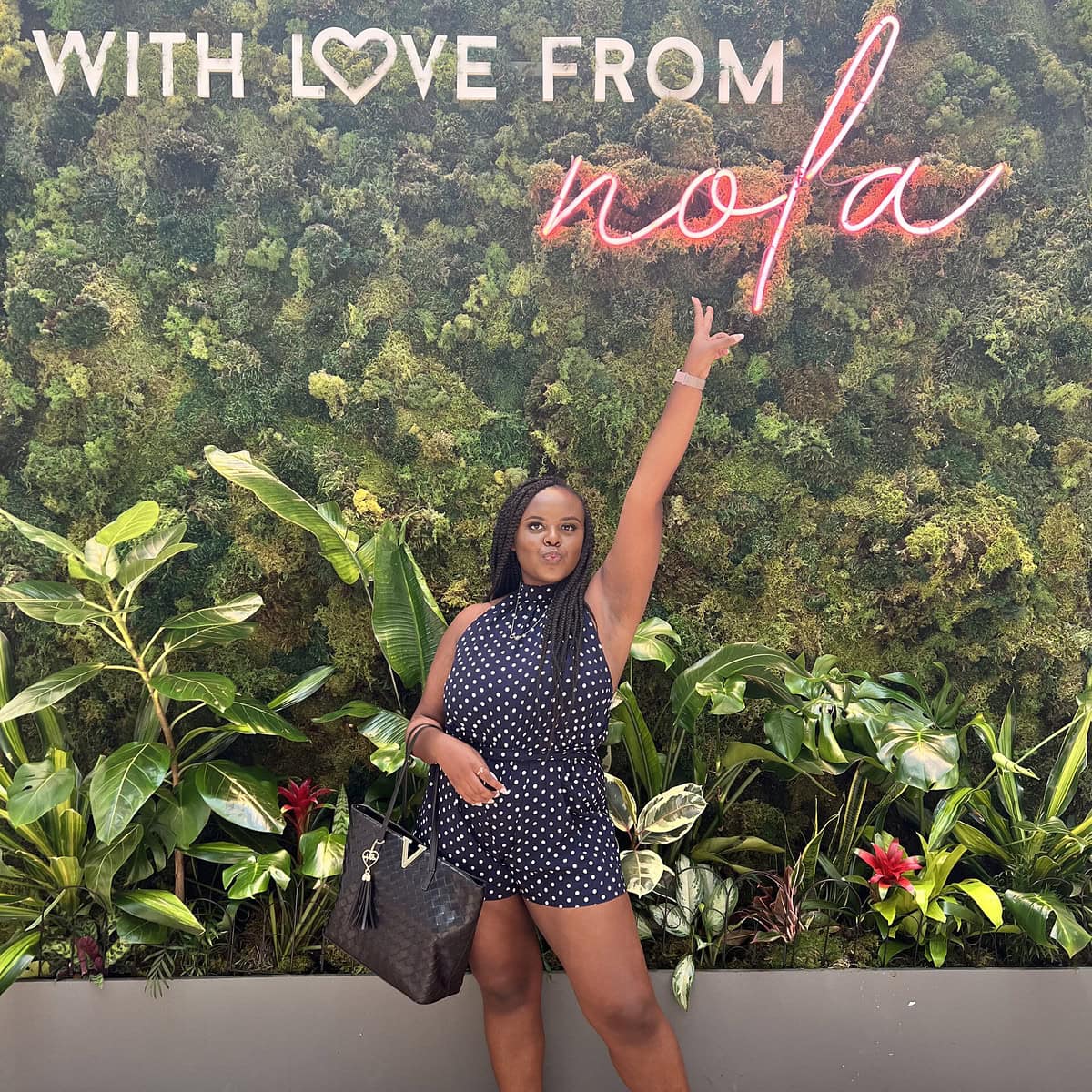 Indulge in Haitian food at Fritai 
You know I had to leave the best for last. Fritai is the best restaurant I ate at during my time in New Orleans. As a Haitian-American, I may be a bit biased here, but Haitian food is the best food in the world, so I already had high hopes–and they didn't disappoint. Fritai is a restaurant that serves Haitian dishes while still keeping a New Orleans flair. The ambiance of the restaurant is set with soothing kompa songs playing in the background, and the Haitian flag displayed proudly. I highly recommend trying the Fritai sandwich–meat sandwiched between two fried plantains with Haitian spices–which was amazing! Simply leave a comment to thank me later 🙂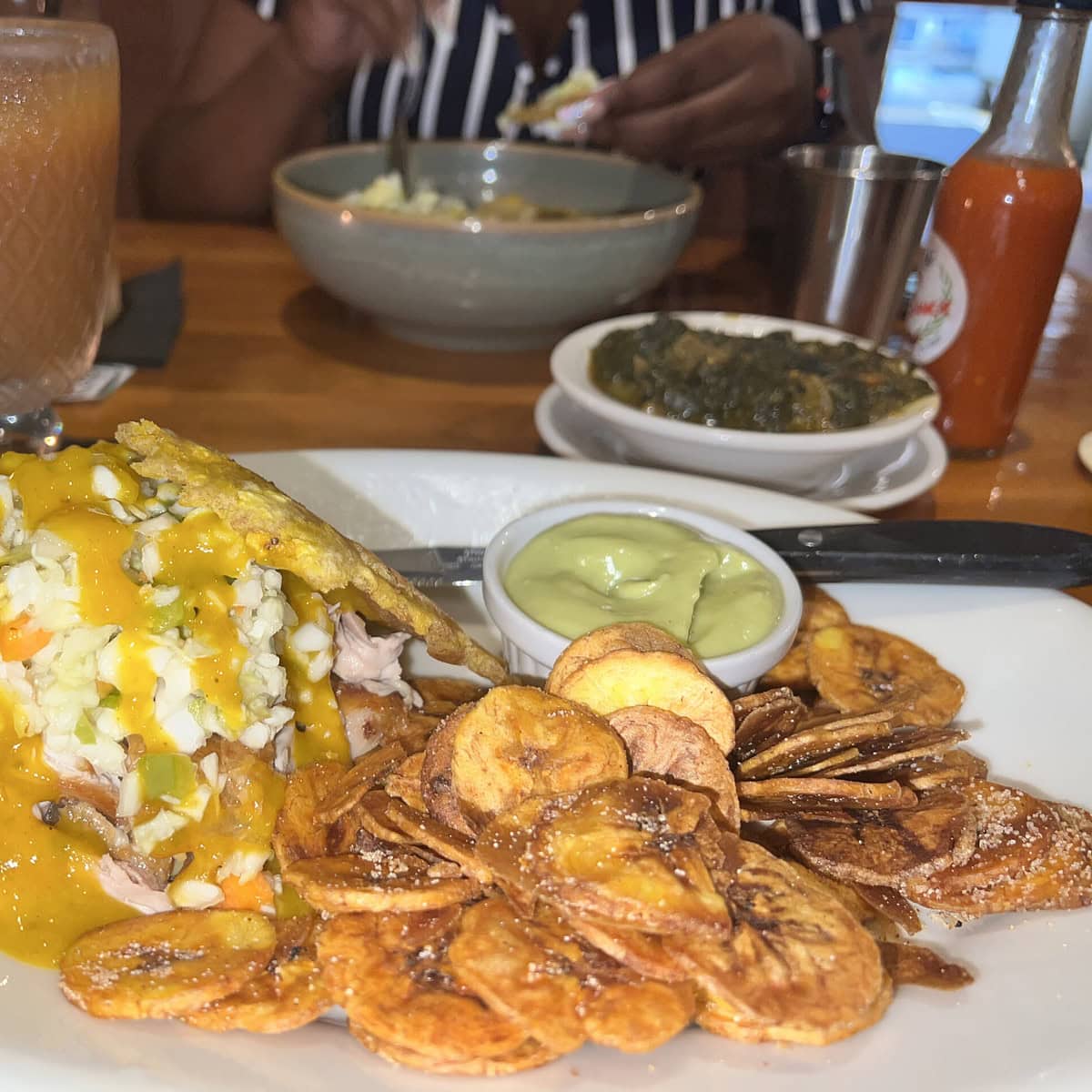 Conclusion 
As you can see, there are so many things to do in New Orleans, even in only three days! New Orleans was a breath of fresh air for me, and I hope your trip to the Big Easy is everything. Let me know if New Orleans is on your list of places to visit soon and what, if anything, on this list you will be adding to your New Orleans itinerary!