In February 2020, I traveled solo to Thailand and Bali for two weeks! It was a birthday trip, my first solo trip, and a "getting through depression and more in tune with myself trip." Traveling to Bali set the tone for my solo travel adventures and I wanted to share some things about my experience in this Bali solo travel guide and some tips for your trip to Bali. Keep in mind that this trip was in February 2020 and from my understanding, Bali has changed significantly since then.
Check out my most popular vlog on Youtube to Bali here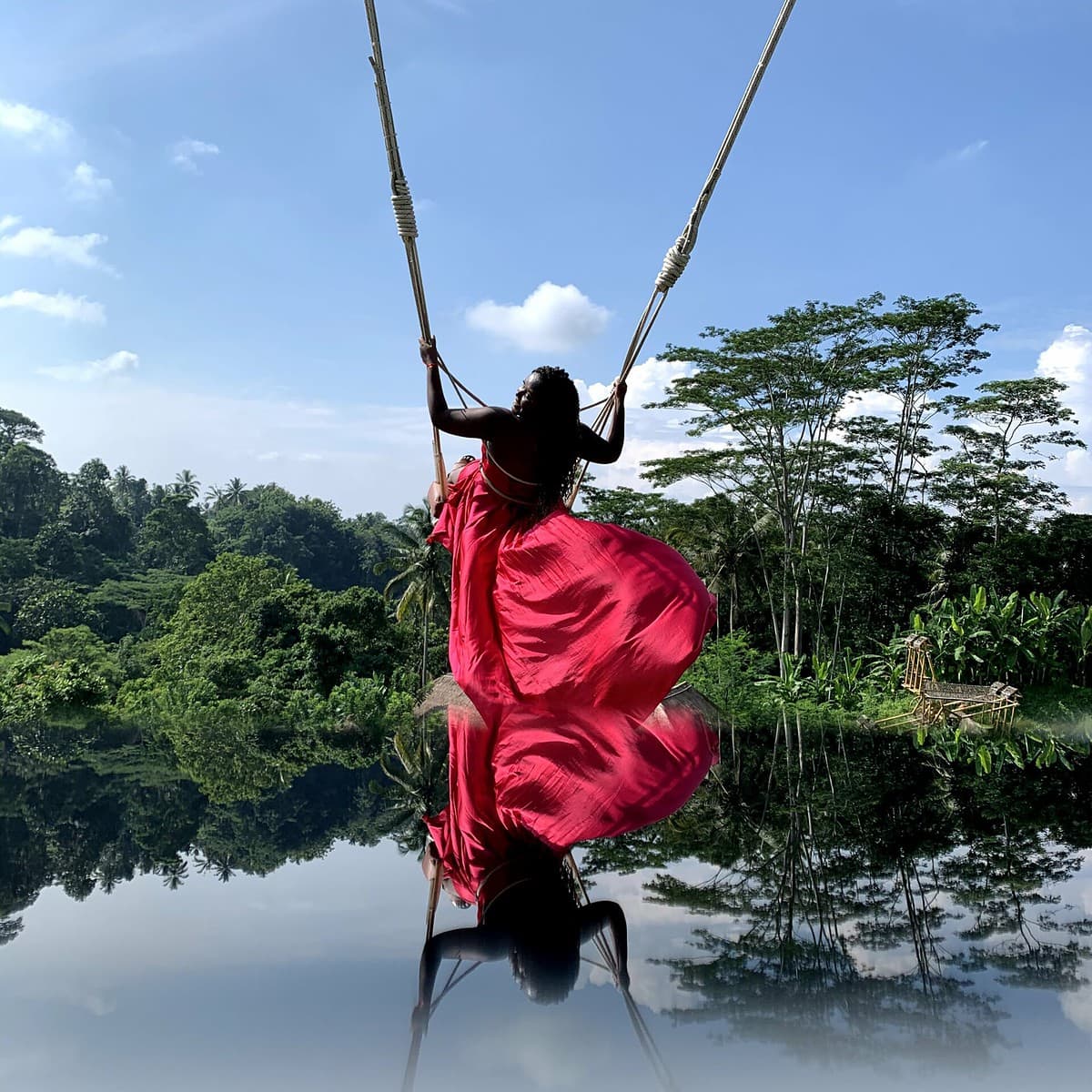 Flying from Florida to Bali, Indonesia
So try to keep up with all of this: I flew from Tallahassee to Texas for 2h 34m. Had a 10h layover in Texas. Flew from Texas to Qatar for 14h 10m. Had a 55m layover in Qatar. Flew from Qatar to Thailand for 6h 20m. Stayed in Thailand for 4 days. Flew from Thailand to Ubud for 4h I believe before finally landing at the airport in Bali. Yes, it was a lot and my long awaited desire to be on an airplane was definitely satisfied.
I've had more long flights in my lifetime than short ones, so the length of time I'm on a flight is never a big deal to me.
I flew with Qatar Airways which easily became my FAVORITE airline. 20/10 stars. The seats were very comfortable, the food was great, complimentary alcoholic beverages, and just overall great customer service. I didn't have any issues with them at all and was even able to change my middle seat to an aisle one at the last minute!
My ticket cost $893.52 roundtrip, which was a great deal compared to other airlines which are usually around $1000+. Qatar was the only airline I found who was reasonable with pricing. Another reason to love them. That ticket got me to Thailand.
To get to Bali from Thailand I had to purchase another ticket for $147 with Thai Lion Air. Personally, if I could avoid flying with them in the future, I would. Just because they are very sneaky with additional charges. I was happy with the price of my ticket, but was very shocked to find out my luggage wasn't included with the price, which they failed to mention anywhere when booking and on the ticket. Apparently their deal was free luggage if it did not weigh more than 15 pounds. Then they kept adding money to it per pound after 15 pounds. I was traveling internationally so you know my bags were more than 15 pounds.
Thankfully I always carry extra cash on me/in my account. Granted it only came out to $25 USD, but I was still budgeting according to Thailand's currency so it was a lot. I should also mention that I was a broke college student at this time so when I say every single penny mattered, it mattered.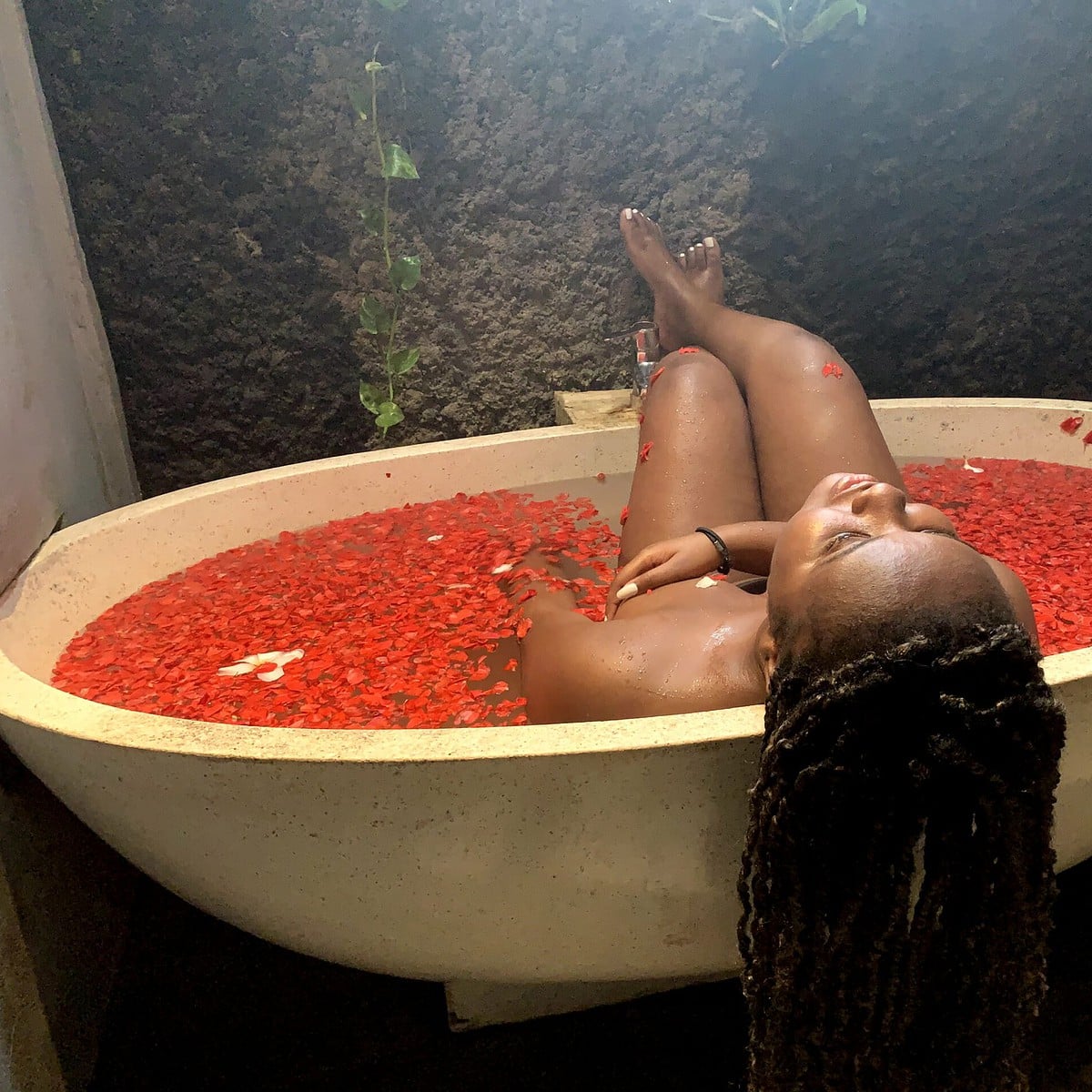 The Bali Airport
The main airport in Bali is the Ngurah Rai International Airport. It was pretty easy to navigate around. As soon as you get off the plane there are people standing with signs directing you on where to go. You can also exchange your bills at the airport, as there are exchange counters. You can also buy the SIM card at the same place, so it's very convenient and one of the easiest airpots I've ever been to. It's not super big, but not small either.
There's also a section for taxi service where you can get a driver to your accommodation on the bottom floor, which is what I used upon arrival to get a ride to my villa. I did not book any transportation prior to arriving. I loved the airport.
What language is spoken in Bali?
Balinese people speak Bahasa. Because tourism is so popular in Bali almost everyone speaks English, or close enough that you will understand. There was no language barrier, but if all else fails, have Google Translate handy! 
Currency in Bali
What would this Bali solo travel guide be without talking about money? One of my favorite parts of traveling is seeing how crazy the money exchange is to $1 USD! In Indonesia, the currency is the Indonesian Rupiah. This is the "hardest" currency I've ever had to work with because the bills come in large denominations like 100,000 and it was confusing at times! $1 USD was 13,933.50 when I visited. To put the value into perspective, I got a 1-hour massage, body scrub, and a flower bath for $30 which was a 3 hour experience. In the U.S a one hour massage costs $60-$100 on average, so your dollars will go far! A meal was $2-4 on average.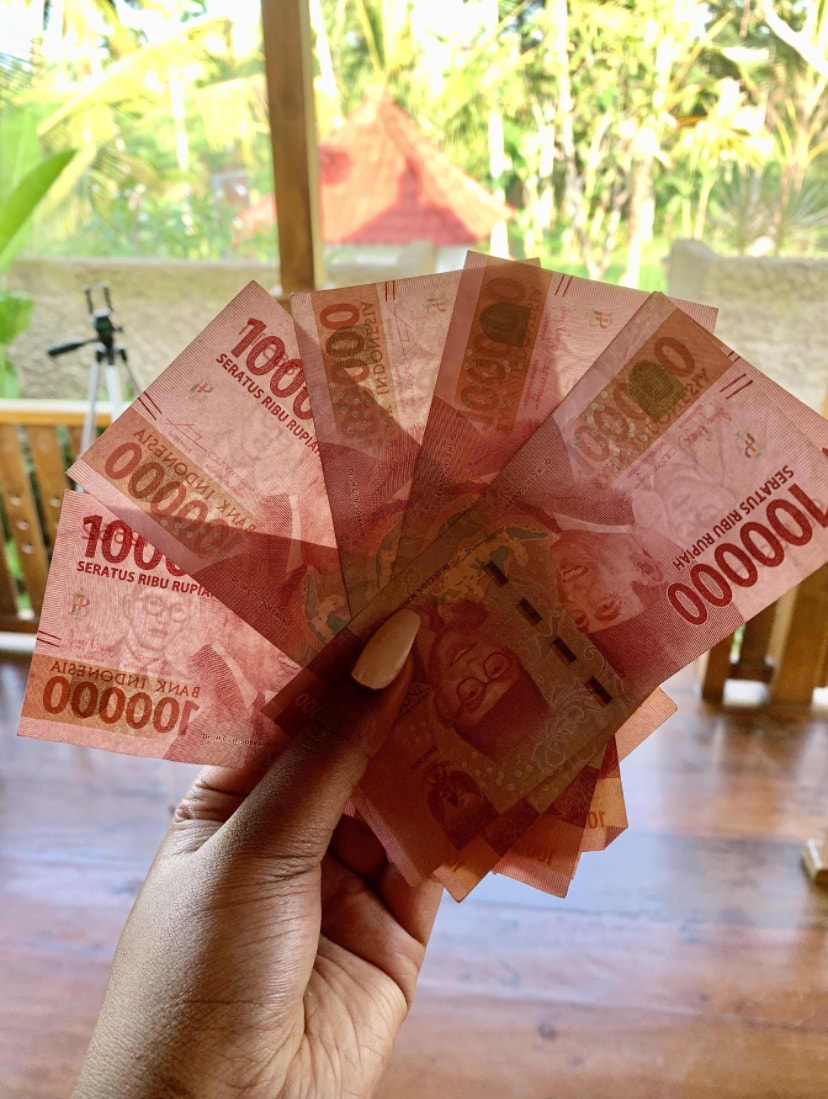 How I Got Around in Bali: 
Looking back, this is what a lot of my hard earned dollars went towards because I made a HUGE mistake! In my mind, I thought I would be taking $0.50 – $1 motor scooters everywhere. But apparently the popular ones from Gojek were banned in Ubud/ the area I was staying in. So instead, I had to hire private drivers everyday and try to lump a lot of activities together because they charged by the hour, or else there was no point in booking them. It would be like $7-10 depending on the driver for a ride to the corner store and back. So it ended up being better to just plan activity after activity on the same day, which was tiring. I'm more of a "space my activities" out type of traveler.
I found drivers through my villa and was able to bargain, but again, as a broke undergraduate student, I budgeted everything strictly based on the fact that I would be taking cheap rides everywhere. I was spending $27-30/day on transportation alone which switched up my plans a little and left me on a stricter budget than I anticipated.
I would have walked, but the streets in Bali are tiny and crowded. Also my villa was far out from the locations I wanted to visit. The roads are constructed with many dips and hills, so I doubt I would have made it anyways.
Now that I know, if I went back to Bali I definitely would not stay in an area where Gojek is not allowed. They aren't allowed because it is said that the drivers from that company take away business from the local drivers in Ubud, which is understandable.
Where I Stayed in Bali
My go-to for housing anywhere I travel to is Airbnb, so I searched there. The prices for beautiful villas are pretty cheap for what you get. My villa was called the Keraman Suite. You can see what it looked like on my Bali Vlog on Youtube. It was such a beautiful stay and my best one to-date. There were only three suites in total and every suite had its own private balcony and bathroom. It was just so beautiful and relaxing. It was also a lot of nature and surrounded by rice terraces, secluded from the hustle and bustle of Ubud Centre.
The staff was extremely attentive. Each member gave me their personal number through WhatsApp and I was able to contact them about any questions, services, and activities I wanted to do through the villa. That's another thing I also loved! They were able to get me a driver, had activities like ATV riding and water rafting available to set up for me.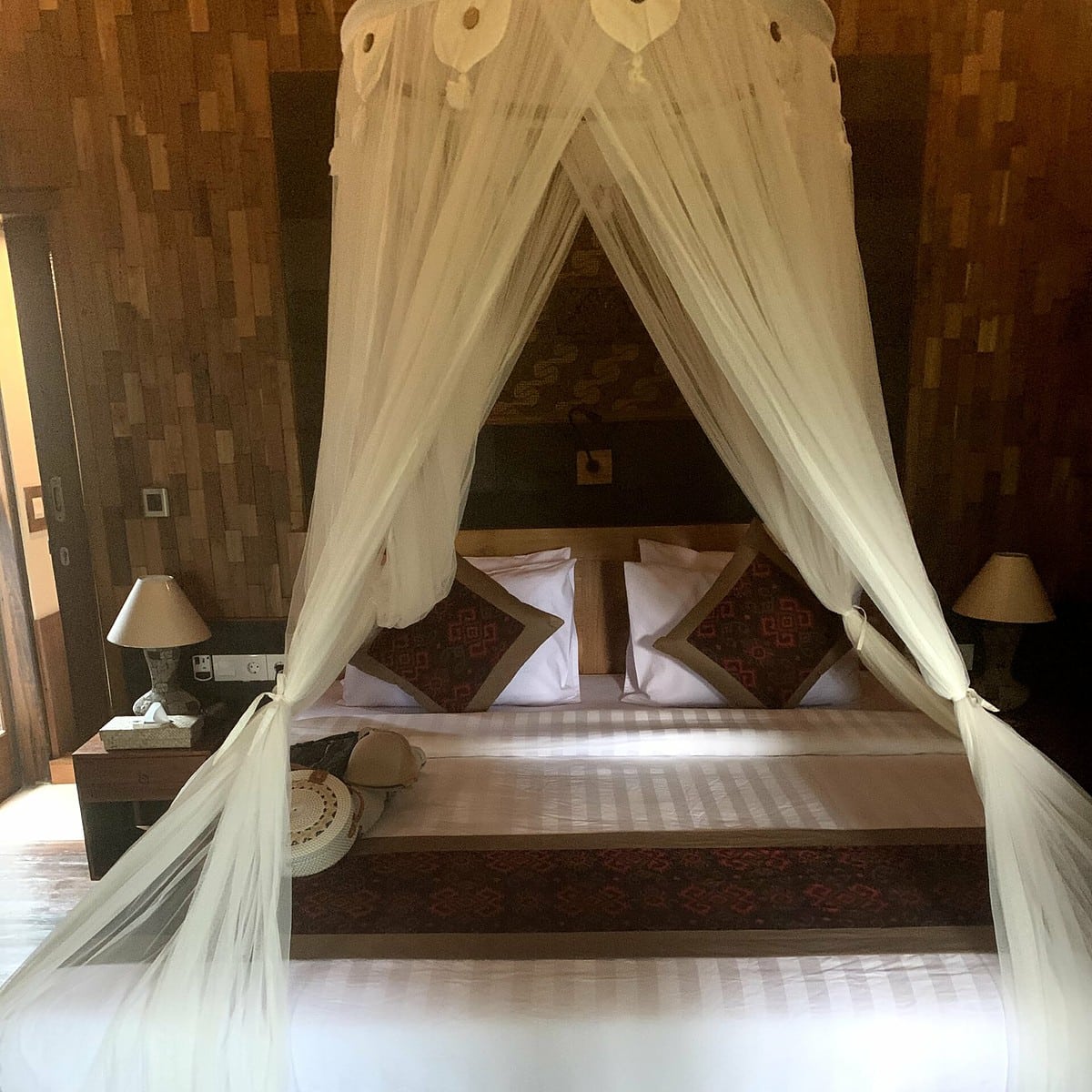 Breakfast was included every morning, as well as room service for food. There was a big pool as well for everyone to use. At one point I was the only person there so I had the entire place to myself which was relaxing.
In total, I paid $259.66 for 10 days. So for $25.97 a day I lived in paradise!
I would absolutely recommend this villa and would stay here again, but transportation is the only inconvenient thing about this. The suite was also not accessible via GPS  when I stayed (remember back in 2020 so things could have changed), so I always had to let one of the staff members talk to my delivery food drivers to locate it, or to get a ride home. It was inconvenient, but worth it!
The Time Difference
I am from Florida which is on EST time, so I experienced a huge time difference in Bali! Bali is 12 hours ahead of Florida so I was one day ahead of my normal schedule. Physically my body operated like I was in the States so when it was 3:00am in Bali I was often still wide awake because it was 3:00pm back home. 
The Food
I wasn't a huge fan of the Balinese dishes. My favorite things were Nasi Goreng (Fried Rice) and Dragonfruit. I really enjoyed the fresh fruit everyday. Other than that, my meals were things I've had before.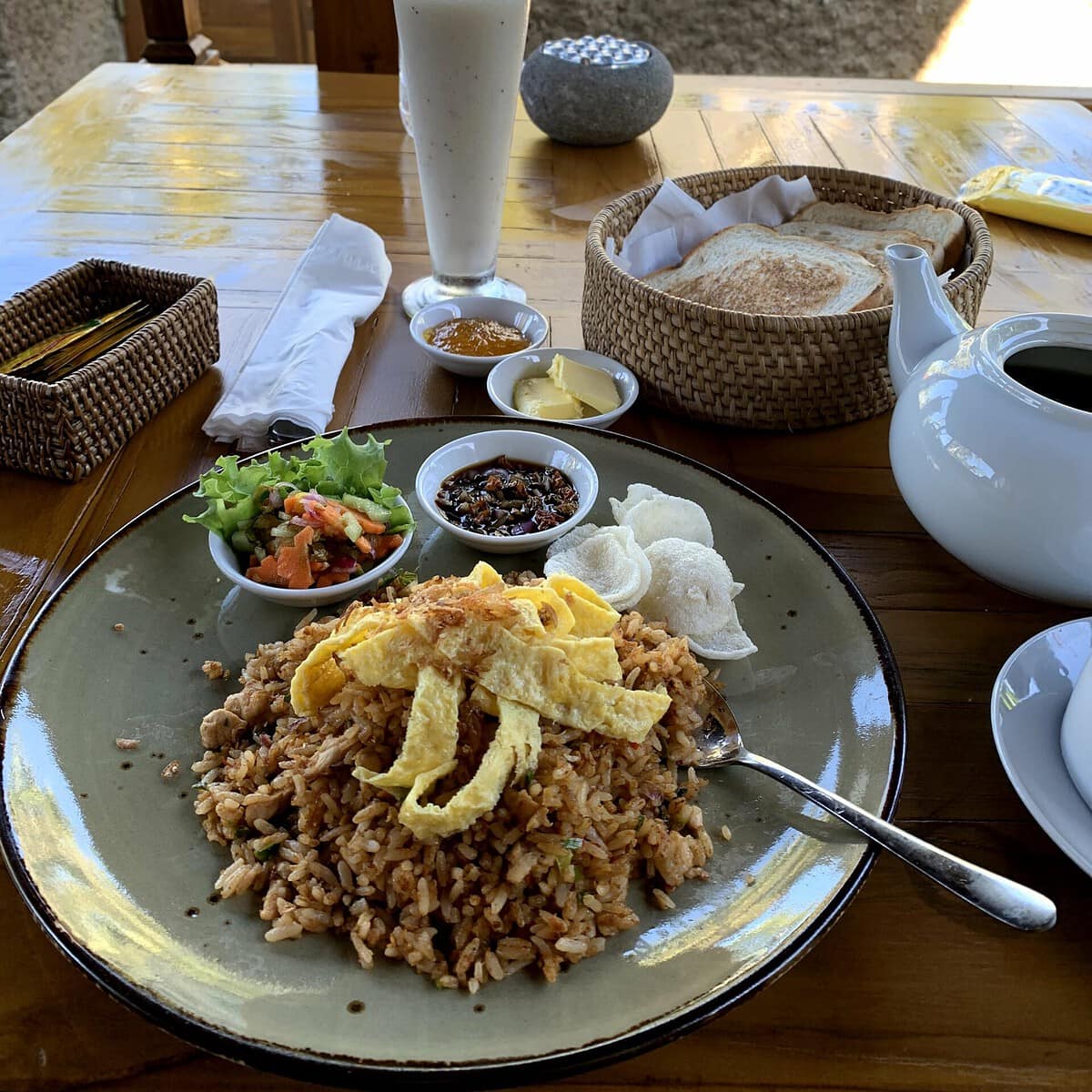 There are a lot of coffee plantations in Bali and while I didn't visit any, I had some served fresh to my room every morning. As a non-coffee drinker, Balinese coffee is delicious. 
The People
Traveling while Black in a non-Black country can come with its challenges, but I can 100% say that I love Balinese people and had a great experience traveling while Black in Bali. Balinese people are very warm and welcoming people. I know they're probably used to having so many tourists year-round, but the energy is great. As a Black woman traveler I am always worried about how accepted I will be in a new country, but it was fine. Of course I got stares, and was asked for pictures, but it was in a very interactive way and I never once felt uncomfortable, which I appreciate.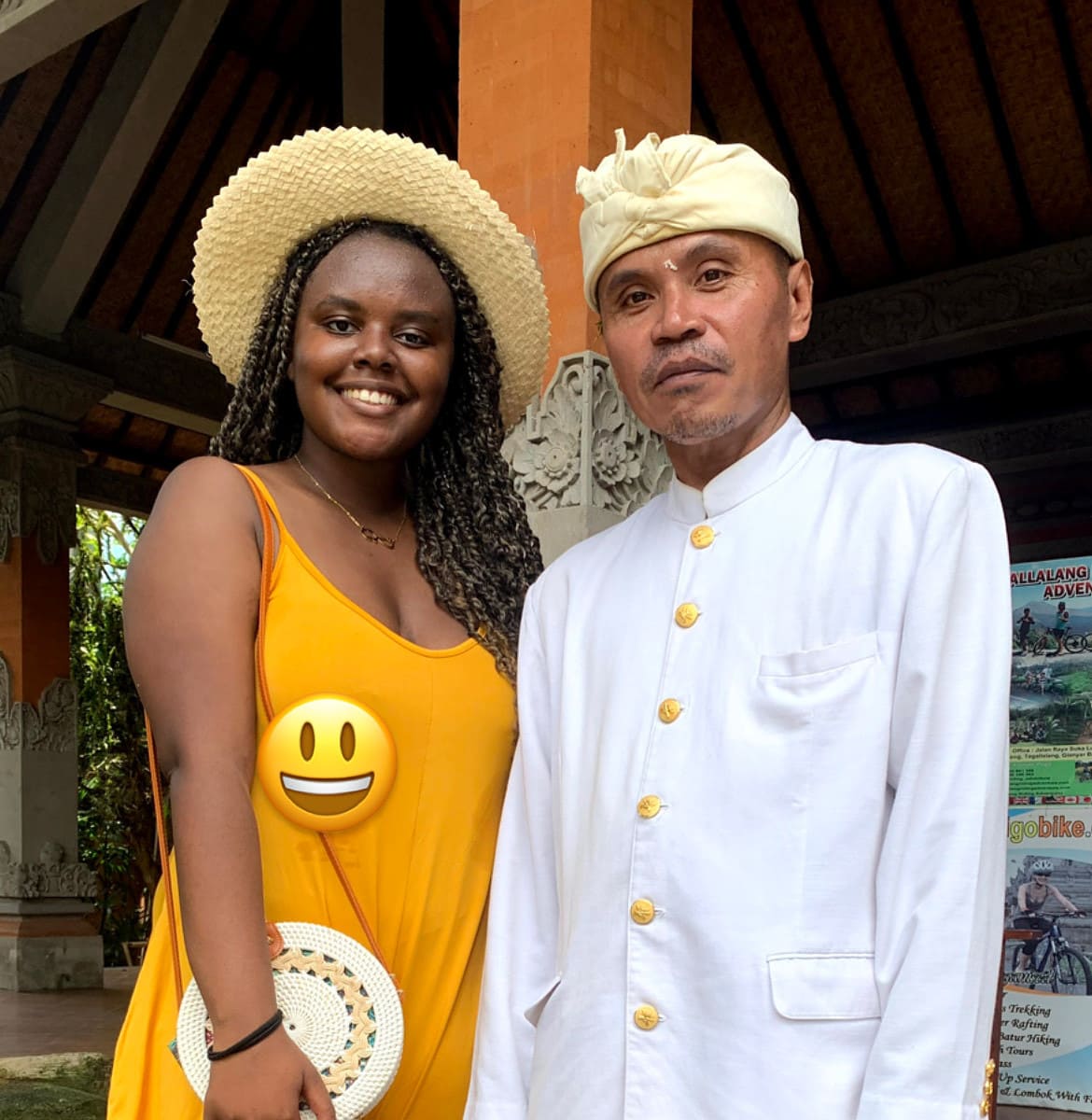 Things to Do in Bali 
The swing, flower bath pics, and most of the "Instagram" pictures you see online don't even do Bali justice for the natural beauty this place has to offer. Most of the famous sightseeing places are really just great photo opps, which there is nothing wrong with, but don't expect too much from what you see on Instagram.
I booked (2) activities through Airbnb Experiences and it was a great chance to connect with the locals, as many of the experiences are hosted by these individuals. 
Go ATV Riding Through the Jungle
One thing you'll quickly learn about Bali is how diverse its landscapes and environments are. There are not many places where I care to go ATV riding, but Bali is a must. Going through rice terraces, bamboo forests, jungles, and rivers on an ATV allows you to see Bali from another angle.There are so many places you can find that offer this, but I went through an Airbnb experience booking and it included a buffet lunch. This is one of my top traveling experiences and was such a fun day.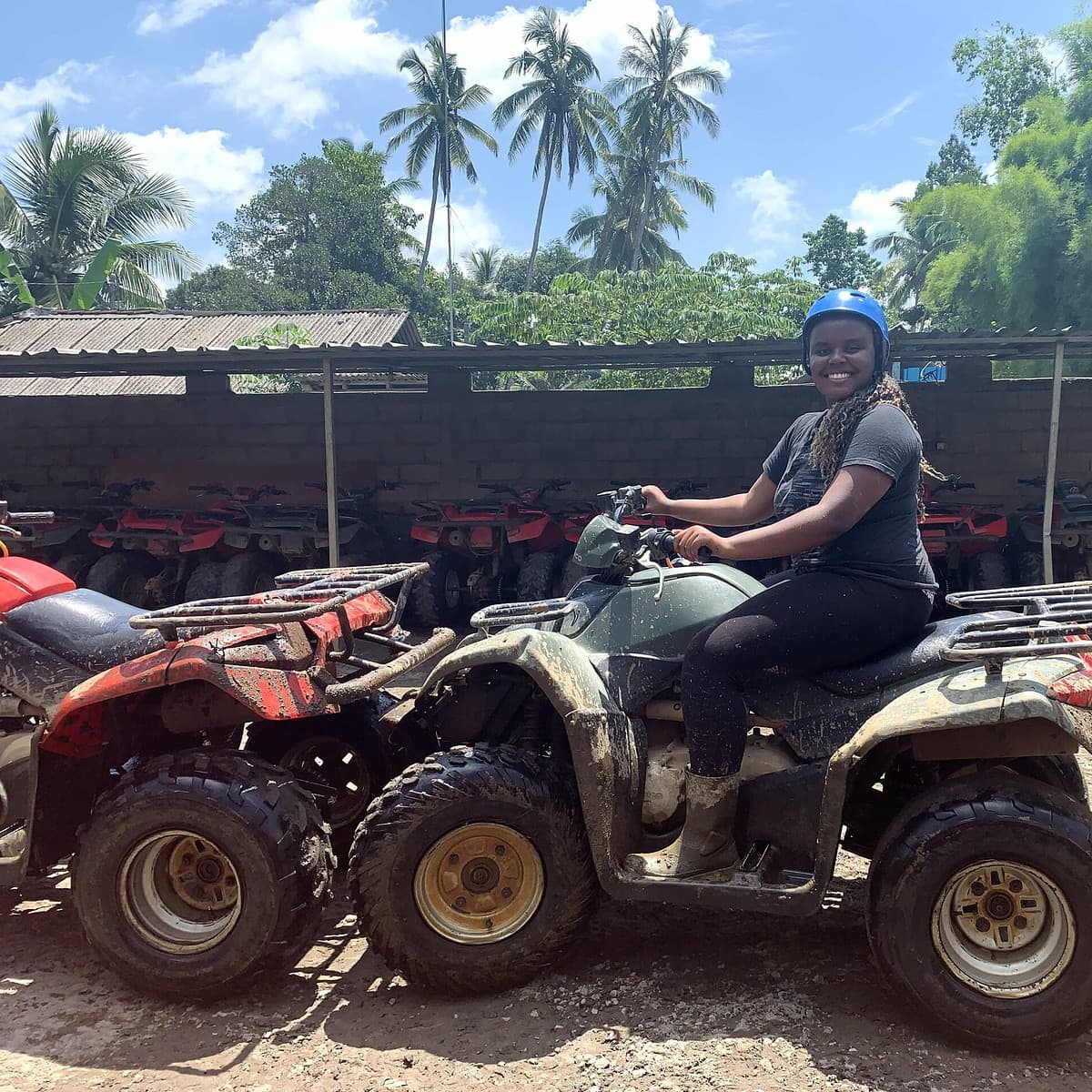 Go White Water Rafting 
White water rafting was an activity that was continuously offered to me, but as a non-swimmer I was not about that life at the time! If you're up for it, rafting is usually done at the Ayung River in Ubud. You'll slide through a series of rapid water movements while on a raft, making it probably one of the most thrilling activities you'll do in Bali! 
Learn How to Make Coconut Oil With a Local
Another great Airbnb experience I got to book, learning how to make coconut oil was a highlight of my trip because of how personable the experience was. I met with Made, the host in his property's kitchen and got to work alongside his grandmother as they explained the steps to me. At the end, I eve got to take my own bottle home!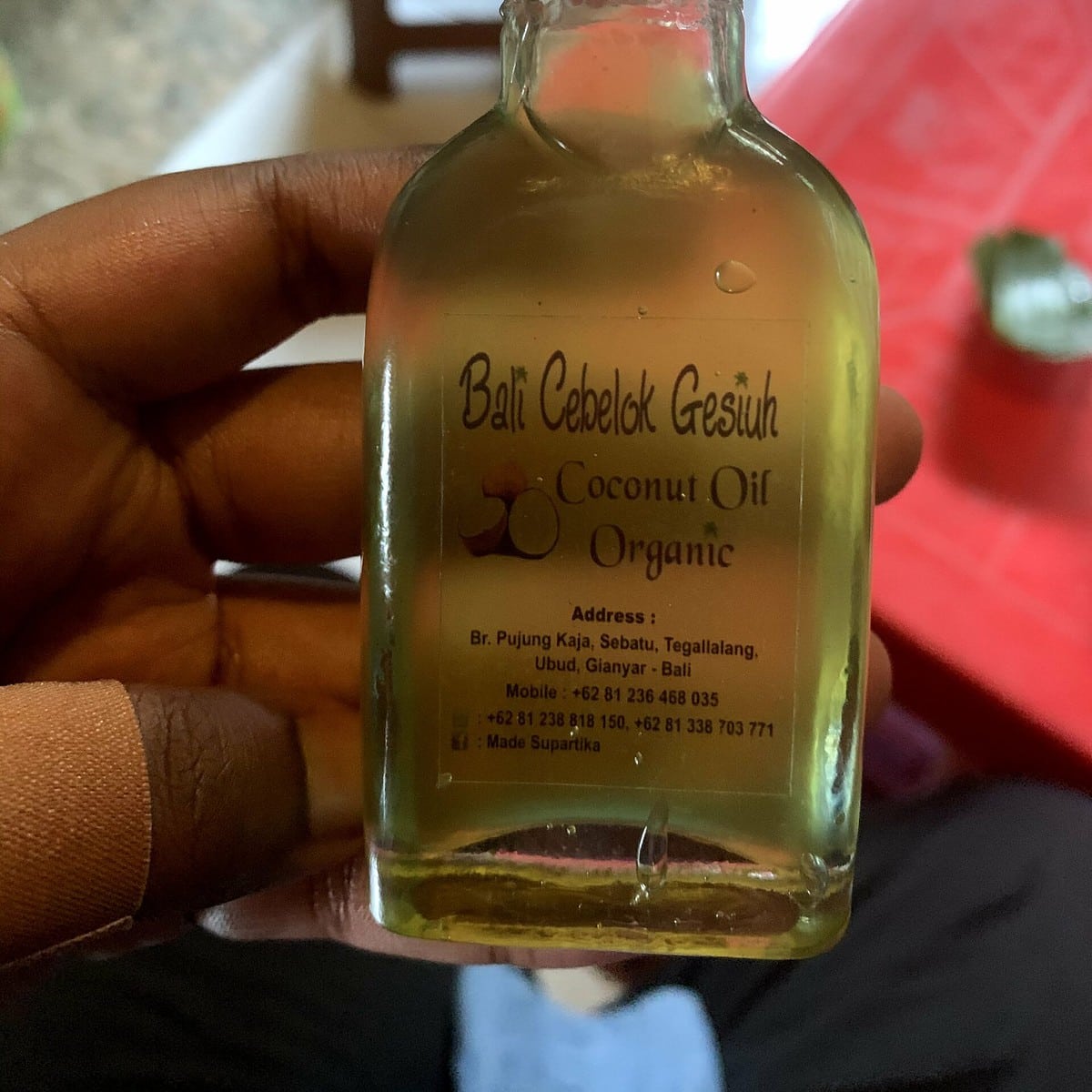 Take a Yoga Class
Ubud is known as the cultural part of Bali that leans into spiritual practices, tradition, and wellness activities. What better place to take a yoga class than in the cultural hub. I took classes at Sang Spa, but there are so many yoga classes in Bali that you shouldn't have trouble finding one. 
Spend the Day in the Ubud Centre
 The centre is really just a bunch of touristy shops and the more upscale part of Ubud. It was pretty crowded, and wasn't really my cup of tea, but it was a great experience walking the streets alone in the hustle! It was my first solo trip so I was able to navigate how I felt being alone in the midst of so many people and did well! 
Visit the Bali Swings for Pictures
We all know visiting a swing is on the to-do list for everyone visiting Bali and I have to say it is a must1 It's like the #1 touristy thing to do, but they are so much fun. I went to Aloha Swing and immediately upon arrival the different picture packages were explained to me, I signed my life away on a waiver, rented a long flowy dress, and got beautiful shots to always remember my trip. The swings are definitely not as scary as they look!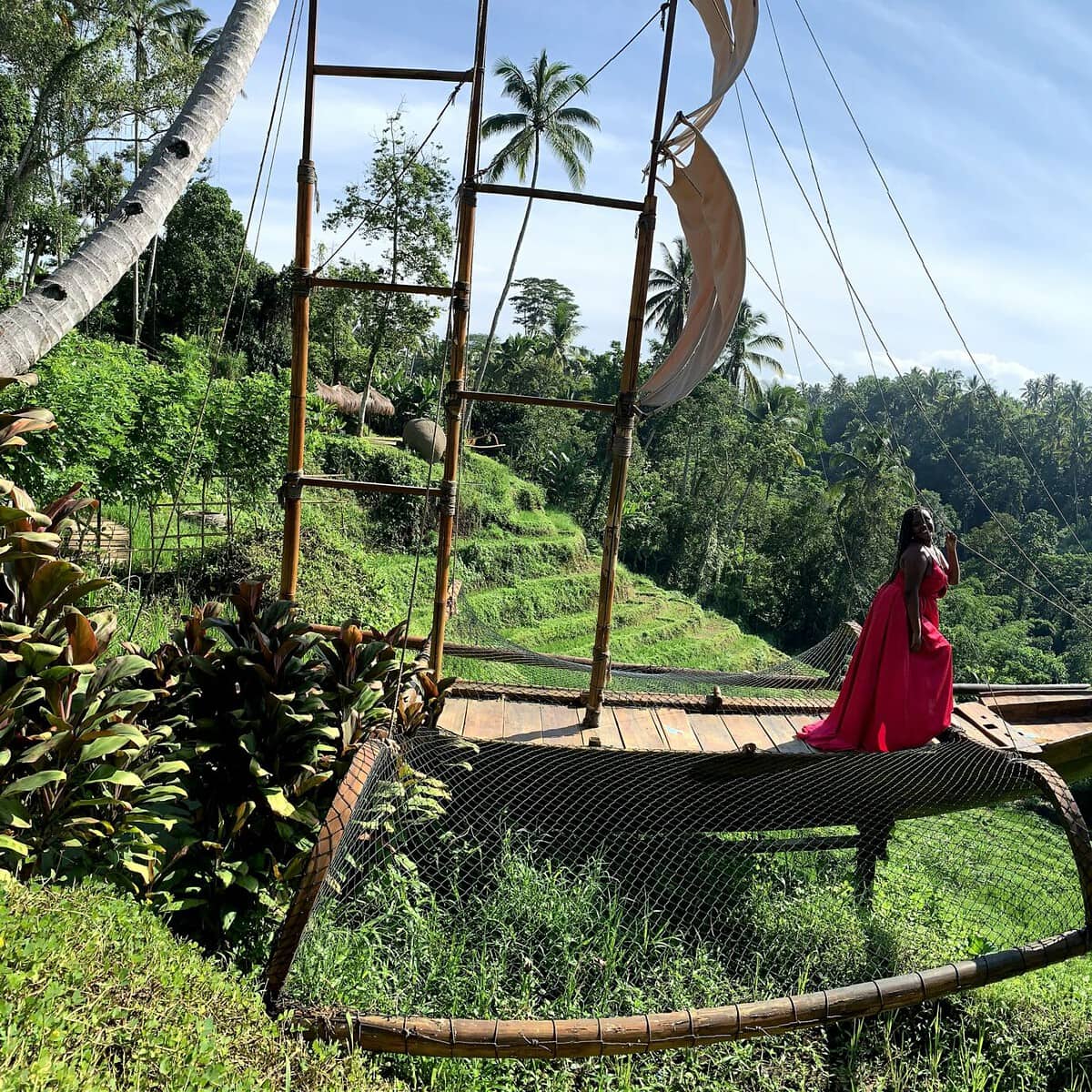 Other Things to Know When Visiting Bali
1. The electrical outlets in Indonesia use both type C and F, but I mainly saw type F, a two-circular hole type. Bring a travel adapter as always and a universal charger kit for your laptop!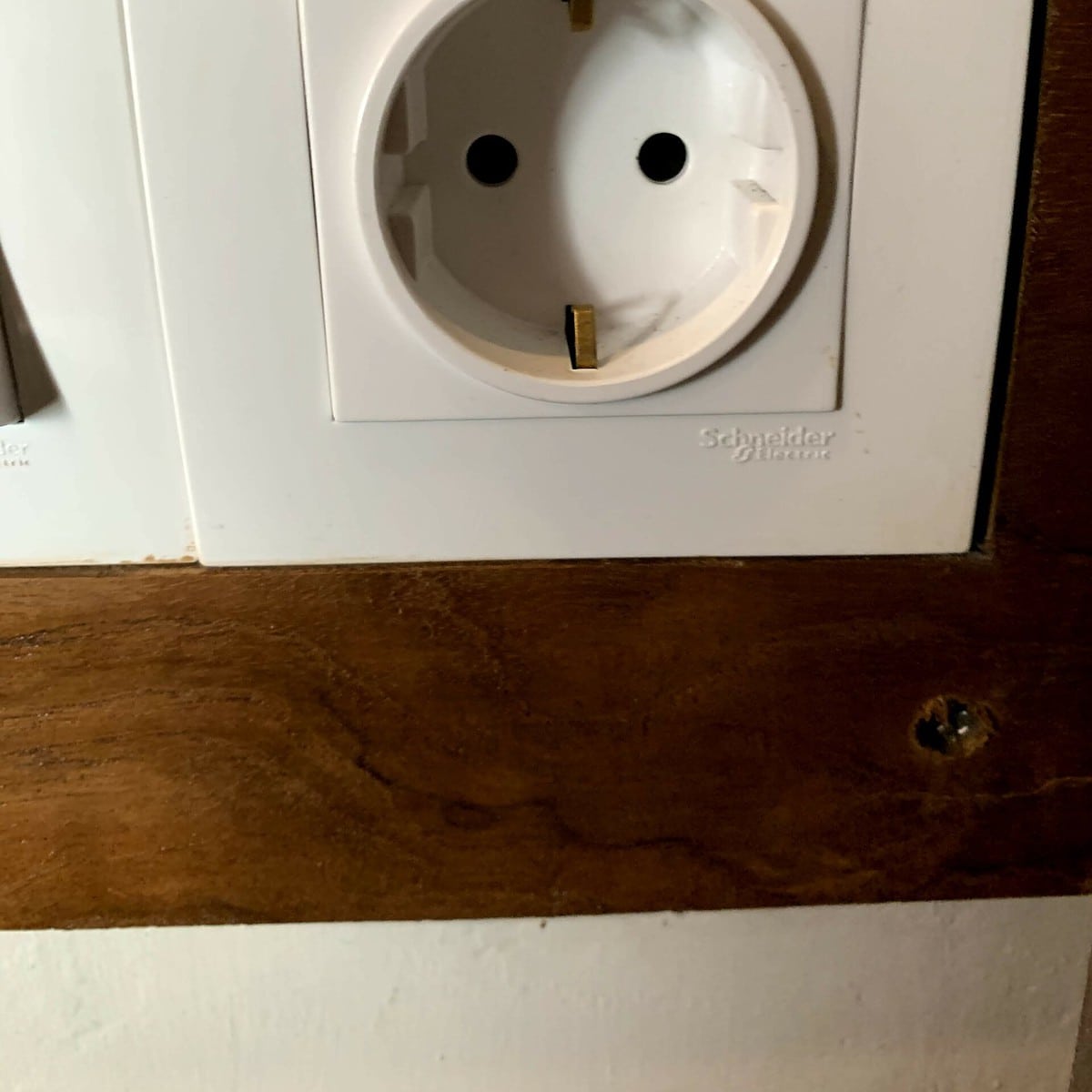 2. While the apps Grab and Go-Jek are banned in many of the areas in Ubud, I know that they do deliver food, so I would say to download those apps for that reason.
3. I would definitely recommend Bali as a solo destination. I always felt safe and it was easy for me to get around and navigate things by myself. 
Hopefully this helps anyone who also decides to choose Bali as a solo travel destination. Feel free to comment any questions down below!