For my 22nd birthday, I decided to book a chalet at Zaina Lodge, West Africa's first safari lodge. Built among the forests of the Mole National Park in the Northern Region of Ghana, Zaina Lodge boasts a popular reputation for up-close and personal wildlife encounters.
The rates at Zaina Lodge are about $400/night (2,400¢) to stay in one of their private chalets, making it an "exclusive" experience in Ghana.
In this Zaina Lodge review, I'll give you the honest, unfiltered details of my stay and help you determine if this is worth the high price point!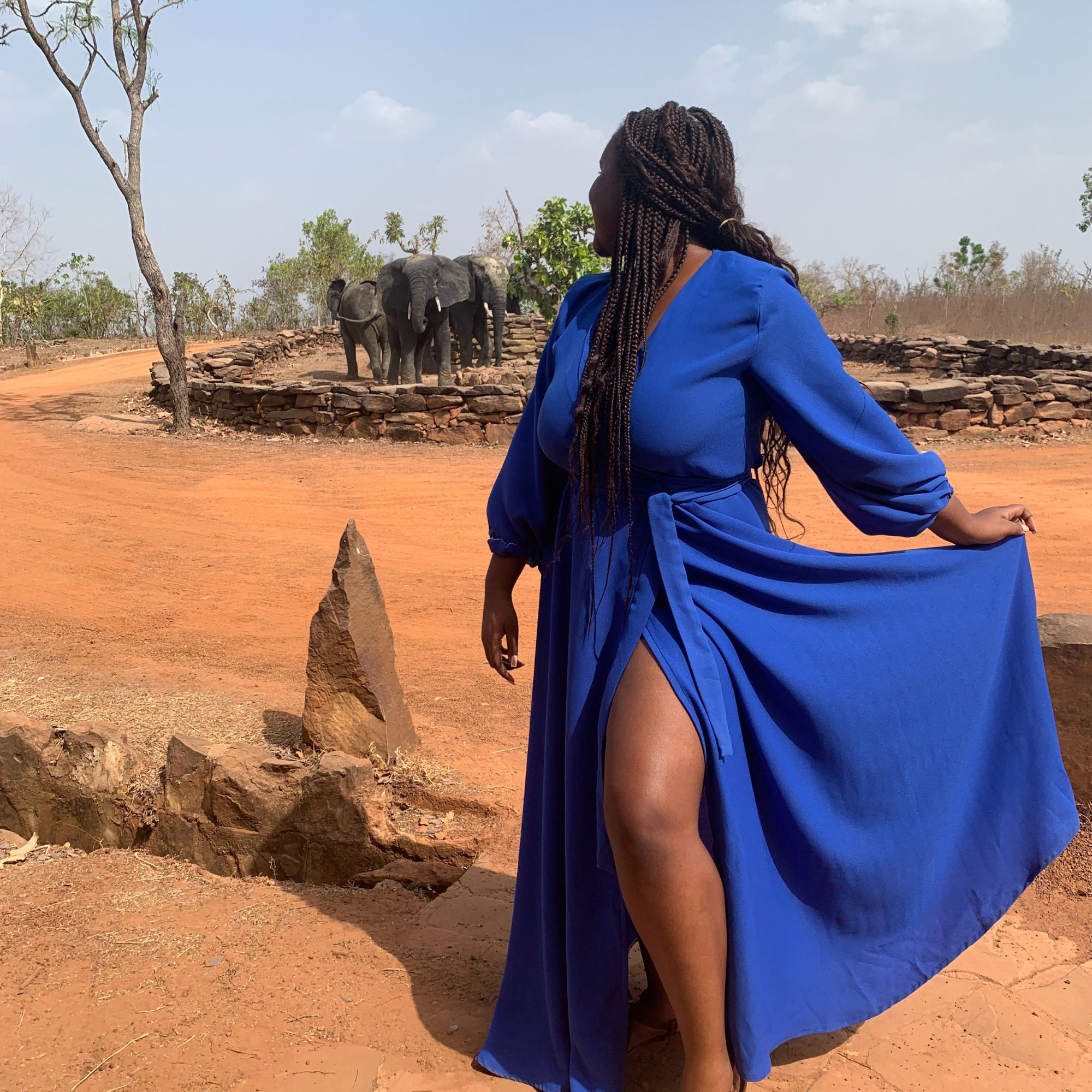 Booking
Booking a stay at Zaina Lodge was a seamless process. Their website is up to date with the latest information. Unlike many places in Ghana, you can book a room directly online without emailing or calling anyone in advance. This is convenient because you can look up which dates are available and plan your trip to the Northern Region accordingly.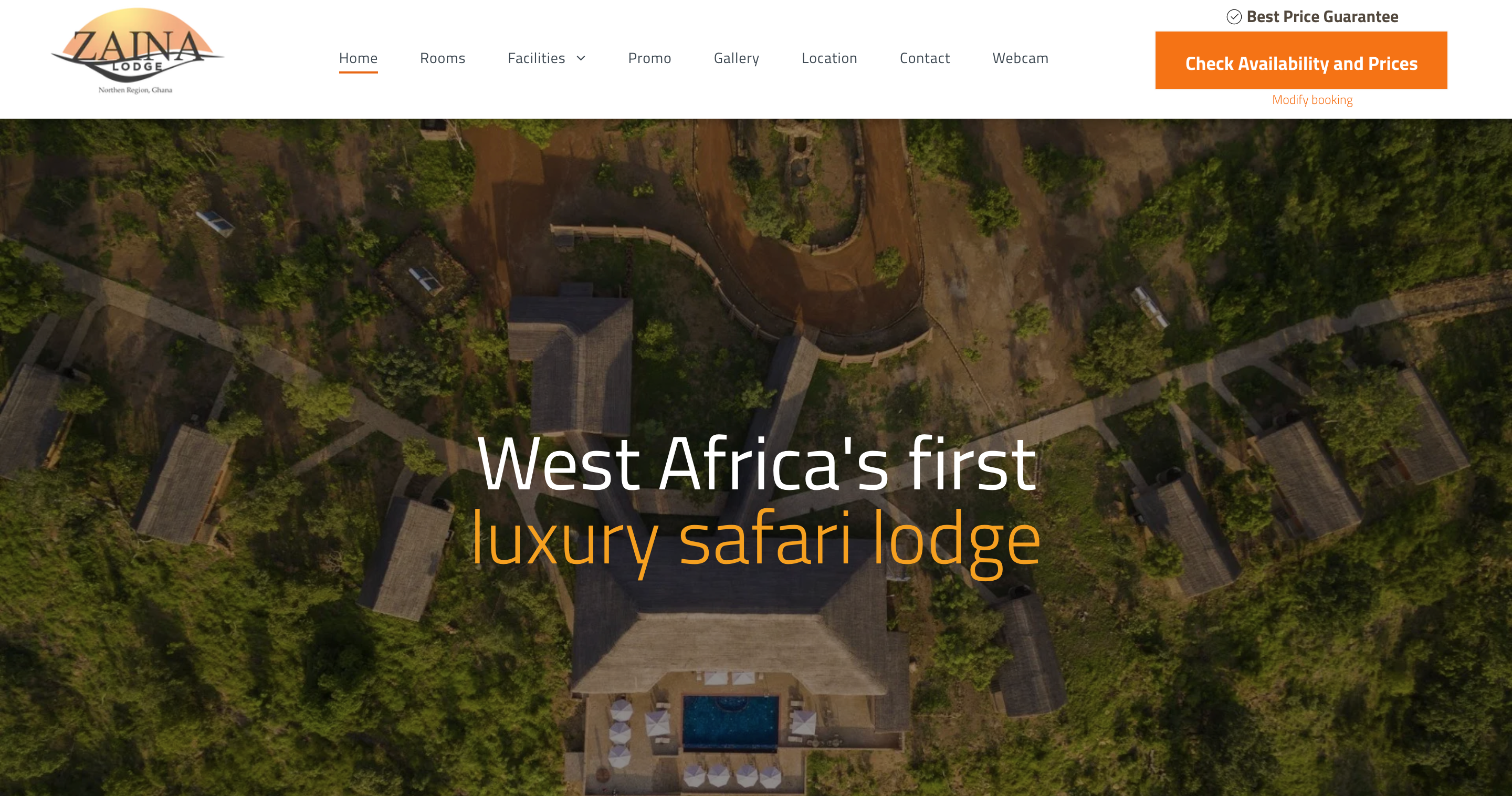 Getting There
Zaina Lodge is 3 hours away from Tamale. The easiest way to get to Zaina Lodge is to fly into the Tamale International Airport and then hire a driver to take you straight to the lodge. You can also arrange for an airport pickup through the Zaina Lodge front office. The rates for hiring a driver through the front desk usually start at ¢500 ($83.33).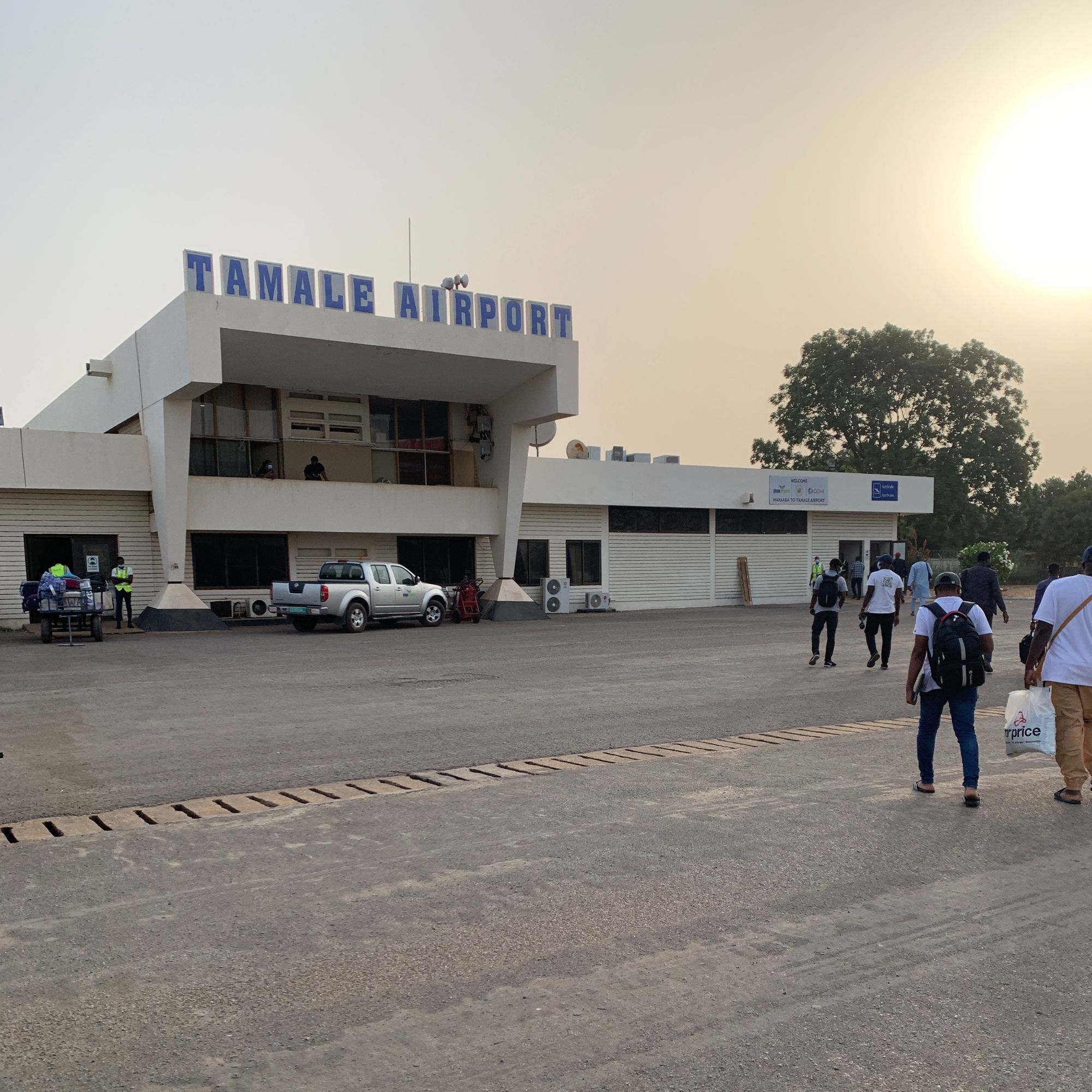 I was already in Tamale for a few days before my Zaina Lodge stay, so I opted in for a local mode of transportation: tro-tro. My ticket from Tamale to Damongo via tro-tro was only ¢20 ($3.33).
Damongo is a town in Northern Ghana 40 minutes away from Mole. I hired a taxi driver to take my guide and me from the Damongo bus station to Mole for ¢50 ($8.33).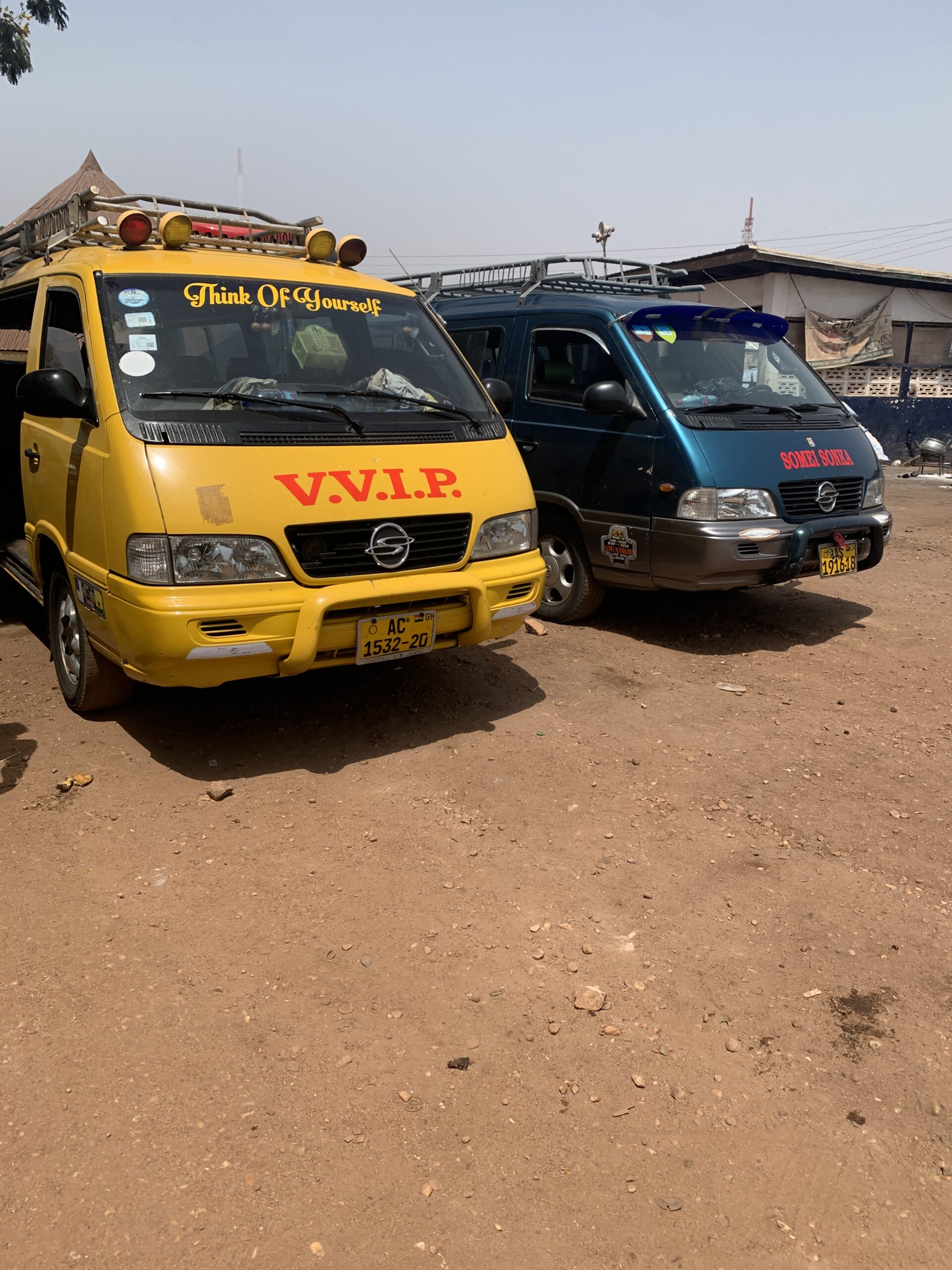 Mole National Park Entrance Fee
You will have to enter the Mole National Park gate before reaching Zaina Lodge. At the gate, I was required to pay an entrance fee of 40 GHC ($8) for non-Ghanaian citizens.
I didn't mind paying the fee if that was the rule, but this came as a surprise since I booked with Zaina Lodge, a pricey accommodation, and challenged paying the fee, as it didn't sound right. Eventually, I was told that only visitors staying at the Mole Hotel had to pay the entrance fee, and my taxi driver made his way through the gate. (Cheers to me knowing how certain systems work in Ghana now!)
Upon Arrival
My taxi driver pulled up to the vast entrance walkway. The Zaina Lodge front desk assistant immediately greeted us.
I was escorted to the bar with a stretched line of wooden stools for guest seating. While waiting to fill out some paperwork, I was handed a refreshing glass of lemonade as a welcome drink.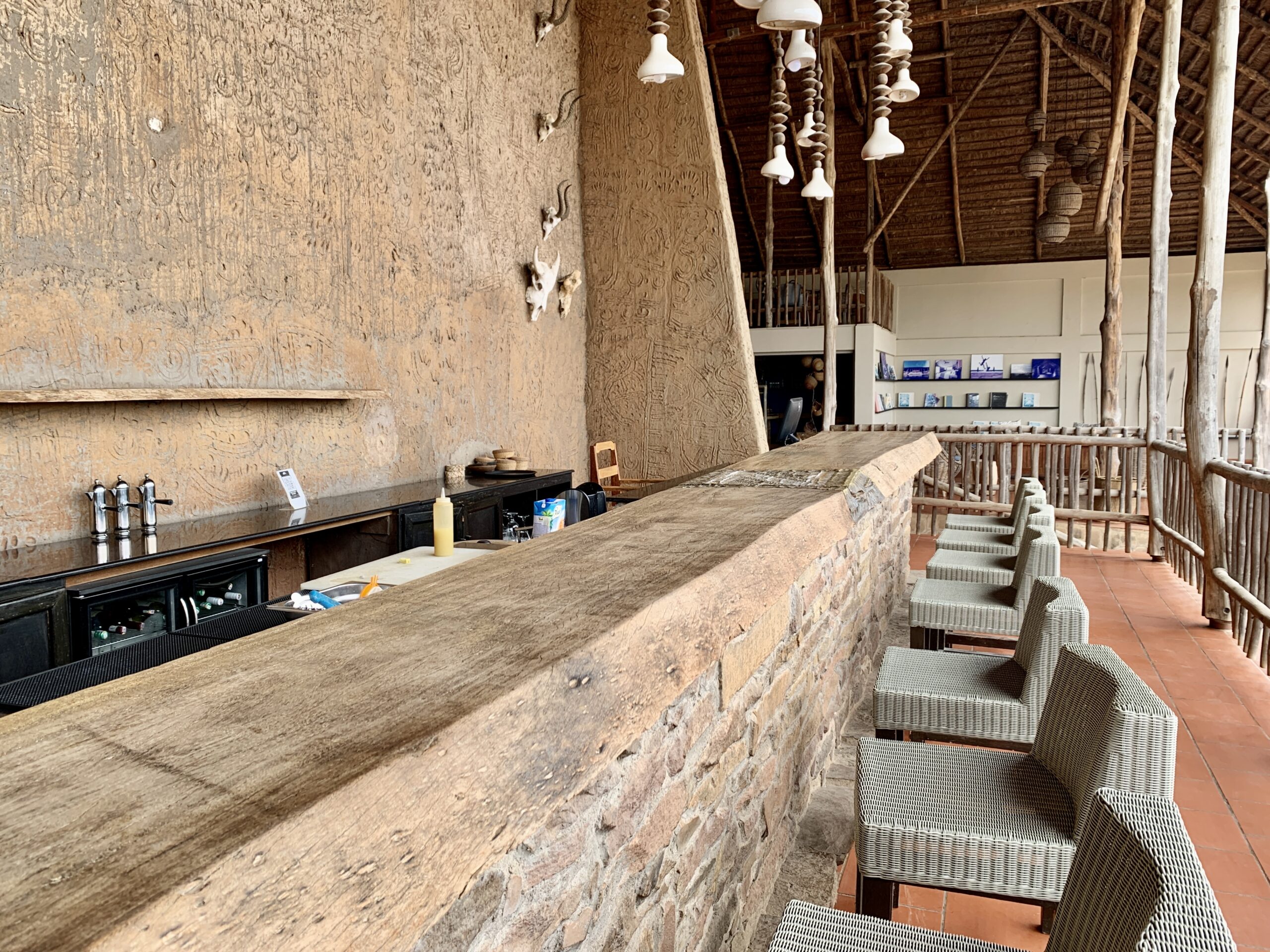 A copy of my ID was made, signatures were exchanged, and the keys to my private chalet were handed to me!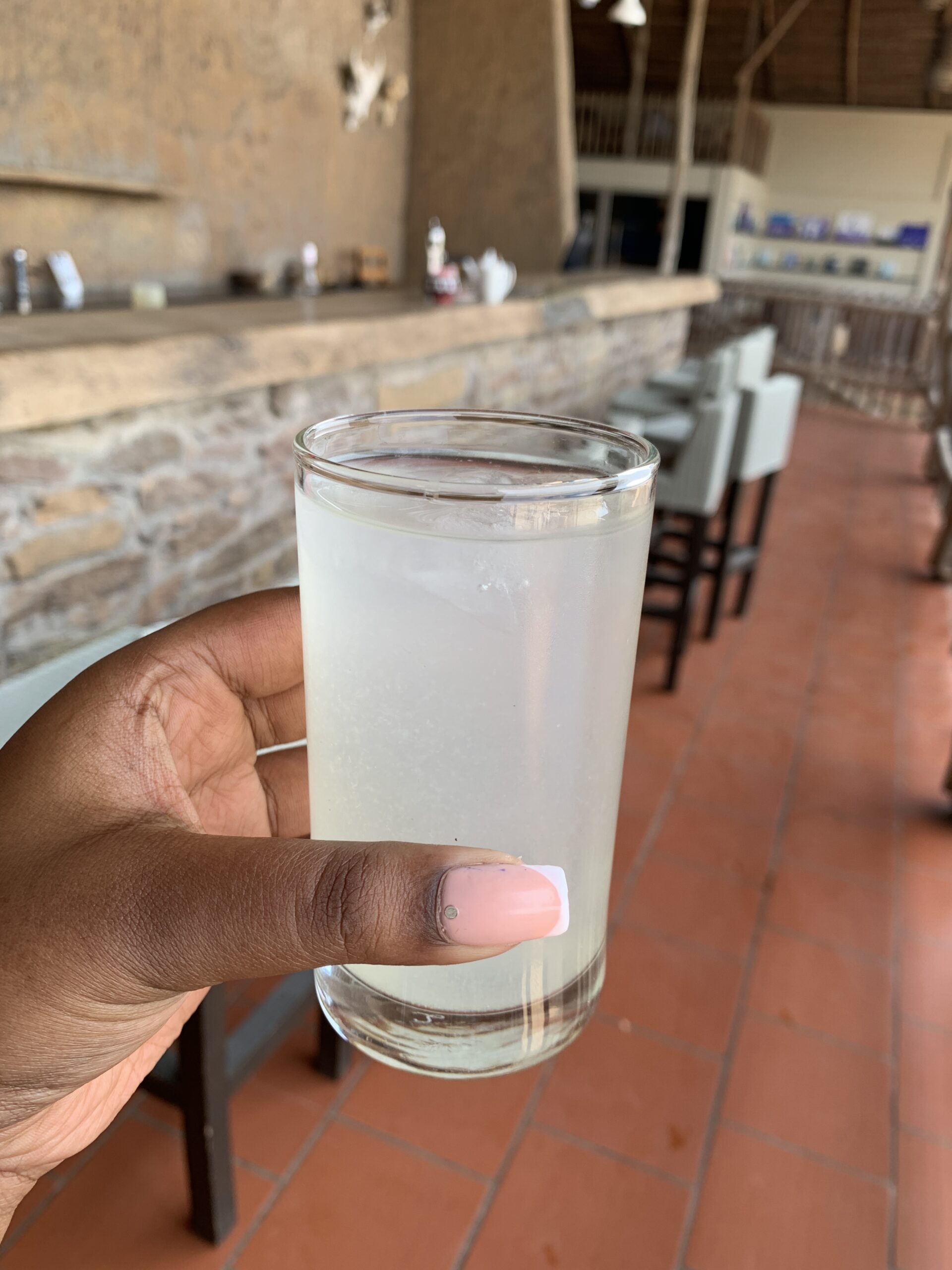 The Chalet
Zaina Lodge has 25 private safari-themed lodging tents called chalets on the property. Each chalet overlooks the Mole Forest, providing an unreal view of the safari animals roaming in their natural habitat. As I made my way to my chalet for the night, I saw 4-6 elephants bathing from my balcony!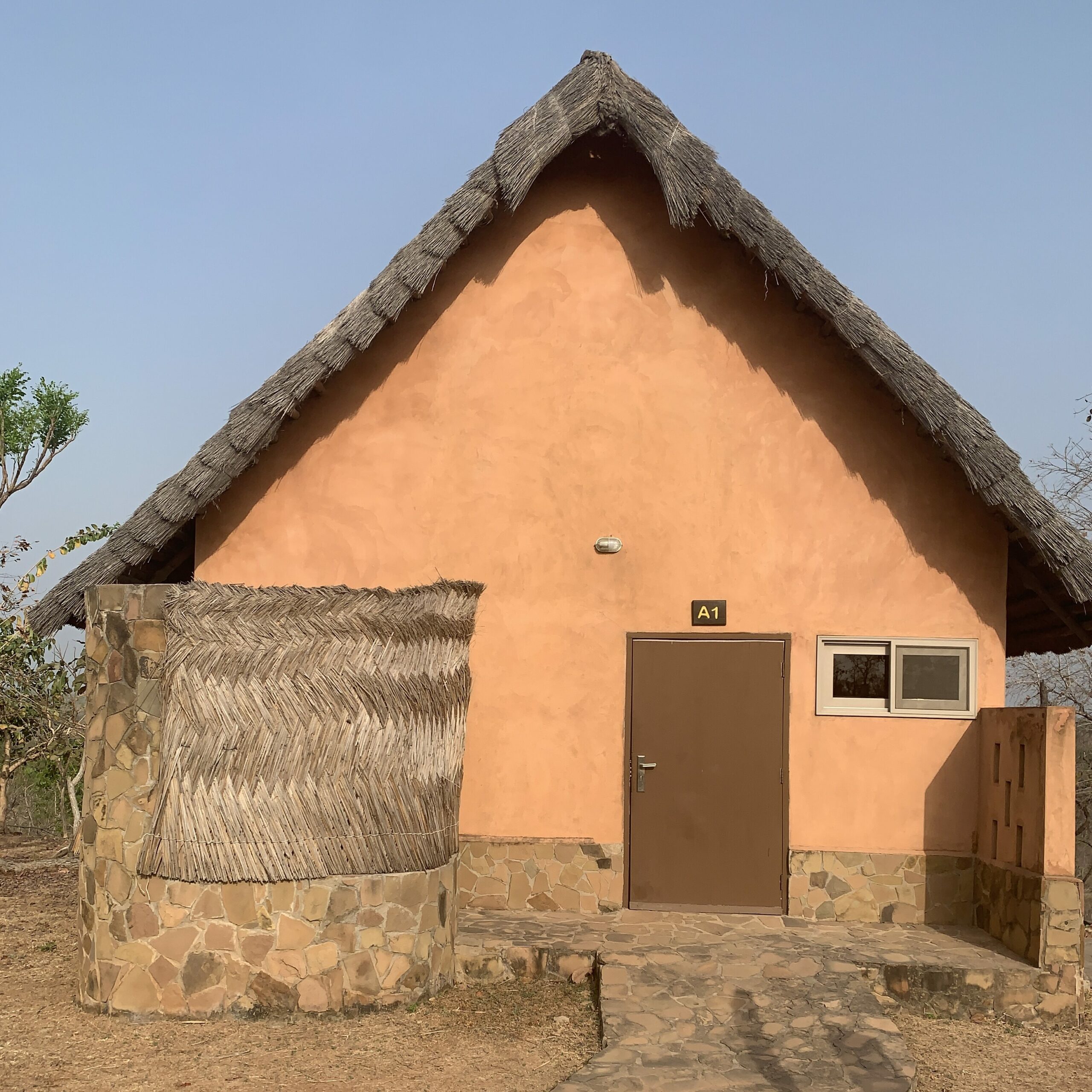 Interior
The first thing I noticed about the ensuite interior of the Zaina Lodge chalets is how spacious the tent is. White curtains hung from light brown wooden rods covering the sliding door entrance and mosquito-netted windows to the left and right of the tent.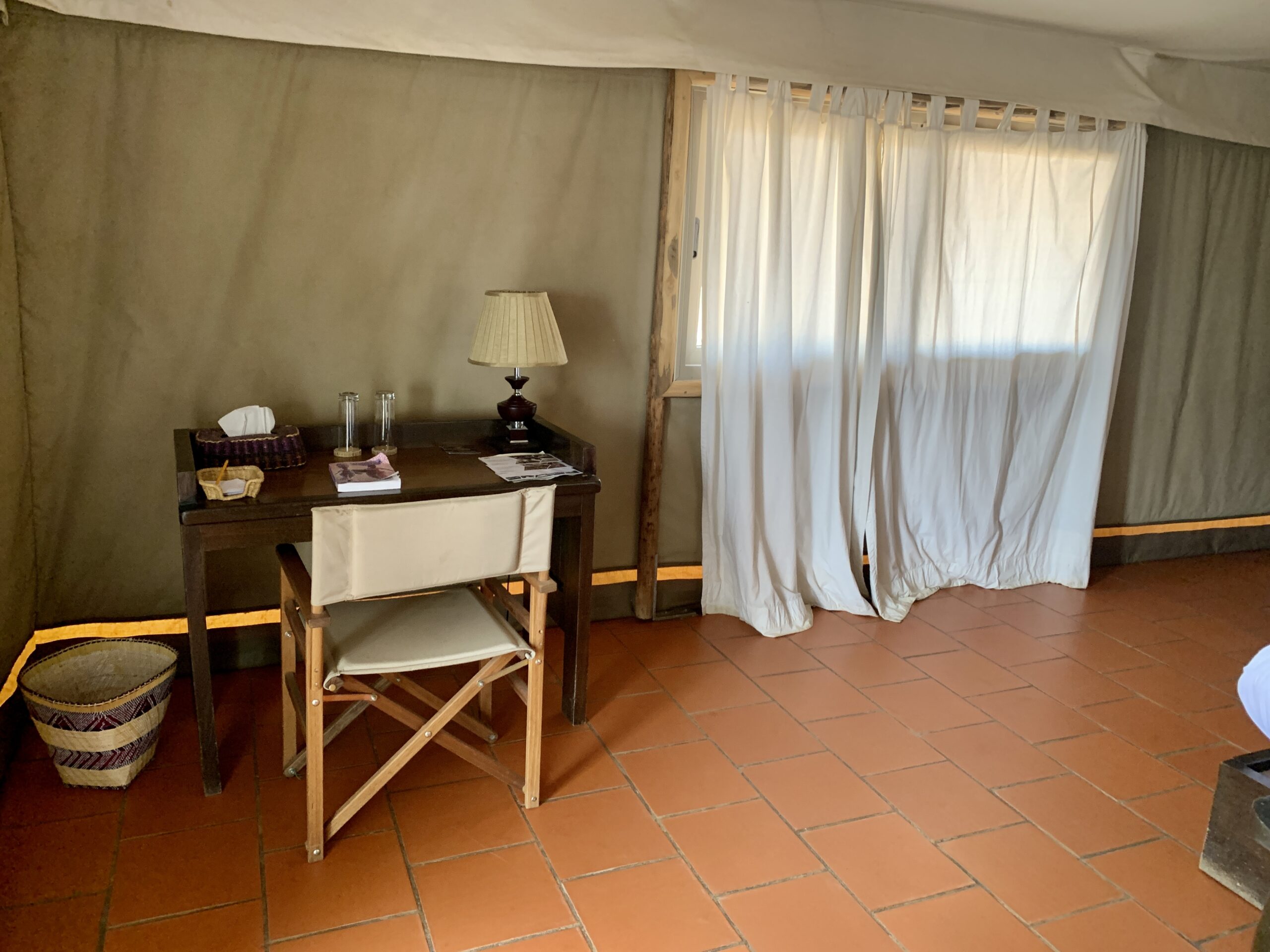 There was also a thoughtful welcome note included which added a personal touch to my stay. I love elements like this so it earned Zaina some points in my book!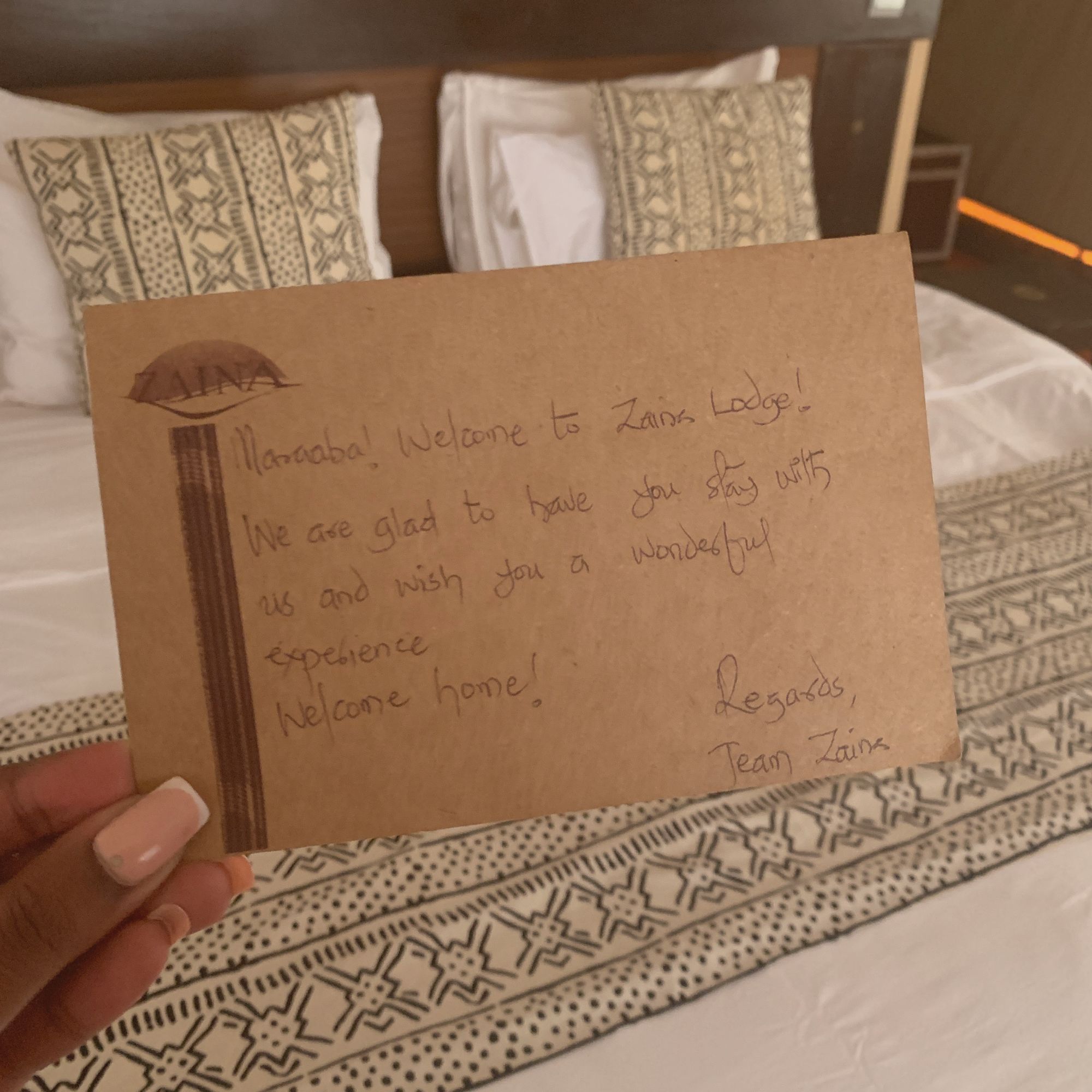 The decor has subtle yet bold statements that compliment a modern African safari touch.
An ice chest sits on the back corner of the tent with two complimentary bottles of the most refreshing water I have ever had.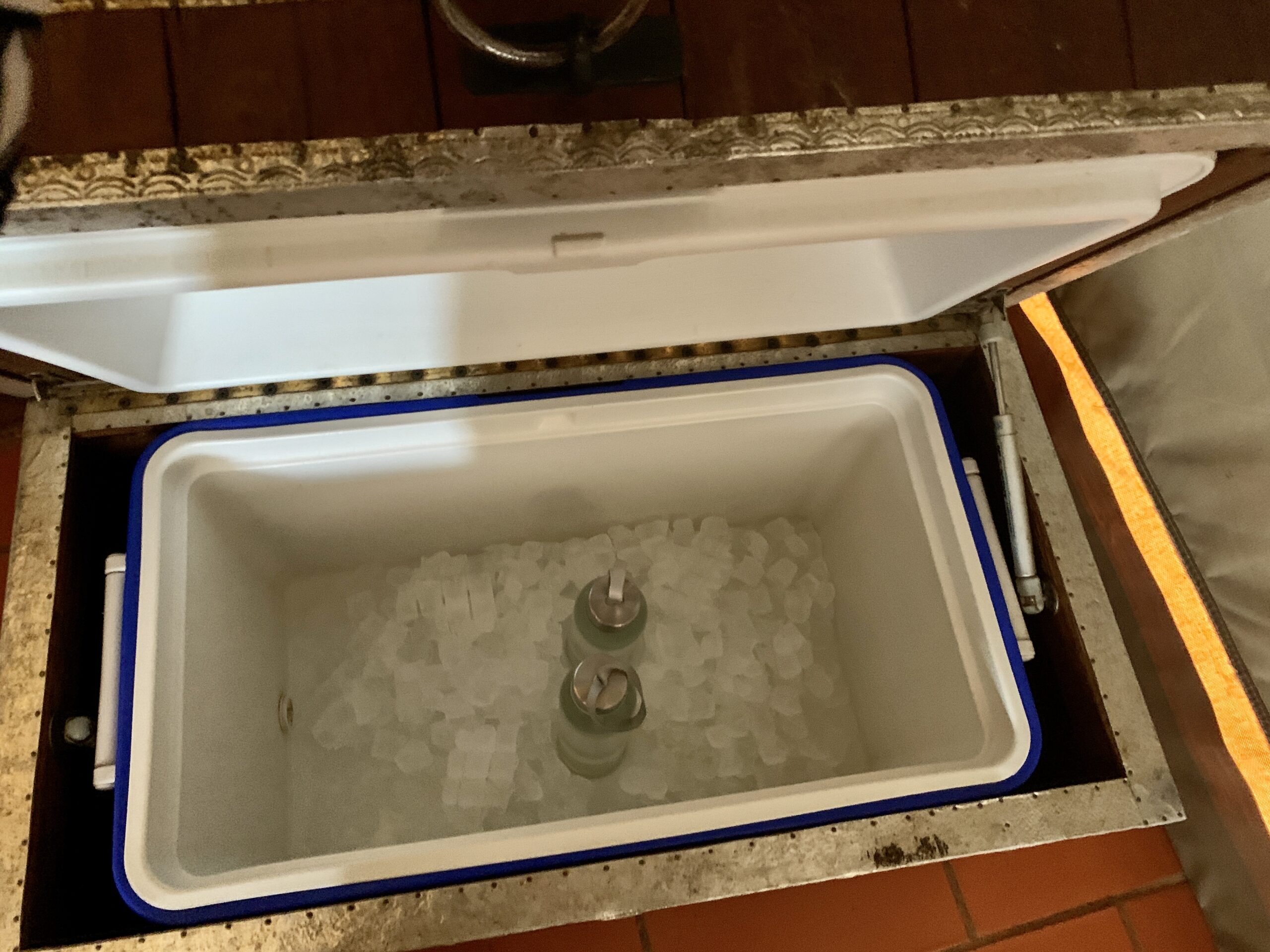 The Zaina Lodge chalets are air-conditioned with a ceiling fan, providing a cool breeze amid the safari heat.
One great touch I loved about the lodge is the cellphone located ensuite that can contact the Zaina Lodge staff.
The in-tent open shower was one of my favorite touches. The pebble-framed wall covering imitates a cave-like structure. The hot water worked great, and the pressure was appreciated. There is also an outdoor shower, but due to bugs, I stayed away!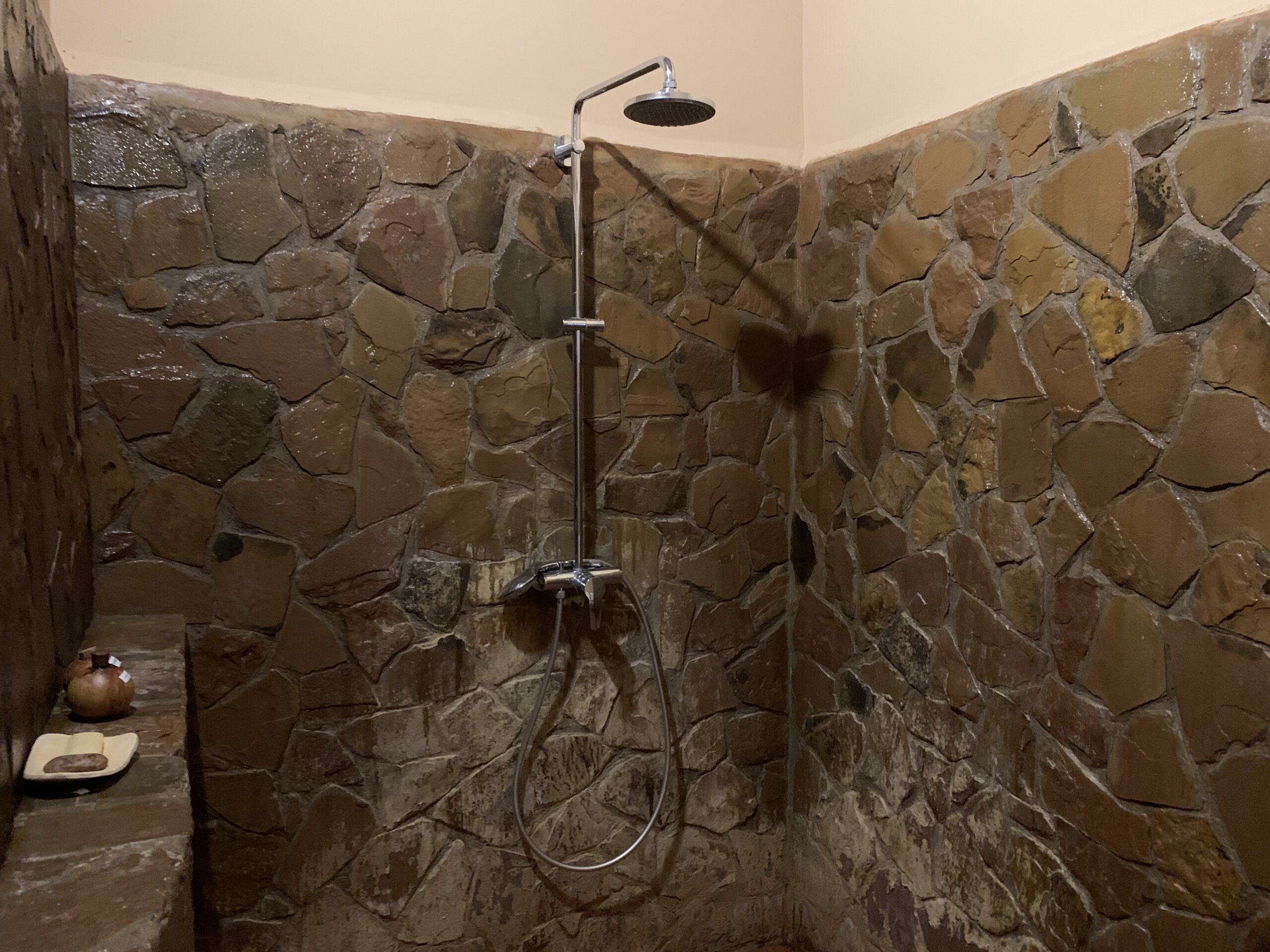 Other amenities included:
A flat screen TV
A safe to lock up money, jewellery and identification documents
Wi-Fi
A desk with a light lamp
Two white robes
Private balcony with a table and seating chairs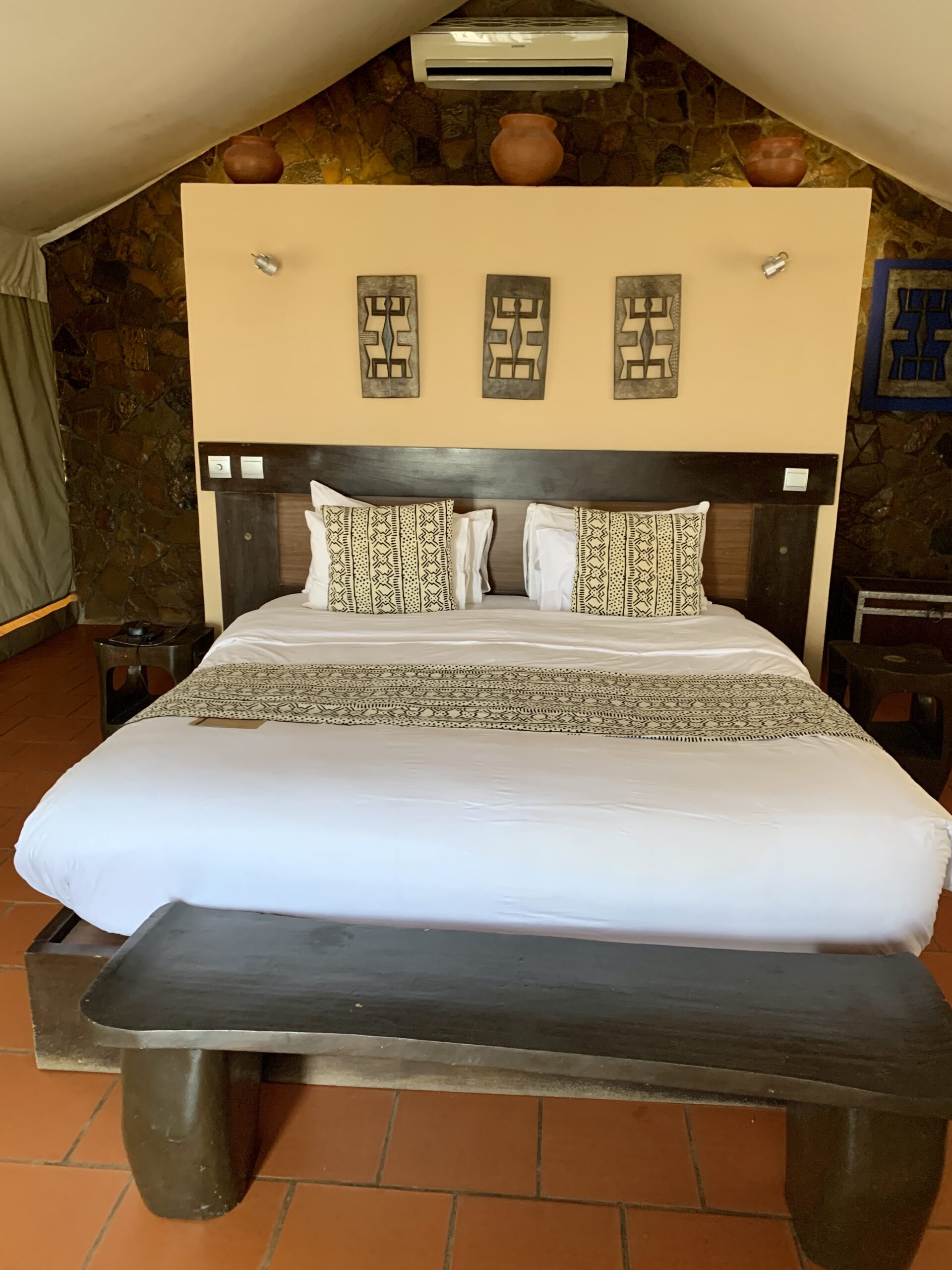 I did note that there are no lights on the private balconies at night. When you are walking from your room to the dining area, it is pitch black, which was concerning to me. A small lantern was placed beside my door, but it wasn't helpful. I believe the reason for the lack of lighting was due to the possibility of attracting critters.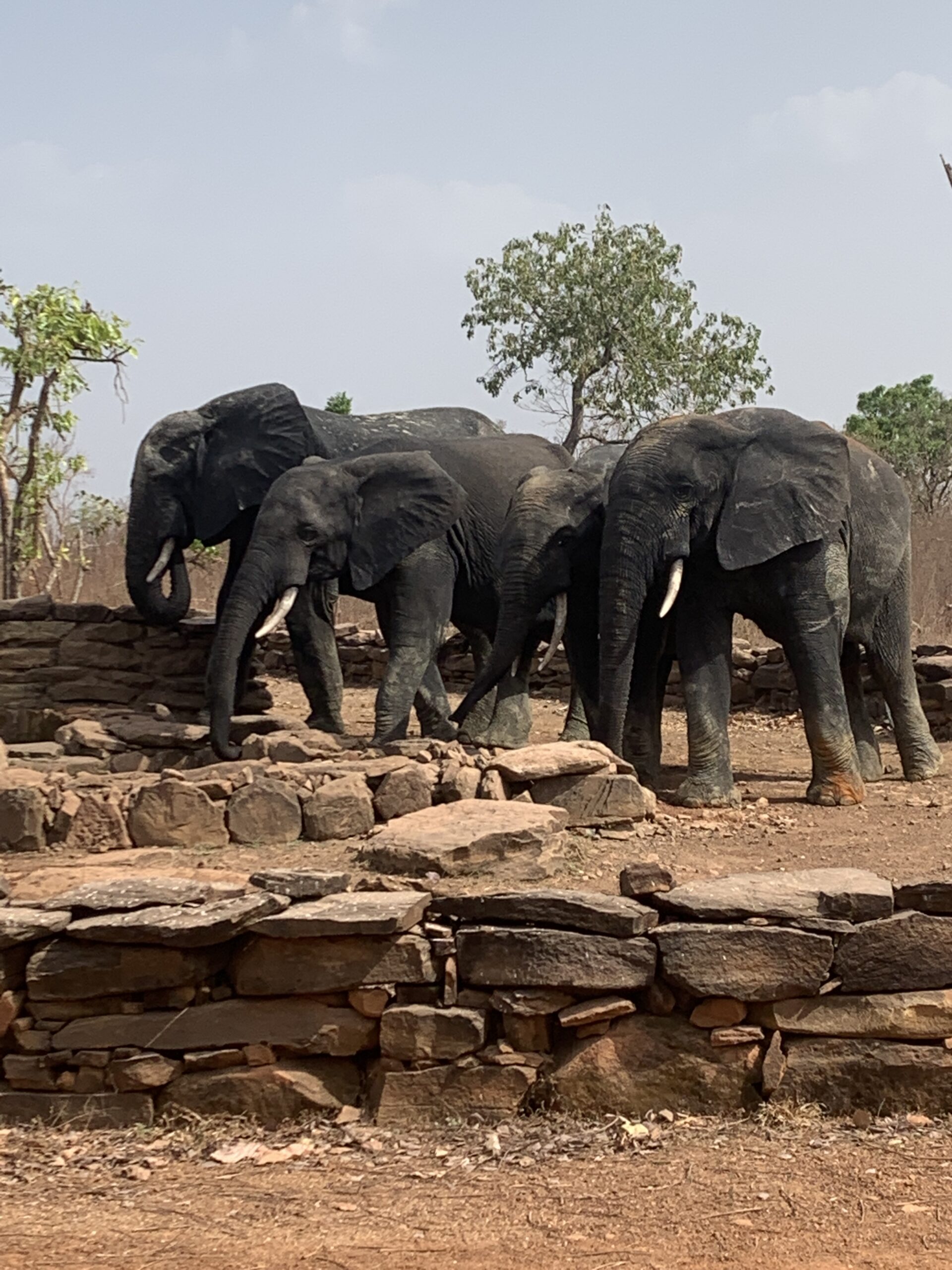 Overall, I was very impressed with the interior of the Zaina lodge chalet. It reminded me of one of my recent stays at the Shai Hills Glamping Tent. It was neatly decorated, spacious, and contained all the necessary extra amenities to make my stay feel cozy.
Main Area
The common area of Zaina Lodge includes a bar, an infinity pool, dining tables, a general seating area, and a library.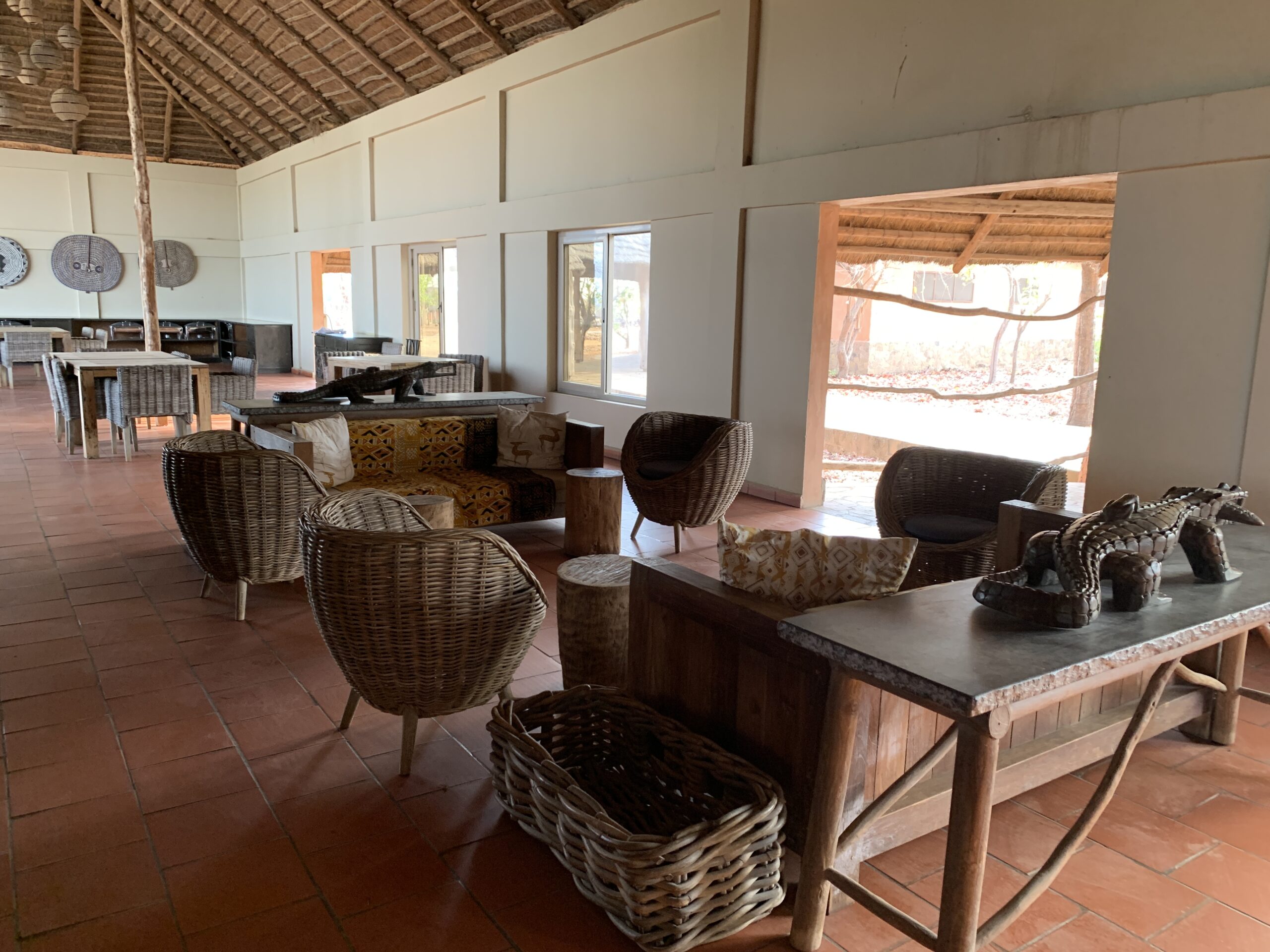 Bar
The bar was my favorite section of the central area. The bar displays a great view of one of the watering holes the animals frequently visit, all while sipping on one of the signature cocktails offered at Zaina Lodge.
I had great conversations with many of the staff members at the bar, including Mahama, who gave me a private 2-minute Happy Birthday song special!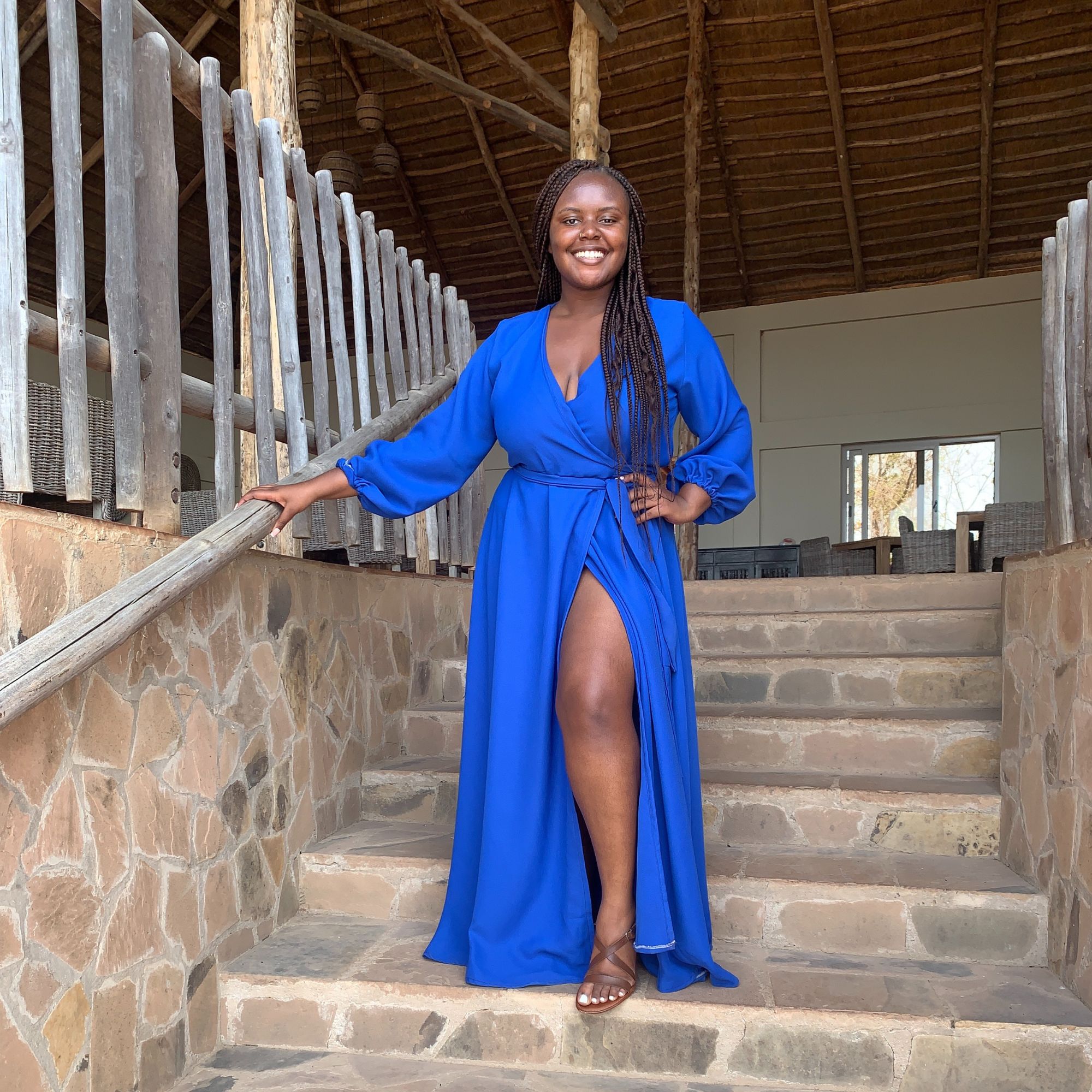 Pool
The infinity pool also gives guests an even closer look at the animals as they roam the Mole Forest. The pool area has beach chairs encompassing the pool's perimeter with bright red towels neatly folded laid across the center of the chairs.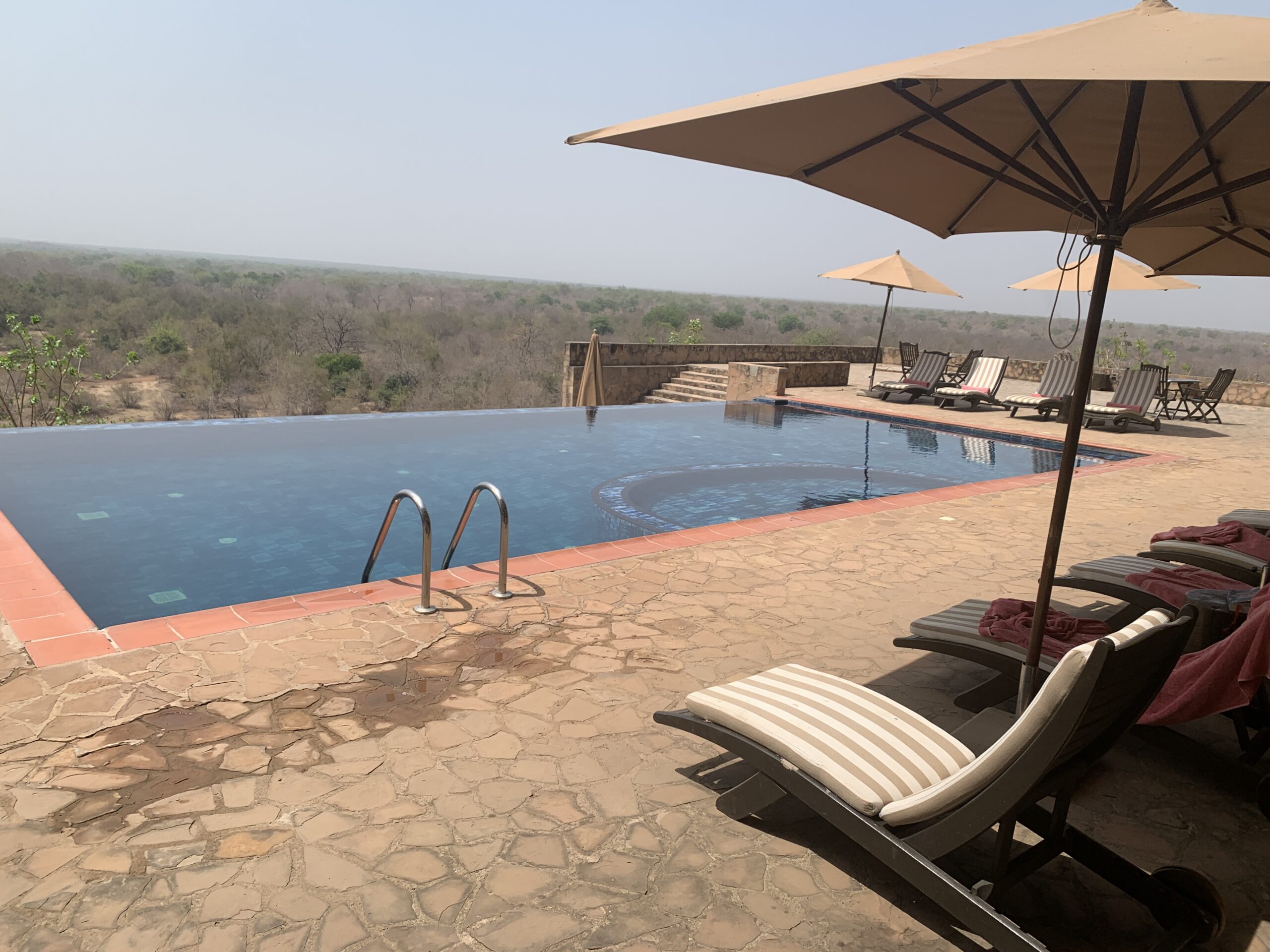 You pass the bar going down the stairs to the pool, so feel free to order a drink to sip on the poolside on your way down!
Dining
The dining tables are arranged in the corner of the main lobby. Various seating spaces depend on the number of guests in your group. My table was always selected and prepared before the lunch and dinner sessions, so I knew where I would be sitting.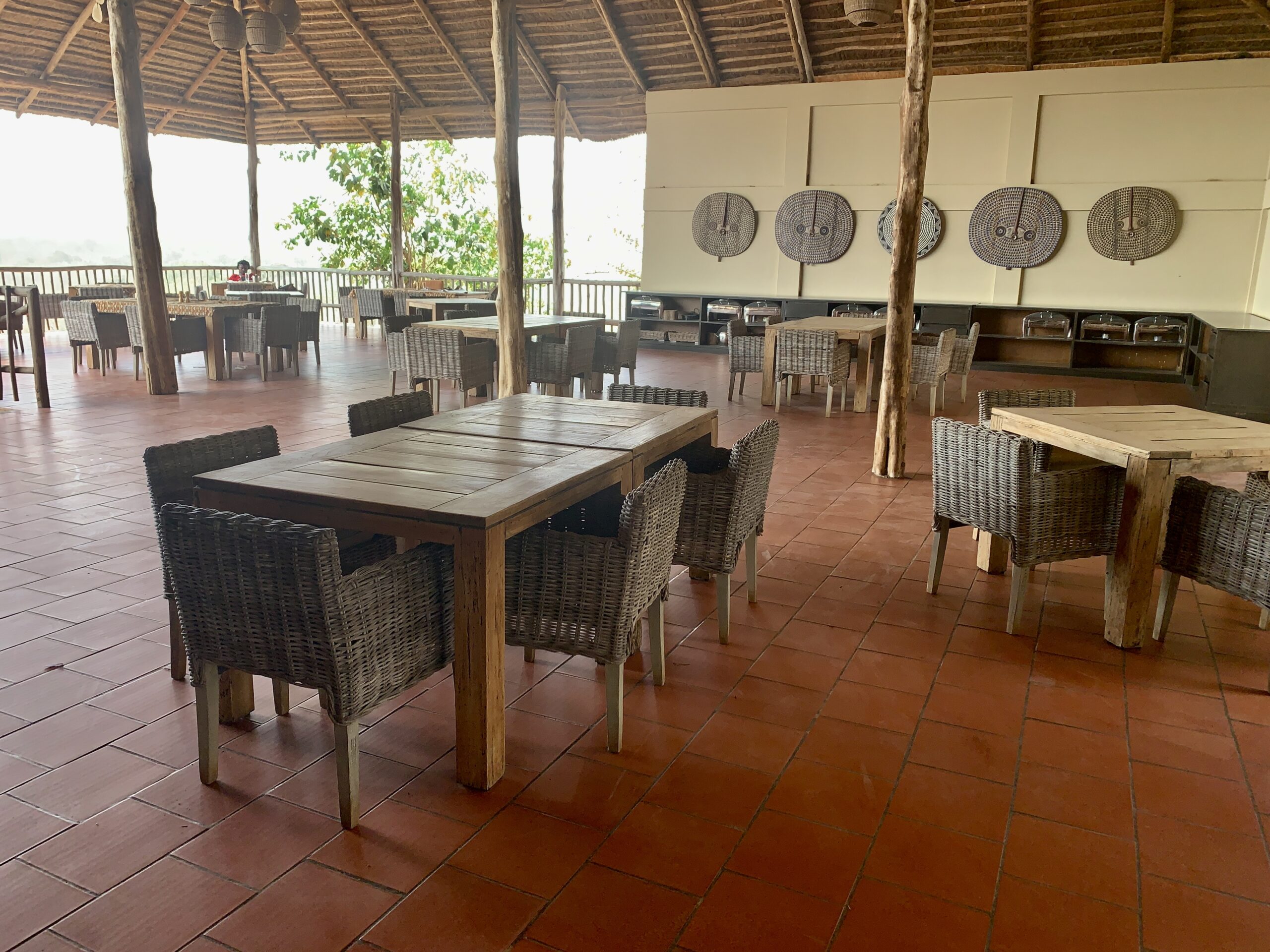 Library
On the other side of the lobby, Zaina Lodge does have a mini-library. The library's collection contains pictures of Zaina Lodge, books on safari animals, the savannah, and a few novels.
I was honestly underwhelmed by the size of the main area of Zaina Lodge. Before visiting, everything appeared to be much larger and spaced out through my research before arriving. However, I was not surprised as I've grown to expect facilities to be a lot smaller in person than they appear to be online in Ghana.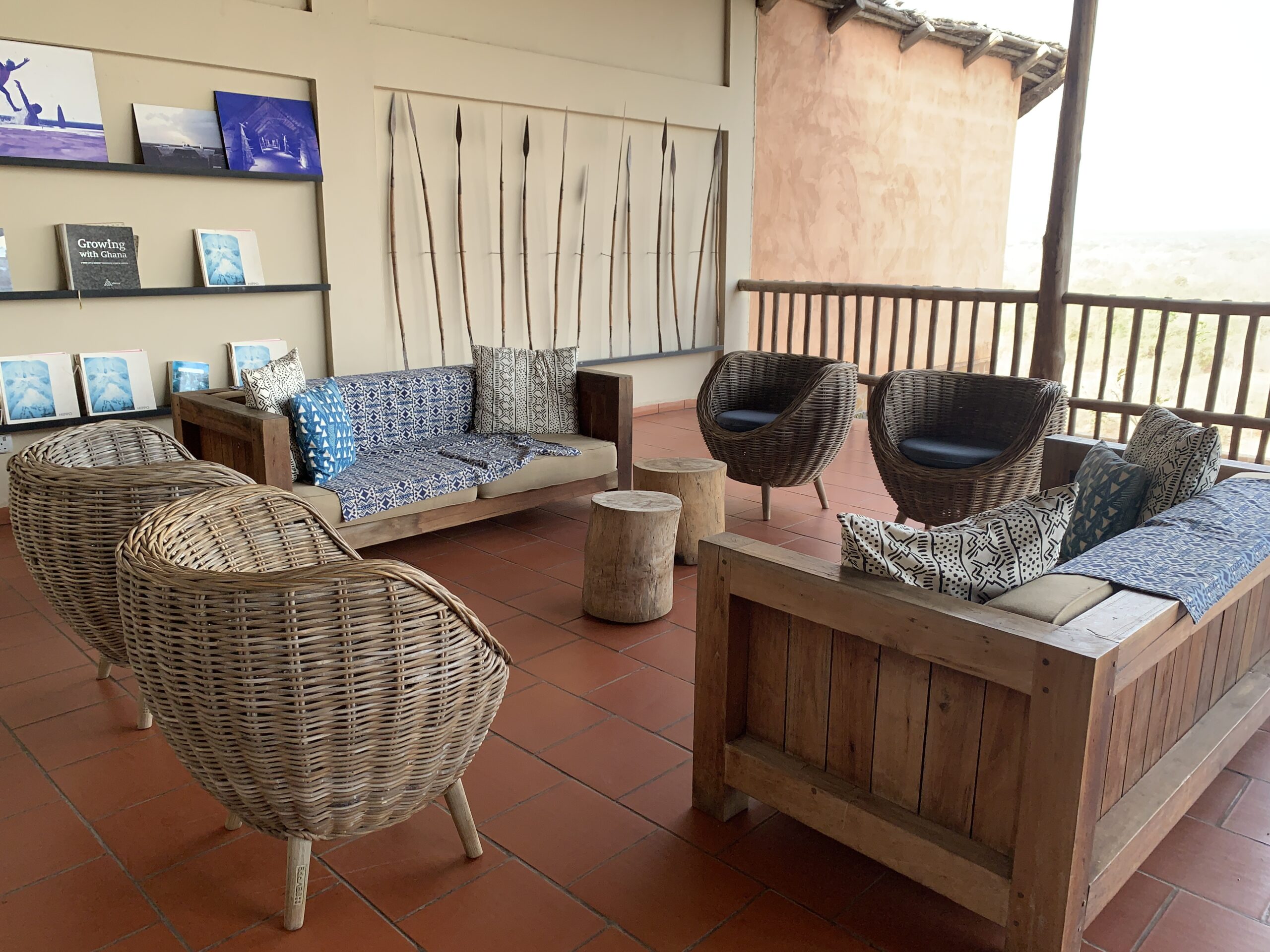 Dining Options
Zaina Lodge only serves 4-course meals with a dessert at their facility for lunch and dinner. This means that aside from being able to request "snacks" like a small sandwich or fries, you will only have full-course meals.
The first course is soup with bread rolls. Following the first course comes a salad-based dish. The third course is the main dish; for this course, the chef gives two options. Finally, the last course is dessert.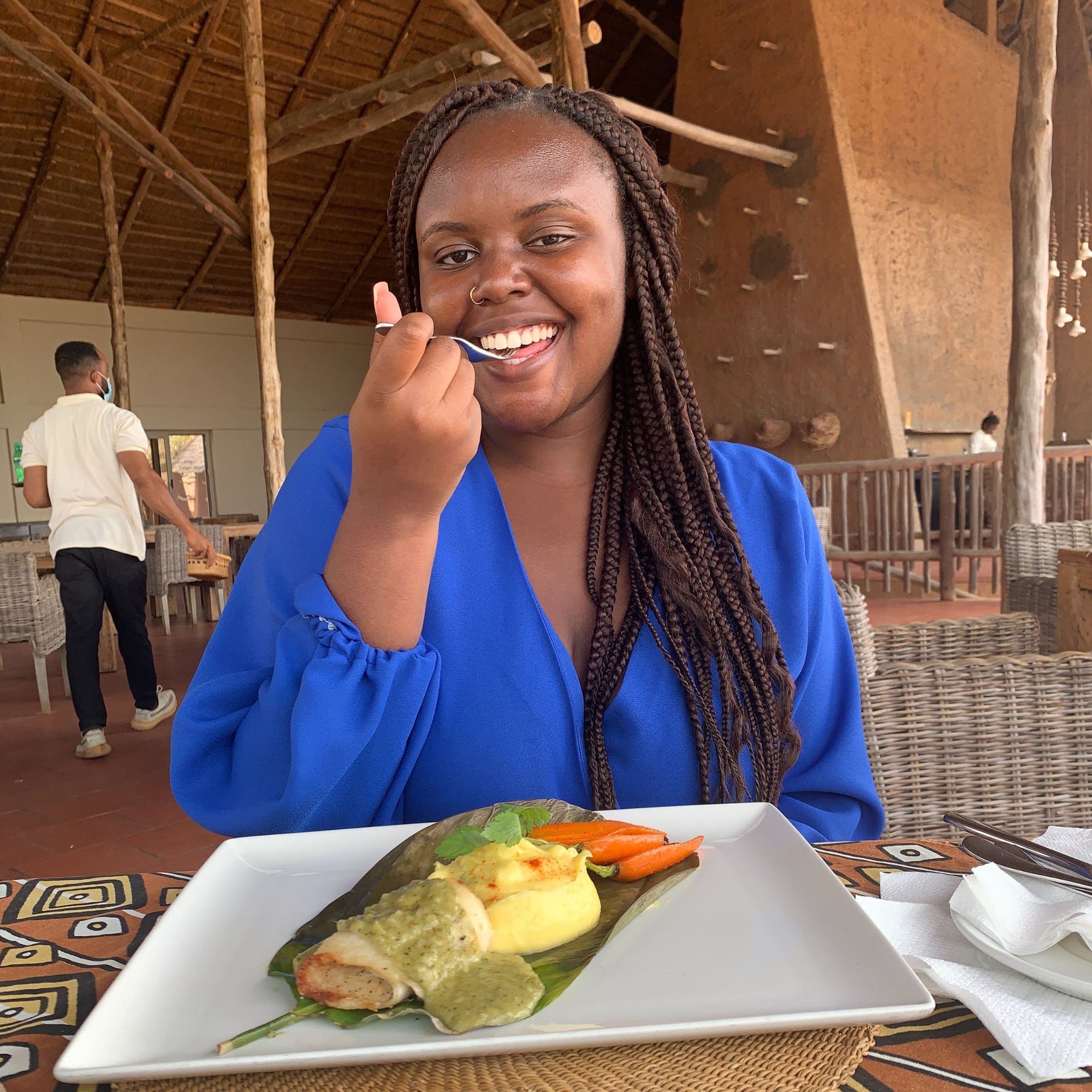 Lunch: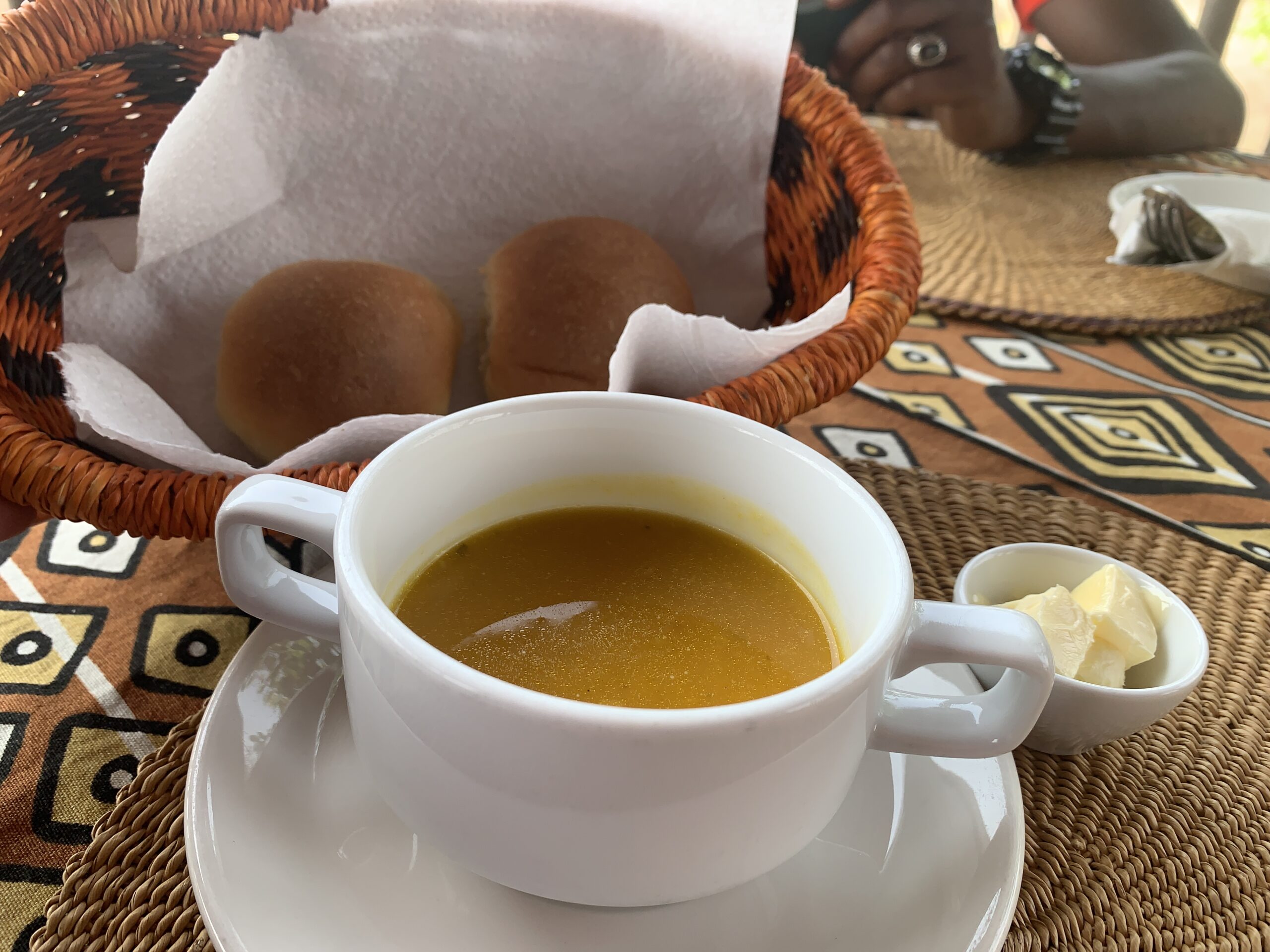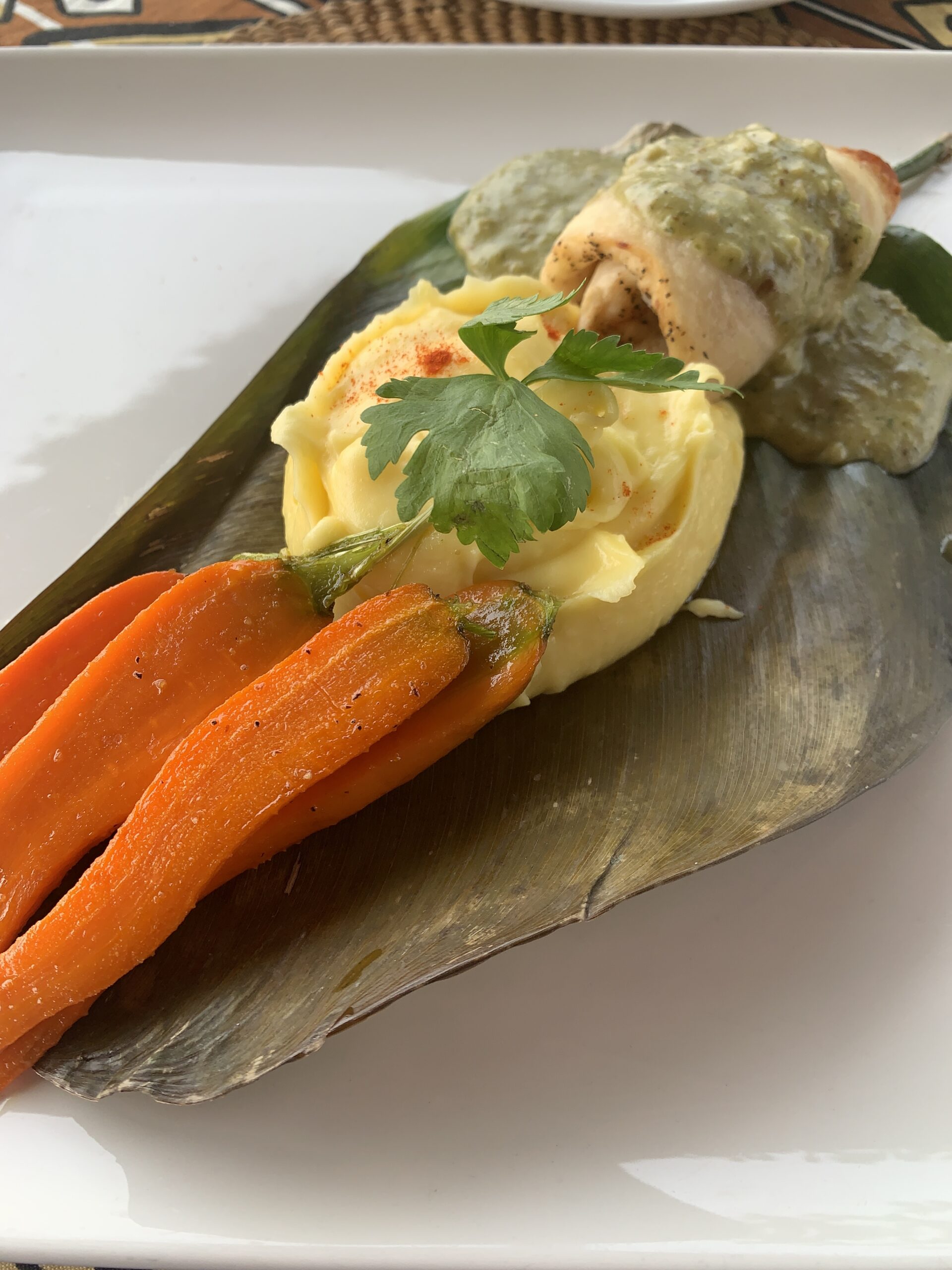 I enjoyed my lunch very much! The pumpkin soup was a bit flavorless to me but very fresh. I finished everything, and it was delicious.
Dinner:
Later that night, I had another 4-course meal for dinner: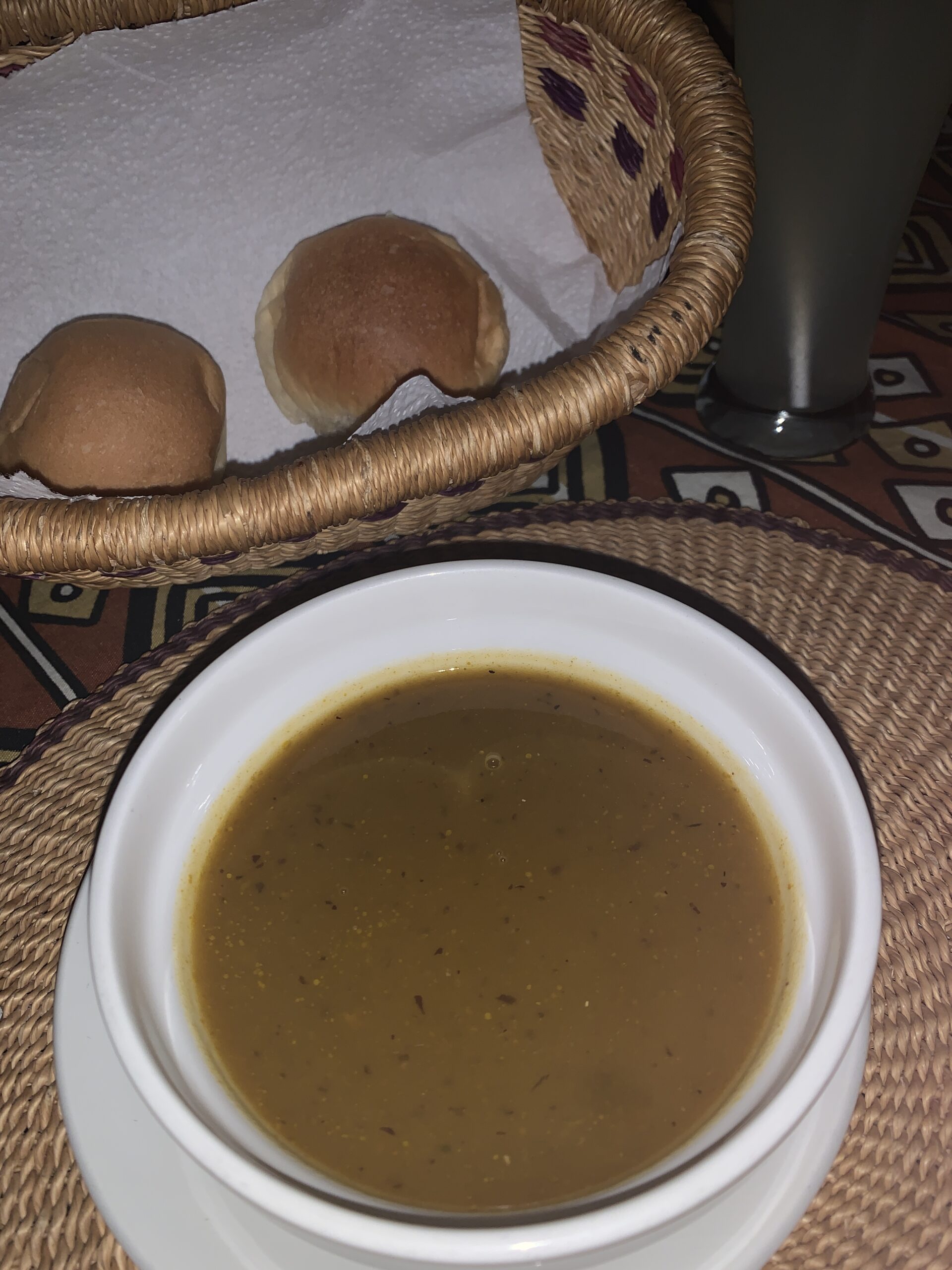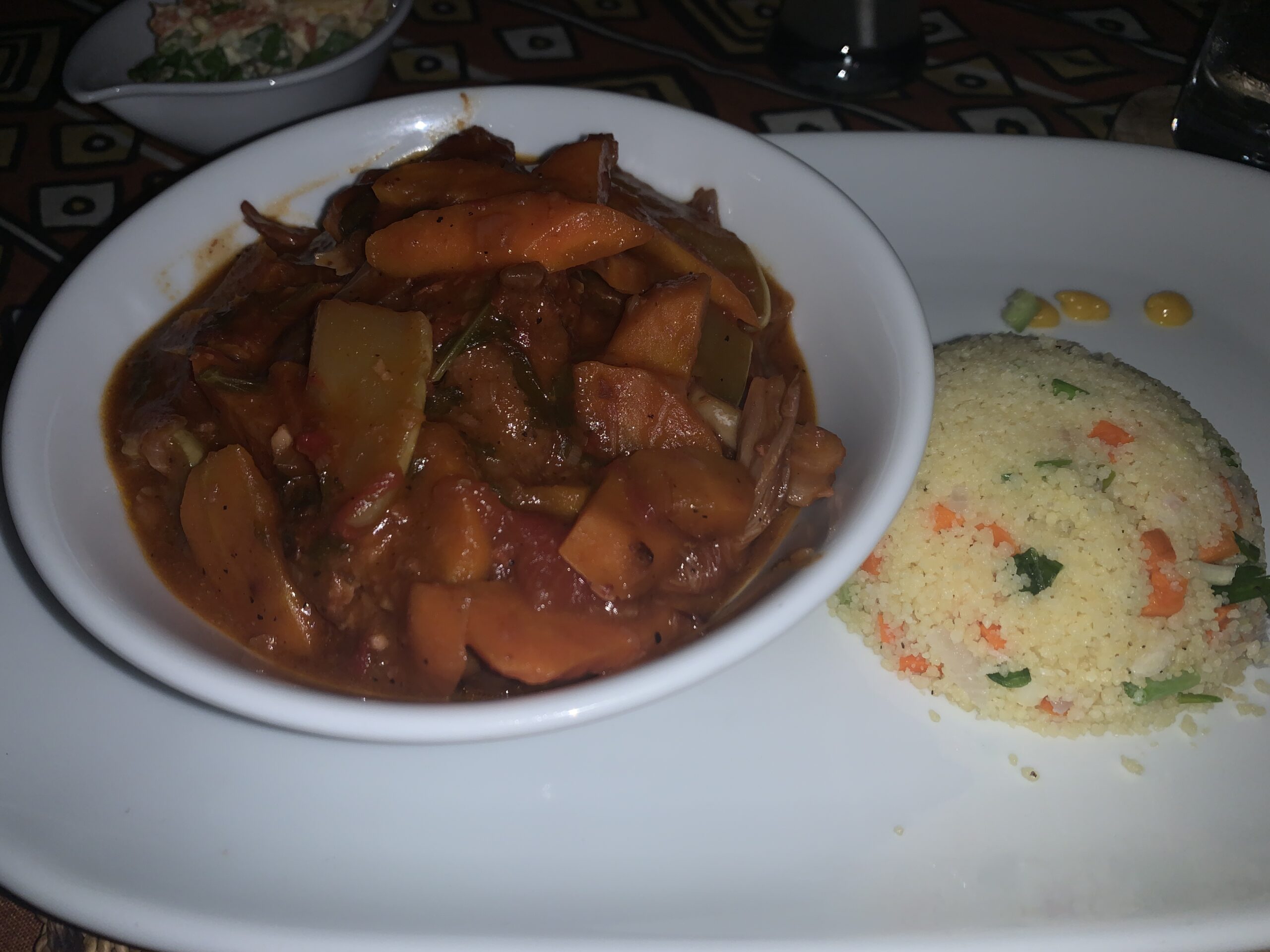 I am happy that I enjoyed lunch because I barely touched my dinner. Everything was fresh and was not horrible in taste, but it was not worth finishing.
Breakfast
Breakfast the following morning consisted of tea, water, scrambled eggs, toast, the option of sausage (I skipped out on), and a delicious breakfast muffin with a Nutella-like chocolate filling.
It was enough to fill me up, but again, I expected more for $400/night. I've had better breakfasts at budget hotels in Ghana.
I recommend bringing snacks to Zaina Lodge. Lunch starts at 1 pm and dinner around 6 pm, so there is quite a gap between mealtimes. You can arrange for the chef to make you a snack meal, but just in case, bring small snacks.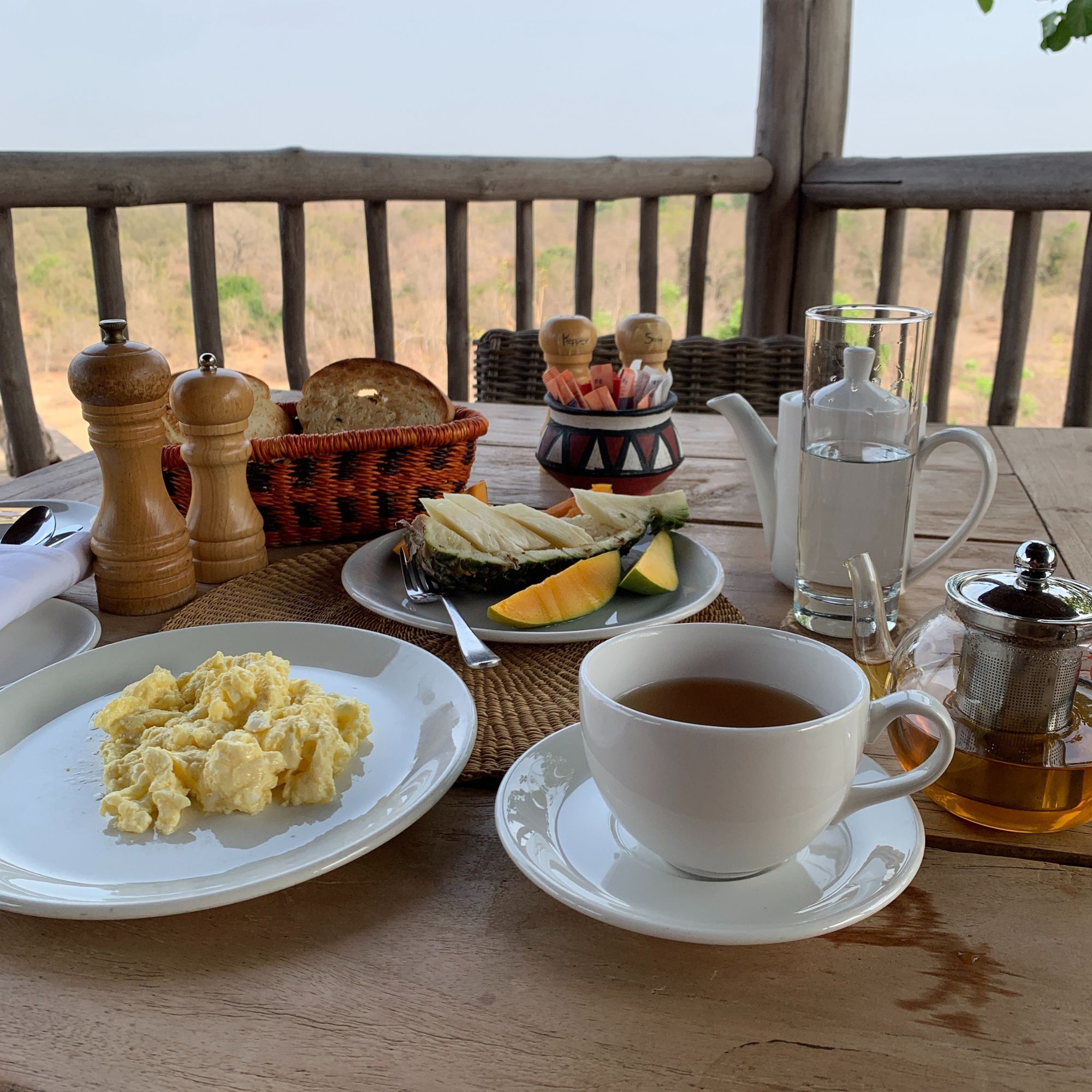 Cost: What You Need to Know About Upfront & Behind the Scenes Costs
On Zaina Lodge's website, there are two options to book: bed and breakfast only for $345 or the Zaina Experience that includes lunch, dinner, and a day safari for $395. I initially opted for the bed and breakfast option but ended up upgrading to the Zaina Experience.
The manager explained that lunch and dinner would be around $90 if done outside of the package, or I could upgrade for only $50. I did not expect lunch and dinner to be so expensive because of the price of the stay, catching me off guard.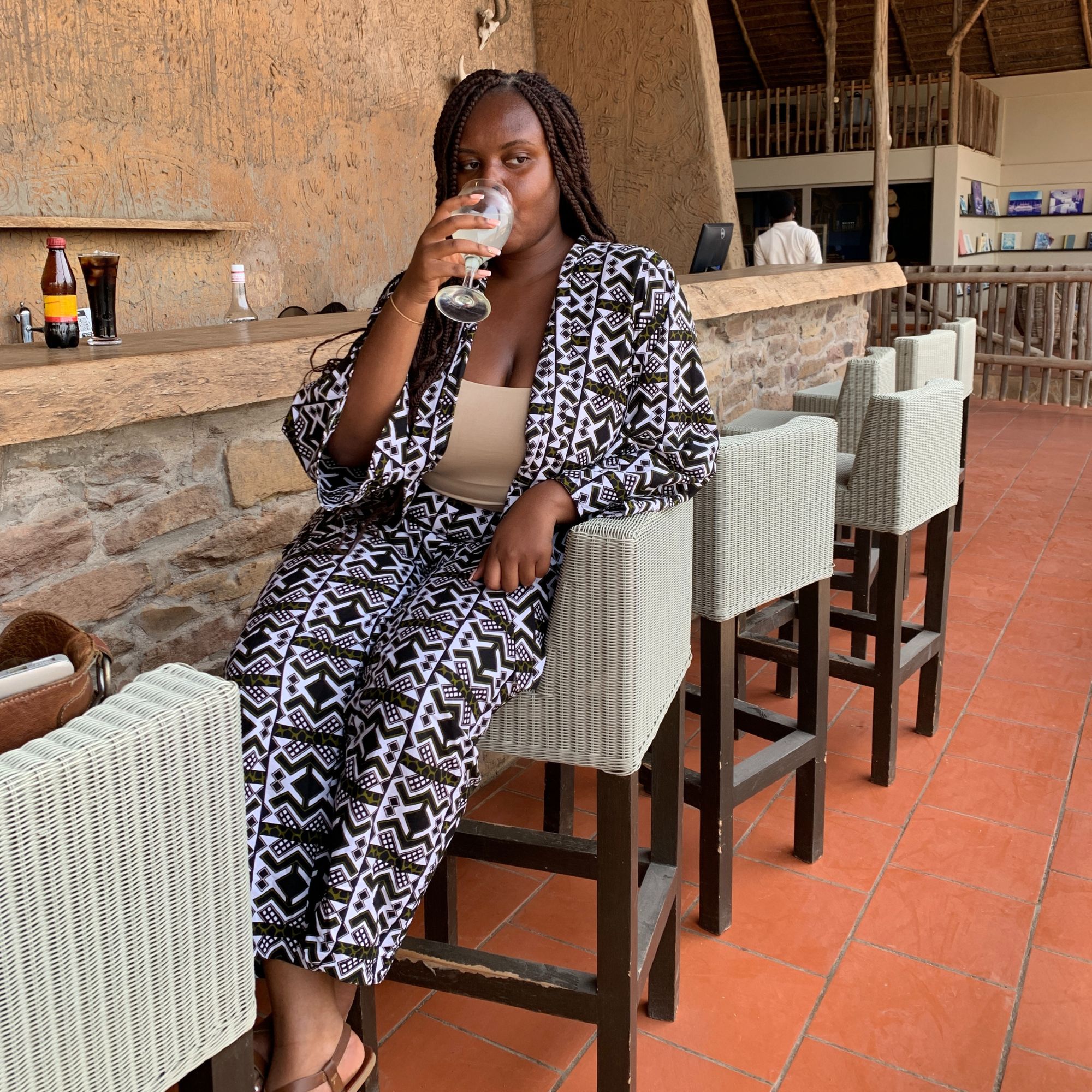 In a way, they urge you to upgrade because you will pay more money either way. Zaina Lodge does not have separate meals, so you are paying for a course of meals.
Drinks are also not included in the course price, which is ridiculous to me. Although the drinks were very affordable (¢8-25), there is no reason why the lodge can't include them since rates began at $400+/night.
The portions of food are also not worth $45. At times in Ghana, the ambiance is more of what you are paying for when you visit such establishments, but the ambiance was also not logical for the cost. For a place that calls itself a luxury safari lodge, I expected more of a "wow" effect. It never came after seeing elephants walk up to the front of the lodge.
Activities at Zaina Lodge
Mole National Park Safari
Along with the cost comes a 2-hour day safari available two times a day: 6:30 am and 9:30 am. A night safari starts at 6:00 pm and allows you to see nocturnal animals at the Mole National Park, but it comes at an extra cost. The day safari is a great experience on its own!
Mognori Eco Village
The Mognori Eco Village is a local attraction that allows guests to embark on a canoe safari and tour a local village community in the Mole area. A staff member told me that it is possible to arrange a visit to the site. I went on my own the morning before arriving and can recommend a tour guide for you!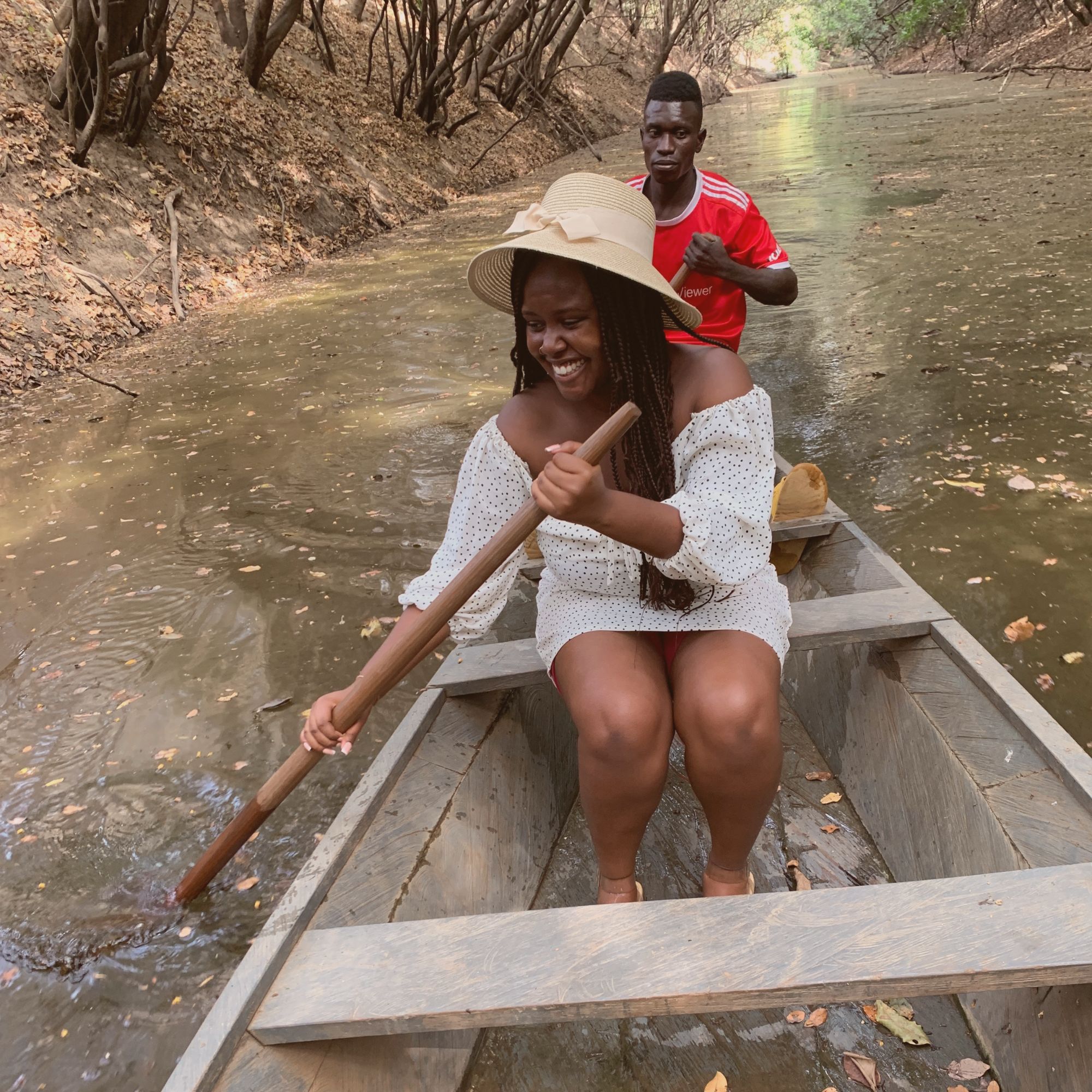 Aside from those activities, nothing else is offered at Zaina Lodge as entertainment for guests to do. I was told that there is usually a spa running, but due to COVID, it was not in service. I found this interesting, seeing as how I wasn't asked to provide COVID test results for my stay, and social distancing was not enforced among guests with seating. I hope to hear the spa is functioning soon to make staying at the lodge a better experience.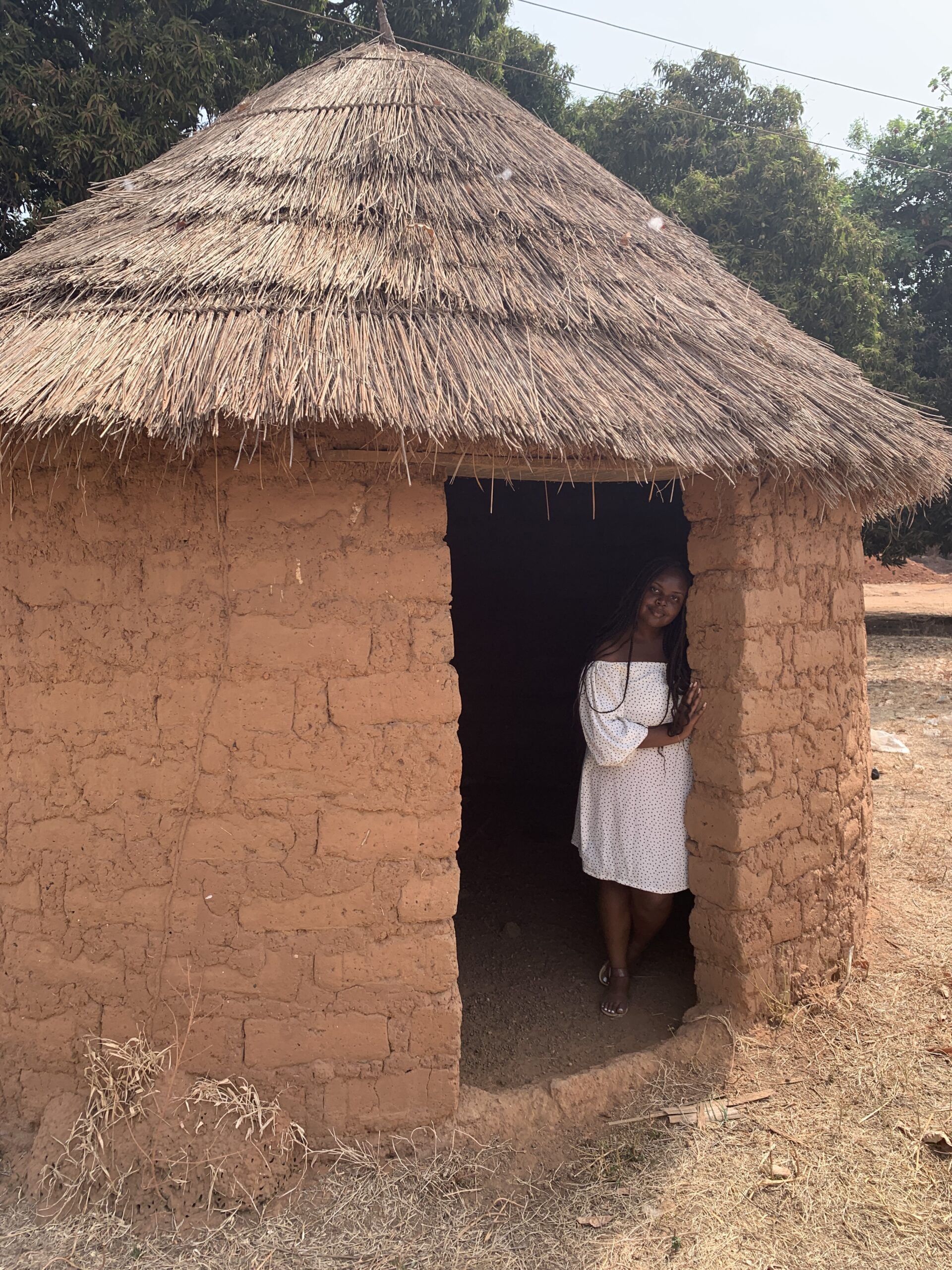 Aside from the pool, eating, and enjoying the company of your party, don't expect many things to do at Zaina Lodge. If you are here to relax and unwind, it will be more of your speed!
Wi-Fi at Zaina Lodge
There is free wi-fi at Zaina Lodge, but it is not always stable. However, it ran at high speed when it was working (which was most of the time)! Wi-fi is a known issue in Ghana, so I will extend grace in this area despite the price point.
The Gift Shop
Zaina Lodge has a small gift shop you can browse and shop while at the facility. I didn't find it to be anything worth shopping or looking at for too long, as I've seen the same souvenirs all around Ghana, but if it is your first time in Ghana you may find something you like!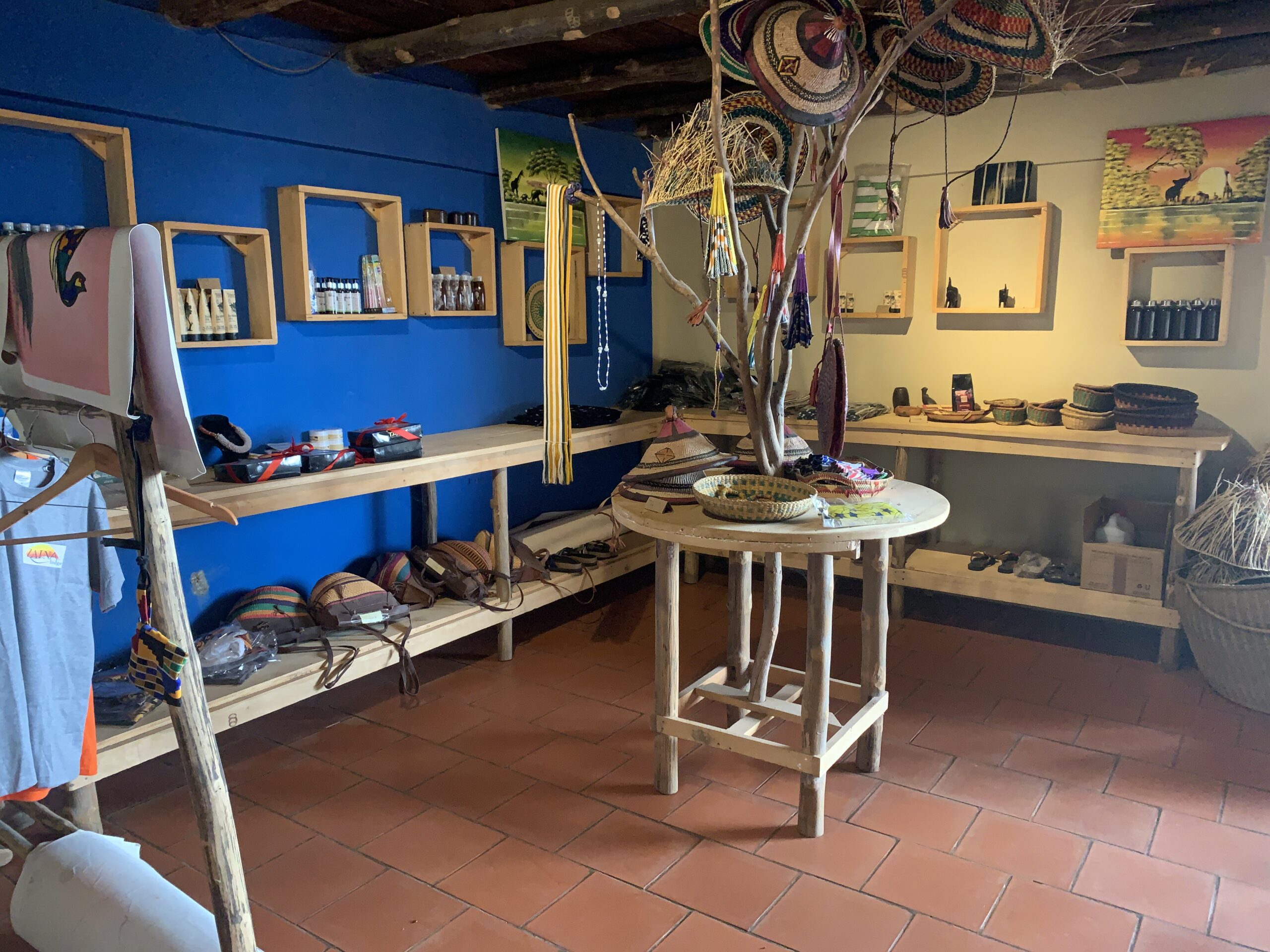 Is Zaina Lodge Worth $400/Night?
Honestly, the $400/night price point is not worth the stay at Zaina Lodge. There was nothing extravagant about my visit besides getting to see elephants up close to the lodge entrance. It felt as if everything additional that you would think is included came with additional fees.
The suites were nice, but not enough to see why the stay costs this much. I'm sure the rate of Zaina Lodge comes from the facility being the first West African safari lodge and, again, providing guests with a unique view of animals that you can't get anywhere else in Ghana.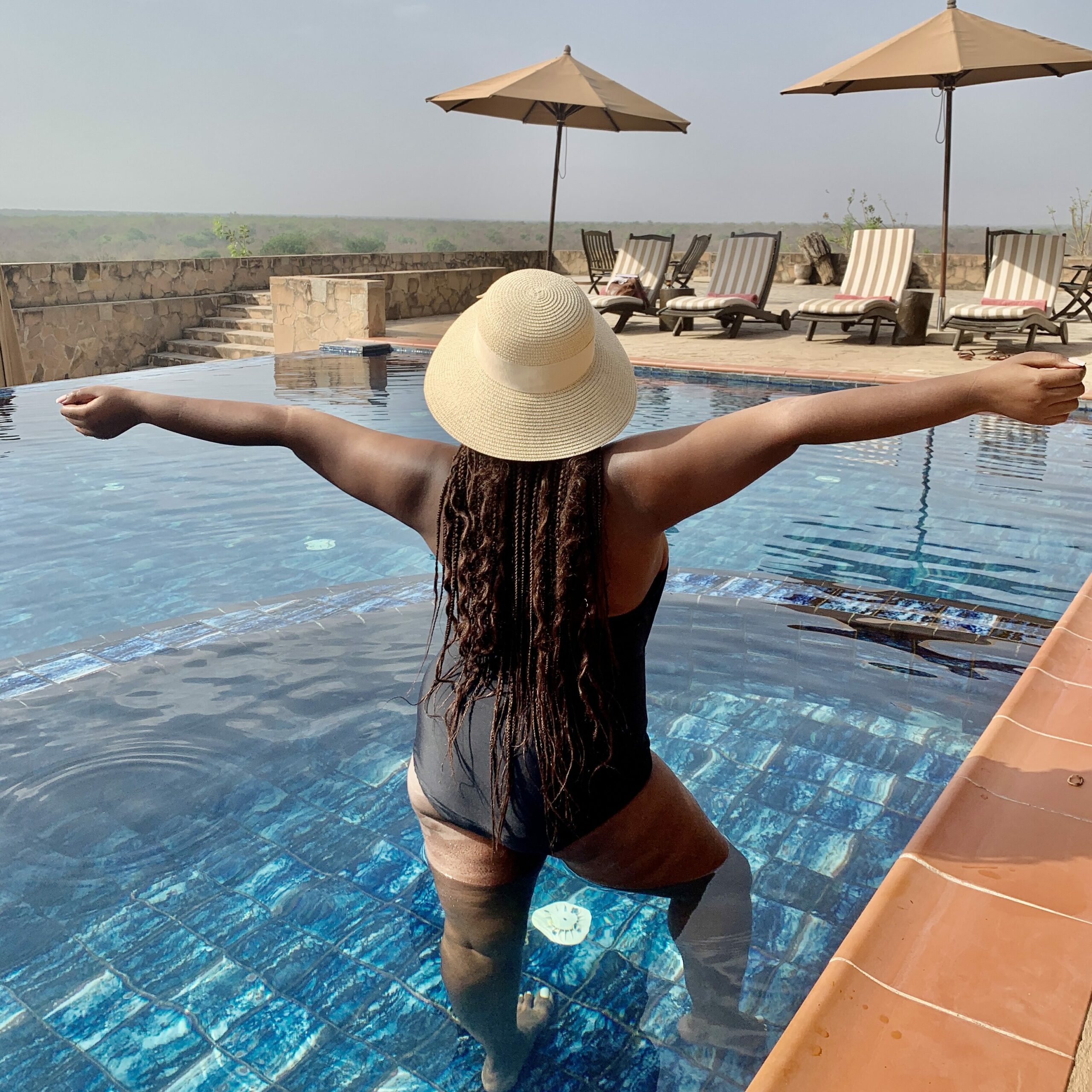 I just expected more altogether based on the reputation of the Zaina Lodge and was consistently underwhelmed.
I think a more appropriate rate for Zaina Lodge based on value would be $250-275.
If you're like me, you have to see an experience for yourself despite various reviews. Fortunately, I have some alternative options you can do if you still want to experience Zaina Lodge at a more cost-friendly rate!
Even if the rate was lower, there was not enough to make me say I would come back for a second stay.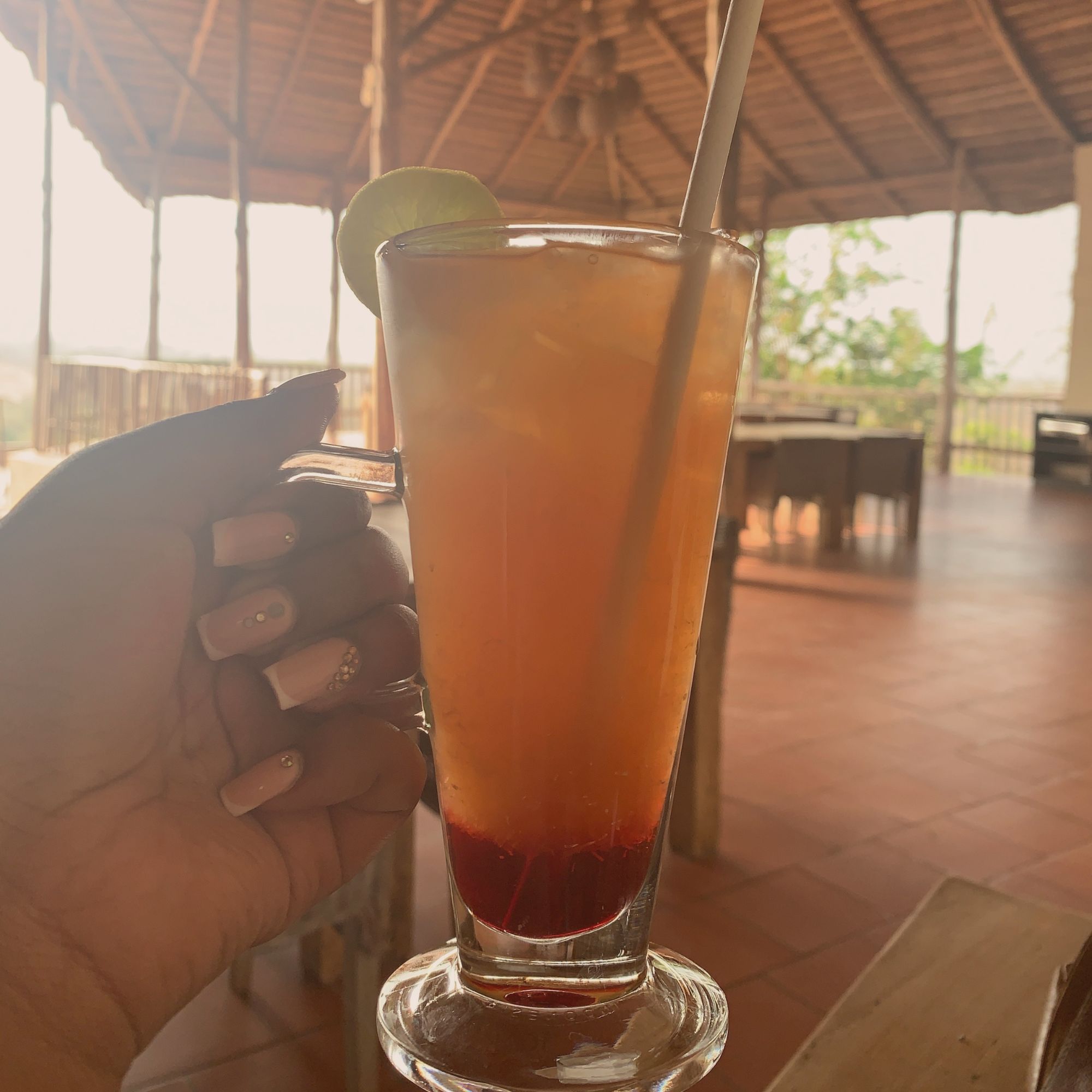 Alternatives to Staying at Zaina Lodge
You can visit Zaina Lodge for a day and enjoy a 4-course lunch meal and the infinity swimming pool. You'll be able to access the main area and get a taste of what being a guest at the site entails for a quarter of the price. I was quoted roughly $80 for this option.
Bring a friend and split the cost in two! Finding people to do these adventures with is difficult for a solo traveler. Still, if you can find someone to come with you, that is an automatic dip in the nightly fee! While most places do not charge an extra fee for two people in the same room, Zaina Lodge does charge more for two people in a room.
Stay at the Mole Motel on-site at the Mole National Park. The elephants still come around the motel, and guests are often happy with the experience! It's a lot cheaper as well.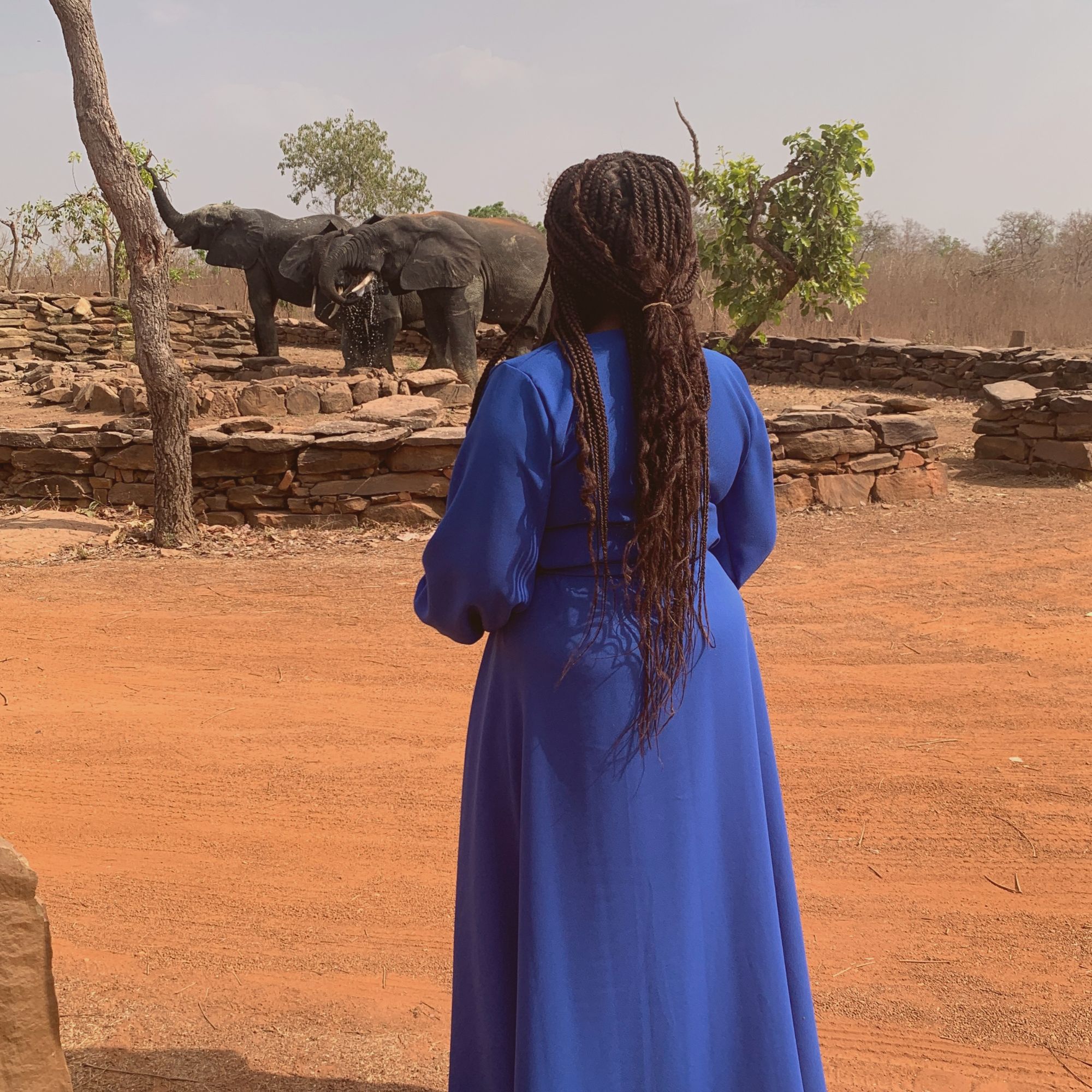 —
Zaina Lodge was an experience I'm happy I embarked on. Although I don't think it was worth the price, I love that I was able to cross another thing off of my Ghana bucket list.
Heading to Ghana soon? Check out my Travel Guide to Accra, Ghana, for everything you need to know to make your trip a success! Comments below any questions you have about staying at Zaina Lodge!