As a travel blogger, freelance writer, and virtual assistant, trust me when I say that I am always on the hunt for the nicest and cutest cafes in any new city I visit. Kigali's cafe culture was cute and had some of the best cafe food I've ever come across in my travels. If you're looking for a remote working place in Rwanda, or just somewhere you can pass time and relax, you've come to the right place. 
I've also included some cafes I didn't visit while in Kigali that I wish I got the chance to, so if you get to stop by, please come back to this post and let me know what your experience was like! 
Here are 9 cafes in Kigali to visit while in Rwanda.
If you're planning on visiting Kigali soon, you may also find my Travel Guide to Rwanda helpful!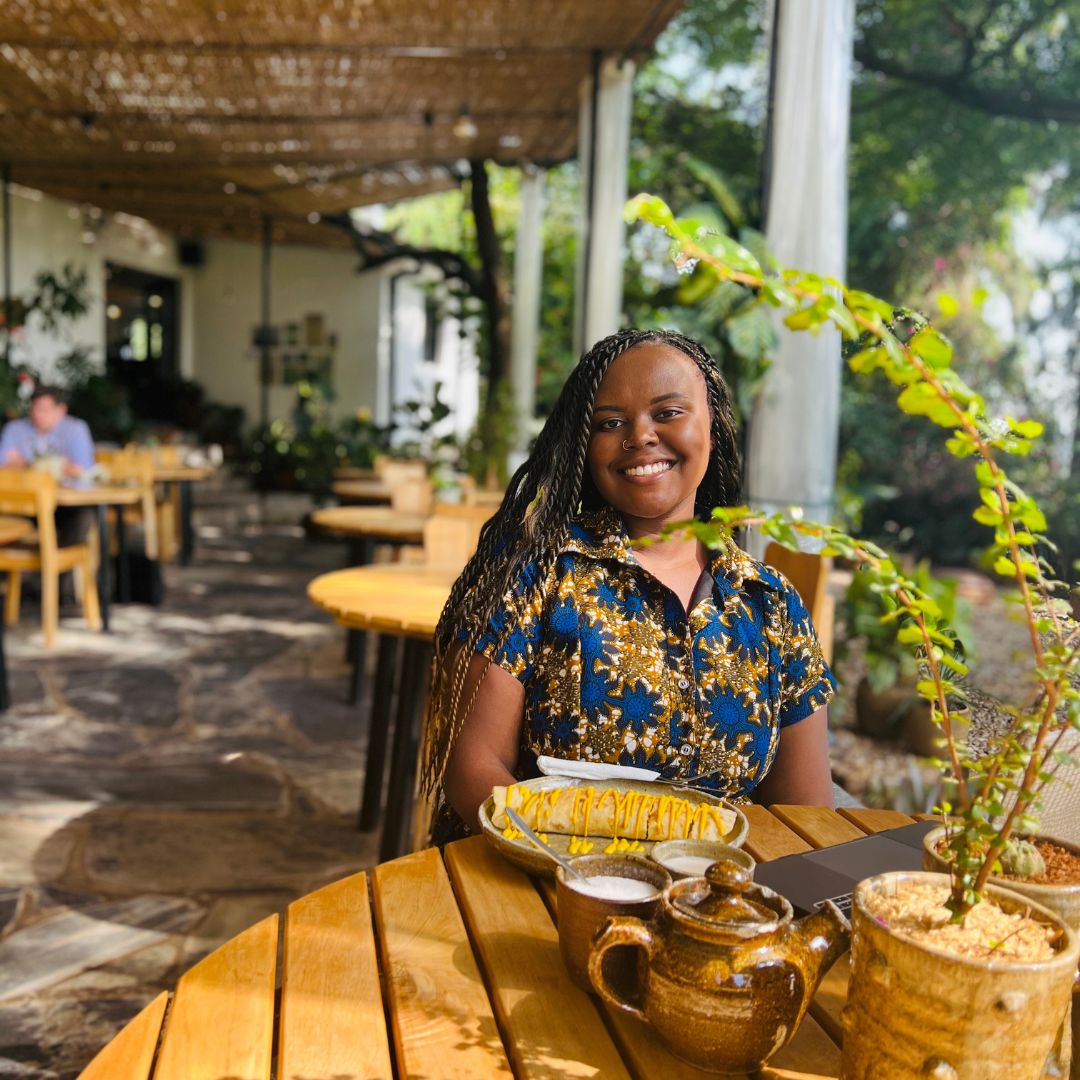 Indabo Cafe – Kiyovu & Kimihurura
Indabo Cafe deserves the number one spot on my list of cafes in Kigali because this was my favorite cafe out of the ones I visited. As you walk on a pathway surrounded by plants and trees, the furniture of Indabo Cafe slowly reveals itself.
The straw-like roof that sits above the seating area adds to the cafe's garden ambiance. The cafe has plenty of seating in its outdoor setting, making it a great place for meetings.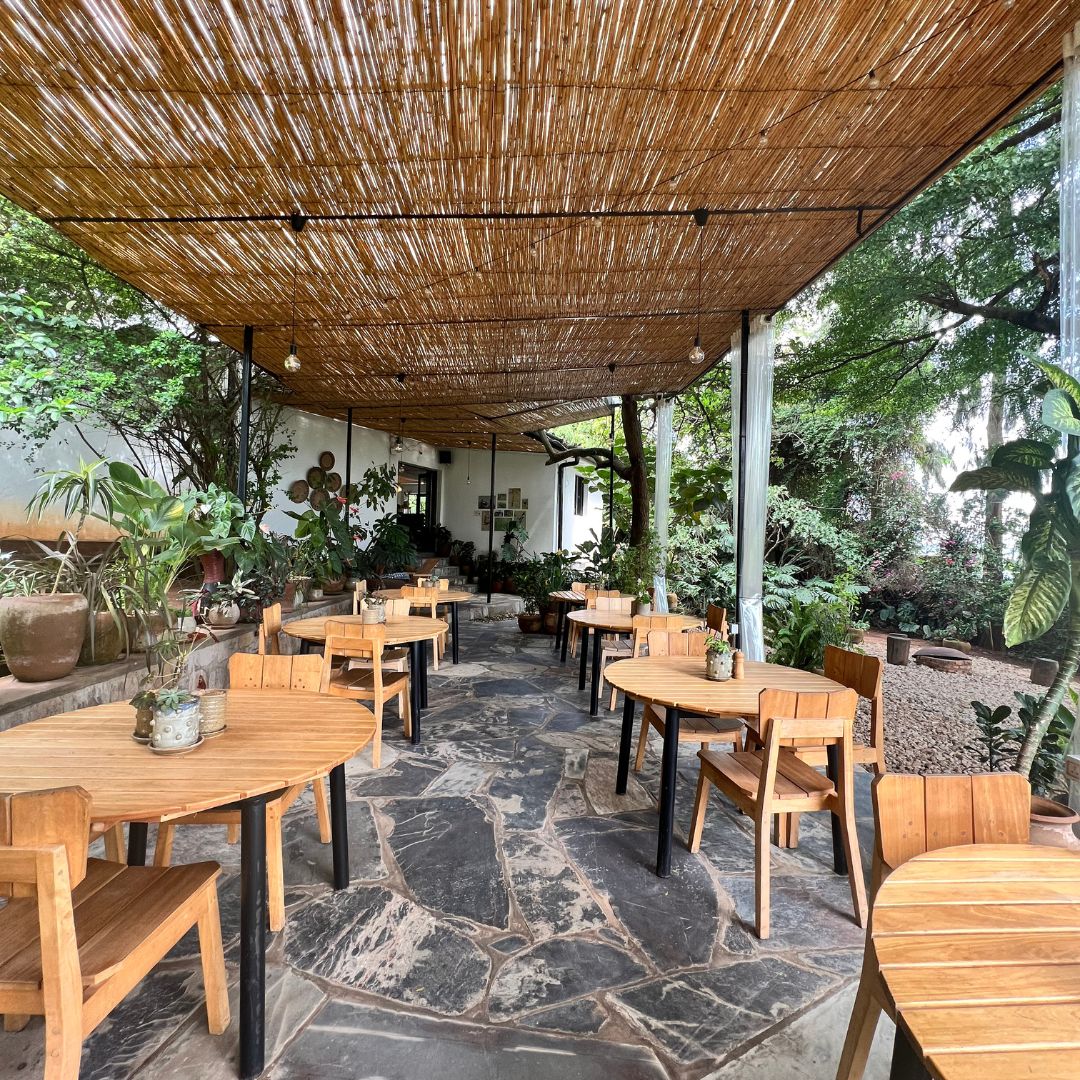 I sat for hours inhaling fresh air and surrounded by greenery as I worked. I was impressed with the menu and thought the cafe had amazing options for food. I'm used to having basic hot drinks, bakery goods, and light meals when I visit cafes, but Indabo Cafe has a range of breakfast meals, starters, brunch mains, cocktails, burgers, sweets, and more.
Here's the menu: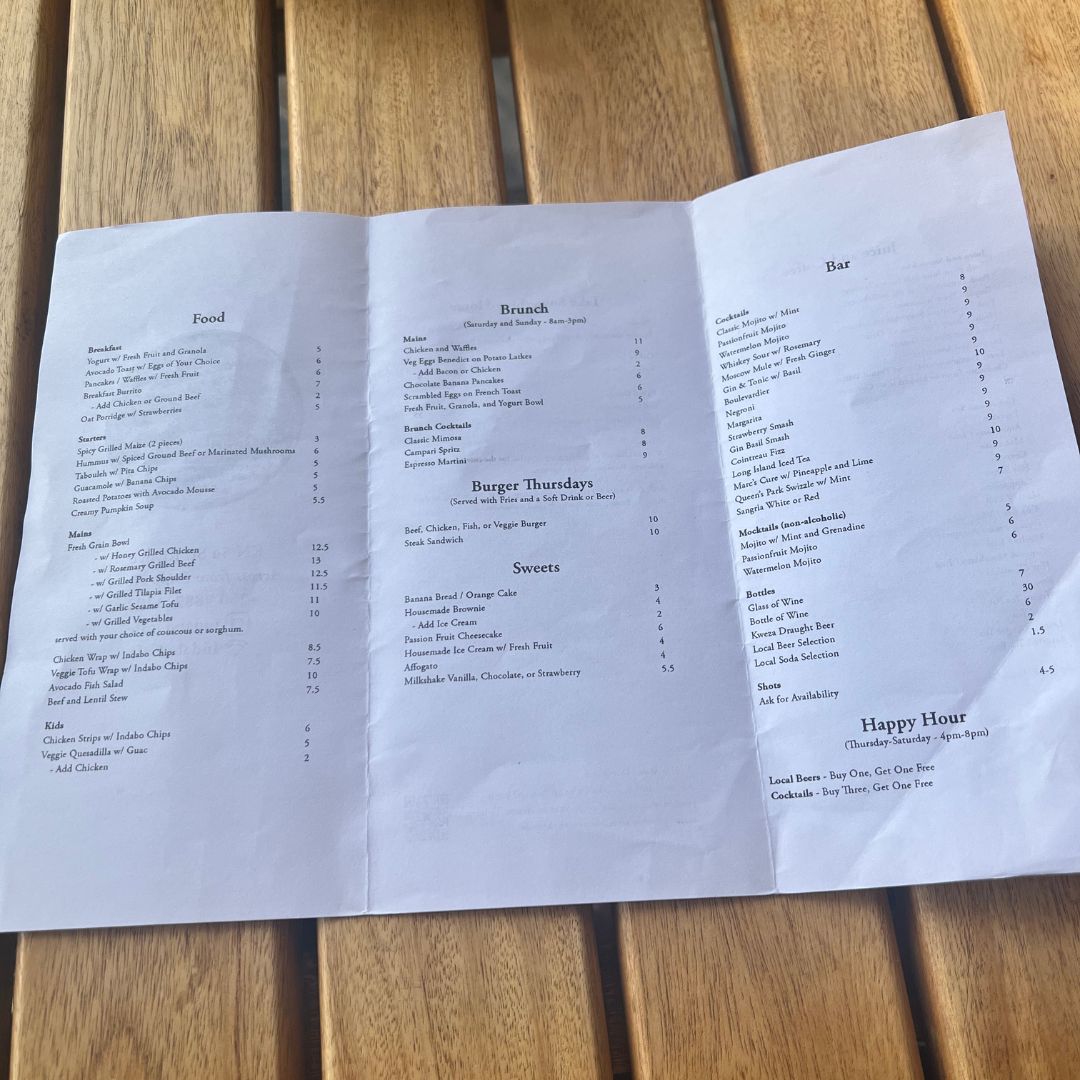 I had a breakfast burrito with a kettle of African Tea (please try this when you come to Rwanda!). The portion was huge, and it was delicious. I wasn't expecting the presentation to be so nice.
The cafe has two branches: Kiyovu and Kimihurura. I visited the Kiyovu location. Unfortunately, the cafe was closed for the holidays the last few days I was there, but I definitely wanted to go back and highly recommend it! 
Meal Ticket:
Breakfast Burrito: 7,000 RWF ($6.55)
African Tea Pot: 3,000 RWF ($2.81)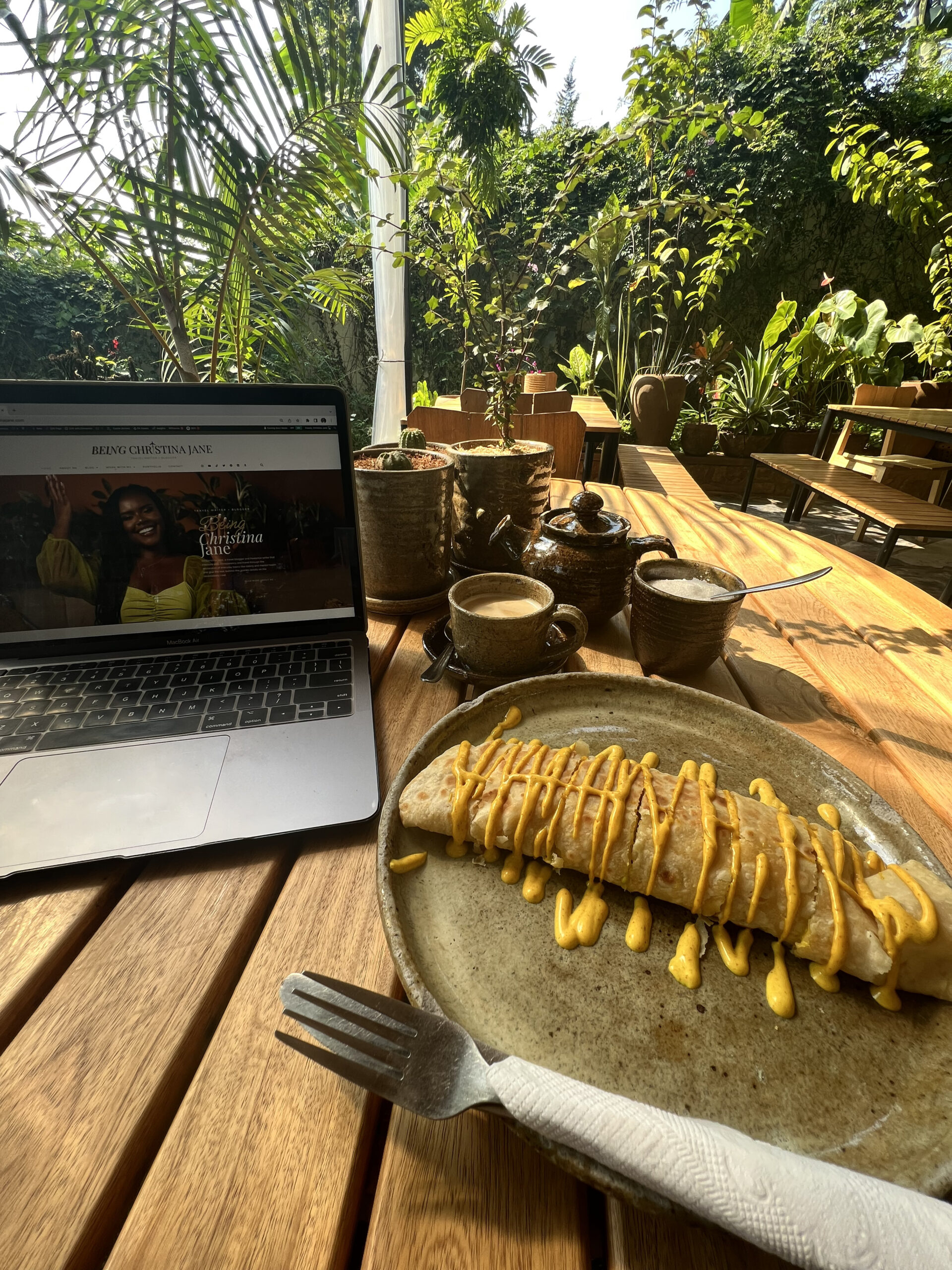 Card Payment: Yes
Public Wi-Fi: Yes
Planning Tip: Bring bug spray! I had bees trying to get into my tea and small bugs flying around.
• Kiyovu: Across from Stipp Hotel, KN 54 St, Kigali, Rwanda
• Kimihurura: 11 KG 670 St, Kigali, Rwanda
Rubia Coffee Roasters – Kimihurura
Rubia Coffee Roasters caught my eye while riding past the shop on the back of a motorbike one day. It seemed to be one of the more lively cafes in Kigali from the outside looking in. Kigali is super quiet, so this was fascinating to me.
As its name suggests, this establishment is a coffee roastery and cafe in one that is, of course, known for its locally-sourced, freshly-brewed coffee. It almost reminded me of Starbucks to a certain extent. 
There is a fairly good amount of indoor and outdoor seating at Rubia Coffee Roasters. This cafe also has a great reputation for having good food to pair with a cup of coffee if you visit!
Card Payment: Yes
Public Wi-Fi: Yes
KG 2 Ave, Kigali, Rwanda
Shokola Cafe – Kacyiru
Located in the same building as the Kigali Public Library, I decided to do a 2-in-1 visit to both the Kigali Library and the cafe on its rooftop, Shokola Cafe.
The cafe is known for its rooftop views of Kigali, and with windows wide open, fresh air seeped through the cafe. As I've come to expect in Kigali, the views were beautiful from the balcony. It reminded me of Costa Rica in a way.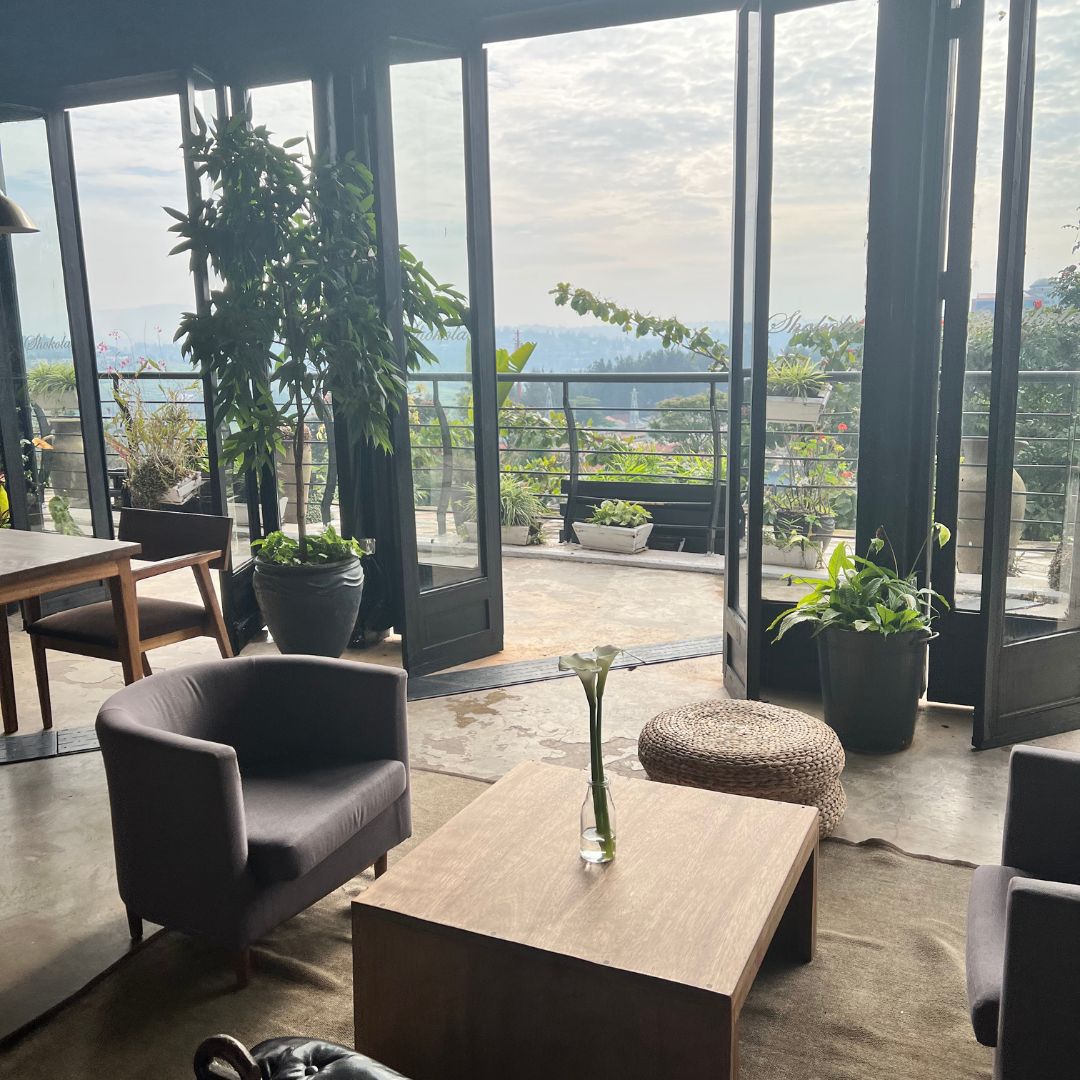 I didn't see many outlets, but I was the only one there for a few hours and used a power strip to charge my devices while working.
I ordered a scrambled egg burrito with white hot chocolate, which was delicious! My breakfast came with seasoned breakfast potatoes and a small plate of fruit. It was so good, and I would've ordered another portion to take home if I didn't have shame!
It was hard for me to concentrate here, but I would definitely head back for meetings, reading, relaxing, and a great breakfast.
Meal Ticket:
Scrambled Egg Burrito: 4,900 ($4.54)
White Hot Chocolate: About $3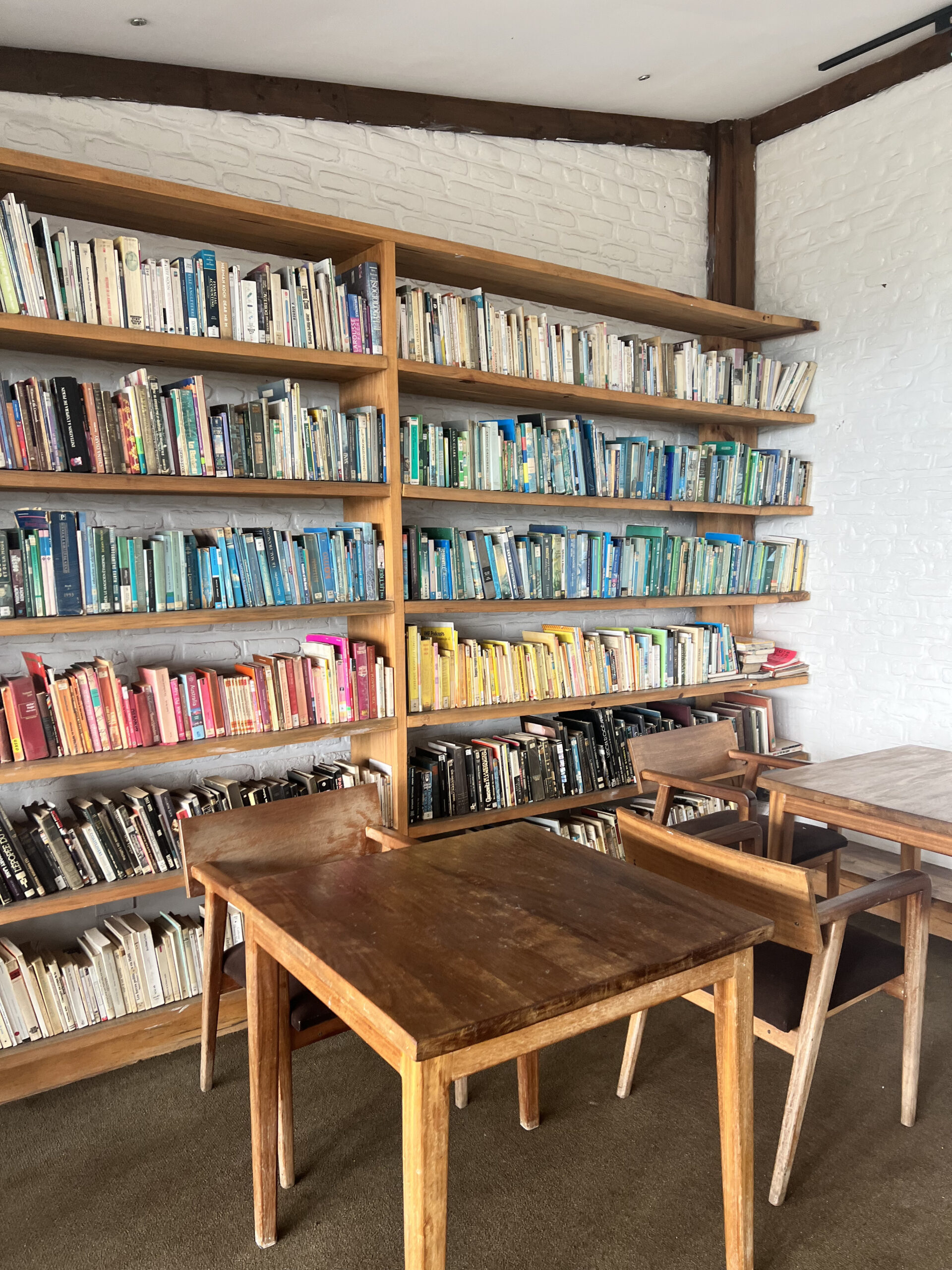 Card Payment Accepted: Yes, but the POS was down when I was there
Public Wi-Fi: Yes
Planning Tip: You can use Western Union to pay your bill if the machine is down and you don't have cash! That is what I did.
Kigali Public Library Rooftop, KN 8 Ave, Kigali, Rwanda
Kivu Noir – Kiyovu & Norrsken
Kivu Noir Cafe is the cafe of Kivu Noir, a well-known coffee brand in Rwanda.
Kivu Noir is a cafe in Kigali with a mission. This company prides itself on providing local farmers with opportunities like free education, healthcare, and higher profit from labor.
The cafe's seating is very limited and pretty small, but it is said to have great coffee! I've included Kivu Noir's cafe in this blog post mainly because the mission of the company is truly one worth supporting. 
The company also offers coffee tasting, roasting, and farm tours.
Here's the menu if you want to take a look at their selections.
Card Payment Accepted: Yes
Public Wi-Fi: Not Verified
Planning Tip: The seating is said to be limited so if you want to visit, I would prepare for a grab-and-go situation!
Kiyovu: 43 KN 16 Ave, Kigali, Rwanda
Norrsken:1 KN 78 St, Kigali, Rwanda
Inema Arts Cafe – Kacyiru
Inside the Inema Arts Center, I was surprised to find a cafe!
Inema in Kinyarwanda translates to "a blessing, a gift, a talent, to cultivate, to give and to receive." as defined by Explore Rwanda.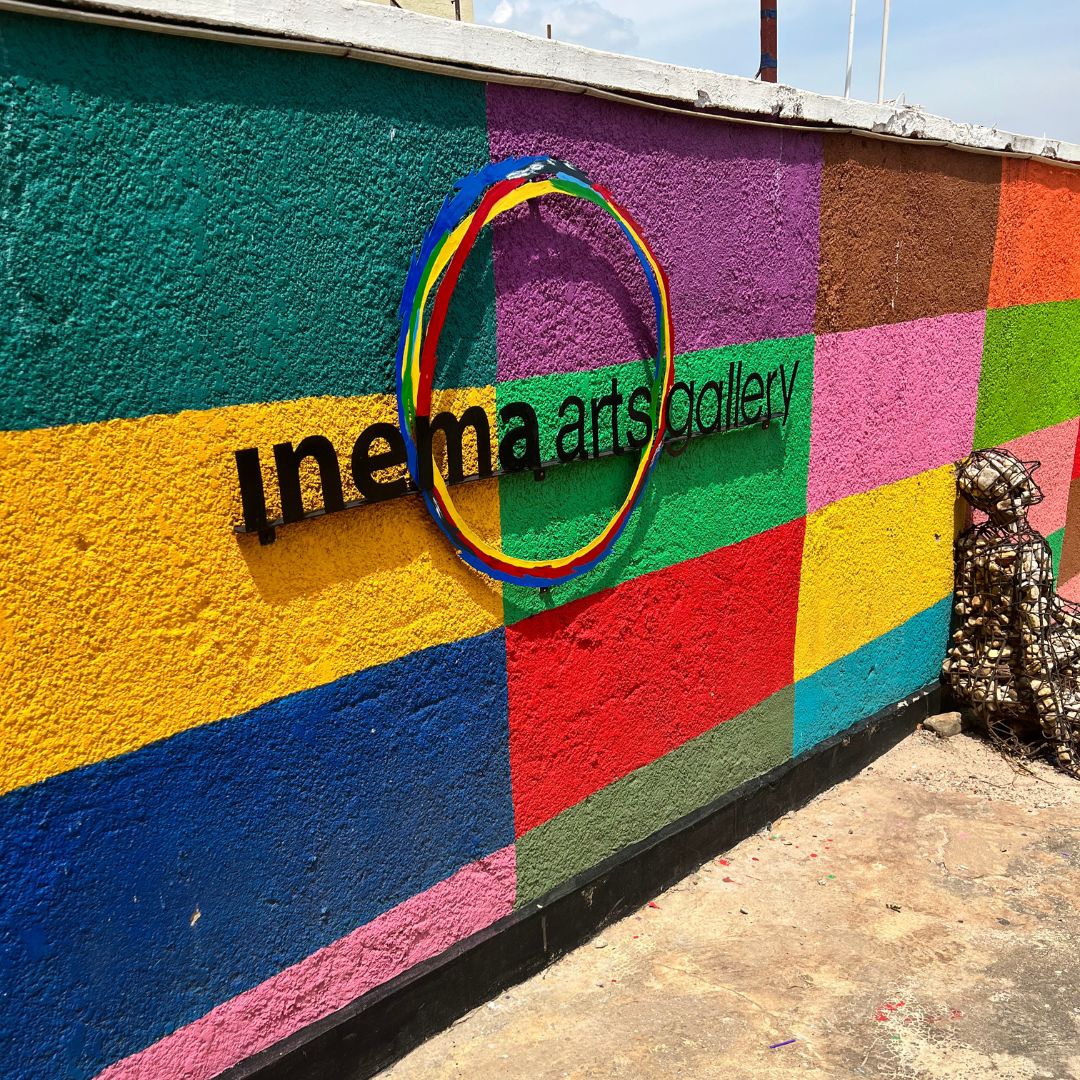 The small cafe is located near the back of the art gallery and has a select number of tables and seating for visitors.
It was pretty quiet when I visited, so if you're looking for an intimate getaway space in Kigali, this is it. I wouldn't go back to laptop work, but instead, maybe to write or read a book.
Food is not served at Inema, so don't come hungry! Instead, the menu is a varied selection of drinks to choose from. After getting some work done, you may want to head inside and take a walk around the gallery to examine some of the exhibits.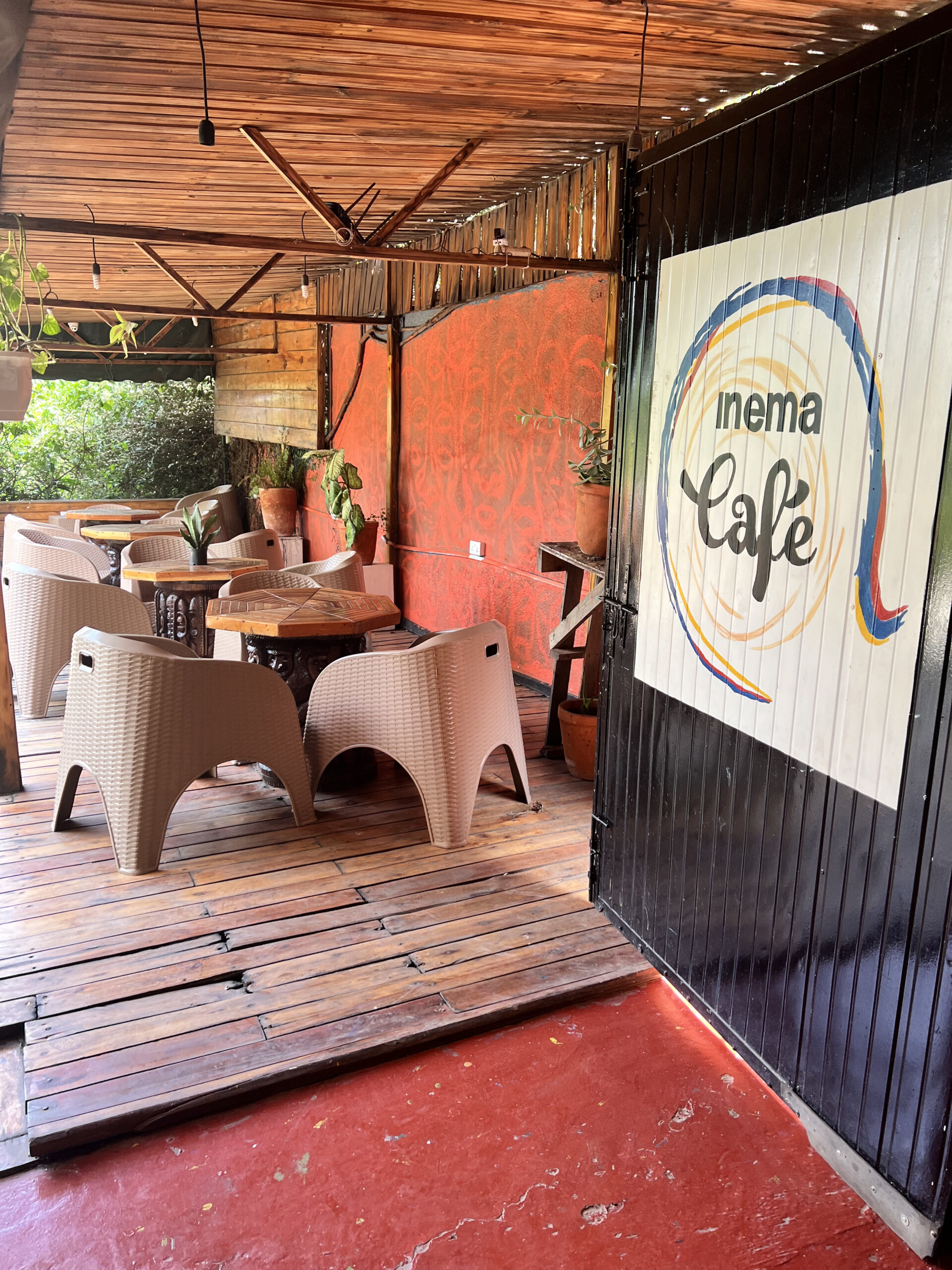 Card Payment Accepted: No
Public Wi-Fi: There is Wi-Fi, but you may need to ask for the password
KG 563 St, Kacyiru Kigali
Canaberra Coffee Shop – Gasabao 
The Canaberra Coffee Shop is another nice cafe spot and is considered one of the best cafes in Kigali.
This shop opened in 2014 and is another establishment working with local community members to spark change and make a difference by giving proceeds to coffee farmers and their families.
Canaberra does seem to be known for being a good restaurant spot as well, so a quick lunch here may not be a bad idea!
You can find the extensive menu at Canaberra here.
Card Payment Accepted: Yes
Public Wi-Fi: Yes
KG 1 Ave, Kigali, Rwanda
Java House – Kigali Heights, Remera
While trying to explore as much of Kigali as possible, I saw two different Java House branches around the city, so that inspired me to go ahead and add it to my visit list.
On one of my working days, I visited the location in the Kigali Heights Mall.
In full transparency, it wasn't anything super special at the mall, so I would recommend visiting the Remera branch to see if that one is nicer. There was indoor and outside seating, but the inside at the mall gave me fast food ambiance vibes.
I included it in this roundup because I still got a lot of work done and would actually go back to work. It wouldn't be my first choice, but the food options were nice for what it was.
I got this chicken quesadilla that was delicious!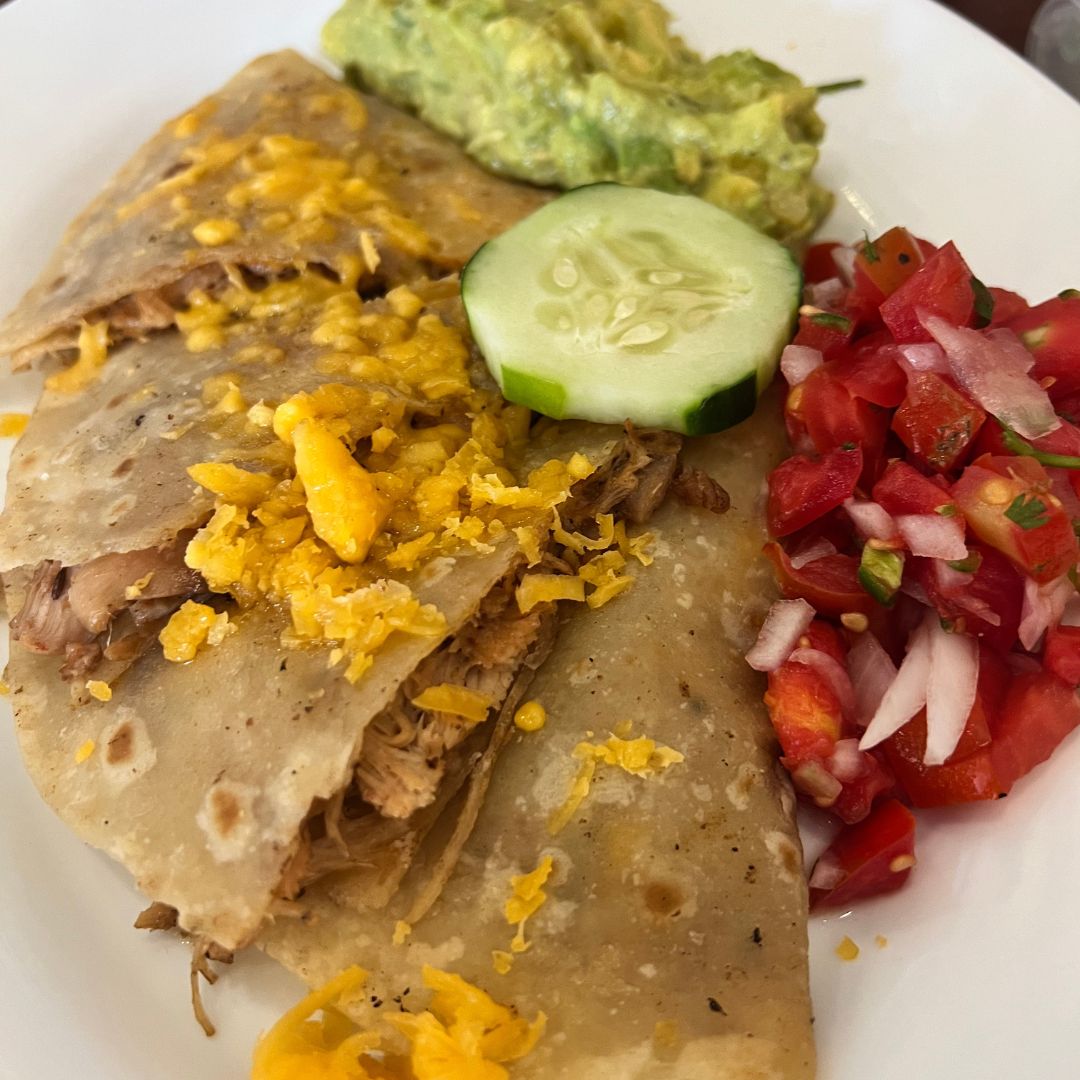 Card Payment Accepted: Yes
Public Wi-Fi: Yes
Kigali Heights: KG 7 Ave, Kigali, Rwanda
Remera: KG 17 Ave, Kigali, Rwanda
Brioche – Kacyiru, Gaculiro, Masoro, & More
Brioche is a bakery coffee shop in Kigali that serves a range of bakery goods, pastries, and food items all around Kigali.
With 6 locations around the city, you're bound to find one near you where you can sit down and unwind.
All the locations I saw seemed very relaxing and had a chic vibe to them, including the one I got to visit. I didn't eat at Brioche, so I can't confirm if the food is worth it! 
However, whether you're in the mood to sit down and add another café in Kigali on your list to work from or grab a baked good, Brioche may be the place for you.
Card Payment Accepted: Yes
Public Wi-Fi: Yes
Addresses vary. Check the locations list here. 
Inzora Rooftop Cafe – Kimihurura
One thing I've grown to love in Kigali is how many establishments incorporate a Kinyarwanda word to describe their business and the mission behind it. Inzora Rooftop Cafe is no different.
Inzora is a word in Kinyarwanda that translates to "red full moon". This café is located inside the Ikirezi Bookstore.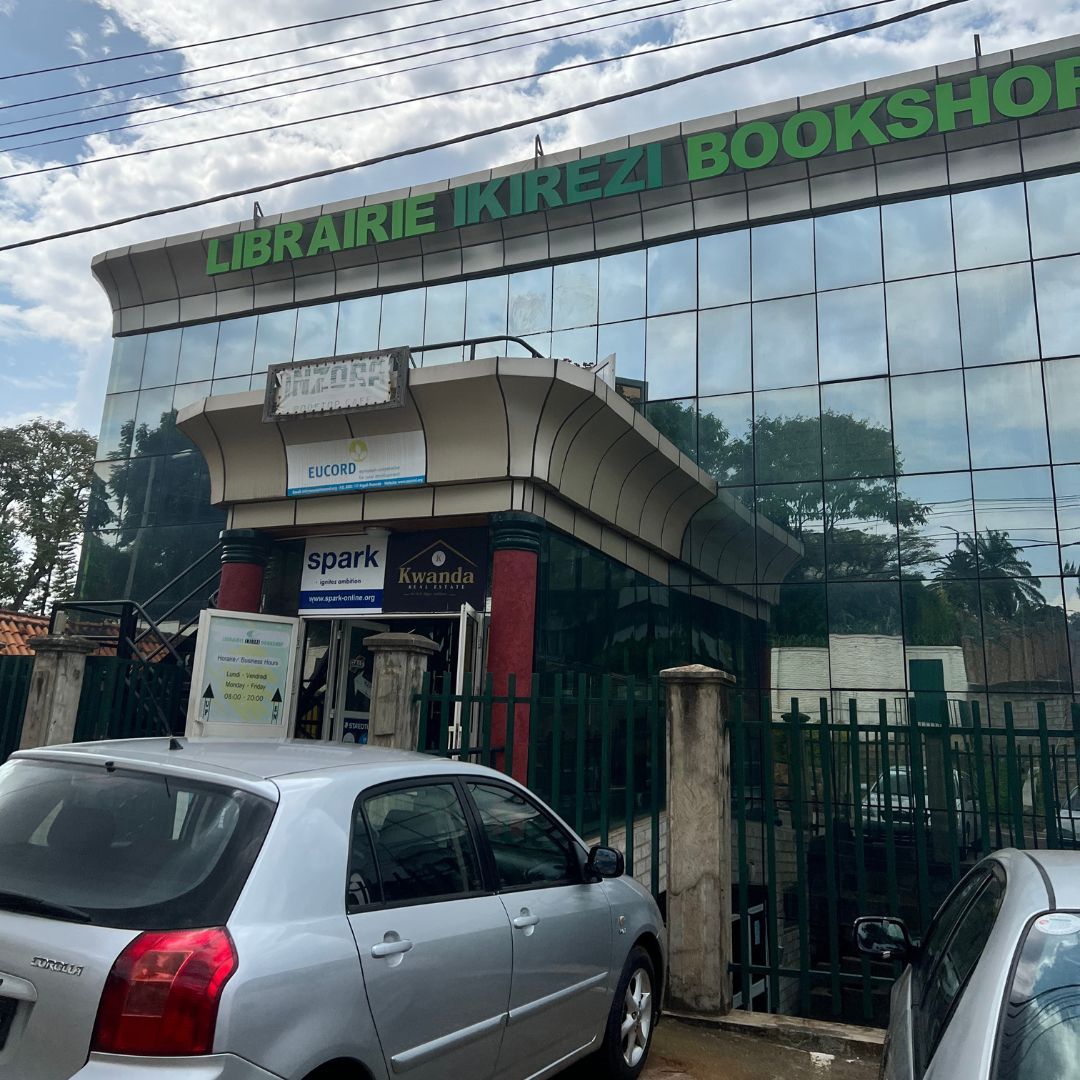 Once you go past the books and into the café area towards the back, there is a flight of stairs that will lead you to the rooftop, where there is more seating.
You can enjoy getting your work done with a stunning view of Kigali.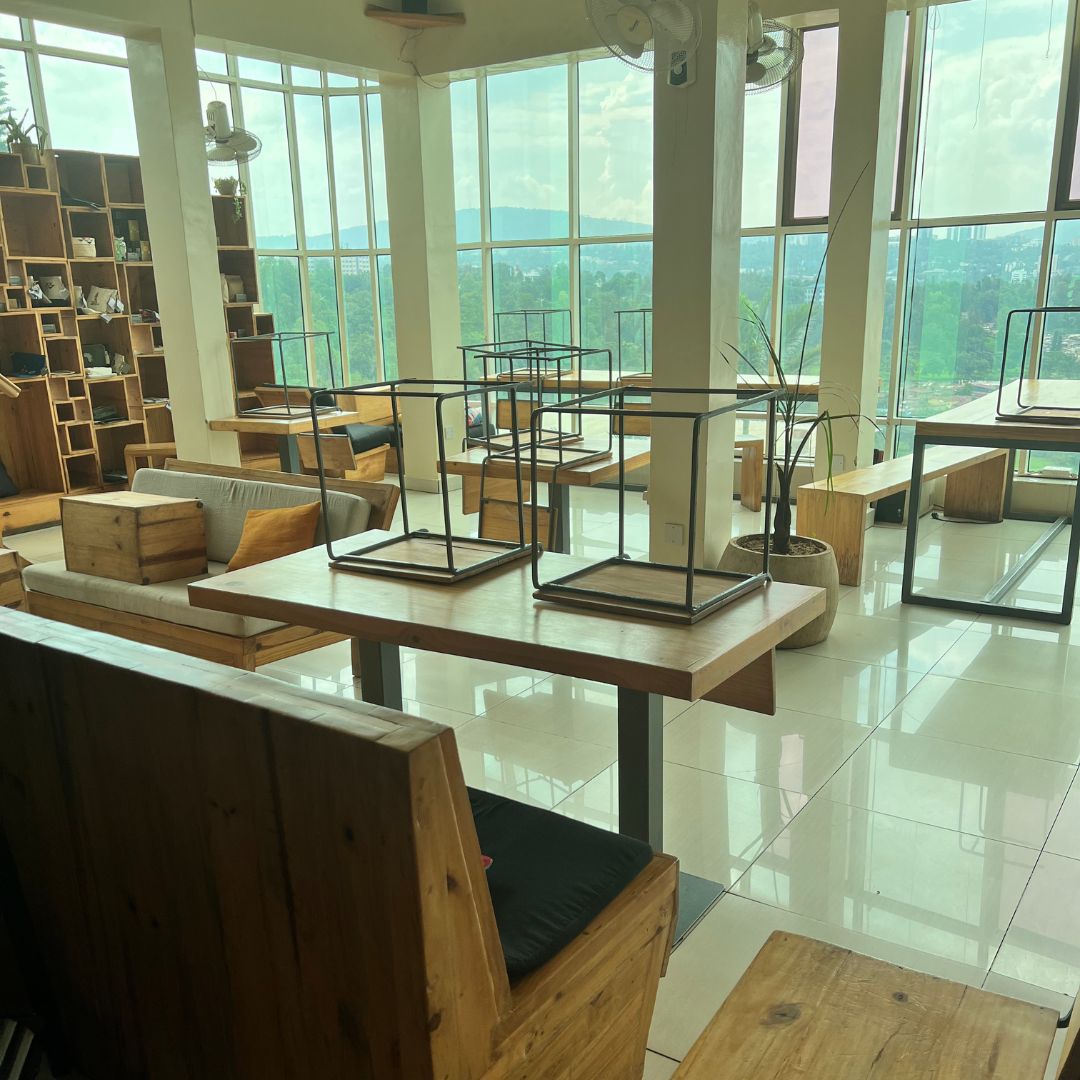 Card Payment Accepted: Not Verified.
Public Wi-Fi: Yes
Inside Ikirezi Bookstore 13, KG 5 Ave, Kigali, Rwanda
Hopefully from this blog post, you are able to add some new cafe stops to your list when visiting Kigali.
Let me know in the comments below which cafe on the list you would visit!