With Togo only a little over three hours from Accra's main city center, it is definitely a country worth adding to your itinerary while in Ghana. Flights to Togo from Ghana can be as expensive as $500 for a roundtrip flight. Thankfully, the Togo-Ghana border in Aflao allows you to avoid the pricey flight fare from Accra to Togo by entering Togo by land.
Traveling to Togo from Ghana by land was my first time crossing a land border. I found the experience to be less stressful than flying and look forward to more land crossings with some of the other neighboring West African countries.
In this post, I'll cover how to travel to Togo from Ghana by land using the bus or a private car service/taxi.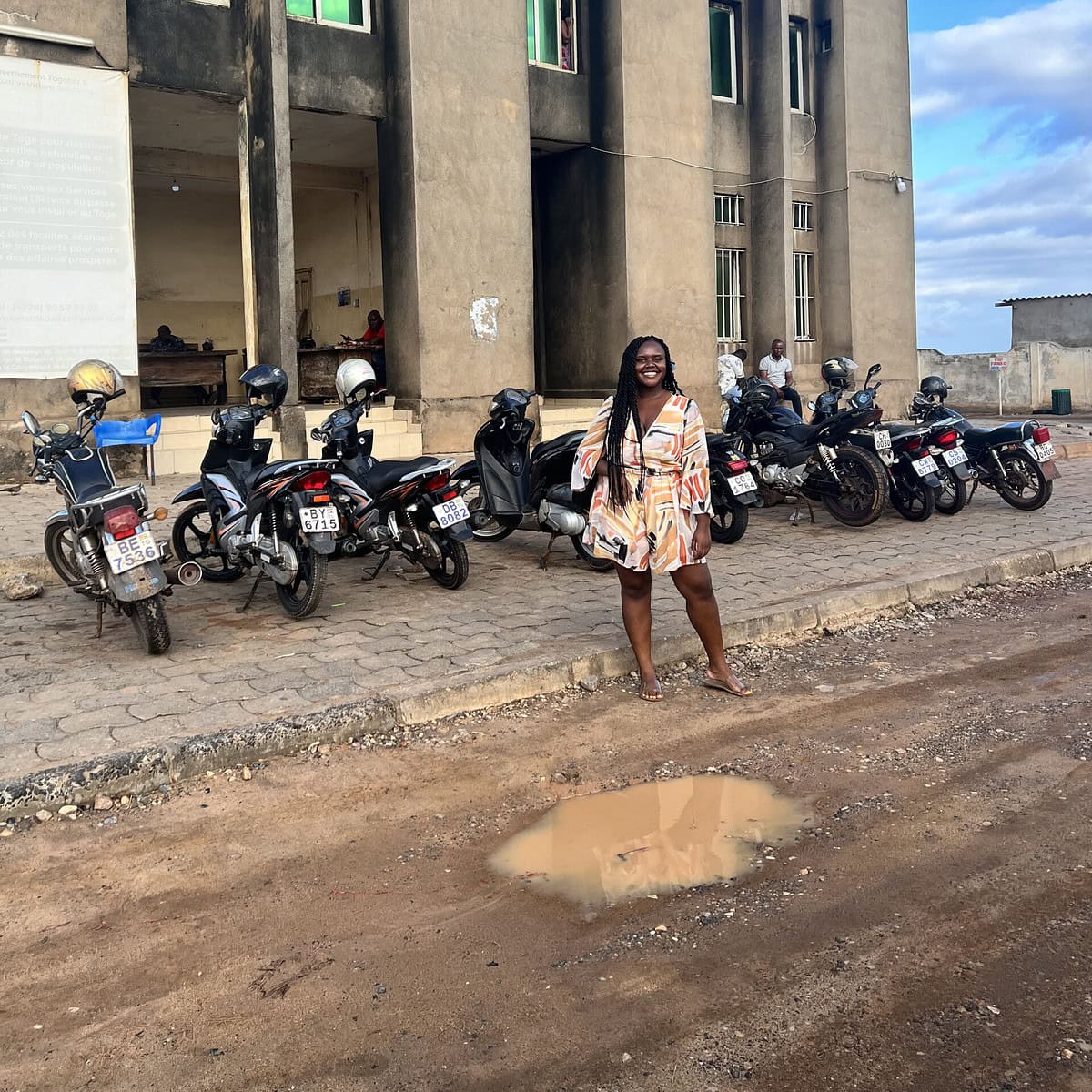 Purchasing Your Bus Ticket
Once you decide what date you'll want to travel to Togo, the next step will be to figure out if buses are leaving for Togo on that date. Ghana has STC buses, which are like Greyhound buses that travel to other regions within Ghana and a few of Ghana's neighboring countries. You can see what buses are leaving for Togo using the STC website by visiting the STC station(s) or calling the station to see if there will be buses leaving.
I find that sometimes the STC website does not have the most up-to-date routes listed for international travel destinations, so in that case, I would call the station or visit the main station in Accra for additional information. If you need assistance with taking a bus to cross into Togo, please comment below the best way for me to contact you, and I will send you the name of the tour guide who can help you cross the Ghana-Togo border. 
How to Take A Bus From Accra to Togo
You can take an Uber/Bolt to the STC Tudu Station. As I mentioned, there are multiple STC stations, so it's important to make sure you are being taken to the right one to avoid missing your bus. The buses to Togo usually leave from the STC Tudu Station.
Once you arrive at the STC Tudu Station in Accra, there will be many vans marked with the STC logo. You'll ask conductors standing around for the van going to Togo and enter the "que" to secure a seat on the van and pay. You can usually tell who is a conductor or not based on their demeanor and how they are running around the station doing things like strapping bags to the back of the bus and collecting money from people in queues.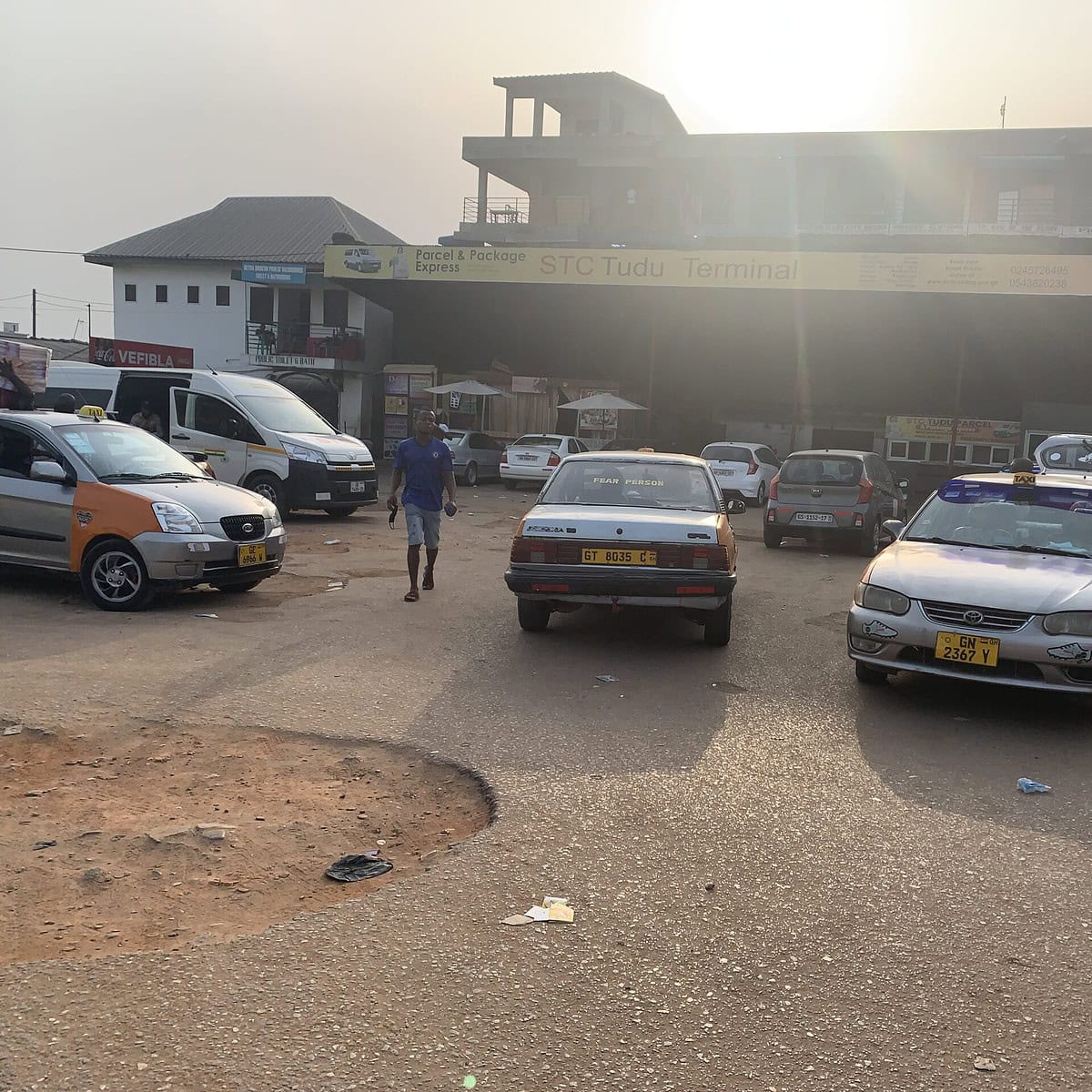 With the way the organization of the Tudu station is set up, I recommend showing up at least an hour and a half early before the departure time. The station looks like a basic plot of land with vans everywhere. There are no signs anywhere to direct you on where to go, stand, etc. The vans to Togo typically leave at 3 am to travel to Aflao. Back in January 2022, a one-way ticket for one person was 40 GHS ($8). I paid in cash to the van conductor, received change, and a physical ticket. Due to the drastic inflation that has occurred in Ghana this year, I'm certain the prices have gone up.
The bus was more of a minivan with about 11 seats. The conditions of the van were better than I expected them to be. I was expecting a tro-tro style of commute, but to my surprise, the vans were air-conditioned with spacious seating. I sat in the back with one extra person than there should have been, so it was a bit cramped, but nothing too unbearable for a 3.5-hour ride at 3 am.
Many Ghanaians travel to Togo daily for work or to conduct business using these vans, then come back at the end of the day. Along the way, the driver briefly stops to let them on and off.
When I visited Togo as a U.S. citizen, I was able to get a Togo visa issued upon arrival. However, the process has changed, and you now apply for an e-visa to Togo before your trip and show your visa, which will be sent to your email once you arrive at the border.
Togo is a French-speaking country, but there will also be Ghanaian immigration officers at the border. The Togolese officers spoke some English, but as I always say, the worst-case scenario is you have to use Google Translate. 
Using a Private Car/Taxi from Accra to Togo
Using a private car or a taxi to travel from Accra to Togo is the easiest option. One way to find a driver willing to drive 3.5 hours is by simply asking around Accra to see if anyone knows anyone. Everyone knows a driver in Accra! An alternative method is using the Bolt or Uber app and negotiating rates with the driver to see if they will take you.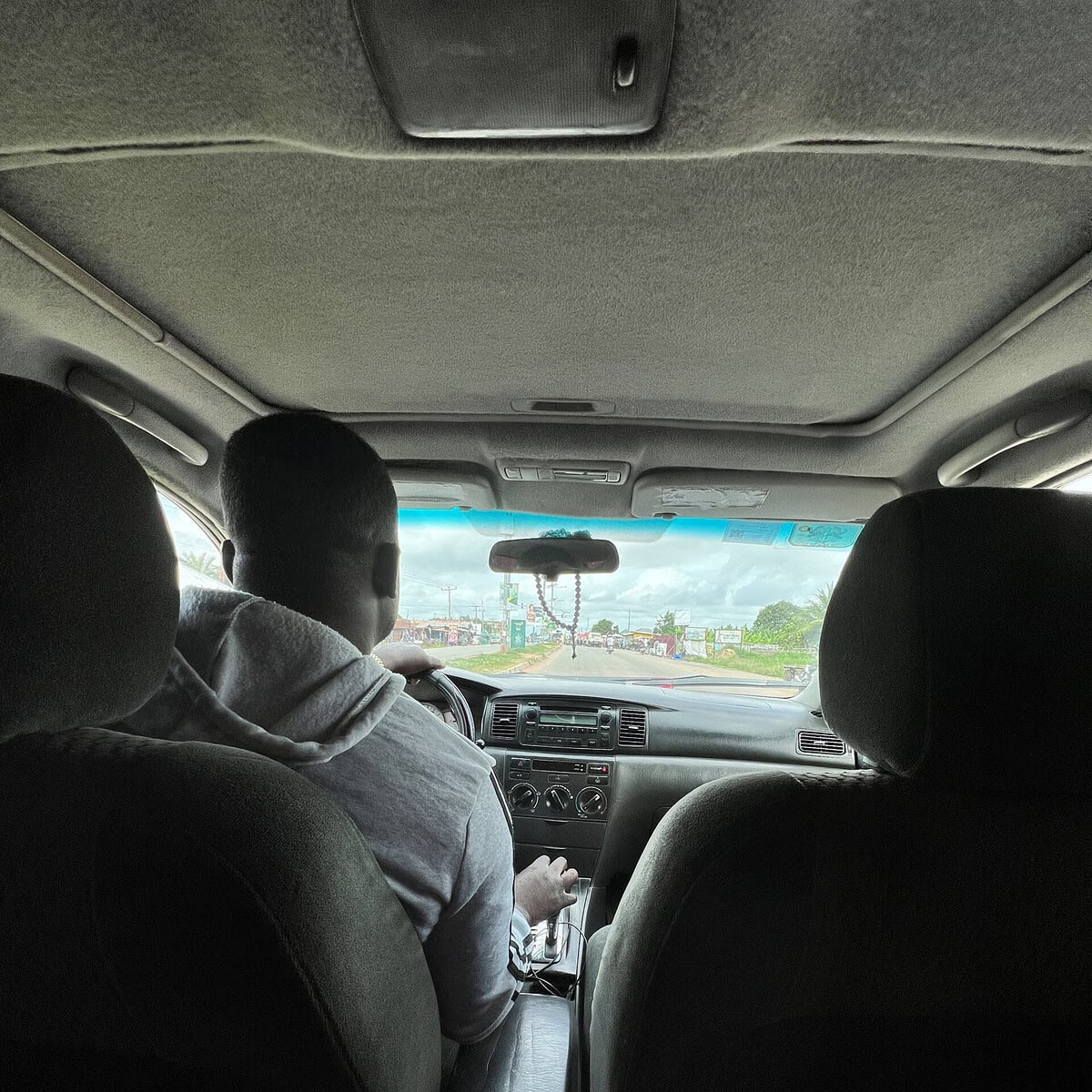 These apps usually lowball drivers significantly, so don't be surprised if you are quoted an amount that is way higher than what was shown when you requested the ride. Also, most drivers from Bolt and Uber will try to negotiate a rate that makes sense for them driving to and from the border, as they may not get a rider back from Aflao.
The great thing about using a car to travel to the Togo border is that it is a straight trip with no stops. You can decide when you want to leave Accra (no waking up at 1 am to make the 3 am bus at the Tudu station!). 
What to Expect at the Togo-Ghana Border
Upon arrival at the border, you are likely to get swarmed by several people who want to carry your bags for a fee, sell you different things like shoes and bags, and that are exchanging money. It can be overwhelming, but stay organized (know where your passport is, bags, etc.) and you will be fine. Togo was the first land border I've ever crossed. I was told that it was more overwhelming than the other West African borders, but I didn't find it to be unbearable. There weren't any other travelers at the time I arrived so I got through the post in about 30 minutes.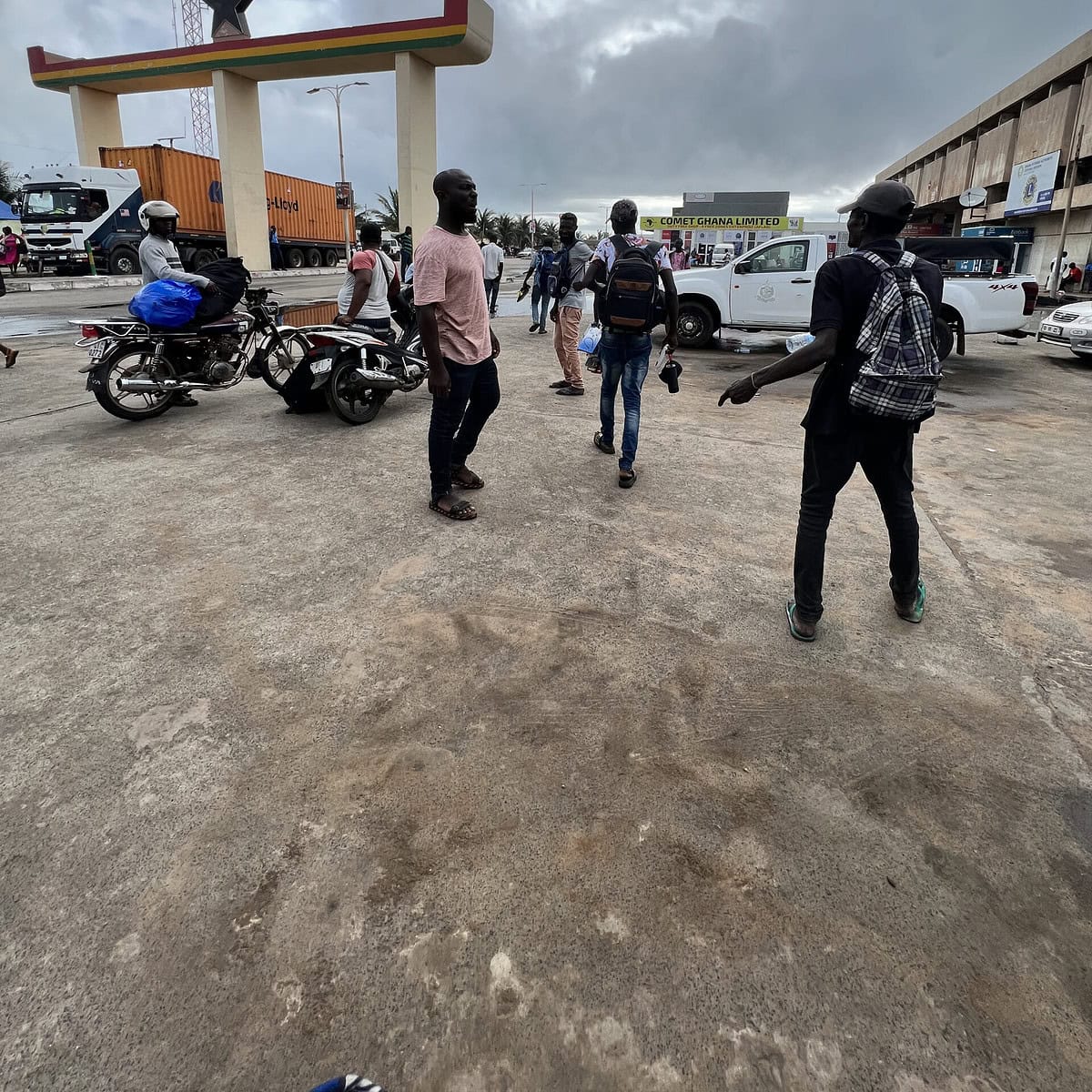 Frequently Asked Questions 
Is the Ghana Togo border open?
Yes, the Ghana-Togo border is open for travel between the two countries. The border was closed in 2020 due to COVID-19, but the President of Ghana announced the re-opening of sea and land borders in March 2022. Travelers have to make sure they have the proper documentation, such as a valid passport, yellow fever vaccination card, etc., as outlined by the Togolese government. 
Do I need a visa to travel from Ghana to Togo?
Whether or not you need a visa to travel from Ghana to Togo depends on your nationality. Citizens who are part of ECOWAS do not need a visa to travel to Togo and are listed here. Ghanaian nationals can stay in Togo visa-free for a duration of 7 days. The type of visas eligible to apply for, pricing, and required materials can be found here. 
How long does it take to cross the Ghana Togo border?
The length of time it takes to get through the Ghana Togo border will depend on the que and if there are any other travelers at the border. It can take as little as 30 minutes and as much as 2 hours. It took me about 40 minutes. There is paperwork you have to fill out as well.
Do they speak English in Togo?
You may struggle to find people that speak English in Togo, as French is the official language, but there are definitely people that speak English in Togo. Most signs are in French as well, with the exception of some menus and storefront signs. Be prepared to practice your French! 
How long does it take to get a Togo visa?
Now that Togo has adopted an e-visa system, you can expect to receive your visa right after submitting your application or within a few days. E-visa systems are processed very quickly. 
Looking for things to do in Togo once you've crossed the border? Check out this post on things to do in Lomè.