Lomé is the capital of Togo and is a city that I find isn't usually on the bucket lists of people, but that's because there isn't much out there on Togo from a visitor's viewpoint. 
Planning my trip to Togo gave me a run for my money and was probably the hardest trip I've ever planned so far because there's just not that much information out there on Togo. 
However, that's where I come in! I spent one week in Togo on my recent trip and experienced some of the best things to do in Lomé that aren't usually talked about when researching Togo tourist attractions. 
So here are some things to do in Lomé on your trip!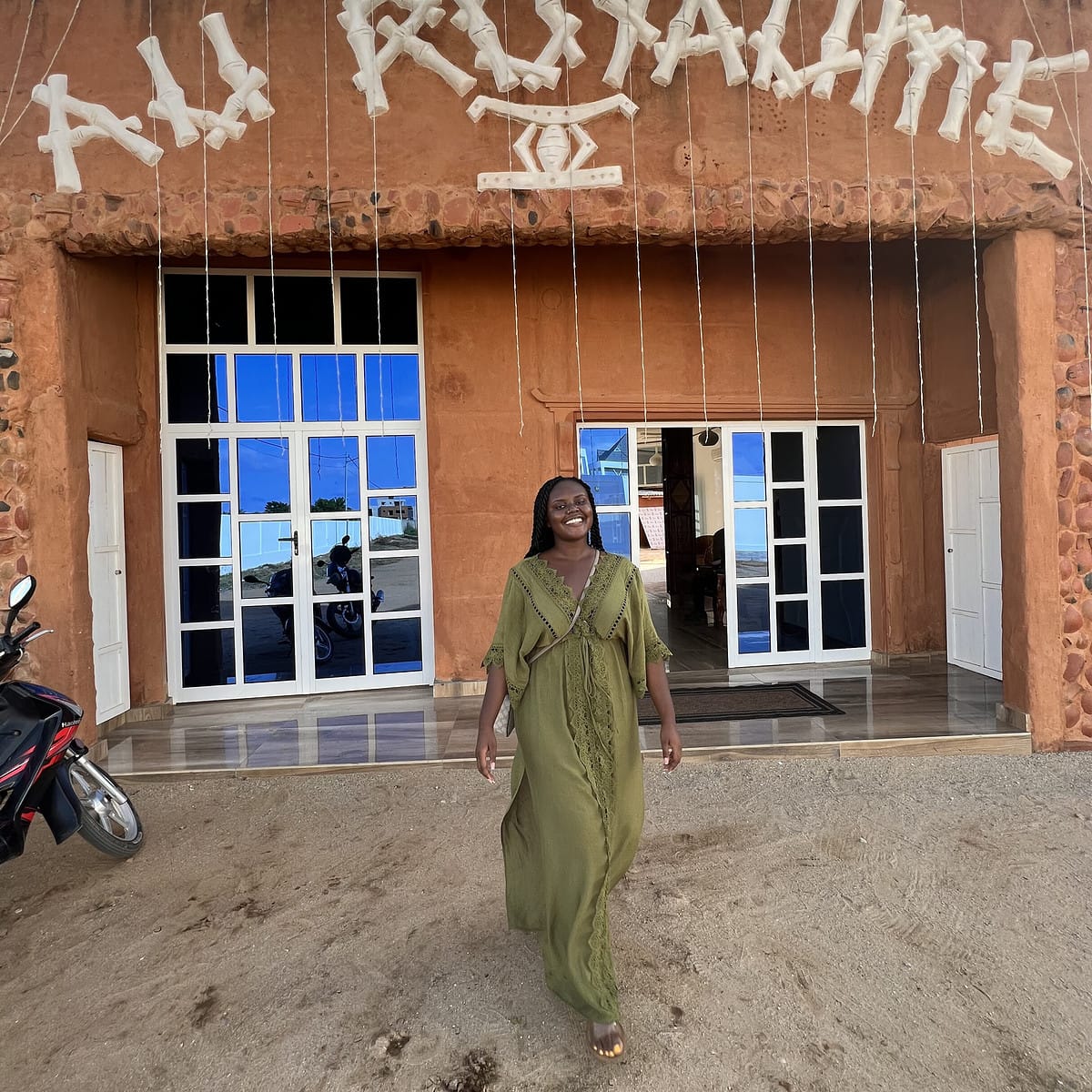 Instagram Pages to Follow for Things to Do in Lomé: 
See a range of animals at the Fauna Cultura – Zoo à Lomé (Fauna Culture – Zoo in Lomé)
You'll be surprised to learn that there is a zoo in Lomé. The northern region of Togo in Kara is known for safaris where you can see animals in their natural habitats, so a zoo in the city is unheard of for many people—even locals! Fauna Cultura is a mini zoo in the Adidogomé, Awatamé district of Lomé, about 30 minutes from the main city center, and is one of the best places to visit in Togo. 
While I am often skeptical of visiting animal facilities in general, as a blogger, I like to visit places for myself to form my own conclusions on individual places. Fauna Cultura was probably one of the most organized small ones I've visited. Upon arrival, my guide and I were taken to the front office, where we each paid 2000 FCFA ($3) for entry to the Lomé zoo. If I'm being honest, I did not expect to see much but was pleasantly surprised with the range of animals that were in the facility.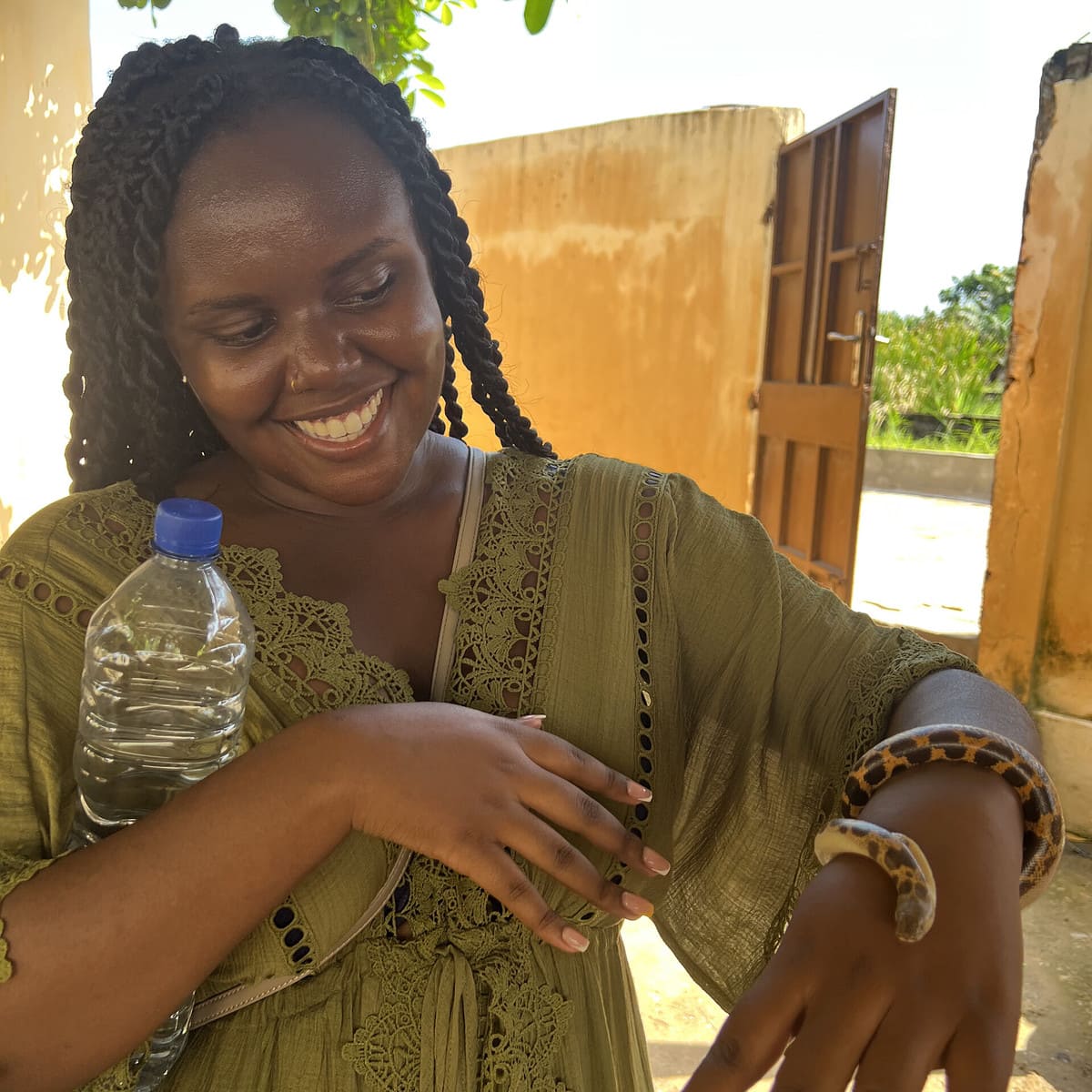 Fauna Cultura has tortoises, a chimpanzee, scorpions, snakes, and a variety of other animals. The tour took about 1 hour and 30 minutes, which again was surprising as I was only expecting to be there for 30 minutes at most. 
I will say that for a "preservation center", some of the animals, like the ostriches, did not appear to be in the best condition, but I can also say that the majority of the animals did appear to be well-fed and in great condition, which is impressive for this region. 
I recommend taking a motorcycle to the zoo as the road to get there is very bumpy and may have rainfall-filled large potholes from rainfall.
Learn about the history of Togo at the Musée National du Togo (National Museum of Togo)
The National Museum of Togo is a collection of artistic, historical, cultural, and artistic exhibits and artifacts. Housed in a small building in Lomé just minutes away from other popular Togo tourist attractions, I wasn't sure if the museum was still open and functioning for visitors, but I was pleasantly surprised to find that it was.
Though appearing to be small from the outside looking in, upon entering the museum, you are met with dozens of glassed showcases, posters, and photographs that tell the story of Togo's history. The museum is self-led, where you will have the opportunity to walk around, soak in the information from the exhibits, and ask the staff member if you have any clarifying questions on the material.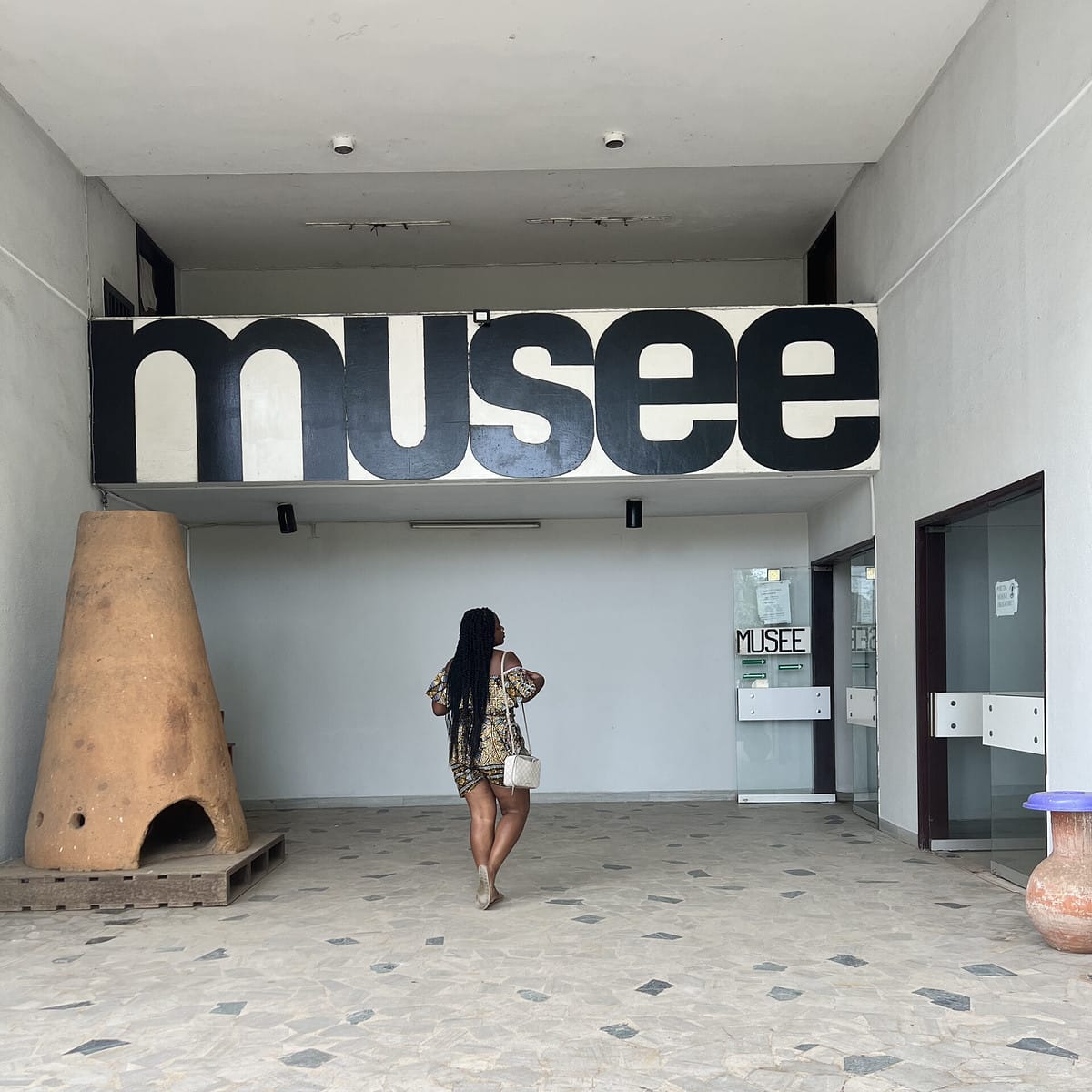 Everything in the museum is written in French, and there are no translations in other languages. The staff member on-site when I visited also only spoke French, so if you don't speak French, you'll have to use Google Translate to translate the text or have your guide translate the material for you! I can read and interpret writing in French pretty well for not being able to speak French due to having a background in Haitian Creole but I went with my classmate who helped fill in some blanks. 
This museum is a great thing to do in Lomé as it's very clean, organized, and well put together!
There is an entry fee of 1.500 CFA ($2.30) for non-Togolese adults.
Try Togolese fufu at a fufu bar
Fufu bars are not unique to only Lomé and can be found across Africa as fufu is a staple food in several African countries. However, I could not pass up the opportunity to get involved in the fufu-making process in Lomé! Fufu bars are local, typically outdoor restaurants that serve fufu as an accompaniment dish with different soup and meat options. 
I visited two fufu bars in Lomé: Bar Restaurant and Fufu Express Bar-Resto La Portuaire.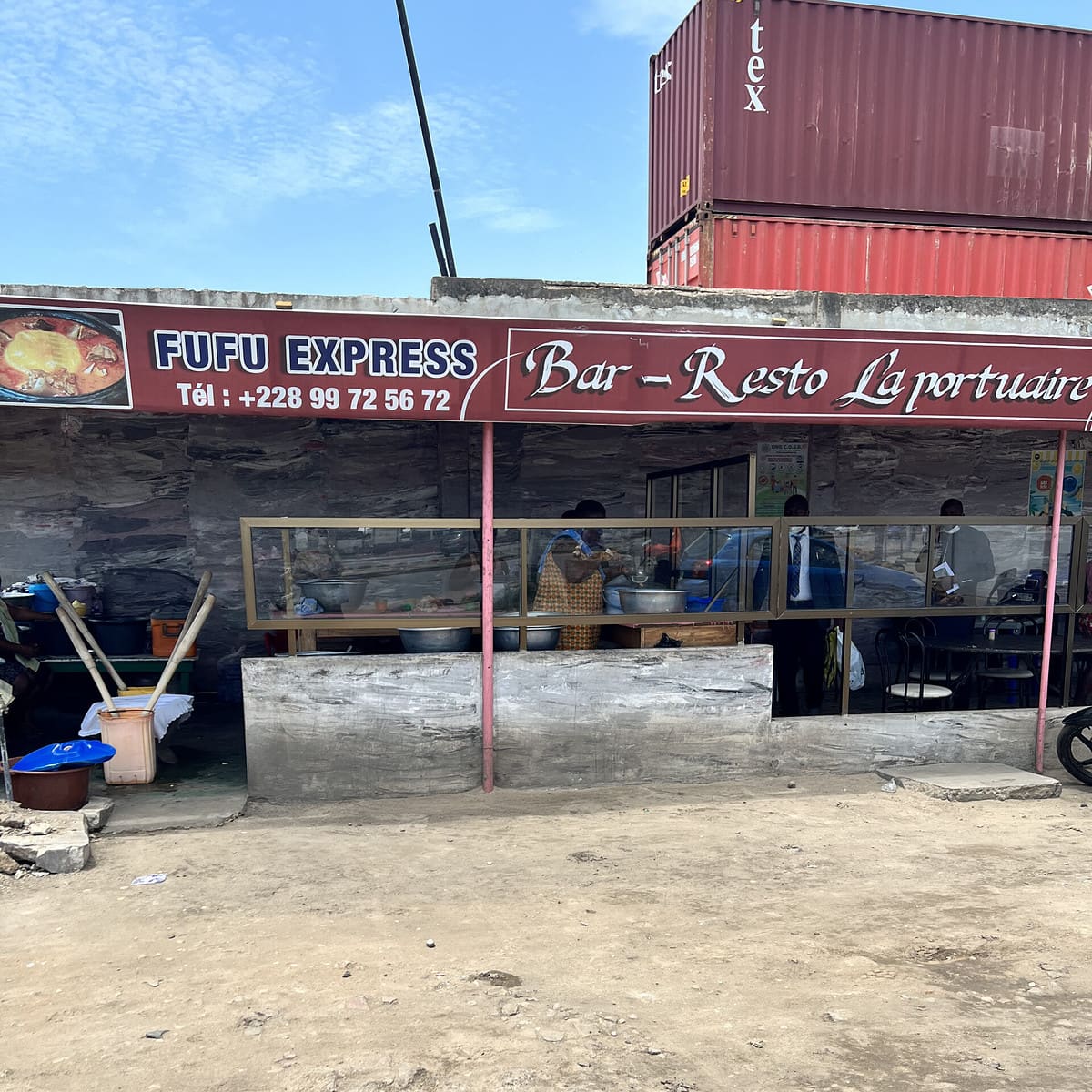 As you arrive at the Bar Restaurant, the sound of fresh fufu being pounded immediately hits your ears. A group of 6-8 women, each with a pestle in hand, surround a large wooden mortar of fufu, lifting their pestles up and down in unison with the end goal of preparing batches of fufu for their hungry customers. I actually did not end up eating at the Bar Restaurant, but it did have a large indoor seating space that is worth coming back to.
Fufu Express Bar-Resto La Portuaire (Fufu Express Bar-Restaurant The Port), as its name suggests, is a fufu bar located close to the Lomé port, where the trading of goods goes in and out of the country by water. This fufu bar was more along the lines of what I'm used to with a smaller, intimate setting. It is outdoors, and there are about 12 tables in total.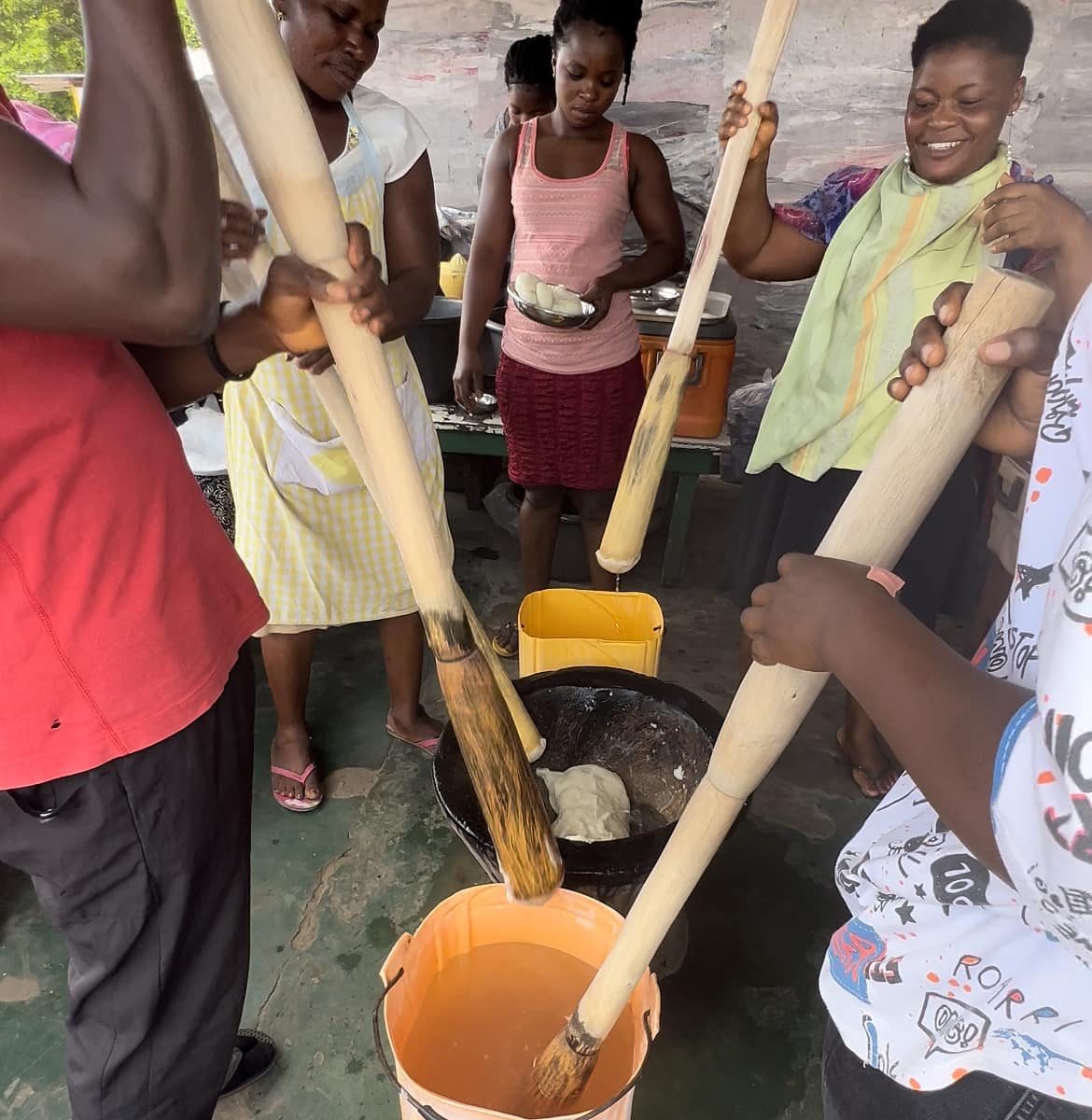 The highlight of visiting Fufu Express Bar-Resto La Portuaire was getting to join the fufu-making process! I've learned how to make fufu before in Tamale, Ghana, but the opportunity to pound fufu will never not excite me. I find it fascinating to learn about the behind-the-scenes of how certain cultural foods are made, so I enjoyed myself. Pounding the fufu is not a "tourist attraction" or an official "thing to do" when visiting a bar, but I was watching, and they asked me if I wanted to try! If you visit, even if you don't get to pound fufu, take the opportunity to try new food while in Togo.
Shop for souvenirs at the Grand Marché (Grand Market)
Grand Marché is the largest market in Togo and is where Lomé's entrepreneurial spirit runs wild. Since I've been living in Ghana, I've had my fair share of visiting African markets, but it hasn't gotten old yet! Every market is unique in the sense of its spirit. My first visit to Grand Marché was calm, a complete contrast to my second visit, which had more of that typical busy market vibe. 
The market is a layout of hundreds of people spread out over the course of a few blocks, with merchants lined through the streets in shops, under colorful umbrellas, or with carts on the roadside. Grand Marché has everything like clothing, keychains, fabric, street food, electronic shops, and more. 
One visit to this market is enough, as realistically, coming here to shop can get overwhelming quickly, but it is one of the main places to visit in Togo and is a must-do!
Attend a church service or take a brief tour at the Cathédrale du Sacré-Cœur de Lomé (The Sacred Heart Cathedral) 
While at the Grand Marché, it's worth stopping at Cathédrale du Sacré-Cœur de Lomé, which is located within the market. As you walk around, you can ask for directions to the cathedral, but honestly, its tall bright orange and white features make it hard to miss. 
The cathedral was built about a century ago in a neogothic style by Germans inspired by the church of Steyl in the Netherlands. The building is considered one of the most historic buildings in Lomé and serves as a reminder of German occupation before French rule. 
Cathédrale du Sacré-Cœur de Lomé has church services throughout the week, and I have seen people go inside when services are not in session with permission from the leaders if you are interested in seeing the interior.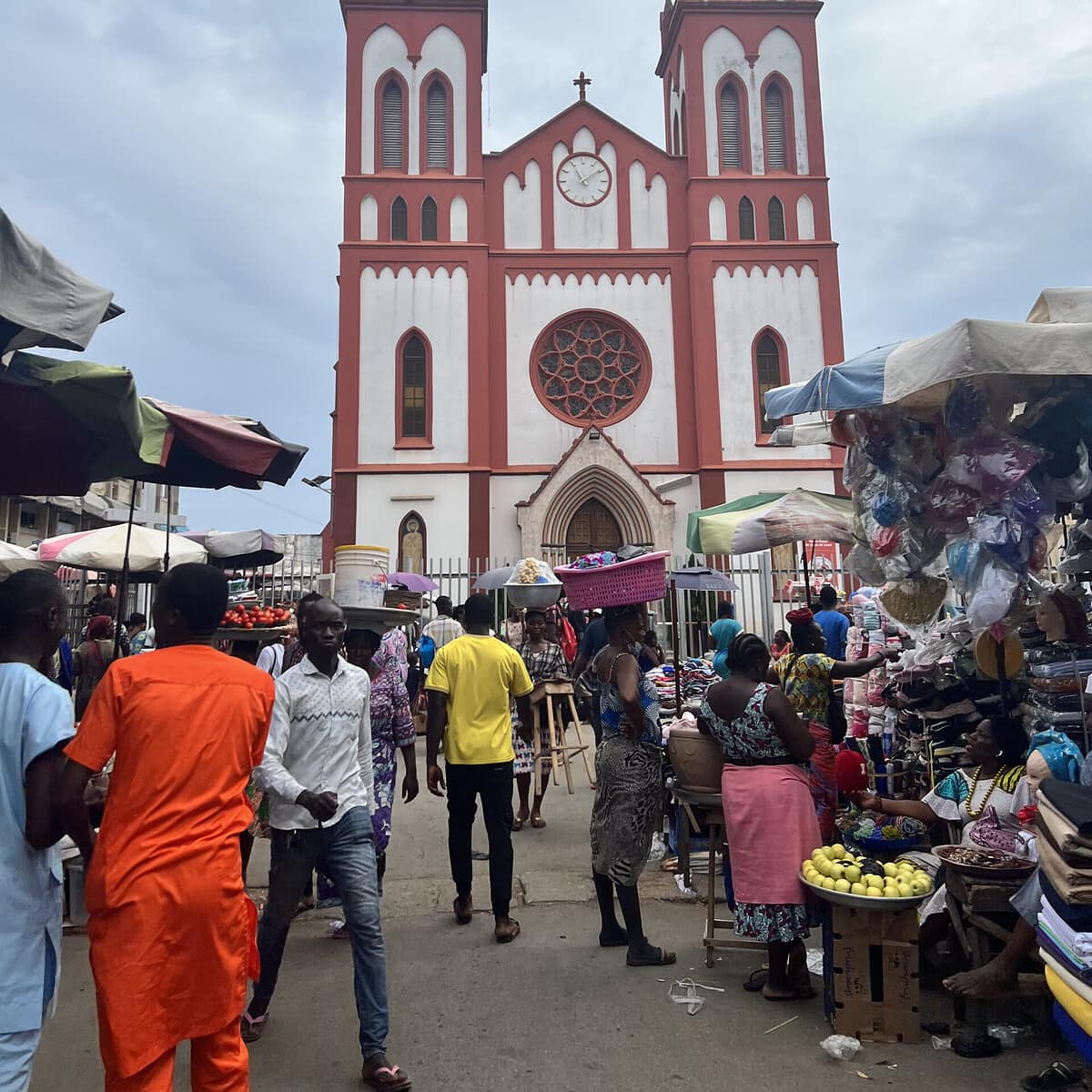 Spend the day at Pure Plage Beach 
Tall wispy palm trees and the sound of crashing waves on the beachfront greet you upon arrival at Pure Plage Beach in Lomé. The beach resort is best known for its getaway nature and for giving visitors a relaxing spot to unwind. While you can spend the day here lounging on the beach or spending time in the garden, Pure Plage also has accommodation options if you're up for an overnight stay. 
Throughout the day, you can take advantage of the many activities and services offered by Pure Plage Beach, like massages, a Turkish bath, live sports events, yoga classes, and more, depending on what is being offered that day. Like many establishments in Lomé, the beach turned into a nightlife center at night with live DJ performances and themed party nights. 
Enjoy a community oriented recreation center
Harmonie Signature is a country-club-style recreation center in Lomé with something to do for everyone. Swim laps up, down, and across the large swimming pool. Book a massage or blow off steam inside the spa sauna. With a tennis court, gym, bowling alley, game room, kids playground, and an Italian restaurant included at this center, Harmonie was a facility built on bringing great vibes to the city of Lomé. 
Admire West African art at the Musée International d'Art d'Afrique (West African Art Museum)
This museum is also called the International Museum of the Gulf of Guinea and contains artwork from all over West Africa in the form of sculptures and artifacts. According to some people I spoke with, the museum is small, with only a few rooms holding all there is to see, but West Africa's history has so much to offer I would still visit! 
This museum is not as well known as some of the others in Lomé so you may have trouble getting a driver who knows exactly where the place is, but the address is listed as 1603 Boulevourd du Mono 4370 Lomé, Togo, on their Facebook page. 
Indulge in the breakfast brunch and a spa day at Le Patio Restaurant and Spa 
Le Patio Restaurant and Spa is a guesthouse, restaurant, wellness center, spa, and enjoyment center all in one. Le Patio, in English, translates to "The Patio," and its name is showcased in the arrangement of the outdoor sections of the restaurant and bar area. 
Walking into Le Patio, I was immediately drawn to the gorgeous pool, whose oceanic blue intensified as the rays from the sun bounced off its waves. With plenty of seating surrounding the pool and the serene chic vibe of Le Patio, I was quickly able to see why it was known as a popular spot in Lomé.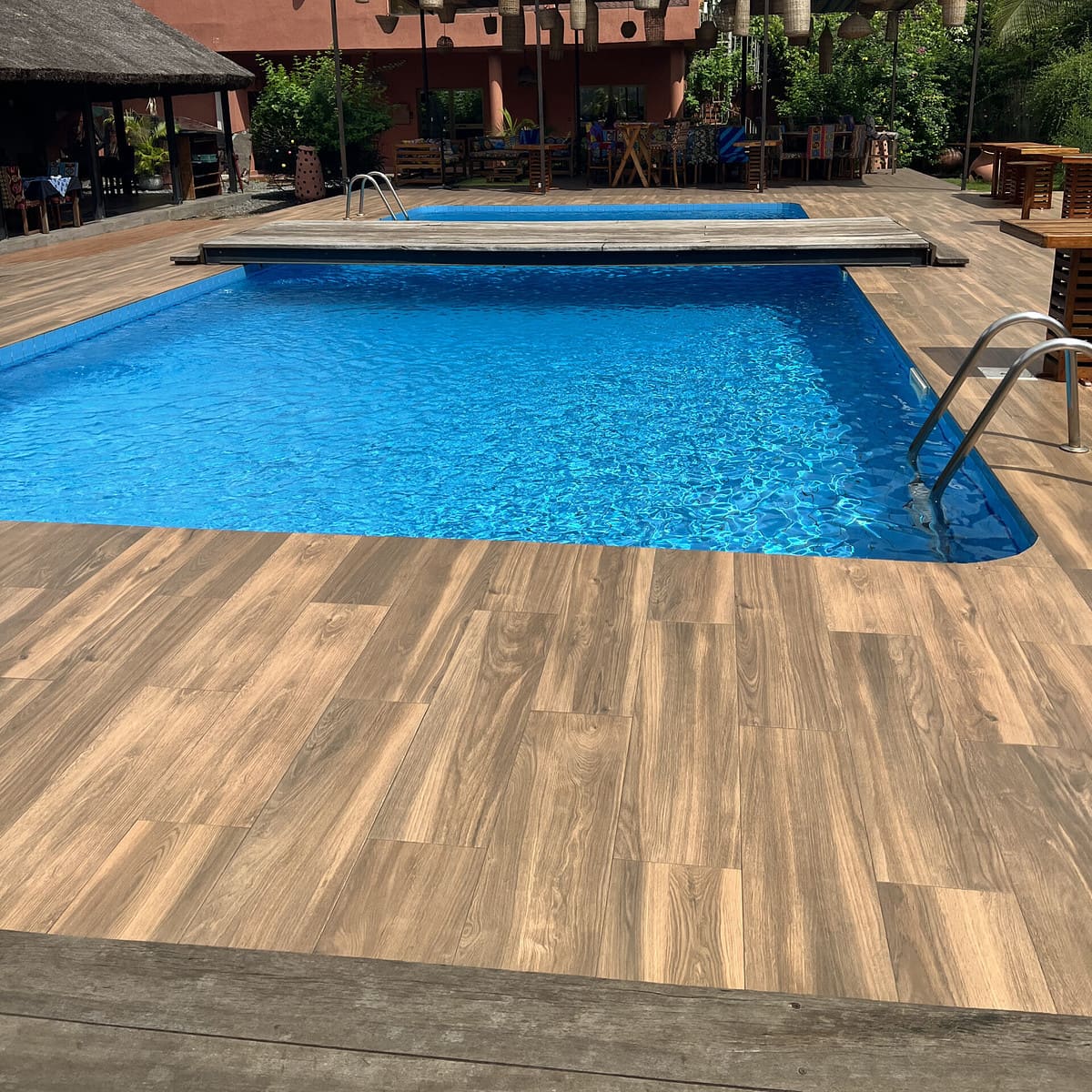 I visited Le Patio with my Togolese classmate for their breakfast buffet on a Sunday. For 10.000 CFA ($15.14), we enjoyed a wide selection of breakfast items with a balance of African and European dishes. I'm not sure if the breakfast buffet is included for overnight guests as well, but as a paying customer, I can say that I ate for my money's worth. 
After breakfast, I took a quick self-guided tour of the spa, which is a bit of a walk from the indoor restaurant, in hopes of getting a massage. However, the rates almost made me forget that I was in Togo! A massage was $80+. I even saw a service for about $200, which was enough for me to decide to stick to getting a massage once I returned to Ghana. However, I was very impressed with Le Patio and would love to visit the place at night.
Take your kids to an amusement park in the city
If you're traveling to Togo and looking at things to do for kids in Lomé, Tata Park is an amusement and theme park in the city catered to children. The park has different rides children can enjoy, like a mini train ride and trampoline, and they host events that feature even more for kids, like face painting, Zumba, hoverboards, and more. 
Learn about the world's largest fetish market
The Akodessewa Fetish Market is the only fetish market in existence. Before hospitals were a thing, people relied on voodoo practices and healing rituals to heal locals of various illnesses. Back then, trips to the Fetish Market in Lomé were taken to visit the on-site priest or purchase items that would aid in the alleviation of the illness in question. For Example, the guide at the market explained that the skin of an armadillo is used to heal asthma. 
At the market, the skulls and skins of different animals like monkeys, dead birds, and leopards are laid out on a table for visitors to see and are available for purchase if you're into that kind of thing! There is a practicing voodoo priest on-site that locals can visit to be healed and prayed over. 
The market seems like more of a tourist attraction now than a place people would go to be healed, but it is a cool thing to do in Lomé because of the history behind the market. 
The cost to get in is 3000 CFA ($4.54). However, if you want to take pictures and videos, it is an additional 2000 CFA for a total of ($3.03). The entire tour takes about 20-30 minutes. Because of the animals (live rats), it does smell at this market, so manage your expectations accordingly! 
Go horseback riding
Club Hippique du Togo is a horse club in Lomé where you can go horse riding, watch a competitive horseback riding show, or get involved in activities and special events being hosted around the club. A visit to the horse club is especially exciting for young kids, as the facility often has poney rides and musical shows for children. Club Hippique has a restaurant, bar, and an educational farm with small animals like rabbits.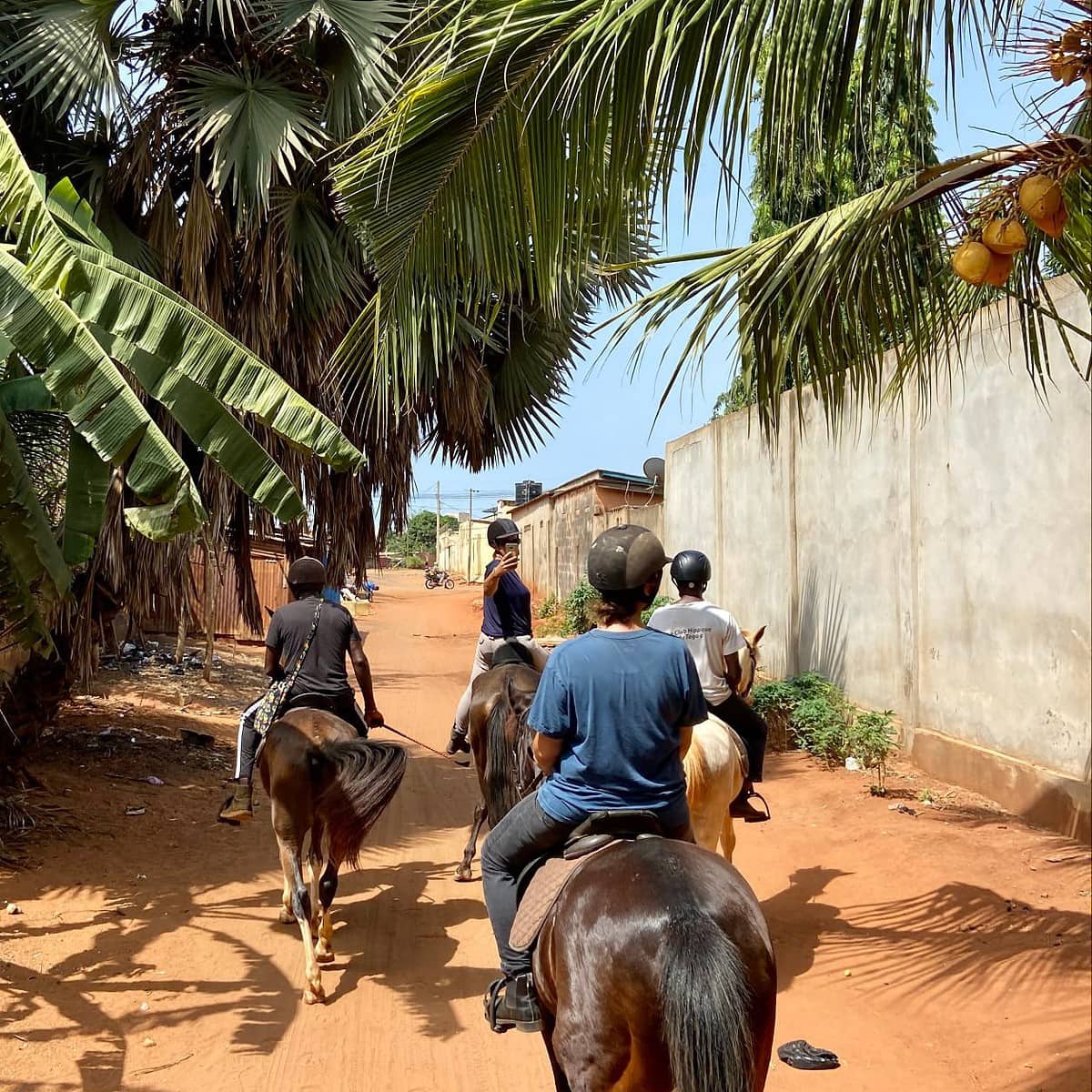 Pay a visit to the Monument de L'Independance (Independence Monument)
The Monument de L'Independance represents Togo's independence from the French on April 27, 1960. When I visited Togo in 2022, the country was celebrating 62 years of independence. Although the monument is just that, and there isn't necessarily anything exciting happening at the structure unless a large event is happening and the gates are open, I love visiting independence monuments. 
The monuments remind me that colonialism was not that long ago and that we should not get complacent with progress as Black people and, more importantly, African descendants. The monuments represent pride, resilience, determination, and power. 
Watch a cultural show at the Denyigba Cultural Center 
You'll be in for a treat if you're lucky enough to catch a show at the Deyigba Cultural Center. The Denyigba Center is a multi-use establishment that offers exhibitions, shows, and cultural training. The center did go through a pause of displaying shows, but it could be a great thing to do in Lomé if they have continued shows. 
Meet with local artists and learn more about their work
The Village Artisanal in Lomé is a mini art and craft market perfect for picking up souvenirs as your trip ends. Artists with extensive trades in weaving, sculpting, carving, and painting are on-site creating their artwork as you can walk around and pick out your purchases. Paying a visit to Village Artisanal means a chance to support local Togolese artists and add custom pieces to your travel collection. 
–
A lot of the addresses to attractions in Togo are outdated on the internet. Many establishments do not have formal websites for their businesses but instead social media pages on Facebook and Instagram. I've found that this is normal even for very popular places in Togo, so I highly recommend leaning into researching more things to do in Lomé via Instagram. Go down the rabbit hole of similar pages once you find places in the city. As I discover more things to do in Lomé, I will be updating this blog post, so be sure to check back! 
Let me know if you decide to visit any of these places on your trip to Togo or if there's something I should add to this list below in the comments!