Black travel has always been a vibrant and empowering movement that celebrates diversity, promotes cultural exploration, and fosters community among Black travelers.
Black travel groups offer a platform for individuals to explore the globe with like-minded companions who share their passion for adventure and a deep appreciation for cultural heritage while rewriting the narrative of what it means to be a global explorer.
Whether you're single, in a relationship, or just looking to connect with like-minded people who love exploring the vast corners of this world, embarking on a group trip can be life-changing, and I've compiled a list of over 25 Black travel groups to choose from to make it happen!
Disclaimer: While these Black travel groups can serve as safe and comfortable spaces for Black travelers, the travel groups listed in this blog post do not necessarily cater solely to the Black traveler.
Kultured Travels
Kultured Travels is a premier travel and tour company that curates travel experiences for groups of travelers aged 18 and over. Their mission is to provide you with the best vacation experience that ensures you get a taste of the culture of whatever country you are visiting.
Their vacations include culinary dishes, unique excursions, and a chance to bond with up to 25 like-minded travelers.
Buoyant Travel
Buoyant Travel was explicitly created with Black Travel in mind, making it a great Black travel group with which to embark on an adventure around the world.
Buoyant prides itself on connecting Black travelers and people with experiences that highlight Black businesses, history, and education by hosting group trips and meet-ups, creating itineraries, and running a private members club.
Serene Adventures
Encouraging travelers to step into a "Vacation State of Mind," Serene Adventures is all about taking the stress out of traveling by taking care of everything for you. With an emphasis on self-care, this Black travel group encourages self-care by letting them handle your travels for you!
Belle Vue Tours
As a Black traveler, visiting Haiti, the first nation ever successfully to gain independence through a slave revolt can be a bucket-list travel experience for many.
Thankfully, Belle Vue Tours is bridging the gap in travel in Haiti to make it happen. Belle Vue is a historical, cultural, and adventure outbound tour company specializing in trips and tours around Haiti.
Visit historical structures like the Palais Sans Souci and Citadelle, swim in the waters of Bassin Bleu, and feast on native dishes like griyo while admiring all that Haiti has to offer.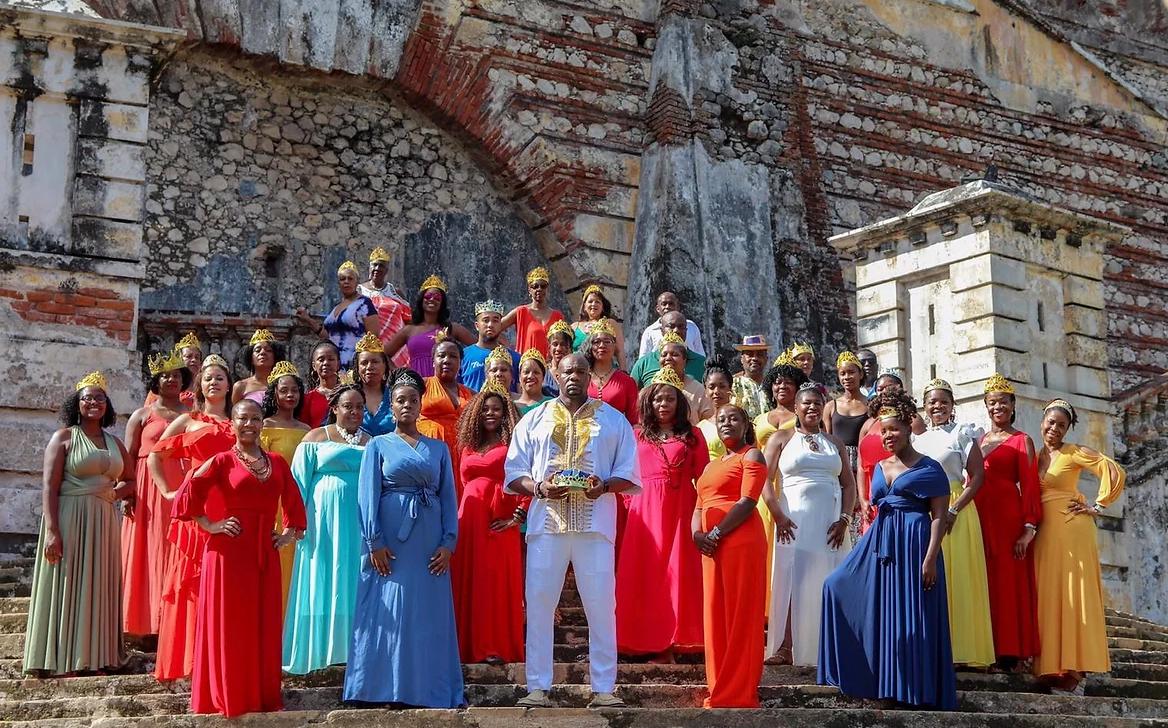 Luxe Tribes
Luxe Tribes is a luxury travel agency and travel community designed for millennial professionals on the go. Luxe Tribes provides bucket-list group trips, including adventure and cultural tours.
With a goal of providing top-notch service, Luxe Tribes allows you to travel the world in style.
Travel Mo Worry Less
Travel Mo Worry Less organizes group trips across the world from Bali to California to ensure that you can have the best trip(s) with the slightest worry. The company offers opportunities for travelers to give back and show appreciation to the cultures on their travels.
The Roaming Republic
One of the most well-known Black travel groups, the Roaming Republic has earned itself a positive reputation among the Black travel community for creating trips of a lifetime.
Having traveled to destinations like Ghana, Costa Rica, and Trinidad, RR is more than just a travel group, but a close-knit community that travelers, called "roamers," can tap into for lifelong connection.
Trips planned by the Roaming Republic include "luxury villas, turn up, cultural immersion, community, and unforgettable memories." They will leave you eager to sign up for the next trip.
Black Girls Travel Too
Black Girls Travel Too is a Black women's travel group that curates travel experiences designed to enrich the travel experiences of Black women through travel.
With several trips lined up throughout the year, BGTT is an empowering movement that inspires" Black women to embark on exciting journeys around the world, breaking down barriers and defying stereotypes along the way."
Gojolley
At Gojolley, the goal is to make travel a jolley experience for people of all backgrounds.
Black-women-owned GoJolley has trips lined up throughout the year and challenges its travelers to "step outside of their comfort zones, expand their networks, and develop."
Booked Trips
BOOKED Trips curates group trips with a unique angle. They are the first travel community for women who love books. "Each trip is a curated experience powered by storytelling and anchored in a book by a woman of color. Their literary-inspired experiences carry our travelers from the page to the place, exploring the scenes and themes of each of their selected books.
Taking "quotes, scenes, and themes from their selected book to guide each day of our itinerary and deepen our understanding of the countries we visit," you will be in for a treat.
JetBlack Travel
Another popular travel group in the Black community, JetBlack Travel, is a "premier travel community where strangers become lifelong friends." Hosting domestically and internationally events, the group is passionate about bringing Black travelers together for new experiences and self-discovery.
The Travel Taurus
The Travel Taurus focuses on "discovering and showcasing relatable travel experiences for young Black and brown female professionals who love to explore."
This mission is carried on through group trips designed by the brand that can now embark on a new adventure with like-minded travelers. "The Travel Taurus trips are designed to be inclusive, fun, and safe, allowing you to make memories and friends that will last a lifetime."
Urban Flight Collective
Creating spaces for urban travelers to connect through global events and trips, the Urban Flight Collective prides itself on making the continent of Africa more accessible to the worldwide diaspora. To expose travelers to the beauty of Africa, Urban Flight Collective hosts trips to the continent that immerse their guests in rich cultural experiences, historical tours, and relaxation.
Haitian Nomad
Haitian Nomad is a "premier travel company dedicated to curating and hosting unforgettable cultural experiences around the globe. Haitian Nomad believes that travel is not just about visiting new places but about immersing oneself in the richness of diverse cultures, forging connections, and creating lifelong memories.
Valuing responsible and sustainable travel, the company seeks partnerships with local communities, artisans, and businesses, supporting and empowering them while preserving their cultural heritage to help you engage in meaningful cultural exchanges that positively impact the places you visit."
Cytravel Consult
Founded in 2018, Cytravel Consult "tries to find the best solution to make clients' travel memorable with tons of curated ideas and affordable deals. Cytravel Consult is in the business of making your travel arrangements hassle-free."
The group operates in Ghana and Ivory Coast but plans trips to countries like Tanzania, Rwanda, Dubai, etc. As a Black female-led company, Cytravel Consult is a great option for traveling with other women.
​
Amirah Cook's Retreats for Women
Amirah Cook is a writer known for sharing her inspiring lifestyle centered around wellness, balance, and relaxation. Since 2013, she has lived around the world with her husband, making Bali her home for the last few years.
Amirah hosts retreats that invite women to unwind over a series of days planned with intention. Her Bali Breakthrough Retreat is "exclusively for women and is a break – to relax, indulge, and rejuvenate." With an itinerary containing spa treatments, luxurious villa living, exploration, and more, you can expect to get in tune with yourself on one of her retreats.
Expanding her retreats to other parts of the world, Amirah is also hosting "Manifesting in Marrakech.
Ajala Travels & Tours
Founded in Lagos, Nigeria, Ajala Travels & Tours has conducted tours in eight African countries with 100+ travelers.
With "tailored trips for all types of travelers and holidaymakers, the group offers package holidays in destinations they know very well and love, which means clients receive exclusive discounts to hotels, excursions, and more."
Senegal, Gambia, São Tome, Benin, and Togo are just a few destinations you can travel to through Ajala Travels & Tours.
Global Escape Travels
Global Escape Travels is run by two Black woman full-time world travelers who are no strangers to planning a well-balanced trip abroad. With trips "uniquely designed to uncover history and learn about new cultures, Global Escape Travels aims to incorporate a cultural experience on each of their trips."
If you are into content creation, you're in for a treat with this Black travel group, as each trip also has a content creation component, so you can guarantee to leave with your best angles on display for your social media profiles.

NOMADNESS Travel Tribe
"Representing the voices and industry impact of Black and Brown travelers, NOMADNESS Travel Tribe describes themselves as "the travel influencers, innovators, and community members that make up this movement with over 30,000 Black and Brown nomads, responsible for over $50,000,000 being injected into the travel industry annually."
This Black travel group is known for providing opportunities and trips that allow Black travelers to bond with a predominantly Black travel community.
Melanin Globe
Melanin Globe has been around since 2016 and is a "thriving African-American travel company specializing in group travel experiences."
Many of their tours are designed "specifically for small groups, with a balanced mix of sightseeing, cultural encounters, and leisure time. Melanin Globe "limits their tour experiences to a specific number of guests, depending on the destination to ensure freedom, flexibility, and also so guests may enjoy a more personal and authentic travel experience."
Magic & Melanin
Magic & Melanin is a travel agency "providing immersive experiences for humans of the diaspora to know, explore, and invest in the Motherland.
"In an era where African nations have been misrepresented in the media or completely erased, Magic & Melanin aims to provide greater visibility and accessibility to the land of our origins, wealth, and power. Magic & Melanin helps you access West Africa through an immersive, two-week homegoing journey, invest in West Africa's economy by supporting local entrepreneurs, and deepen your knowledge of West Africa's history and culture."
Urban Events Global
Urban Events Global is "committed to creating a welcoming space where professional individuals of color can connect through authentic and unconventional experiences across the globe. Through these innovative and bespoke events, participants can unwind, forge new relationships, and revel in a lighthearted and carefree atmosphere.
Urban Events Global has become a leading provider of unforgettable experiences, offering a range of events such as Urban Camp Weekend, Urban Excursion Weekend, Urban Cruise Weekend, and the annual UEG Meet Up."
Mooove Africa
Mooove Africa provides "uniquely curated, stress-free, private tours for the adventure-seekers, afro beats enthusiasts, beach bums, and history buffs! We also provide group tours for anyone in-country looking to change their routine and meet like-minded travelers."
Based in Ghana Mooove Africa has successfully hosted group trips to countries like Tanzania, Togo and continues expanding its international trips with time.
Wind Collective
A traveling creative collective and community, Wind Collective aims to "create more representation in the travel industry by providing access to life-changing experiences and creating inclusive content."
This travel group prioritizes "creating safe spaces for underrepresented groups to come together and explore the world."
Passport Poppin
Passport Poppin is a "Black-owned full-service travel agency offering beautifully-curated travel experiences to world adventurers."
From hiking trips to group trips to different countries with other Black women, Passport Poppin is making it happen!
Tribu Project
Tribu Project is a travel company that "offers an array of culture and travel experiences as well as occasional events to promote one thing, bringing happiness through travel experiences."
With trips to Mexico, Colombia, and South Africa, Tribu Project is a travel group with much left to explore.
Travel Hopp
Planning ecstatic group trips to destinations like Egypt, Lebanon, Dubai, and more, Travel Hopp is a company that makes going on holiday or short getaways a time to remember. Many of their trip packages include flight and visas, making it a travel group worth exploring for your next adventure.
Hues of Africa
Hues of Africa offers group trips to Ghana and Mexico that you can join for company to these two popular destinations.
Spend nine days in Ghana with the group, where you'll visit different regions, or opt for a weekend trip in Rosarito, where you'll get to explore areas like Tijuana and dive deeper into aspects of Mexican culture.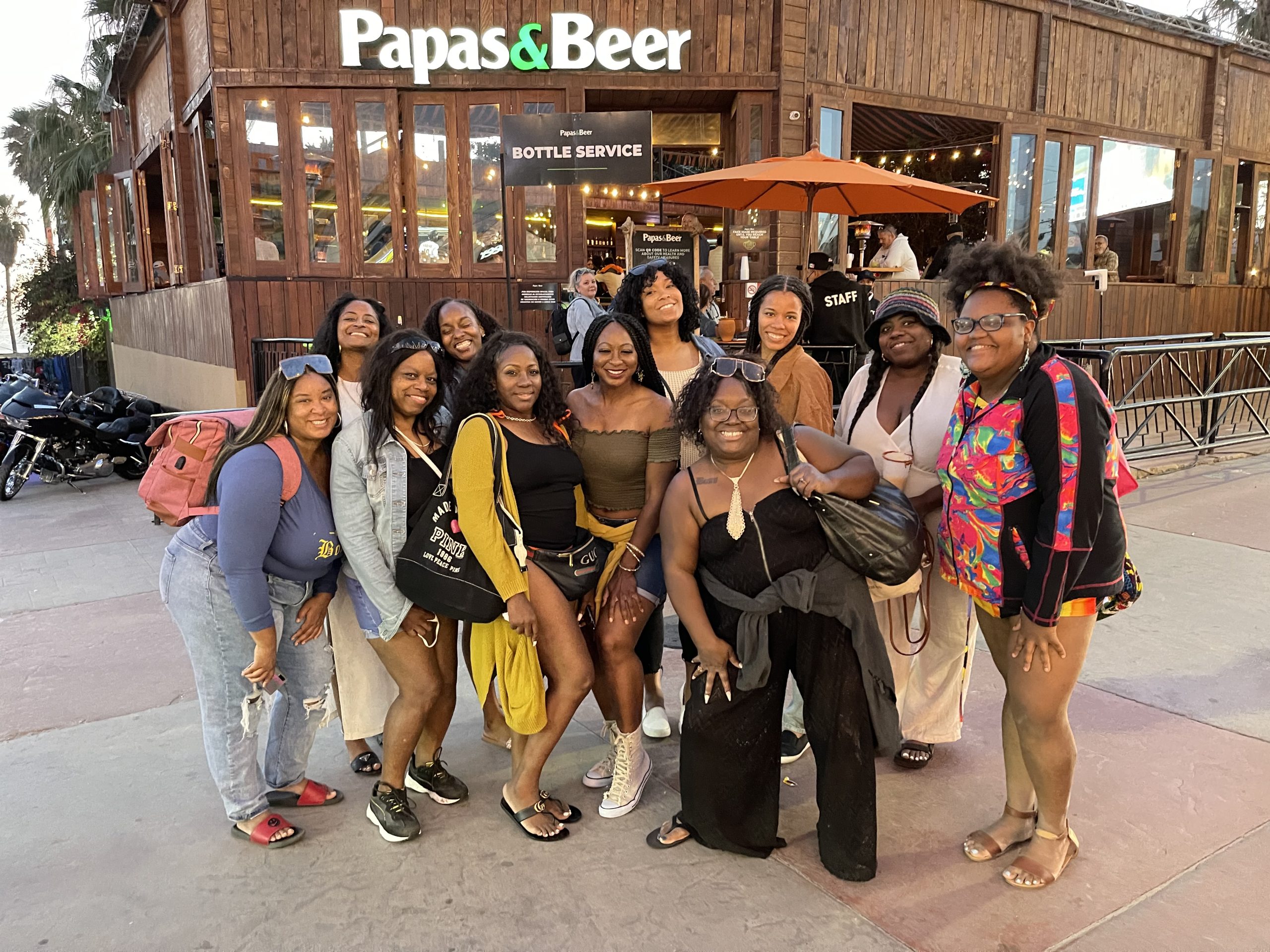 Black Travel Fest
Black Travel Fest "curates travel experiences that foster a strong community, life-long bonds, and a unique worldview for attendees.
Black Travel Fest was established to enhance the representation of travelers of color in destinations lacking our presence. The organization empowers travelers from the diaspora to escape the pressures of everyday life and embrace their best lives in breathtaking destinations."
TELLS Trips
TELLS Trips encourages you to do more of what their acronym TELLS stands for: Travel, Explore, Live & Learn, Smart. The company is dedicated to encouraging and helping individuals discover the best versions of themselves through immersive travel experiences on the African continent.
Their Senegal and Ghana trips are recommended if you lean toward art and culture when traveling, with art festivals occurring in both of the countries.
Taking Space Retreats
Designed to provide safe spaces for multidimensional women of color, Taking Space Retreats promote "self-reflection and encourage women to embrace themselves, stop shrinking and take up space."
A Black travel group that emphasizes wellness, their retreats offer a "safe and supportive space for you to explore your emotions and experiences, connect with like-minded women, and develop the skills and knowledge you need to navigate life's challenges with greater ease. From meditation and retreats to group therapy and personal coaching, their programs are tailored to meet your unique needs and goals."