As you've been researching solo travel, I'm sure you've come across one common theme: Solo travelers talking about how amazing and freeing solo travel is. You're ready to take the leap to go on your first solo trip and start traveling alone for the first time, but you don't know where to start or don't think you are ready.
My first solo trip was to Thailand and Bali in 2020, and I have not looked back since. I've traveled to Mexico, Costa Rica, Ghana, and other countries as a solo traveler. When I ask people why they still have not taken the leap of faith to solo travel, many respond that fear holds them back. Fear of getting trafficked, kidnapped, or just navigating an unfamiliar area alone in general–all very valid concerns! However, these things can happen anywhere, anytime, including your hometown. I remember how anxious I was to travel solo only a few years ago, and now I want to encourage you to take the leap of faith.
This blog post will provide you with ways to gain confidence to travel solo, and what you can incorporate into your life to start your solo travel journey.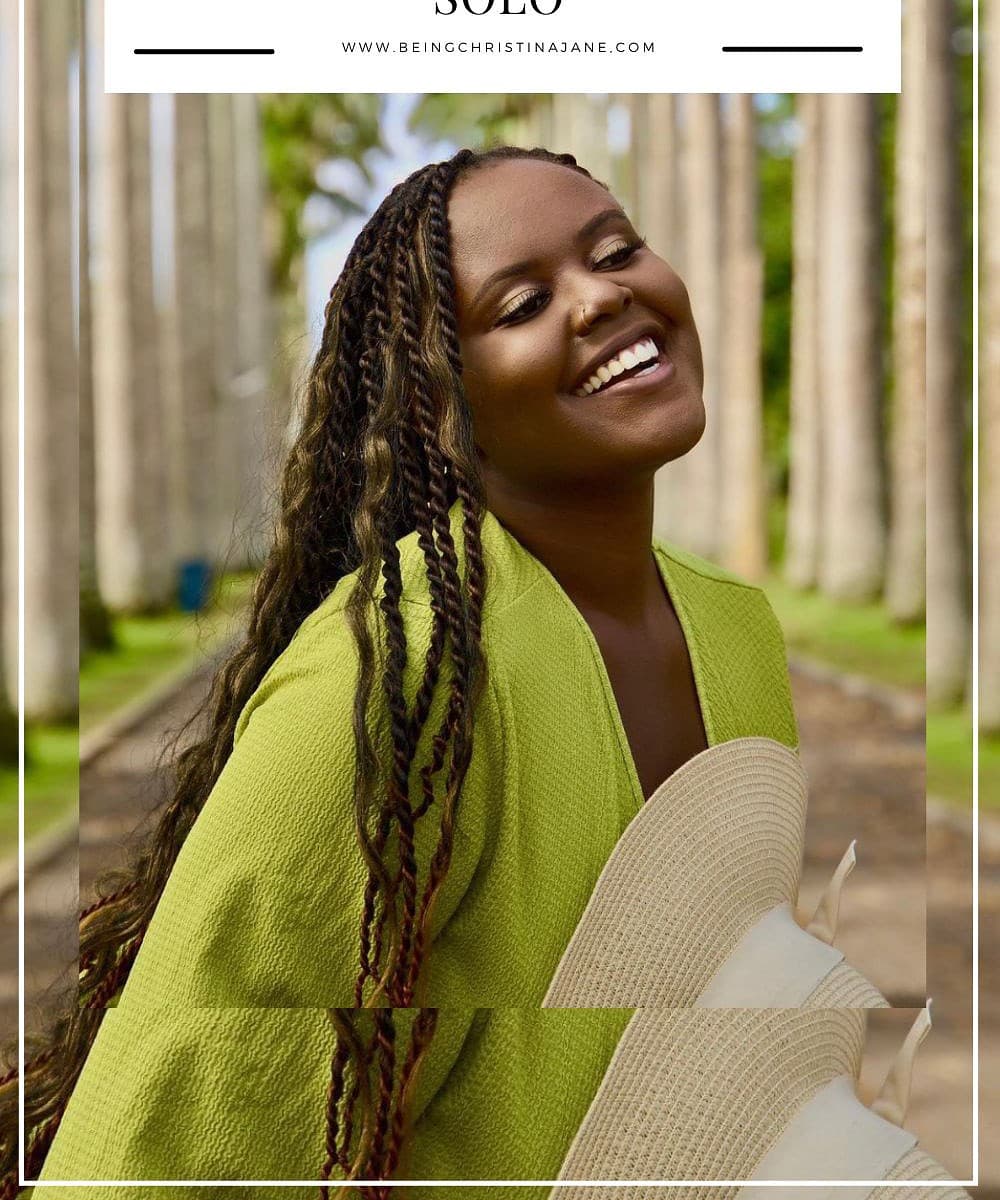 1. Start Small – Explore Being A Tourist in Your Own City First
Depending on where you live, this is either going to be exciting or very difficult for you to do if you aren't that enthusiastic about your environment. However, feeling awkward while doing activities is a big reason why people shy away from traveling alone for the first time.
A great way to combat this is by using your hometown or the city you've been living in for a while as practice! When traveling, the common things you will do are eat at restaurants, take part in excursions and local activities, and go shopping.
Practice doing these same things in your city. Sit down at a restaurant alone for lunch or dinner one night and see how you feel! Choose an activity to do alone in your city. Start with tourist hotspots and the activities or sightseeing opportunities your city is known for. Then, work your way up to social activities that you will do alone, like go-kart racing or joining a local cooking class. See how being alone around others who may have company makes you feel. This will build up your confidence to be alone in social settings. Eventually, you'll be able to transfer those same skills to a foreign country or even a new state.
I'll be the first to admit that I am enthusiastic about exploring everywhere else except for my hometown, so I jumped into solo travel with an international trip. Even though I've done solo travel, I'll still try to do activities in my local area to practice being alone while immersing myself in the environment around me!
2. Join Facebook Groups for Solo Travelers
Facebook will be your best friend as an aspiring solo traveler! Join Facebook Groups that focus on solo travel and are relatable to who you are. As a Black woman, I find it empowering to hear recounts of solo travel trips from other Black women. It helps me to envision myself in those spaces, especially in countries where Black people are a minority.
If you have a particular country in mind that you want to travel solo too, consider joining groups that focus on that country. These groups are great ways to come across recommendations for drivers, tour operators, unique things to do, and more! Some solo travel groups on Facebook you can join that I am a member of include:
•Solo Female Travelers (FIRST FB group for women who travel solo!)
•Picky Girls Travel Solo: A Solo Travel Network for Black Women
•The Solo Female Traveler Network
Again, I am a Black woman, so I gravitate towards groups with people that look like me. Depending on your background, find the groups that best fit you according to race, ethnicity, gender, profession, etc. Get creative when looking for resources.
3. Research Everything So You Know What to Expect
Researching the ins and outs of the destination you want to visit is the key to feeling ready and prepared to take the journey. When traveling alone, you only have yourself to fall back on, so be sure to cover all of your bases by researching as much as you can before boarding the flight!
There is no feeling like knowing when you are ready and confident to do something. The same thing can be said about traveling. Going from being clueless about a destination to knowing what to expect (with the understanding that your experience may and will be different) will boost your confidence and confirm that you are exactly where you should be.
To get you started, here are some important things to research:
The entry requirements of the destination you are visiting according to your nationality/passport
How to get a visa for the destination of your choice, if applicable
How safe the country is for solo travelers and tourists in general
Ways to get around in the country and what transportation methods are available
What the airport you will land in is like, and what you can get done there (Money exchange counters, SIM cards, etc.)
If there are any laws that you need to be aware of (What's legal in your country may not be legal somewhere else!)
Possible accommodation options
What the destination is known for (Things to do, what to see, must-visit places)
Read blogs, watch Youtube videos, and read forums to get an idea of what the experiences of recent solo travelers have been
4. Practice Being Assertive Daily
When you are traveling alone, you only have yourself to fall back on. While that may sound scary, it's actually not! It just takes some mindset work so you can be confident in yourself and your decisions. One of the beautiful parts about solo traveling is that you get to be in tune with your thoughts, feelings, and actions. It's up to you to make decisions in a new environment that will ultimately shape your experience—for the better or worse.
This leads us to practice being assertive daily leading up to your solo travel trip. When you're traveling solo for the first time, you will have to communicate and voice your needs because no one can do them for you. For some people, this comes naturally, and for others, it comes with time.
Pay attention to your interaction with people daily. Speak up when things don't sit right with you, and don't be afraid to say no when needed. This will help you to feel more sure of yourself when traveling alone. It's nice to be able to advocate for yourself if it is needed. I would not go on a solo trip with the mindset that there will be issues on your trip, but anything can happen, so it's great to be prepared.
5. Talk to Solo Travelers About Their Experience(s)
As you continue researching all there is to know about traveling solo, you will come across solo travelers who will inspire you to start solo traveling. Maybe even sooner than you thought! Don't be afraid to reach out to them and ask for advice. When you join Facebook groups, use the search bars to find people who have gone to the destinations you are thinking of for your solo travel trip. Most people are willing to answer any questions you may have.
Solo traveling has given me the freedom to see the world without waiting for anyone to make it happen. It has made me more secure in myself and who I am. Solo traveling is even the reason why I have this blog today. It has played a big role in my journey as a young woman, and I can't wait to hear how it will impact yours.
If you have any questions about my solo travel experiences, feel free to comment below. I would love to hear about your solo travel experiences, so please return to this post and let me know when you take your first solo trip!