As a nano creator, defined as someone with a following between 1,000 and 10,000, one of your biggest goals is probably to start getting paid experiences, sponsorships, and paid for your creative work, whether it be writing, creating visual content, or photography.
You hear larger creators talk about getting brand partnerships, but you feel like it's out of reach because you have a smaller following. What if I told you that I don't even have 5,000 followers on Instagram, yet I've received free accommodation stays, invites to experiences, and have recently started getting paid for making reels through a well-known travel company?
In this blog post, I'll give you a bit of a background on myself as a nano creator, tell you how I started to get brand collaboration opportunities at this level, share the pitch I use to reach out to brands, and give some tips on how to get brand collaborations as a creator.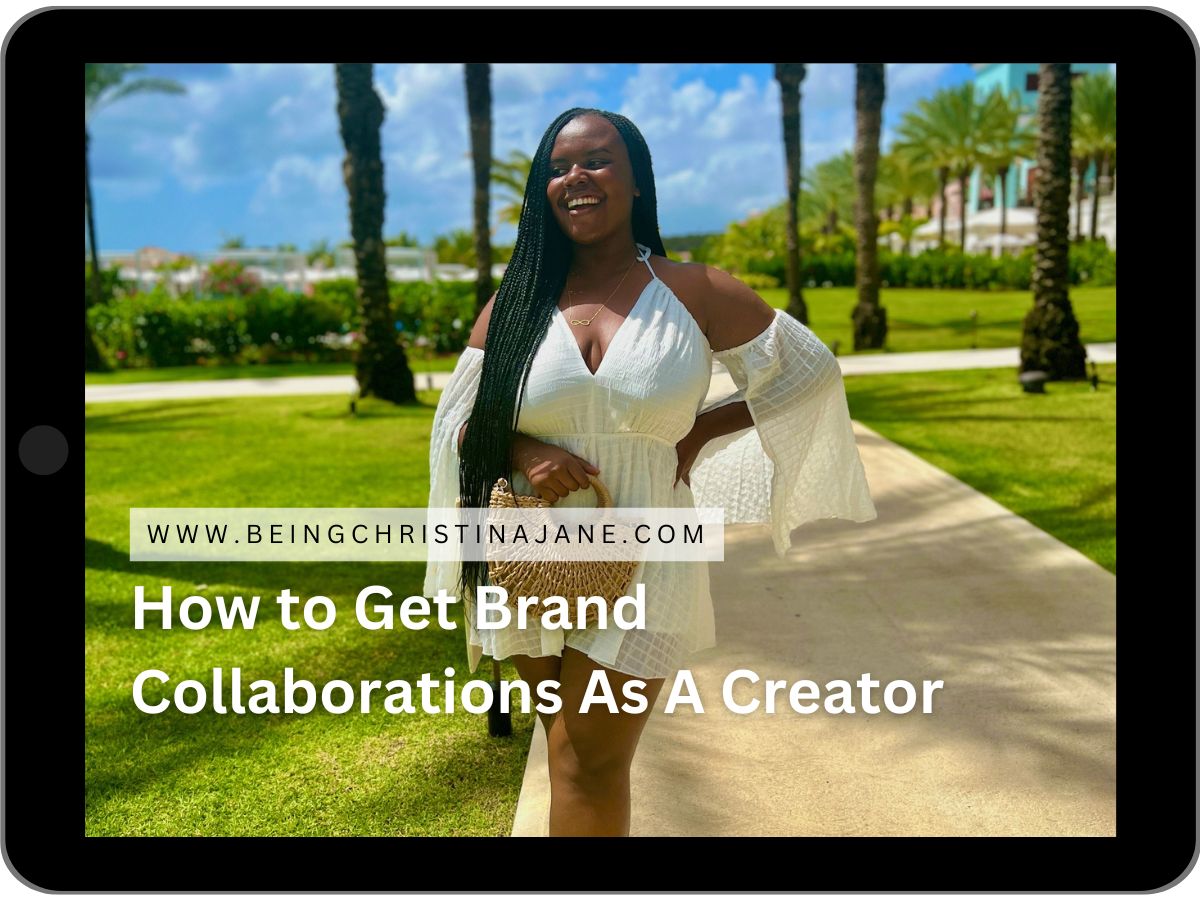 I am in the travel niche as a blogger, but these tips can apply to all niches (just replace the travel components of what I mention in your head with what the equivalent would be in your niche, whether it's beauty, finance, etc.). 
I also think that this can be useful if you are a larger creator who hasn't quite gotten a handle on how to get brand collaborations or use your following to your advantage! 
Disclaimer: This is my personal experience with getting brand collaborations and how I've decided to approach it to fit my goals and circumstances as a beginner/ nano blogger. There is never one way to do anything. What applies to me may not apply to you. As always, I encourage you to take what you can from this post and leave behind what is not useful to you. 
Who Counts As A Creator?
Before we dive into the actual steps on how to get brand collaborations, I think it's important to go through who can be considered a creator in the online space today, as I will be approaching this blog post from the angle of those who post their work online.
I consider a creator to be anyone who creates anything, whether that be blog posts, videos, photography, creative direction, etc., and is sharing that work on the internet for exposure and greater reach in any niche.
I do think there is a difference between a content creator and a blogger like myself (even though I've somehow managed to become both!). Still, I am going to use the word "creator" to make it easier and applicable to most people who will read this, as I feel like the content creation aspect of my brand has helped me collaborate with brands to a certain extent. 
The Beginning of My Journey As a Blogger + Content Creator
I want to share a brief overview of what my blogging journey has been like so you can understand where I started, where I am now, and why getting brand collaborations–even at a smaller stage is more than possible.
I started my blog (an actual website with a domain) in 2018 after I graduated high school. It was something I always wanted to do because I felt like I had so many experiences and life lessons to share, even at just 18.
I would write about lifestyle topics like mental health, college, and dating. Back then, I had no clue what SEO was. I just thought that the people I shared it with would read it, and eventually, it would blow up: LOL. 
In 2020, I went on my first solo trip to Bali and Thailand and became hooked on the world of travel. I began to follow several other travel accounts online. I was inspired and also wanted to share my journey with the world.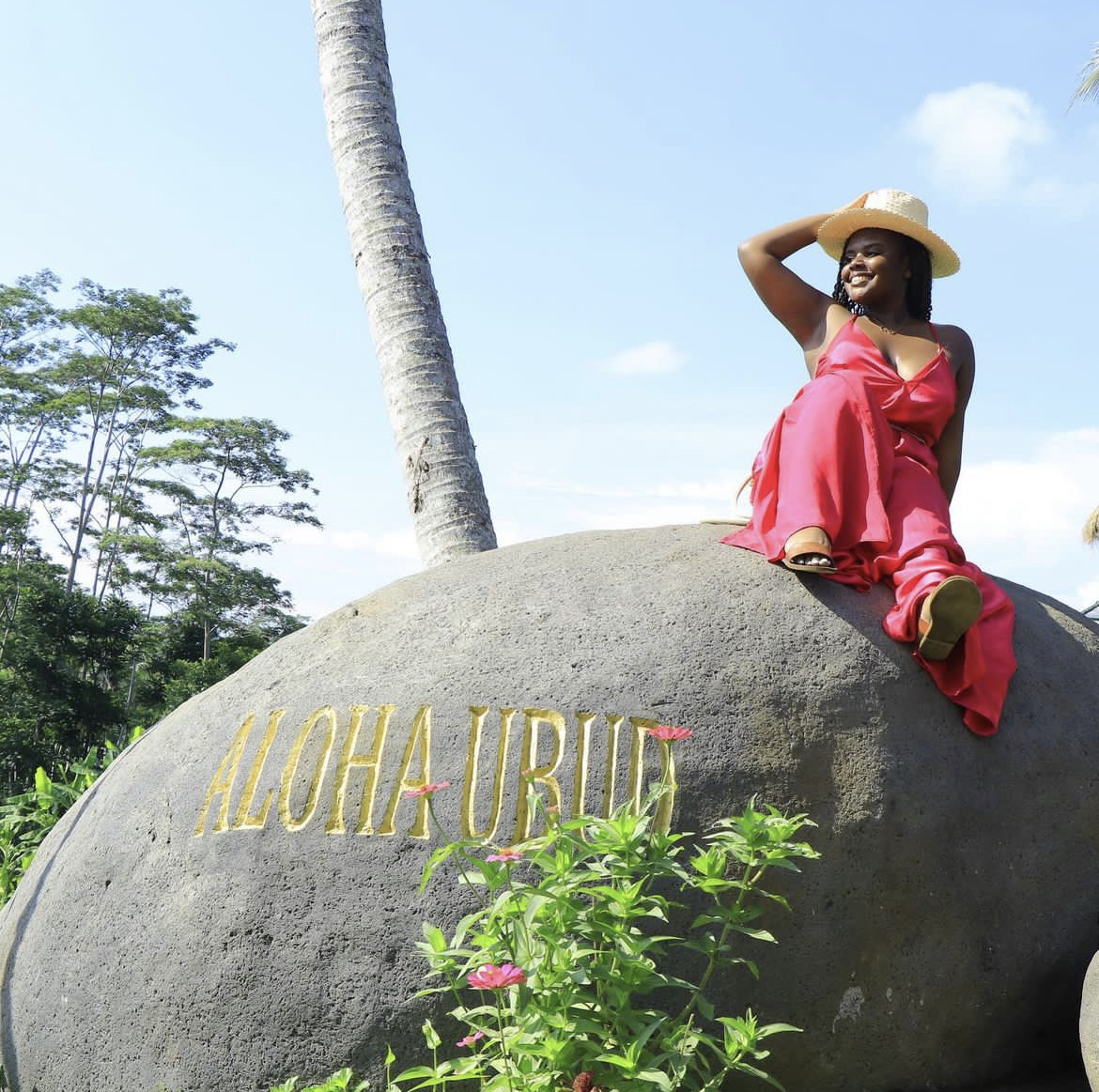 In 2021, I started only posting my travel experiences on social media, whereas before, I would post about my personal life and family.
In 2022, I changed the name of all of my socials to @beingchristinajane (It was @christinajp before) and continued to post my travel experiences but with more detail.
Towards the end of the year, I revamped the blog you are reading now to have the look I wanted and started to get serious about building my travel brand and getting my name out there in the online travel space. Being that I live in Ghana and do a lot of videos in Ghana, I started to receive a lot of invites to places like restaurants and hotels in Accra, who saw my viral videos on TikTok and wanted me to come through!
Fast forward to 2023, my new blog is up and running. My goals at the moment are to continue directing traffic to my blog to eventually monetize this space through an ad agency, aim to cover 50% of my travel through sponsored stays and experiences, and continue building a brand presence on various platforms.  
My First General Brand Collaborations
My start with getting free stuff from brands
My first brand collaboration ever was with a company called Steep & Sip Teas, which sells a variety of organic wellness teas. One of the co-founders reached out to me through an Instagram DM saying she liked my content and wanted to collaborate to promote their new Iced Tea collection. They sent me a 30-cup bag of tea in exchange for a post on my page.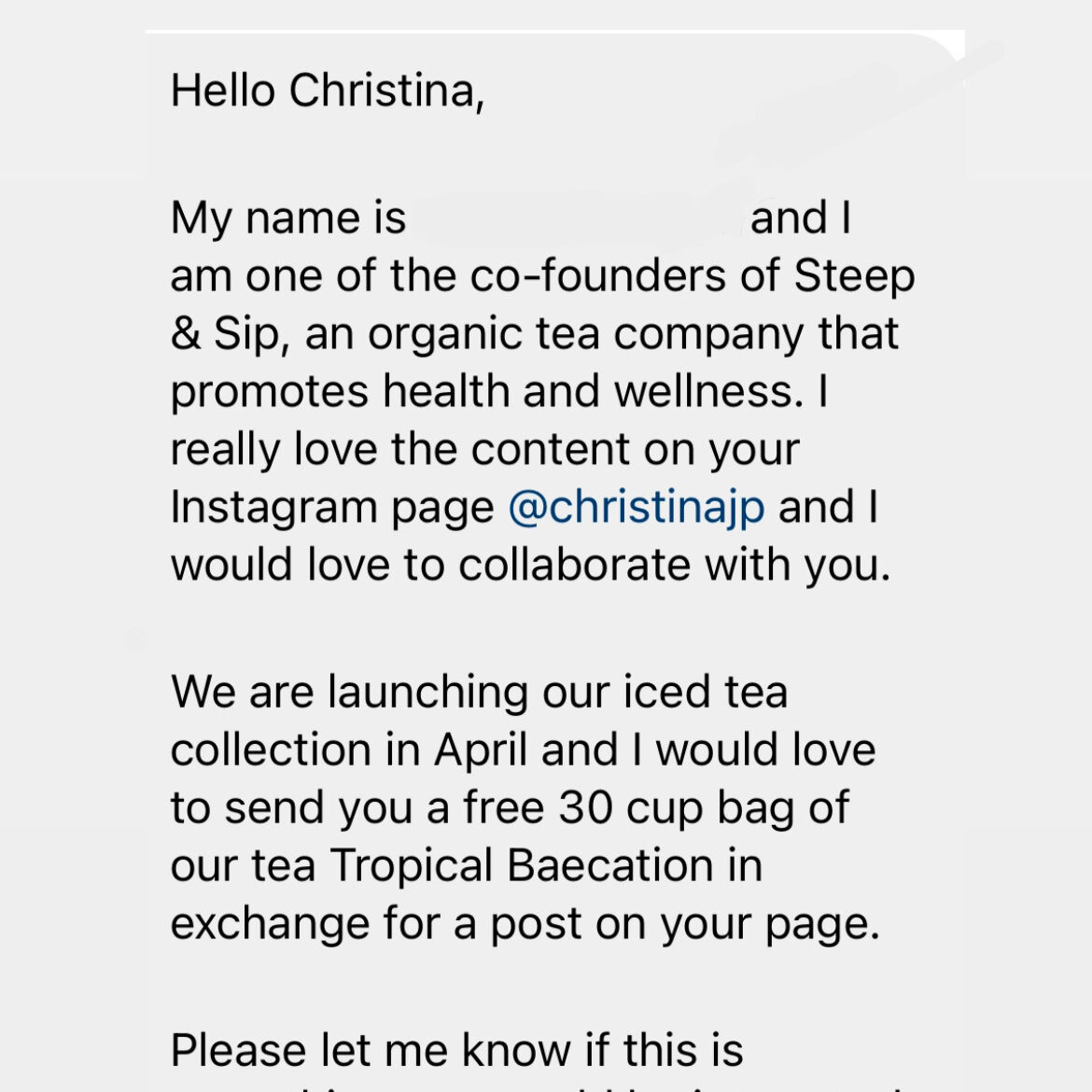 Now at this point, I was just excited that a brand was willing to send me free stuff, even if it wasn't exactly one in the travel industry. I also love tea, so knowing what I know now, I would have probably still said yes if the opportunity presented itself today!
From that experience, I started to see how brand collaborations could potentially work, but keep in mind I didn't and still don't have any formal guidance to this game, so I am running on vibes and what feels good to me and my brand.
My next collaboration was with Doctor Ds, a sparkling probiotic drink I started drinking in 2018 and still drink to this day! Being such a big fan and supporter of the brand, I would tag them in my Instagram stories every time I bought a drink. One day I decided to shoot my shot and ask if they had an ambassador program.
I was already spending my money on the brand and sharing my experience, so I figured being an ambassador would be a great way to keep doing that without spending the money. While I didn't end up becoming an ambassador, I did get a free case of drinks in exchange for content! 
My First Travel Brand Collaboration
Eventually, it clicked for me that being in the travel niche meant that having TRAVEL partnerships made the most sense. I needed to be more intentional about what I was trying to do with collaborations.
My next collaborations were with a food spot in Accra and an African Print Bag company that manufactures their products in Ghana that I was able to tie back to travel, but my first pretty big travel brand collaboration to me was toward the end of 2022 with an aparthotel property in Ghana! 
The aparthotel company reached out to me via email asking if I would like to have a one-night stay at the new property in exchange for content and paid transportation to and from the facility, to which I, of course, said yes! 
The final result was this TikTok video that went viral:
That experience made me realize my worth as a travel blogger and writer. A marketing team seeing value in me beyond the numbers meant the world to me and inspired me to start pitching to bigger brands and other hotels.
Before this experience, I never thought that a hotel would want to partner with a nano creator because of follower count. I truly thought that the partnerships like hotels, airlines, airports, etc., were reserved for larger creators, but I'm happy to share that I was proven wrong! 
How to Get Brand Collaborations
Let's get into the juice of this blog post and why you are probably here: THE HOW.
So far, I've noticed two ways in which getting brand collaborations work:
Brands reach out to you with a collaboration offer. 
You pitch yourself to brands and businesses to work with them in exchange for a product, a hotel stay, an experience, etc. 
When Brands Reach Out to You
Once you begin establishing an online presence and sharing your work, brands may reach out to you to come to visit their establishments or try out their product. Sometimes it is in exchange for content or a review, and sometimes it is just to come and learn more about the brand.
The representative reaching out to you on behalf of the brand will usually tell you what exactly they want from you or are expecting like a reel or post.
Even if the expectations are not communicated to you upfront, I do feel like if a brand has reached out to you because they saw your travel videos or posts and invited you to their establishment or gives you a free product, then they are hoping you will post about it.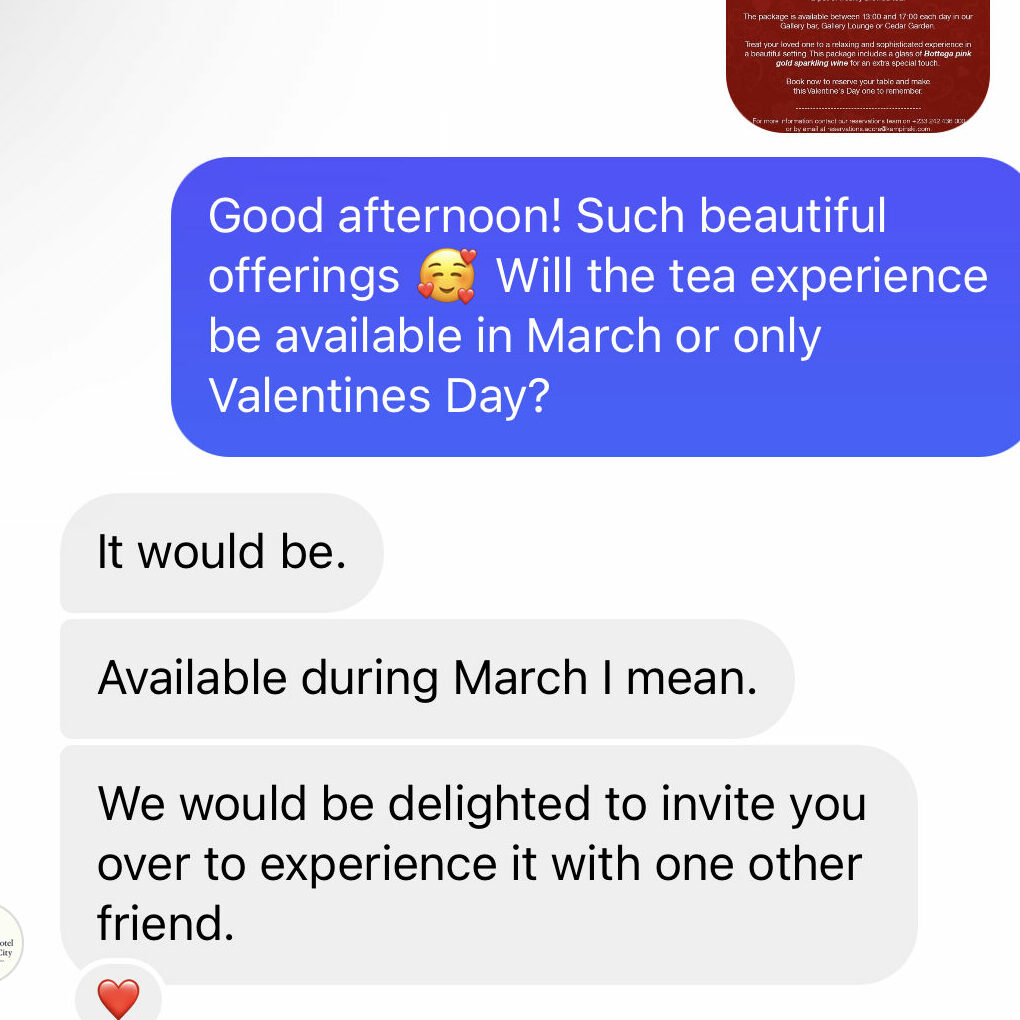 Always have your email visible or linked on your social media platforms for brands and their representatives to be able to reach out to you if needed. It should not be hard to get in contact with you, so make it easy for them!
You definitely don't have to say yes to every opportunity that comes your way as a nano creator. You will feel tempted to say yes because, as a beginner, every opportunity is a great opportunity to continue to grow and evolve as a creator! Just use your best judgment and discern what aligns with you and your brand.
If you decline, be sure to decline politely but leave the door open for future possibilities. You can say something like, "At this time, I don't feel like this will work because of XYZ, but I would love to hopefully work with you in the future if any opportunities come up." (Change the language, of course to how you see fit). 
How to Pitch to Brands 101
This is where the magic happens and where you may have to step outside of your comfort zone as a nano creator to get the opportunities you want. The reality is that brands will never know who you are or what you have to offer if you don't tell them, and how you tell them is by pitching yourself!
Pitching as a creator is when you reach out to a brand and tell them a bit about yourself, your brand, and how you would like to work with them in hopes of landing a collaboration or partnership opportunity. 
Finding Brands to Pitch
First, you will find a brand you like or want to work with. Maybe it's a transportation company like Amtrak or Uber. Maybe it's a local hotel in your area. I would create a list of local and big brands you would like to work with and look for their email to reach out.
Emails can be found on social media pages (Facebook is the best if it is not linked to the Instagram page of the brand) or the website of the brand (sometimes they are very hidden, so click on every link, especially the ones at the very bottom). 
How to Pitch Yourself to A Brand As A Creator
There is no right way to pitch yourself to a brand, but the main idea is to introduce yourself as a creator, what you do, your niche, what you can offer the brand, etc., so they want to work with you. 
This is the pitch I sent to secure a free 2-night stay at a hotel in Rwanda: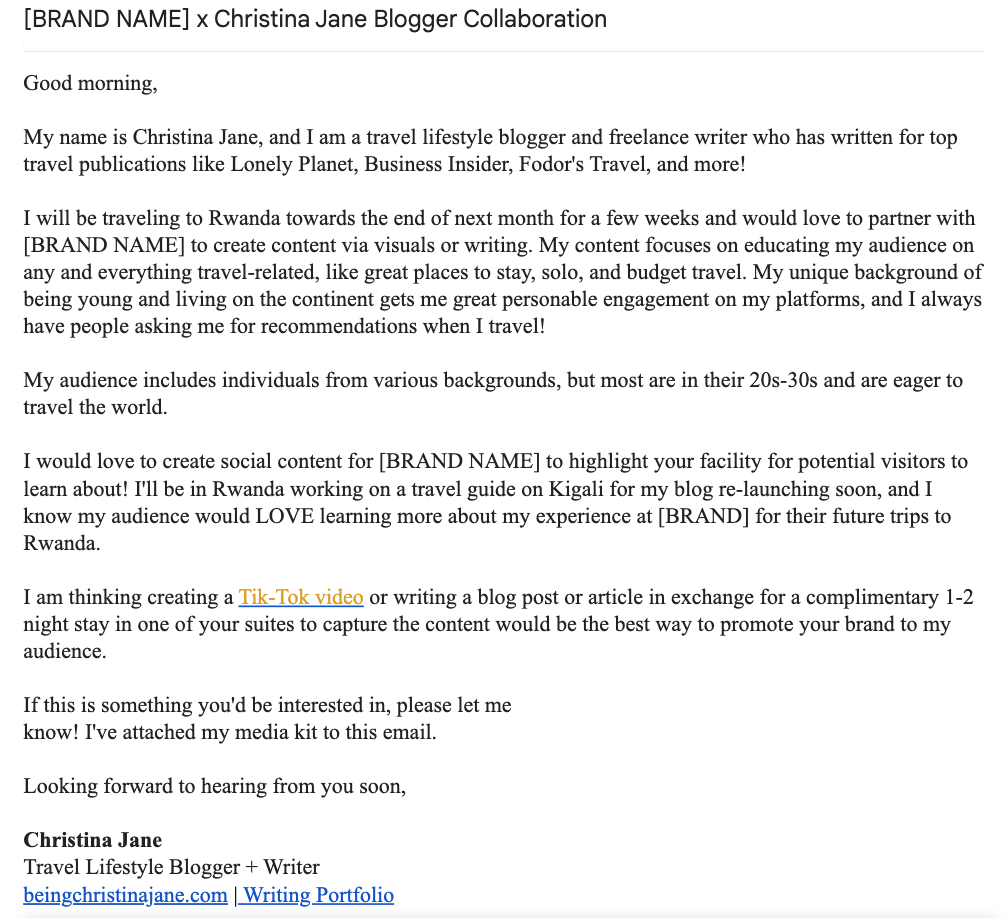 Breaking Down My Pitch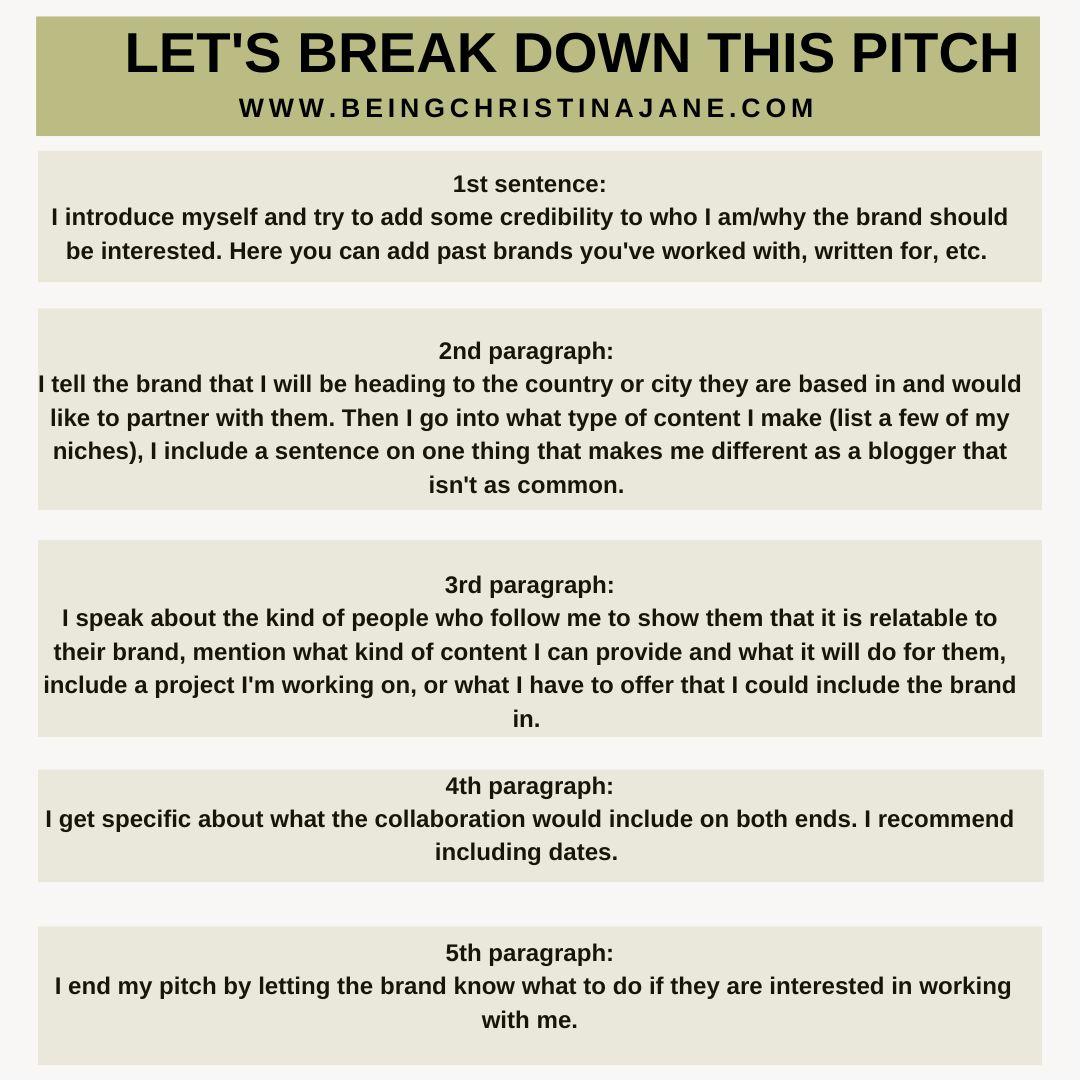 The goal is to tell the brand what you can offer and sell yourself concisely but persuasively. They don't know you, so essentially, in your pitch, you're telling them who you are, what you do, what you can do for them, and what you need from them in exchange. 
The Importance of A Media Kit
Why You Should Attach A Media Kit to Your Pitches
If you've already done some digging around about what it takes to pitch to brands, then you've probably heard about a media kit.
A media kit is basically a document that tells people about you, your brand, and your work all in one place. I like to think of it as a sales presentation of my brand. It includes the number of followers you have on social media platforms, explains the missions and purpose behind your brand, which of your posts have done the best, and more.
The purpose of a media kit is to inform brands about who you are as a blogger/influencer/content creator and what you can offer them.
You'll want to attach your media kit to your pitch when emailing brands so they can learn even more about you and what you do. 
How to Make A Media Kit
You can make a media kit for free on Canva! There are also many bloggers who provide free media kit templates, usually when you sign up for their email list. That's how I originally got my template (I did this almost two years ago and forgot which blogger I got it for free from), but I do remember switching it up and editing the design to my liking.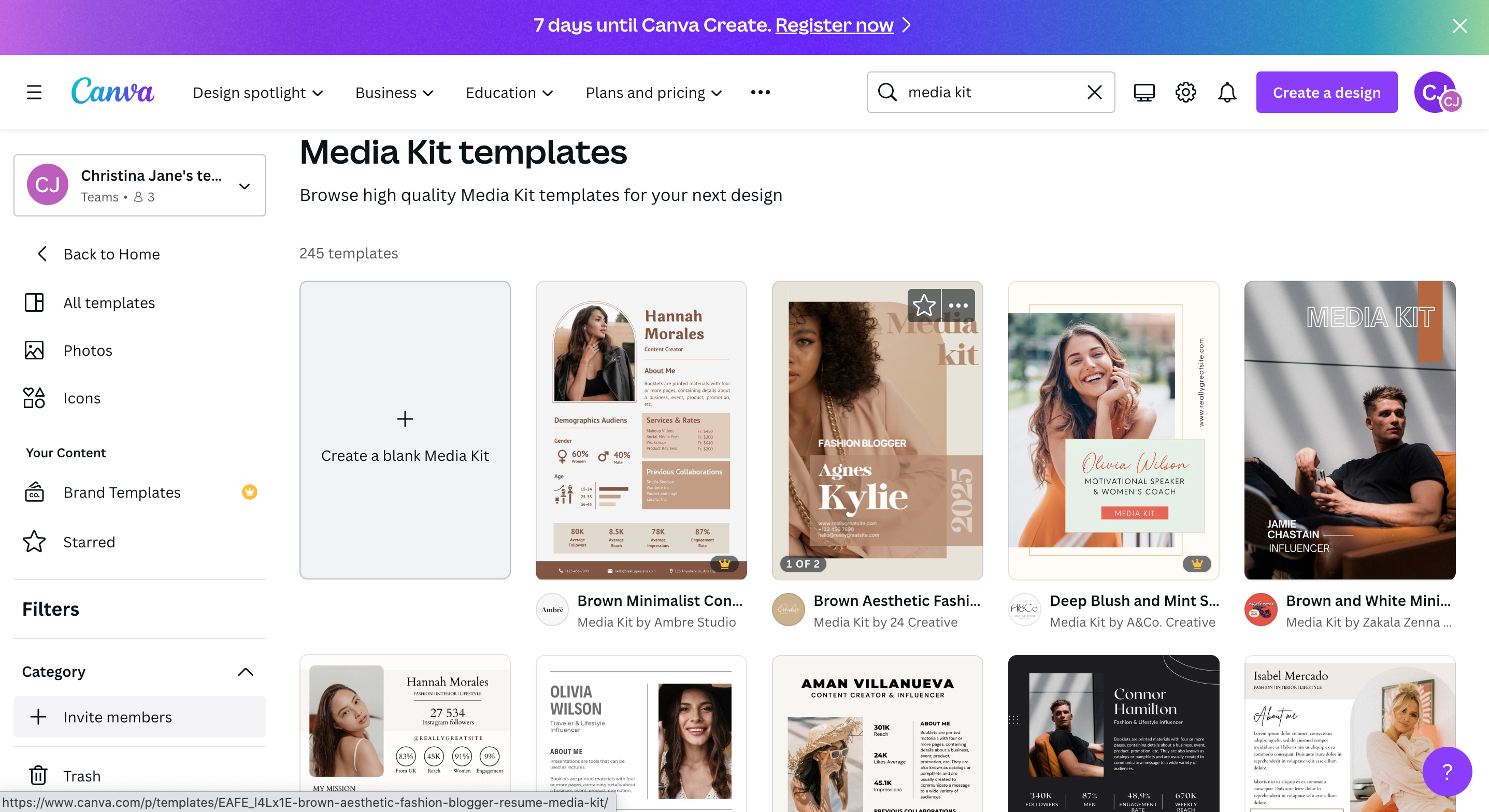 Free Media Kit Templates
Here are a few resources for getting more free media kit templates: 
What Should You Include in Your Media Kit?
Media kits will vary as far as what people choose to include and leave out, but I will use a few pages of my media kit as an example for the sake of this blog post so you have a visual of what one version can potentially look like:
Note: This version of my media kit has not been updated. The numbers/data on this version will likely not reflect where I am currently numerically-wise on certain social platforms or this blog! These screenshots are from months ago, so if you are a PR rep looking to reach out to ya girl with some opportunities please contact me for the updated version 🙂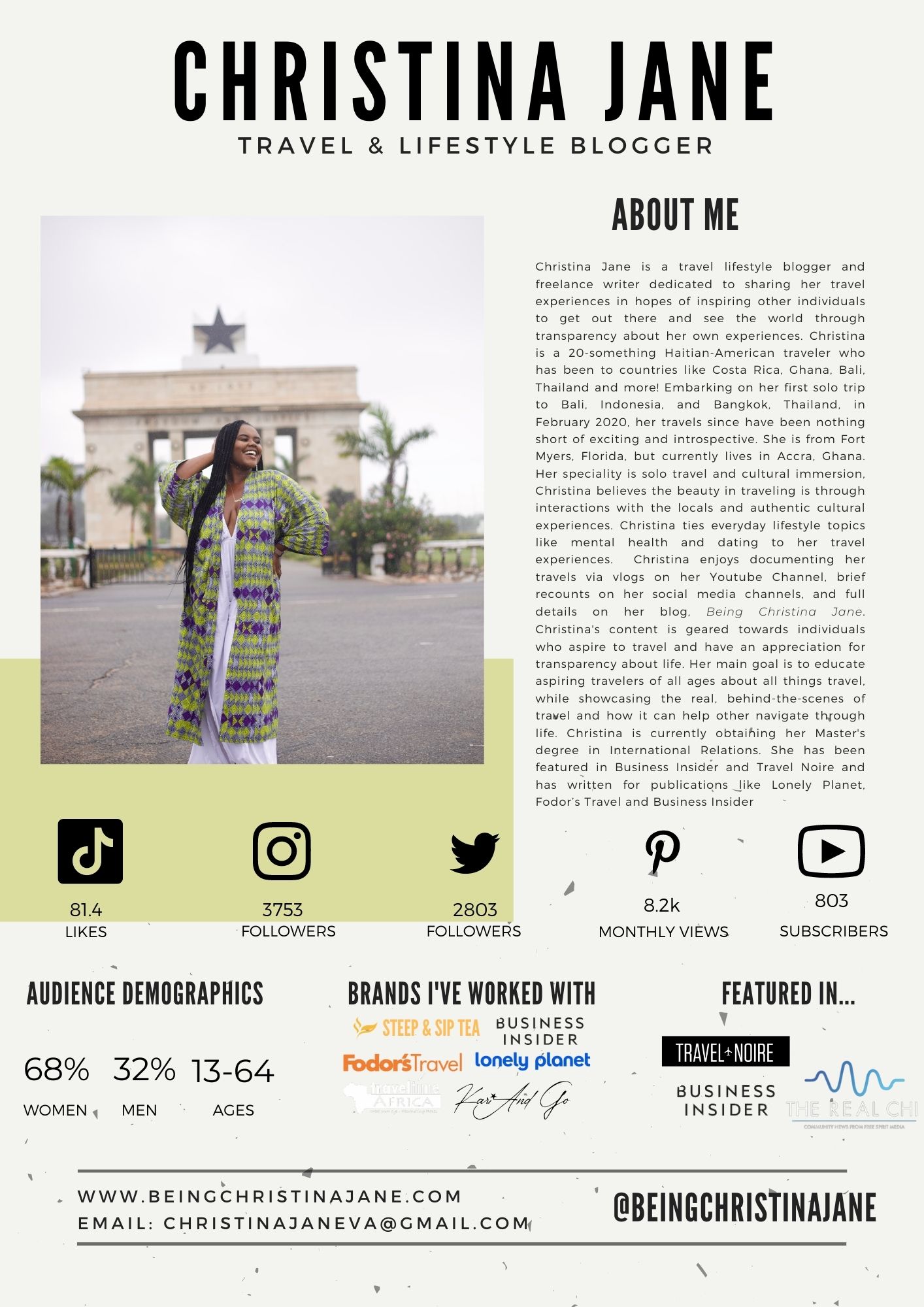 What A Pricing Sheet Looks Like
Pricing sheets, also referred to as "rate sheets" are usually the last page of a media kit to allow brands to see what you can offer them and at what rate. This is how I have mine set up. I've removed my rates and replaced them with dashes as a filler just for this example.
I have travel-related pictures to the right of this page so the brands can continue getting a better sense of who I am as a travel creator.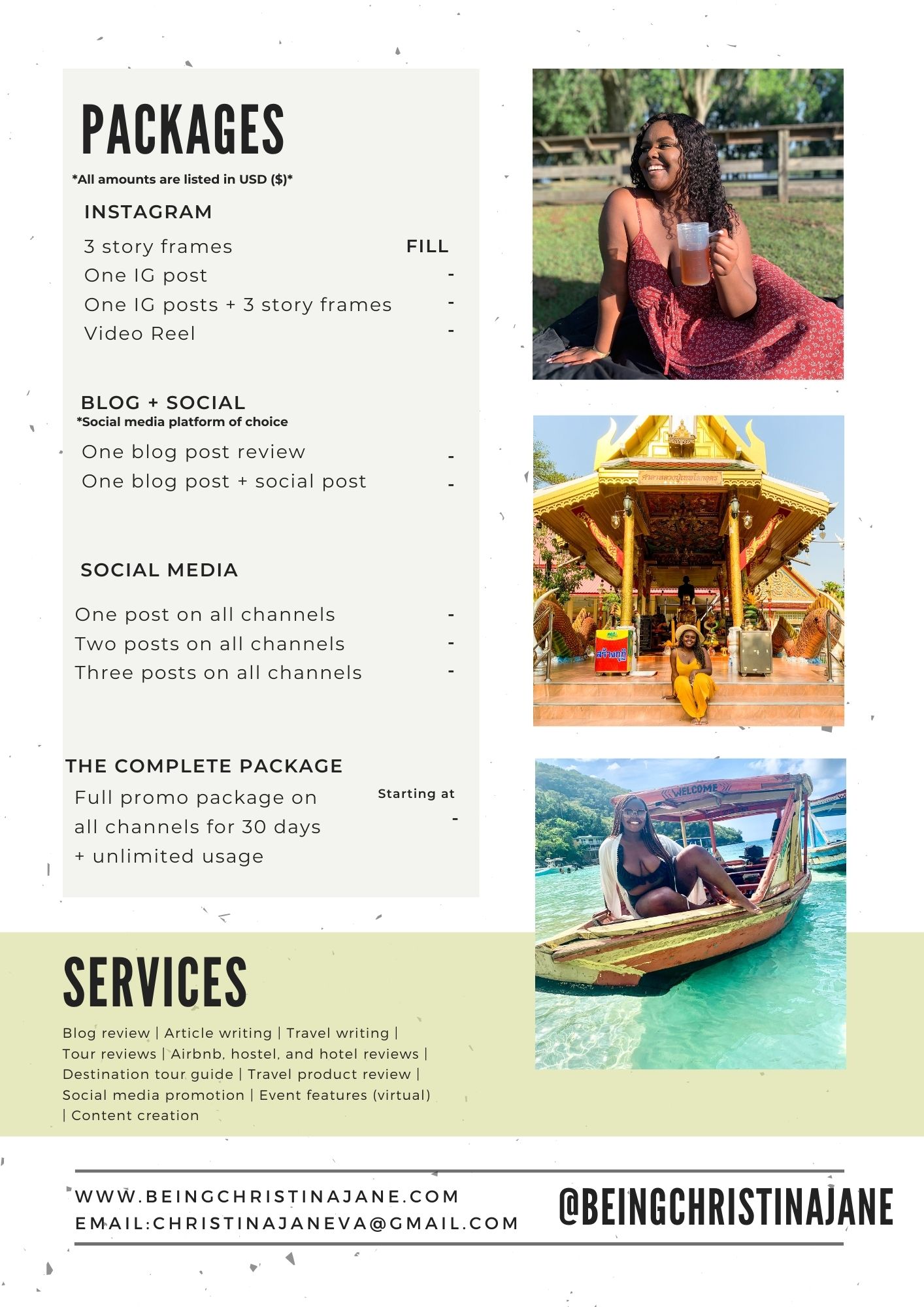 As you start to create your media kit, keep in mind that there's no right way to make a media kit, so just make sure that you feel good about it in the end and that it tells a story about your brand/you as a creator.
I love sending my media kit to brands because I know it looks good and grabs their attention.
I feel like my media kit helps me as a nano creator pitching to brands because it shows that I'm serious about what I do, even during the early stages of my blogging journey, which is priceless. 
General Tips for Pitching to Brands
• Brace yourself for no response 95% of the time
Even larger creators deal with this. Don't take it personally, and don't take it as rejection. Your email could have been missed, marked as spam, or the brand simply isn't interested. Sure, they can communicate this, but realistically they don't owe you that, so adjust your mindset accordingly!
Entering the freelance world as a virtual assistant and travel writer helped me eventually not fear rejection because these roles required me to reach out and promote myself on platforms with the understanding that I may not get a response. 
It is scary at first, but once you start sending pitches, eventually, you'll grow very confident, and it'll become a natural thing! Even if a representative from the brand responds with a "no," I get happy because that means the contact I have is a valid one to reach out to again in the future, and they still took the time to respond back. 
• Always follow up with the brand
This is one of the most important unofficial rules of pitching as a creator. Always follow up after a week or so when pitching to brands. Following up will help your chances of getting a response and your email seen! Your email could have gotten lost, the brand's representative could have forgotten to hit "Send," etc.
I will say that I usually get responses when I follow up the second time more times than not. I really do believe that pitching a second time shows whoever you're reaching out to that you are serious about working with them, and it is a priority to you to have that communication.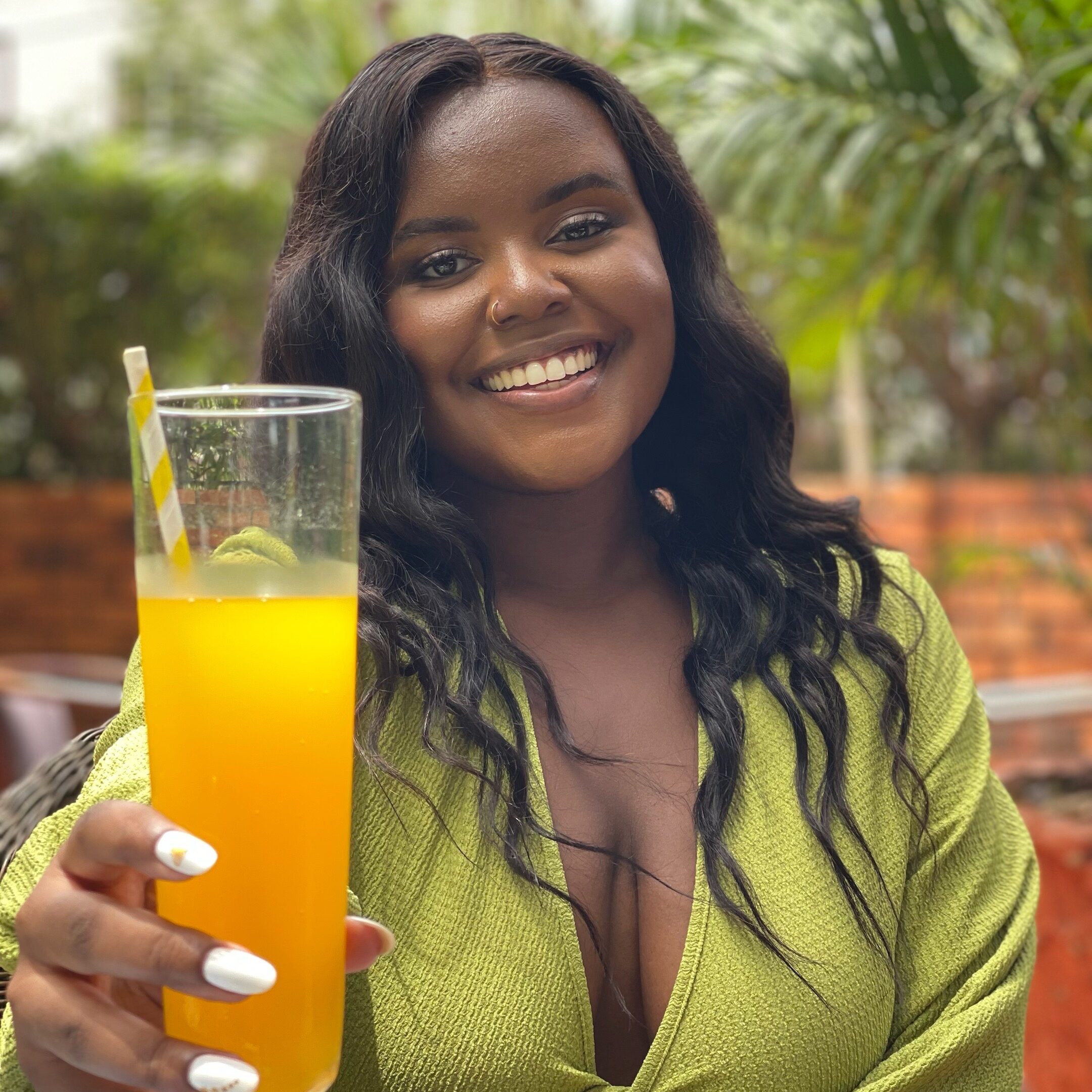 • Be specific about what you can offer them and link examples to similar work you've done in the past. 
In my pitch, you've probably noticed that I have hyperlinked the "Tik-Tok" video. This is very intentional as it is a quick way to show the brand an example of what I plan to do for them if they want to move forward.
Maybe this is a simple Instagram post promoting a product you like, a TikTok about a place you've visited, a Twitter thread recounting your experience with a destination or product, a short ad, etc. Allow them to see their brand in your work. 
• Prepare your mindset to pitch 
Pitching as a beginner can be scary. You may feel self-doubt, like "who am I to be asking for this and that when my following isn't even that big?" and more. However, your influence and contributions to the world go beyond the numbers.
Brands won't know about you if you don't reach out. Take the leap of faith and do it anyway because you'll either get a yes or a "not right now." You'll start to see that you'll have to ask for a lot of opportunities you want as a micro creator, so be bold and go after what you want unapologetically. 
• Post even when you don't want to or are unsure of your content 
The reality is we don't own these social media platforms, so we can't control a lot of the behind-the-scenes things that happen on them, like the algorithm. We can try to play by the rules given to us by those on the inside, but how well has that worked for a lot of people over the years? I mean, Instagram is known to be one of the hardest platforms to grow on.
In the past, I've had the dumbest videos (to me) go viral on Instagram that I've created in 10 minutes. I've also spent hours working on compiling clips, editing, and adding text, music, and voiceovers to make one reel that has barely gotten 300 views after 3 hours.
Just post. Put it out there and let these platforms do what they're going to do. Someone is always watching, and your likes/views are not what matters. Brands may even reach out to you just because they like your style and what you're doing. What is for you will never miss you. 
• Conduct your own industry research 
Pay attention to creators in the same niche and category as you and have a similar following and who they have been able to partner with. If someone with a similar following count and engagement rate is getting partnerships with brands, pay attention to the type of brand.
It may give you ideas on who you can pitch! Note that I said to pay attention to who they have partnered with. I DIDNT say to compare your content with theirs. What makes them stand out is not what will make you stand out. Find what makes you different as a creator and use that to your advantage.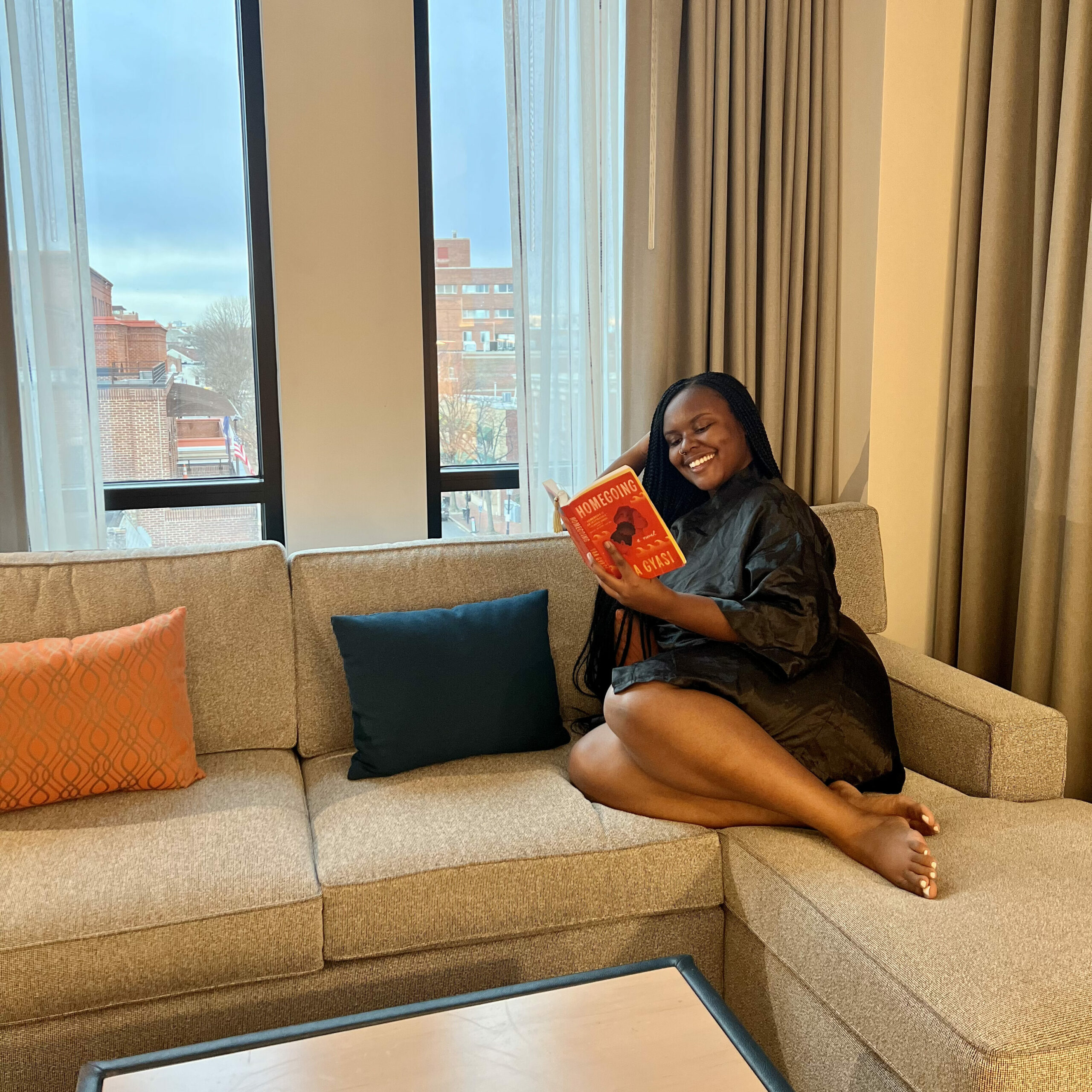 Doing It for The Right Reason(s)
As I've started to get more and more collaborations with brands resulting in free accommodation stays, experiences, and products, many people have asked me how I got to the point where I am getting these opportunities.
I would say consistency and purpose. 
Staying Consistent When You Don't Want To
Consistency is the one thing you will hear A LOT as a creator, but it is 100% valid. The best thing about consistency is that it looks different for everyone. Consistency to me on Instagram at the moment is posting 2-3x/week. It may be 5-7x/week for you.
Showing up even when I don't want to and staying disciplined with my end goal in mind has resulted in so many opportunities over the last year, posts blowing up and going viral unexpectedly, etc. You never know what can happen, so keep posting and stay consistent even when you really want nothing more than to quit. 
Identifying Your Purpose  
I started blogging in 2018 and genuinely love blogging. It keeps me going during my lowest moments because I know I have so much to share with the world that I know for a fact can and has helped people. Even if I never received a free product ever again, never got another brand collaboration or any more press trips, I would keep doing what I'm doing because I have the passion and purpose for it.
Everyone wants free trips and products, but the work must also be there. Are you posting at all? It's normal for people to share videos and pictures from their trips when they travel, but what are you telling us about when you share your information? What are you teaching your audience or inspiring them to do? Would you be doing this even if you saw no benefit from it a year from now? How will the content you post now be marketable to brands to make them want to work with you?
If you haven't entirely figured out your brand and your goals yet, I would focus on that first, build your online platforms (not numerically wise, but with content) before you start pitching so brands can see the benefit of working with you. 
Understanding Your Creations on Social Media Platforms 
Because I'm all about transparency when speaking about my experiences, I think this section is important to expand on. As a nano creator, understand that sometimes it's not your content. It's the platform.
*Cough* Instagram. We've all had our beef with that app, I'm convinced. But this is why I preach finding your own style as a creator, not following trends, and making content you genuinely like.
TikTok gave me the confidence to post the style of videos I've always wanted to do and never wanted to try because of Instagram and the fear of no one liking it.
Before that, I was trying out trends here and there and wondering why the simple videos other creators would do would go viral, but it just was not happening for me (That's a comparison mindset I've had to work my way out of over the last year). Fast forward to now, going viral is never the goal for me when I post online. It's to drive traffic back to my blog.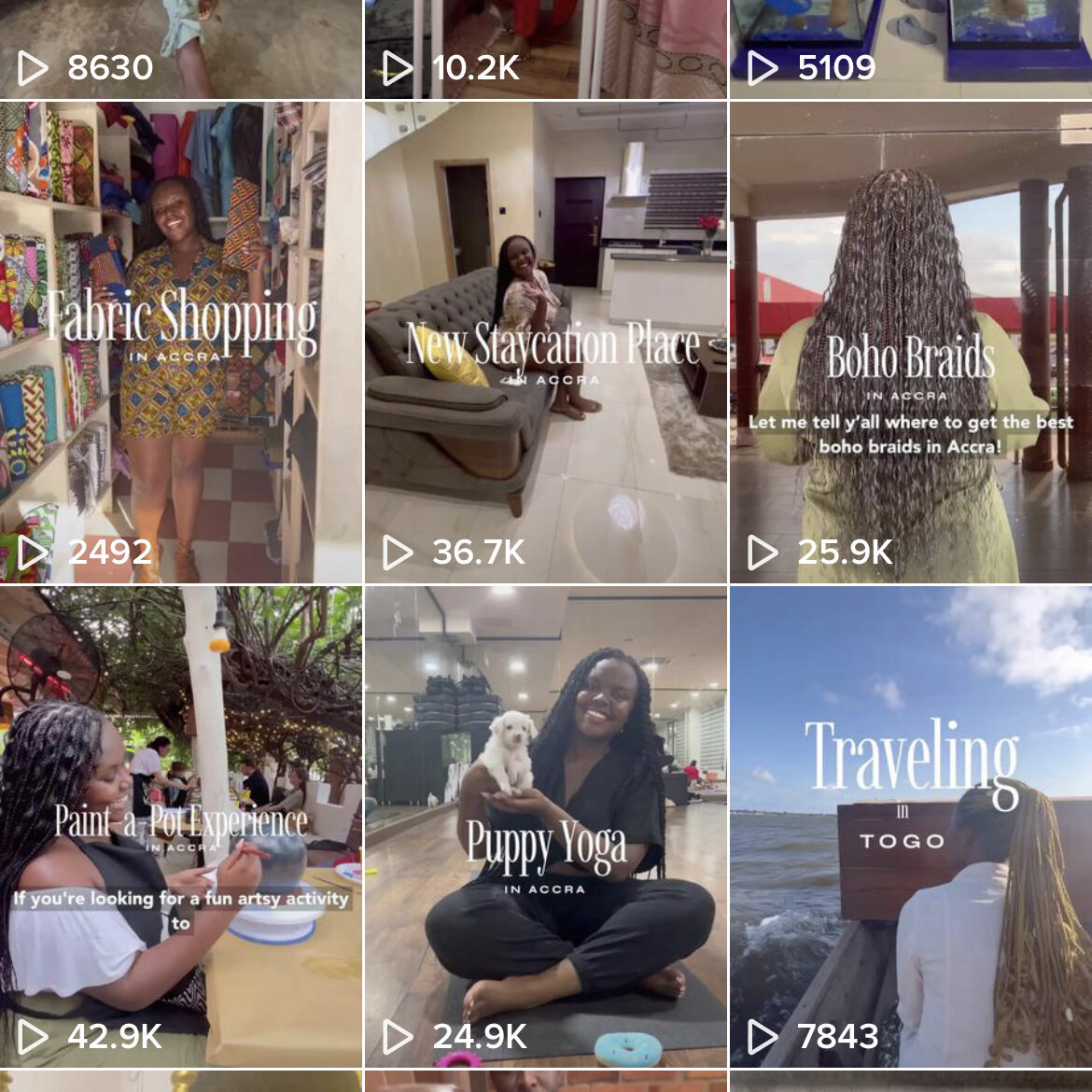 Don't be afraid to try new things on different platforms to see the response. Sometimes people will gravitate towards your creations, but you'd never know because you're stuck on trying to make it a particular way.
The key thing to remember is that you have to start and be actively posting/showcasing your craft. Brand collaborations are nice when they come, but they will never come if you have nothing to show for why you should have them.
Also, offer what you are the most passionate about. My heart lies with writing, so I will offer brands a blog post on my own website before I offer any type of post on a social media platform I don't own, and that will play games with me in the end! 
Frequently Asked Questions
How Much Do Numbers Really Matter for Brand Partnerships?
Numbers do matter, but they matter to a certain extent, and that's what a lot of people don't talk about or fully understand, in my opinion. I think the benefit of having a high following or a lot of likes on your posts is that it gets the immediate attention of brands and establishes authority/credibility on a particular platform, whether it be Instagram, TikTok, Twitter, etc. It immediately tells people, "this is someone who knows what they are talking about because they have the following to show it," even if it's true or not.
However, if a brand truly likes your content, they will work with you even if your following is "low," and you barely get 100 likes on posts. You hear this all the time, and it seems unrealistic because why would a brand want to work with you if you don't have the numbers = reach? I thought it was crazy, too, until it started happening to me!!
Brands and businesses would start reaching out, inviting me to restaurants and activities, offering to send me products, etc., because they liked what I was doing.
But you have to post and be consistent with posting. Whether that's 1x/a week or every day is up to you, but you should be establishing a brand, in my opinion. Everyone wants free things, but in my opinion, the free stuff is just the icing on the cake for what you've already been doing.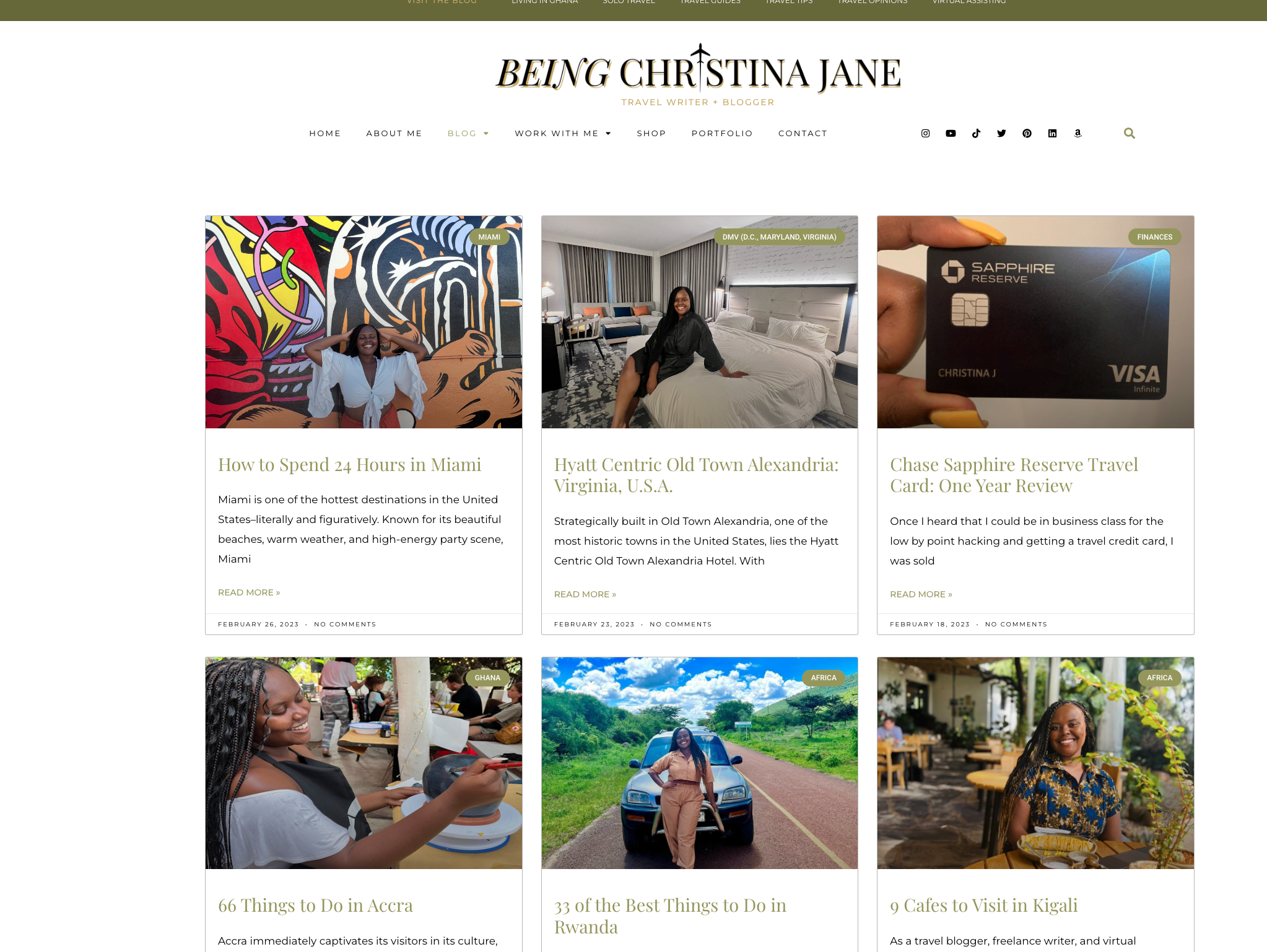 Is There a Best Day and Time to Pitch?
Depending on who you ask, you'll get a different answer for this, but for me, I try to pitch on Tuesdays – Wednesdays and send the emails out around 9-10 am local time of that brand's country.
My thought process behind this is that I don't want to send it on Mondays because many people that work a 9-5 dread Mondays and need time to warm up to the week (lol). Tuesdays and Wednesdays seem like the best days to me, as people are now eased into the week and may be more open to your email. Again, this is a thought process and could be completely false, so do what feels good to you at the end of the day!
As a travel creator, if you know you are going on a trip on certain days, I recommend pitching at least 1 month – 1.5 months in advance to leave room for follow-ups and delays in response time. The sooner you pitch, the better, so you can continue to pitch to other brands after rejections, if any. 
What About Contracts + Getting Paid? 
I did enter my first contract with a travel brand this year to make reels for them in exchange for compensation, and it's been going well, but it is a fairly new experience for me, so I can't provide too much insight yet but will update this section once I have gone through the experience!
What I can say is that one of the biggest topics in the world of content creation is creators being underpaid for their work. When it comes to contracts, negotiating rates, etc., as a nano creator, it is tricky because you don't know what you don't know unless a more experienced creator is willing to tell you what is fair and what is not for where you are. I honestly don't have that type of guidance at the moment, so I try to go with what feels right to me for where I am at the moment, so pure vibes.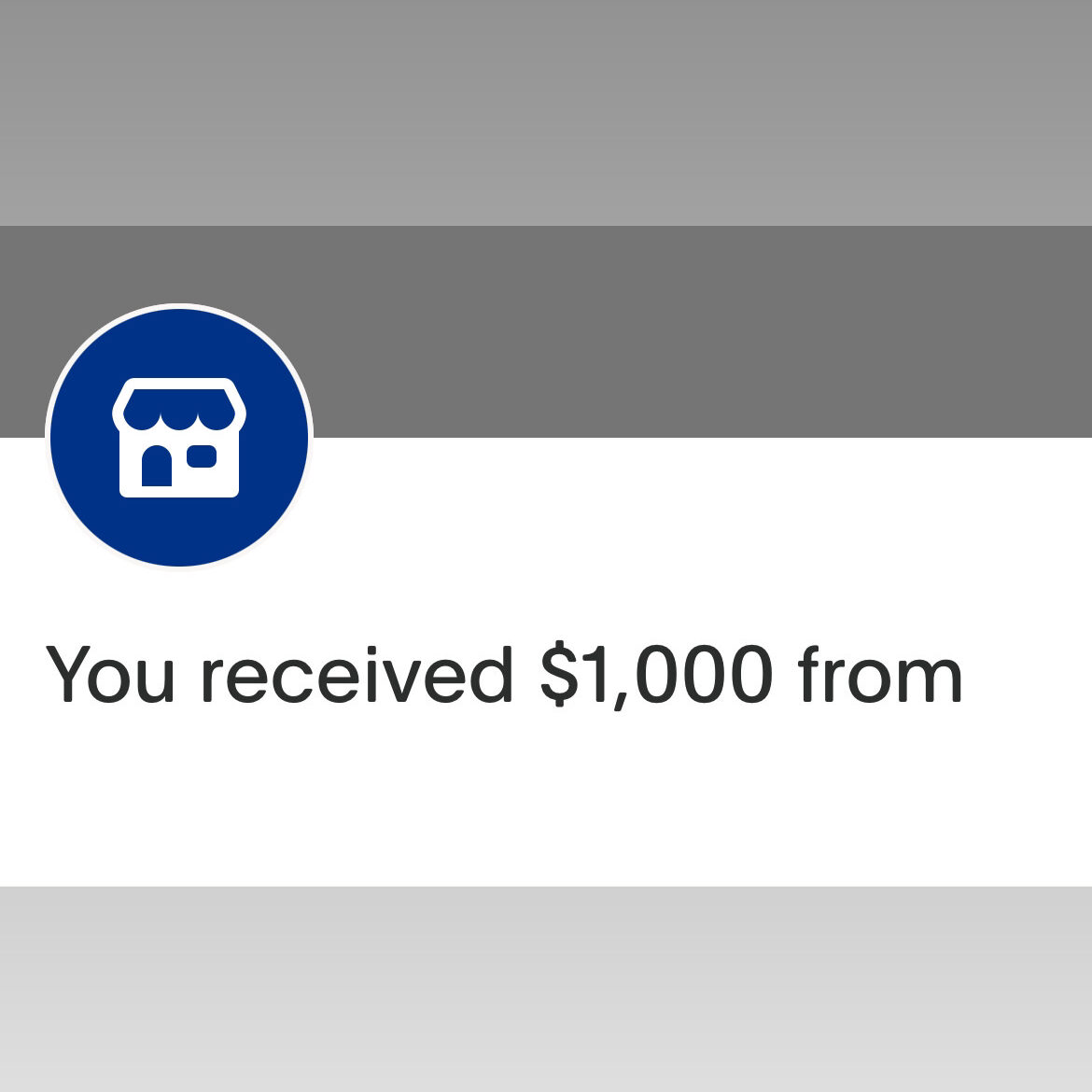 Of course, getting paid is a major goal as a nano creator continuing to grow, but at the moment, I am in a place where I am more than okay with receiving free stays, products, and experiences in exchange for content. I think of it as free travel, which is equally as great as getting paid to me as I would most likely use the money I'd earn to travel more anyways. It's like getting a free trip which is always another great goal.
However, my goal won't be your goal, so I think it's important to figure out what makes the most sense for you when it comes to what you are willing to accept from brands at the stage you are in. You might have to factor in the work that is involved in making your content, how much it costs, your bills, your following, etc., to help you decide.
Additional Resources I Recommend for Learning How to Pitch to Brands
If you are still needing more help with pitching to brands and don't mind investing in yourself to do so, here are a few more resources you can look into:
Karina Worldwide's "Pitch to Brands Like A Boss 1-1 Session" for $80 – Karina has been working with brands since she was a nano creator and now has over 86k followers on Instagram (I remember following her when she was around the 5,000 mark!). I booked this session years ago when I was researching how to pitch and getting into it, and it was very helpful. You can ask her any questions about pitching, and she will share a pitch and media kit example as well. 
Colby Holiday's "Pitch Like A Pro" Ebook for $59.99 – Colby is a travel writer and content creator who started working with brands when she only had 1,700 followers. In this book, she includes 10 pitches she has sent to brands that have worked in her favor. I purchased her book a few months ago, and while I haven't used any of the pitches, it was helpful in seeing how she positioned herself as a creator to sell herself to the brand(s) in different industries. 
My "Pitching to Brands As A Creator Q&A Session" for $20 – Since you are supporting my blog by reading this blog post, I would be more than happy to get on a call with you for 30 minutes and answer any additional questions you have, look over some of your pitches, help you decide who to pitch, provide more insight on my experience, and anything else you may need help with. Think of this session as a 2.0 version of this blog post, where you'll get even more support with pitching. 
Follow Tinsley, the Influencer Coach on Instagram – Tinsley is a Travel Marketing Specialist and Influencer Coach I just began following on Instagram, whose content I am loving! Tinsley works with travel brands directly in PR, so she is essentially the "middleman" between brands and creators and has great insight into what goes into her saying "yes" to a creator for a press trip or other opportunities. She also has free hotel pitch templates on her page and great tips, so it's a free game.
I hope this blog post was useful in helping you learn how to get brand collaborations, especially as a beginner! Let me know if this was helpful, and leave any questions you have in the comments below (Please avoid DMing me with questions, as I prefer to have them on here so others can benefit and may have the same questions!)
If there is anything you want me to expand on, let me know in the comments and I will me more than happy to if I can! There's enough room for everyone to win.
Other Blog Posts You May Find Helpful:
How to Become A Freelance Travel Writer
Chase Sapphire Reserve Travel Credit Card Review