Strategically built in Old Town Alexandria, one of the most historic towns in the United States, lies the Hyatt Centric Old Town Alexandria Hotel. With 124 rooms, spacious suites, and placement on King Street, a strip of over 200 restaurants, coffee shops, and stores that have been around for decades, the hotel makes exploring this corner of Virginia effortless.
I was in the DMV to take the Foreign Service Oral Assessment (FSOA) and was looking for a hotel close enough to the testing center but far away from the center of D.C.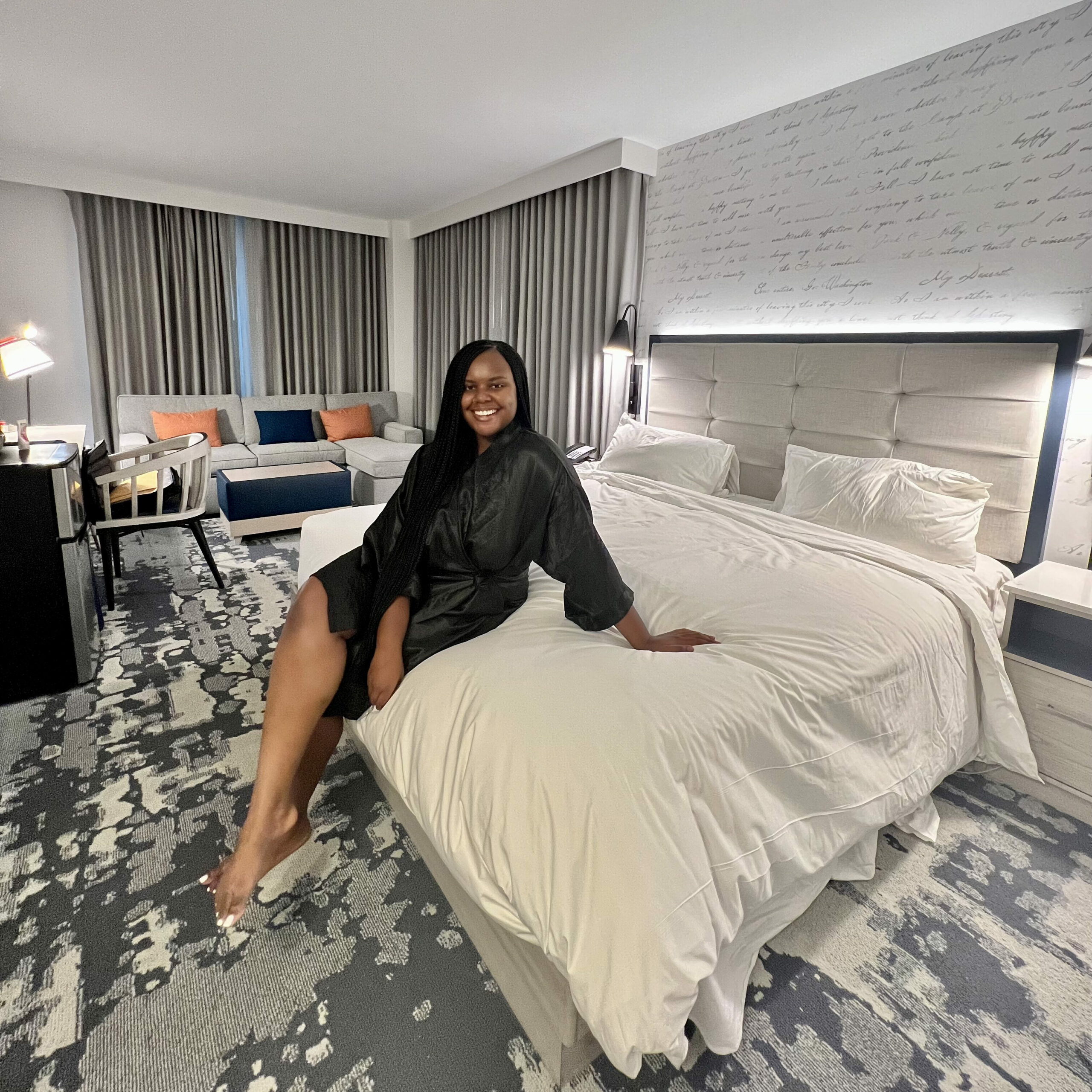 Staying in Virginia never crossed my mind until I found this hotel. I was still trying to grasp the concept of D.C., Maryland, and Virginia (DMV) being so close to each other that you can be in Virginia and only have an 8-minute ride to D.C.! Nonetheless, it worked for me, and I lived to share my experience!
In this blog post, I will provide a thorough review of my stay at the Hyatt Centric Old Town location in hopes of giving you insight as to what you can expect in a stay here and if it's worth your hard-earned coins. 
Disclaimer: This was a sponsored stay in exchange for visual content. I was not required to write this blog post, and as always, I will keep it real with you. 
Getting to the Hotel from the DCA Airport
I flew with American Airlines to the Ronald Reagan Washington National Airport (DCA) in Arlington, Virginia, from the Southwest Florida International Airport in Fort Myers, Florida (RSW). The flights for this route typically range from $300 – $500. Thankfully my flight was covered by my fellowship program, so we move!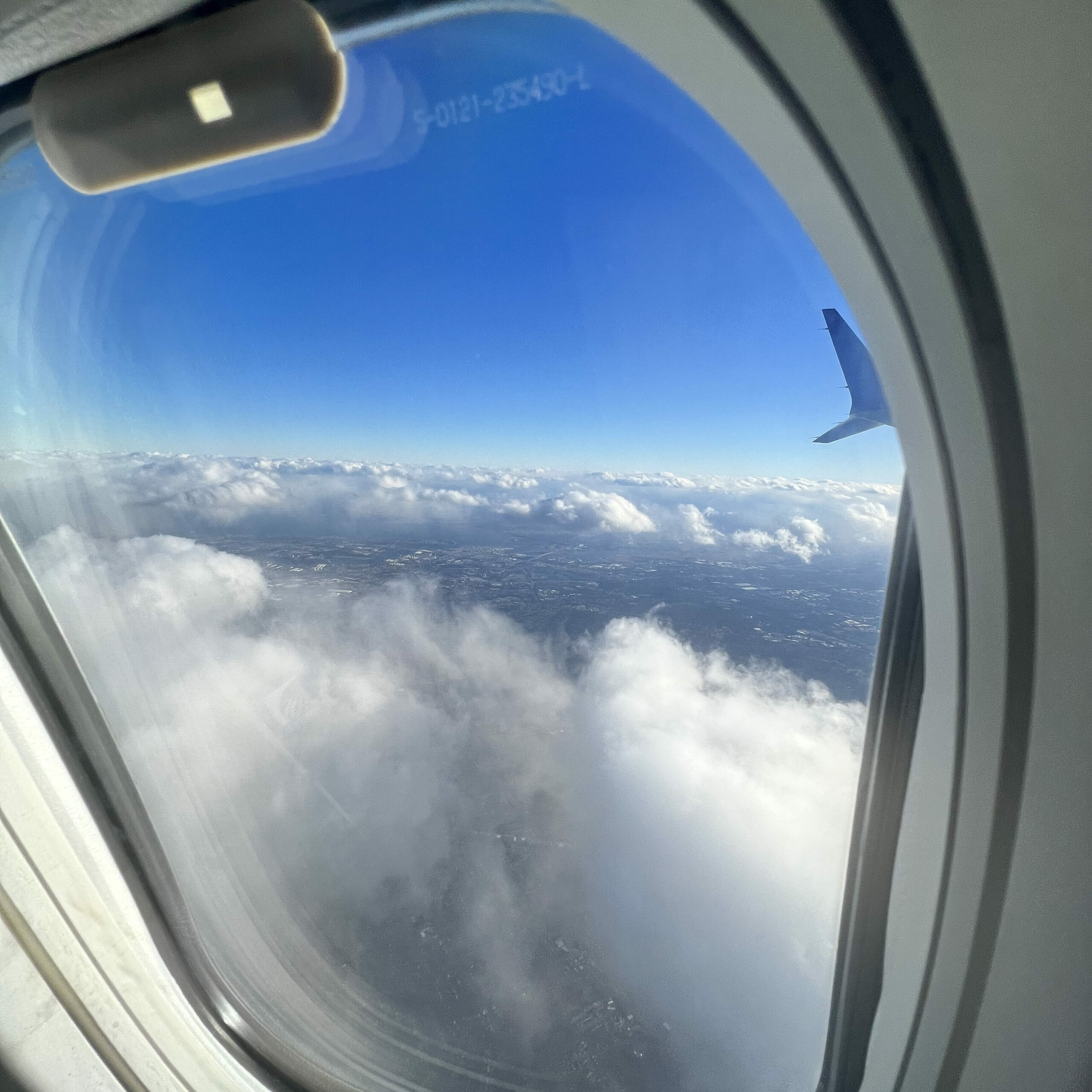 The DCA Airport is pretty easy to navigate. Once I got my carry-on that I checked in, I ordered a Lyft and walked directly out the doors to the loading area for third-party drivers. I stayed in an Airbnb my first night in the DMV, but if you want to go straight from the airport to the hotel, these next sections will be useful: 
Distance from DCA Airport to Hyatt Centric Old Town: Transportation Options 
Take An Uber or Lyft
The hotel is only 8 minutes away from the DCA Airport, so taking an Uber or a Lyft (use my code christina69779 for $10 off your first ride) will be the best option so you can arrive quickly and without any interruptions or stops.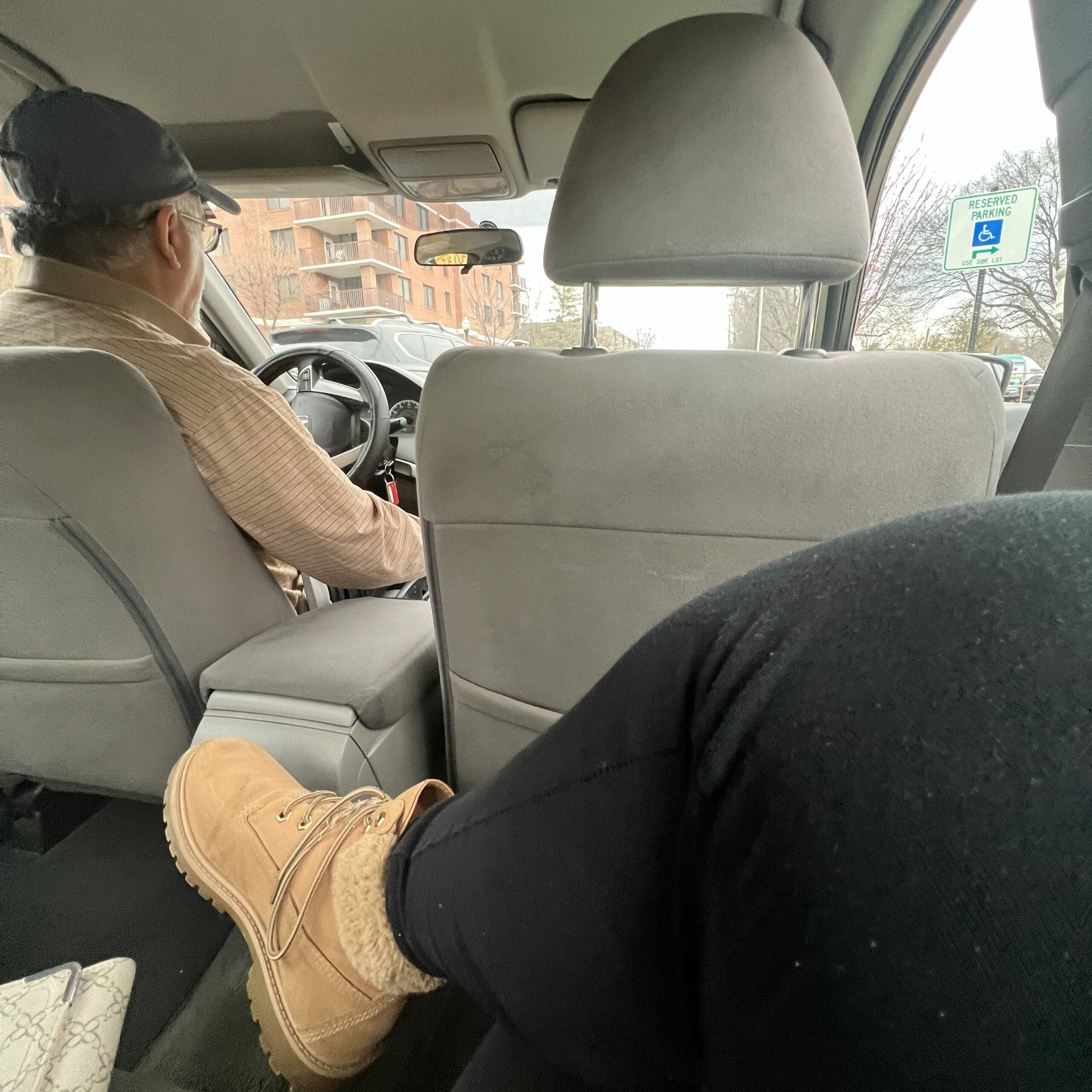 Use the Metro Public Transportation System
The public transportation in the DMV is very reliable, and the metro connects to the airport. You'll start at the Franconia-Springfield stop at DCA and ride 7 stops until you get to the King St-Old Town Station. Use Google Maps to track your journey and get real-time updates and directions on how to get to the hotel.
You will have to walk 5 minutes from the King St-Old Town Station to the hotel, so if you have large luggage this won't be the best option for you.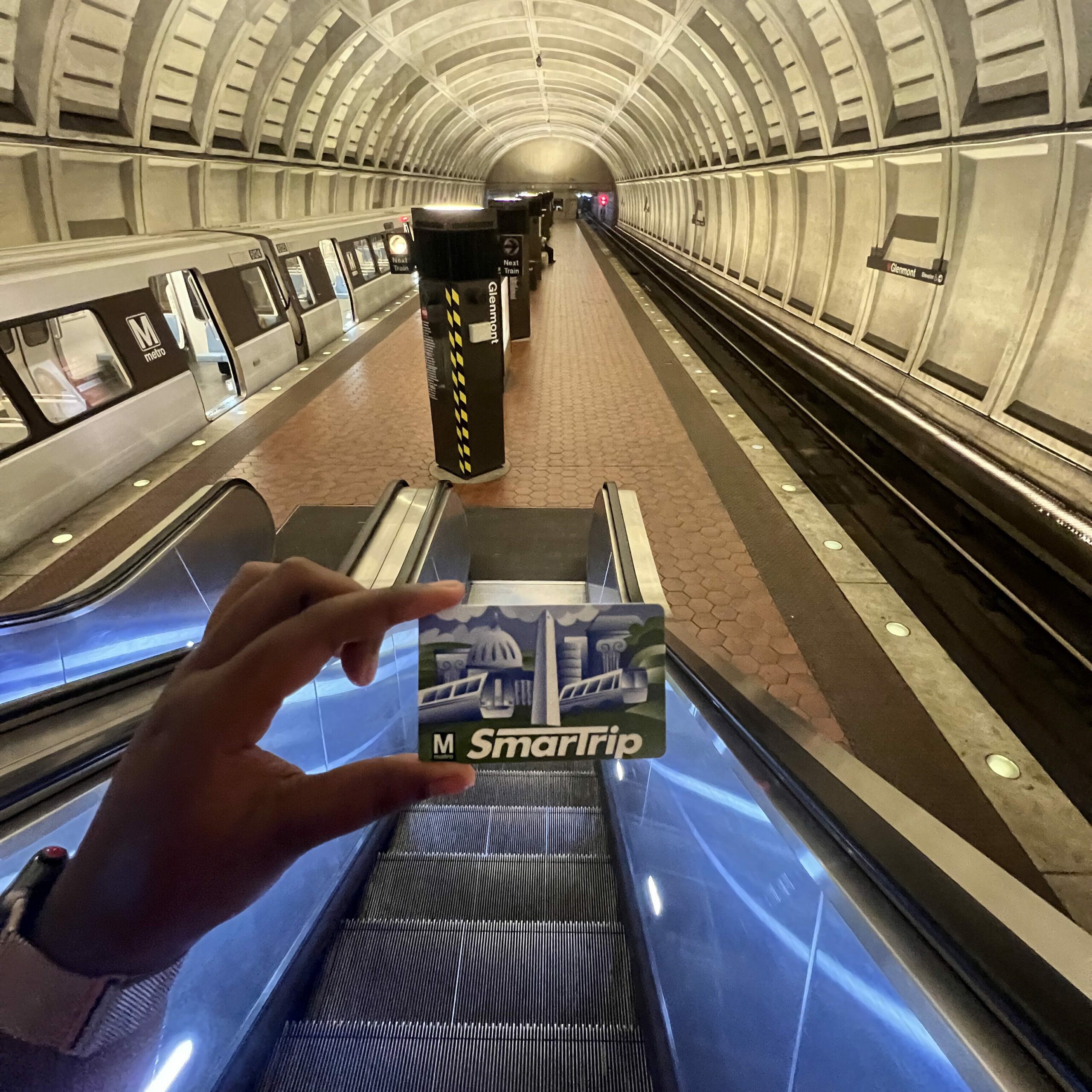 What Checking In to the Hotel Was Like
Check-in time at the Hyatt Centric Hotel is at 3 pm, which is pretty standard in my experience.
I gave my ID to the front desk attendant, who found my booking quickly. They asked me if it was my first time in Virginia, and when I said yes, I was given so much information about the location, the street, a trolley that stopped in front of the hotel, and more.
A deposit of $100 was charged to my credit card to hold for any damages to the room. I was told that I would receive it back in 3-5 business days. At the time I'm writing this post, I can confirm that the deposit was indeed removed.
The entire process took less than 5 minutes from when I walked to the front desk and got my room key.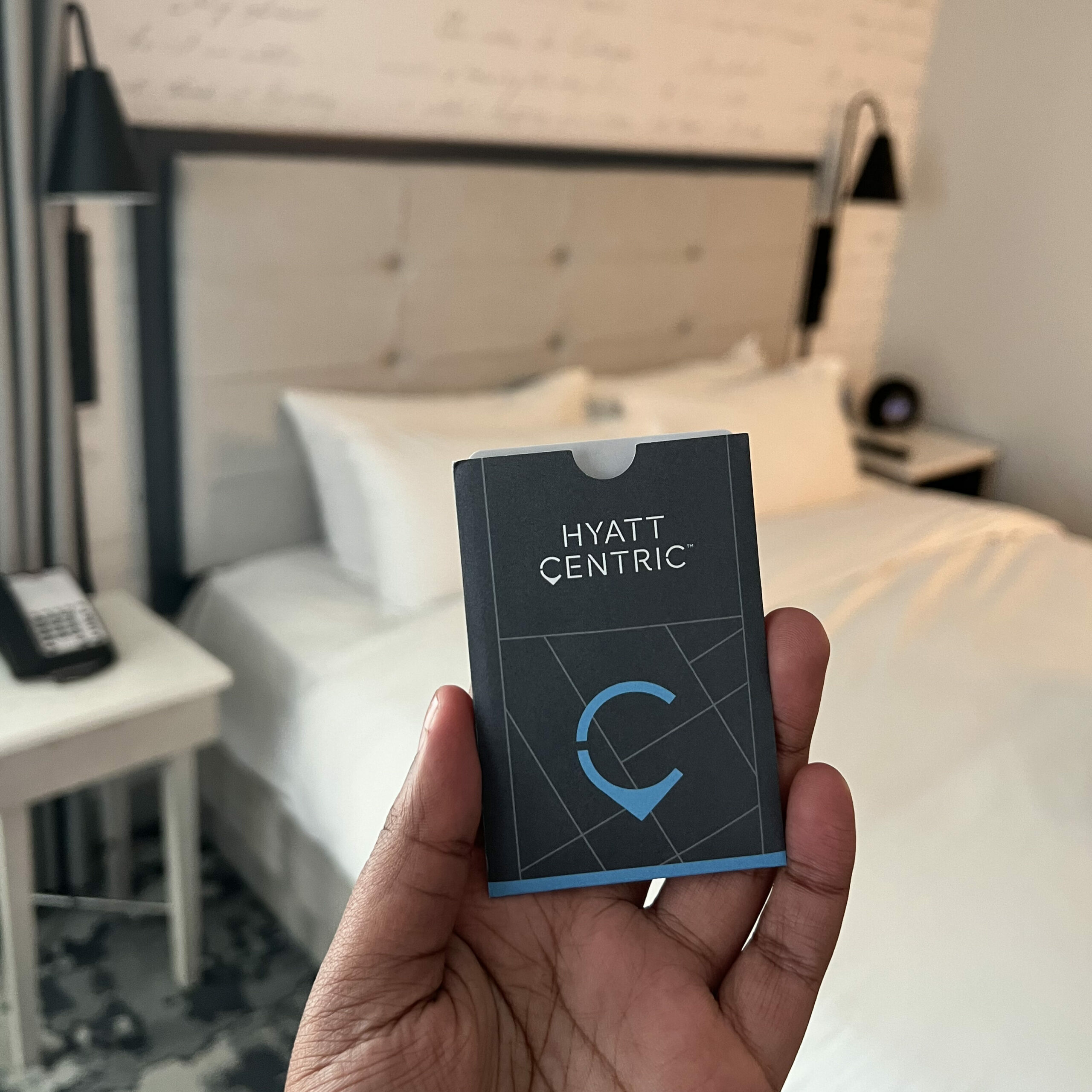 Where is the Hyatt Centric Old Town Hotel located?
The official address of the hotel is 1625 King St, Alexandria, VA, 22314.
The hotel is on King Street, described as a "walkable mile of centuries-old architecture and the heart of Old Town's 200+ independently owned restaurants and boutiques." by Visit Alexandria.
I was trying to find the significance of King Street before arriving, and I guess that sums it up!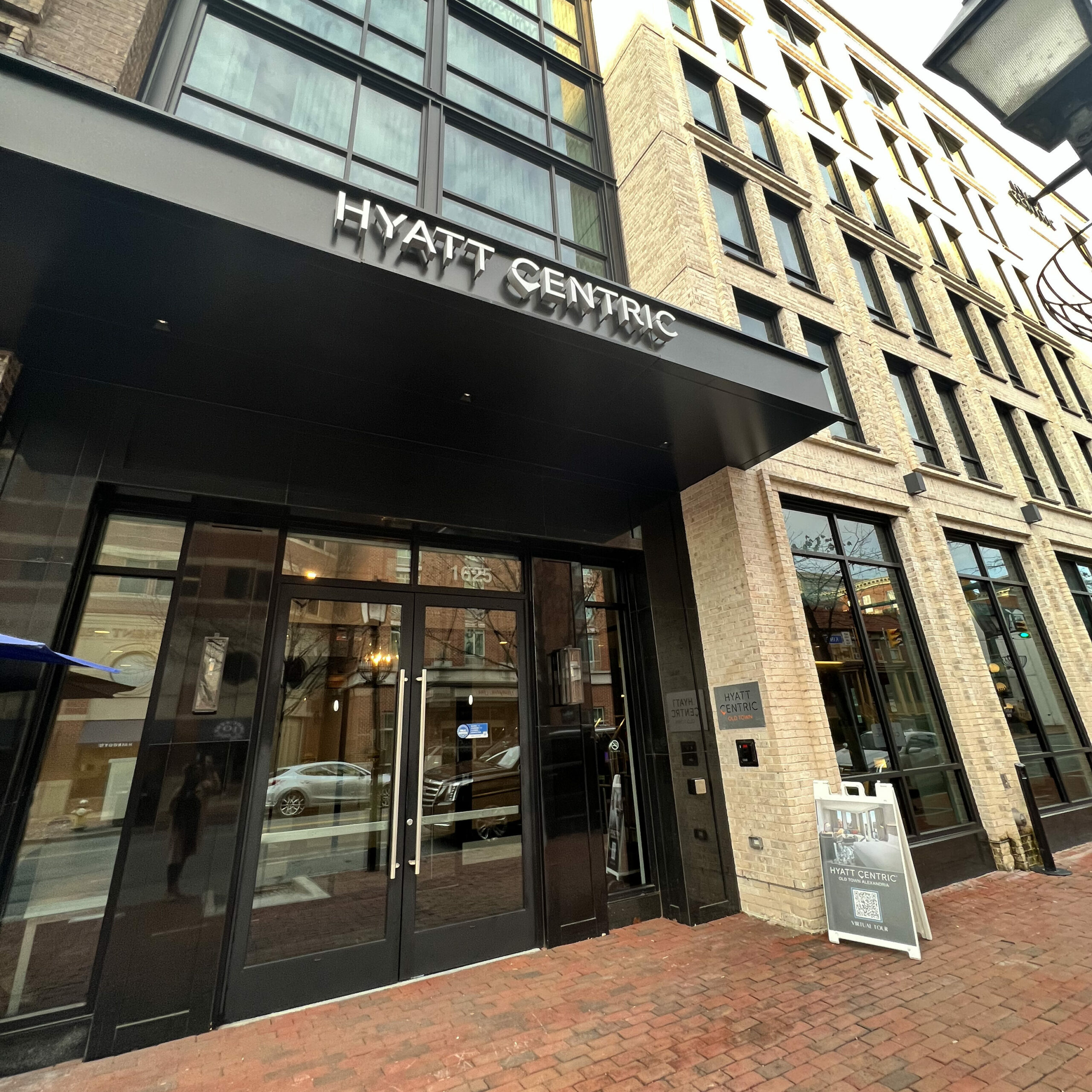 Let's Take A Tour of the Hotel
This is my favorite part of doing hotel reviews, telling you guys about the actual facility and what it has to offer: 
The Lobby
As soon as I walked inside the hotel, I knew this would be a great stay. The lobby was fresh, with modern decor and furniture sprinkled throughout its dedicated area. I don't know if chic-casual is a thing, but that's the term that came to mind for me.
My favorite area of the lobby was this area with beautiful white marble countertops complimented with bright red cushion chairs that reminded me of lips.
There was plenty of seating, so I sat in the lobby to do some work before checking out, and the large paned windows make for great lighting and people-watching opportunities.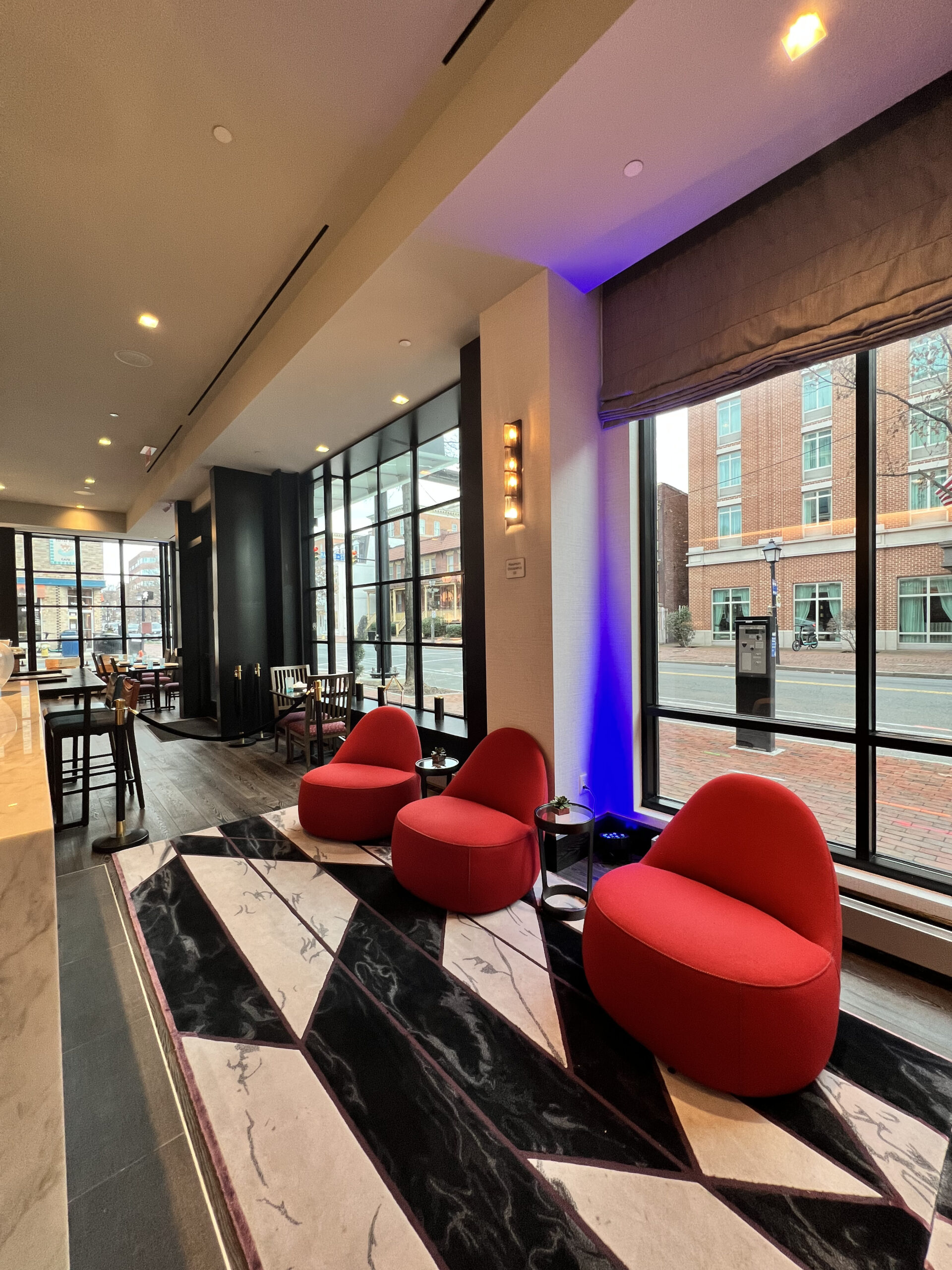 The Rooms and Suites Offered at this Hotel
With 124 rooms at this facility, the hotel offers a variety of rooms and a suite option depending on your needs.
Standard | King Bed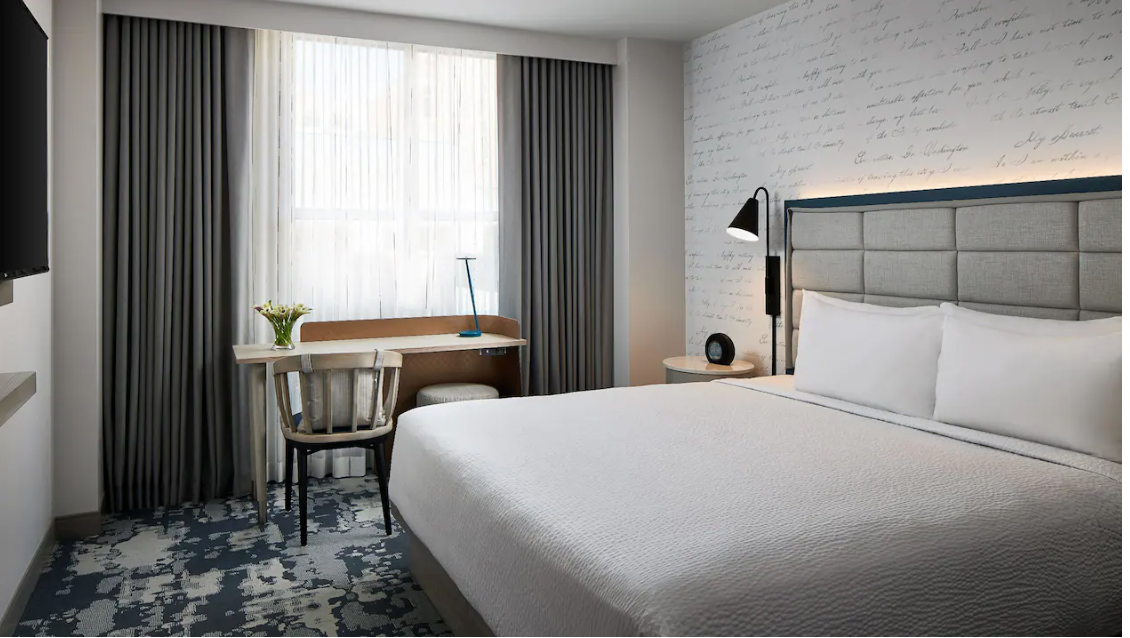 • Standard | Two Double Beds 
• King Bed with a Roll-In Shower – Accessible Room 
• Two Double Beds with a Roll-In Shower – Accessible Room 
• High Floor | King Room 
View | Two Double Beds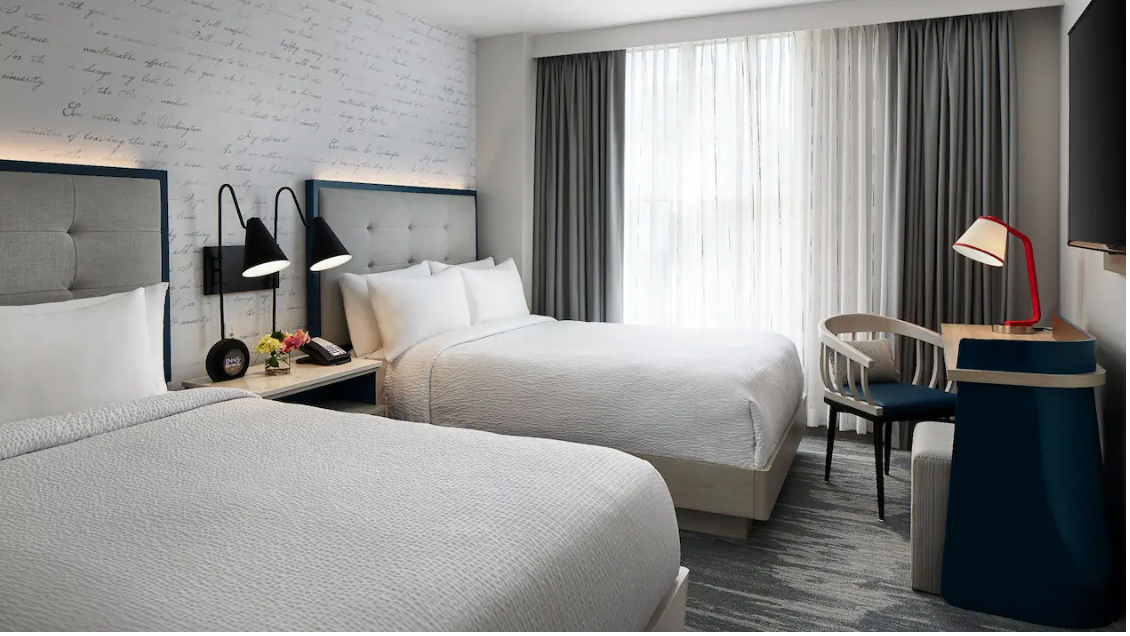 You can see the other room options and the amenities offered in each room here. 
Inside of the Junior Suite
I was given the Junior Suite, the largest room at the Hyatt Centric Old Town Hotel. With 450 square feet, the room has many amenities included in the stay and a great view of King Street.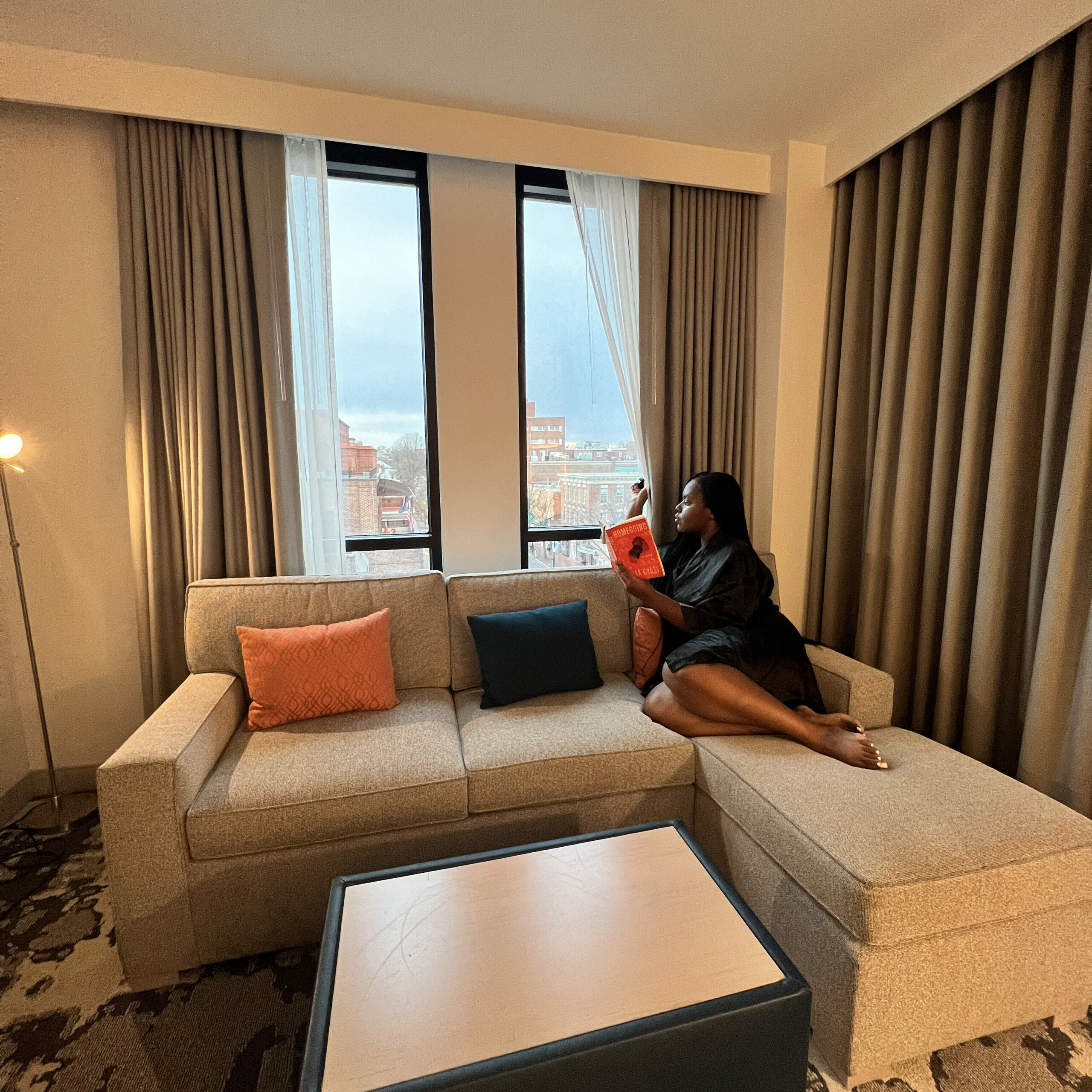 Here are the features of the room I experienced:
King Bed
Couch
Desk and working station
55" flat-screen TV with Staycast streaming
Marble vanity
Individually-controlled heat and air conditioning
Hairdryer
Keurig coffee maker
Minifridge
Bee Kind® signature bath amenities
Iron and ironing board
Soft hooded bathrobes
Safety security box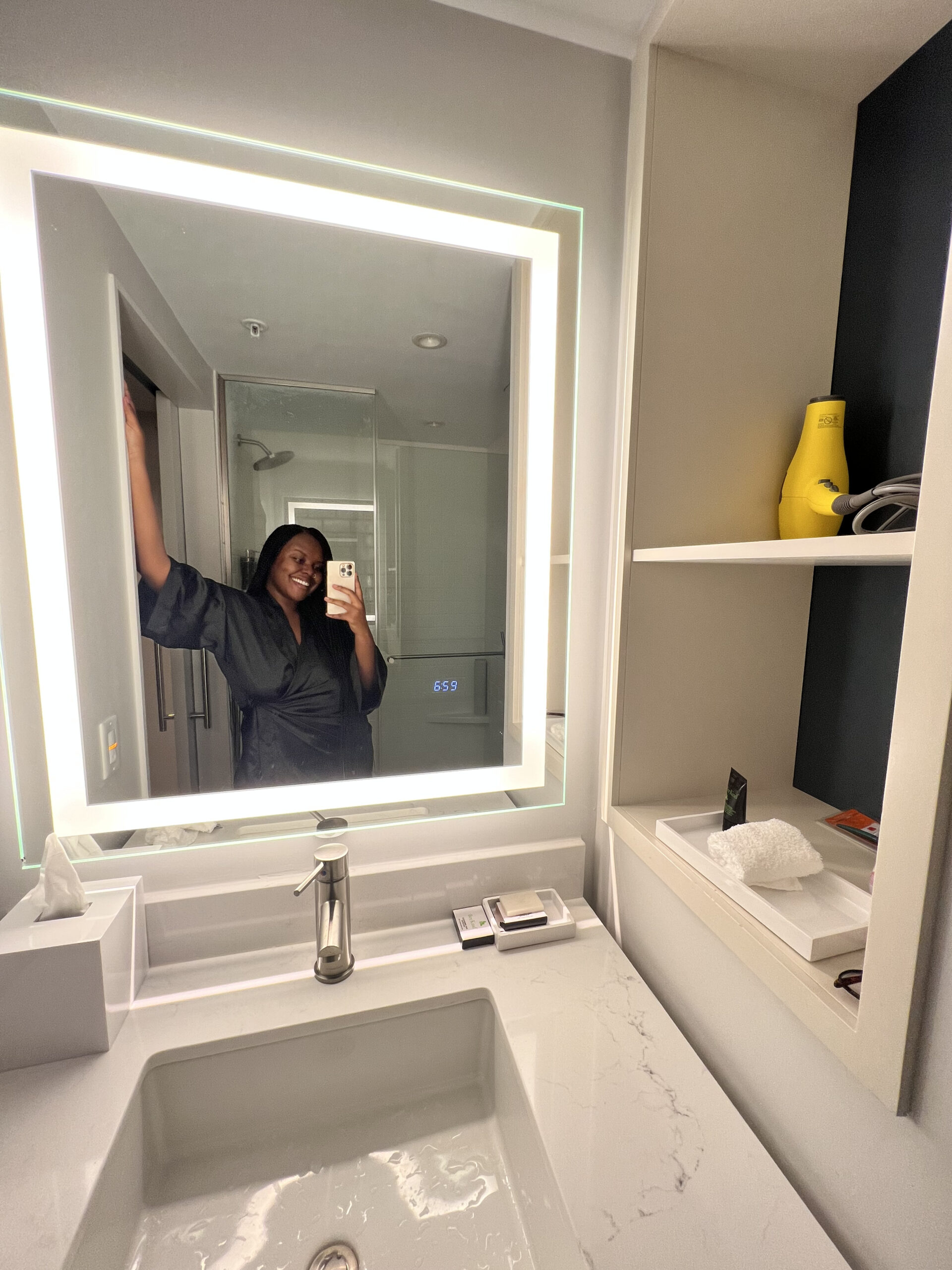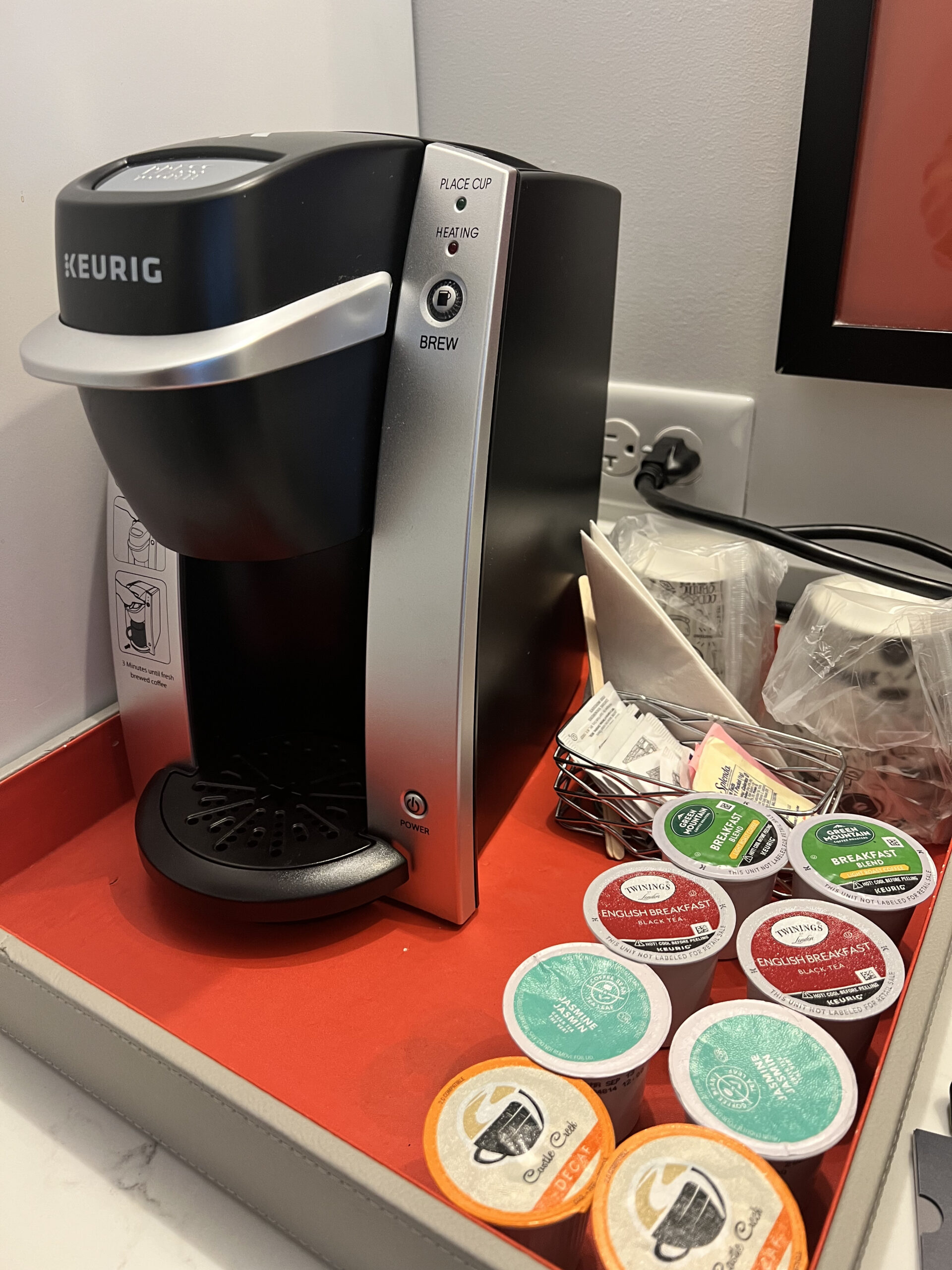 The room was very clean when I arrived and I came back to my room being cleaned on the first day I was gone. I really enjoyed my time spent in this room. 
Amenities in the Hotel
Fitness Center
There is a small gym located on the second floor of the hotel that can only be accessed with your key card. The gym has treadmills, a rack of free weights, other cardio machines, and a mat to use.
As a beginner gym-goer, this was perfect for me, but I can imagine it would feel very limiting for someone on a more advanced level.
However, I was overall very impressed with the gym and its offerings. For being on vacation and away from your home gym, it gets the job done!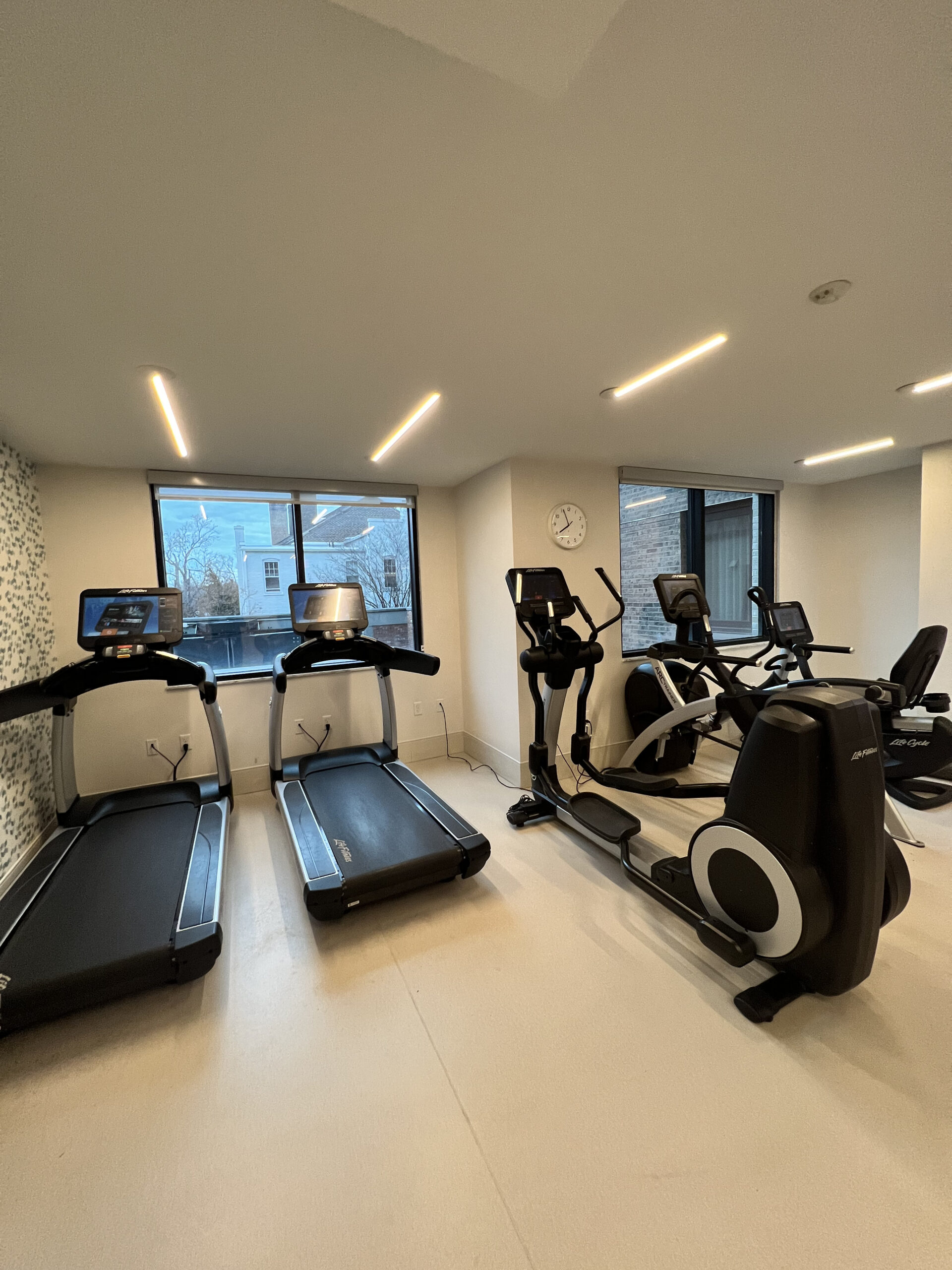 Breakfast and Indo-Chinese Restaurant
There is an on-site restaurant called IndoChen located inside the hotel, appearing to be an extension of the lobby area. The restaurant serves breakfast every morning and is open for lunch and dinner, where you can try some Indo-Chinese food.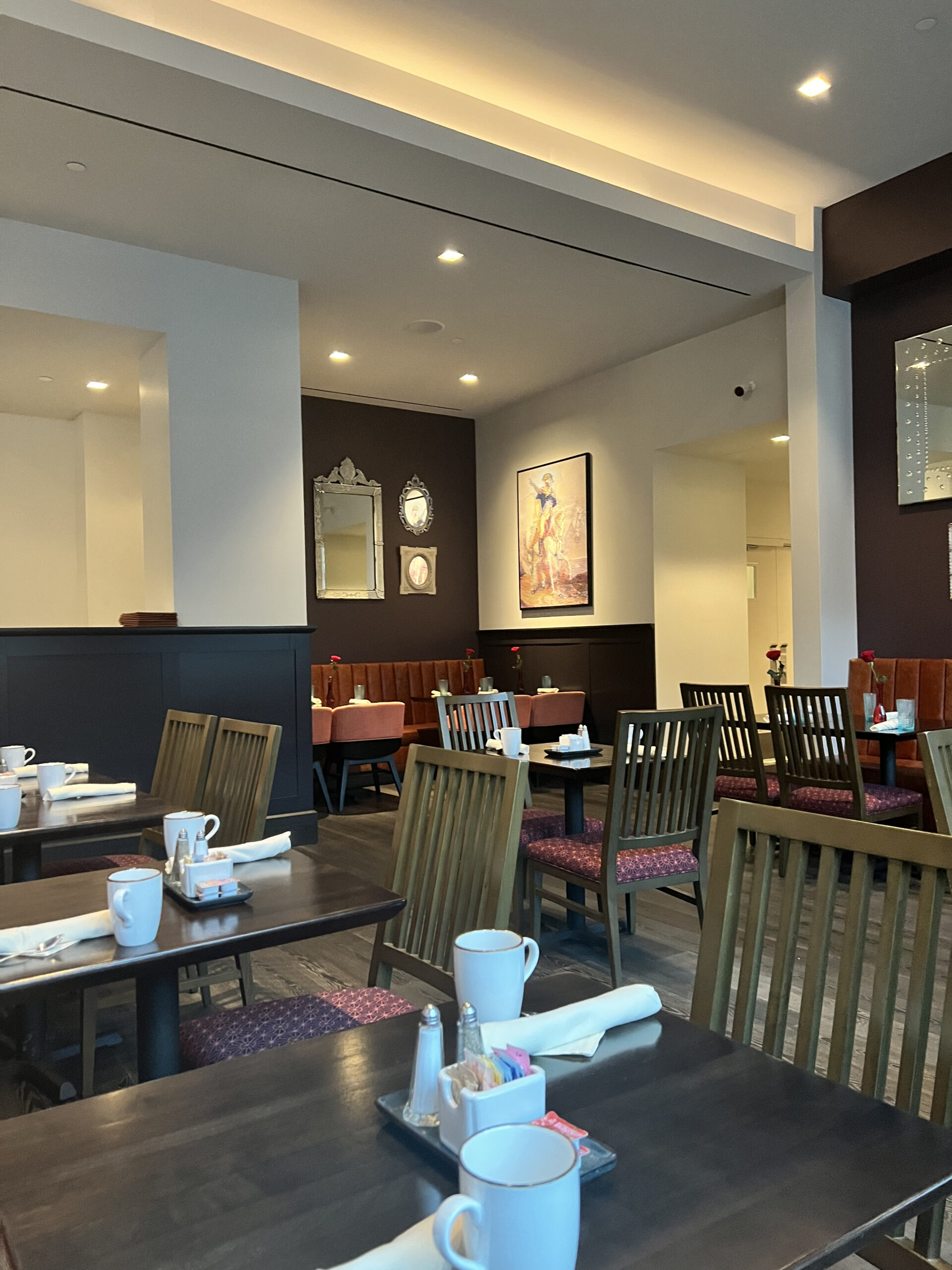 I wasn't interested in having lunch and dinner at the hotel, but I did have breakfast as part of the "Globalist Breakfast" package that included a beverage and a breakfast entree. I chose to have a waffle, tea, and a glass of orange juice.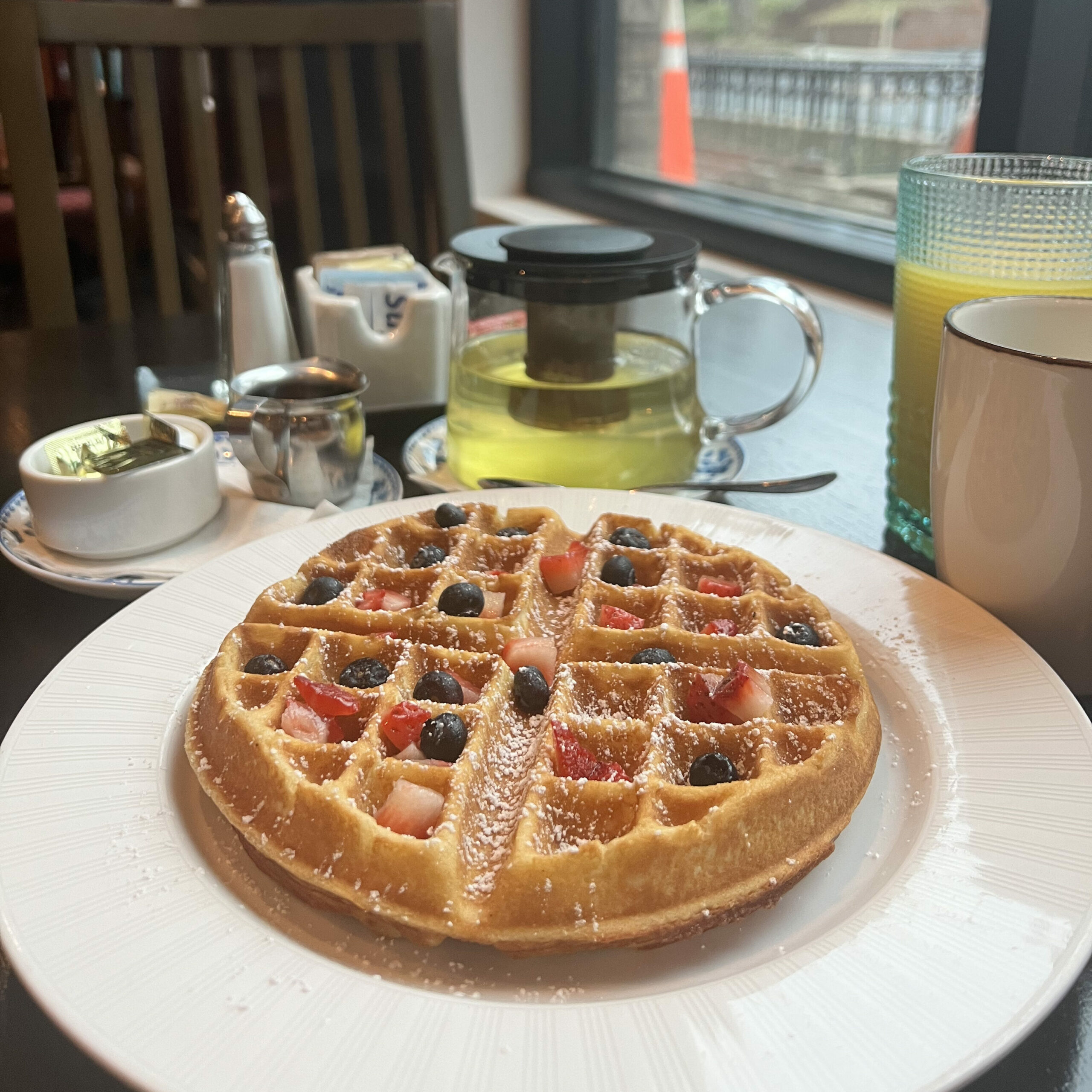 There is plenty of seating in the dining area. I was even surprised to see more seating options as you walk towards the kitchen in the back. One thing that was very evident to me was that this hotel's space was utilized wisely when being constructed. 
The Breakfast Menu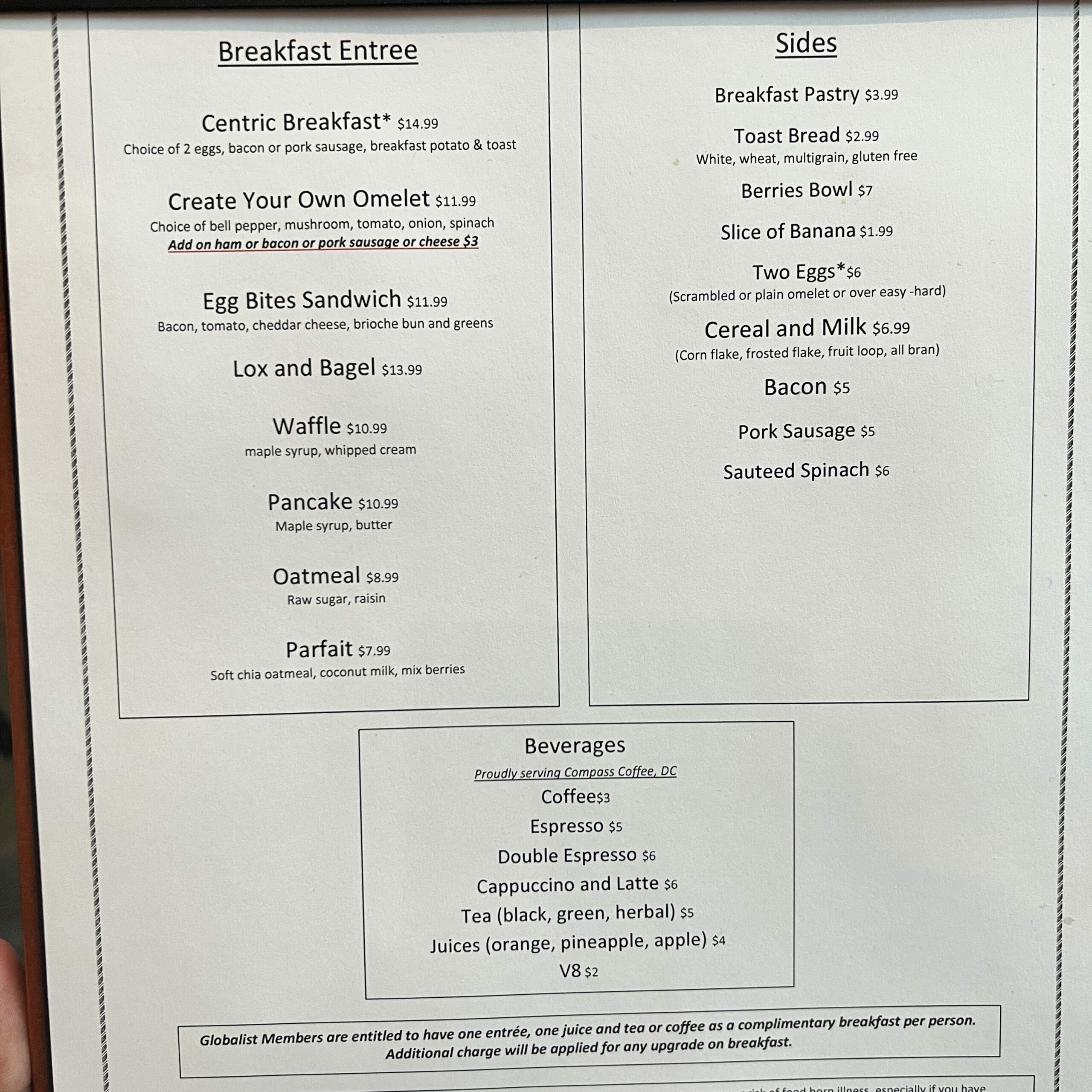 Lunch and Dinner Menu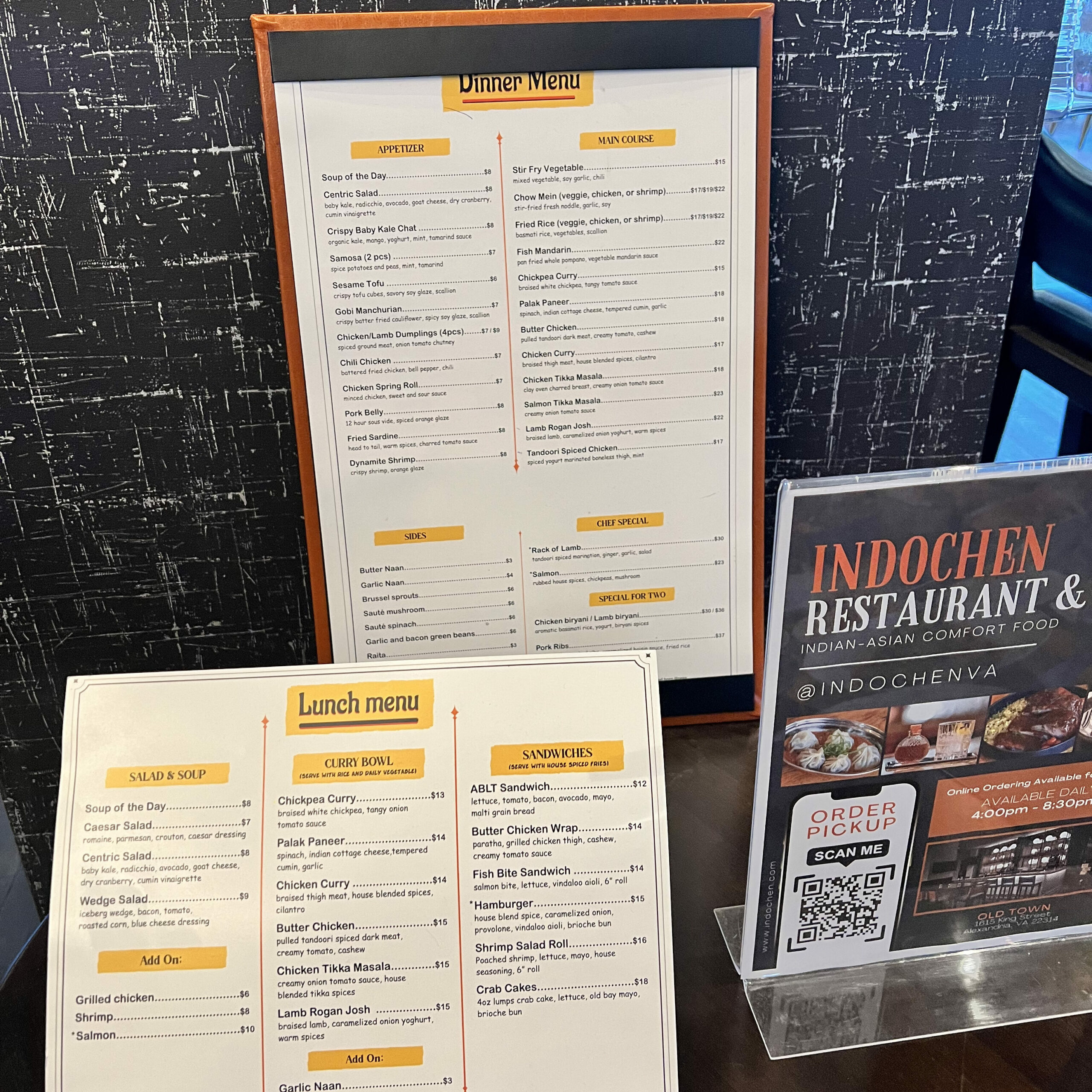 Lobby Bar
If you're not in the mood for a full meal, you can sit at the bar for one of the Happy Hour sessions and enjoy some drinks. The DMV is home to professionals of all ages, so be open to socializing, as you never know who you'll meet!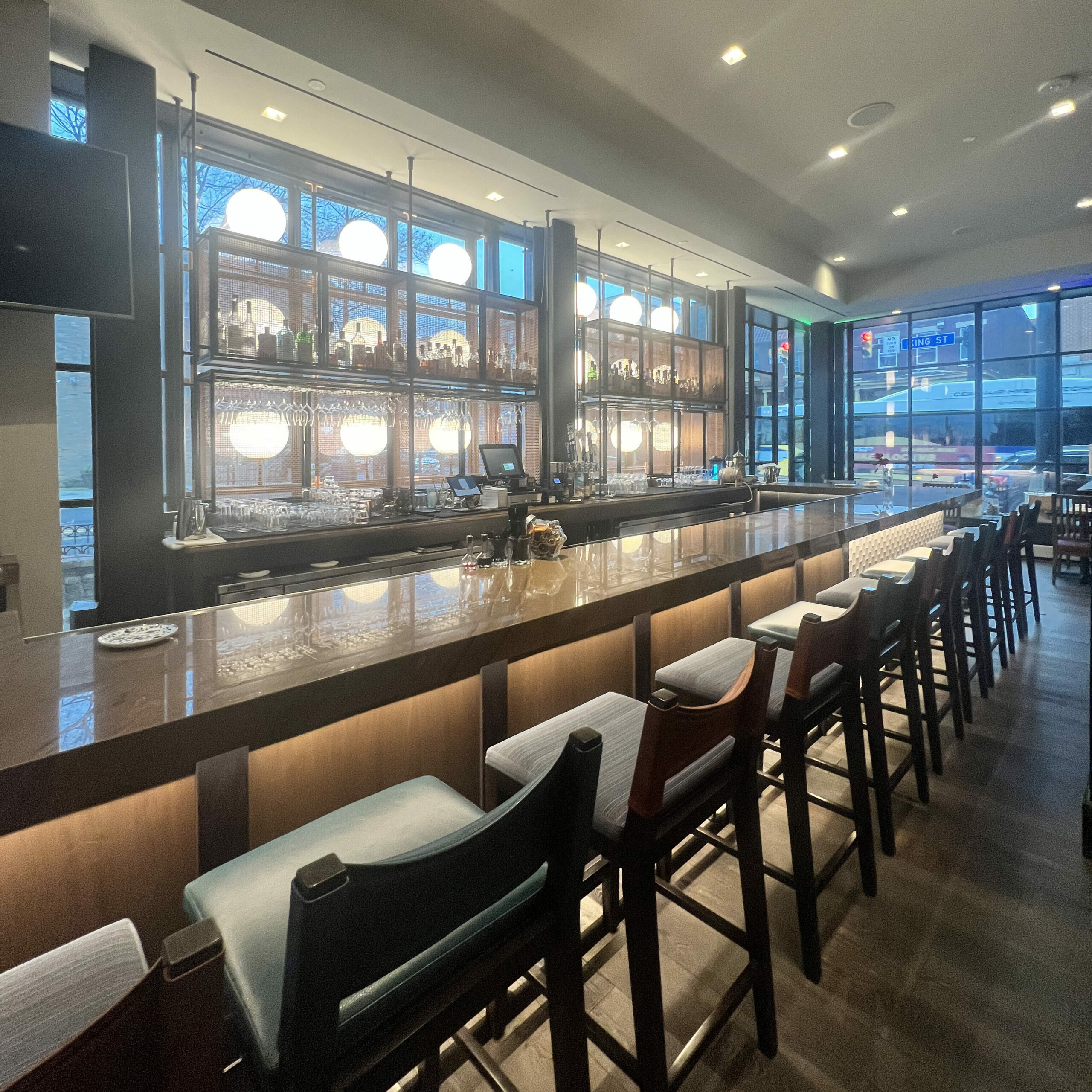 Mini Coffee and Snack Market Open 24/7
Another amenity located in the lobby area, there is a section downstairs where you can grab a cup of coffee at any time, microwave food, or buy snacks if needed.
 There aren't any microwaves inside the rooms, so it's great that there is an area where guests can go to heat food.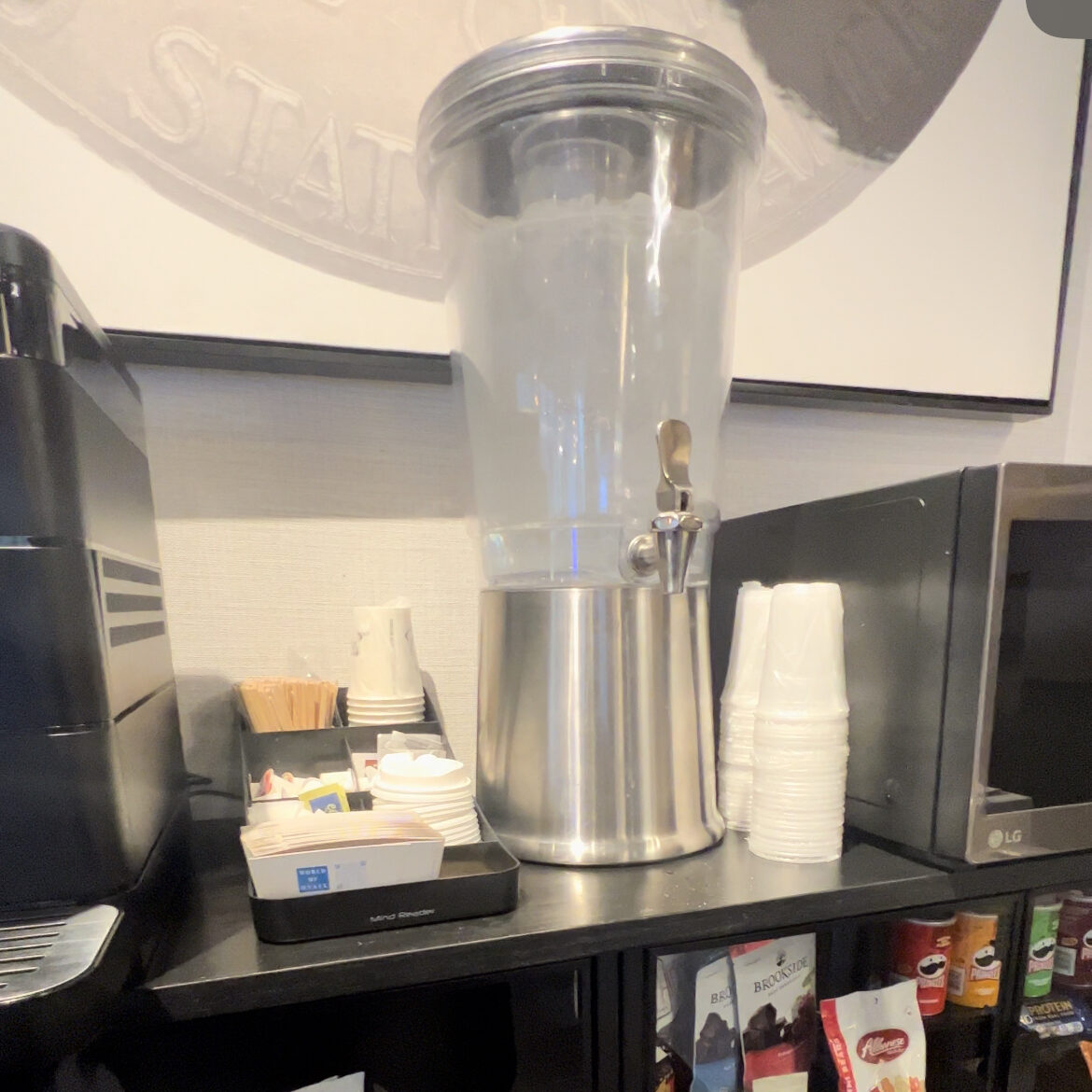 What is there to do nearby?
With the hype of the hotel being in Old Town and King Street because of all the shops around, there are plenty of sites to see near the hotel.
Now whether or not they'll appeal to you is a different story because I didn't find myself, particularly that interested in much in the area, but they are there!
Here are a few things to do near the Hyatt Centric Old Town Alexandria Hotel: 
Torpedo Factory Art Center – Watch artists as they work on their art projects in real-time. From painting to printmaking, you'll get to see what goes into a finished piece and ask questions. 
Old Town Alexandria Waterfront – Enjoy views of the Potomac River while you have a relaxing lunch by the waterside, visit the many shops on the waterfront, or hop on a boat cruise for the best views of the river.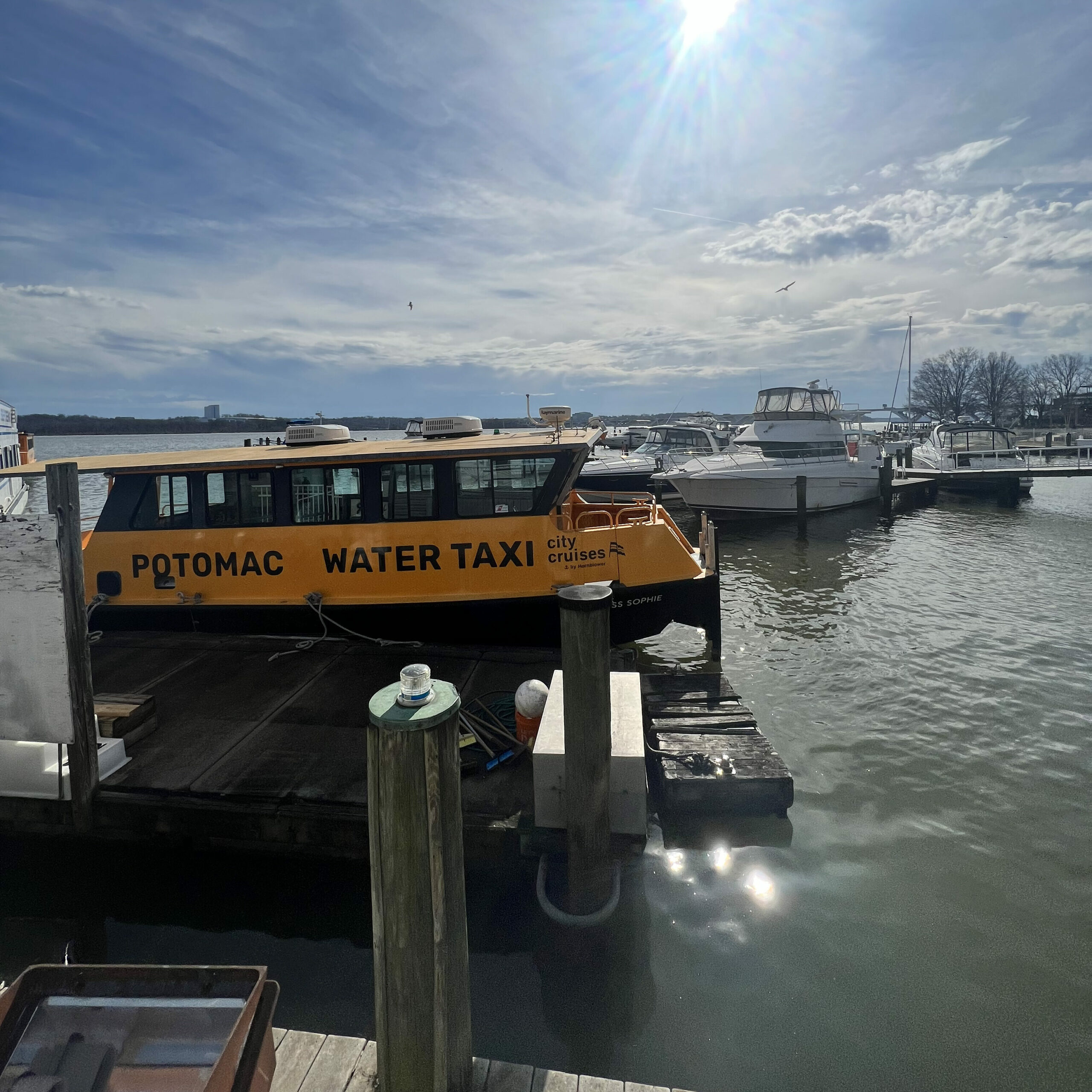 Old Town Farmers' Market – Shop locally at the oldest farmers' market in the country which has been held continuously at the same site.
How was the service?
Customer service was amazing the entire time I was there. None of the staff members knew I was there on a sponsored stay based on the fact that they had to look up a lot of information pertaining to my stay and asked for my room number a lot.
One of the front desk representatives may have known, but I barely interacted with them during my stay.
The representative I was in contact with through marketing was out sick during my stay, so I'm confident that every interaction I had, whether it was with the front desk or dining room attendant, was a genuine one.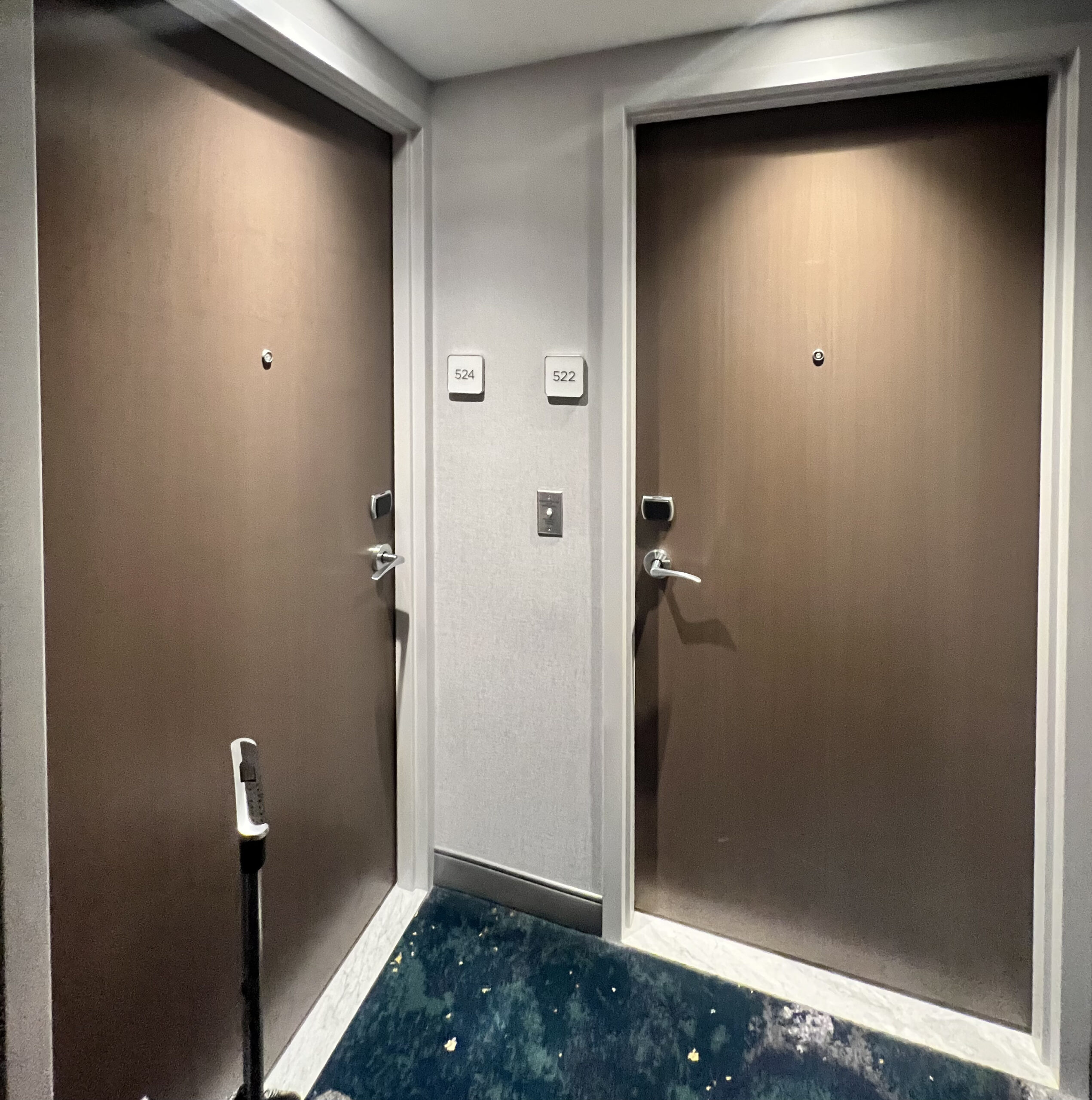 Anytime I needed assistance with something, I was helped and provided with helpful information that allowed me to move forward with what I was trying to do.
Overall the service was fast, efficient, and helpful.
How safe is the hotel?
As a Black woman solo traveler, safety is an important aspect I like to discuss in my accommodation reviews, so even if you are traveling solo, you can have an idea or one perspective to consider.
One safety feature I love about Hyatt hotels is the need for a key to go in between the floors of the hotel. This means that only guests can use the elevator to get to any floor and can't just wander around as they please. This gave me some peace of mind in knowing that the chances of other people I ran into while on elevators and in hallways being actual guests were high.
Speaking of other guests, I honestly did not run into that many people during my stay. I never saw anyone in the hallways, only shared the elevator with 1-2 other people, and the common areas were nearly empty when I was there. I did see more people around the lobby and bar in the evening, but it was very peaceful.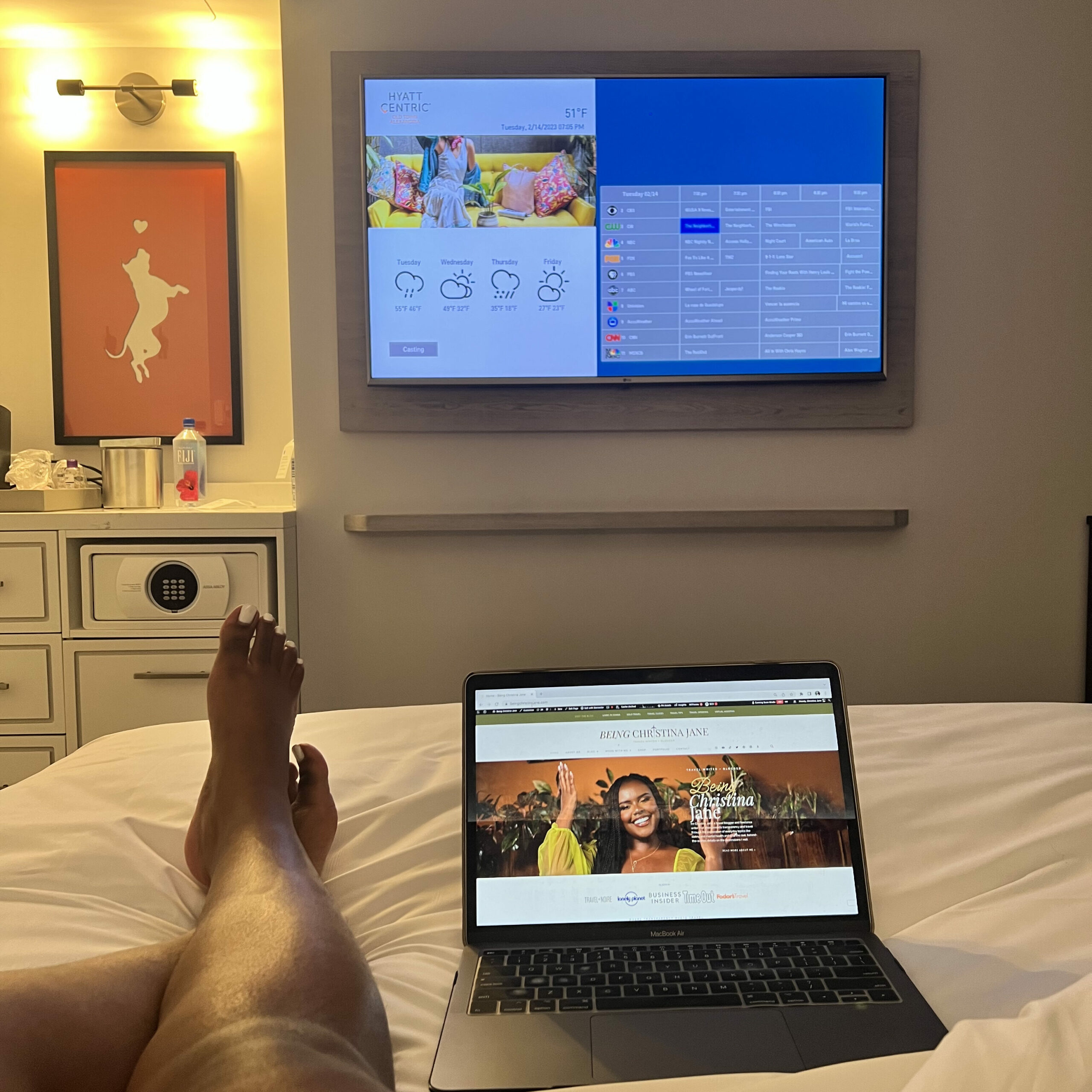 I never at any time questioned my safety at this hotel or felt like I had to be overly cautious of my environment, although the anxiety in me couldn't help it! I'm always alert to everything happening around me while in a new environment, and I encourage you to do the same.
The street the hotel is on is very well-lit and has a mix of touristy and residential vibes. There were always people walking on the sidewalks and cars passing up and down. I felt safe walking alone in the neighborhood. I never walked once it was dark outside, so I can't speak to that, but up until 8 pm was a go! 
Cons of the Hyatt Centric Old Town Hotel
I said I would keep it real so that always includes mentioning any cons of my stay. I experienced two minor inconveniences that are not enough to make a difference in my great experience here, but they are still worth noting.
There was no microwave inside of the room
I talked about this earlier, but considering all of the other features in the rooms at this hotel, I was very surprised to find that there wasn't a microwave. I mean, how is there a whole Keurig machine but no microwave? This could be seen as a big deal to some people, but for me, I honestly did not mind.
There is a microwave that can be used downstairs and elevators to get there in less than one minute if needed.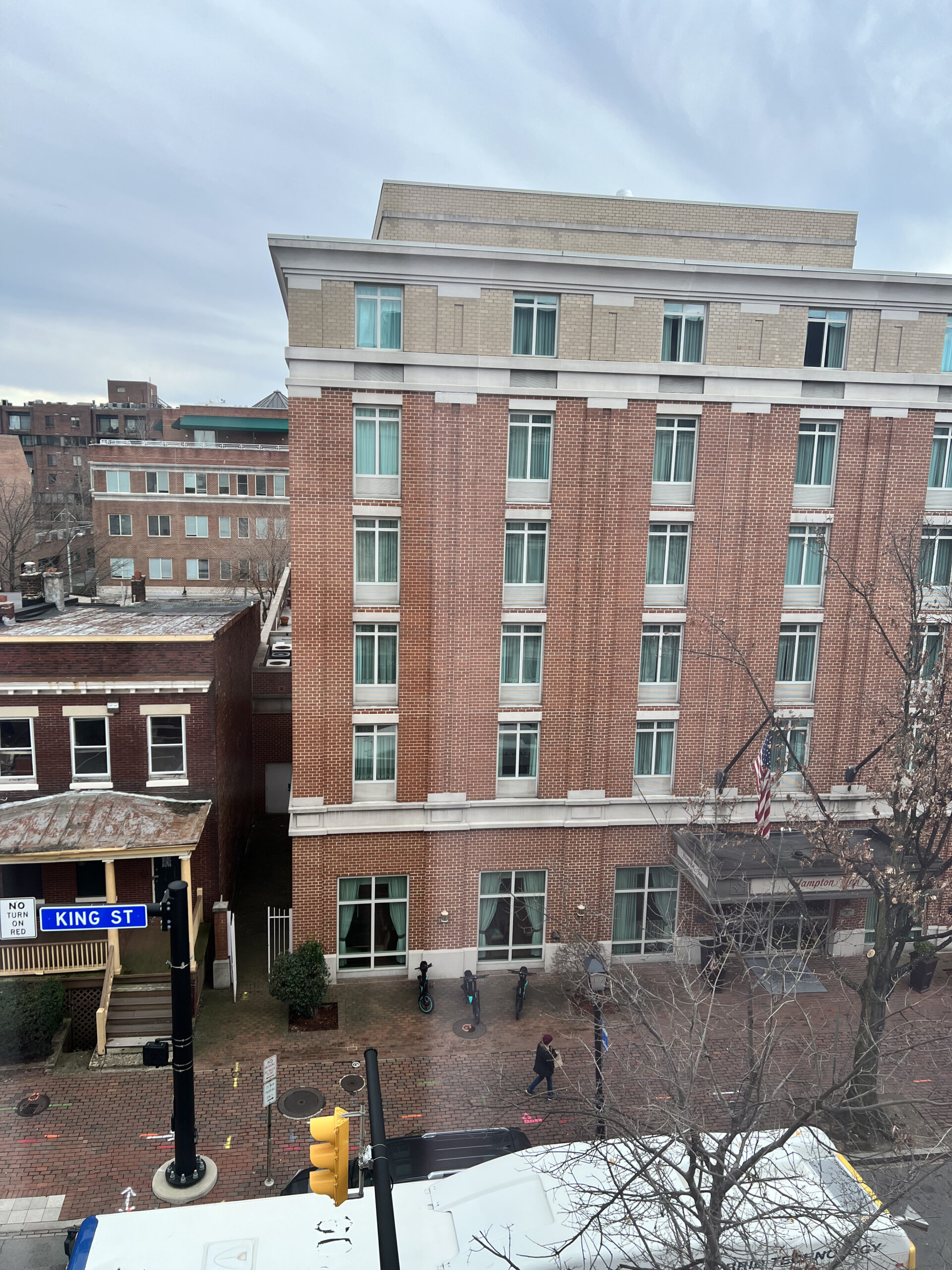 The showerhead was constantly leaking
This one definitely impacted me a bit more. After I took my first shower, drips of water came from the showerhead that I assumed were just leftover drops. However, hours later, I still heard the dropping sound, which continued the entire time I was there (2 days).
 It did make it hard to fall asleep on my 2nd night at the hotel. I double-checked and made sure the switch was off and, sadly, didn't have enough time to notify anyone that this was an issue.
Checking Out of the Hotel
The check-out time was at 12 pm, which I was surprised about because many hotels usually have check-out times at 11 am.
I asked about possibly extending my stay when I thought check-out was at 11 am and was told I could stay until 1 pm.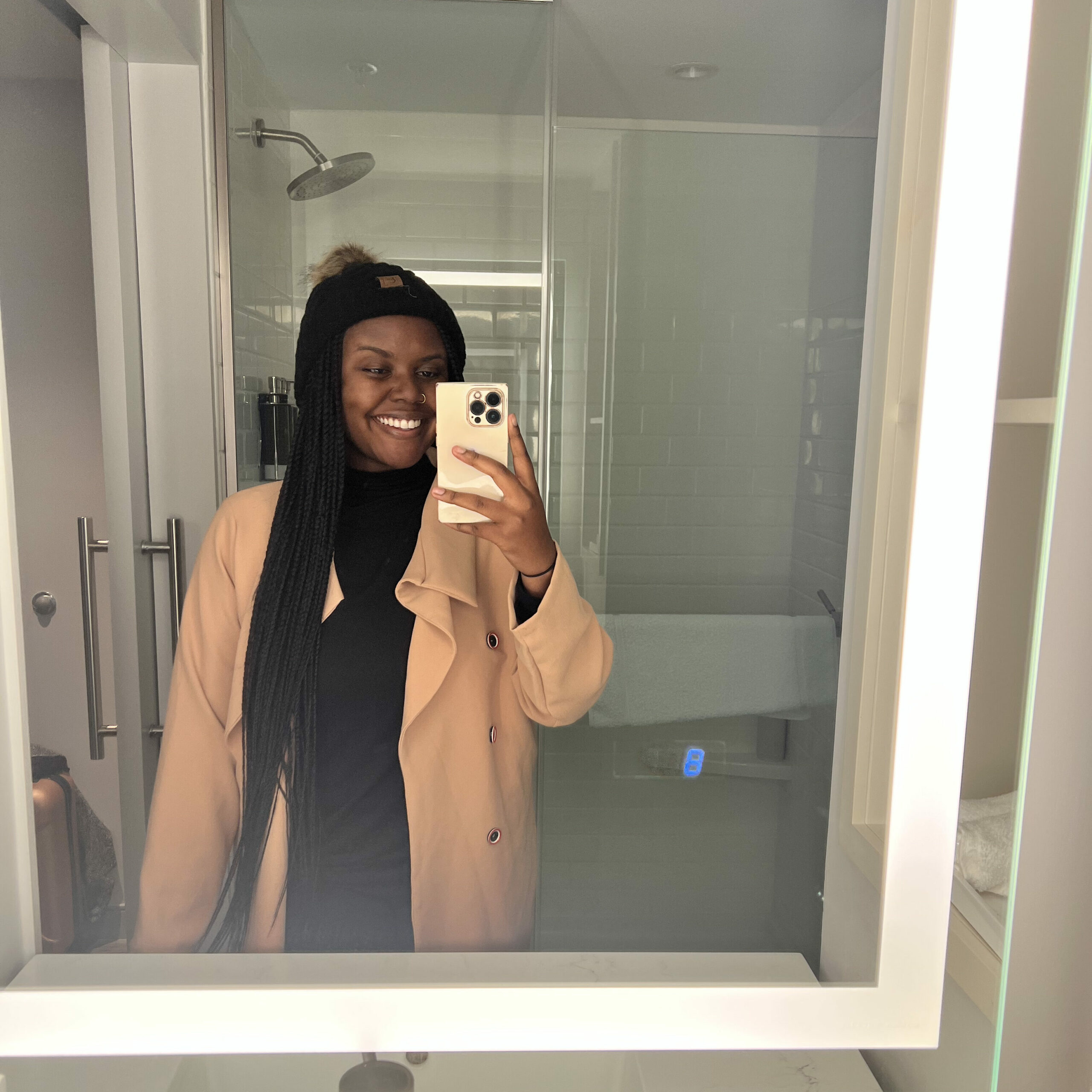 Unfortunately, housekeeping did come and cut my extension time short at 12:30 pm, but it wasn't a big deal to me.
Considering the fact that it was a sponsored stay and I got an extra 30 minutes, I was super grateful!
Checking out was super easy, as all I had to do was turn in my key card, and I was on my way. 
Would I Stay Here Again?
Yes! I was in the DMV preparing for one of the most important tests of my career, and I truly believe this stay contributed to helping me pass.
I felt so comfortable, had enough space to spread out and study, and was able to get myself in the right frame of mind before a stressful day.
The hotel was very clean and appeared well-kept in all areas: dining, the gym, the rooms, etc.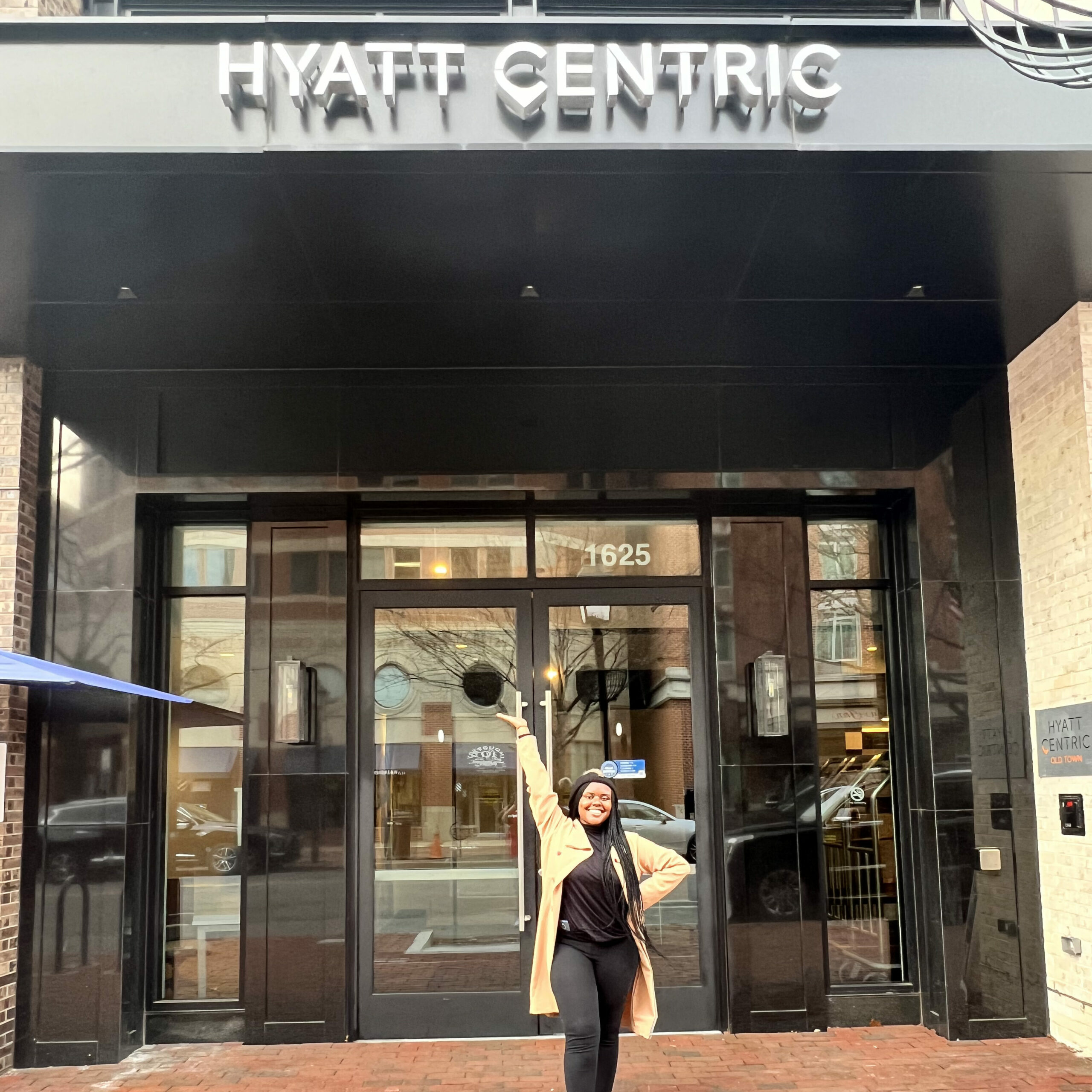 The location makes exploring the DMV easy, with a close metro station, a trolley that stops in front of the hotel, and the walkability of Old Town.
I do recognize that I was in the "best" room at Hyatt Centric Old Town Alexandria, but I got to see some of the other rooms in passing, and at a lower rate, I think they are worth it.
This is a stay I would do over again and recommend to others. 
Does this sound like somewhere you would stay? Let me know in the comments and if I can answer any questions about solo traveling around the DMV!