The Jet Bus Service is a new first-class travel experience between Washington, D.C., to New York City. The 14-passenger sleek, all-black, luxe bus promises riders an affordable, convenient, and comfortable way to travel between the cities.
The Jet has been on my U.S. travel bucket list for months now. As someone who used to take 12-hour bus rides back in my undergraduate days, bus travel is one of my favorite forms of transportation.
I took The Jet from NYC to D.C. recently, and in this blog post, I'll provide an honest, detailed review of my experience so you know what to expect when riding The Jet.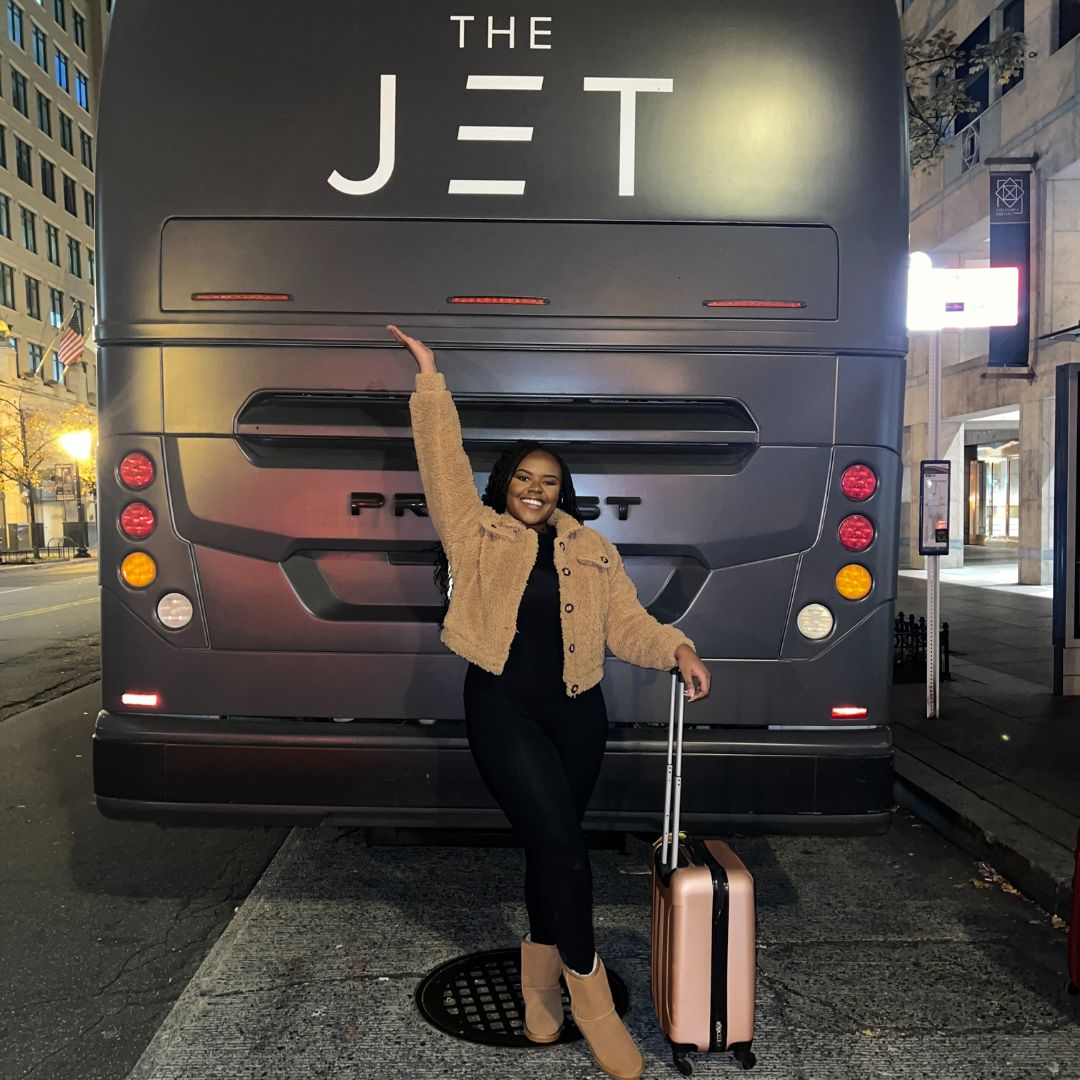 Disclaimer: All opinions are of my own accord. While The Jet sponsored this blog post, I am committed to building and maintaining a brand of full transparency, so I promise to keep it 100% real with you about my experience and cons, if any.
PROMO CODE: To get 10% off your ride on Wednesdays and Thursdays use the code CHRISTINA10!
How to Book A Ride with The Jet 
How easy it is to book a service or stay with a company is one of the first things I always pay attention to and notice.
Thankfully, booking a ride with The Jet was straightforward and easy.
On The Jet website, you are prompted to input the following details for your ride:
Ticket Type (roundtrip or one-way)
Departure Stop (N.Y. or D.C.)
Destination Stop (N.Y. or D.C.)
Departure Date
Return Date
Number of passengers
From there, the system will populate the rides available on that date with the cost.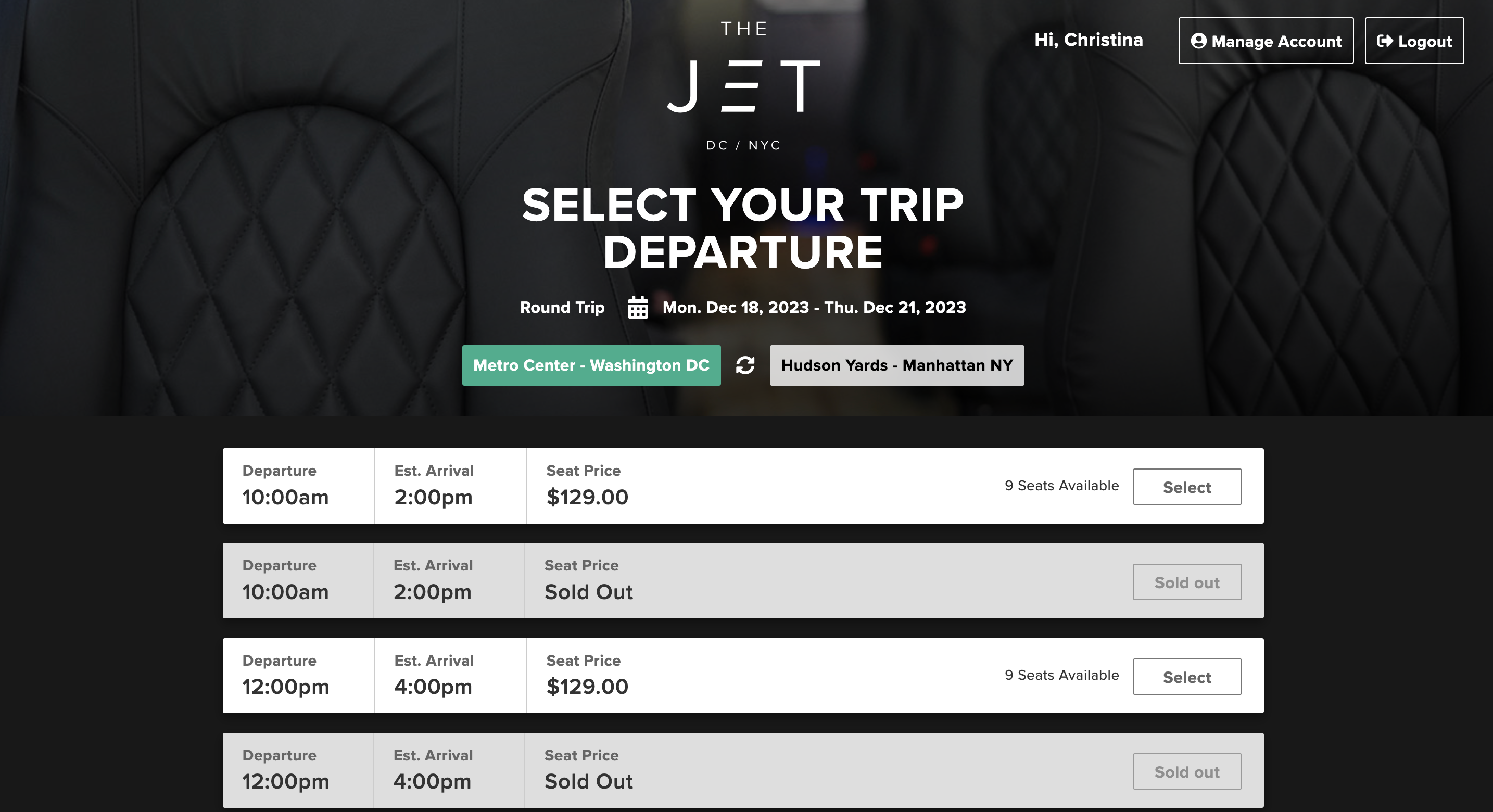 If you are looking to book a ride and your desired travel dates are near, you may find it challenging to find a seat, as they tend to get sold out or the bus isn't running, from what I noticed.
It took a while to find dates that I could travel with The Jet, which can be frustrating if you are trying to book a quick ride and move on.
It seems best to book your ride a few weeks in advance to get a seat on your desired dates and travel time.
At the moment, The Jet has rides every day except on Tuesdays.
Cost
The Jet advertises that their price point for rides begins at $99, but I rarely see any rides for that amount when searching.
It is approaching the holiday season, so that is part of why, as the brand has stated, the price can fluctuate based on factors like demand, dates, etc..
Still, despite the $99 advertisement, I've seen the cost be between $119 – $149+/one way for most rides.
In addition to the base price, The Jet does charge extra for single seats and those in the very front of the bus.
This is the seat layout and the additional charges for certain seats: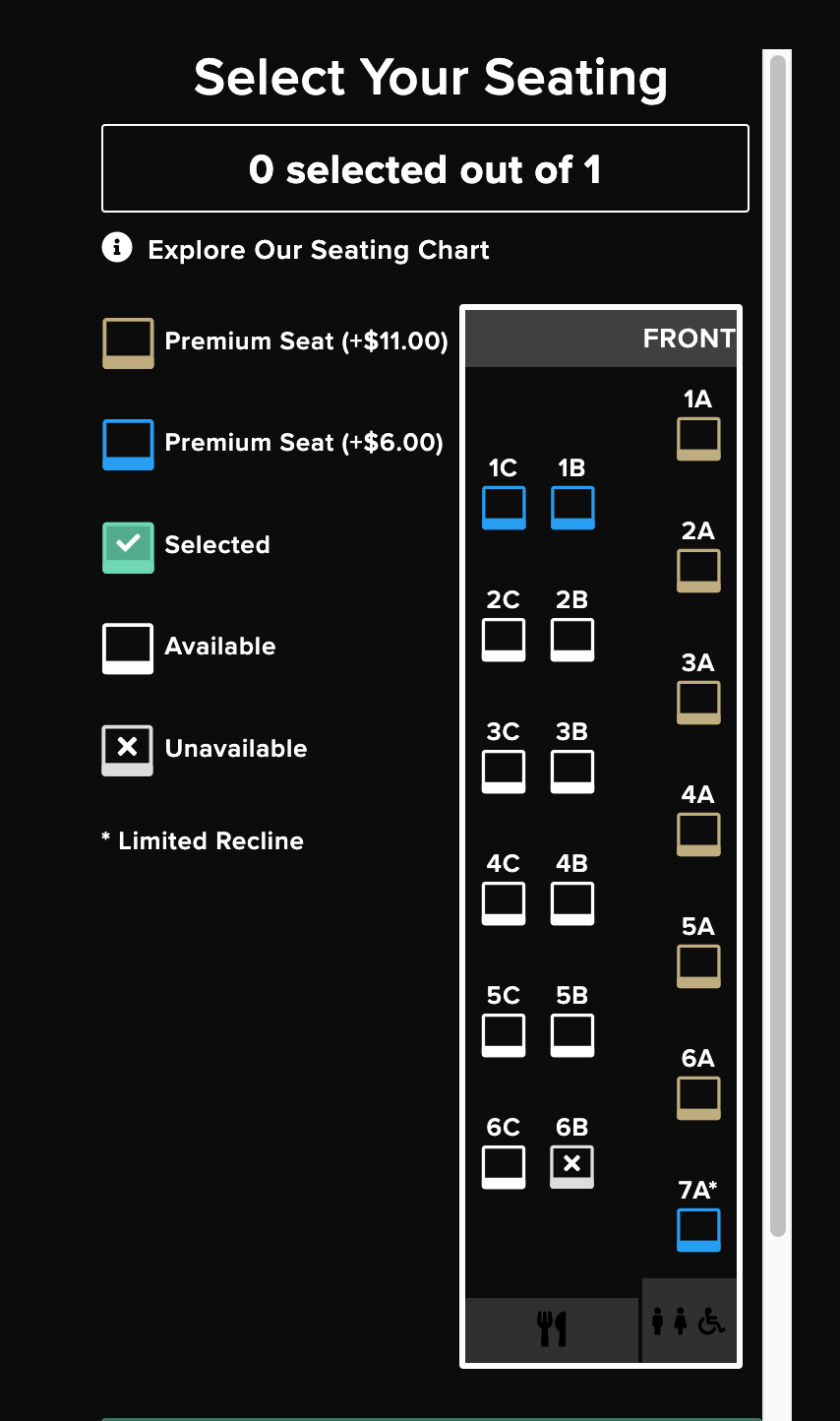 When comparing The Jet to other transportation methods between Washington D.C. and New York, it is about the same price, if not a little more.
I have seen tickets on Amtrak for $119 for travel between the two cities, so it seems fairly priced. Flight prices are typically the same as Amtrak or more.
However, on the FlixBus, you can get a one-way ticket for as low as $19, so you are paying for luxury in this case.
CODE: To get 10% off your ride on Wednesdays and Thursdays use the code CHRISTINA10!
Boarding the Bus
My bus was scheduled to leave at 5 pm, but I was running a bit late since I was traveling to Hudson Yards, about an hour away from Brooklyn, where the bus was parked.
I called The Concierge to inform them and ask if they could wait a few minutes because I was set to arrive exactly at 5 pm. The representative was more than helpful and explained to me that they would depart at 5:05 pm to give some grace on the time.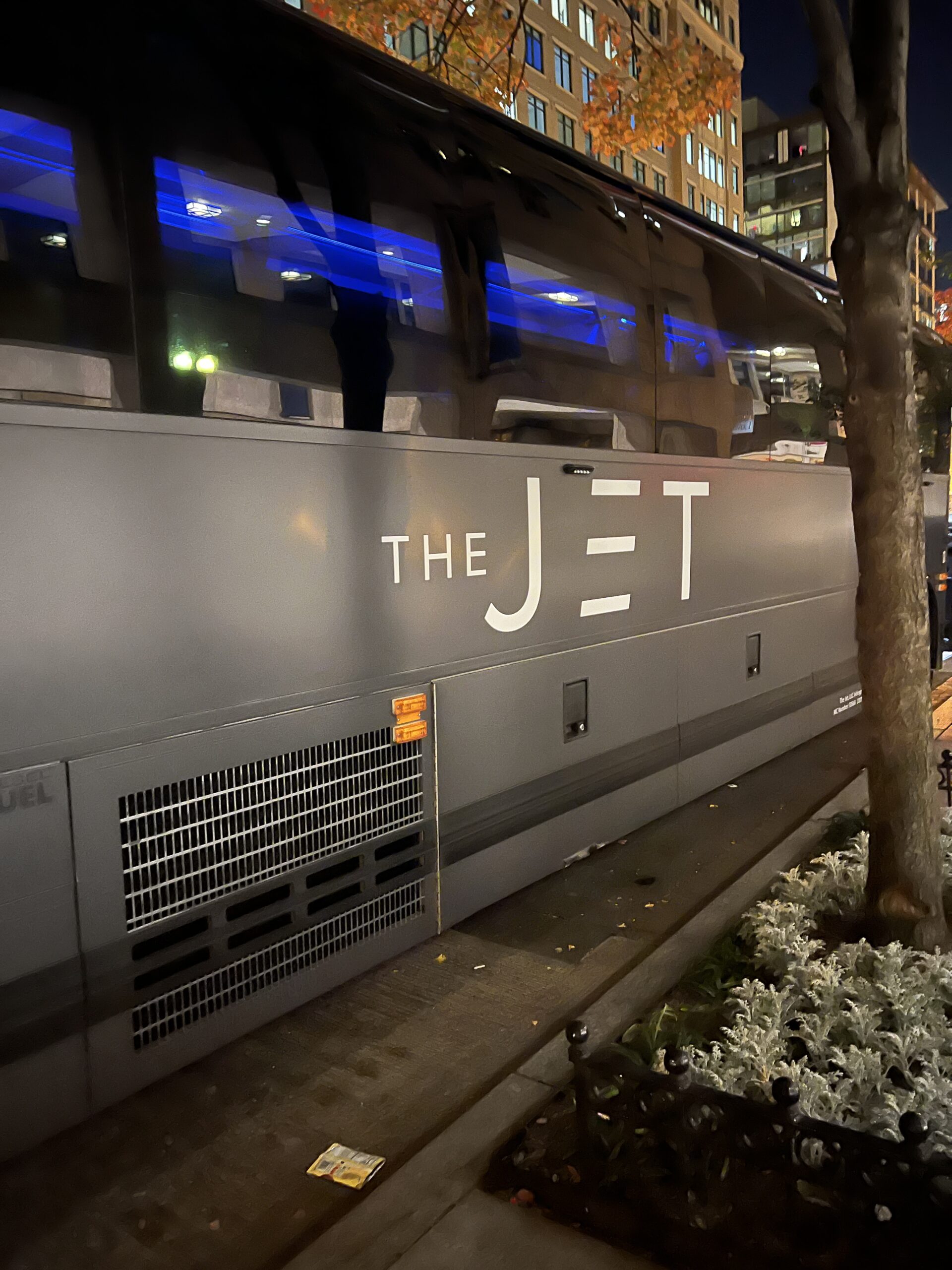 Once 5 pm arrived, the bus attendant called my cell phone to ask where my friend and I were and stated that they would wait until 5:05 pm but did have to depart soon.
I arrived at the stop at 5:07 pm, and they were still very kind. Special shoutout to Virgil for being an amazing bus attendant!
Boarding the bus was very easy. Our carry-on luggage was placed underneath the bus, Virgil checked us in, and we were escorted to our seats.
Virgil had no idea my trip was sponsored, so their service was even more appreciated.
We were given hot towels to start our journey to D.C. and were on our way.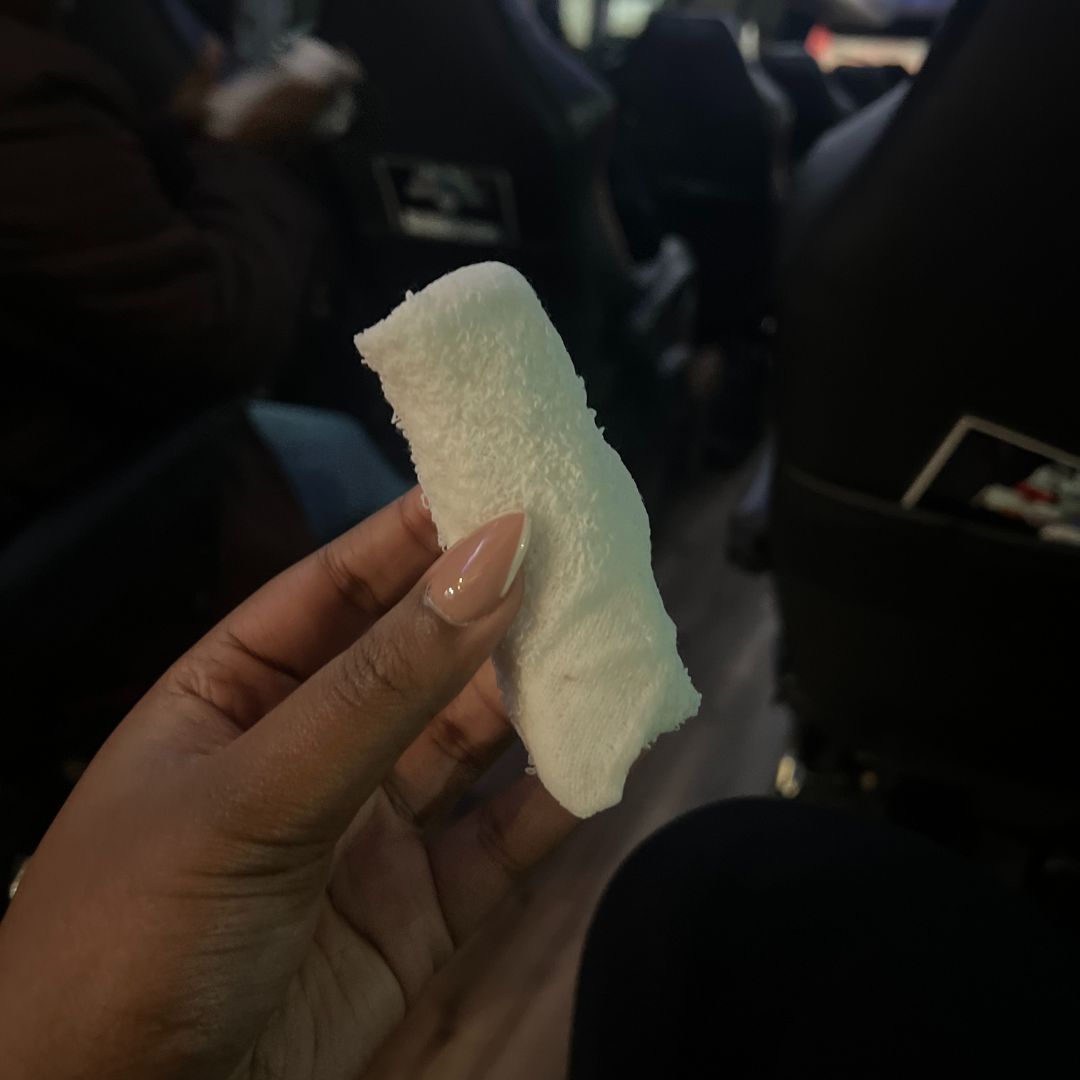 Inside of the Jet: Layout and Interior 
With only 14 seats onboard, The Jet has double seats behind the driver's seat in a row and single seats on the opposite side with a wooden floor under the seats.
I immediately noticed how much space was between the rows of seats, which was nice.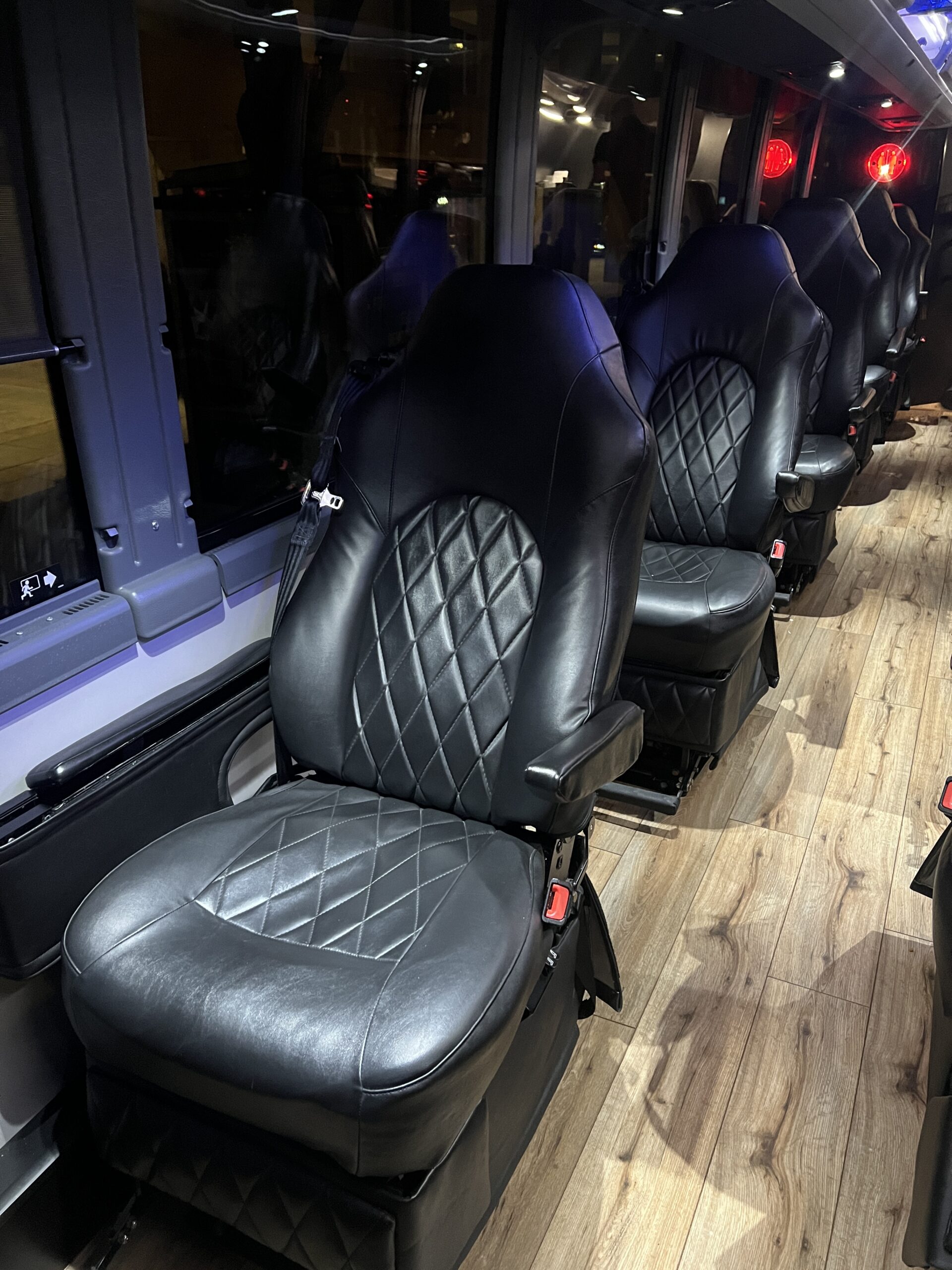 Seats
The seats on The Jet are one of the main attractions of the bus company. The Jet has hoverseats that cancel out motion to give passengers a smooth ride.
The seats include the following features:
22'' seat width
A built-in tray table
Gel-foam seat and memory-foam back
Leg rest platform
45° recline
Motion-canceling technology to help with bumps and vibration during the ride
A cup holder
I sat in Seat 7A, the very last seat toward the back of the bus. This seat has a limited recline, and I did not pay attention to that when selecting my seat, but I still found my ride to be very comfortable.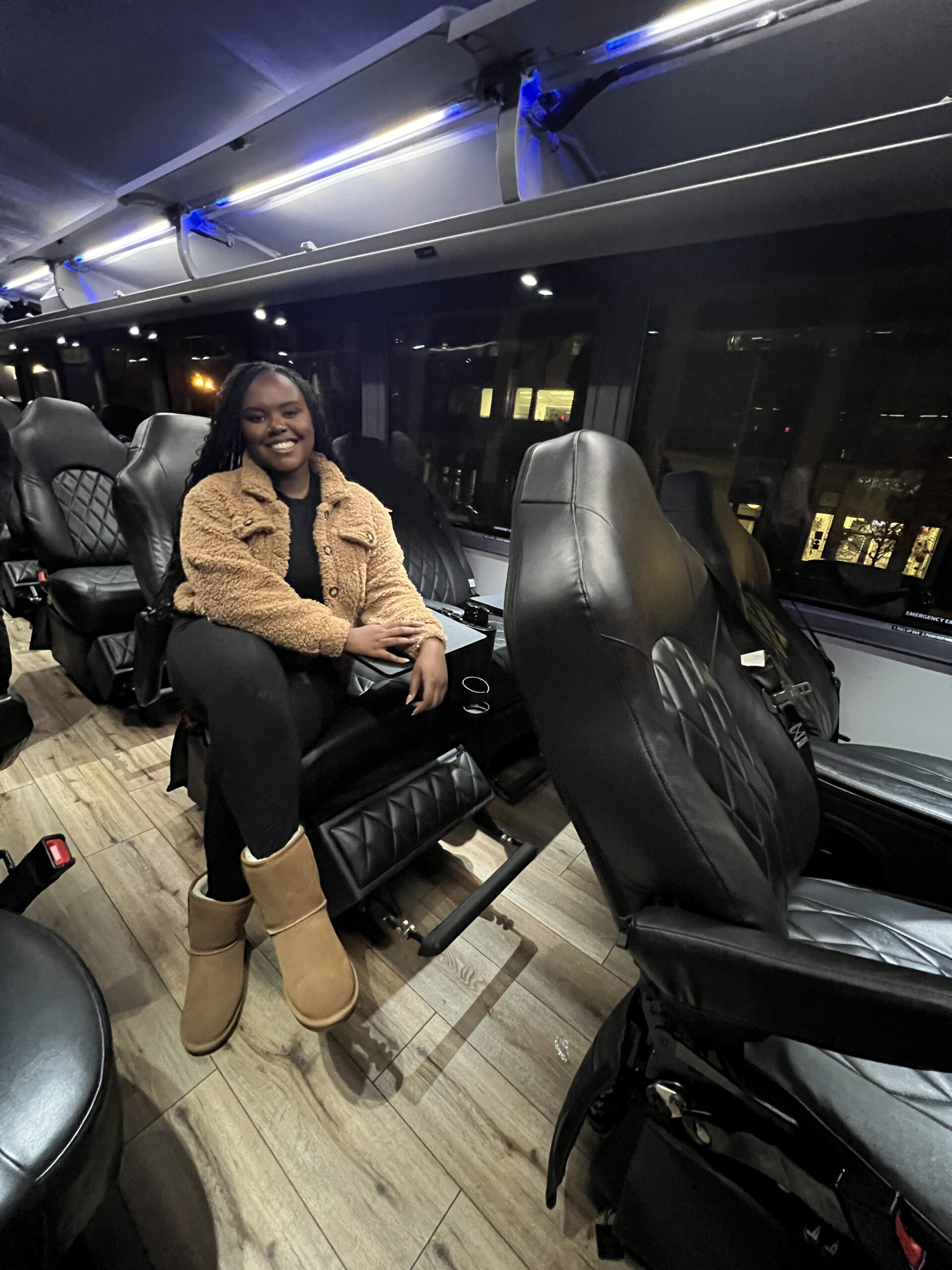 This is, however, something to keep in mind if you end up booking!
There was also a small water bottle and biscoff cookie waiting for me on my seat when I boarded, which was a nice touch.
Restroom
The restroom on the Jet was clean, spacious, and had an upscale touch to it. I can say it's the best bathroom I have ever experienced on a bus.
The circle mirror encompassed by LED lights, touchless soap and water dispensers, and even a full-body mirror attached to the door were thoughtful touches to the limited space.
I am one to hold my pee before using a public restroom for fear of it not being clean, but I felt more than comfortable using this one and saw Virgil, the attendant, attend to the restroom several times to ensure it was in great condition.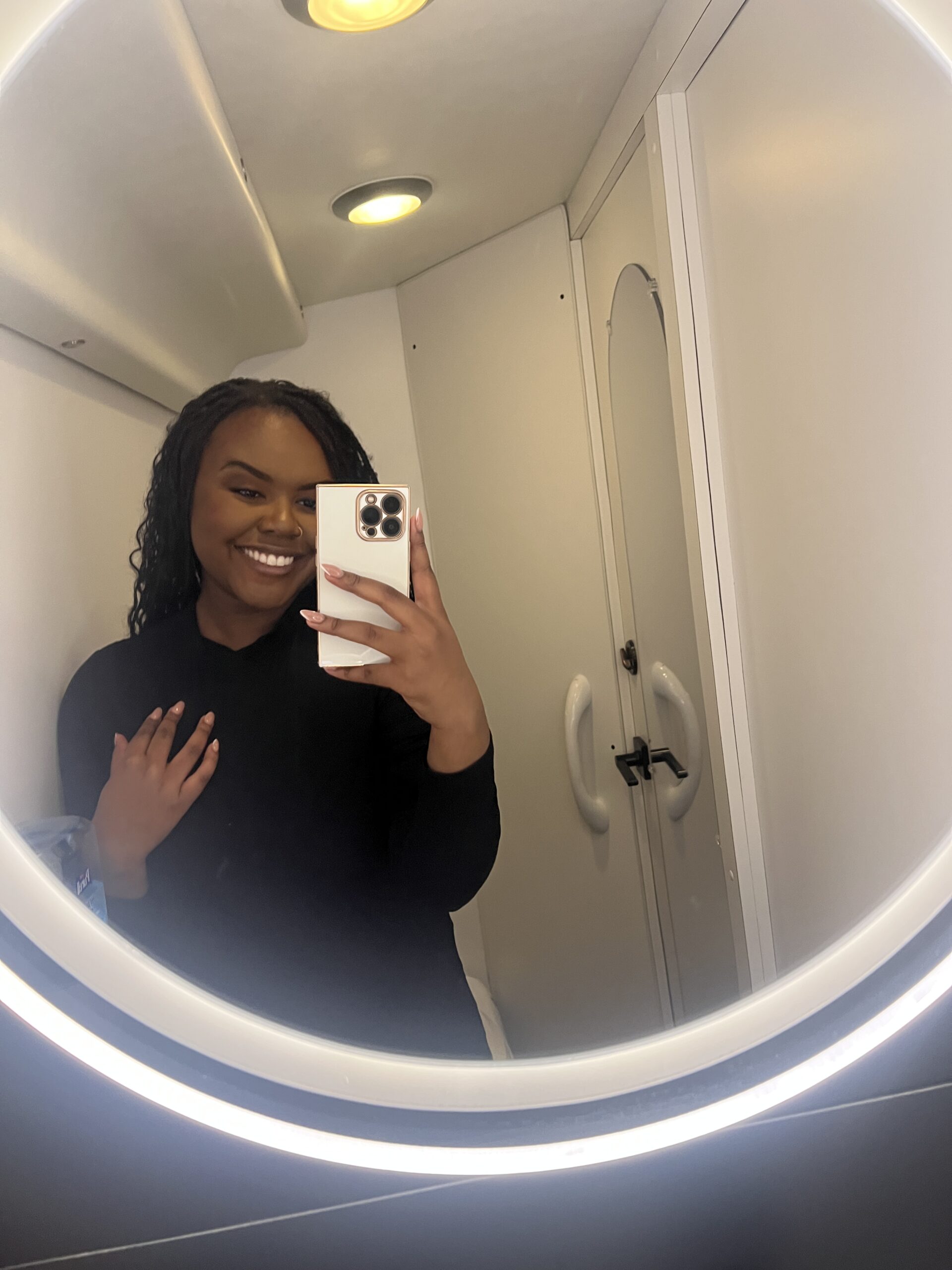 Amenities
In-Seat Service
The Jet Bus service includes in-seat service, allowing you to order snacks, cold drinks, and hot drinks from their menu.
Virgil, our onboard attendant, went to each seat and took an initial order of any snacks and drinks each passenger wanted toward the beginning of the ride.
Because The Jet only ever has a maximum of 14 passengers, it was easy to get the attention of the bus attendant at all times and not feel like you're getting forgotten about like on larger buses or trains.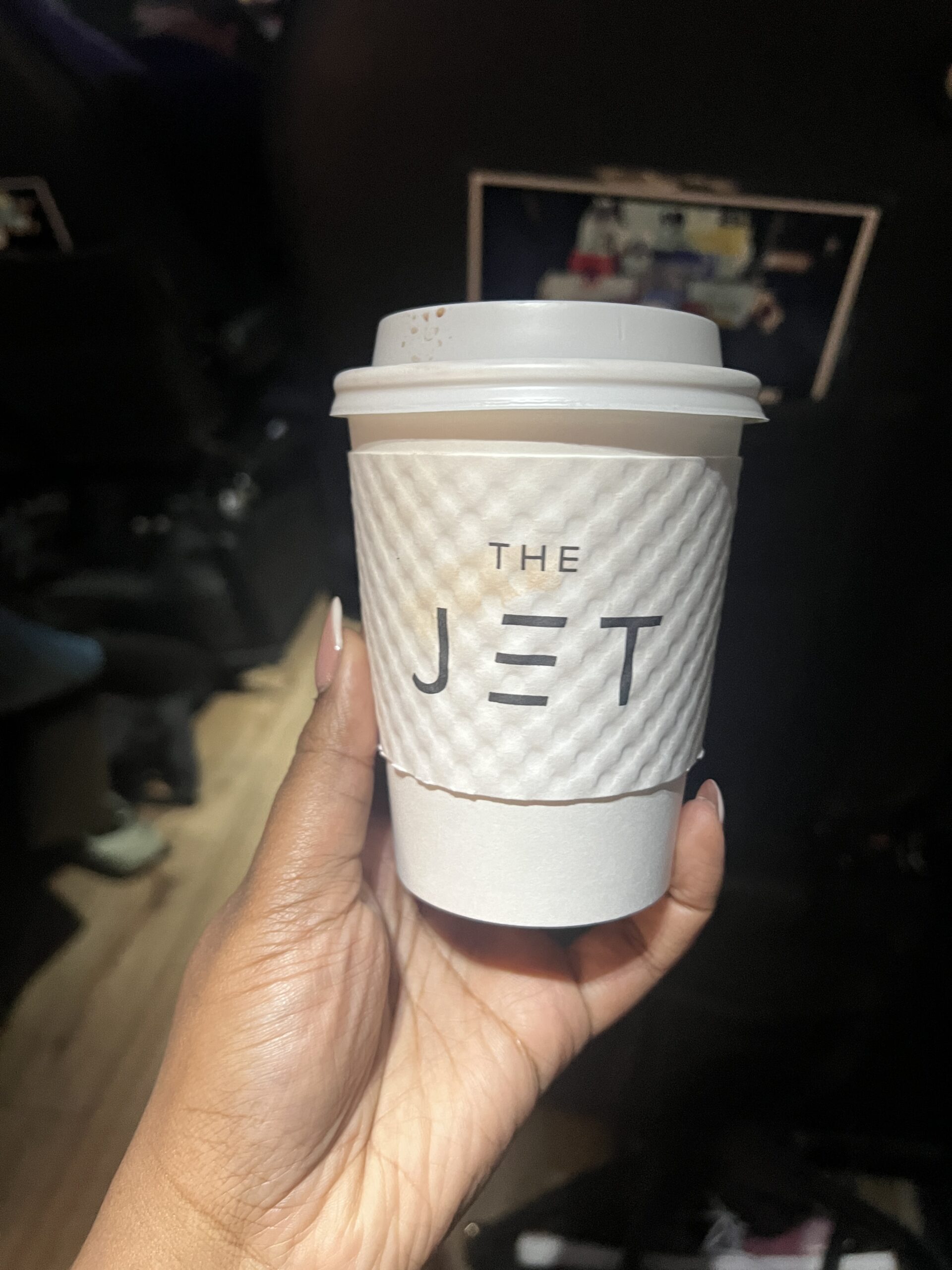 Even beyond the initial order being taken, Virgil went up and down the aisles to collect trash and check on passengers a few times, which was nice.
Unless I might have missed this somehow, it would be cool to see The Jet incorporate a button of some sort at each seat where passengers can notify the attendant that they are needed so they don't have to get up to order again or wait for them to pass by, but this is a minor suggestion, as I am happy with the service I received and did not have any issues.
Complimentary Alcoholic Beverages
The Jet offers two complimentary beverages per passenger, 21+ per trip. They say this is because local liquor laws don't allow them to charge for alcohol legally, so they give it for free.
The cost of the alcohol is most likely incorporated into the ticket costs, but it is still a nice offer and selling point for aspiring passengers.
I found an article where the owner explains that the reason why is that they'd have to "get a liquor license for every single county they go through."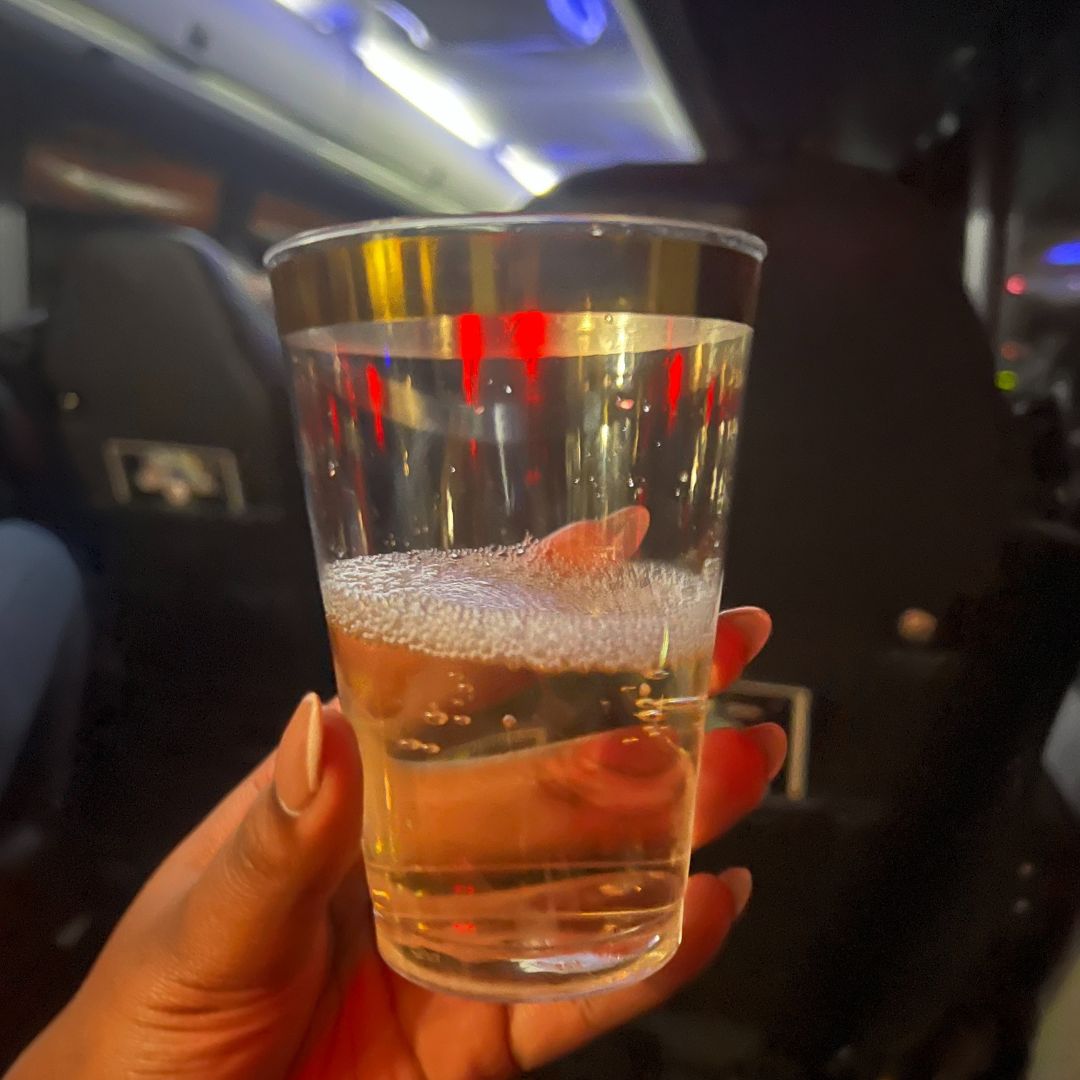 Luggage Allowance
Each passenger is allowed to bring two large checked bags that are a maximum of 40 pounds each and two carry-on bags.
Larger bags are stowed under the bus before you board. The bus has overhead bin space for your carry-on bag, but I also stored my carry-on suitcase under the bus.
If you want to bring any oversized luggage or large items like a bike, you have to let them know in advance.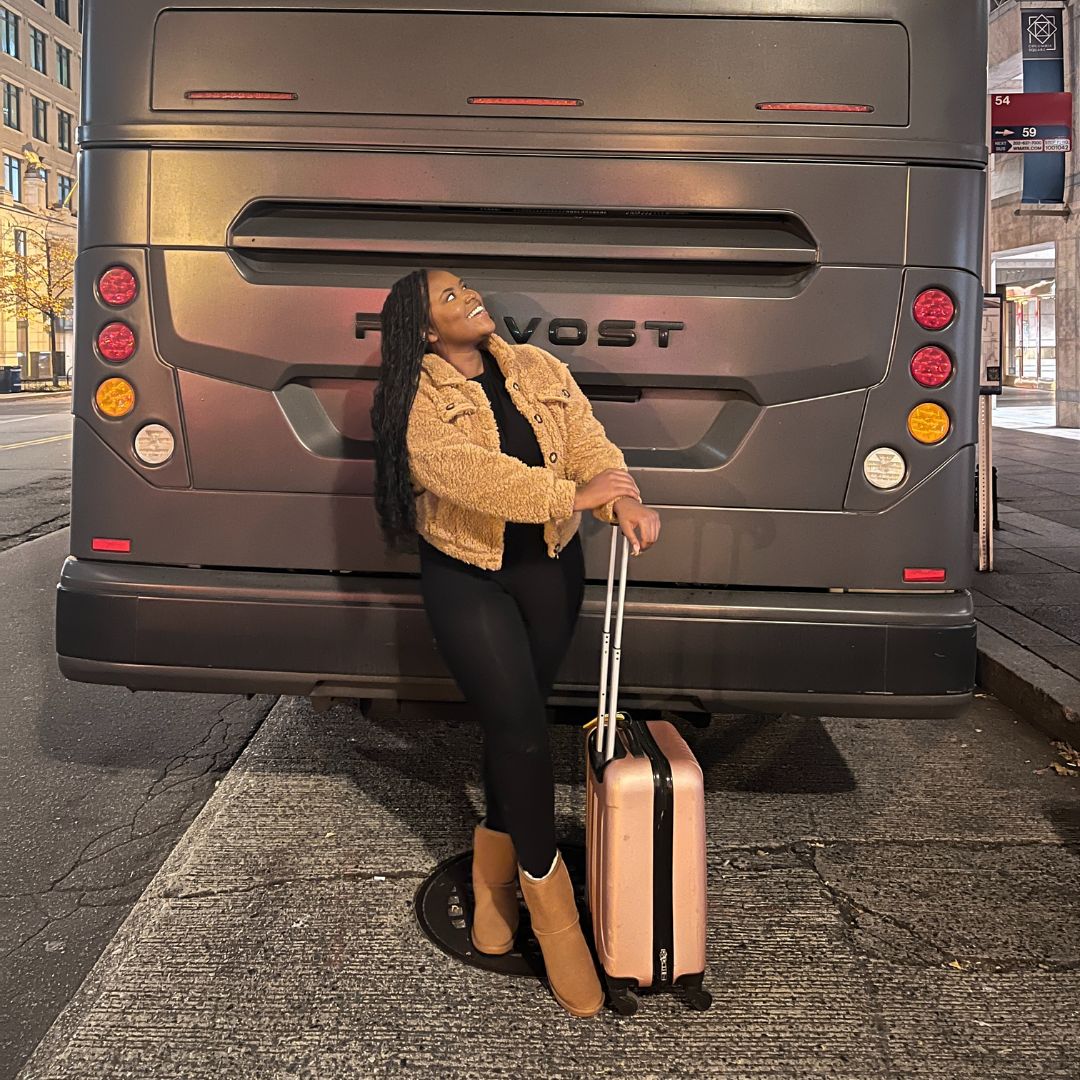 Most passengers seemed to have a carry-on and personal bag at most. The luggage allowance on the Jet is a great benefit of riding to me as I think they are more than generous with the allowance, which means you can easily transport many items and baggage with you on your ride if needed.
Free WiFi
With onboard WiFi on The Jet, you can stay connected during your four-hour ride. 
The WiFi was slow at certain points, but it wasn't a big deal to me. I am not the pickiest person regarding WiFi, especially while traveling, because, well, something is better than nothing.
While I spent most of my ride relaxing, I took my laptop to work on my blog and check some emails.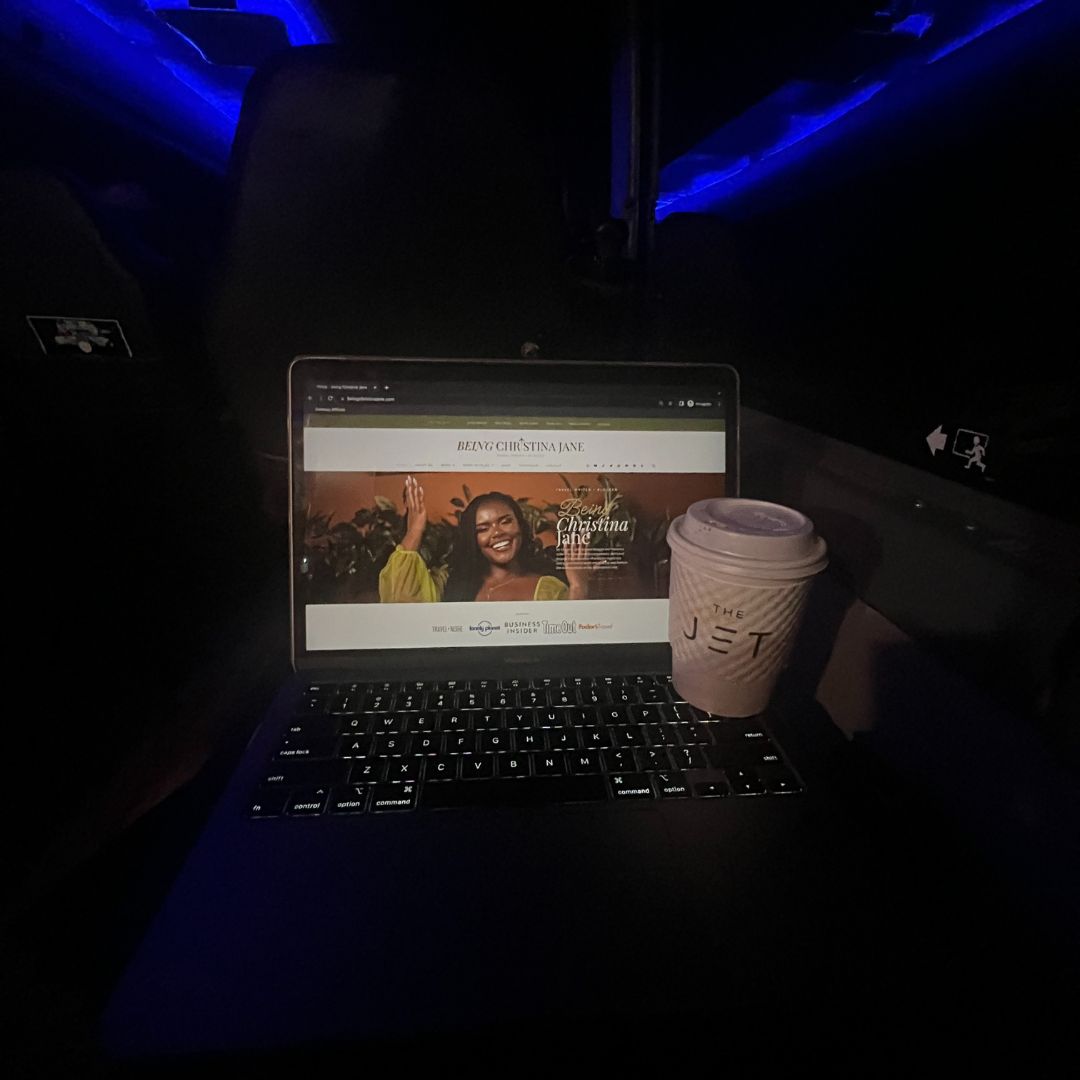 The ride is short enough to unplug from the online world if you choose to but long enough that having access to WiFi is very important if you want to get some work done.
It was great that WiFi is provided and is an option either way.
Duration of Ride
The ride between New York and Washington D.C. on The Jet is supposed to take 4 hours and 15 minutes. 
My ride took exactly four hours, so I arrived in D.C. a bit earlier than I expected, which was nice.
An Amtrak train between the two cities takes 3 hours and 30 minutes, but the time on The Jet went by so much faster and was a lot more comfortable for me than my experiences on the train.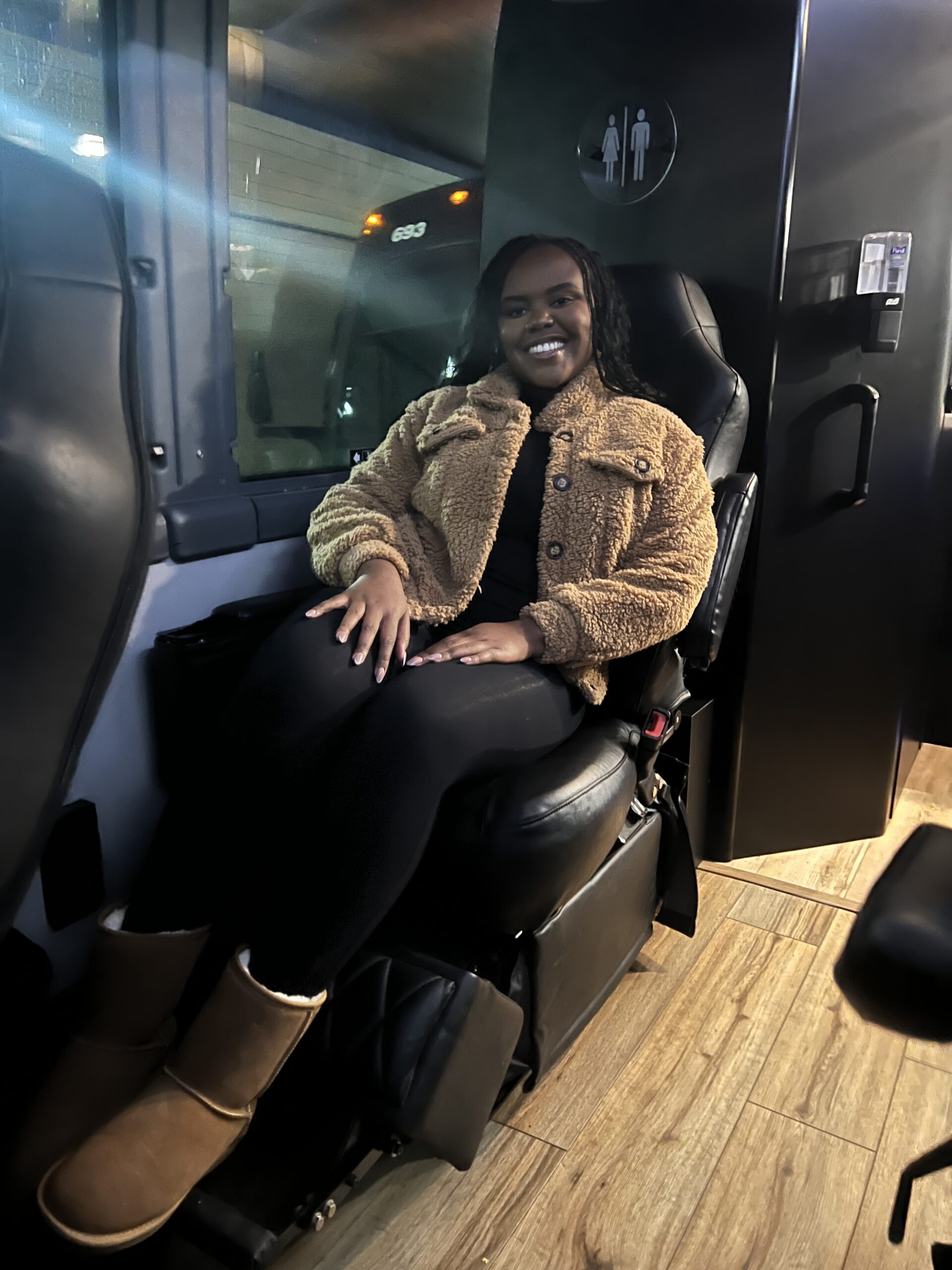 On The Jet, I was able to recline my seat more than I can on the train; it isn't as crowded, which helps with my anxiety, and you have your own designated area on the bus.
I booked a single seat with no one next to me, and I do feel this helped a lot with comfort and ease while riding, which helped the time go by faster.
With all that being said, even though the duration of The Jet is longer by 30 minutes, I still found it to be completely worth the ride.
FAQs About The Jet Bus Service
How old do you have to be to ride?
Children age 6 and over can ride The Jet.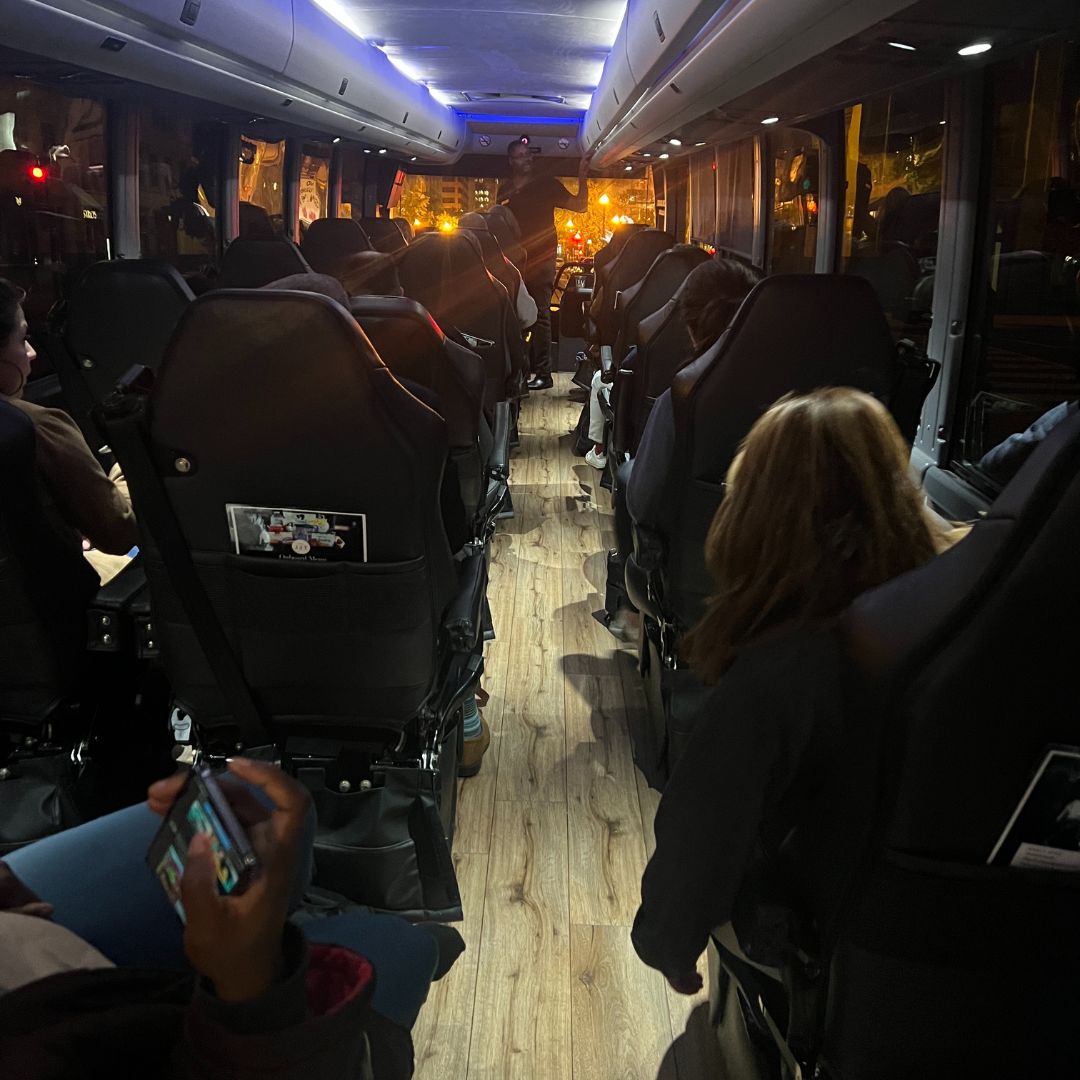 Can I bring my pet on The Jet?
The Jet does allow passengers to bring certified service animals onboard for no additional charge(s). They must be actual service animals with certifications, not emotional support animals or pets. You can find more information about bringing pets on The Jet here.
Am I allowed to bring my own food on The Jet?
You can bring food and drinks on the bus to enjoy during your ride. I brought food from a cafe onboard and did not have any issues.
Does The Jet travel to any other cities besides D.C. and New York?
For now, The Jet only travels between these two cities but has announced that they plan on expanding their travel to other cities, which is exciting!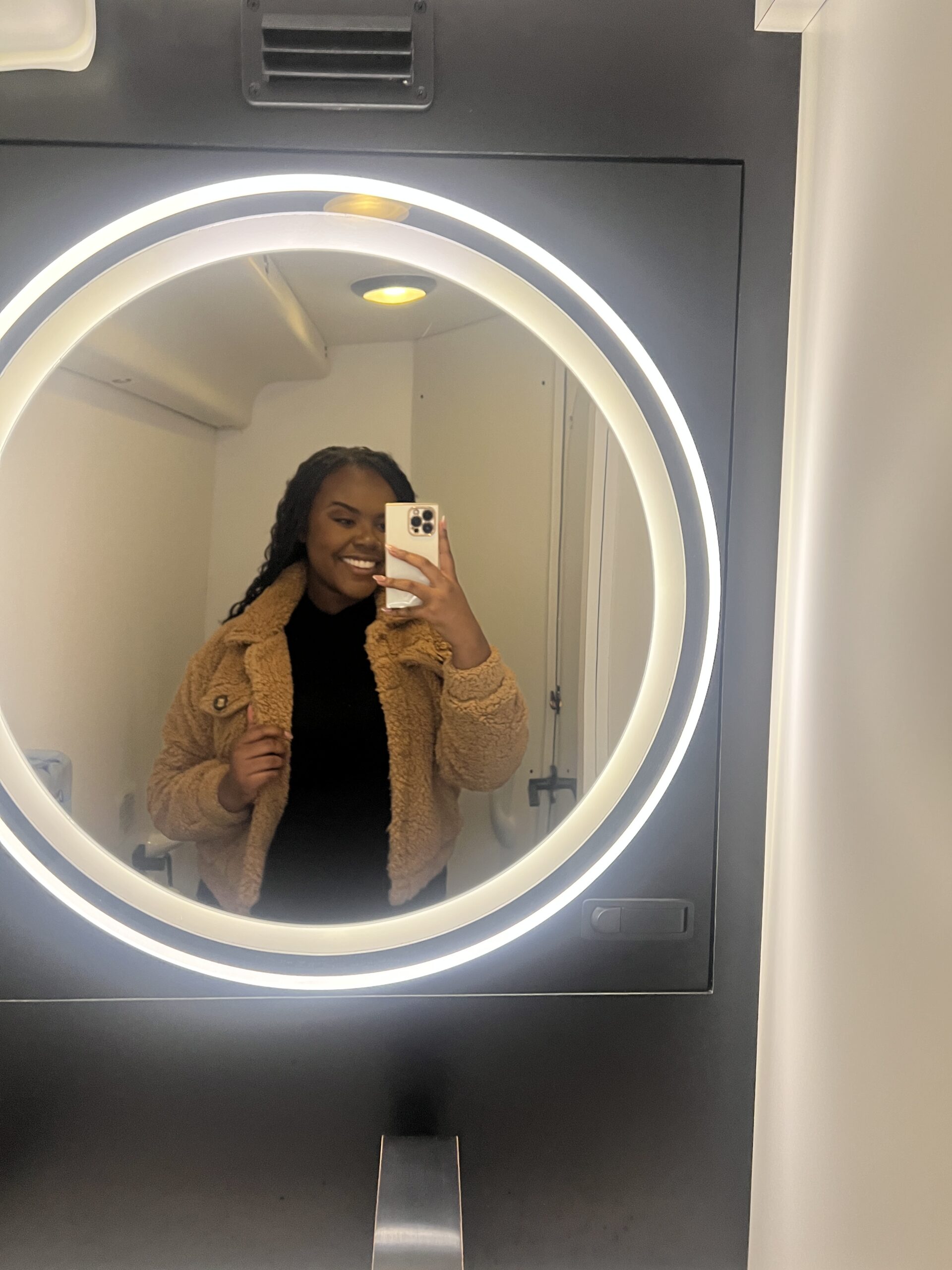 ---
I hope this review was helpful in knowing what to expect when riding The Jet and that you have a great experience. 
Overall, if you have the coins to splurge a little on your journey to navigating between D.C. and New York, I think The Jet is a fabulous option to do so.
Let me know what your experience on The Jet has been like or what you are looking forward to on your first ride! Feel free to drop any questions you have about my experience in the comments below.