I started traveling as a broke college student who did every side hustle you can think of to begin my journey to seeing the world.
A big part of traveling is catching flights, and I remember buying a flight being the most intimidating part of traveling for me.
Flights can admittedly be pricey and are even the most expensive part of paying for a trip sometimes.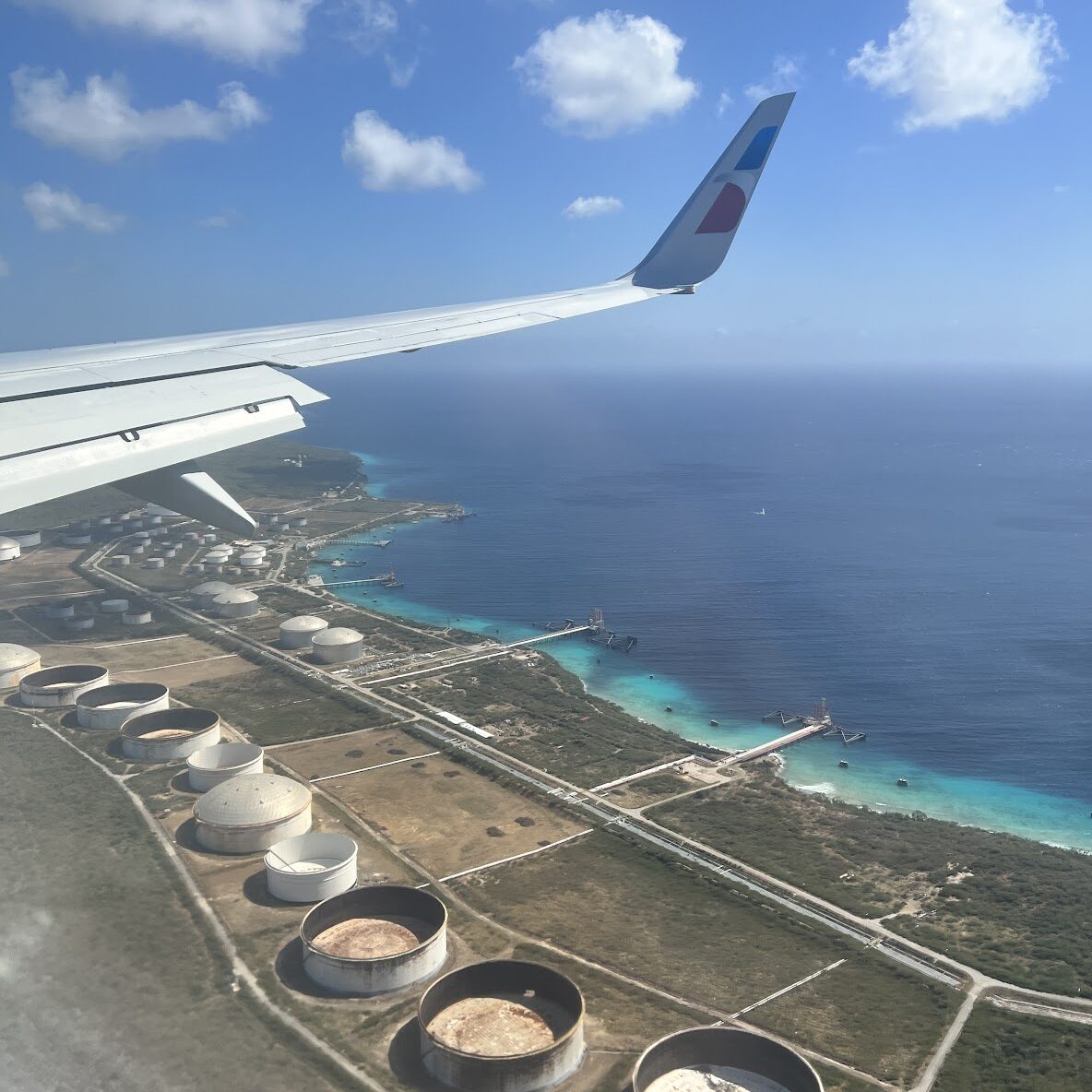 Thankfully, there are many search engines and tools out there today whose sole purpose is to help you find affordable flights to get to the destinations of your dreams.
Here are some places to look for cheap flights to travel without breaking the bank.
*Disclaimer* I always recommend booking directly with airlines, as using third-party sites to book flights can cause complications should you need to change your flight. 
The Flight Deal
The Flight Deal is a website that posts flight deal alerts throughout the website, and even better, you can sign up to receive a daily email with all of the deals they have found. 
I find their emails to be very organized and easy to process/take in the information. It's fun being able to see what deals are out there with a quick scan!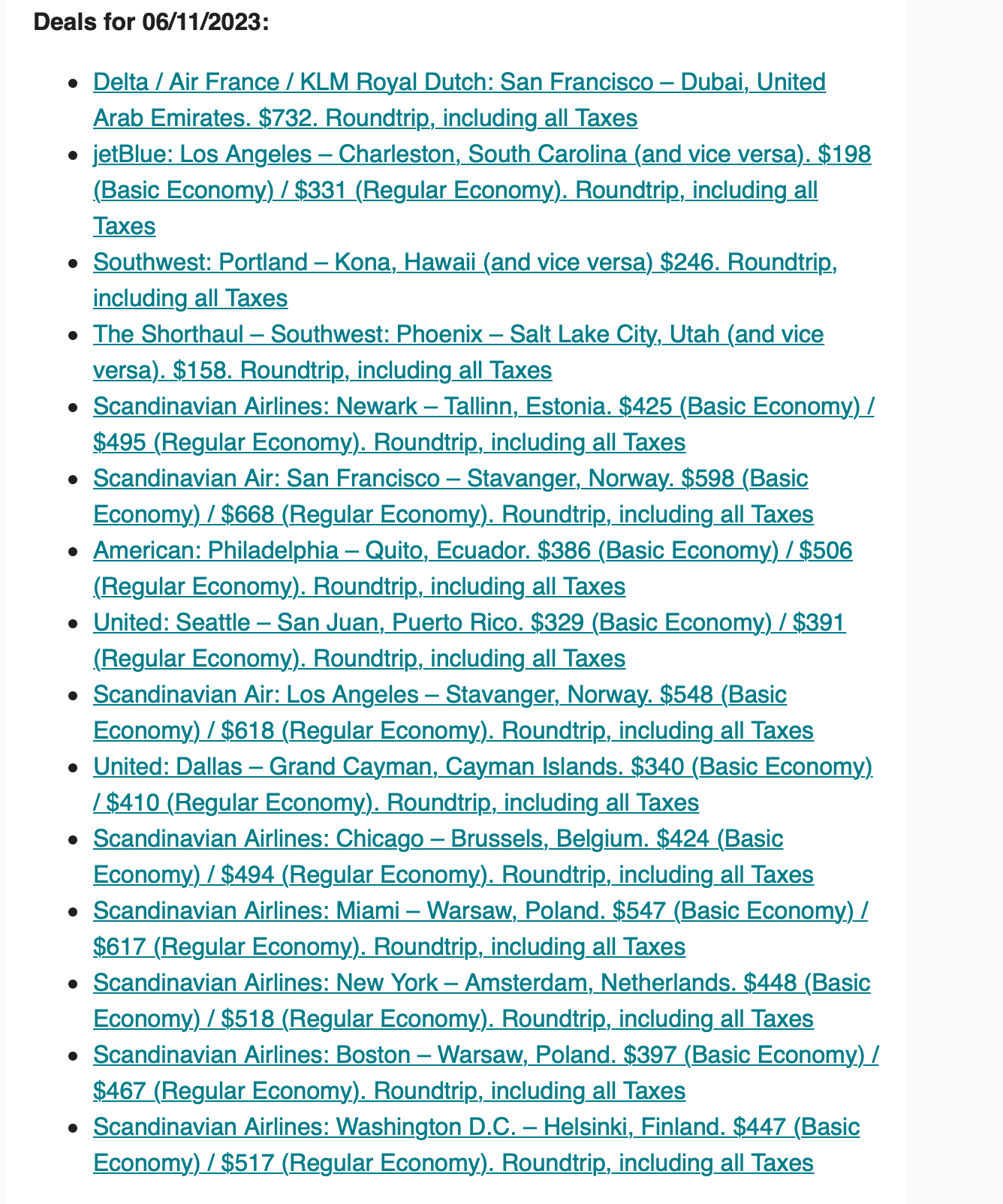 The Flight Deal mainly has flight deals from the following major cities:
New York City
San Francisco
Los Angeles
Boston
Chicago
Dallas
Miami
Philadelphia
Phoenix
Portland
Seattle
Washington D.C.
Other Cities
Google Flights
Google Flights is a travel search engine that allows users to search for flights from different airlines and compare prices to find the best deals. 
With a simple interface for searching and booking flights, you type in details like your departure and destination cities, travel dates, the number of passengers, etc.
Google Flights then generates a list of flights with prices and details on each flight so you can easily compare the best option for your travel needs.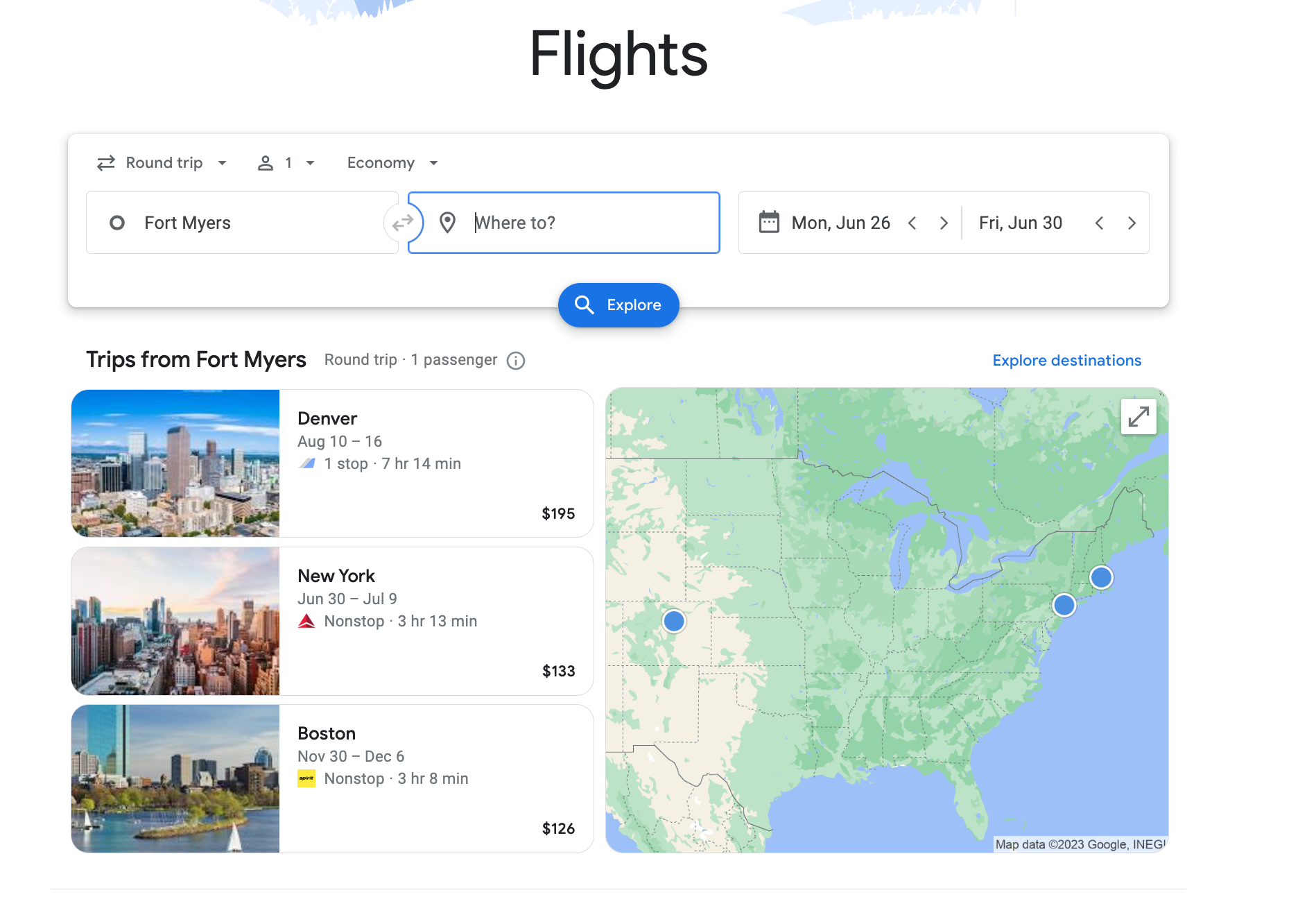 Going
Going, formerly known as Scott's Cheap Flights, is my favorite place to look for cheap flights. Going is a travel membership/online service that is designed to help travelers find and book cheap flights to various destinations around the world. 
The Going team searches the internet for the best flight deals, then sends out their findings daily.
What I love about Going is that they are very detailed with the information and have amazing deals as well.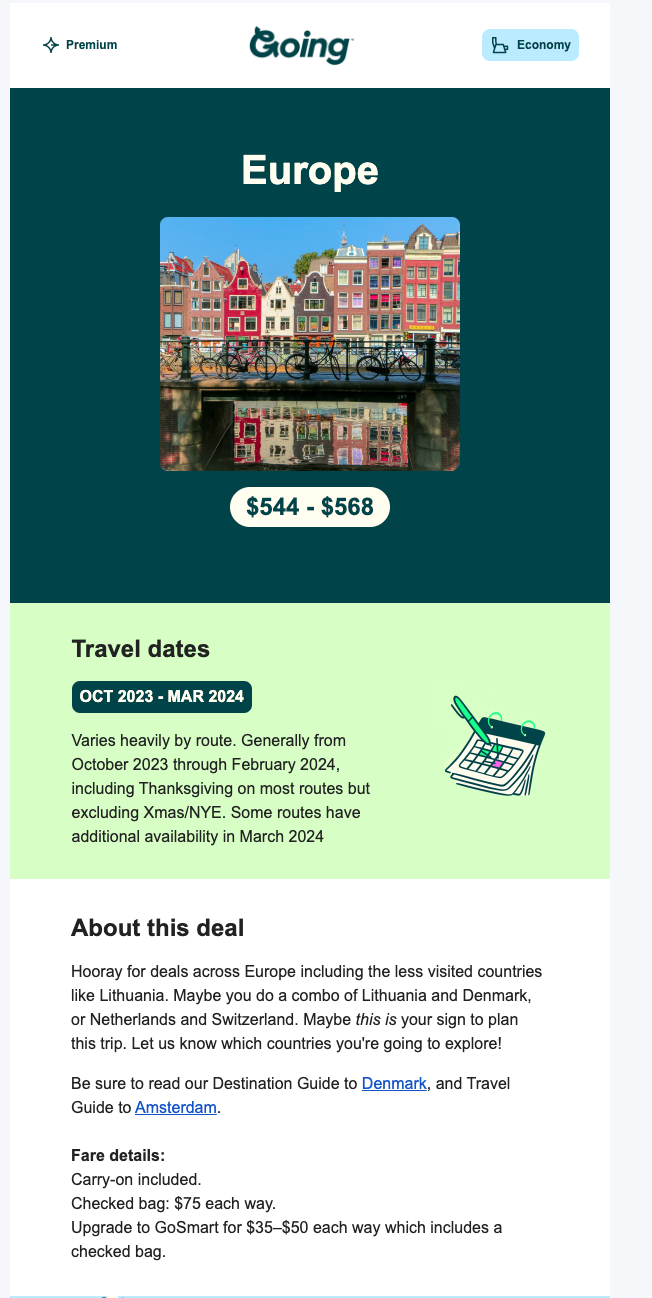 The emails I receive every day include the following:
The dates the deal(s) are available
The baggage rules
What airline the deal is good for
A guide on the place the deal is for
The platform is free to use, and while they do offer two paid subscription services (Going's Premium, which I am subscribed to and think is worth it, and Elite), the free service is really good as well.  
Momondo
Momondo is another great flight tracking platform for cheap flights. Once you input your desired travel details, the results will come up. 
You have the option of tailoring your results based on factors like the layover time you want (if any), your flight leg of choice, whether it has Wi-Fi, etc. These offerings are the one thing I find to be different about this platform and were great touches!
Momondo also has a price alert feature where you can get notified when prices go down via email, which is very convenient.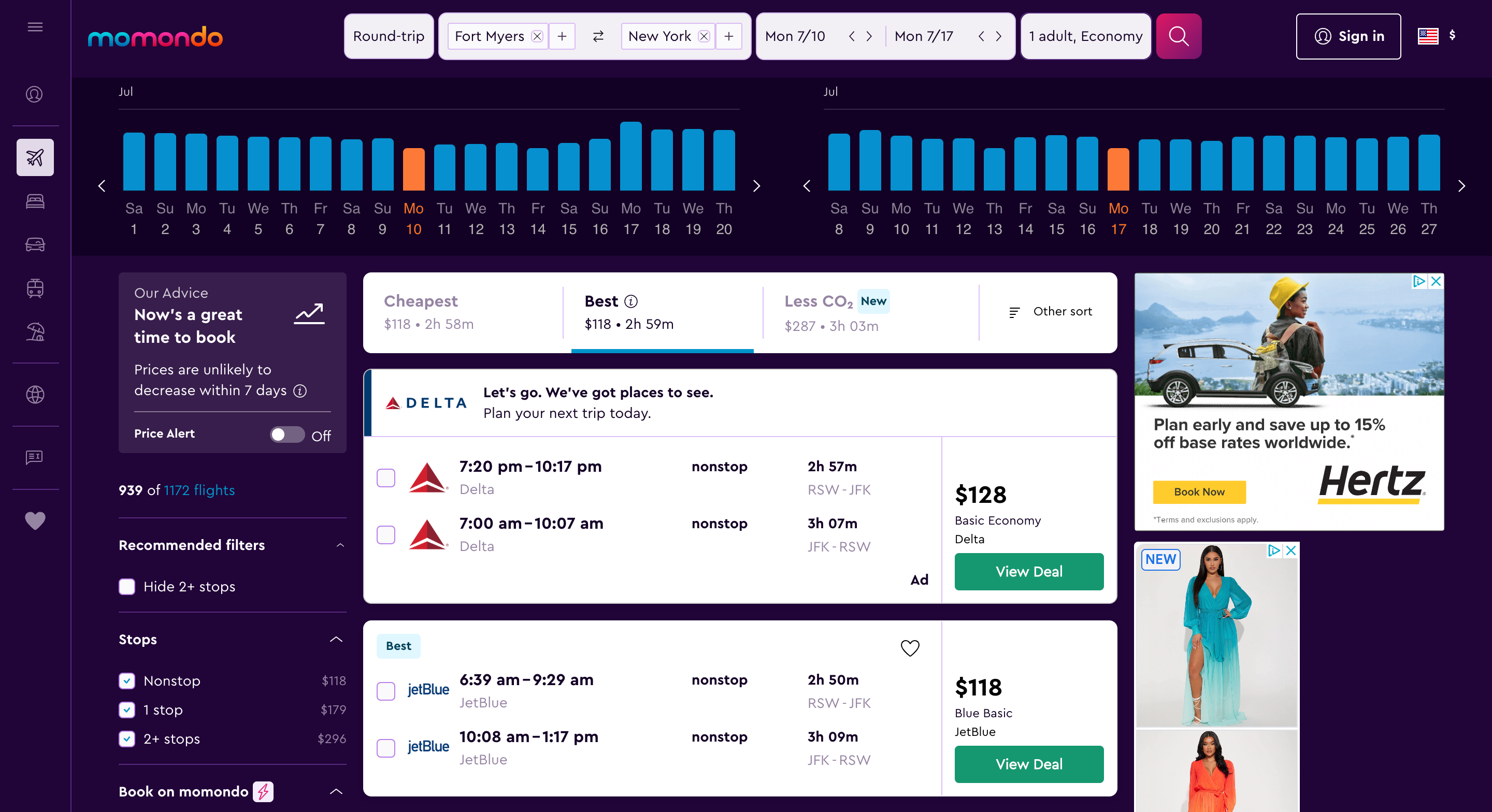 Skyscanner
Another one of my favorites, Skyscanner, is my go-to platform for searching for cheap flights. 
Skyscanner's clean layout makes it easy to search for flights.
My favorite feature with Skyscanner is its "Everywhere" feature that you can use in the "To" section to see the cheapest flights or best deals from the destination of your choice.
This is also included in some of the other platforms, but Skyscanner's overall look makes the experience seamless.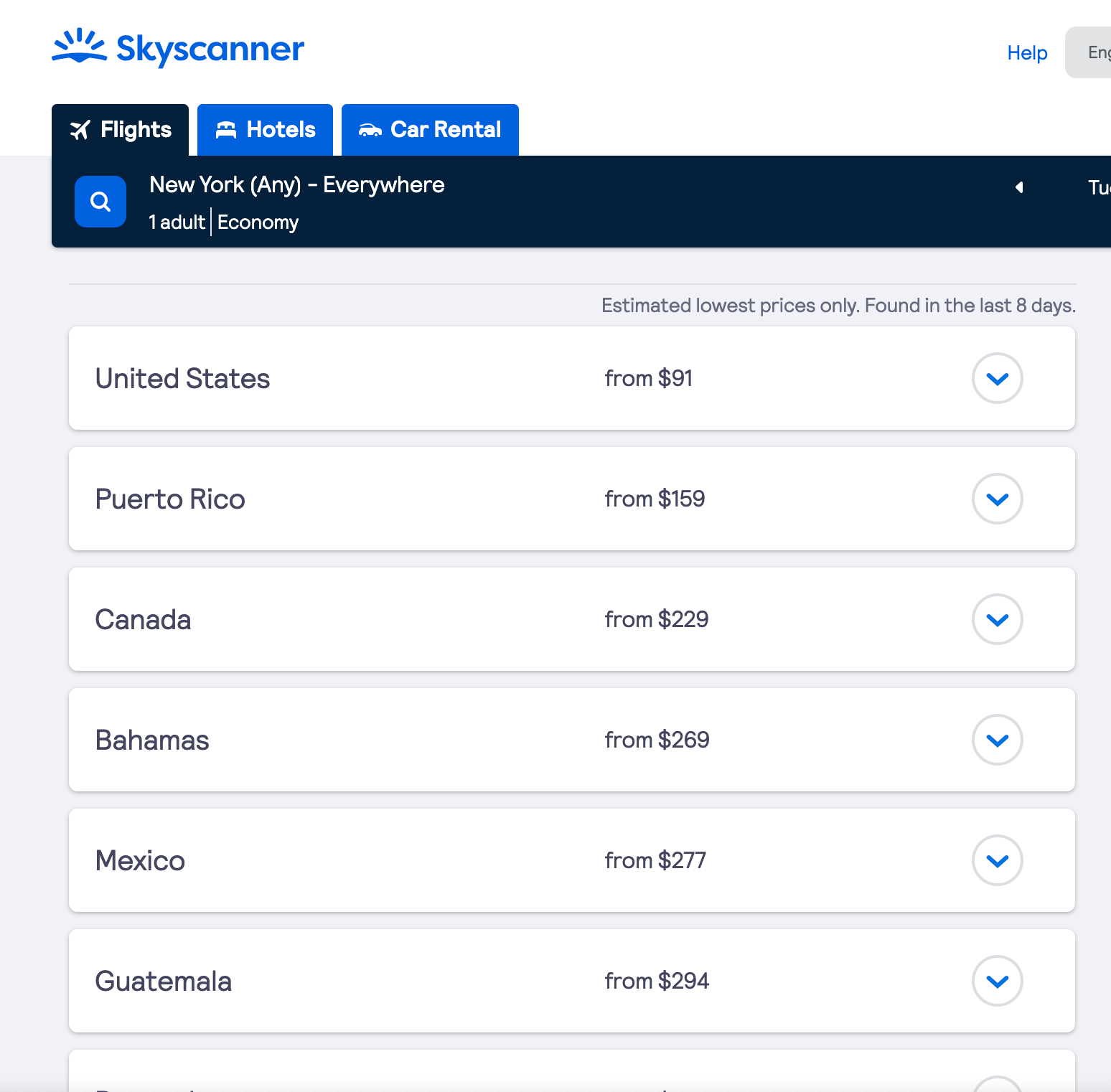 Hopper
Hopper is an app you'll download on your phone to research cheap flight options. As stated on the website, you can use the app to "find the best time to book, explore Flash Deals, and earn Carrot Cash for free." 
Carrot Cash is an incentive offered by Hopper as a rewards and discount program. When you book through Hopper, you can earn "Carrot Cash" to apply to your flight, hotel, and rental car bookings.
As you navigate through the app, you'll see various features that allow you to find, track, and book flights from a variety of airlines.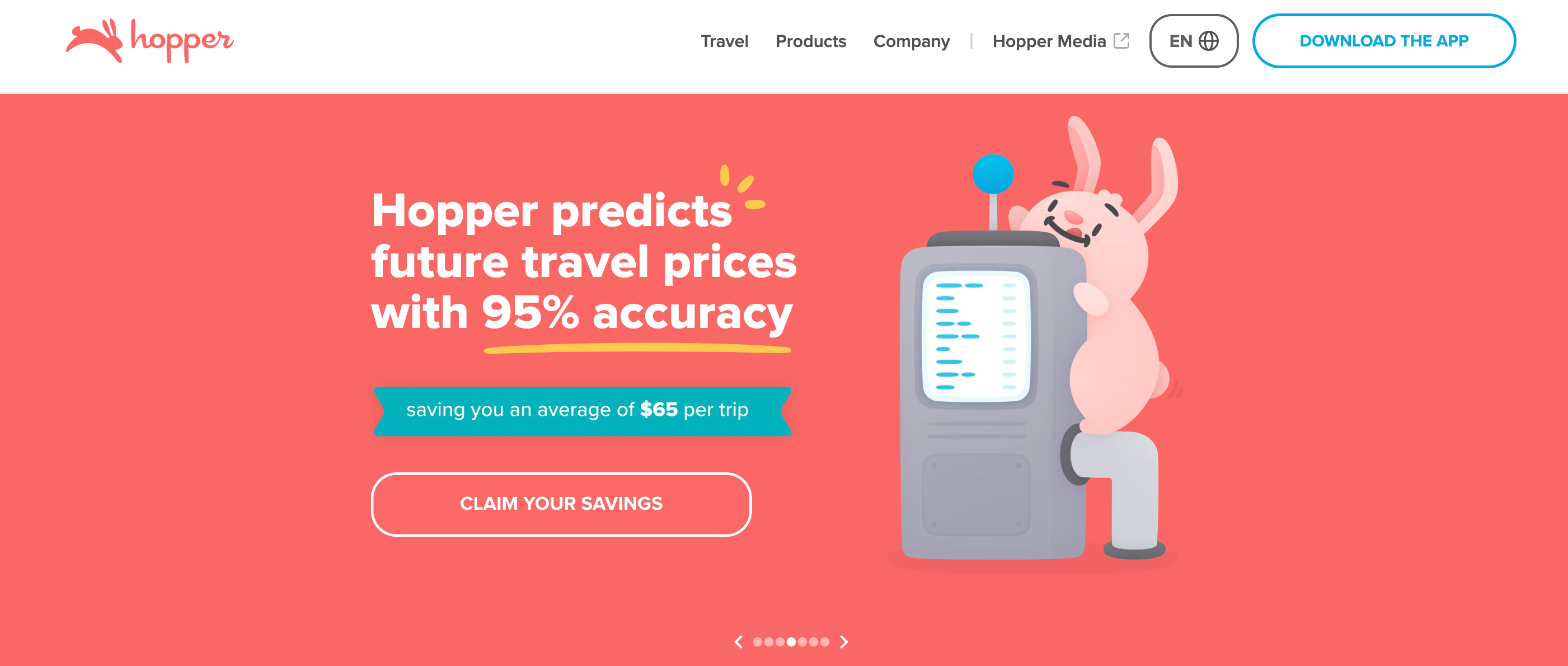 —
Have another place you go to look for cheap flights that I missed? Let me know in the comments!