Accra is home to many remote workers, students, and creatives who are always looking for relaxing workspaces with great WiFi or just a place to meet with others. After living in Ghana for two years and practically living inside cafes for a great amount of that time, I have had the pleasure of visiting many cafes in Accra and narrowing down some of my best ones in this blog post.
Here are over a dozen of cafes you can visit when in Accra!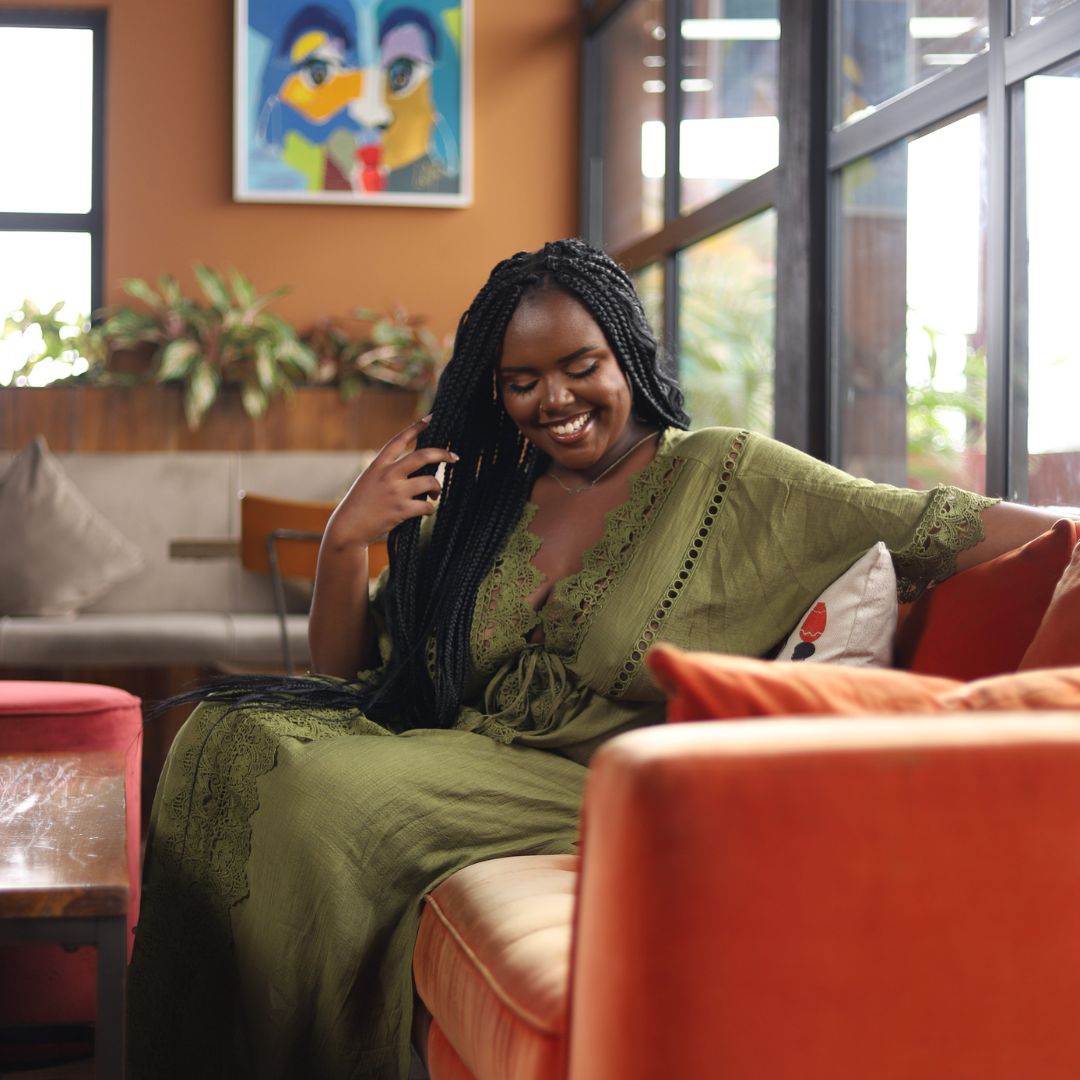 Kwae Terrace
Airport City
It's only right that I start this list off with my favorite cafe of all time in Accra: Kwae Terrace. This cafe is in the "Volta Place" building on the 5th floor. Once you walk through the doors, you'll see that the inside of the cafe is decorated with plants, unique artwork, and soft orange-brown tones that give off a calm vibe.
There's a coffee bar near the cashier you can sit at if you want to have a quick drink and go, and even a selection of books the cafe has for sale if you're looking for your next read! Seating options are available for singles, couples, and even large groups if you want to host a brunch here.
The natural sunlight that hits the cafe's lobby adds to its serene ambiance. Besides its indoor unit, Kwae Terrace features a rooftop extension with even more seating and views overlooking an affluent neighborhood with stunning real-estate eye candy.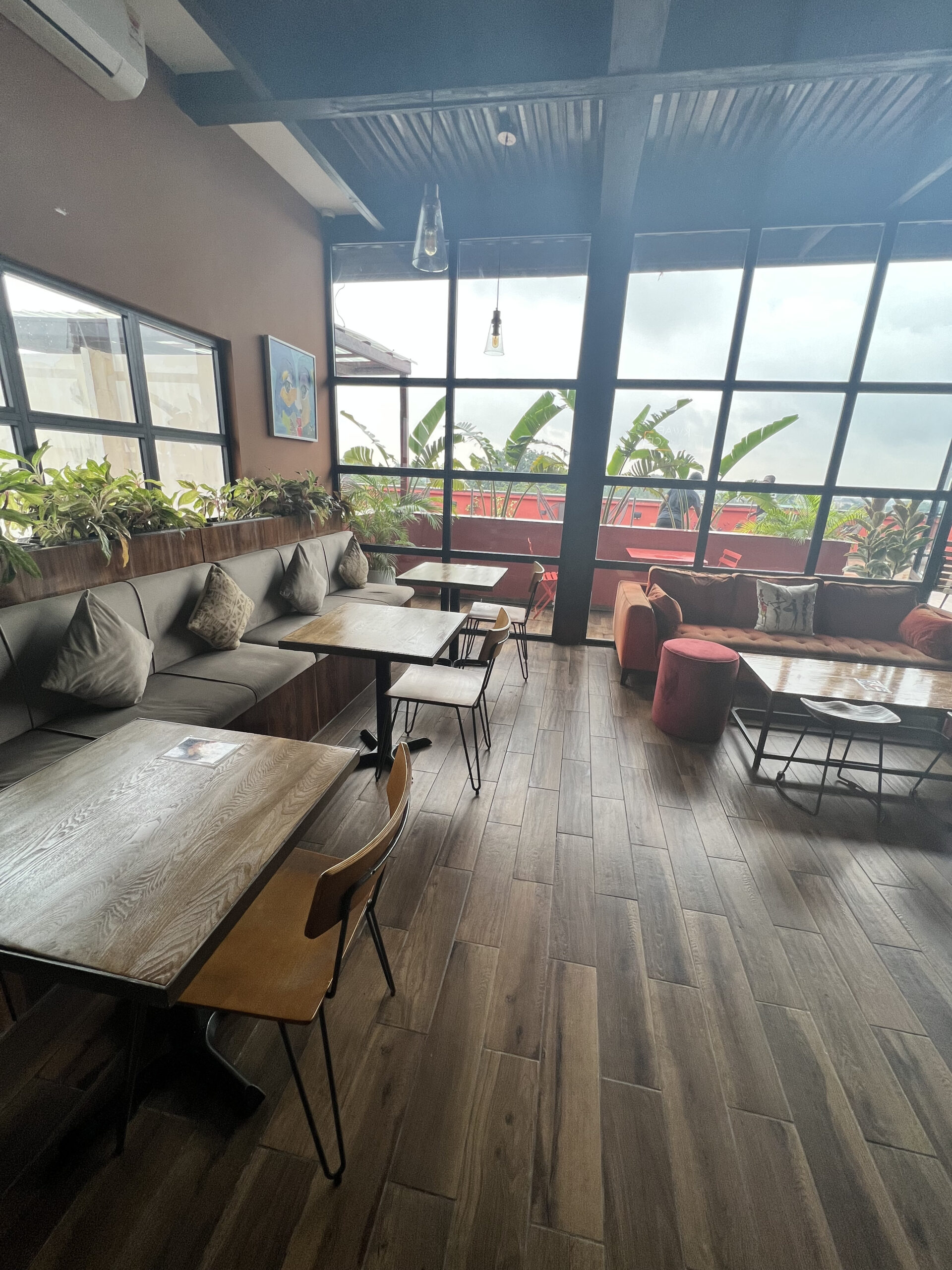 I've worked from Kwae Terrace numerous times, and the only major downside is that the cafe does not offer WiFi. This isn't a huge issue if you're looking to do offline work or have a portable system, but if you are visiting Accra, you may want to factor this in.
Still, Kwae Terrace does have an extensive brunch menu that is worth sampling, even if you don't end up working here!
Check out my video of Kwae Terrace below to know what to expect:
Card Payment: Yes
Public WiFi: No (You'll have to use your own WiFi).
Vida E Caffè
Airport, Cantonments, East Legon, Labone, Villagio
'Vida e Caffè' translates to "life and coffee" in Portuguese, and the name is certainly fitting. This Portuguese-inspired cafe has several branches sprinkled around Accra and is one of the most popular cafes in Accra. I frequently visit the East Legon branch because it is the closest and best cafe to my apartment. Vida has plenty of seating options and outlets, which is one of my favorite things about the branch because cafes in Accra often have limited seating and charging ports.
I can say that I have met some of the best people I've gotten to know here in Accra from sitting inside the Vida e Caffè East Legon location. It's a great place to meet people in Accra, especially if you do any kind of business or creative work. Many entrepreneurs and creatives work from Vida.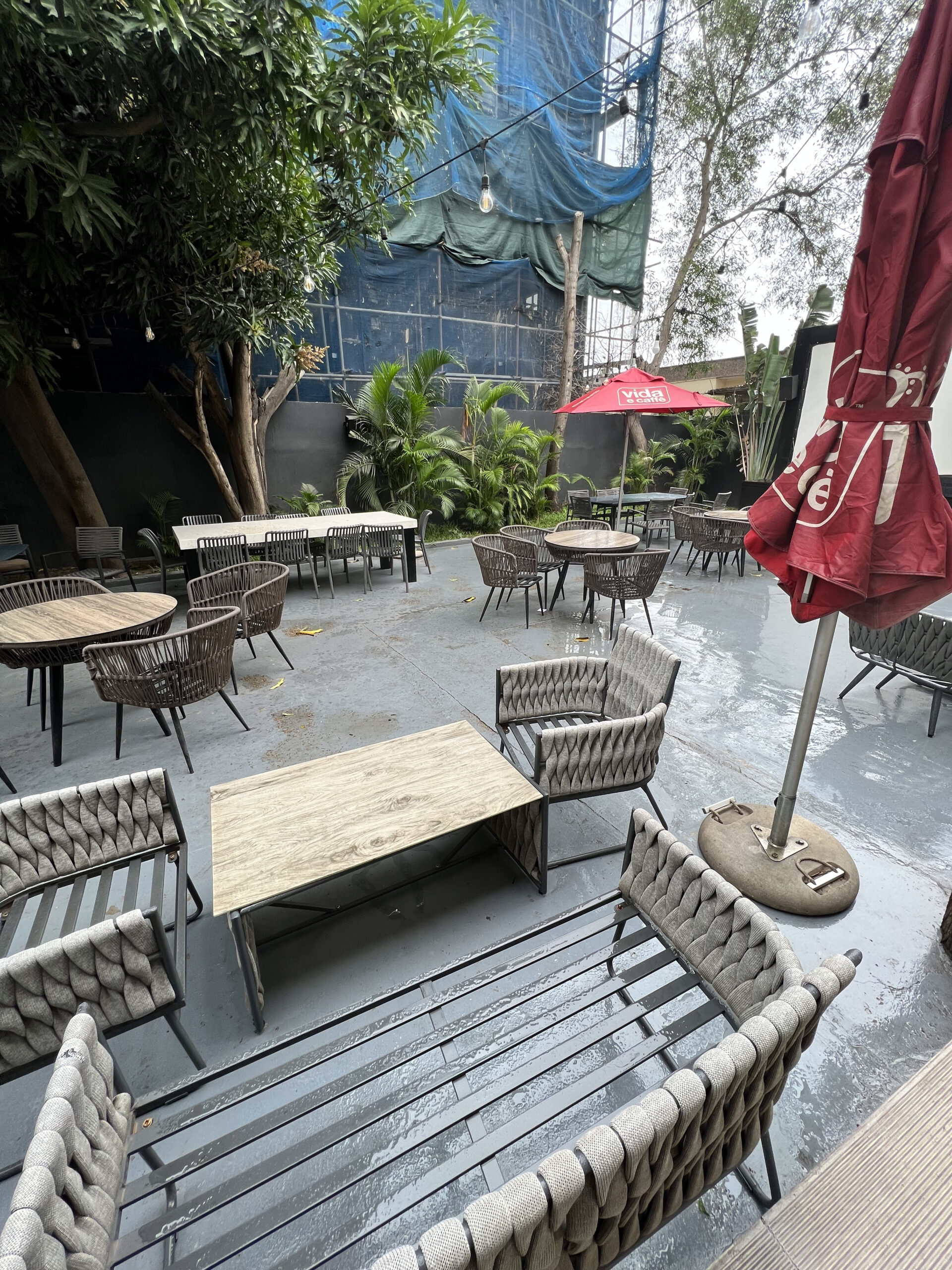 I will say the East Legon branch has several employees always working, yet the service can be incredibly slow. Service is not Accra's strong suit in general, so whenever I'm pointing this out, just know that it's even worse than average.
Vida Cafe has plenty of food and drink options from sandwiches to rice bowls and different coffee drinks you can try!
Card Payment: Yes
Public WiFi: Yes
The Good Baker
East Legon
The Good Baker is #3 on this roundup but #2 in my book regarding the best cafes in Accra. This fairly new cafe in Accra is very close to the A&C Mall. This cafe has a fresh vibe, almost like you get to restart when you walk in the doors.
An artisan bakery, the Good Baker has a variety of baked goods available daily at an affordable price point (the last time I checked!). I'm talking about fresh loaves of bread, brownies, cookies, etc., all available once you walk in.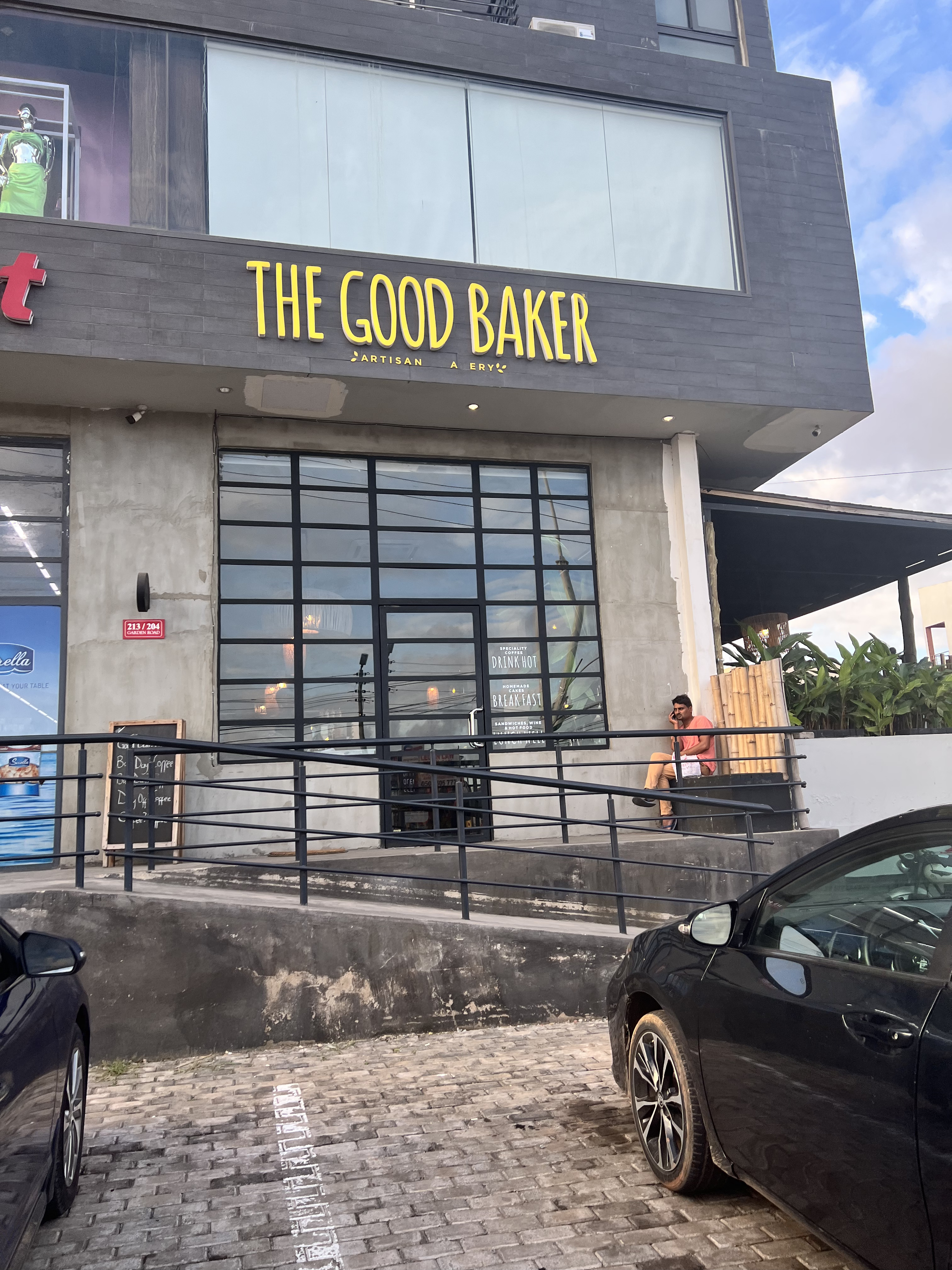 As a lover of bakeries in Accra, I've found that if you want baked goods, you often have to order ahead of time from someone baking online. It's hard to get sweet treats (of quality, in my opinion) at an actual store, so when I found the Good Baker, I was in bakery heaven. The cafe also has a unique menu compared to other cafes I have been to, with food items like wild scrambled salmon and berry vanilla pudding, all within a range of about 31 – 66 cedis ($3.10 – $6.60).
The Good Baker has limited seating inside, so try to come early if you plan on working from this cafe to get an air-condition friendly seat. If that fails, there are seats outdoors 🙂
Card Payment: Yes
Public WiFi: Yes
Kukun
Osu
Another well-known cafe in Accra, Kukun, has a co-working space, cafe, private office space, and outdoor garden in one place. As you pull up to the cafe, you're embraced by a tall white building with the word "KUKUN" spelled out in big black letters.
Right outside the door of the cafe are an assortment of seating options should you decide to work outdoors. You'll find a minibar and some more spaces to work in the cafe.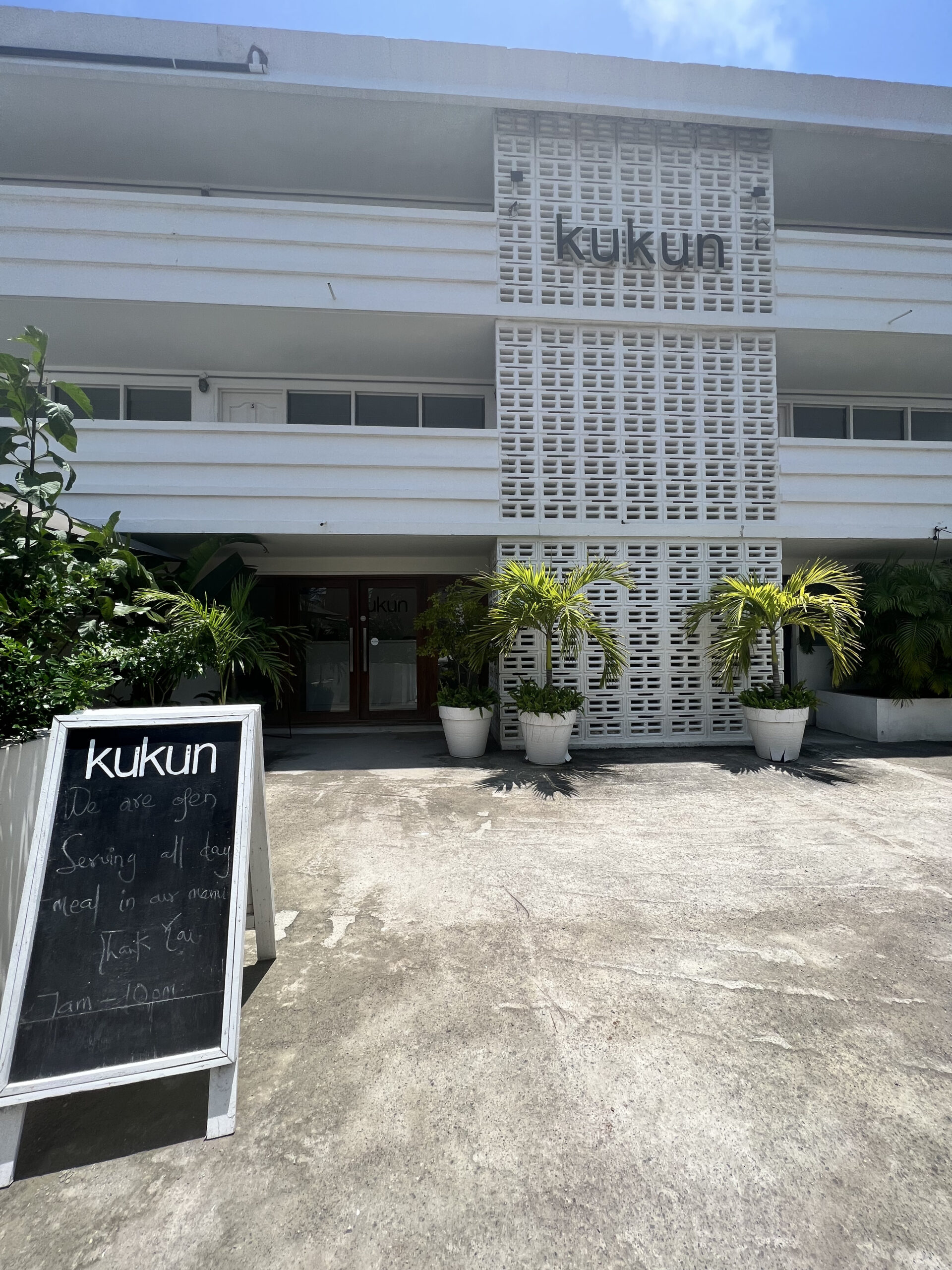 What makes Kukun even greater is that there are workspaces you can rent. Private desks, private offices, training rooms, and meeting rooms are all available for rent daily and even monthly.
Events like pottery workshops are often hosted at Kukun, so follow their Instagram to stay updated! Find the menu for Kukun here.
Card Payment: Yes
Public WiFi: Yes
Cafe Accra
East Legon
You can miss Cafe Accra if you're not paying attention, as it lies within a busy plaza connected to a main road in East Legon. A breakfast, brunch, and lunch cafe, Cafe Accra is one of the first cafes I ever went to in Accra in my 2019 study abroad days.
The cafe is small but does what it needs to do to serve tasty breakfast options in the city. From lemon-drizzled crepes to Oreo pancakes, you are in for a treat when you visit Cafe Accra!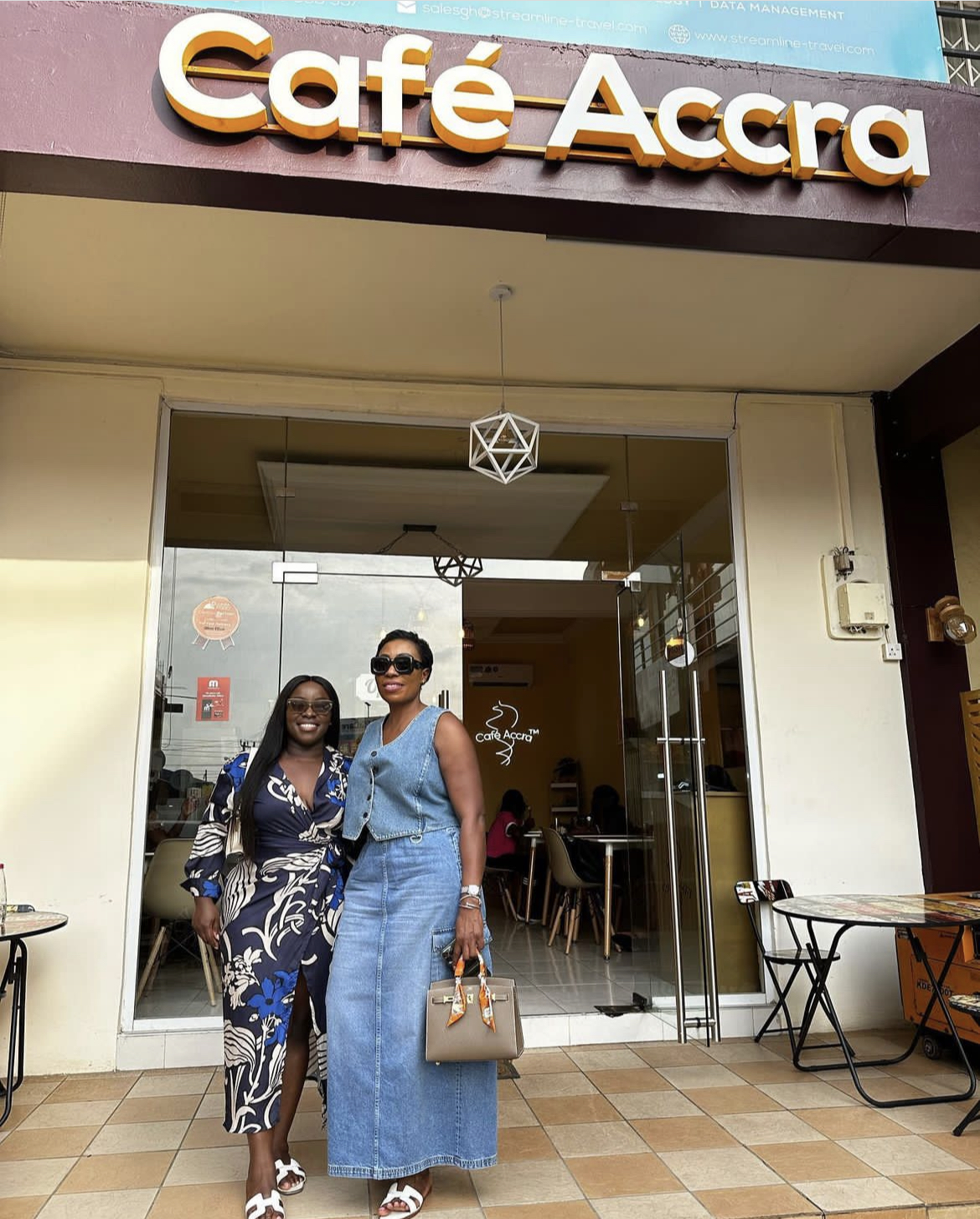 It may not be the most convenient place to work, as many people come to socialize and grub, but it could work if you want to pull out your laptop and do some work.
Card Payment: Yes
Public WiFi: Yes, but it is a hit or miss. It has been down more times than up when I have gone.
Dear Lola Cafe
Osu
With its entrance engulfed in leaves and home-grown pottery, a walk through the door of Dear Lola Cafe, and you've entered an intimate space perfect for working and collecting your thoughts. Dear Lola Cafe is located in Osu and provides its visitors with a calming relaxation or workplace for the day.
The space is small, with seating inside for ideally 3-6 people and (2-4 people outside), so you may want to come early to secure a spot. I could not get enough of the actual decor of this cafe. I interpreted it as being a mix of boho and retro.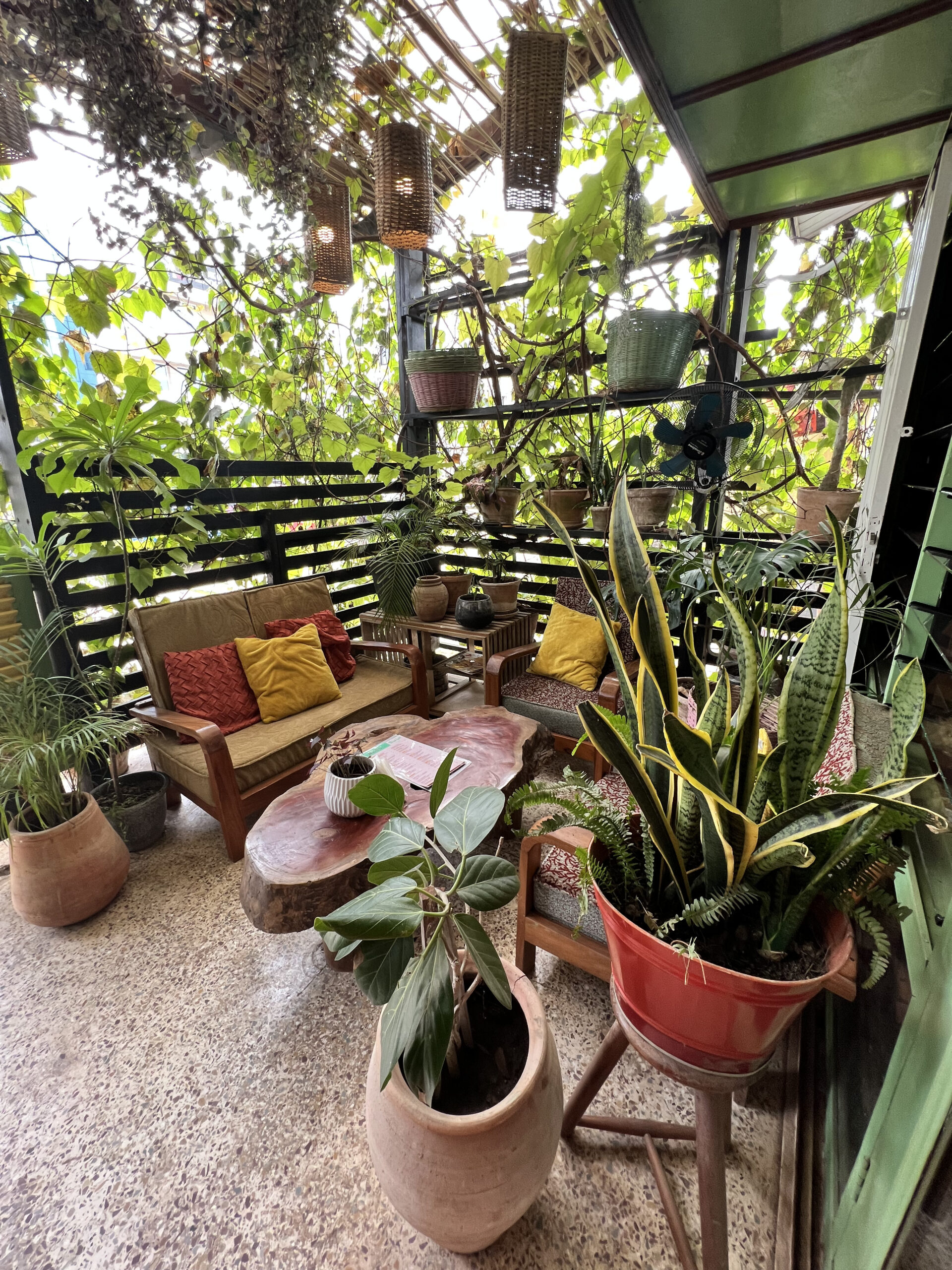 I can't brag about the food at this cafe, as I honestly did not enjoy anything I had, but the ambiance was so nice I would be more than willing to try again.
Card Payment: Not entirely sure, I paid with Mobile Money last time I was there!
Public WiFi: Yes
Second Cup
Airport, Osu, Palace
Second Cup is another establishment in Accra with nine locations around the city. This coffee shop reminds me of a chic version of Starbucks. The cafe serves different pastries, but has a great selection of both cold and hot drinks.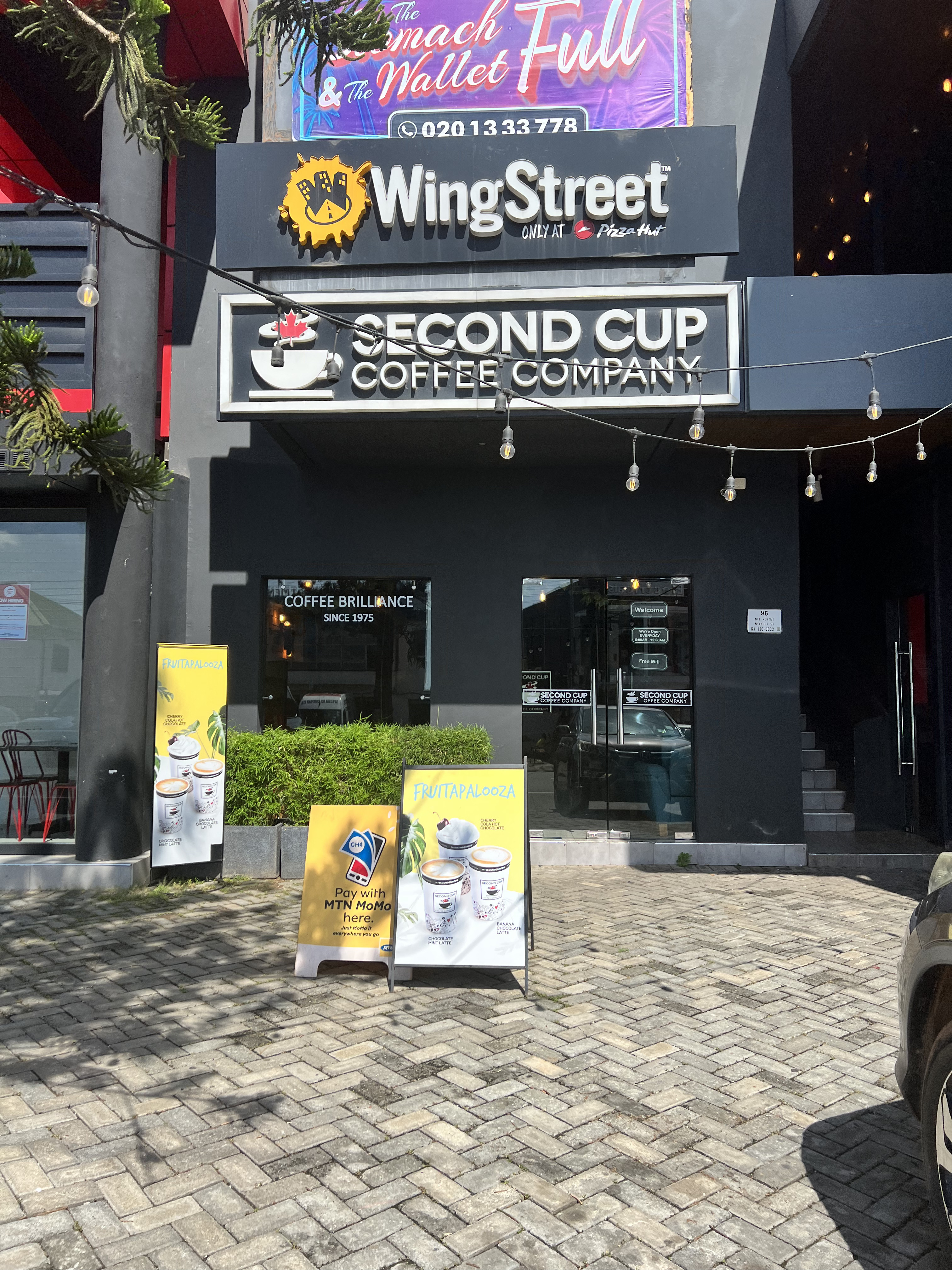 I've been to the Second Cup in Dzorwulu, and it's a very cozy and inviting atmosphere making it a great place to catch up on work, meet friends or just relax while sipping on a cup of coffee (or tea, if you aren't a coffee drinker like me!)
Card Payment: Yes
Public WiFi: Yes
Bourbon House Cafe
East Legon
Bourbon House Cafe is another one of the first cafes in Accra I ever went to, so I was very impressed when I went recently and saw that the cafe relocated and upgraded to a new space. Its new location features a beautiful courtyard setting with an awning before entering the cafe. There's plenty of seating inside, and Bourbon House has more of a business casual feel to it.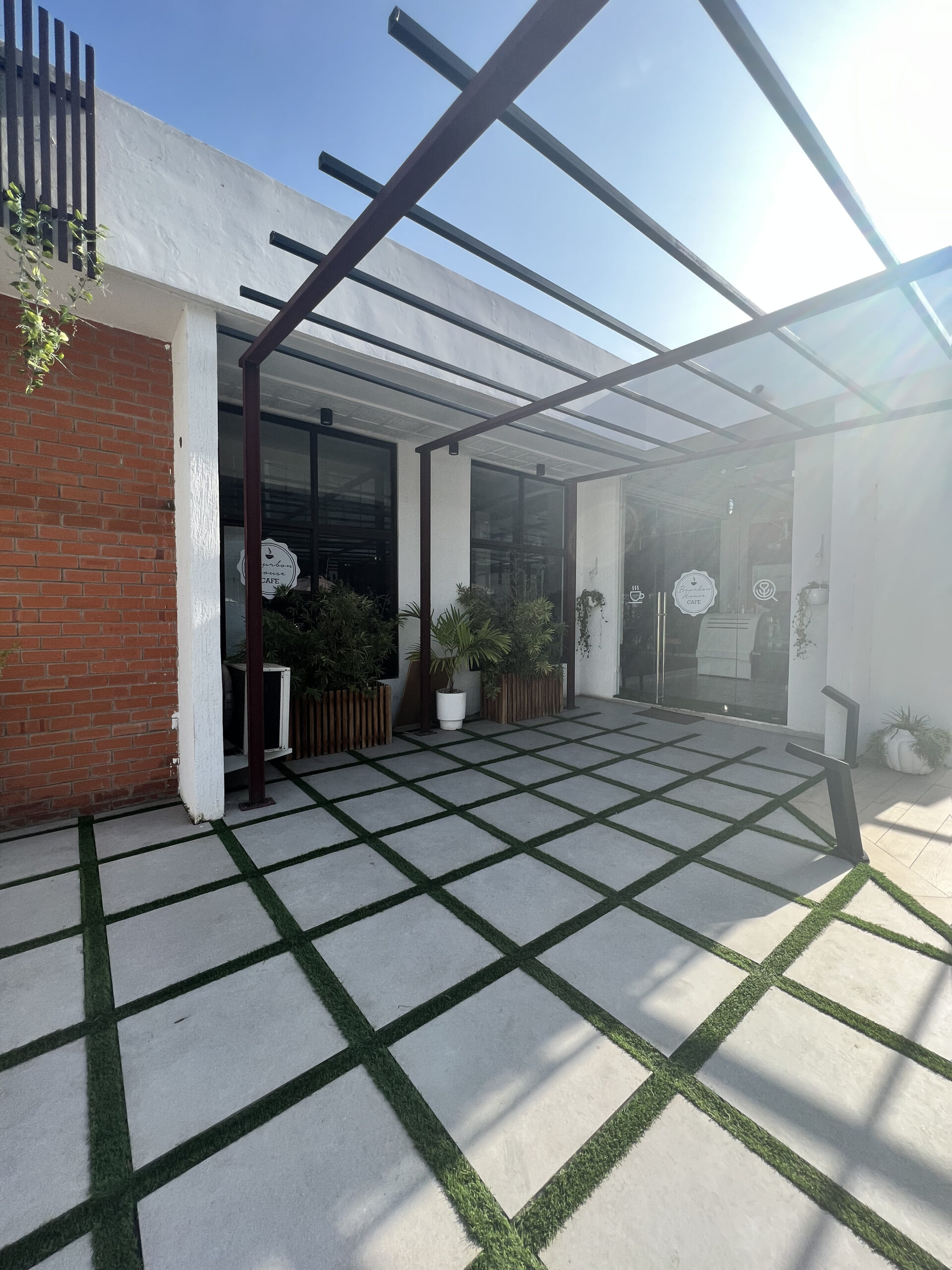 Insider Tip: You wouldn't know this with a regular visit, but if you're looking for more privacy for a fee, the cafe also has another door that leads to a private lounge and seating area!
Card Payment: Yes
Public WiFi: Yes
Theia Coffee House
Airport
One of Accra's garden cafes, Theia Coffee House, mainly takes place outdoors, with fresh flowers and greenery overtaking the environment. The cafe makes me feel like I'm in the backyard of a relative's home, preparing for Sunday dinner! You are immersed in nature at this cafe. The trees swaying from side to side, birds chirping, and the cool breeze blowing are bound to have a soothing working session.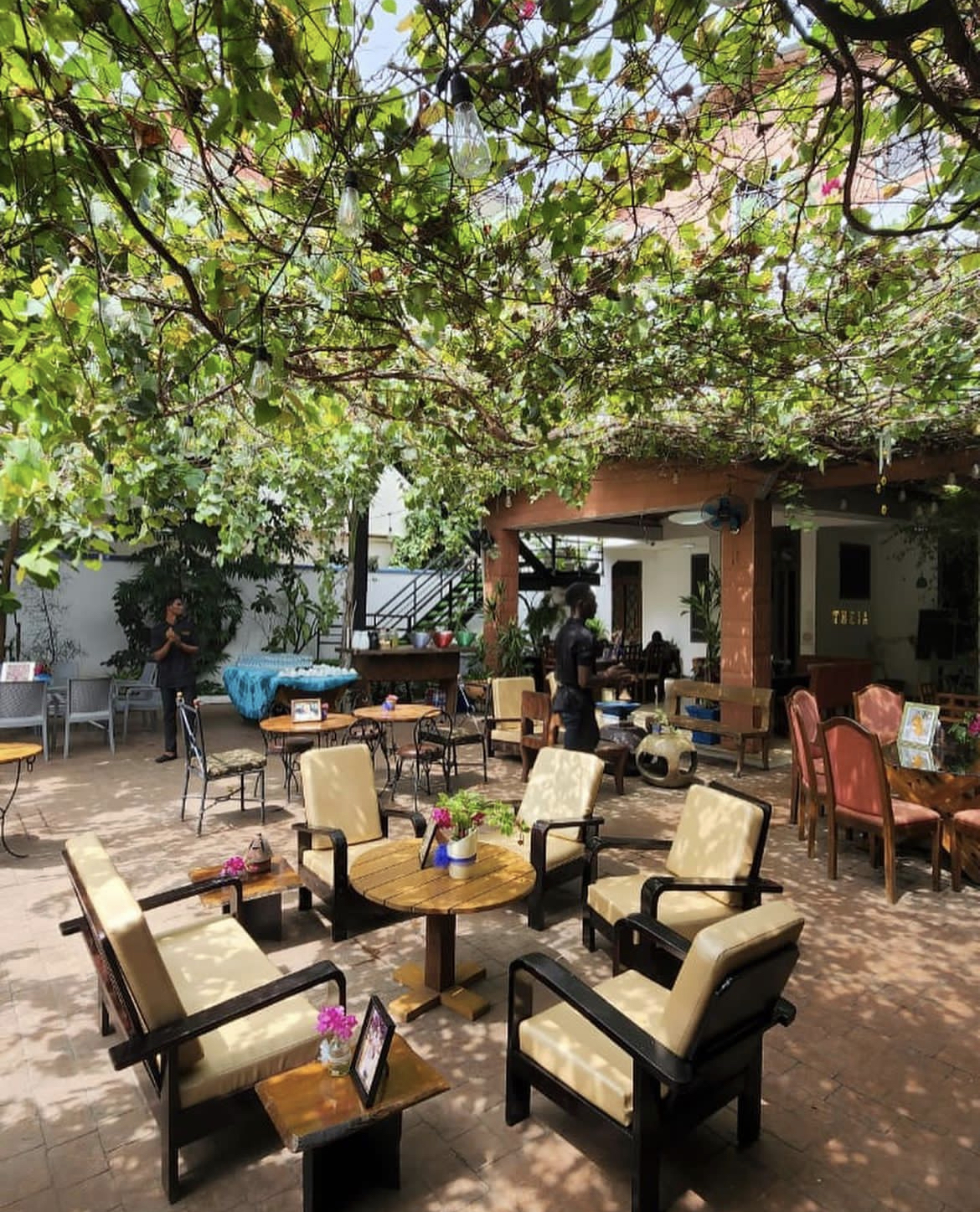 Once you go inside, there's more of a library/coffee shop feel, but with limited seating, so come early if you want to sit inside!
Check out my video of Theia Coffee House here to know what to expect.
Card Payment: Yes
Public WiFi: Yes
Jamestown Coffee Company
Osu
Jamestown Coffee Company is a favorite among residents here in Accra. This cafe is filled with life from the moment it opens in the morning until it closes in the evening. Jamestown Coffee has a great reputation for freshly roasted coffee and hosting great events that unite the community.
From panel discussions to live music nights and brunch parties, Jamestown Coffee Company is a great place to be if you're looking to meet some new people and get some work done while doing it!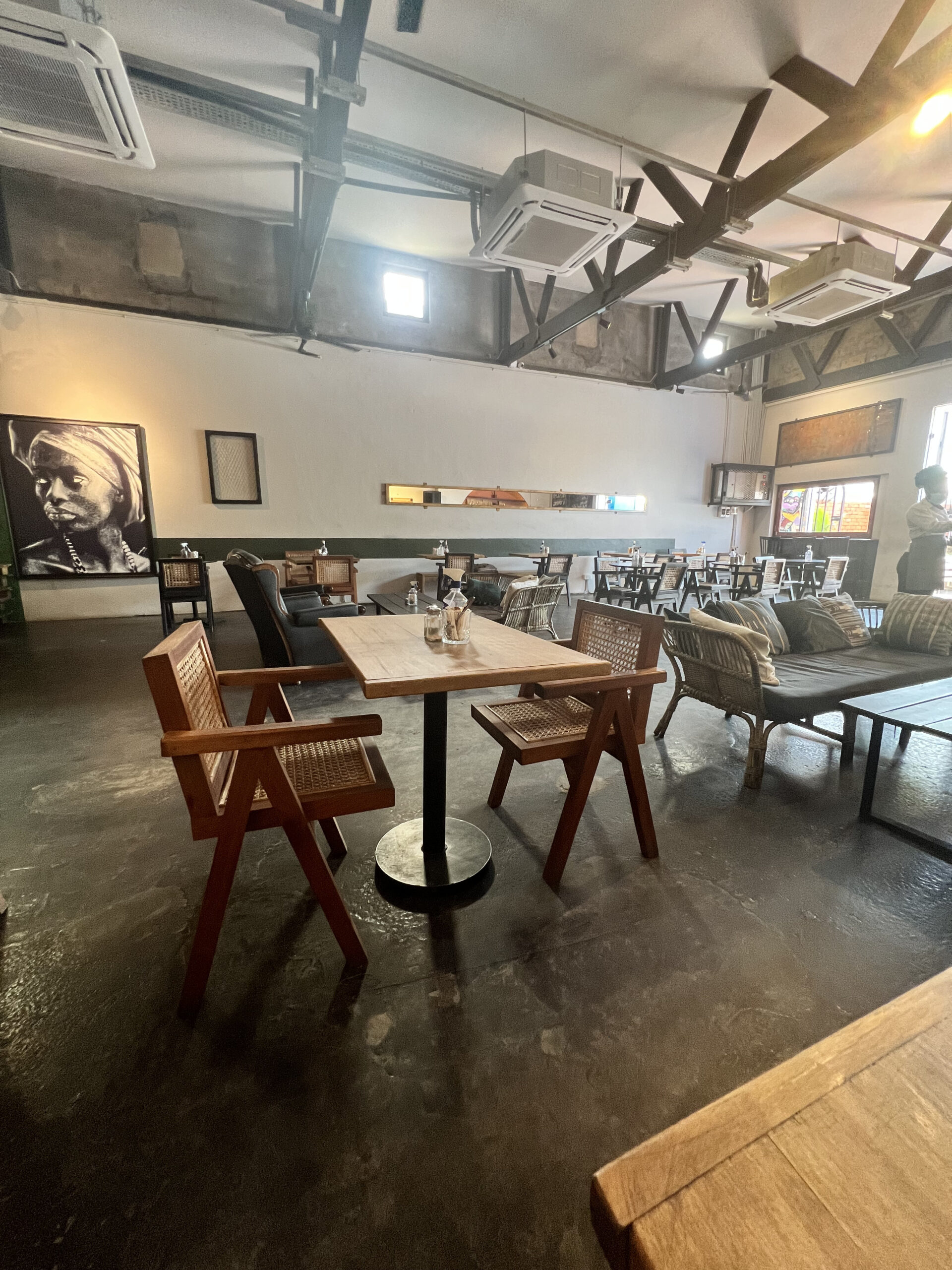 Insider Tip: At nighttime, Jamestown Cafe becomes an extension of Alleybar, one of the hottest nightlife venues in Accra. It's one of my favorite spots when the sun comes down, so stop by around 11 pm – 2 am for good vibes.
Card Payment: Yes
Public WiFi: Yes
D Cafe
Airport City, East Legon
A French cafe and bakery, D Café is a great place to stock up on baked goods and have some lunch. I've been to both of the branches in Accra. The one in Airport City is always a lot busier, which is no surprise since Airport is expat-heavy.
On the other hand, the one in East Legon is close to the A&C Mall and has always been nearly empty when I have gone in the morning and afternoon, so if you're looking for something quiet, it's perfect! Both branches are about the same size with different layouts.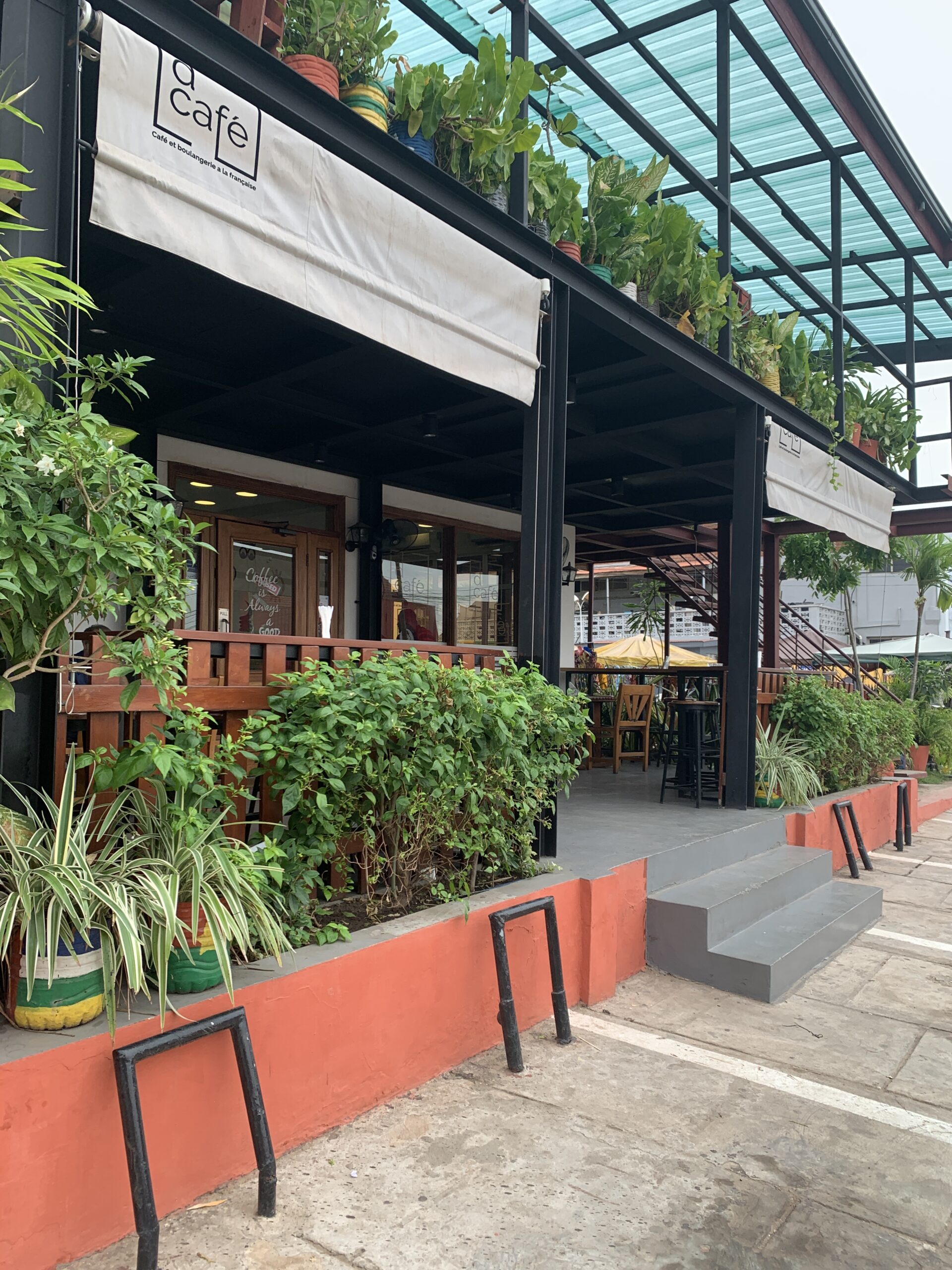 I wouldn't say this is necessarily one of the best places to work, as it depends on where you end up sitting, but it is a nice cafe to grab something to eat real quick or meet up with someone.
Card Payment: Yes
Public WiFi: Yes
Cafe Kwae
Airport
We can call Cafe Kwae the sister cafe of Kwae Terrace (my #1 pick on this roundup), as the same person owns it! Shoutout to Yvette Ansah. This cafe is located on the bottom floor of One Airport Square, a large commercial building with several businesses like Fitness 1 Gym and Bliss Yoga Accra.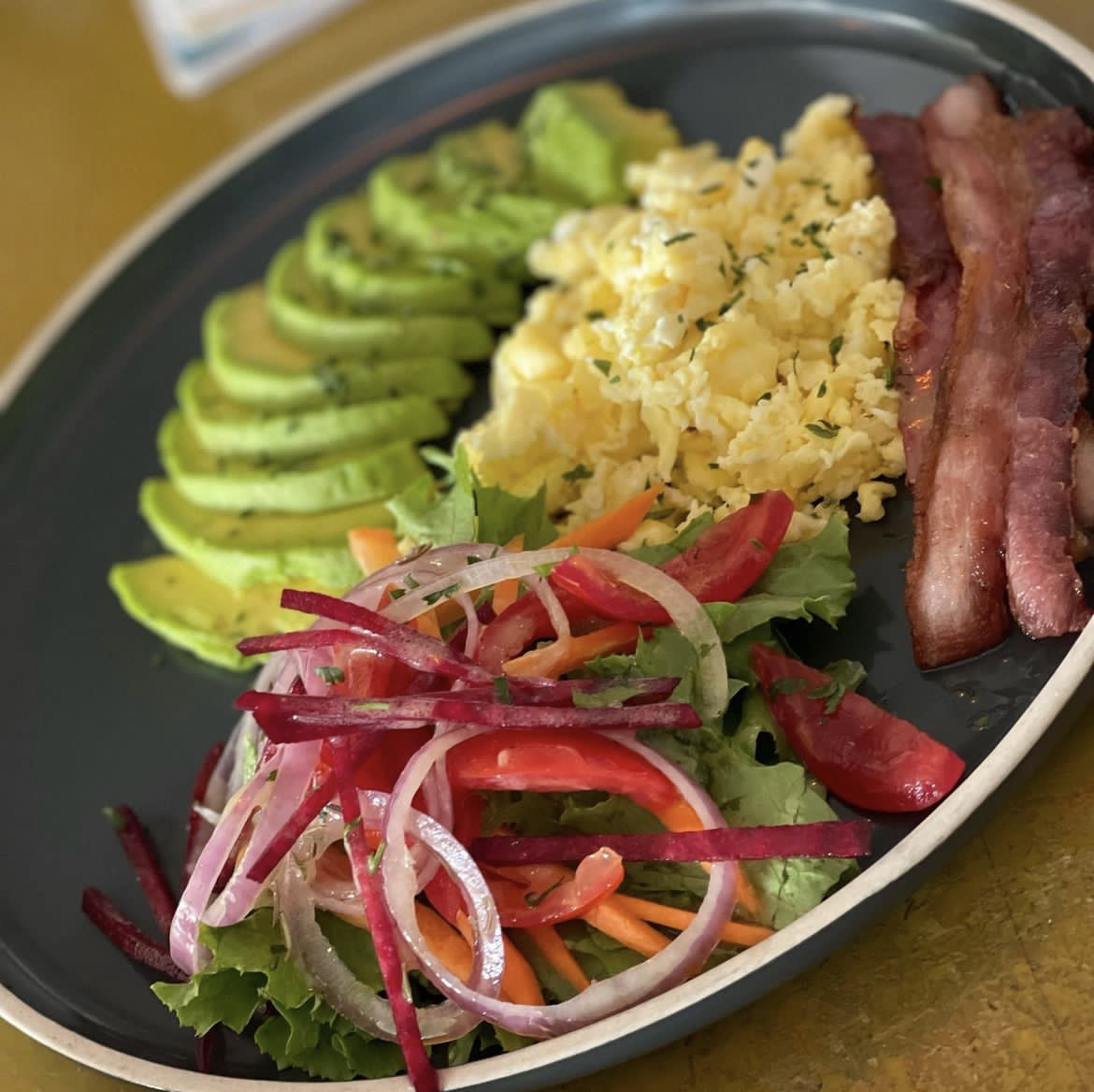 Cafe Kwae is known for serving fresh, healthy food. It's a great place for having breakfast, but the cafe does have limited seating inside, so unless you go early, expect to grab and go.
Insider Tip: Try the Sugar Bread French Toast, one of my favorite items on the menu!
Card Payment: Yes
Public WiFi: Yes
Little Paris Cafe
East Legon – Shiashie/Boundary Road, A&C Mall
One of the prettiest cafes in Accra, Little Paris, takes you to France with delicious French pastries. A fusion of blush pink and mint green decor, the cafe exudes a charming atmosphere. The plush green couches and marble floors seal the deal. These images are all from the A&C location: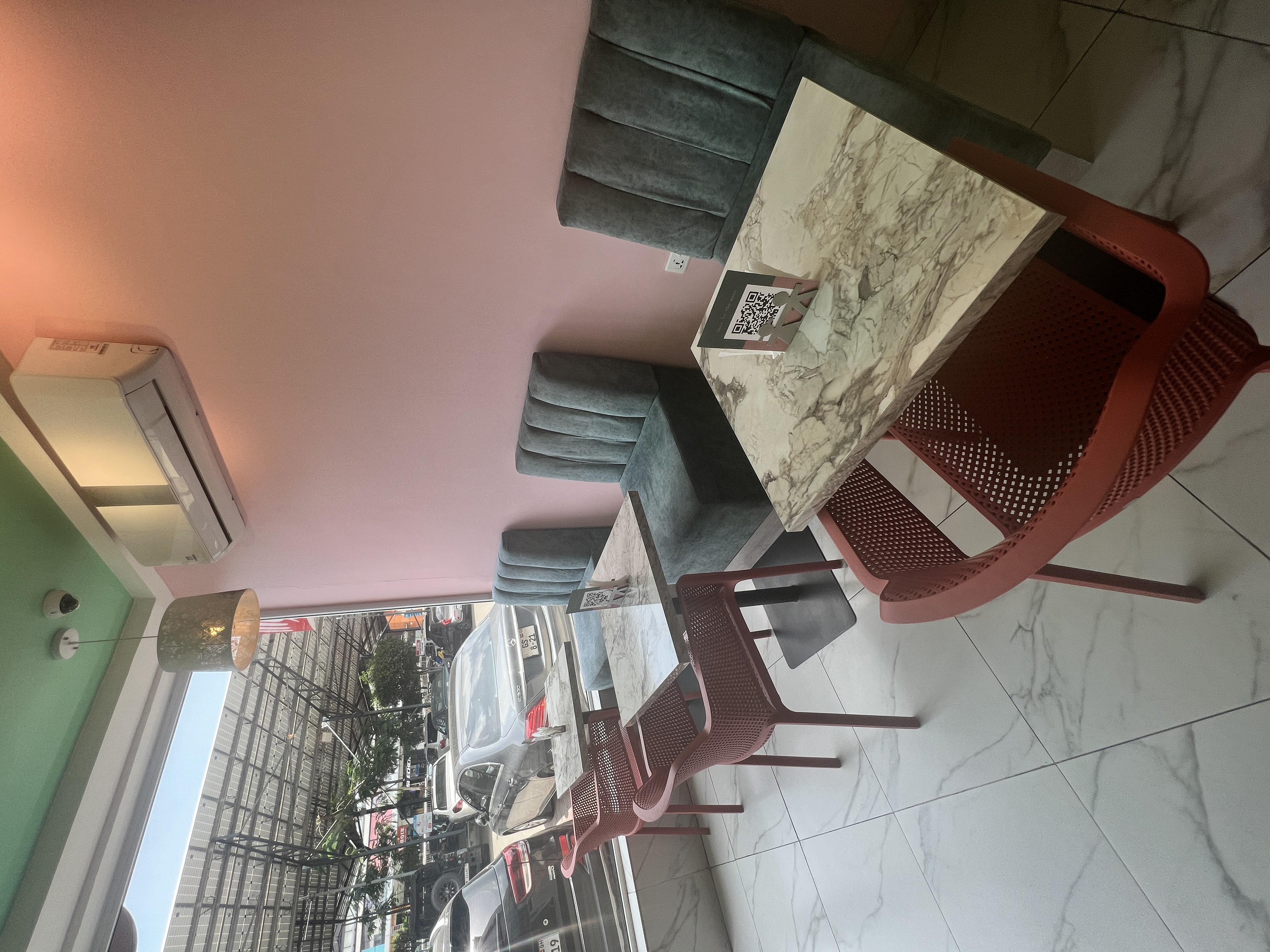 As I mentioned, it can be hard to come by quality baked goods in Accra. Little Paris is another cafe that has them beautifully laid out in a display case for you to choose from. French pastries like Éclair Vanilla and Mille Feuille are just a few to look forward to. A section is dedicated to candy if you have a sweet tooth.
The Little Paris Cafe makes for a great photo opportunity, afternoon tea set, and friendship date if you're looking for a posh location.
Card Payment: Yes
Public WiFi: Yes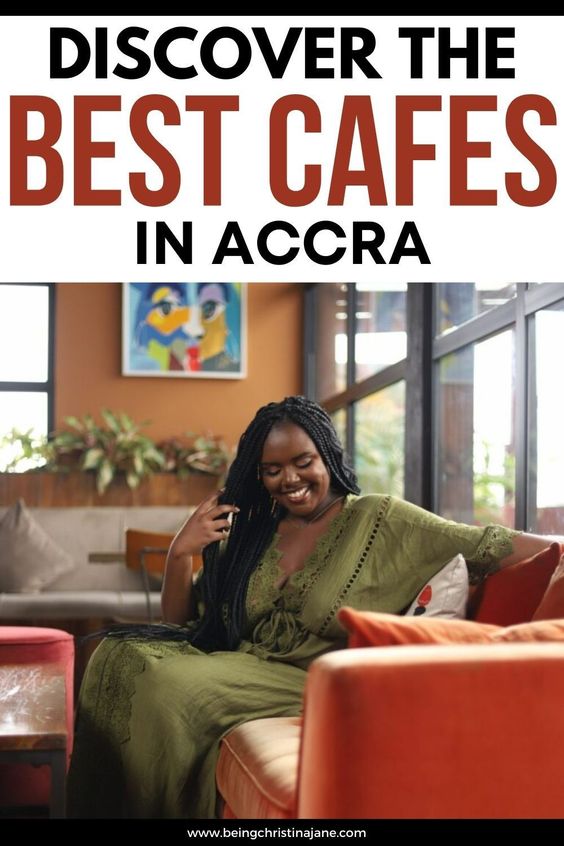 Have you visited any of these cafes in Accra before? If so, let me know which one is your favorite. If I'm missing a cafe you think deserves to be on this list, comment below to spread the world to other readers!