Accra immediately captivates its visitors in its culture, from meaningful traditions to the everyday way of life in the city. Arriving in Accra, you can expect to experience a little bit of everything. Between the popping nightlife scene, elaborate history, and everyday rhythms of the city, Accra has something to offer to all of its visitors.
In this blog post, you'll learn about 72 things to do in Accra to make your visit one to remember.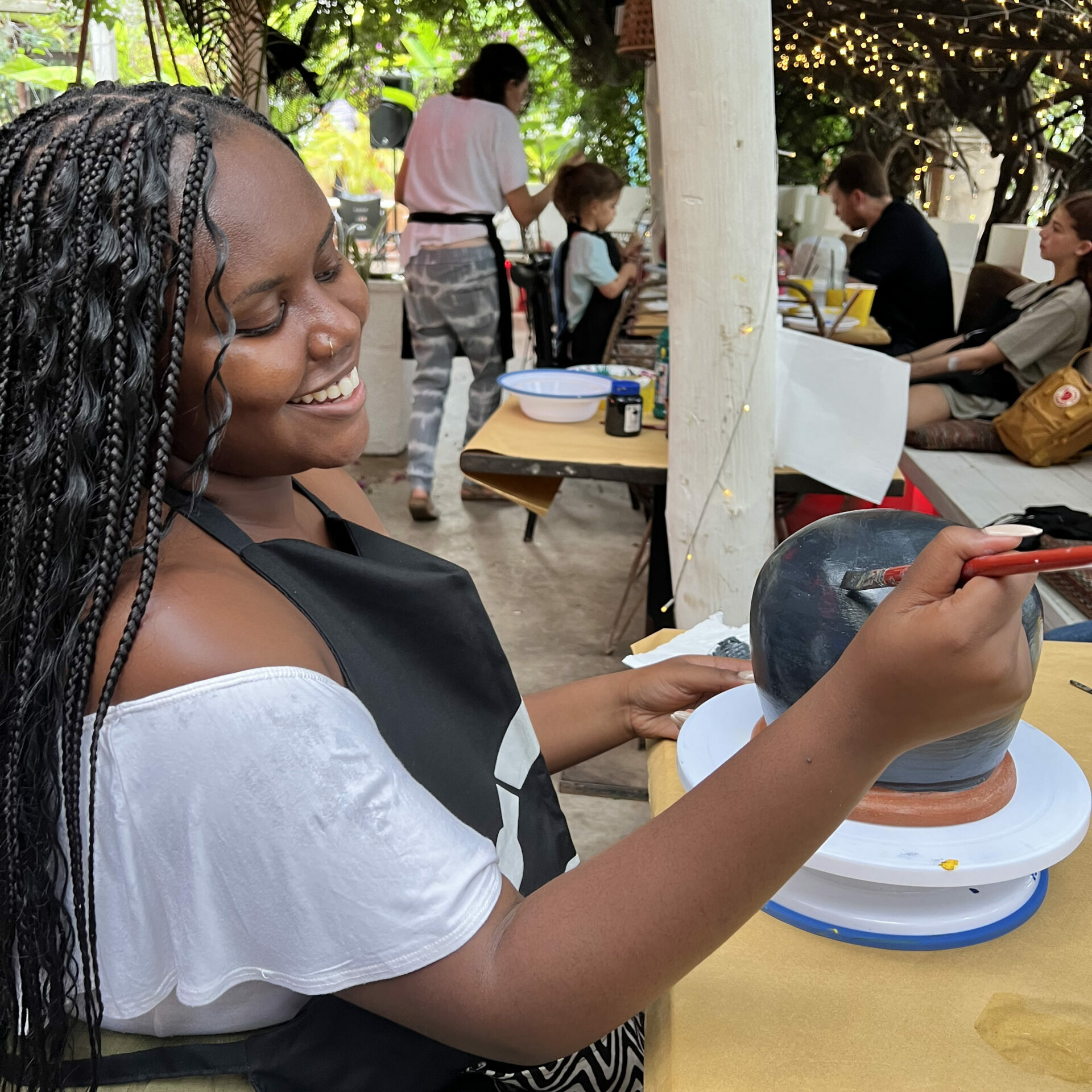 I've discovered 70+ things to do in Accra to help you enjoy your time here!
Instagram Pages to Follow to Stay Updated on Events Happening in Accra and Places to Visit: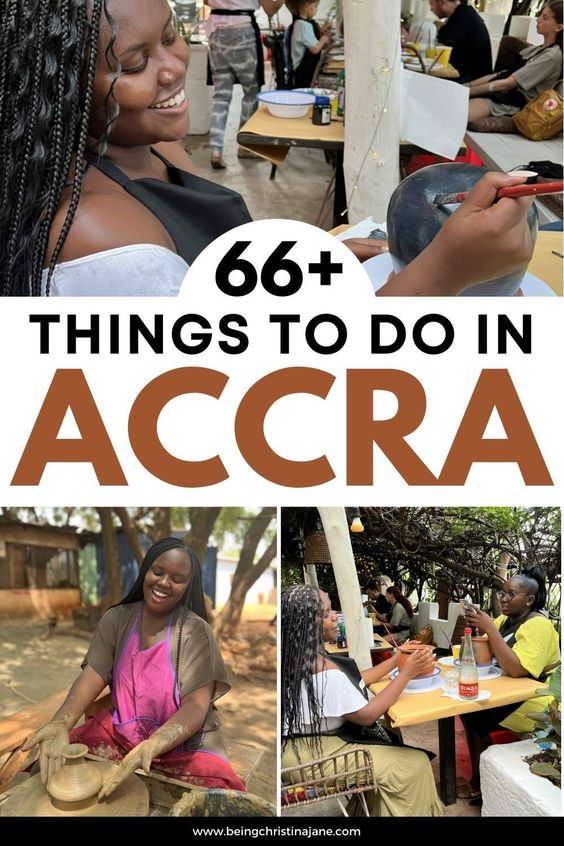 Visit the largest market in Accra
One of the first places you may find yourself in Accra is Makola Market. As the largest market in Accra, Makola Market is home to hundreds of merchants selling a variety of goods either from a stall or in a section of the side of the busy road. Everything you could possibly need is sold in Makola. Jewelry, wigs, electronic devices, clothes, bonnets, and more are all available to you–pending that you can find them amid all the chaos around you! The market is always incredibly packed, so bring close-toed shoes, have cash on you, and embrace all the popular market has to offer.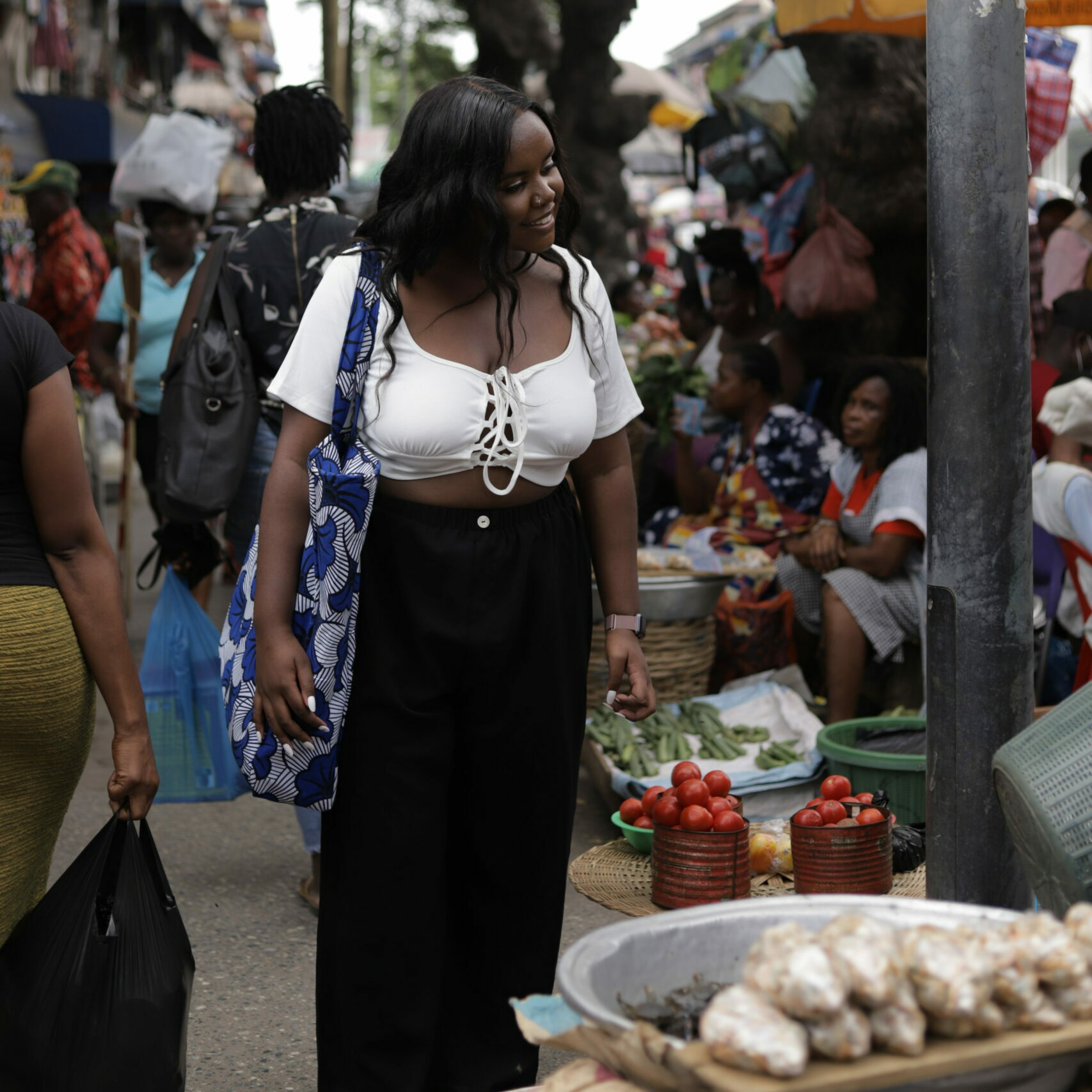 Destress your body at the Pilates Studio
Pilates is a form of exercise that has grown in popularity over the last few years and is now a thing in Accra! You can take private or group sessions at the Pilates Studio in Labone! Pilates is known for improving flexibility, strength, and body awareness as you complete the full body movements.
The Pilates Studio in Accra hosts wellness retreats if you're looking for a relaxing and intuitive way to detox.
Hop on a tro tro to experience local transportation
Sweet tro tro, an experience you can only embark on to understand why I've included it on this list. A tro tro is a mid-sized minivan that rides around the city, stopping along the way at different stops along the route to pick up and drop off passengers. Tro tros are a popular (and the cheapest) form of transportation in Accra. When you get the chance, hop on one of them to experience how many locals get around every day. Riding a tro tro is definitely one of the most authentic things to do in Accra and will give you a different perspective of the city.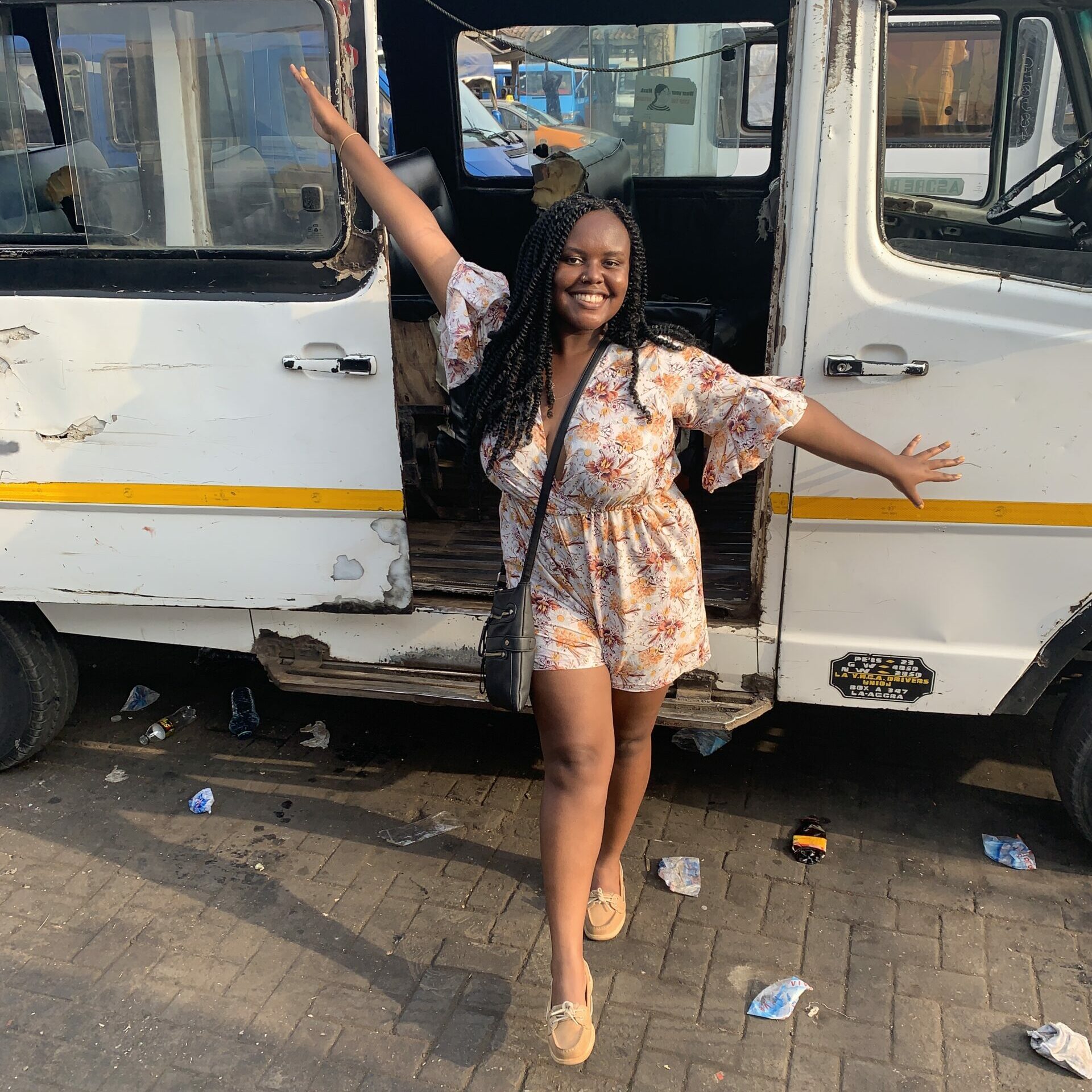 Learn the history of Ghana's first President at his memorial park
Kwame Nkrumah was one of Africa's greatest leaders. Nkrumah is known for aiding Ghana's fight for independence from Britain in 1957 and his strong ideologies on African unity and Pan-Africanism. The Kwame Nkrumah Memorial Park and Mausoleum were built to honor Nkrumah and are his final resting place. The museum highlights the accomplishments of Nkrumah and stores some of his personal belongings.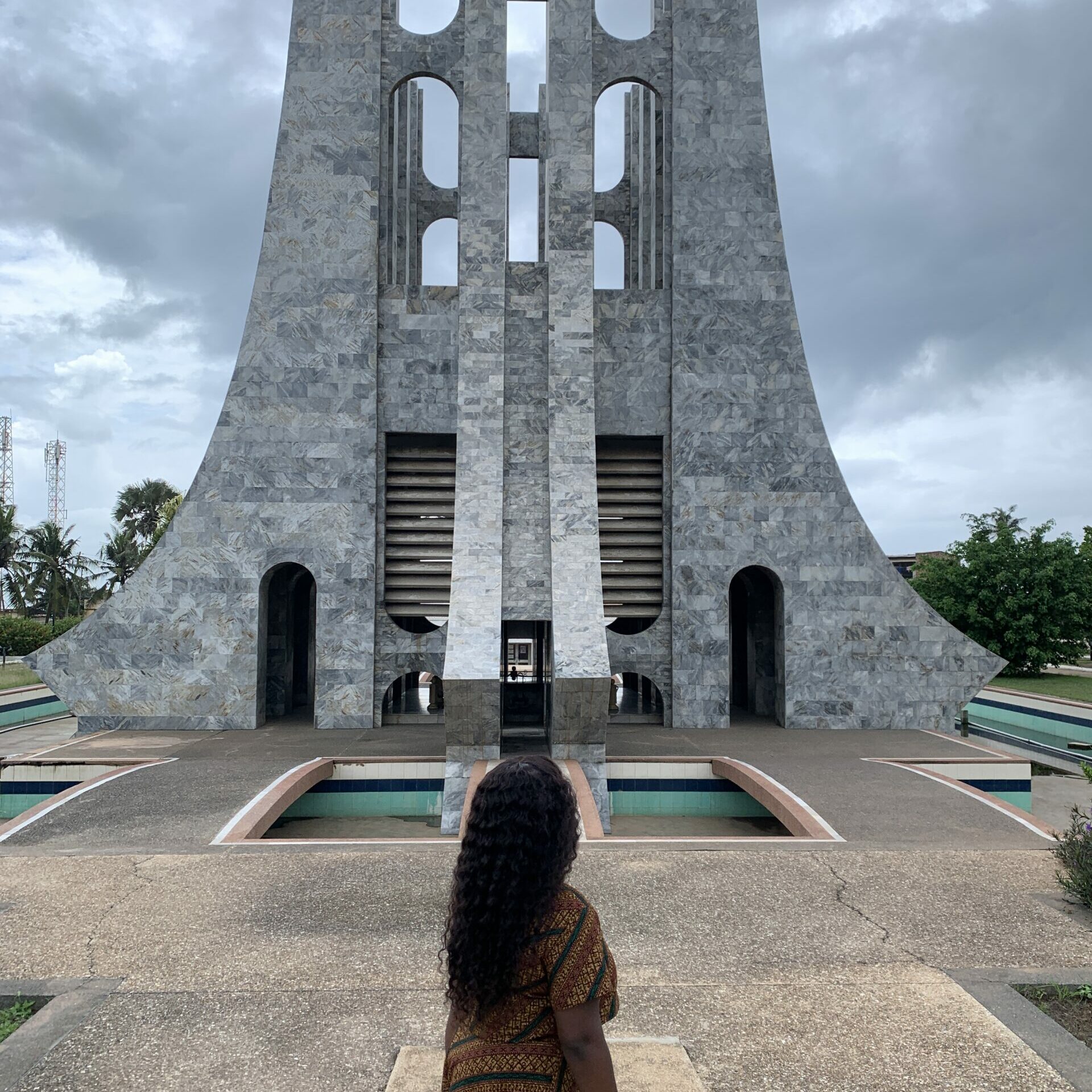 Get in tune with yourself with a rooftop yoga class
Every Saturday, Bliss Yoga Accra hosts advanced and beginner-level yoga classes on the rooftop of One Airport Square in Airport City. For one hour, you'll immerse yourself into the practice of yoga, leaving the busyness of Accra behind you. The classes are led by instructors coming to Accra from all over the world. The style of yoga classes varies depending on the instructor but includes meditation, yin, power, strength yoga, and more.
See a thrilling movie at a 5D Cinema Theater
One of more fun things to do in Accra that I have experienced was going to a 5D Cinema Theater in Airport City. Located inside the Marina Mall, the theater allows you to select from a series of short movies about 10 minutes long. You're given 5D glasses and your seat jolts along with the movie, giving you a fun and interactive experience.
See what my experience was like with this video I made on TikTok:
Test your racing skills on a go-kart track
A1 Raceway is an outdoor go-kart track in Accra where you can go to battle it out from a go-kart. One of the many thrilling things to do in Accra, these karts go fast and are sure to give you an adrenaline rush. If you're heading to A1 with kids, it's worth stopping by the Wonderland Kids Park, which has games and activities like an arcade and trampoline to keep the kids entertained.
See animals at the Accra Zoo
In the forests of Achiomota, at the end of a long dirt road lies the Accra Zoo. The Accra Zoo is not commonly talked about as a thing to do in Accra because it is small and a bit on the lowkey end, but it is very much open. The Accra Zoo has monkeys, lions, porcupines, and many other animals available to see. Upon arrival, a guide will take you around the zoo to each section, providing you with a brief explanation of the animals.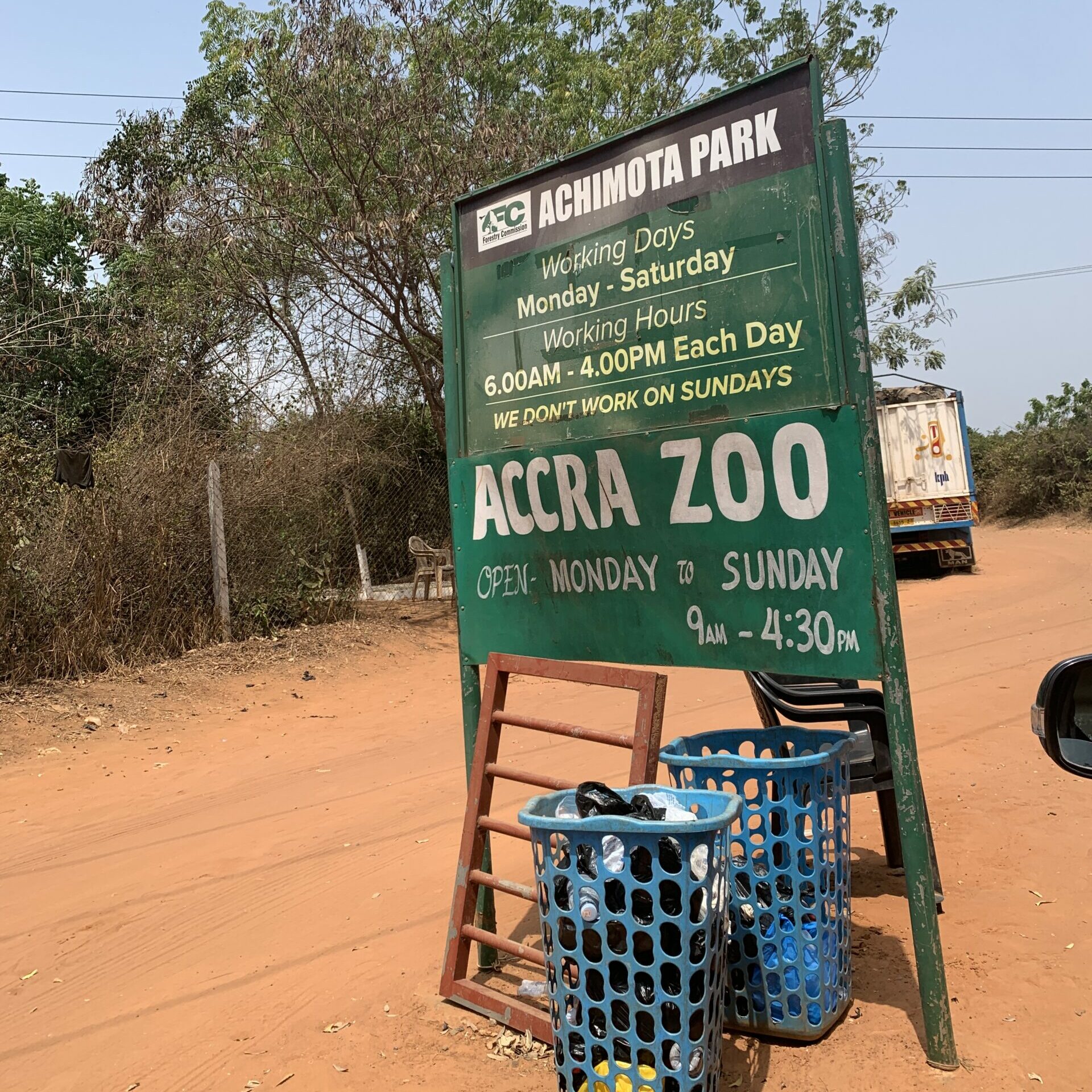 In full transparency, the animals are not in the best condition, and the zoo is alarmingly small in terms of the cages they are kept in. If you choose to visit the zoo, I highly recommend driving your own car or having your Uber take you to the entrance of the actual zoo gate.
Learn about the history of Ghana's independence
The Independence Square in Accra is home to the Black Star Square, Black Star Gate, and the Liberation Day Monument– all structures that tell a story about Ghana's journey to independence. Ghana only achieved its independence less than 100 years ago, so the history and legacy of those who contributed to that journey are fresh. Independence Square is used for major events like concerts, festivals, holiday celebrations, and more. The best way to learn about the history of the square is by booking a tour guide who can give you all the details. The Black Star Gate is also a popular attraction for photoshoots when visiting Accra!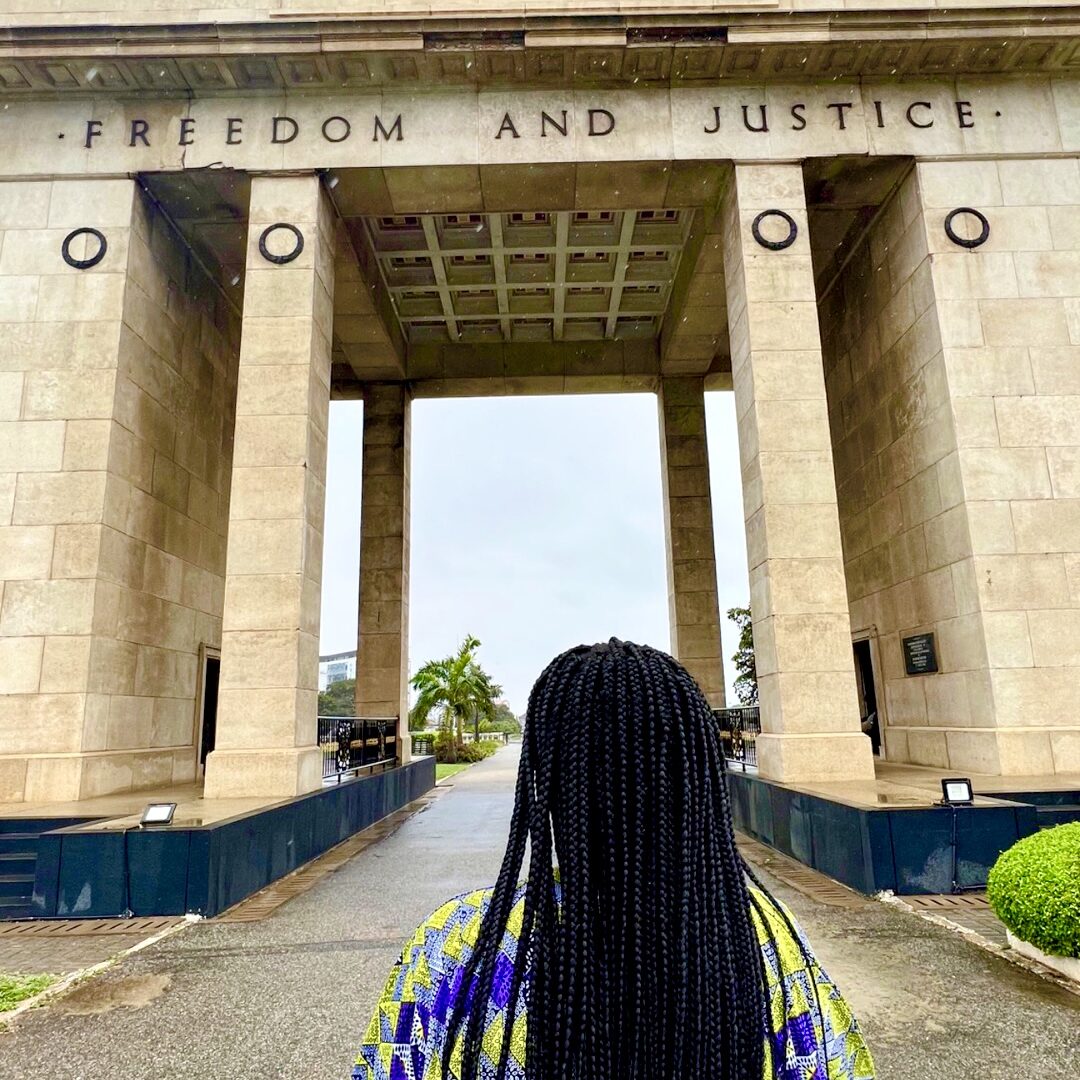 Experience bar/pub crawling in Accra
If there's one thing Accra knows how to do, it's throwing a good party. In true Ghanaian fashion, parties in Accra start late and end late in the mornings. Aside from the great vibes, what makes a night out in Accra special is hopping from venue to venue throughout the night! It's common to end up in 3-5 locations, each providing an even better nightlife experience than the last. Regardless of where you end up, you're bound to have a great time, so relax, let loose, and enjoy your night in the city.
Sip on wine and channel your inner Picasso
Sip and paint events are very common in Accra and are great ways to meet other people in a relaxed environment. Paint Boire Africa is a company that hosts painting nights in different places around the city. Oliver Twist Shack is also known for their Puff n Paint nights. With live DJs, delicious food, and bomb company, sip and paint is always a great time!
Go to an outdoor movie night under the stars
If you're looking for a cute date night, something to do with a friend, or even just a nice solo night out, the Movenpick Ambassador Hotel has an outdoor movie night every Saturday! The hotel sets up its courtyard with lounging lawn chairs and provides you with a blanket and a basket of finger foods to enjoy during the movie.
The basket includes wine, water, sandwiches, a baguette, popcorn, chocolate cake, plantain chips, fruit, cheese, and a salad.
To book, you'll want to tune into the hotel's Instagram page to see when the next movie night is happening. The flyer will have the contact information needed for booking, and you do have to pay at the time of booking, as seats fill up fast.
I made a detailed TikTok video on what you can expect:
See what the Accra Mall has to offer
One of the best parts about traveling to a new place is seeing how its markets, shopping malls, and grocery stores compare to other destinations worldwide. The Accra Mall has over 70 retail stores, including popular brands Pandora, Apple, and Levi's. In addition, the mall has an extensive food court, movie theater, grocery stores, and a great mixture of international and local brands.
Enjoy half of your day in Jamestown
Jamestown is the oldest district in Accra and was once one of the best places to experience traditional Ghanaian culture and festivities, like the annual Chale Wote Street Arts Festival. An esteemed fishing community, have a glimpse of its harbor docked with decorated boats and witness local fishermen hard at work. Jamestown has a number of historical sites that share the stories of Ghana's past colonial rule, like the Ussher Fort, which was built in 1649 and has been used as a trading post, slave dungeon, and prison. With the Brazil House, Jamestown Cafe, and Jamestown Lighthouse to look forward to, spending half your day in this district should be a breeze.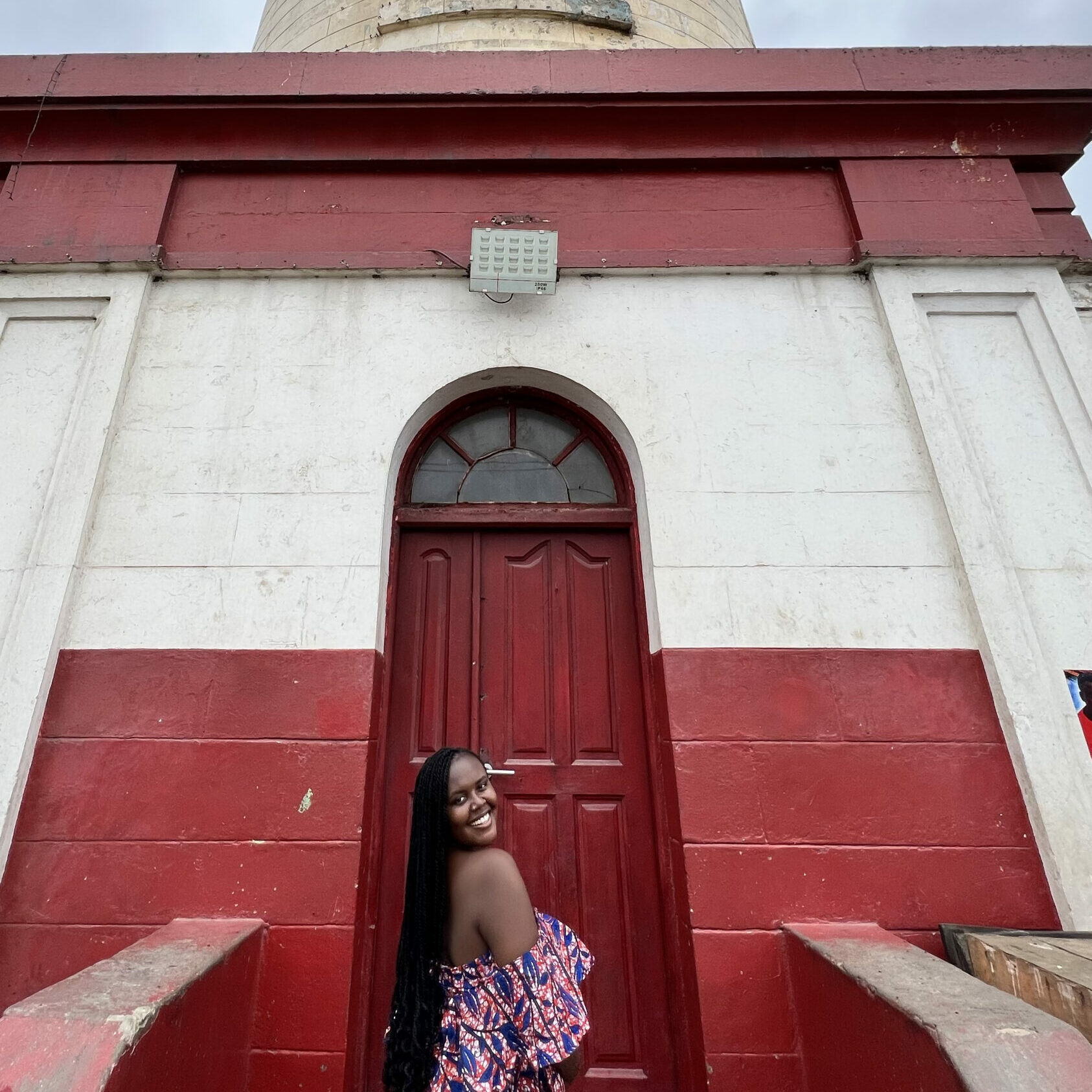 Catch a show at the National Theatre
The National Theatre of Ghana is where performing arts in music, dance, and drama, grace the big stage. Shows displayed at the National Theatre are centered around Ghanaian theatrics and feature talented local performers who always give a good performance. The theatre also occasionally hosts concerts, pageant shows, and cultural workshops where you can learn the history and execution of traditional Ghanaian drama.
Take a drumming lesson
The foundation of the blaring beats you'll find yourself hearing at every turn in Accra stems from drums. With Afrobeats and other African music genres rapidly taking over the world, what better way to get in tune with the music than by grooving to the rhythms taught to you during a drumming lesson?
Have an afternoon tea date at the Kempinski Hotel
The Kempinski Hotel in Accra offers afternoon tea service that you can book and is perfect for a cute friendship date or formal meeting you'd like to have with someone.
Served with three-tier trays of handheld foods and desserts, it's a great way to catch up with someone while placing yourself in a beautiful environment with great service.
Here's what my experience was like:
Revisit the life of W.E.B. Dubois with a tour though his former home
W.E.B. Dubois was a prominent civil rights leader and PanAfricanist who was passionate about working towards advancing the rights of African Americans. Dubois spent the latter part of his career in Ghana, where he would take his final breath. The W.E.B. Dubois Centre for Pan-African Culture is one of the most commemorated places to visit in Accra. The center is Dubois's former home transformed into a museum. Each room of the home tells the stories of Dubois and his influential work.
Planning Tip: Upon arrival, go inside of the administration building and ask for a tour of the facility.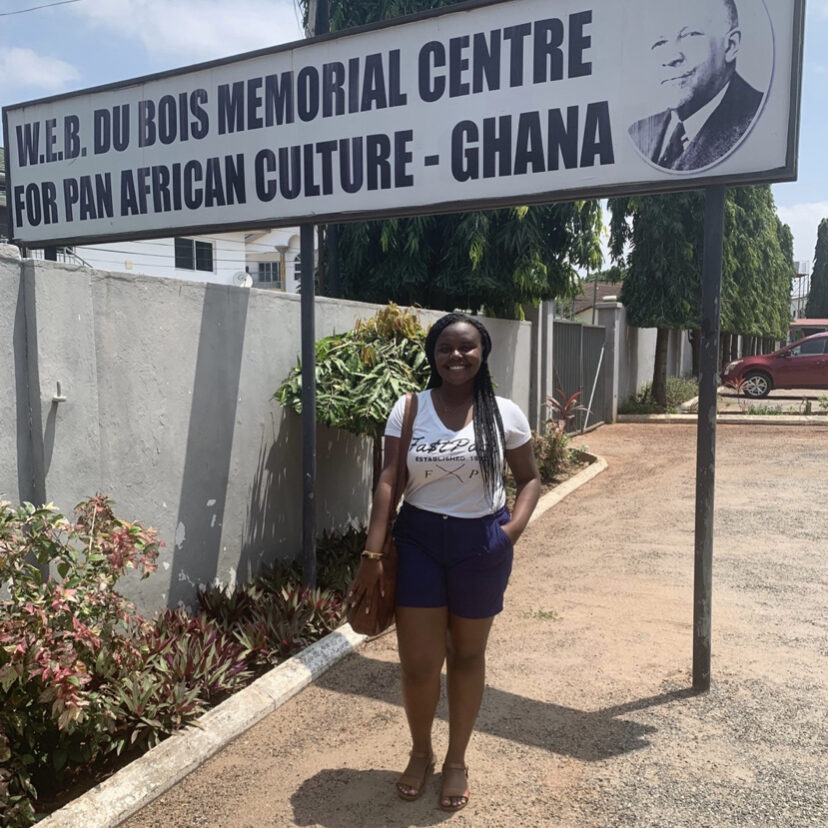 Admire artwork at the Nubuke Foundation
The Nubuke Foundation is where you can go to appreciate the local artwork of Ghanaians all over the country. Upon entrance, you'll walk into an open green field where you may see young actors reenacting a scene from their upcoming shows or poets eloquently expressing themselves with an articulate flow of words. Next, walk through an exhibition room and admire the messages local artists convey through their art. Nubuke is known for its exhibition shows, but readings, talks, film screenings, performances, seminars, and workshops are frequently displayed for visitors.
Get a yoni steam at Yoni by Nysha
For all of my ladies in Accra, if you have never had a yoni/vaginal steam, you are in for a treat!
Yoni steaming is when you sit over a steaming hot pot of water with various herbs inside for about 45 minutes – 1 hour and is designed to help relieve common issues like odor, PH balance, cramps, discharge, etc.
I started steaming back in the United States to manage cramps and was happy to find a place that did the same in Accra.
Check out my video on this experience here:
Take a self-guided tour of the University of Ghana
Situated in Northeast Accra, the University of Ghana is one of Ghana's largest universities. The campus is so large it almost mimics a mini town within Accra that it can be hard to find your way around, but there's fun in that! Spend a few hours on the open campus, walking around and witnessing what college life is like for Ghanaian students at the university level. The Bush Canteen is a popular local spot to eat located within school grounds that is also worth checking out while you are there!
Ride horses on the beach at Labadi Beach
Labadi Beach is the most popular beach in Accra. During the day, it is nearly empty, with only a few people roaming around. Take advantage of the calm environment with a guided ride on a horse along the shores of the beach. Labadi makes the perfect nearby relaxation day at the beach in Accra. The party scene becomes lively at night, with live DJs, bands, or performers attracting crowds.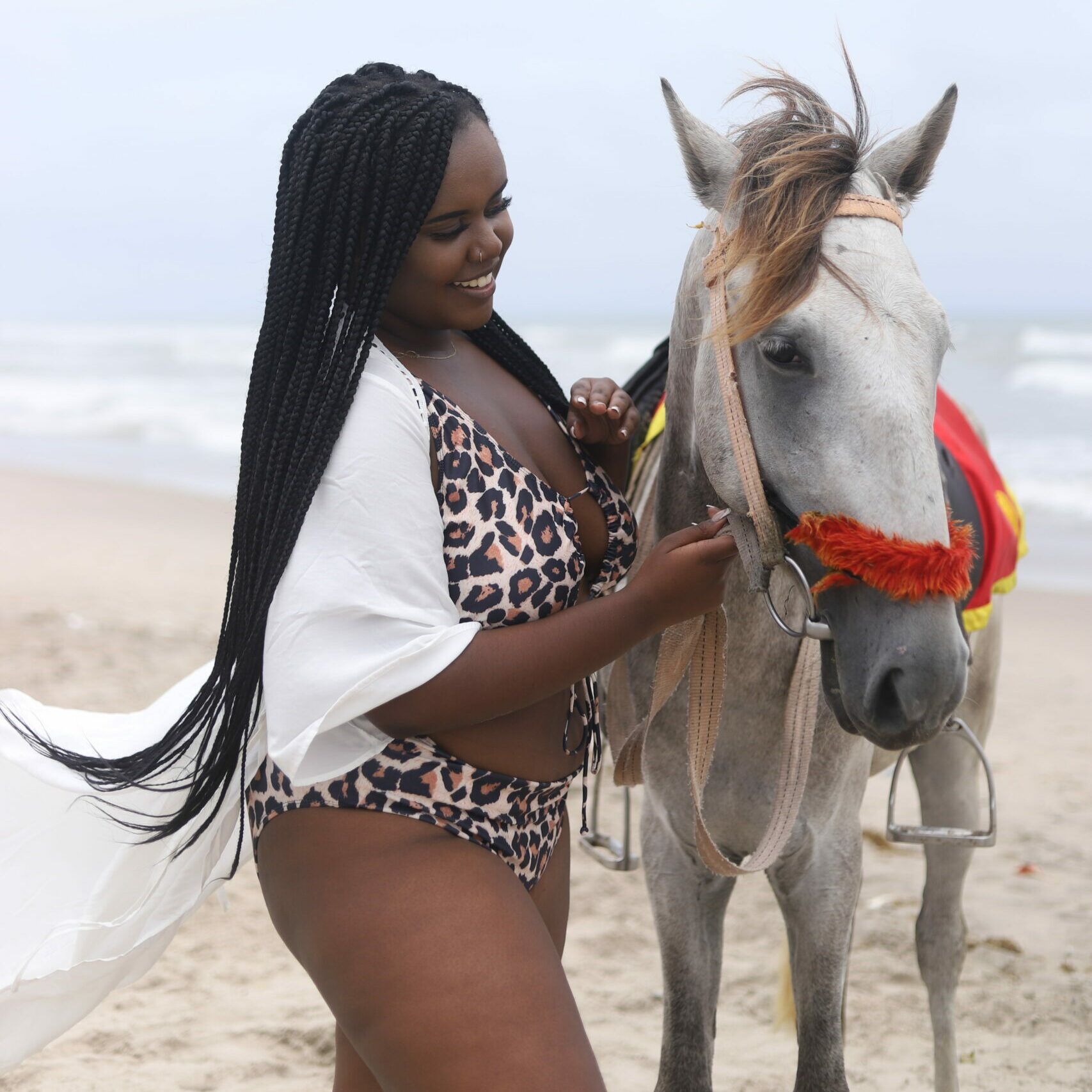 Treat yourself to a pink spa day at Lynette's
If you're big on aesthetics, you are in for a treat with a visit to Lynette's. This pretty pink spa in East Legon has to be one of the best spas in Accra. You can't miss the hot pink building with "Lynette's" spelled out in a beautiful golden font on its storefront. Walking through the doors, you may feel like you have arrived in a pink sanctuary. From the flooring to the nail tools used, almost everything in the spa is pink! Lynette's products are vegan and cruelty-free, the customer service is impeccable, and the by-appointment-only policy allows you to have a laid-back experience.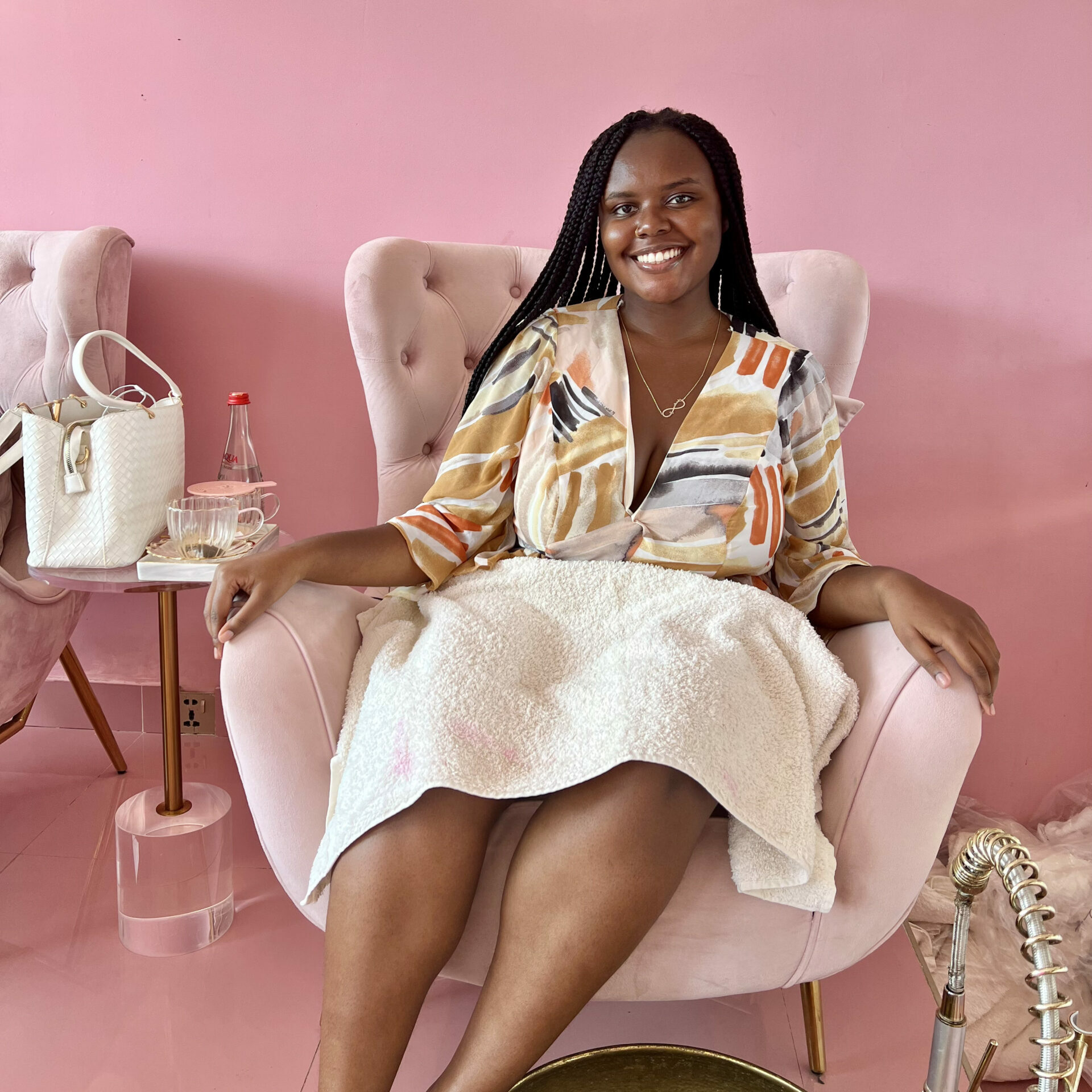 Try your hand at mini golfing
Marvels MiniGolf and Restaurant is a golf course in Accra. Grab one of the provided putters and head on the 18-hole course to test your mini golfing skills. Marvels make the perfect date night spot in Accra or a great bonding activity. With a scenic view of the site as you travel from course to course. Marvels is a beautiful spot in Accra. Once you're done breaking a sweat on the course, finish your time at Marvels with a fresh email from the restaurant.
Learn your way around the pole with a pole fitness class
If there's one thing Ghanaians know how to do, it's dance, and Steps In The City wants to test your flexibility with their pole fitness classes! With instructors that specialize in pole and aerial fitness, you'll get a great workout while having a great time.
The studio also offers a variety of other dance classes like HulaHoop, Afrobeats, Kizomba, Salsa, African Dance, Kids Ballet, and more.
Explore the walls of Accra's only castle
Although one of Ghana's main attractions is the Cape Coast Castle, there is another castle located in Accra. Officially named the Christiansborg Castle, the Osu Castle was obtained in 1661, used for colonial purposes, and is today a site open for visitors to tour.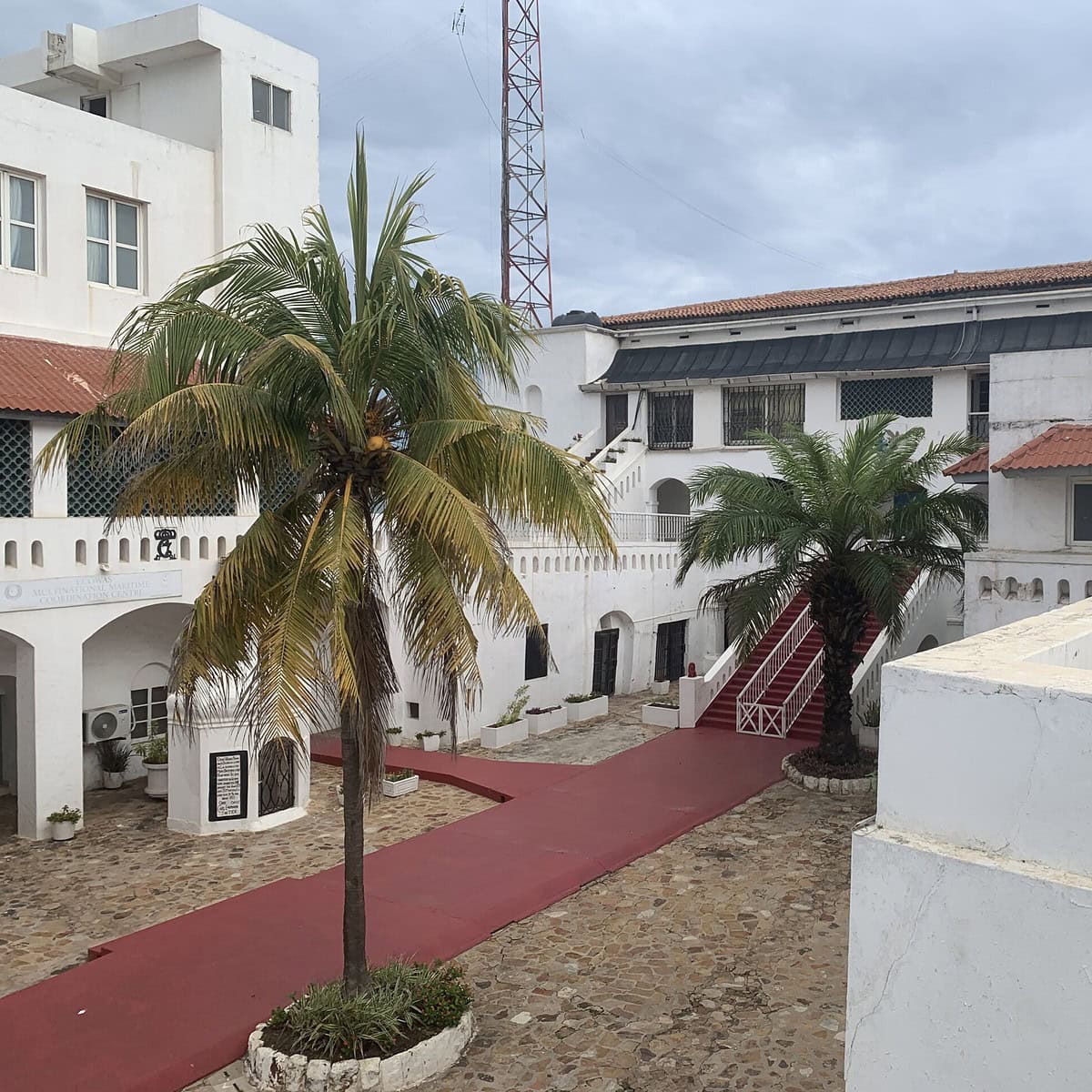 Brace the streets of Oxford Street
Accra's Oxford Street transforms from a charismatic shopping avenue by day to a nightlife hub once the sun goes down. Oxford Street is best explored on foot to see all the street has to offer. Whether you're in the mood to grab a bite to eat, catch up with friends, or want to buy some handcrafted souvenirs to make people jealous back home, Oxford Street is the place to do it all!
Learn the history and culture behind Ghana's cuisine on a food safari
Join the Ghana Food Movement x Jolinaiko Eco Tours for a food safari, where you'll get an up close and personal taste of Ghana's local food and drink scene. The food safari has themes like the "Afehyaa Paa Drinks Safari" that focuses on Ghana's traditional drinks culture in downtown Accra.
Those who joined the tour were taken to the Nima Spice Market, where they explored the spices used for local drink recipes and even learned how to make their own sobolo, a local drink here in Ghana, among other activities! To learn when the next food safari is, be sure to follow the pages, so you know when they drop the next date!
Kofi Dotse is a Ghanaian creator who recapped what his experience was like on one of the food safaris if you're interested in learning more.
Salsa Night at Afrikiko
Sway your hips to the rhythmic beats of clave, salsa's beat, at Akrikiko's weekly hosted salsa nights. Every Wednesday, the leisure center, which is also known for its organic restaurant, hosts a salsa night where you can go out and learn the ways of the dance among other people in great spirits. Afrikiko also has Jazz Night, Kizomba Dance, and live bands for you to enjoy on different nights of the week.
Get an overview of Ghanaian heritage and culture at the National Museum of Ghana
The National Museum of Ghana takes visitors through the history of Ghana from its founding to details about its rich culture through artifacts, exhibits, sculptures, and readings. Recently re-opened after seven years of closure for renovations, the museum now has a modern look in contrast to the one that had been standing since 1957.
Spend one night glamping in a luxury tent in Shai Hills
Glamping in Ghana is a thing, and you can experience it with one night at the Shai Hills Resource Center's luxury camping tents. Shai Hills is about an hour from Accra's main center, making it a convenient, quick getaway. The glamping experience comes with a complimentary breakfast and a 2-hour tour of the reserve, where you'll learn the history of Shai Hills.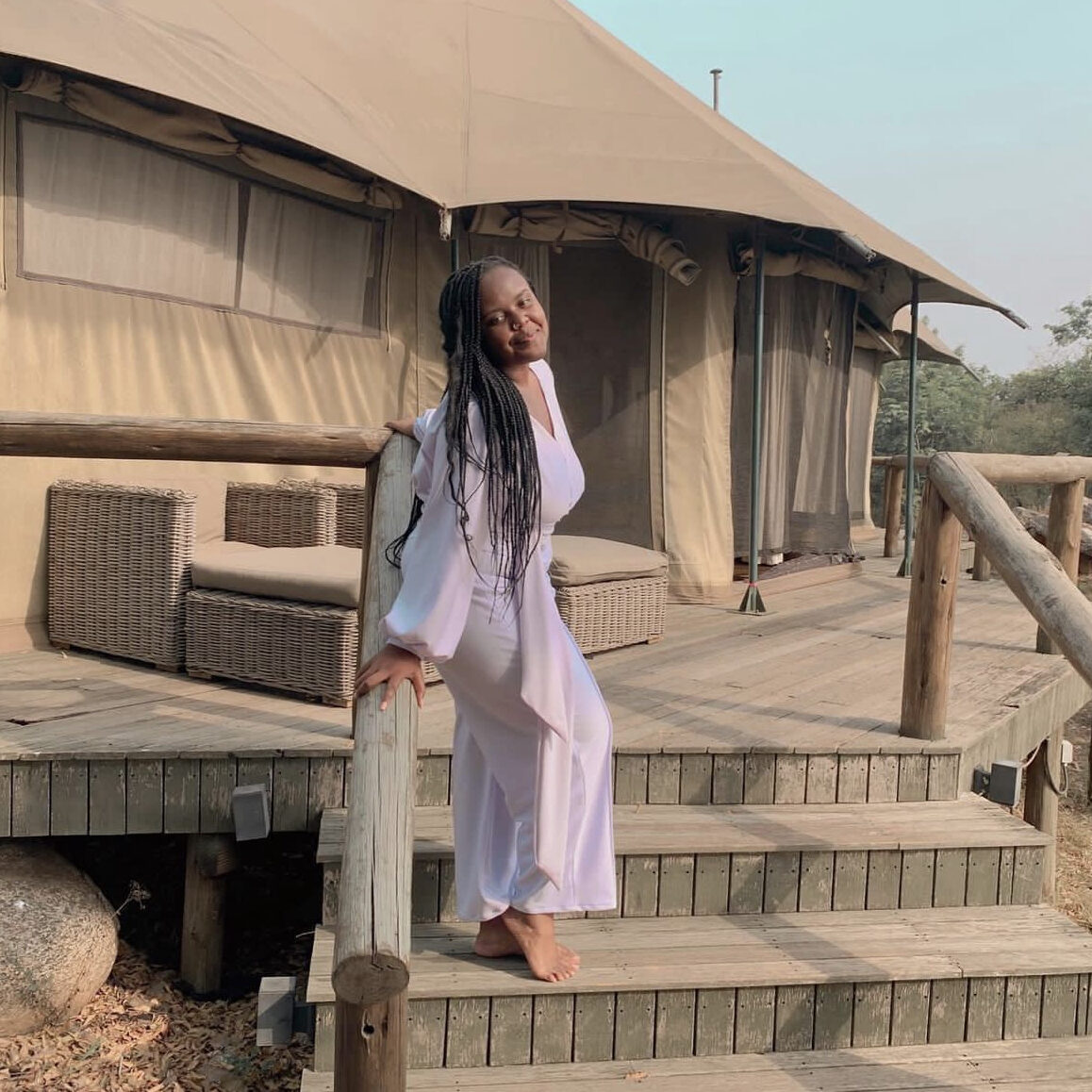 Patronize local businesses at the Labone Green Market
Every Saturday, the Labone Green Market can be spotted in front of the Labone Coffee Shop. The market is best described as a pop-up farmers market where you can find a variety of fresh produce, gluten-free products, flowers, baked goods, and skincare items.
Planning Tip: The market only accepts cash so try to bring small and big bills for your purchases!
Embark on a day filled with action-packed games
Bambo's Adventure Park is bringing field day to Accra with its selection of thrilling games to get your hands dirty! Force your way into a gigantic bubble for an enthusiastic round of bubble soccer, or gear up to battle it out in a game of paintball on the field. Whatever your game of choice, you'll need a ton of energy to visit Bambo's, and it makes a great day of fun with a group of friends!
Experience nightlife a different way at SOHO Accra
Accra is known for its elaborate party scene, but at SOHO Accra, a new nightlife vibe is being introduced. Soho is a bar and restaurant in Airport City with an exquisite ambiance that is known for its unique live shows.
One night there may be a saxophone player, and on another night, you'll get a professional dancer performing with fire! SOHO is a great place to get dressed up, mingle, and meet other people in the city.
Check out Fort James in Jamestown, Accra
Fort James was established in the late 1600s as a trading post for gold and the enslaved. Fort James today serves as a tourist site in the Jamestown district in Accra. Once holding enslaved persons, this is another structure that has the stories of colonialism and its impact on Ghana.
Planning Tip: The fort's doors are often closed, but if you walk down the street (about 1-2 minutes) to the Jamestown Lighthouse and ask for a guide, you may be able to take a tour.
Learn the ways of the game of polo at the Accra Polo Club
The Accra Polo Club has been around since 1902 and is one of the most prestigious places in the city. The club offers polo lessons for beginners who are interested in learning the ins and outs of the game, as well as horse riding lessons. The Polo Club's restaurant is also worth dressing up, stopping by for lunch, and watching a few polo games be played.
Craft your own pottery project with local potters
Spend a few hours at Happy Art Academy taking a pottery class where you'll learn how to sculpt clay to create a pottery project of your choice. The academy is one of its kind in the city (there is also pottery about 3 hours away in an area called Vume), making it a unique activity in Accra. With guided instructions and tools, you'll soon be on your way to making plates, pots, mugs, and more that you'll have to take home and show off to your friends and family!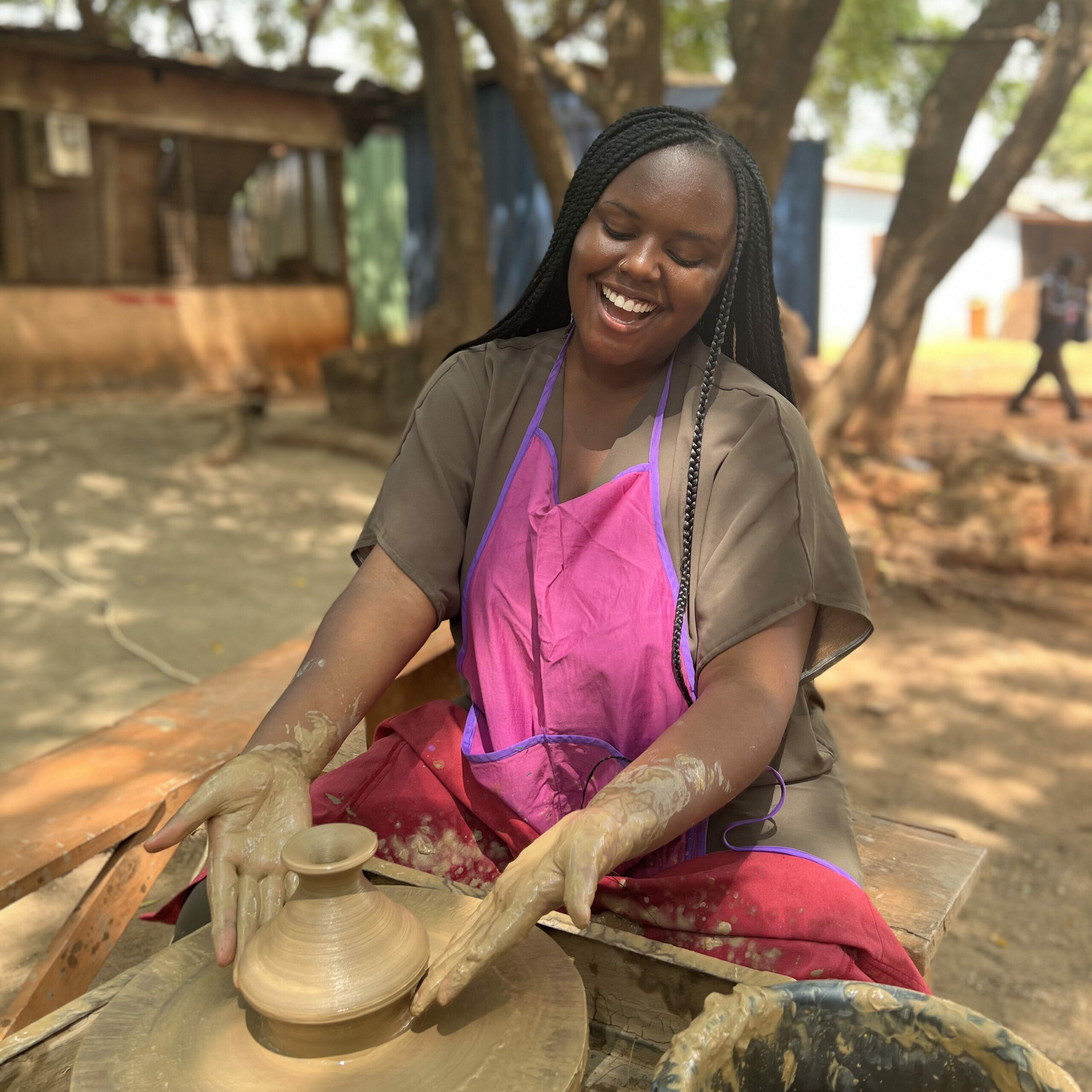 Try your luck at the casino
Caesars Casino in the Osu neighborhood in Accra is where you can play table games, like Roulette, Black Jack, Punto Banco, and different casino poker games.
The casino is open until 6 am every night and could be a great start or end to a night out in Accra!
Nurture your inner gamer at a video game lounge
Yetra E-Blue Esports Stadium is an e-sports and video gaming lounge located in the Accra Mall.
The chic and sleek layout of the gaming center will have you wanting to spend hours here, and it is a great place to unwind and get competitive with your friends!
Stay at the Lavilla Boutique Hotel
Lavilla Boutique Hotel describes its facility as an oasis in the heart of Osu (a neighborhood in Accra), and I find it hard to disagree. Composed of a limited number of rooms, this boutique hotel will provide an intimate stay with a lush tropical vibe, allowing you to unwind and relax after experiencing central Accra.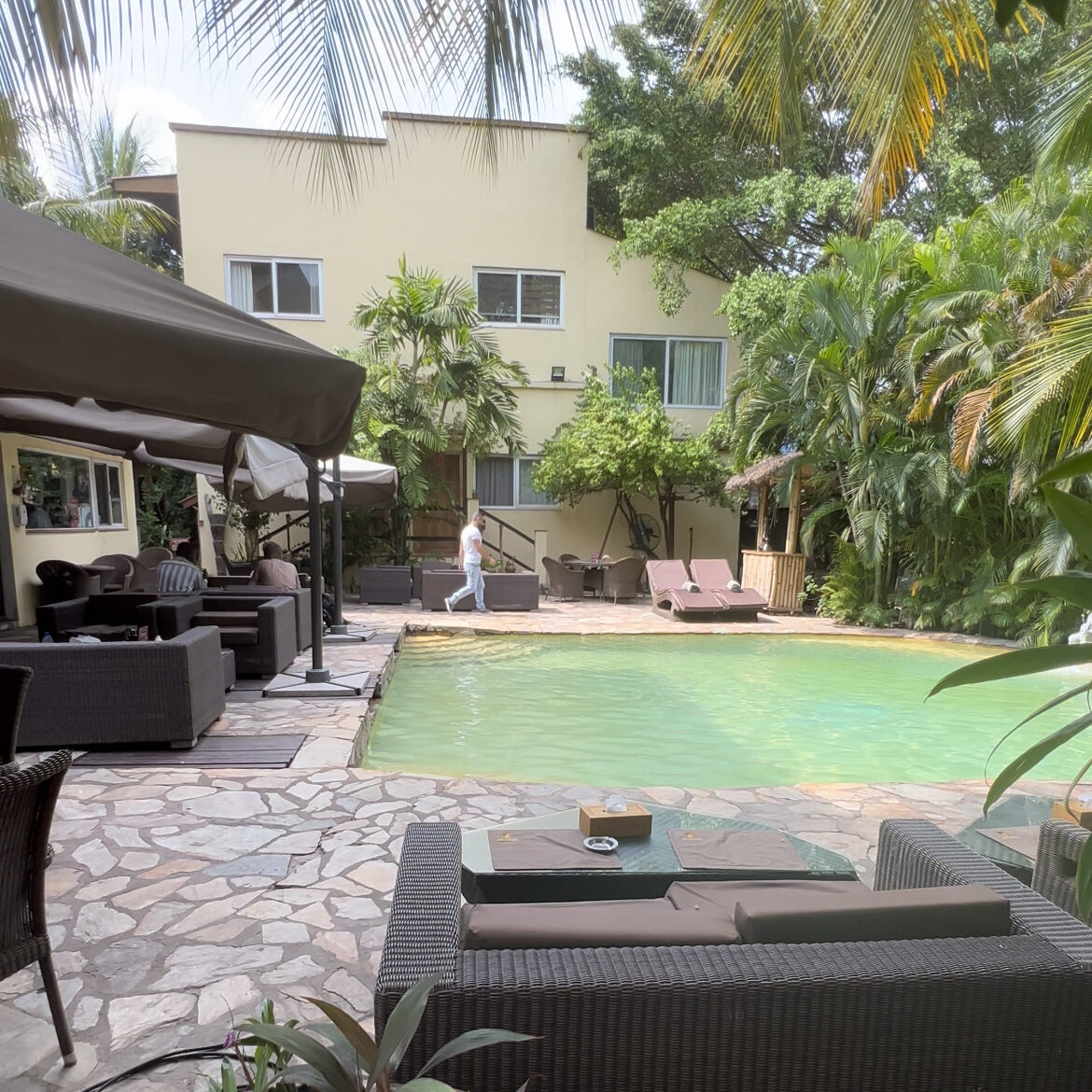 See a French-inspired show at Alliance Française
The leading center of French language instruction and cultural exchange in Accra, Alliance Française Accra commonly hosts film screenings, performing arts shows, and concerts that are open to the public. The plot of the performances varies, but the lineup balances between showcasing English, French, and Ghanaian culture.
Test out the bumper cars at a mini amusement park
The Accra Park is a "play park" in Dzorwulu for children and adults. Accra Park mimics a fair and has different rides for you to enjoy. The park has an energetic and colorful spirit and is making its way to being one of the happiest places to bring children to! Hop on a merry-go-round or jump inside a flaming-hot-designed race car as it spins you from side to side.
Pay a visit to the second-largest mosque in West Africa
The Ghana National Mosque may be something to put on your list of "must-visit" places here in Ghana. Said to be the second-largest mosque in West Africa, the mosque covers 40 acres of land and was a $10 million investment by the Turkish Hudai Foundation and Turkey Government. Many people don't know that you can request a guided tour of the mosque, but it is possible by simply asking one of the guards upon arrival. The mosque is stunning inside and out and worth visiting in Accra.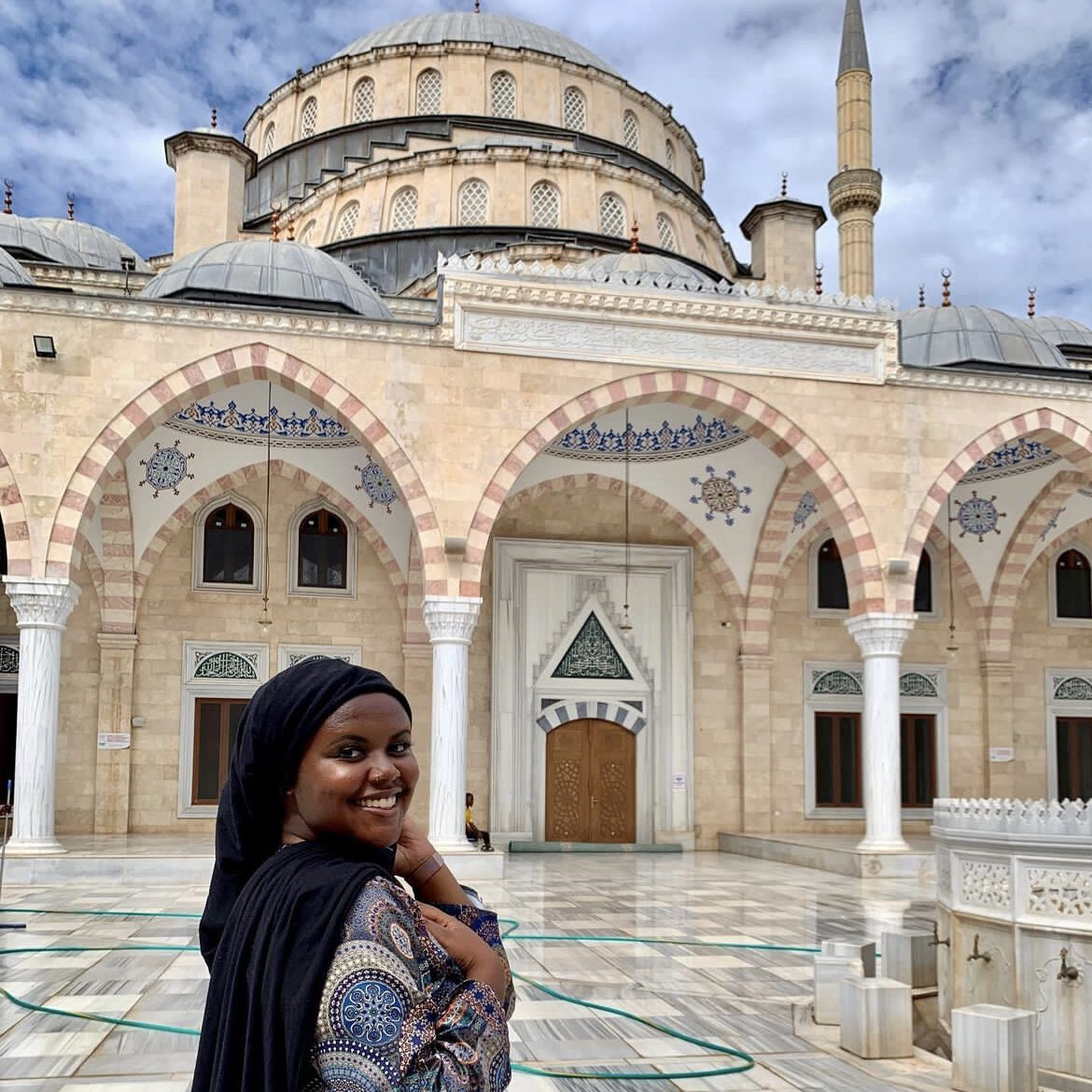 Take your favorite little ones to Ghana's first kid-only waterpark
It isn't always easy to find kid-friendly things to do in Accra, but here's one more to add to your list! Splash and Play is Ghana's only kids' waterpark. The center has a waterpark, spray area, and children's playground, all in one place for children to enjoy.
Whether you want to treat your children or your favorite children out as a treat, Splash and Play is a place they will enjoy!
Address: 2 Monrovia Road – East Legon
Discover a variety of new plants and greenery in Aburi
The Aburi Botanical Gardens in the Eastern region of Ghana is a compilation of various lush plants and greenery. With botanic plants originating from all over the world in places like Mexico and Southern Florida, the Aburi Botanical Gardens is perfect for a mini-retreat away from Accra, a family outing, a couples picnic, and other leisurely activities.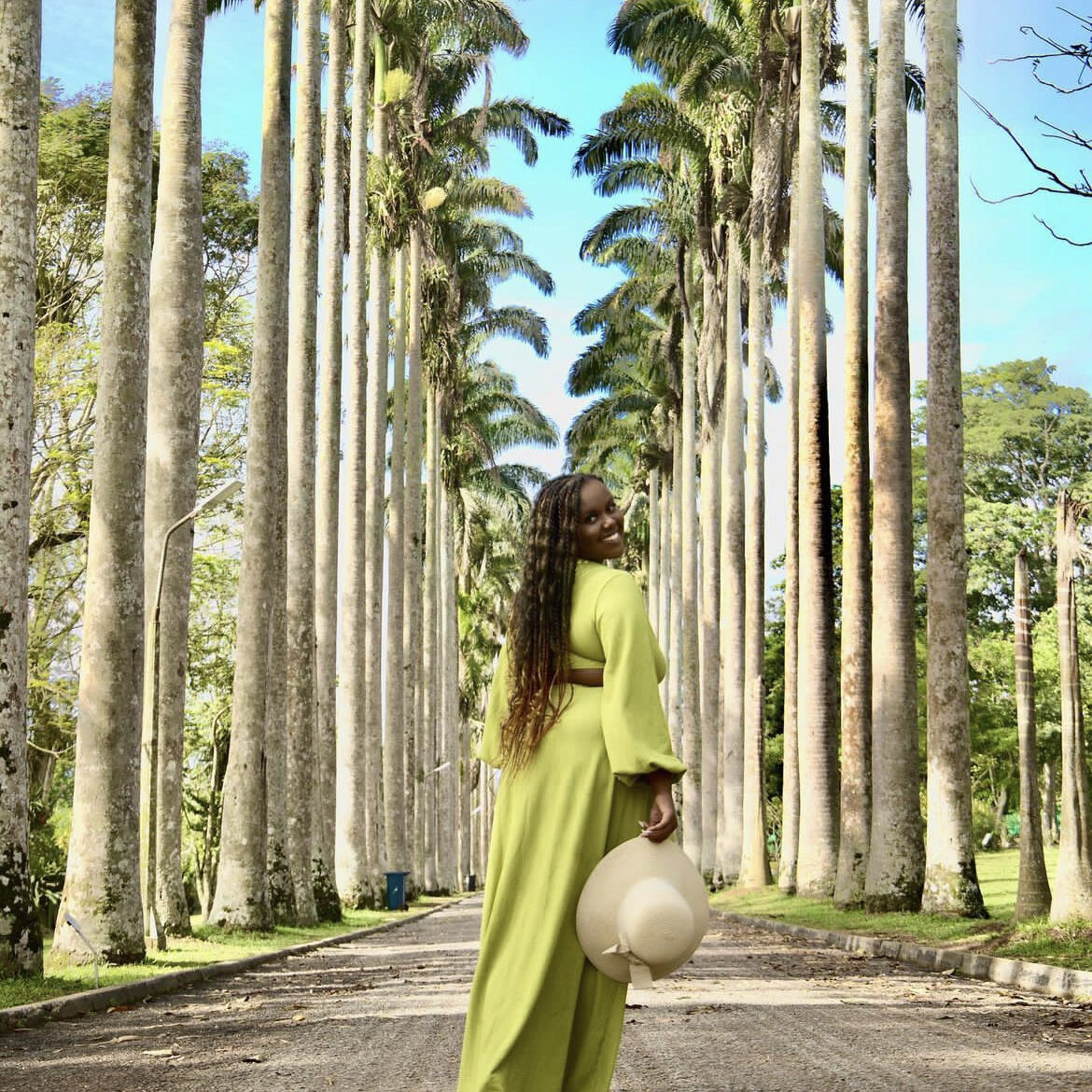 Learn how to make traditional meals in a Ghanaian cooking class
When it comes to food, the Ghanaian culture has a variety of traditional meals you'll be able to try when traveling to Accra. Groundnut soup, kontomire stew, red red, and fufu are just a few delicious options you have to look forward to. Although eating may be the best part when it comes to food, you can learn how to mix spices and flavors to create Ghanaian dishes in a cooking class! Many private and group cooking classes in Accra are hosted to deepen your connection to the Ghanaian culture.
Watch the latest released movie at the Silverbird Cinemas
If you're traveling to Accra and there's a movie you've been dying to see that has just been released, no worries because you can head to the movies here in Accra! The Silverbird Cinemas is a theater inside the Accra Mall on the second floor where you can grab your popcorn and enjoy a movie. Also, I can assure you that if you see a movie with an African theme or based in Africa, you are in for a treat watching it with a primarily Ghanaian audience! The commentary and in-theater jokes are everything.
Work with a seamstress to get custom Ghanaian clothes made
Shopping for fabric and finding a seamstress who can bring your fashion designs to life is one of the most exciting things to do in Accra. Fabric is sold along the streets of Accra all around the city but can be found in Makola or Madina Market and Eunnan Fabrics in Adenta. From there, use Pinterest to research African designs you want to incorporate into the clothes you want made and find a seamstress who is willing to make them.
Planning Tip: The best way to find a seamstress is by asking the people you come across for one, as referrals in Accra usually happen by word of mouth!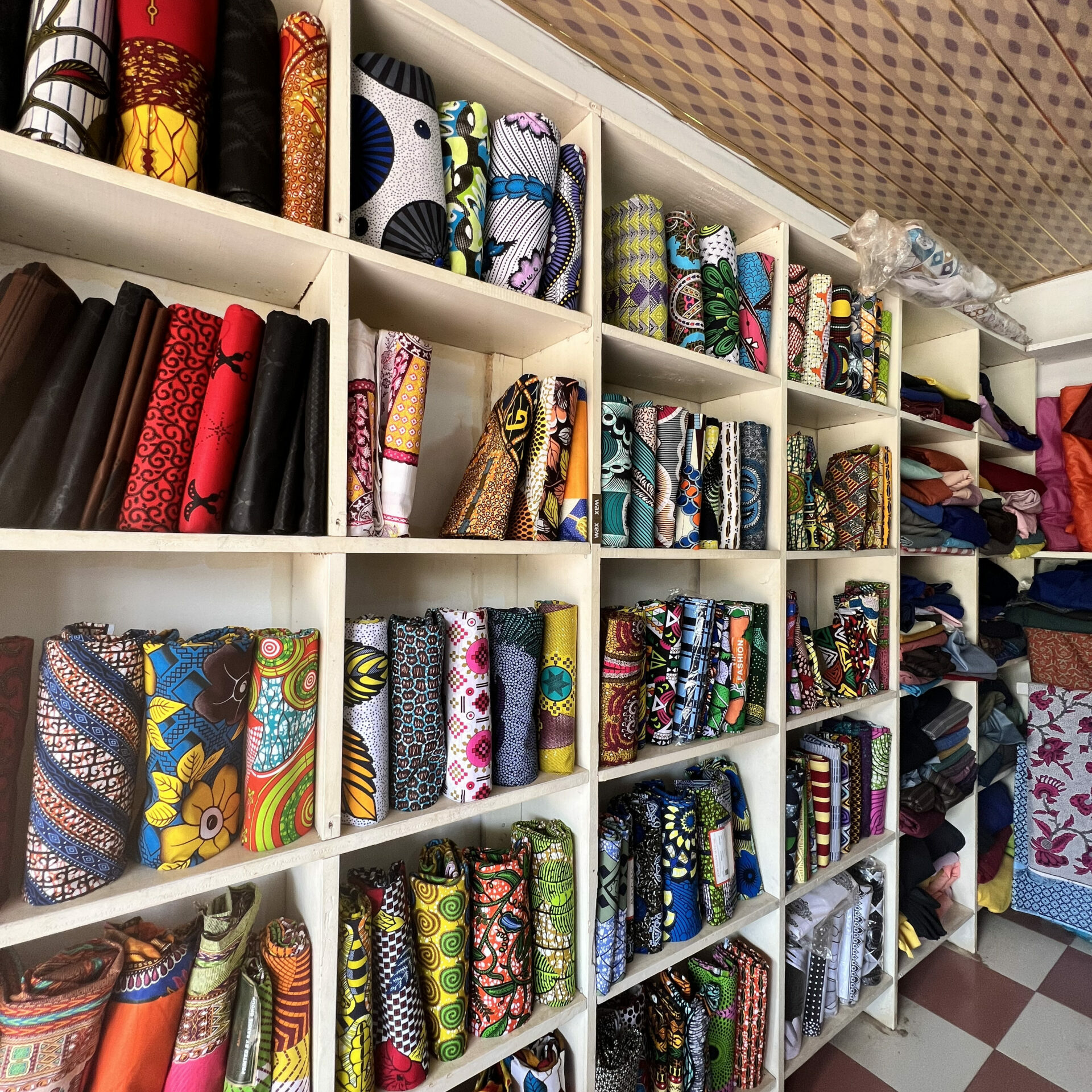 Attend a festival at the park
Efua Sutherland Children's Park was created to be a recreational center for children, but it is where you can find many mini-festivals. When festivals like the Ghana Food Festival happen, you can find the park lined with white tent booths, great live music, games, and tons of great foods to try!
Shop for handcrafted souvenirs at the Accra Arts Centre
The Centre for National Arts and Culture, also known as the Arts Centre, is an alleyway of shopping stalls hosted by different merchants selling handcrafted goods that serve as great souvenirs! There are keychains, weaved bags, hats, fans, picture frames, symbolic wood-engraved frames, and more that you have to choose from. The Arts Centre is an experience all on its own and is where you'll do some of your hardest bargainings while in Accra!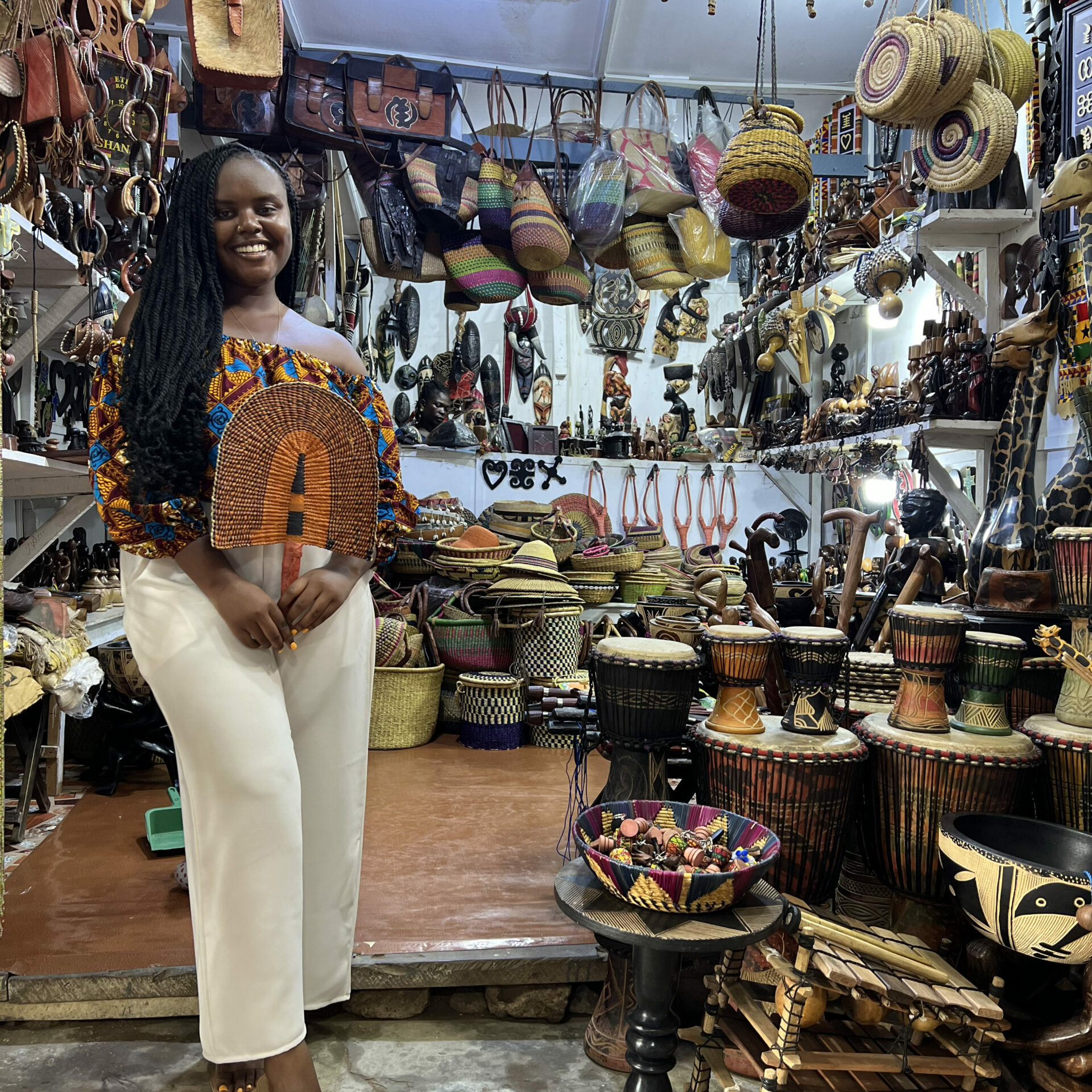 Appreciate the works of contemporary artists at the Artists Alliance Gallery
The Artists Alliance Gallery is yet another contribution to Accra's dynamic art scene. The gallery was created by Ghanaian artist Ablade Glover and had three floors of traditional and contemporary art showings. The facility is stunning, and you will also have the opportunity to purchase any pieces that stand out to you!
Make your way through a 52 obstacle high rope course
If you're seeking an adrenaline-inducing activity to do in Accra, look no further than the 52 obstacle challenge course at the Legon Botanical Gardens. Geared up with a harness and helmet, you'll fight through cords, cables, wood planks, ziplines, and more as your survival instincts kick in. The gardens have other activities like canoeing, a canopy walkway, bird watching, fishing, and cycling.
Bojo Beach
I've told you about Labadi Beach, but there's another beach in Accra that is more calm and secluded: Bojo Beach, located on the Bojo Beach Resort. Once you arrive on the property grounds, you'll have to take a boat rowed by one of the local beach boys to officially cross into Bojo Beach. The beach's clean nature and the fact that it's usually nearly empty makes it a great selection for a peaceful beach day in Accra.
Go on a day adventure with Moovee Africa
Moovee Africa is one of the best tour companies based in Accra, providing a range of travel experiences in Ghana and around the continent. The company is unique in providing activities beyond the typical attractions in Accra, like quad biking, paragliding, and boat sailing. I took a tour with the company to Vume for a pottery day and boat cruise out of Accra and had an amazing experience!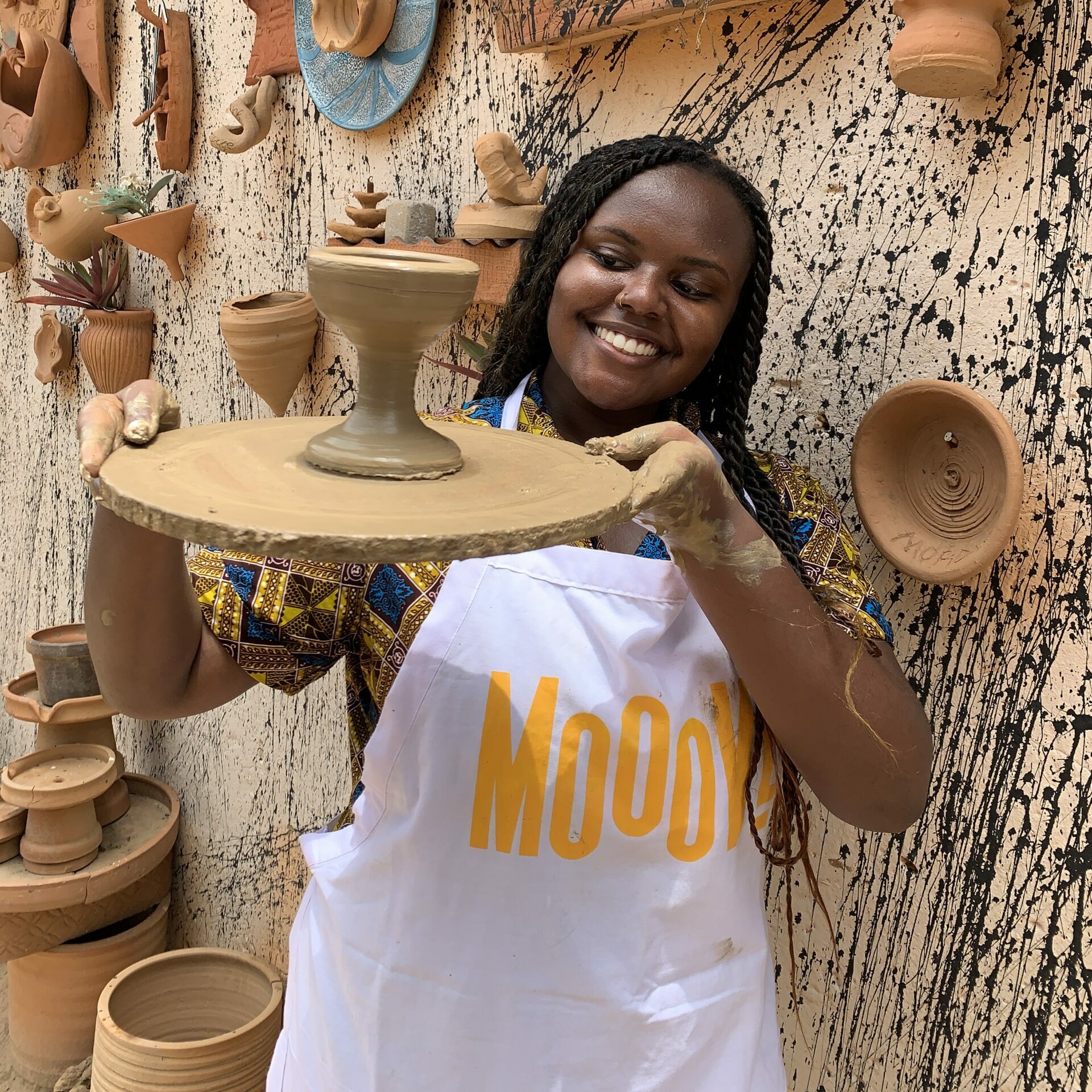 Stroll the market in Madina
In the lively neighborhood of Madina is Madina Market. While not as big of a beast as the market in Makola, you'll still find yourself trying to make sense of the maze that is Madina. Madina Market is a great place to shop in Accra and is in an area where if you're willing to walk outside of the main marketplace, you'll find useful shops (and maybe even a seamstress!).
Experience eco tourism at the Bunso Eco Park
Another great day trip from the main city center, the Bunso Eco Park is an outdoor recreational center known for its affordable price point. The park has activities to do for people of all ages. Learn the origins of cocoa in Ghana with a cocoa farm tour, take a forest hike, let the kids run wild in the kids zone, and more! The Bunso Eco Park also launched the first adult swing in Ghana in July 2022.
Cook an Italian dinner with Chef Claudio
A new thing to do in Accra, Italian Chef Claudio now hosts cooking classes at Bella Afrik, an Italian restaurant in Accra that focuses on teaching you how to cook pizza with an Italian flare. With a menu of antipasti, your self-made pizza, dessert, and unlimited Bella Afrik cocktails, you'll leave with new cooking skills and a stuffed stomach!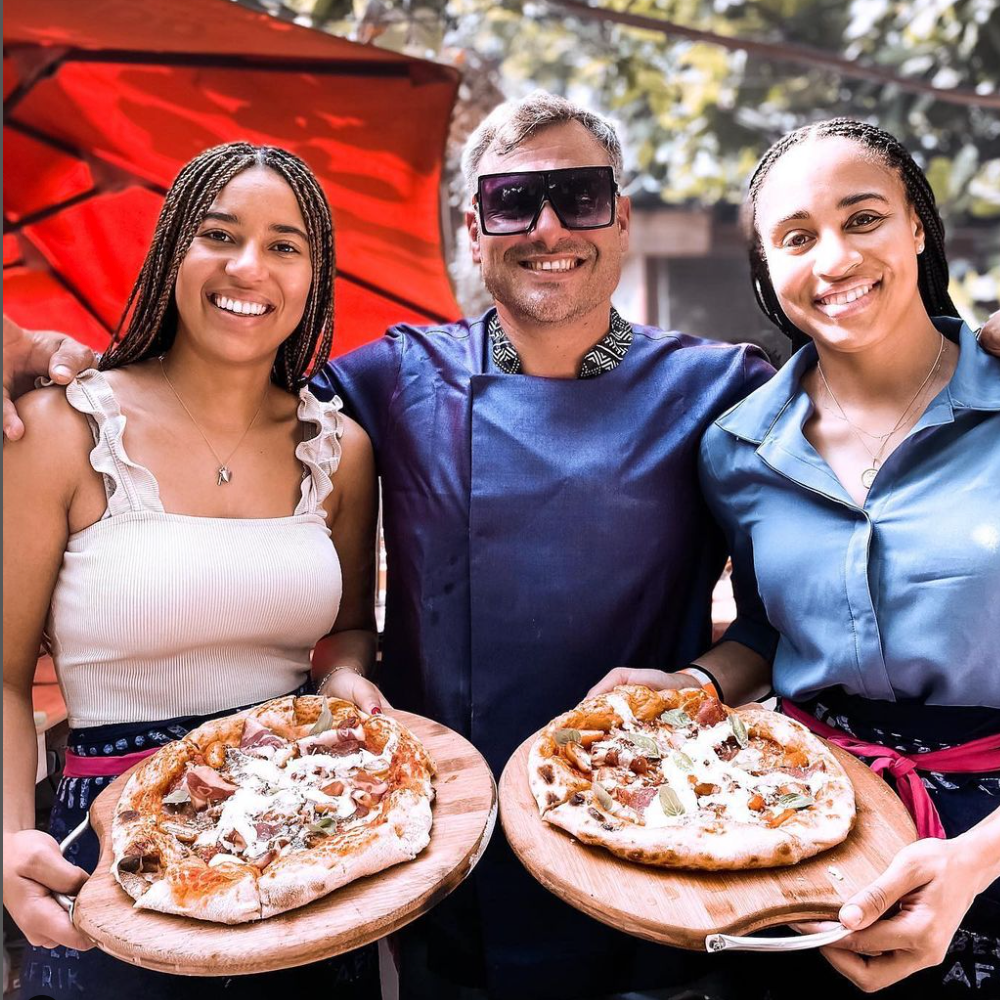 Shuttle your way through several stops on the Accra-Tema train
You may be surprised to find out that Accra has a train! Recently reopened after years of closure, the Accra-Tema train is fully functioning and can be boarded at 6 am from Tema if you'd like to experience a train ride in Ghana. With a regular section and VIP section on the trains, you'll stop through areas like Addogonno and Abelempke. Ghanaian creator Akosua Shirley has a detailed video on what you can expect on this train ride!
Camp out in a caravan at the Kokrobite Garden
Known for its captivating greenery and blooming flowers, the Kokrobite Garden is a destination you can visit for the day or embark on a unique adventure by staying in the on-site caravan. For only 12 euros a night you can stay inside the caravan, including a double bed, outside toilet, and sofa.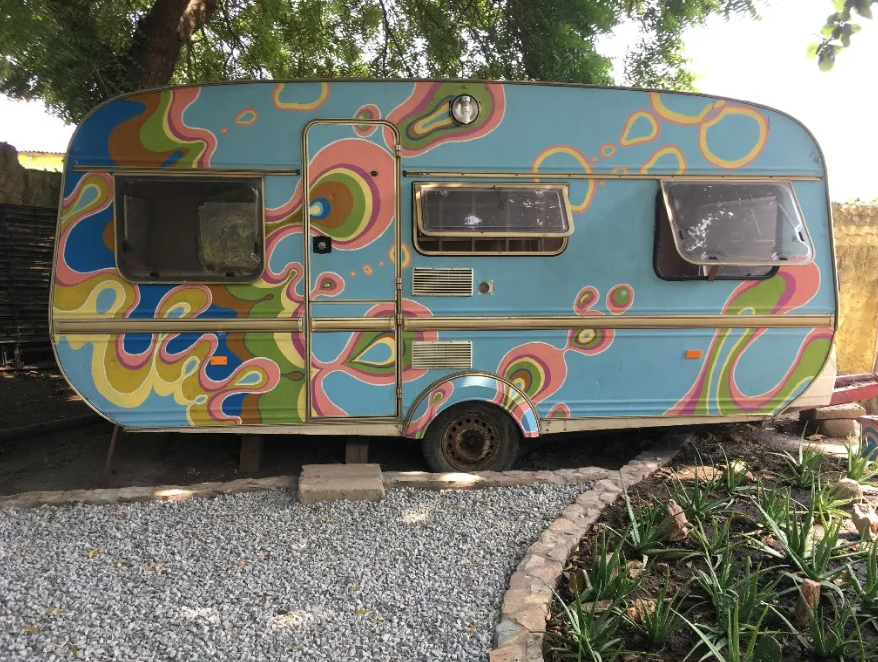 Down some drinks at Accra's first non-alcoholic popup bar
Eden Bar is redefining nightlife in Accra with the genius concept of the city's first-ever non-alcoholic bar. The bar inspires to create a nightlife experience for visitors that is alcohol and smoke-free, with the same amount of enjoyment. The bar is kicking off its launch with a series of pop-up events around Accra this year, so be sure to stay updated via their socials, so you don't miss the next one!
Enjoy the view of Accra with a helicopter tour
"Accra by Air" is a new company in Accra that is offering aircraft and helicopter tours. Accra is exciting on the ground, so you can only imagine the views that remain to be seen from above.
While in the air, you may even get a chance to experience what it's like to steer an airplane with the help of your pilot of course!
Have lunch in an airplane in Airport City
La Tante DC 10 Restaurant is the first airplane restaurant in Africa and is only a few minutes from Accra airport! The restaurant was formerly operated by Ghana Airways with flights to the United States and Europe and was converted to a restaurant when it was no longer operational. The interior of the restaurant has been preserved to keep the feel of being on a flight from the runway of stairs, airplane seats, windows, etc., and servers taking the role of flight attendants. It's definitely one of the best concept restaurants in Accra worth visiting.
*Note: As of 12/4/2022 the restaurant is closed for renovations.*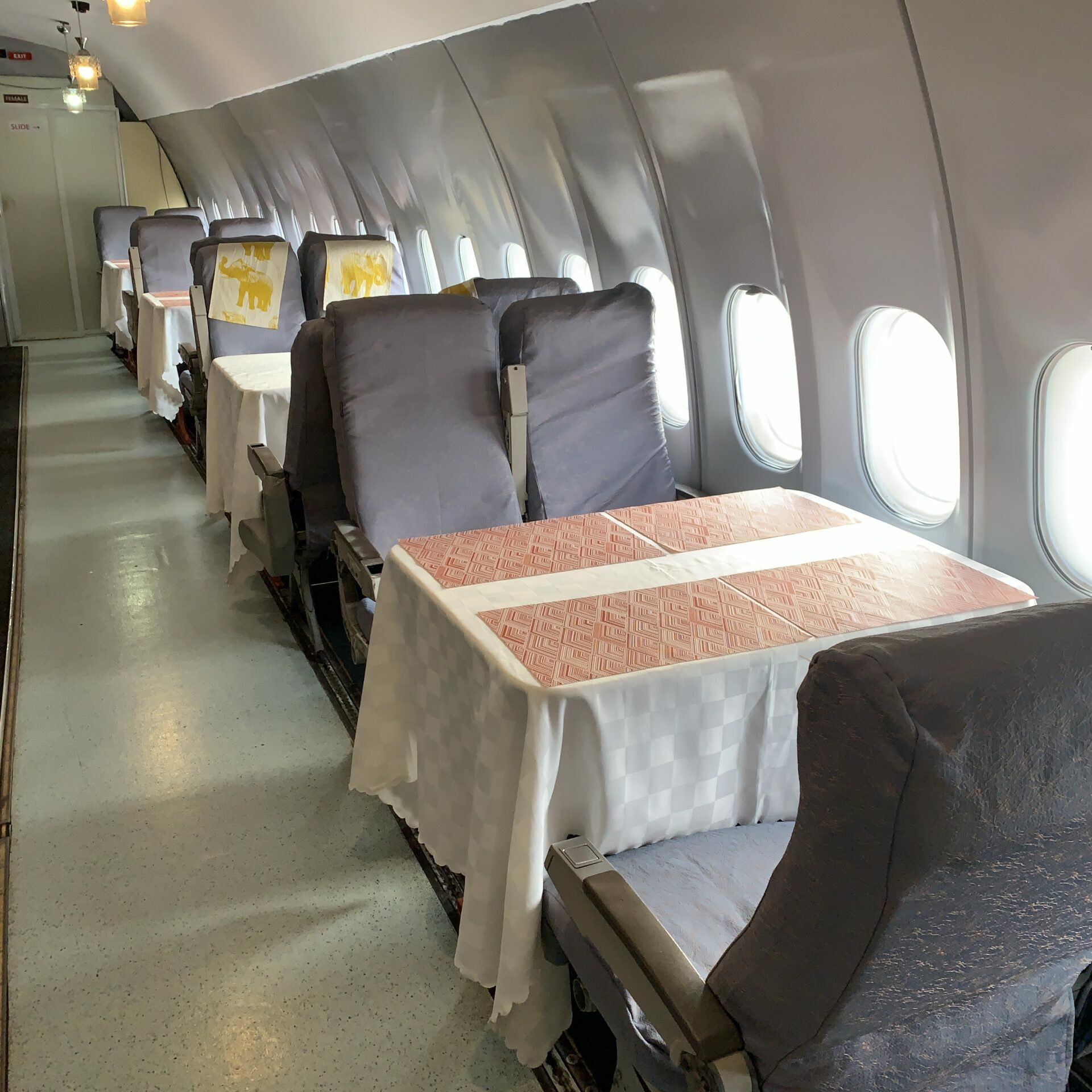 Bounce at the "happiest place in Accra"
With the claimed title of being Accra's happiest place, Bliss Family Entertainment has created a family-friendly, fun atmosphere where you can enjoy the many attractions available at the facility. The center is best known for its Olympic trampoline, foam pit, freefall tower, and more. Open until midnight every day, a trip to Bliss Family Entertainment with a group of friends or your kids could be just what you need to lift your spirits and boost happiness, as promised!
Learn about African and Diaspora literature at Ghana's first Pan-African Library
One tour through the Library of Africa and the African Diaspora, and you'll leave with dozens of new books to add to your reading list. This personable library has over 4000 books that tell the stories of African history and the diaspora. Having gone on a tour of the library myself, I was in awe at the thought placed into creating this space. The founder Sylvia Arthur created the library with 1,300 books she collected over the years. She is today on a mission to continue cultivating a space that has a long-lasting impact on the African continent and worldwide.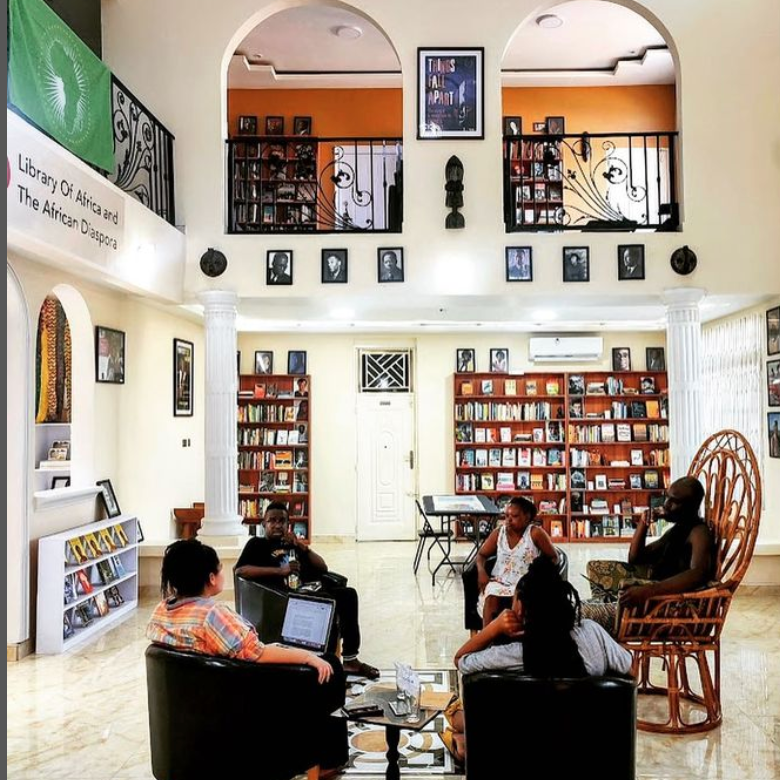 Pull over and watch a local soccer match
This may be one of the more random things to do in Accra if you are a foreigner, but part of the spontaneous spirit of the city. Soccer is big in Ghana, and you can find local teams playing matches as you ride past soccer fields around Accra. If you have some time, pull over (or ask your driver to end your trip there) and spend some time watching from the sidelines or bleachers. Ghanaians take soccer very seriously and get excited, so I'm sure you'll leave with a story to tell!
Visit the outdoor museum that is celebrating African history and culture in Ada
The Nkyinkyim Musuem is an African museum hosted outdoors in East Ada. Founded by Kwame Akoto-Bamfo, the museum uses clay to pay homage to ancestors from the transAtlantic slave trade and convey powerful messages. While visiting the museum you will be taken through a journey led by a griot that includes a series of 10 stops. Each stop is marked by pieces of artwork that are explained in great detail. The entire museum celebrates the greatness of our ancestors and celebrates African culture.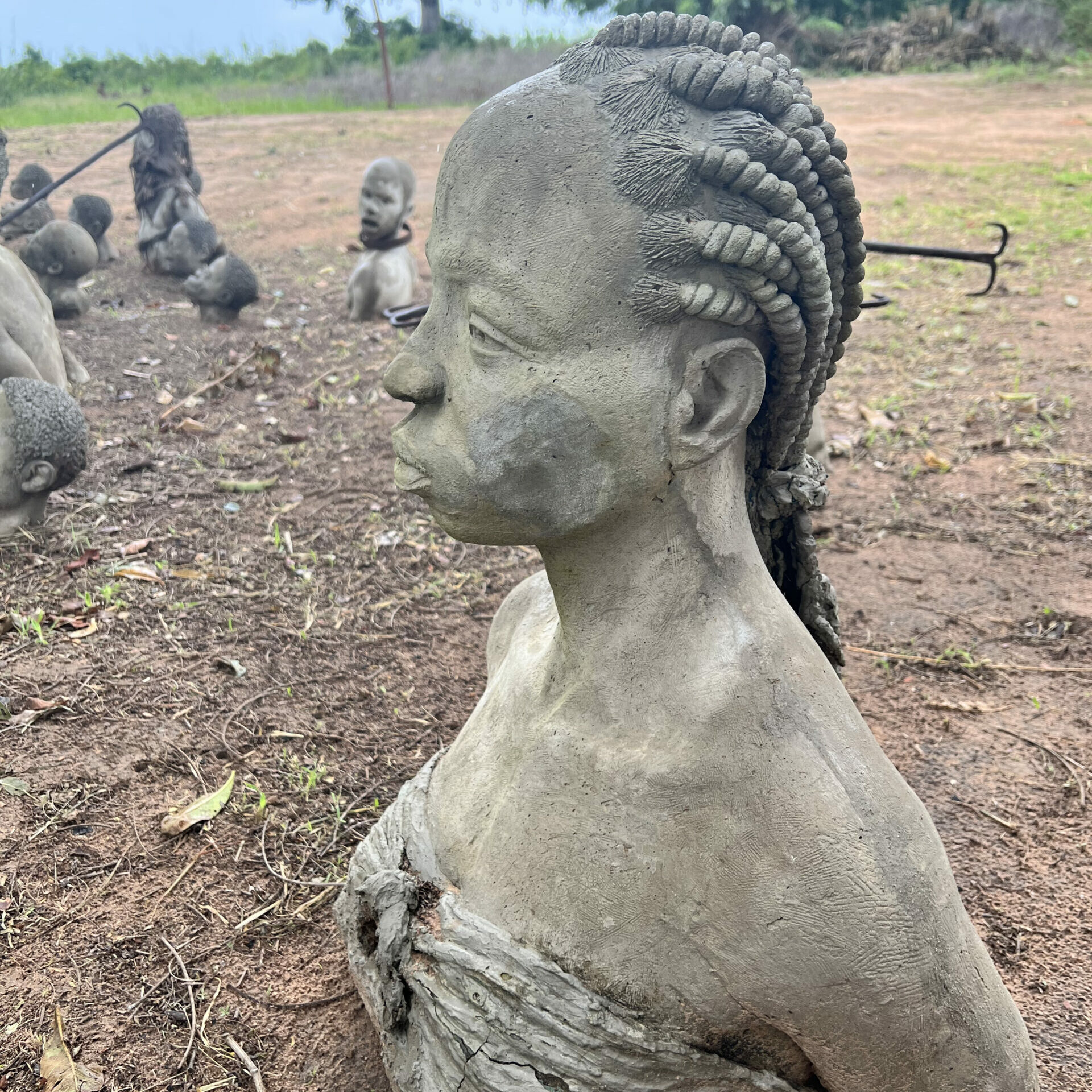 Practice a new language with Love Languages Cafe
If you've been wanting to learn a new language or want to practice one you already have under your belt, you'll want to stop by Love Languages Cafe. The company provides language lessons to kids, teenagers, adults, and also hosts fun and interactive event nights that allow you to get to know other langauge learners!
Catch a movie at Ghana's first outdoor cinema
57 Open Air Cinema is bringing the films with new scenery. 57 has movie nights at different locations while still keeping its outdoor theme. From drive-in movie nights to movies at local gardens, this is a great way to chill and vibe with your close friends or a romantic partner! The events sometimes include free popcorn and even a fun afterparty to look forward to.
Decorate your own pot to use for plants
Wine and Art Studio has a painted pot experience that they host at Bella Afrrik most Sundays and is a great addition to your Sunday Funday if you are up for it. You'll receive a pot that you can choose to decorate however you want then take home at the end of the night. They announce the dates of their next sessions on their Instagram account!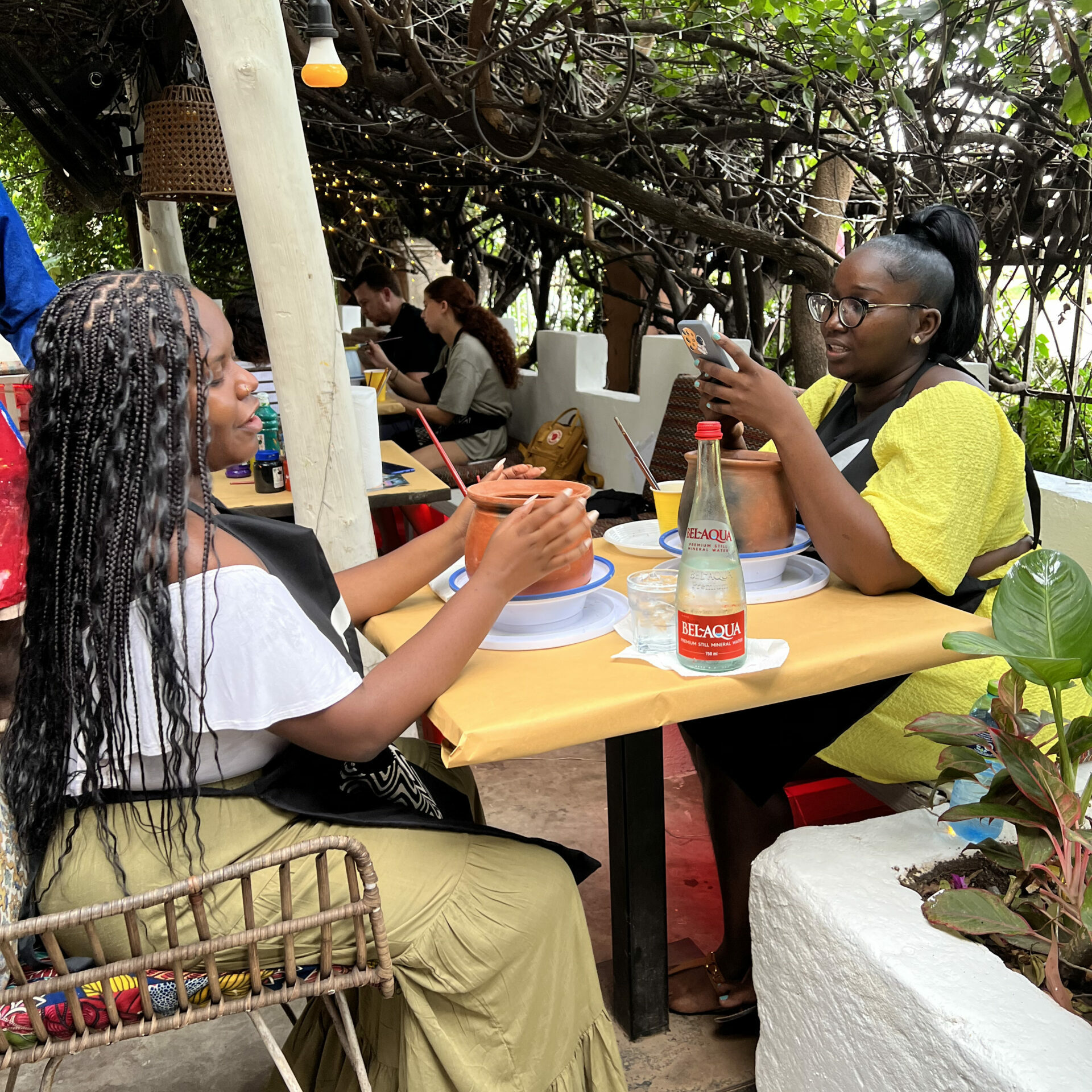 Race go-karts with your friends at Houseparty
One of my favorite memories in Ghana is going to ride go-karts with my friends before boarding on a plane to go back home to Florida two hours before my flight. At Houseparty, you can do the same where you are able to race go-karts around the track. Houseparty also has plenty of arcade games for your entertainment!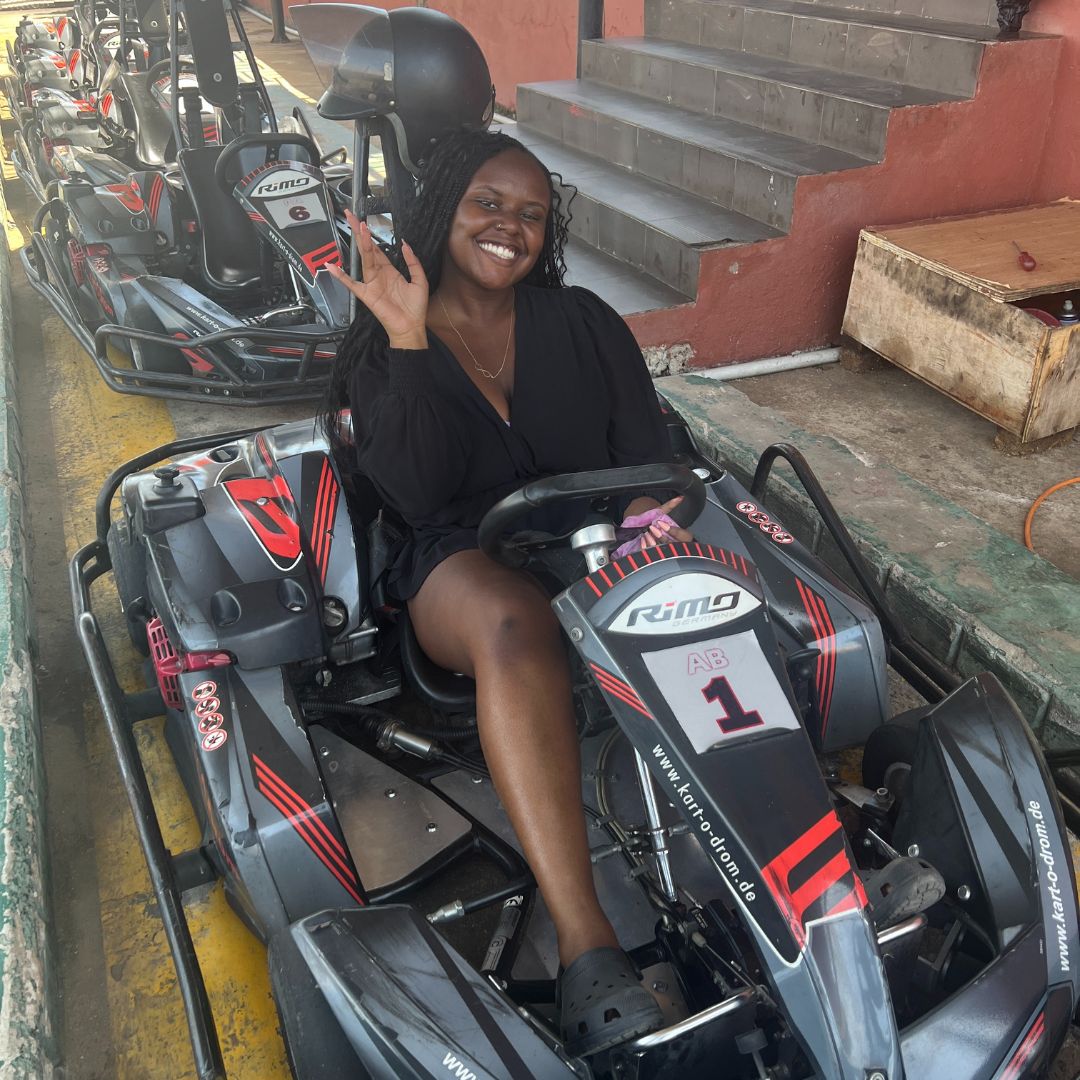 Enjoy a series of fun events at a recreational center
The Deon Recreational Center in Accra is a vibrant hub of leisure and community engagement. This facility offers a diverse range of recreational activities and amenities for people of all ages. With its well-maintained sports fields, swimming pools, fitness centers, and playgrounds, the Deon Recreational Center provides an ideal setting for families, fitness, and sports enthusiasts, to come together and enjoy their favorite pastimes.
See Accra from a different angle onboard a double decker bus
Whether you're new to the city or have been around for a while, you may find riding Ghana's first ever double decker tour bus to be a delight. Ran by the Accra Tourist Information Centre, the bus will take you on a tour around Accra to sites like the National Theatre, Kwame Nkrumah Memorial Park, and National Museum of Ghana. You'll even have the opportunity to get off the bus and step inside some of these popular sites. It's a great way to see some of Accra's most popular sites without the hassle of getting around by yourself!
Cuddle with puppies during a yoga session
Picture yourself in an enclosed studio rolling up your yoga mat to begin a 1-hour yoga session with a twist—a cute and cuddly one! That's exactly what Paws R Us has brought to Accra with their puppy yoga classes. You can choose to actually participate in the beginner-friendly yoga classes in Accra or spend the entire time cuddling with your puppy of choice. If you feel connected enough to one of them, you can even buy it on the spot!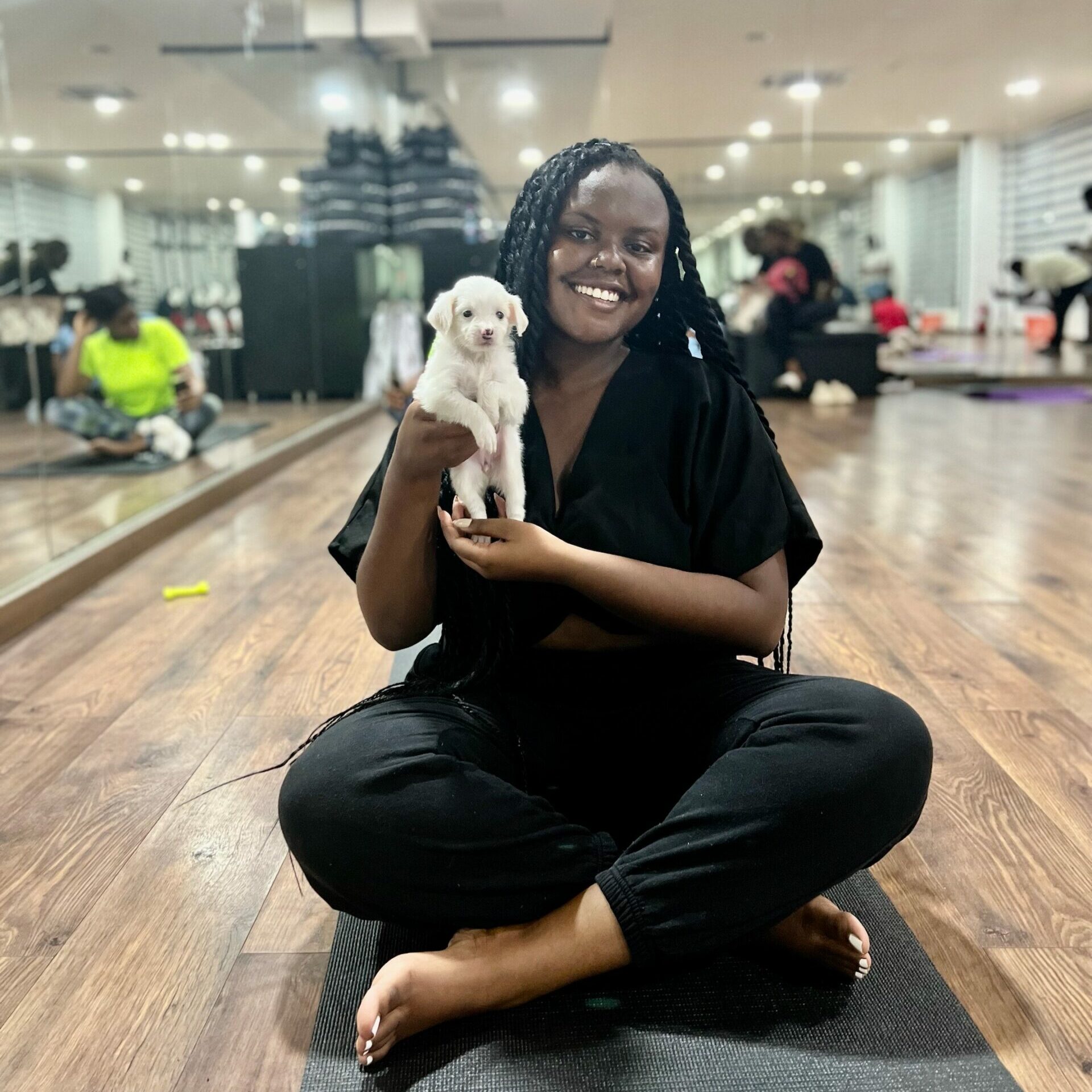 Now you have 70+ things to do in Accra when you visit Ghana! I love to hear when the content I include in my blog posts is helpful, so please leave a comment letting me know what activity or place you decided to try and how you liked it! If there's a thing to do in Accra that I left out or you offer a service you think is worth adding, feel free to leave a comment to share it with others. I will be updating this list regularly so check back for more activities as I find them!