Staying at a Getaway House Cabin has been on my USA bucket list for a few years now. Getaway just opened its newest location in my home state, so I drove 4 hours to go check it out and tell you everything you need to know in this Getaway House review!
In this blog post, I will thoroughly review my time in the Getaway House I stayed at in Florida in hopes of giving you insight into what you can expect when staying in a Getaway House tiny cabin and if it's worth your hard-earned coins and the travel time!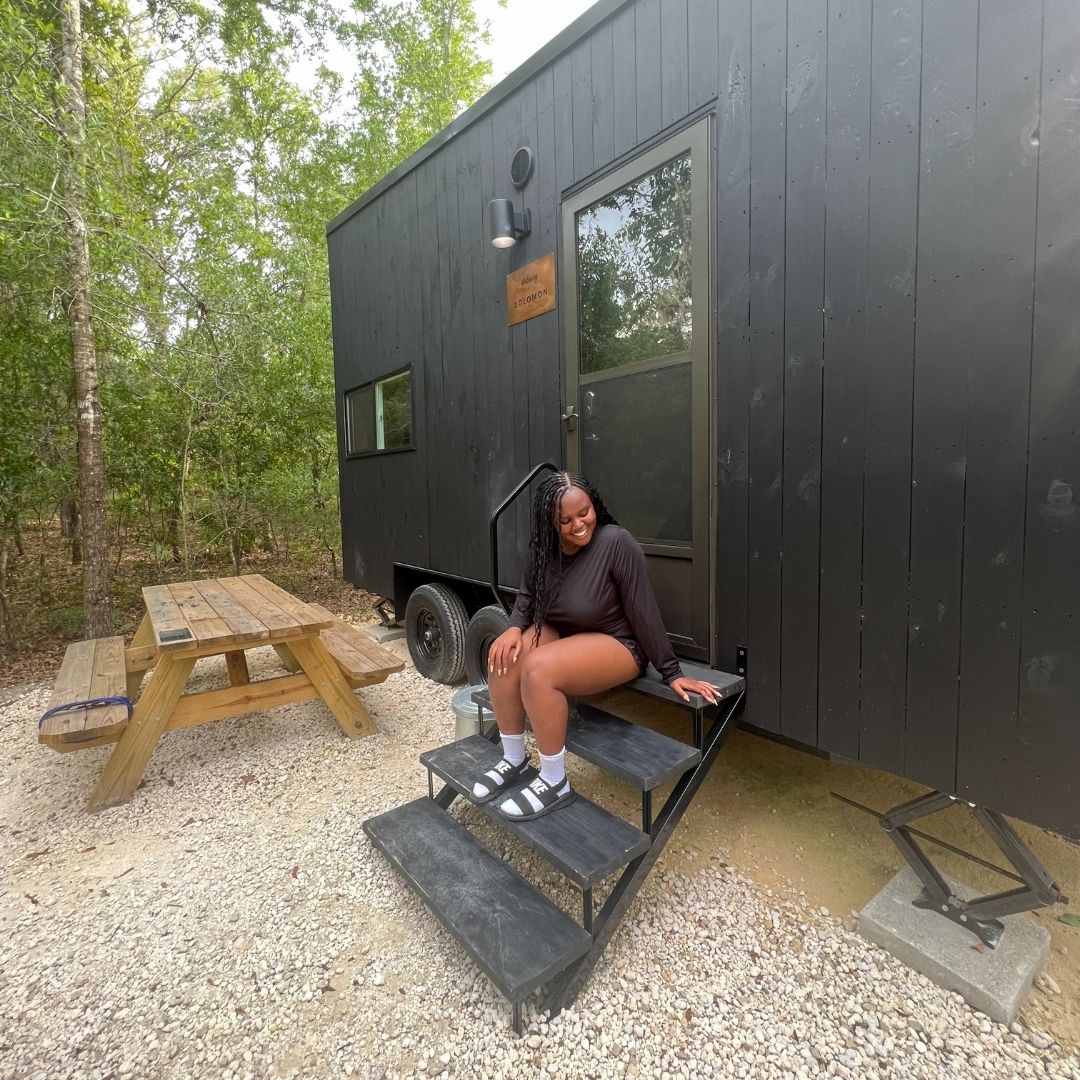 Disclaimer: I completely paid for my stay at the Getaway House, including the gas it took for me to drive to the outpost site 🙂
My stay was not sponsored in any way, but I did enjoy my stay and have a link and discount code you can use to get some $ off of your booking (and I get a small % too!):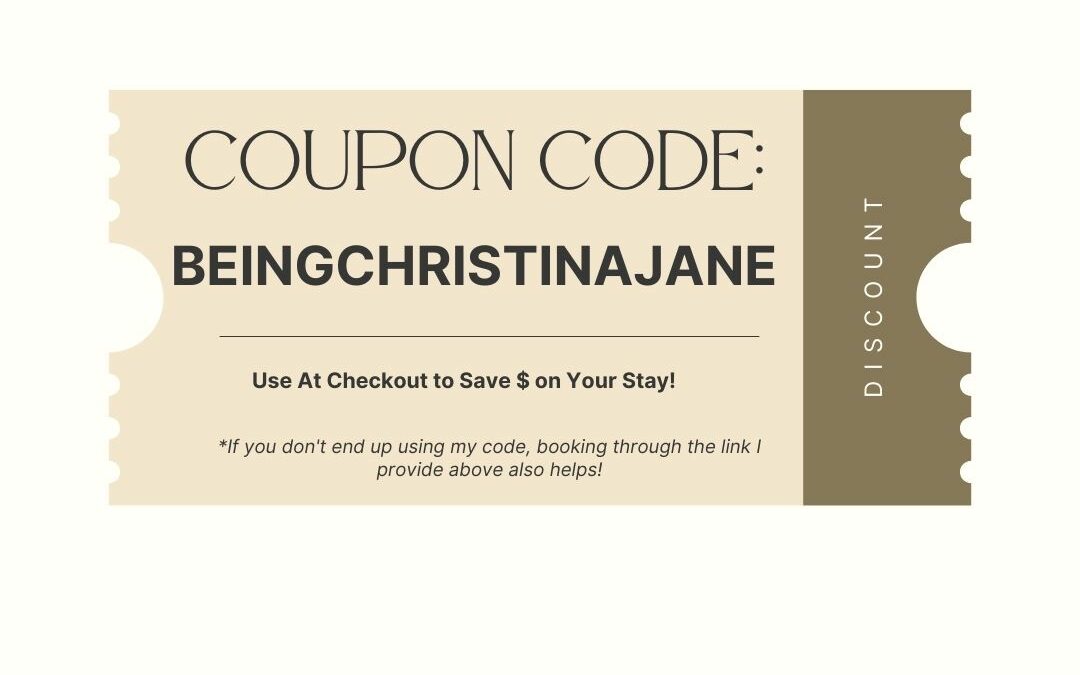 What are the Getaway House Cabins?
Getaway House is a brand in the United States that offers minimalistic 140-200 square feet tiny cabins in nature as a retreat or getaway for city dwellers.
The tiny cabins are placed among nature in the woods and are used as a means to disconnect from the busyness of the city, technology, spend time in nature, and focus on relaxing.
There are usually about 40 cabins spread out throughout a Getaway post that you can book for yourself and others. The idea is to unplug from your everyday life and be in an environment that allows you to unwind and well–just be.
In this Getaway House review, you'll see me refer to the experience as both the "Getaway House" and "Getaway Cabins."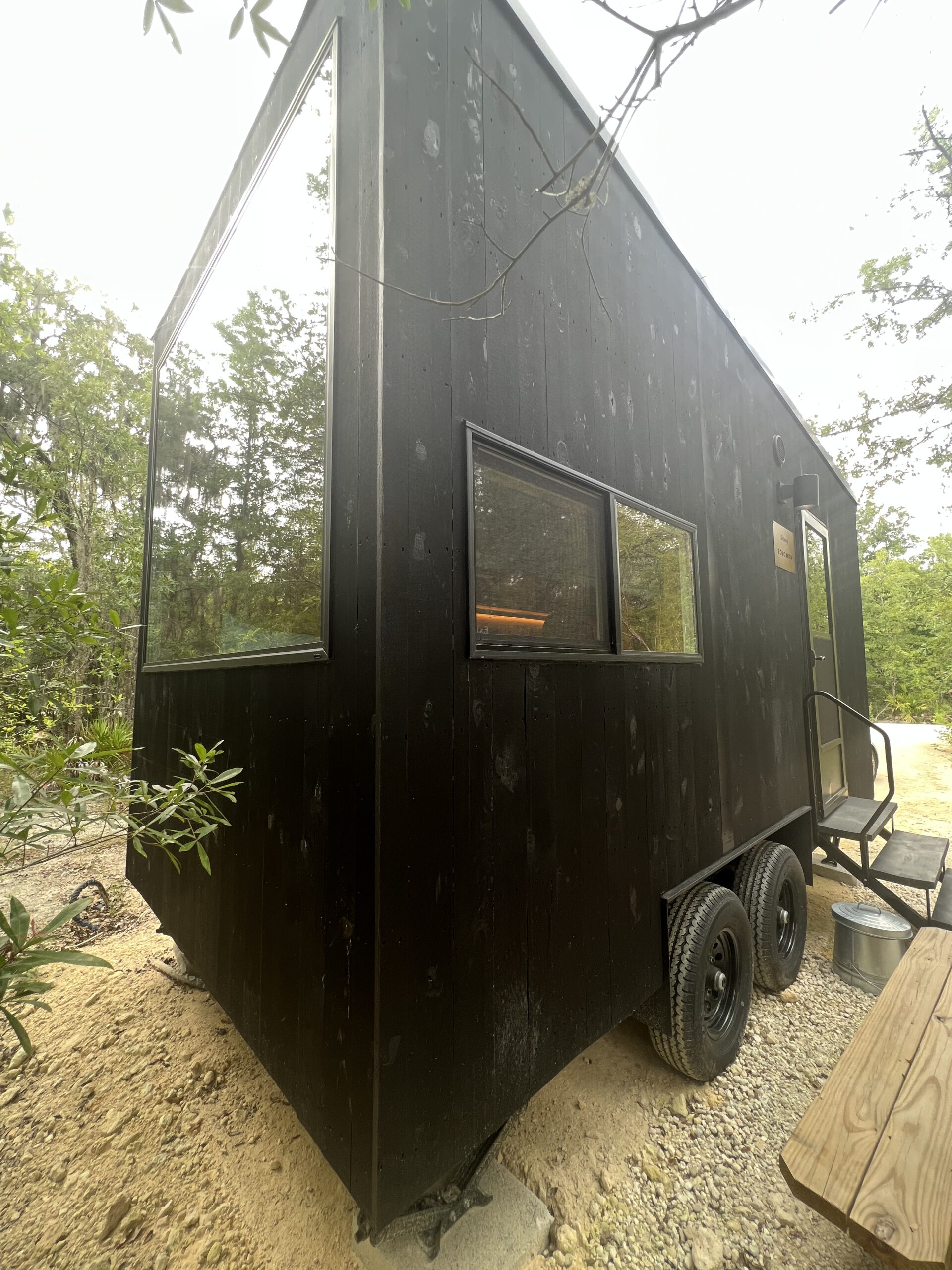 Where are the cabins located?
You can find Getaway House cabins across the United States located two hours from major cities around the country.
Here are the locations Getaway offers broken down by regions in the U.S.:
West: Los Angeles, Portland, Seattle
Southwest: Austin + San Antonio, Dallas, Houston
Midwest: Chicago, Columbus, Detroit, Indianapolis, Kansas City, Milwaukee, Minneapolis, Pittsburgh + Cleveland, St.Louis
Southeast: Atlanta, Charlotte + Raleigh, Greenville, Nashville, New Orleans, Orlando
Northeast: Boston, New York, Pittsburgh + Cleveland, Washington, D.C.
Being that I live in Florida, I chose to stay at the newest Getaway House post in Gilchrist Springs.
It's 2 hours away from Orlando and 40 minutes away from Gainesville.
Booking A Cabin: How to Book with Getaway
To book a Getaway cabin, you would go to the official website for Getaway. Once you input the desired details for your stay (location of choice, dates, number of people per cabin, etc.), you'll get to select add-ons.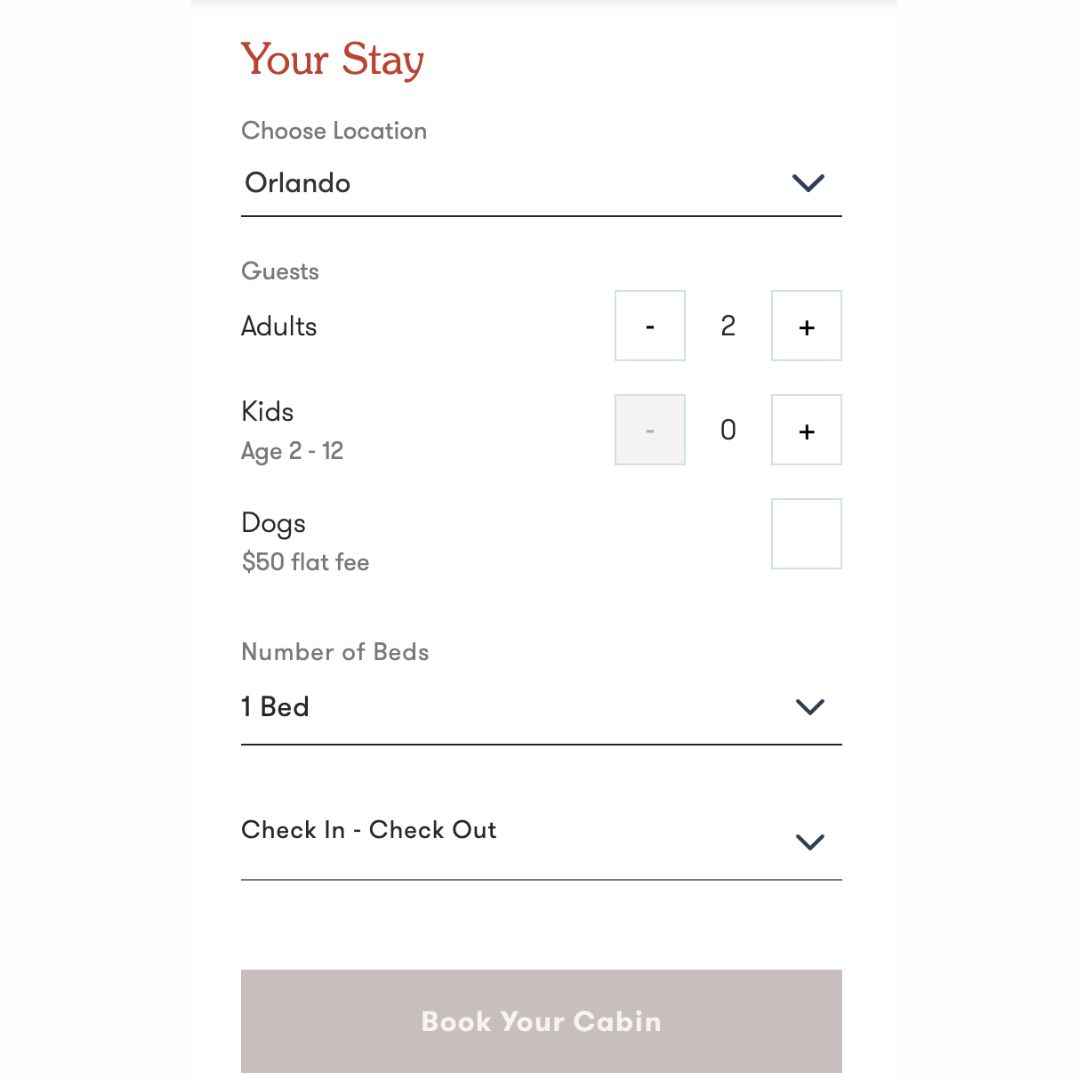 The Add-Ons Offered
At this stage of the booking process, you'll have the option to add certain elements to enhance your experience at the Getaway House. Here are the options I received:
Early Check-In: (1 bed): $25.00
Late Check-Out: (1 bed): $25.00
Kids Adventure Kit: $25.00
Sustenance Box: (A portioned box for two that includes oatmeal, soup, beef jerky, cookies, candy, pasta, and pasta sauce.) $35.00
I didn't see the need for add-ons for my stay, so I didn't opt in for any. I also don't see the point in getting a sustenance box, but you'll read more about why in the food section of this blog post!
Once you get past the add-on page, you are good to go and will receive a confirmation via email.
You can also call 617-914-0021 Monday–Friday, 10 AM–6 PM EST, to book a Getaway over the phone.
How much does it cost to stay?
For the Gilchrist Springs location, the prices vary depending on the season. For the next few months, the prices are as follows:
$127/night on weekdays and $172/night on weekends.
I noticed that prices are $127/night during the summer, but in the fall, they lower to $112/night on weekdays, so that is something to factor in.
On holiday weekends, the cabins do get pricey as well.
At the time I'm writing this, July 4th, U.S. Independence Day is around the corner, and it is $227 for that Saturday night, the weekend of the holiday.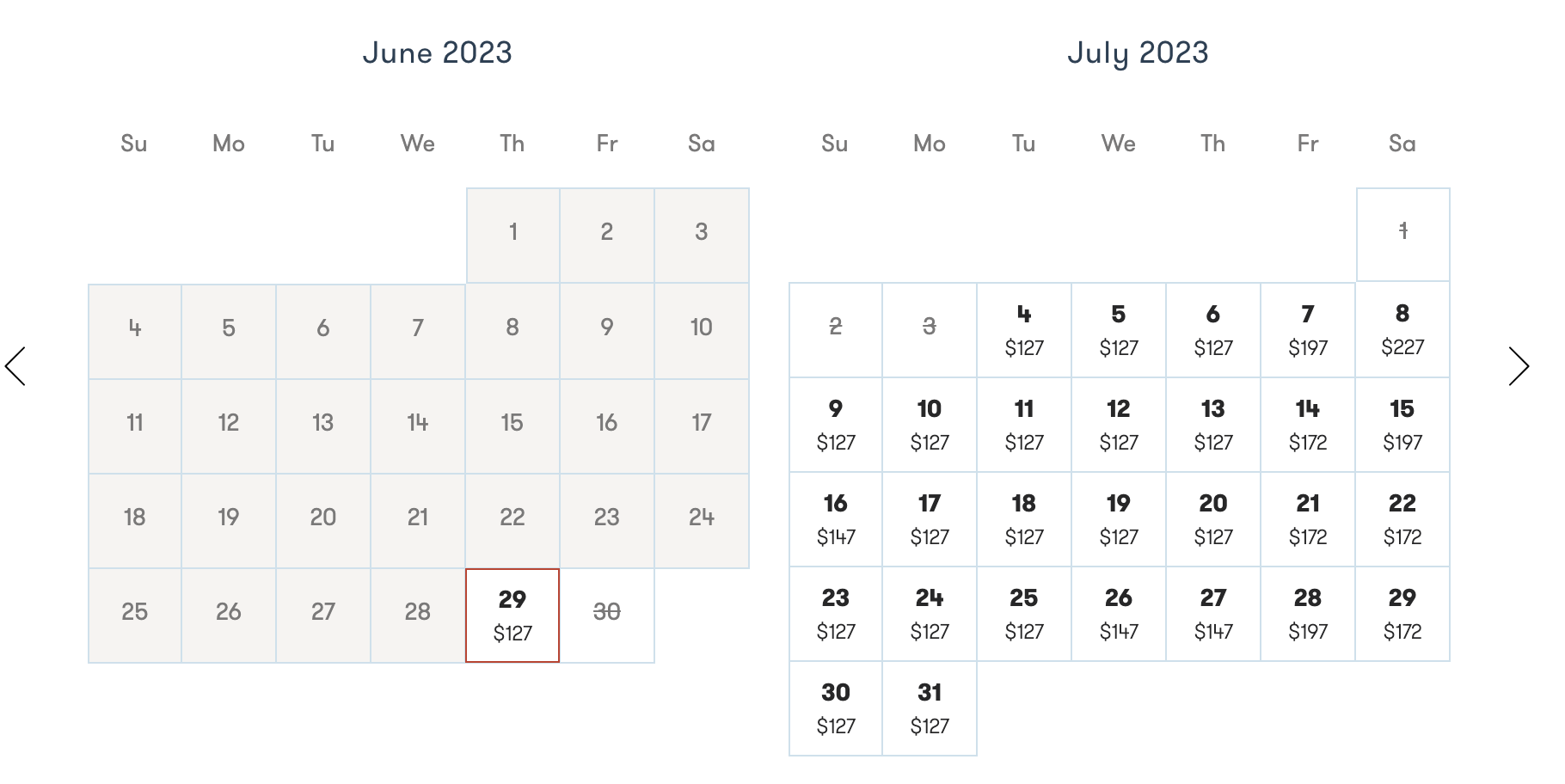 Getting to the Cabin
I live in Cape Coral, Florida, in the state's Southwest region, which is a 4-hour drive from the Getaway House in Gilchrist Springs.
I wanted to have my car with me since I would be in the middle of the woods and wasn't sure what I would and wouldn't have access to, so I decided to take the drive as opposed to riding the RedCoach or Greyhound Bus to Gainesville then taking an Uber roundtrip.
My sister came with me, and avoiding the highway, we had a pretty smooth drive to the outpost site.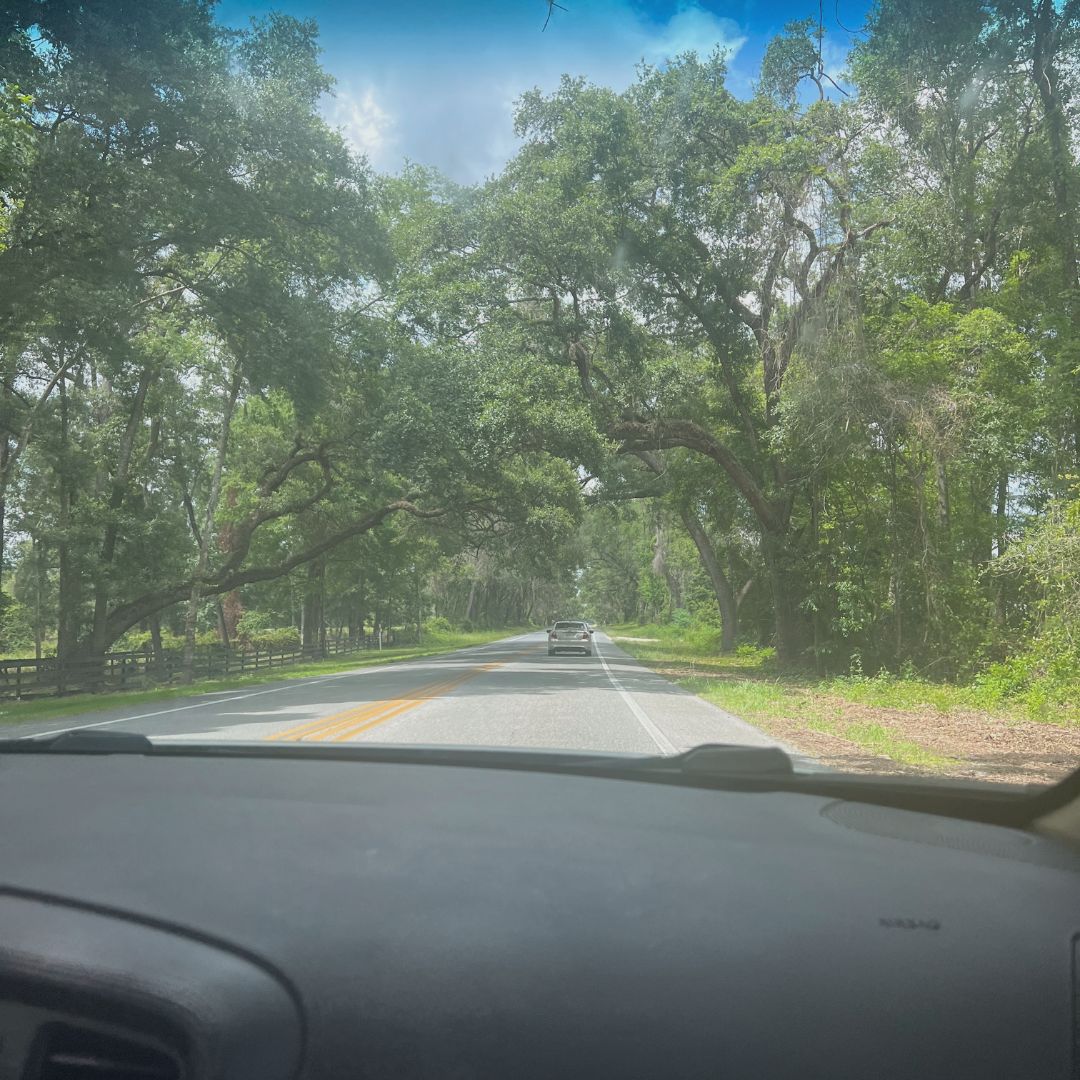 Upon Arrival
When we first arrived at the site, we missed the turn to turn into the Getaway House road, so I'd say to pay attention to a sign that says "Getaway" with the address, as the GPS was slightly off.
The Getaway Team did let us know that losing signal on our phones upon arrival at the cabins was a possibility. They provided us with a map of the outpost we could download for usage offline, so we could get to our cabins in case we did not have a signal, but thankfully it wasn't necessary.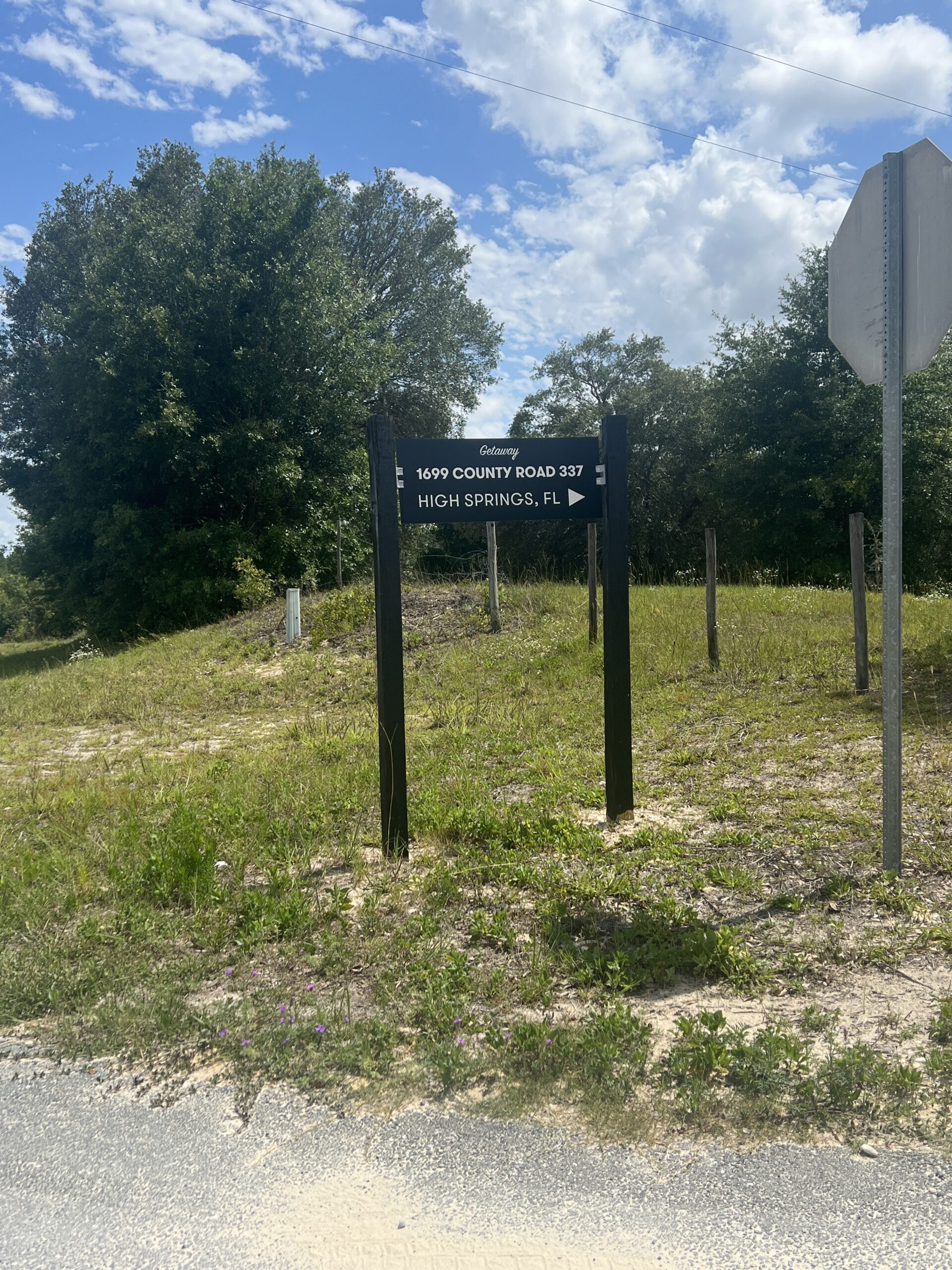 Once we turned onto the road, we just followed the path and, after a short series of trees and dirt paths, began to see the Getaway site.
There's a main office building that will be to your left as you drive where the staff members are.
As you drive forward, you'll see a common phone stand built into a tall Black structure with a map of the outpost and a phone that I assume would connect you to the main office if needed.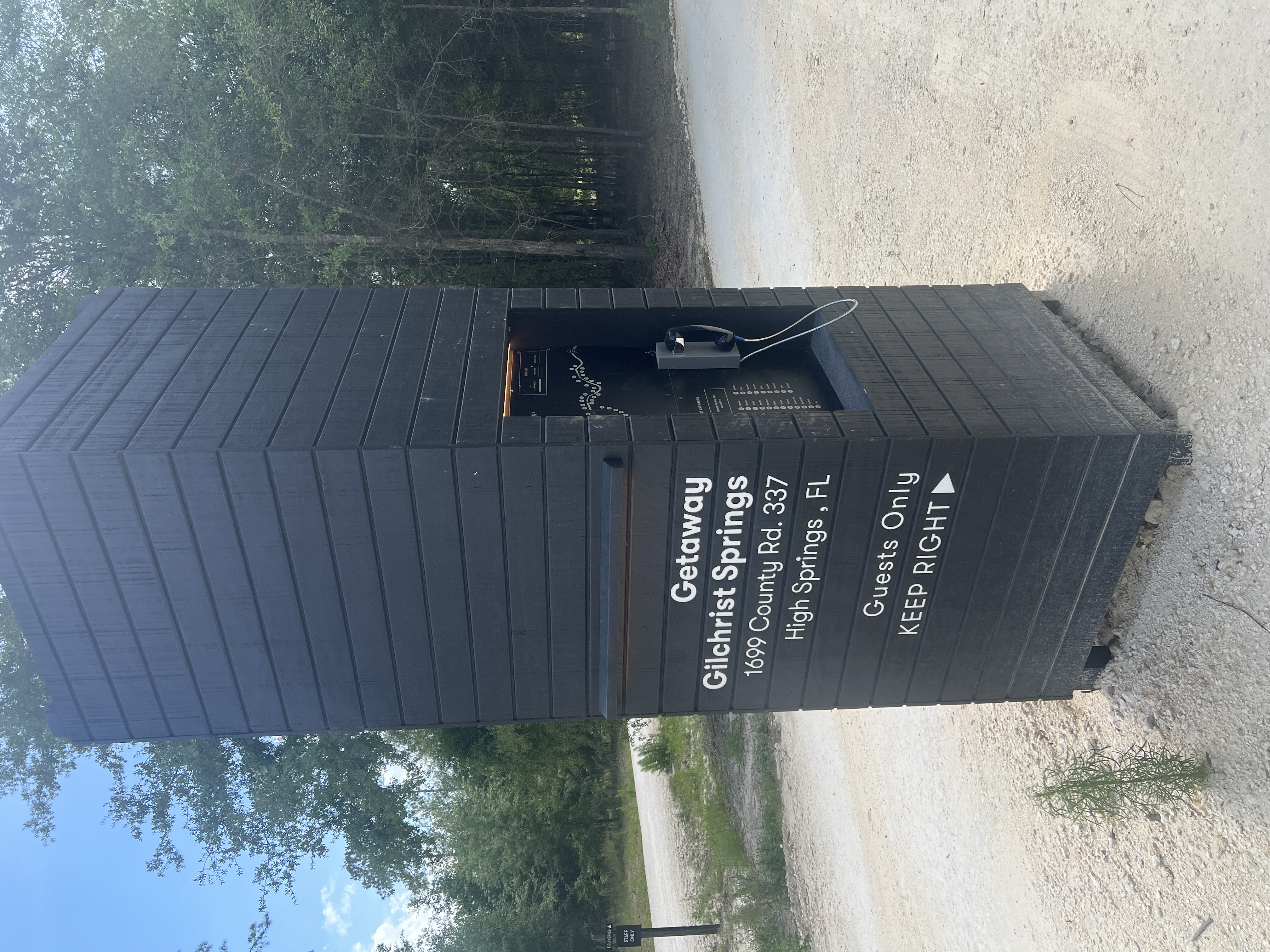 Being that there is a map here as well, I would still say to download the map provided but also download the map on Google Maps to get to your Getaway House just in case you lose signal on the way there, as it does get a bit secluded the closer you get.
I had a phone signal in and around the Getaway cabin, but my sister did not, so it ultimately depends on your phone network.
Finding Our Assigned Cabin
The day of our Getaway stay, as promised, I received a text message with the following details:
The name and number of my cabin
The keycode to the cabin
The WiFi network + passcode
In the email I received, it said we could expect to get this text 30 minutes before the check-in time at 3pm. However, I received a text message even earlier at 12:50pm with these details.
We had a bit of a drive to make, so we arrived around 4pm, but I'm sure the cabin probably would not have opened if we had arrived earlier anyways.
Anyways, the cabins are numbered on the one path you'll drive down, so it's very easy to find the cabin you have been assigned to.
As you drive down the path, you'll see all the other cabins before stopping at your tiny cabin.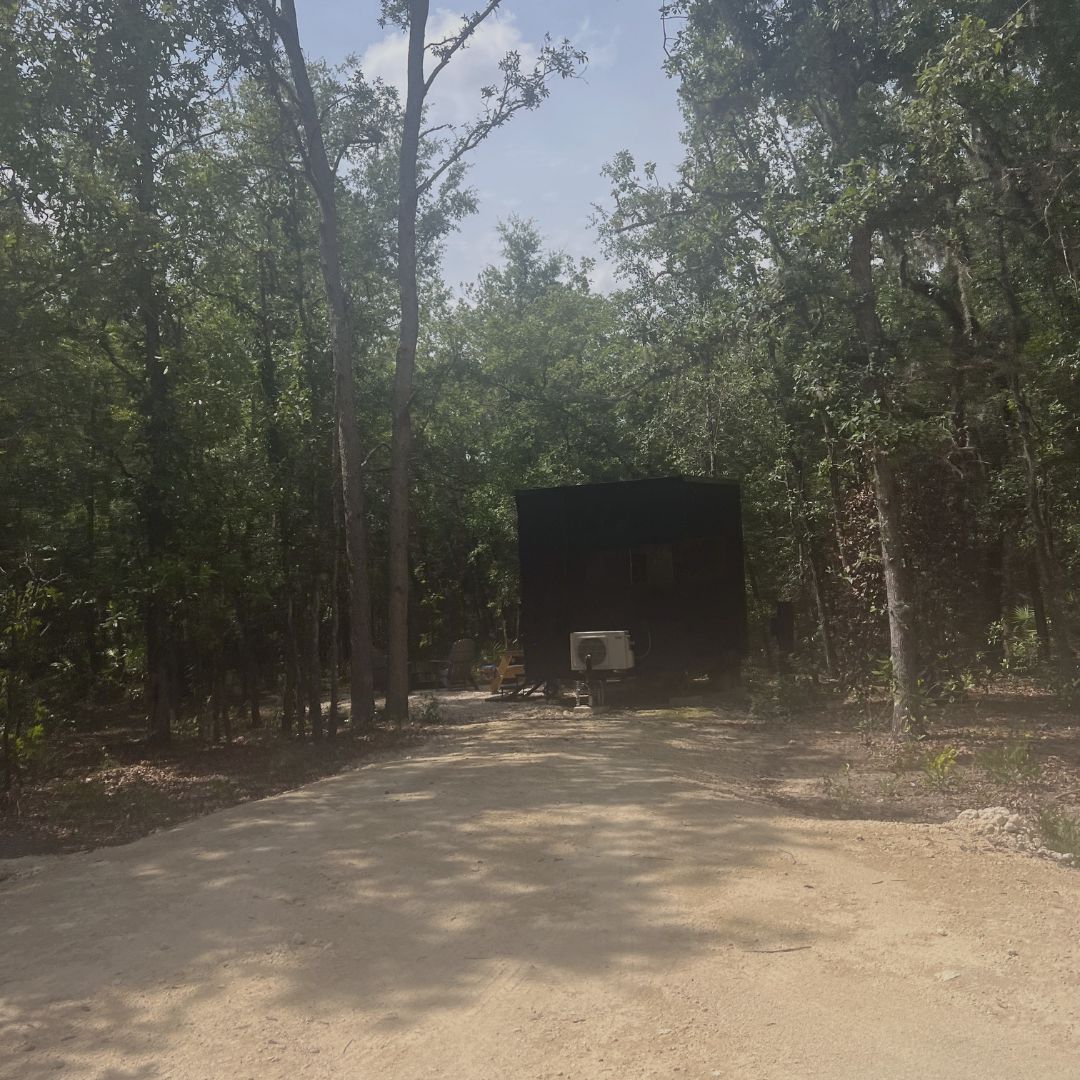 Checking in the Getaway House
Getaway adopts a contactless check-in experience, which means you don't have to officially check in with any of the staff members on-site once you arrive.
You go directly to your cabin, punch in the passcode on the keypad on the door, and you are good to go!
A Tour of the Cabin
The entire concept of the Getaway House cabins was appealing, so let's get into what the cabins have to offer.
Getaway cabins mimic the same layout and structure across all of their locations, so it's the same to assume that this is what you will get regardless of the outpost location you choose.
We were assigned the Solomon Cabin #39 toward the back of the Gilchrist Springs outpost, so we had a bit of a drive down the path before arriving in front of our Getaway House for the night.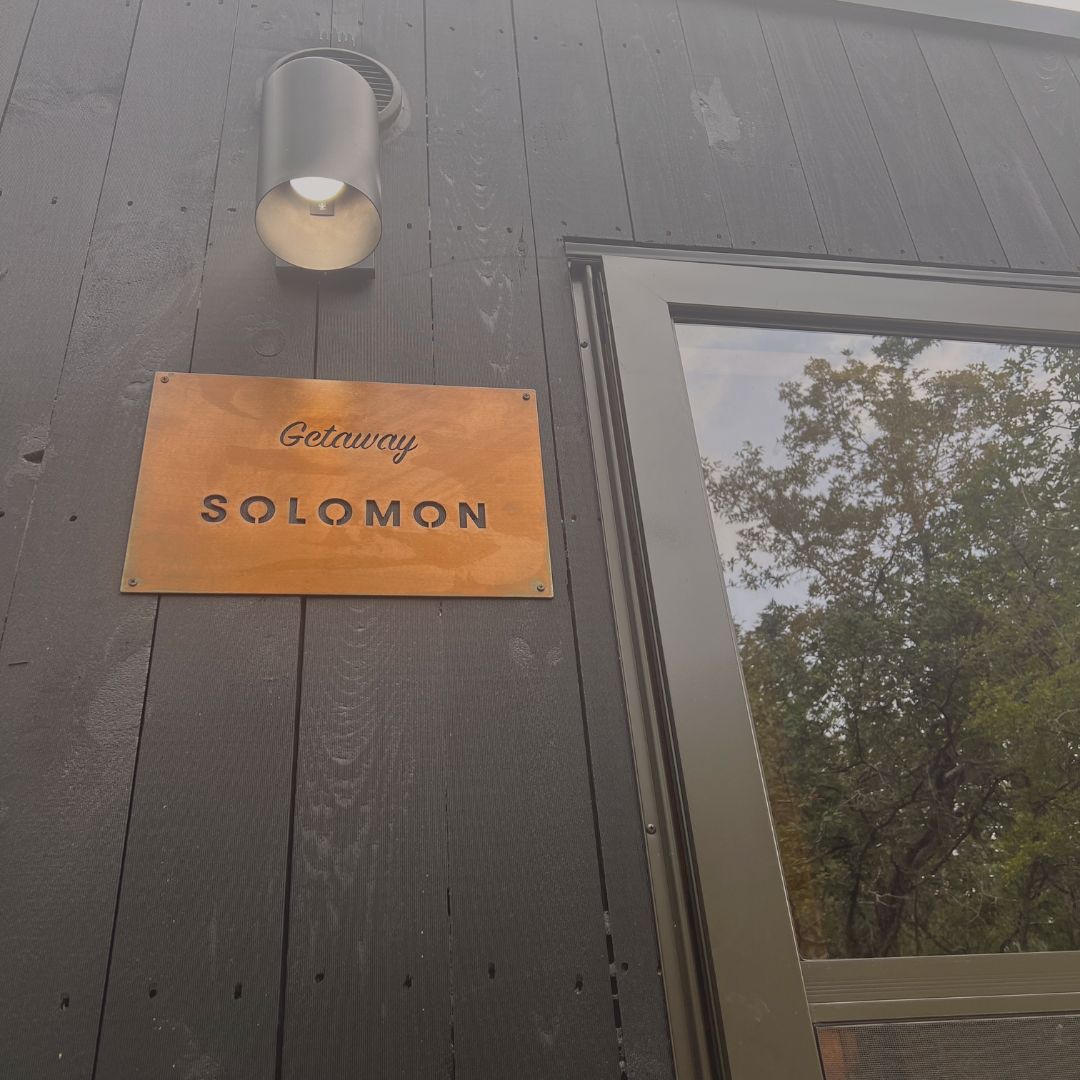 Outside of the Cabin
Each cabin has a driveway to the side of the Getaway cabin that is big enough to fit two compact cars.
Outside of our cabin, there was a fire pit and grill grate in case we wanted to start a campfire for any cooking desires.
Firewood, charcoal, and a firestarter were also available for an additional charge:
• Log Bundle: $8.00
• Fire Starter: $2.00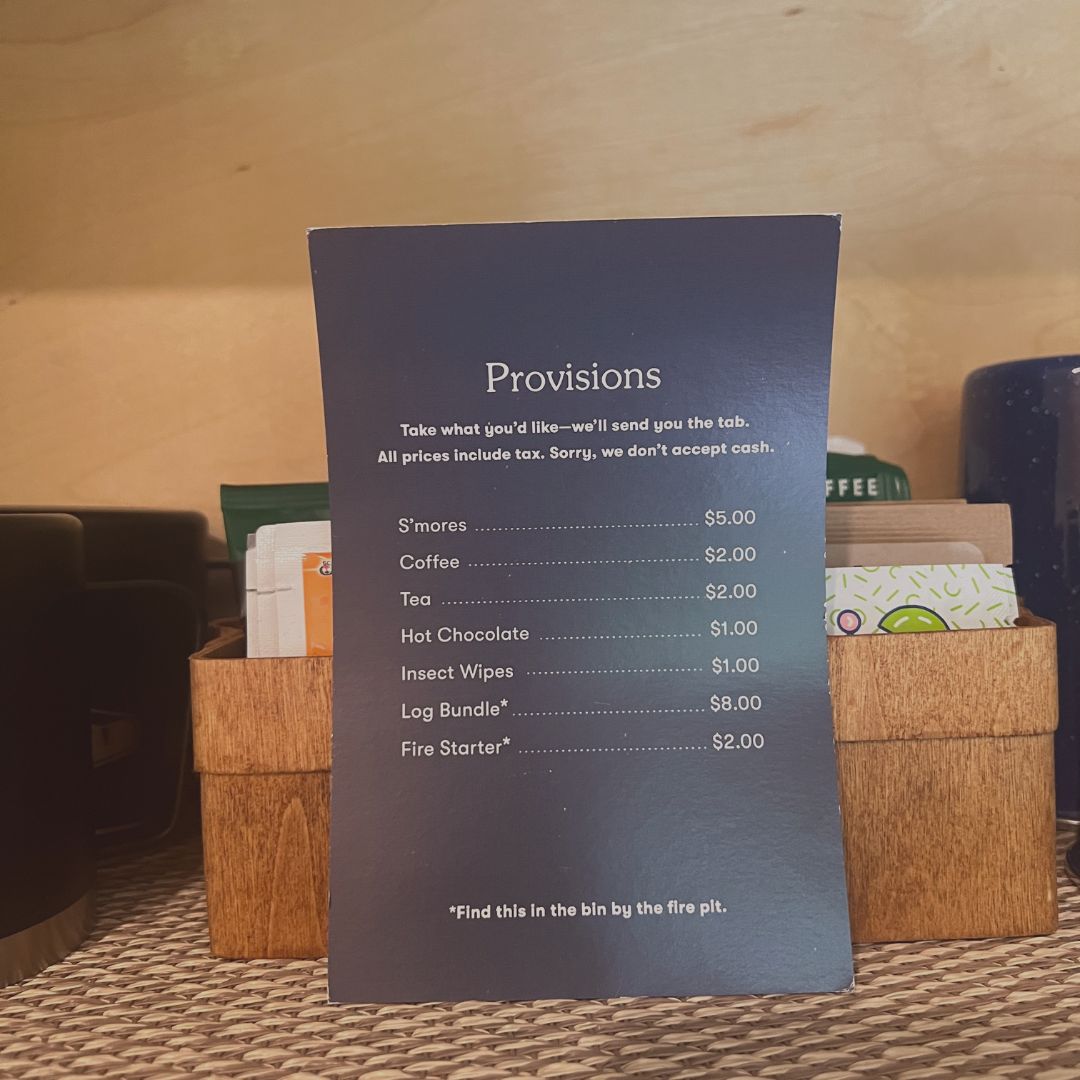 There was also a picnic table and chairs surrounding the fire pit, which I thought was a cute touch to the outdoor nature theme.
We planned to get into the camping spirit with some s'mores later that night, but there was, unfortunately, a huge thunderstorm, so that sadly went out the window.
Inside of the Cabin
The real star of the show is of course the tiny cabin's interior layout: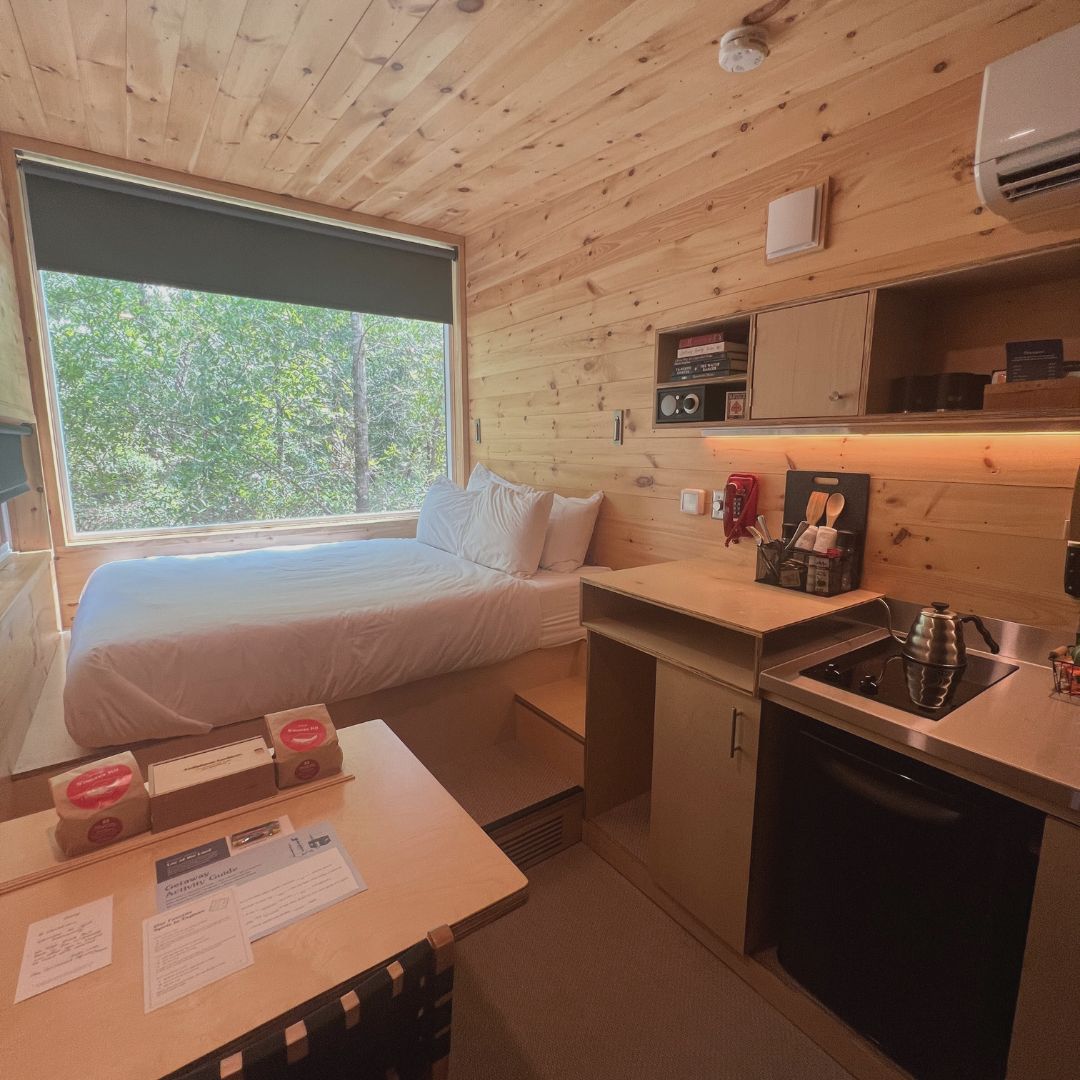 The Queen Size Bed
Getaway is known for its cozy queen size bed with fresh linens and pillows inside of the cabins placed right next to a large window where you can have all of nature's views and natural sunlight.
It was my favorite part of the cabin, and with the sounds of the rain outside, I slept too good!
The bed can fit 2-3 people, but you can also opt to have queen bunks when booking for a little more $.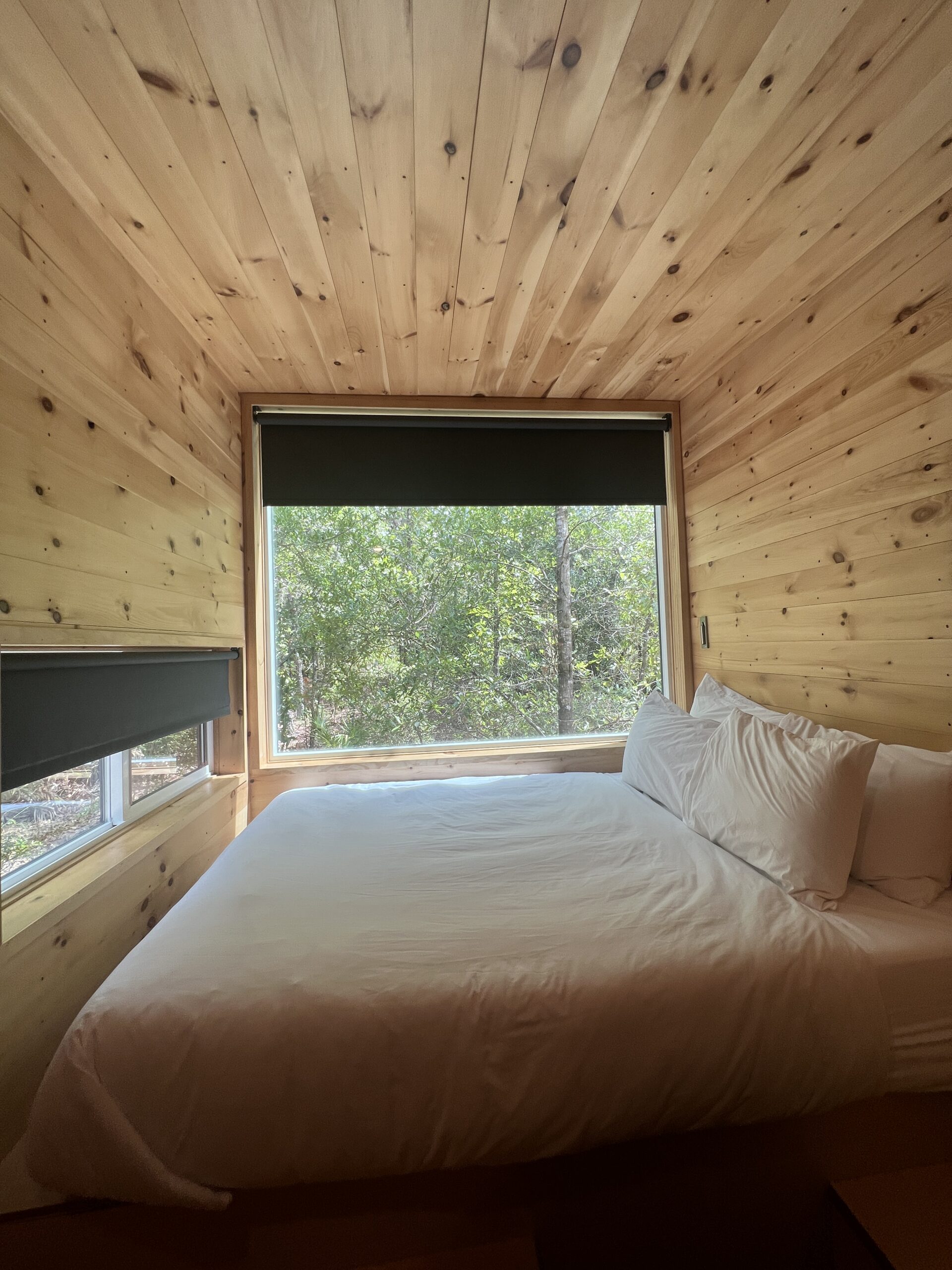 A Working Desk and Chair
As a blogger and writer, I love a good desk I can work from when I'm away from home and Getaway delivered!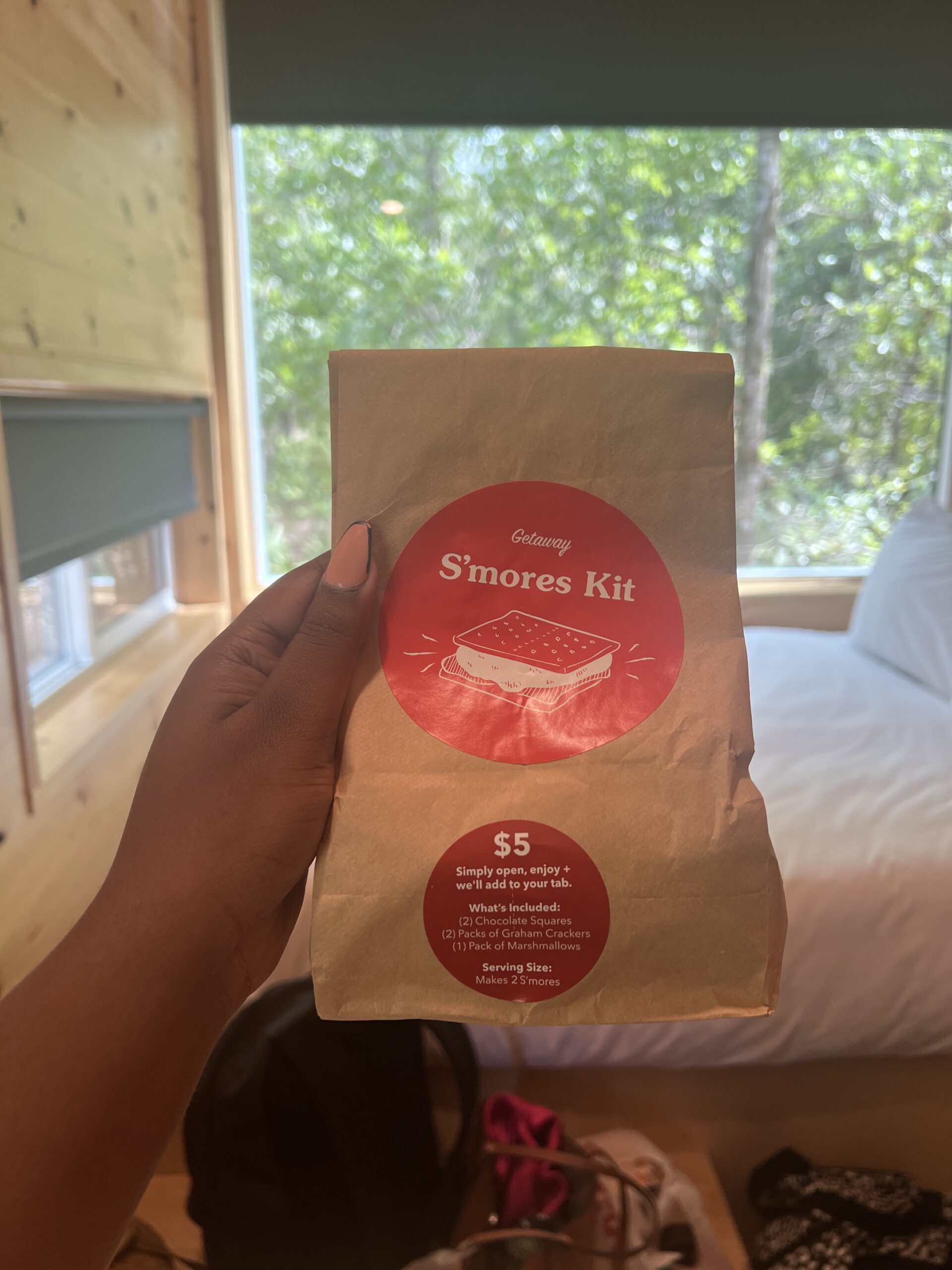 If you want to get some work done or even just have a space to comfortably eat your meals, a desk has been strategically built into the side of the wall just before the bed with a chair so you do so.
If you're coming with two people, there's a seated platform on the other side of the table for another person to take advantage of the desk, providing table seating for two, so it's a win-win for everyone.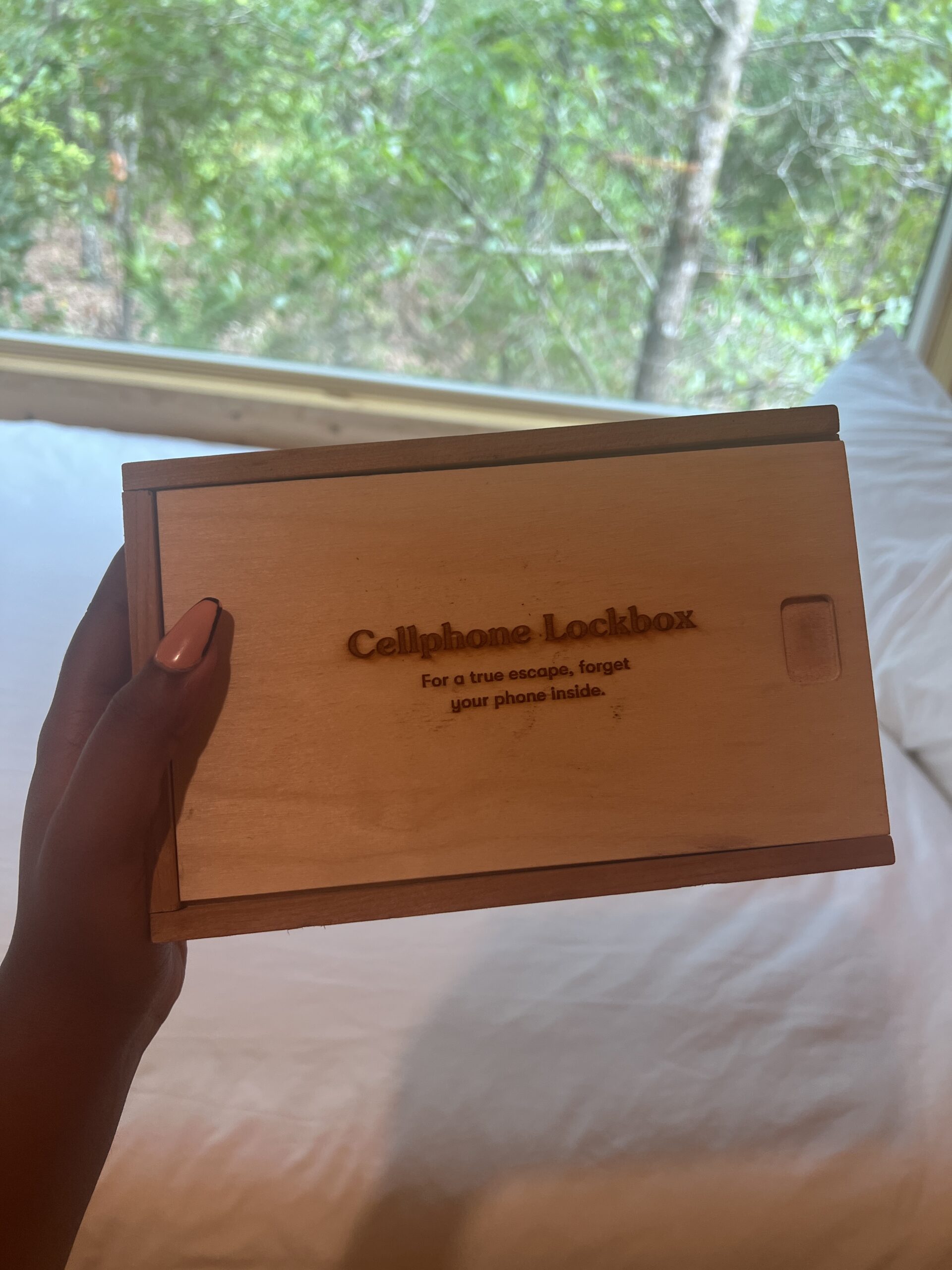 The Kitchen
The kitchenette appears to take up the most space in the cabin, but for all the good reasons, as it has so much to offer you during your stay.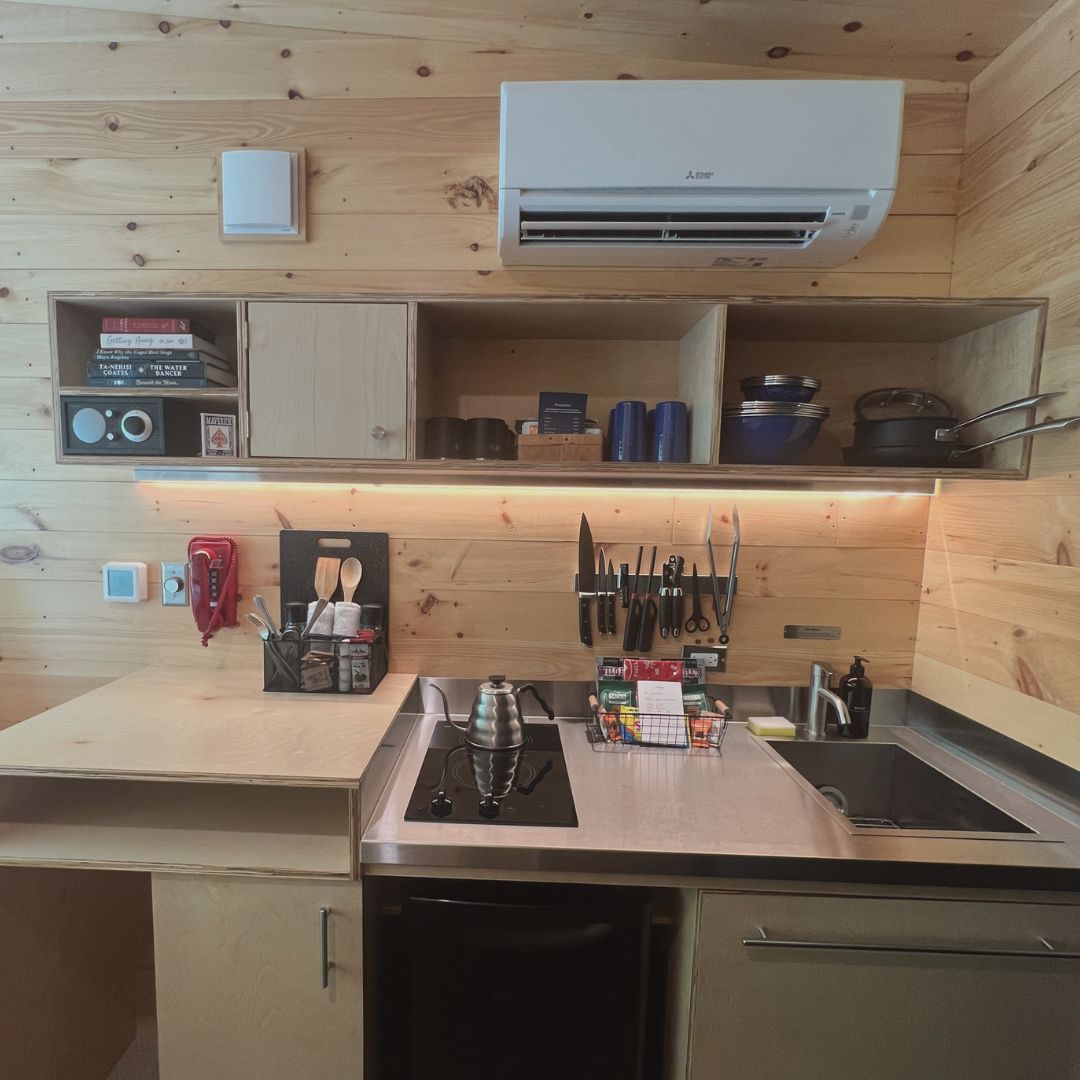 You really do have everything you can possibly think of needing during your stay and more in the Getaway cabin:
Two-burner stove
A sink with a sponge and soap
Mini-fridge
A trash can with multiple trash bags
Paper Towels
Dog Bowl
Pots and pans
Coffee mugs
Olive oil, salt, pepper, sugar
Cooking/kitchen towels
Utensils (spoons, butter knives, forks)
Knives, lighter, can opener, scissors, tongs
Provisions for sale (s'mores, coffee, tea, etc.)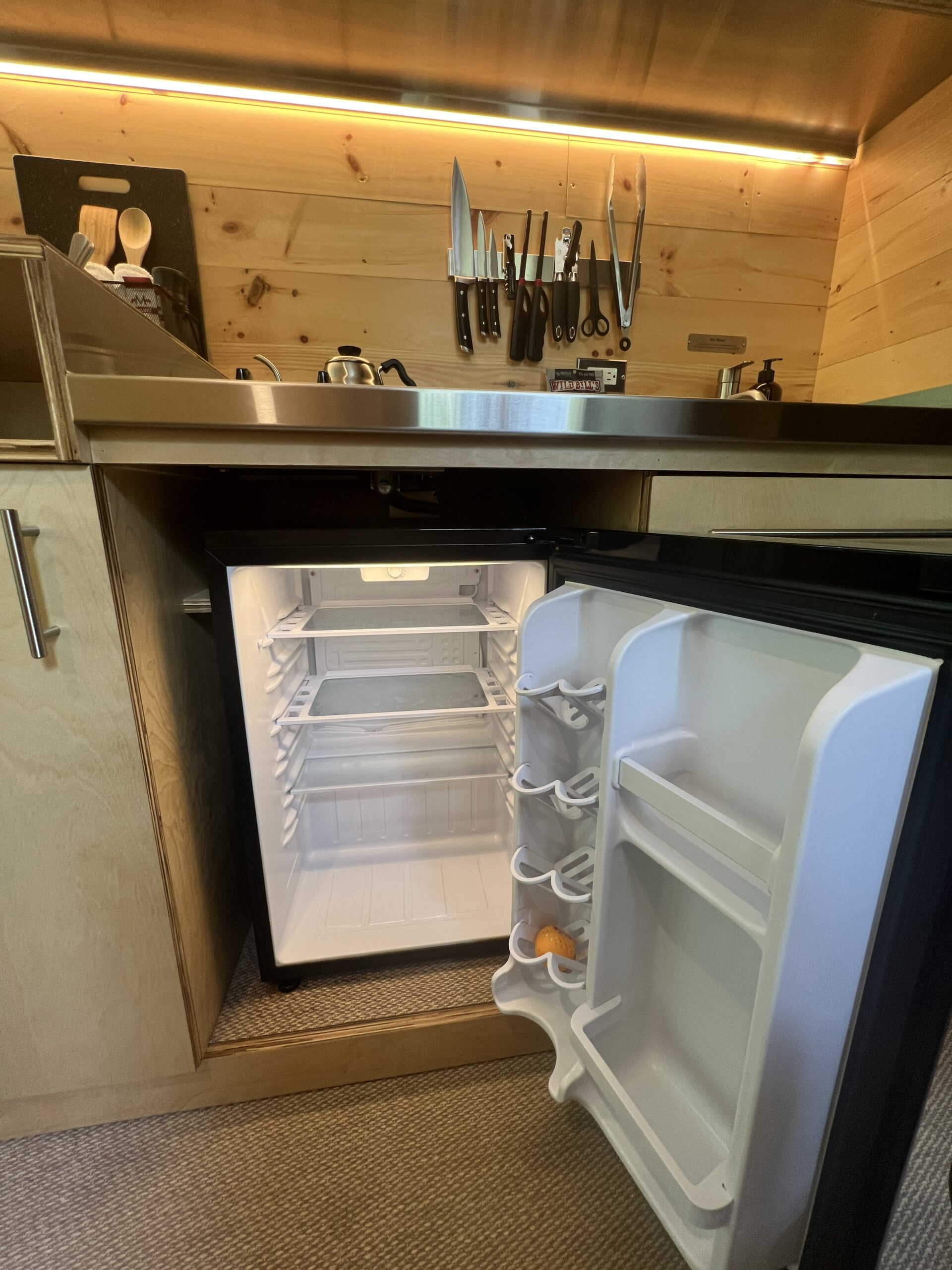 The Getaway Gilchrist Springs Team provided us with an entire basket filled with different snacks and candies for free, which was a pleasant surprise.
I didn't state anything about my blog or being a freelance travel writer, so I assume this is due to the location being fairly new and the team wanting to make a good impression on guests or maybe that I am a first-time guest at a Getaway!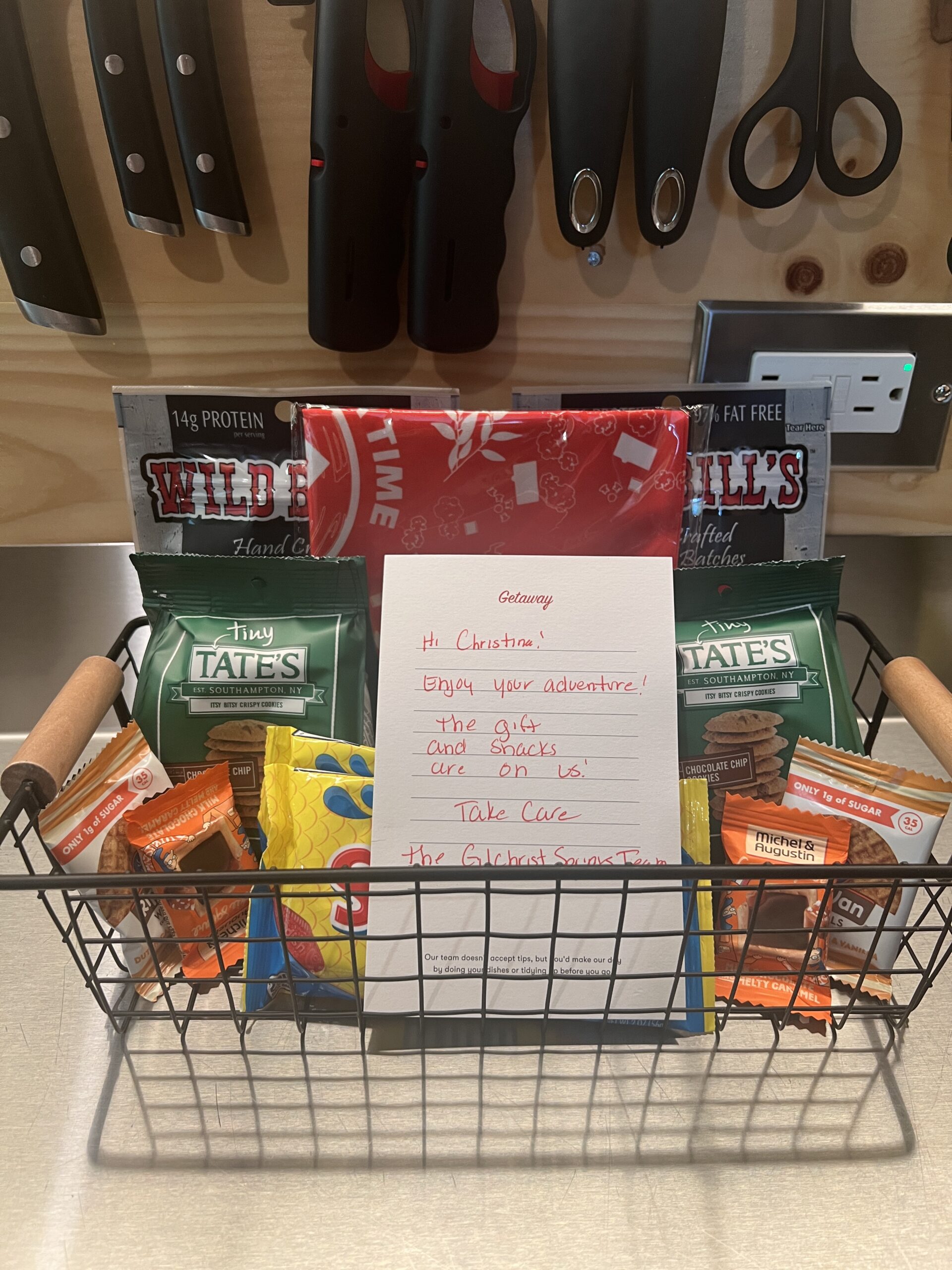 Either way, they did what they had to do, and it helped to have additional snacks, so thank you to them for being so thoughtful.
The Bathroom
There is a bathroom inside of your cabin with a shower you can use. Yay!
When I first heard about the Getaway cabins, I immediately pictured myself having to shower outdoors in the middle of nowhere (Can you tell I'm not a camping girl!?), but I've done it and am happy to report that is not the case.
Besides a flushing toilet and a hot shower, the compact bathroom includes the following:
Bath towels 2x
Face towels 2x
Toilet paper
Mini trash can
First aid kit
Tampons 5x
Shampoo
Condition
Body wash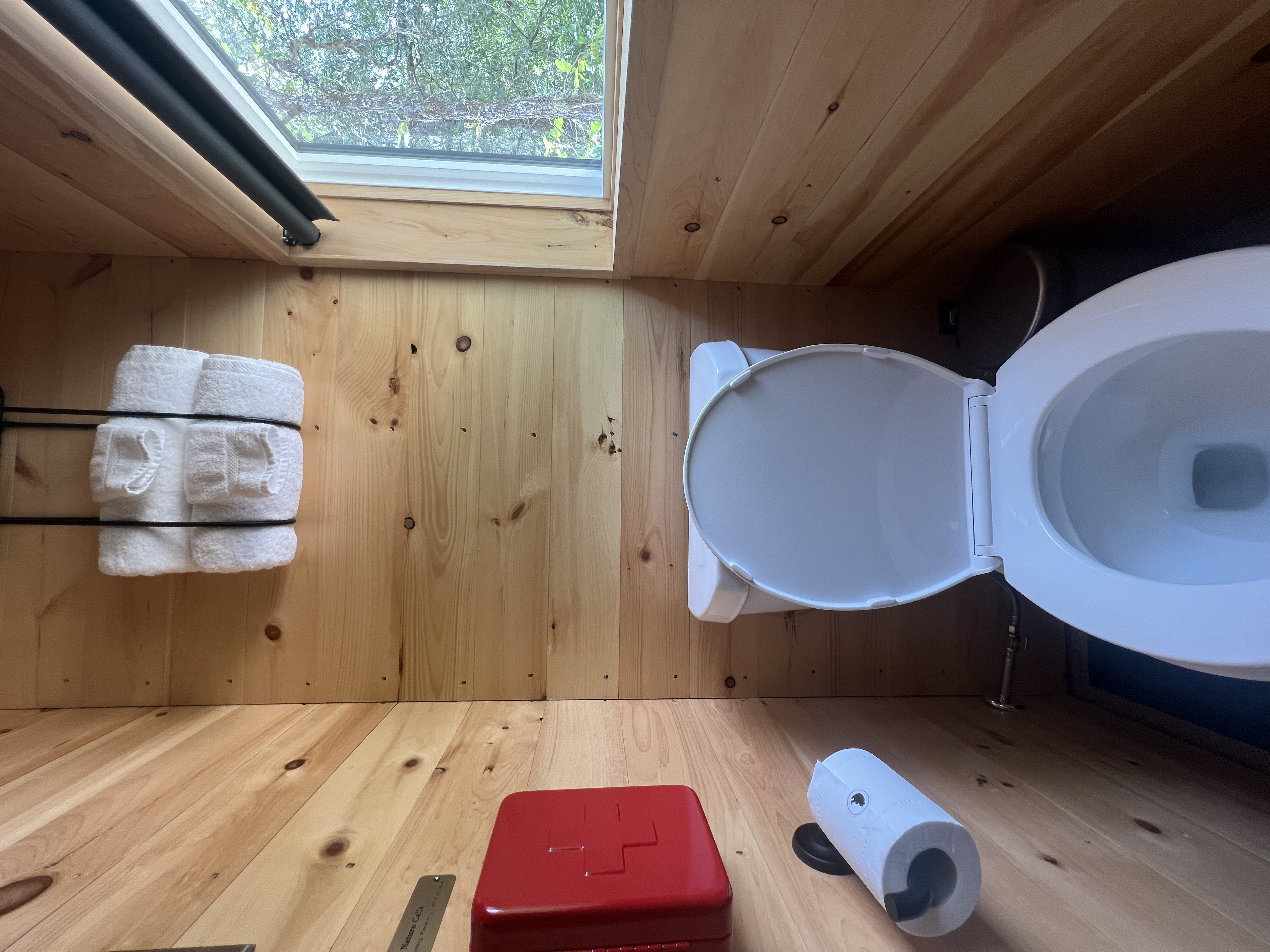 A nice touch to the bathroom I enjoyed was this mid-size window with a black drop-down covering that provided a view of my car in the driveway so I could check on it from inside the cabin if I needed to.
My Thoughts on the Sink
Now that I've covered the kitchen and the bathroom, I'll be honest and say that I didn't like that there is only one sink that, in theory, is supposed to be used as both a kitchen and bathroom sink.
I'm one of those people who believe that kitchen and bathroom trash should remain separate, and feel the same way about the sink.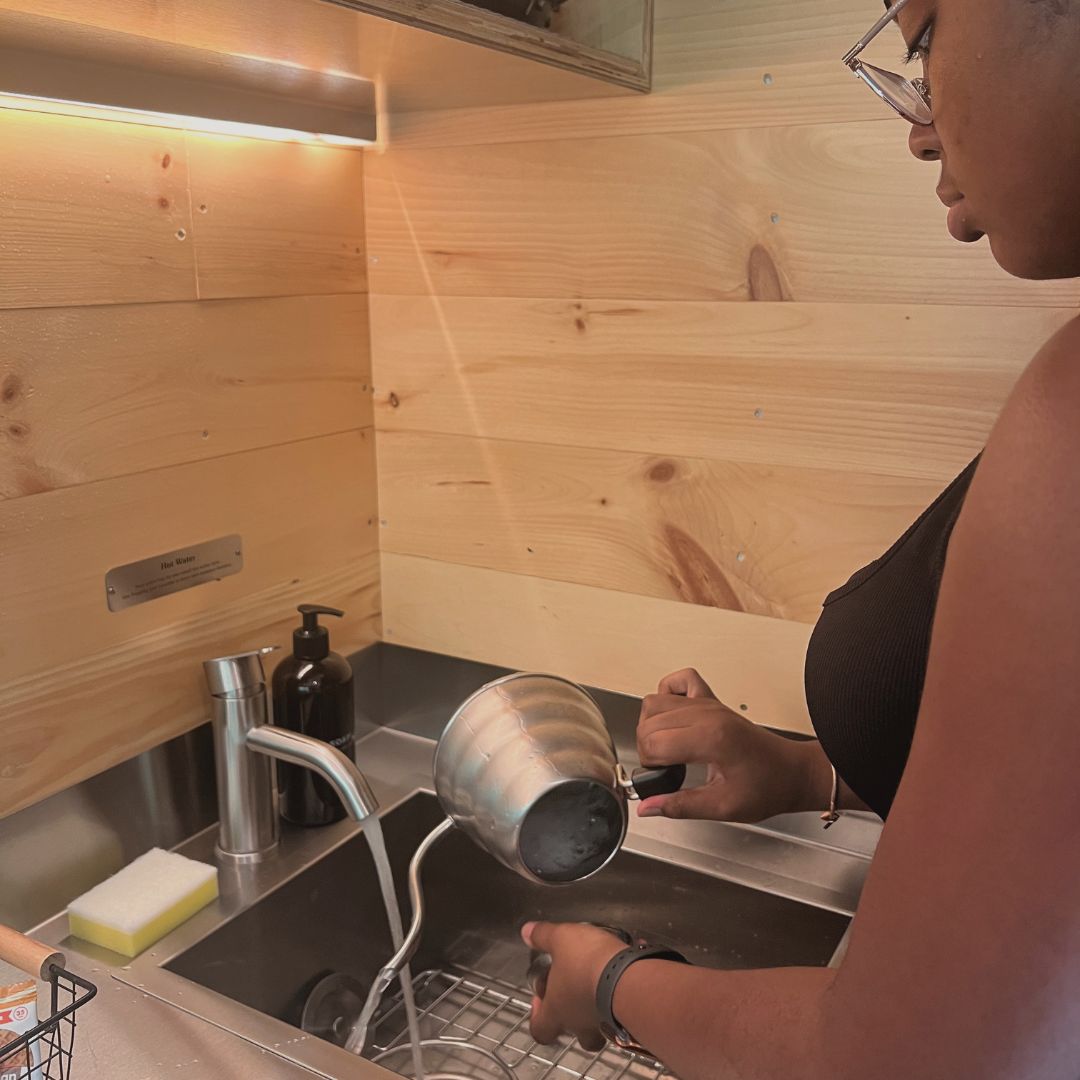 Cause using the sink to watch dirty utensils and cookware and then having to brush my teeth in the same sink was a lot for me, but given the minimalist nature of the Getaway cabin, I completely understand why that is the case.
It's not something that bothered me enough to make me not stay again, but worth sharing!
Amenities Inside of the Cabin
There were some in-cabin amenities that the Getaway Team included that I feel enhanced the stay.
Air conditioning
Heater
Phone
Lantern Lights
Bluetooth speaker
Cards
Books
Built-in hanging racks
Cell Phone Lock Box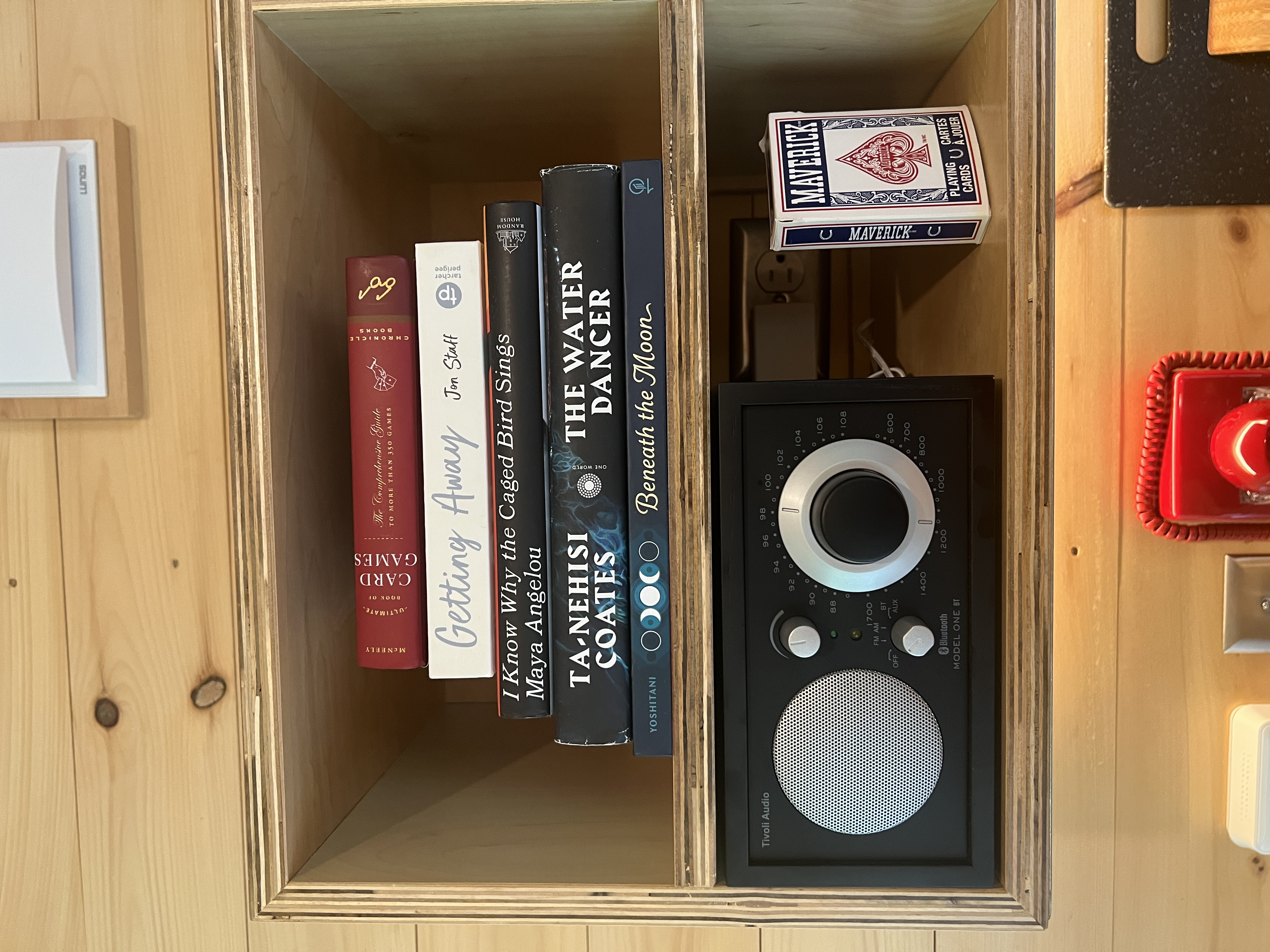 Overall, I was super impressed with how much Getaway put inside of these tiny cabins, considering the idea is for them to be as minimal as possible.
I wouldn't say it's that minimalist, but it works for someone like me who doesn't seem to be too big on authentic camping!
Food at the Getaway House
Grab Food and Snacks Before You Go
Before heading to our Getaway cabin, we did stop at Publix to grab some "grab-and-go" foods and snacks, so I would recommend doing something similar.
There are no microwaves at Getaway, so keep this in mind when deciding what to bring. If you don't plan on grilling any foods, it may be best to select foods that you can heat up on a stovetop, like soup, or that are ready to eat, like salads and sandwiches.
Should I Get A Sustenance Box?
So I mentioned earlier that Getaway gives you the option to add a Sustenance Box for $35.
The box includes:
2 oatmeals
2 soups
1 pasta
1 pasta sauce
2 jerkies
2 candies
2 cookies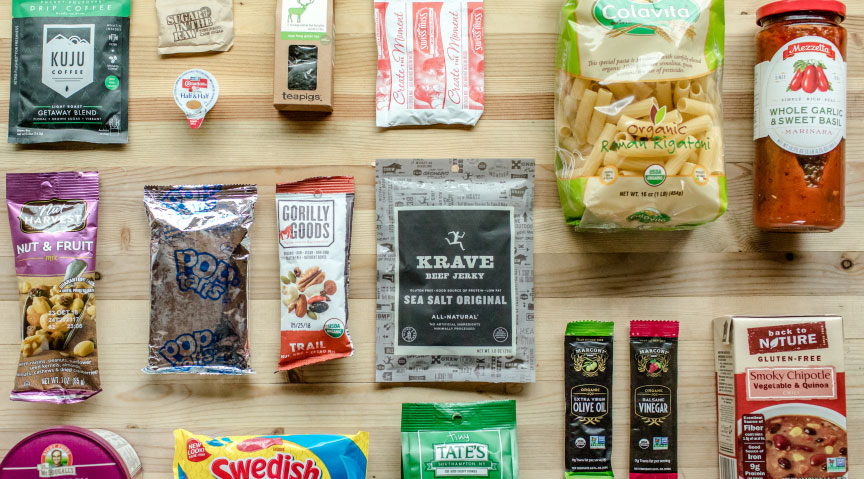 For $35, I don't think it's worth it. You can get all of these things before coming for about $12 at Walmart, and it's basically a bunch of snacks.
I would save your money and add a stop at a grocery store on your trip!
Cooking at Getaway
Each cabin is stocked with cooking essentials for use during your stay, like pots and pans, so you can cook basic meals if you are up for it during your Getaway!
You could also make a cute intimate dinner night out of your stay and choose a meal to prepare at the cabin as part of the experience.
I like my space when preparing more elaborate meals, so I wasn't really up for cooking, but I will probably do it the next time I stay at one of the cabins!
Using Food Delivery Services
Food delivery services like Doordash (Use this link for $ off!) and Uber Eats may be available to your cabin, but I would not depend on them! I did try and use the apps to see if they were accessible, but no restaurants delivered to the Gilchrist Springs location, and there weren't really any restaurants around.
The nearest restaurants were about 15-20 minutes away. There may be better luck at some of the different locations, but at Gilchrist Springs, there were not that many.
Driving to KFC from Our Cabin
My sister got hungry, so we drove about 20 minutes to a KFC (40 minutes roundtrip), which seemed to be the best choice in the area. This is another reason why I think it's great to have a car!
By the time we returned to the cabin, the food was cold, like I knew it would be, so was it worth it? No! I did not plan on leaving the cabin area, but it was a great opportunity to explore more of the local town, so it wasn't all bad!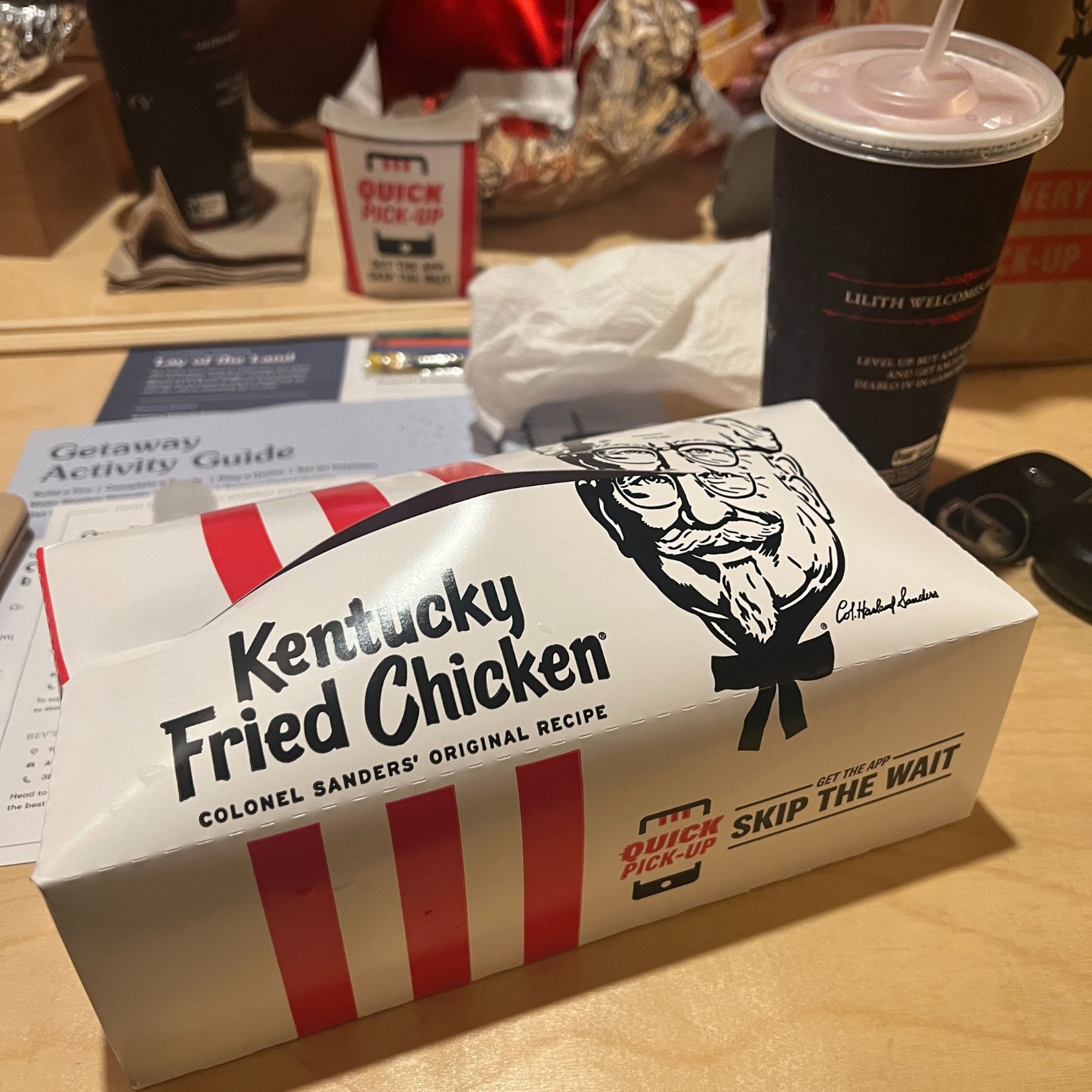 Restaurants Near the Gilchrist Springs Cabins
If you are interested in leaving your cabin to go grab a meal, here are the nearest restaurants near the cabins:
The Dos and Don'ts of Getaway: Rules to Know Before Booking
Now, it's important to note that this is a relaxing getaway activity, not a party vibe, so Getaway has some rules that could cost you an extra $100 if you don't follow them!
The Rules:
You can never leave a campfire unattended.
No leaving food and/or trash outside
No pitching tents.
No music playing outside of your cabin.
Avoid yelling or making unnecessary noise.
The good news is that Getaway claims to donate these violation charges to local conservation groups, so your money will go toward great causes if you are a rule breaker!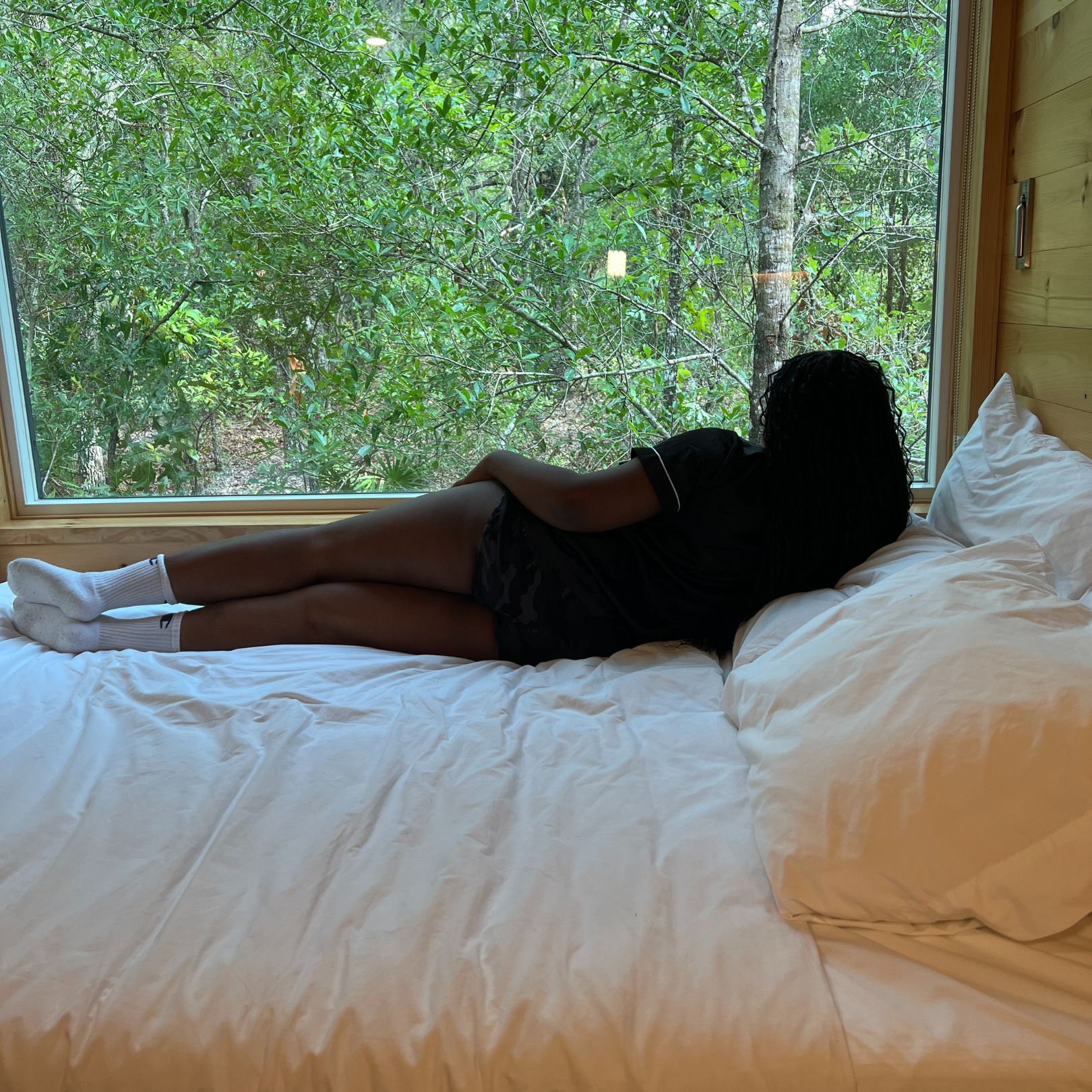 What's Not in the Cabin: What to Pack
Getaway provides pretty much everything you need inside of the cabin, but this would not be a complete Getaway House review without telling you what you should bring along on your Getaway House trip.
Besides clothes and undergarments, you should bring:
Must-have toiletries
These would be your toothbrush, toothpaste, facial soap, contact solution, personal body scrubber(s), and anything else you might need to take care of yourself!
A cozy blanket
Getaway provides a large comforter on the queen-size bed that does the job, but if you want to be even more cozy or want a plush furry blanket to get you through the night, I would bring your own.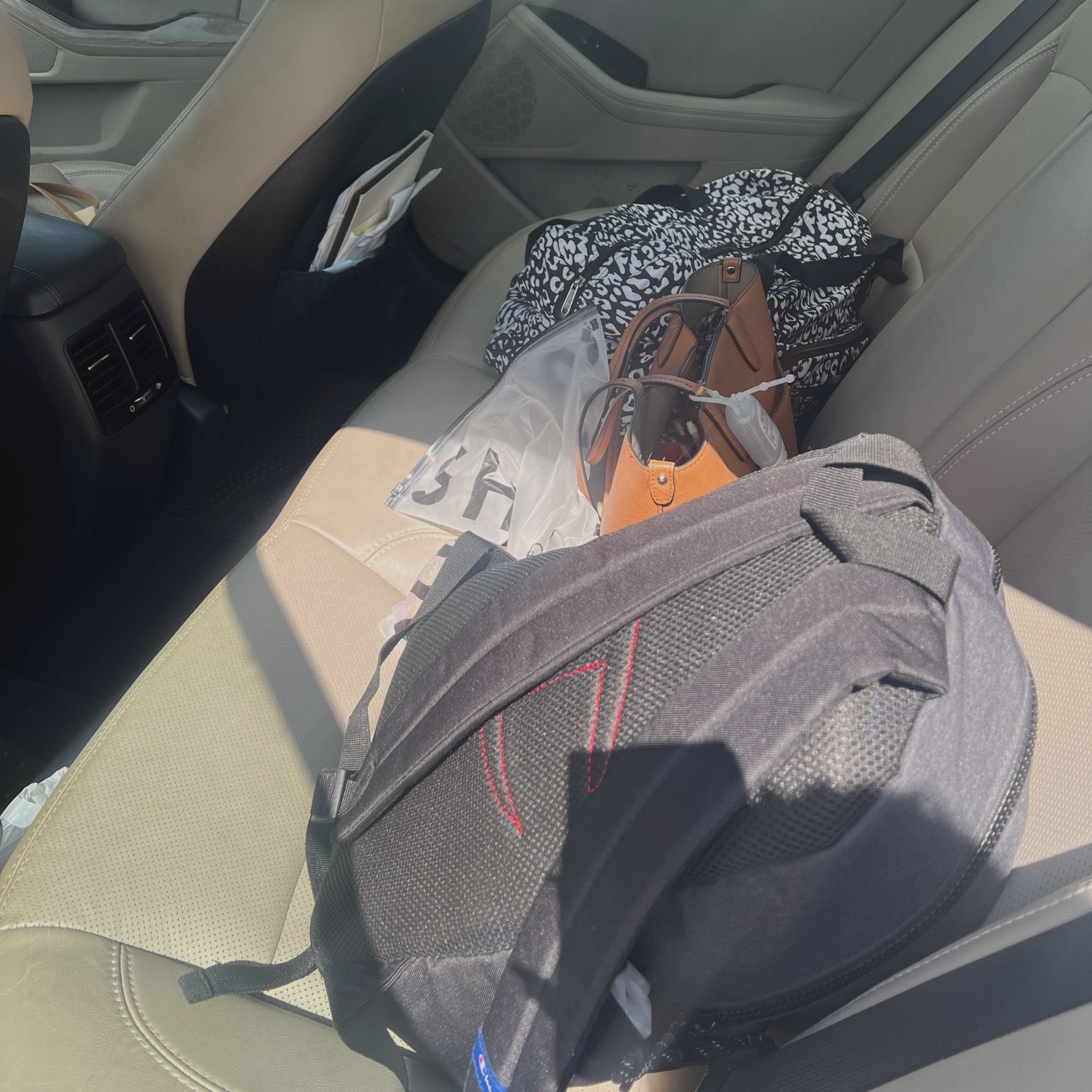 Entertainment of some sort
The room comes with cards and some books, but this is the perfect time to catch up on your own reads, journal in a serene and isolated setting, work on a paper or article, jot down some of your goals for the rest of the year, etc.
Bring things that will help you pass by time but still allow you to be fully present in the experience.
Bug Spray
You are going to be among nature, so it's good to have some big spray on hand if you plan on taking advantage of some of the trails around your Getaway location.
Chargers for any electronic devices
Don't forget to bring your phone and laptop chargers if you plan on being plugged in while inside of the cabin.
I suggest using the time to unplug, but if this is a trip meant for you to get work done, add it to your list!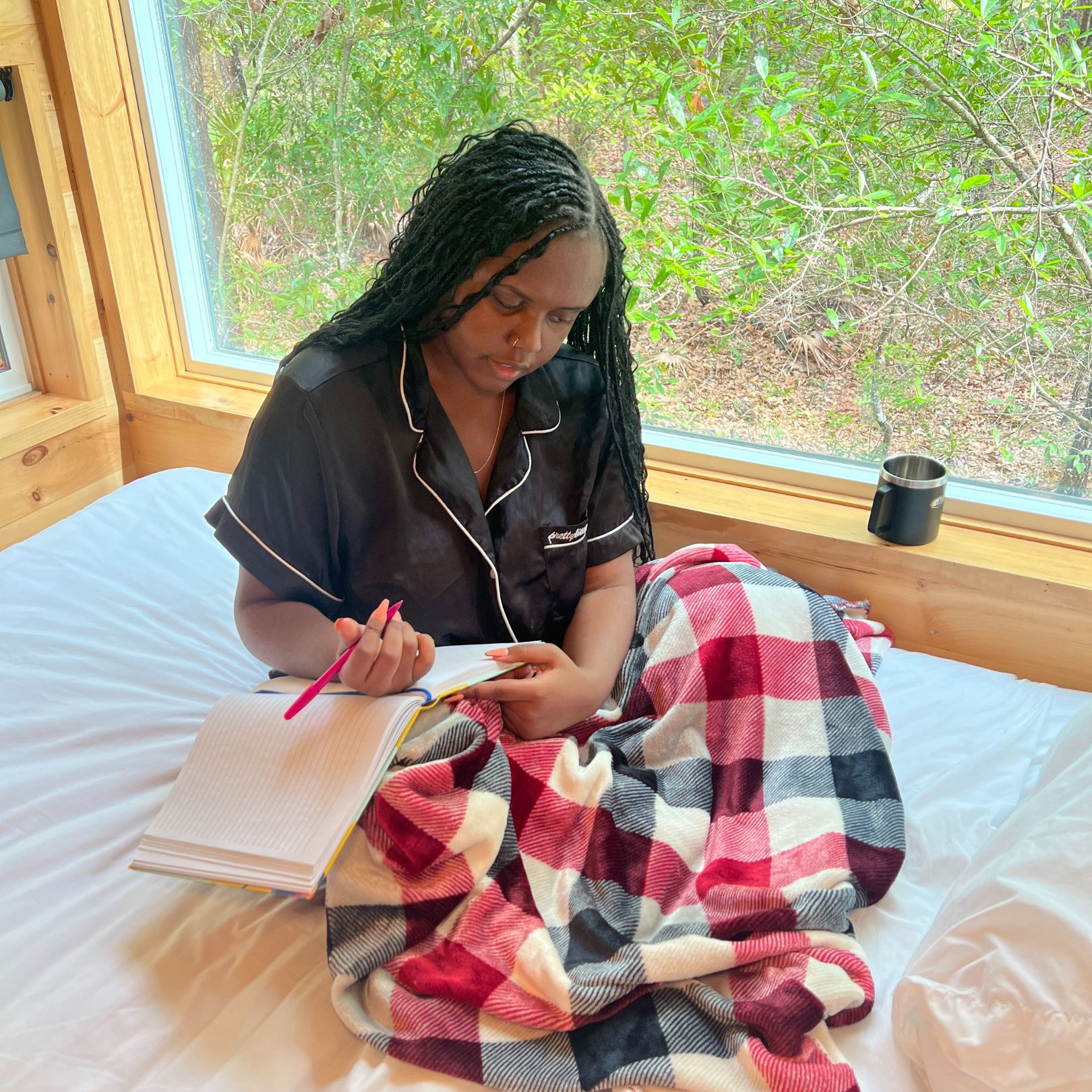 Socks
There is a heat setting inside of the cabin, but in case you still feel cold, like I did, or the person you're with is not on the same page with the cabin's temperature, I recommend bringing a pair of socks to keep your feet warm!
Medications
Pack any medications or vitamins you are taking in your bag so you can remain consistent with them even while you are away.
Outdoor Accessories
These would be your hats, beanies if cold outside, sunglasses, and sunscreen.
Is the Getaway House Safe?
One thing you were probably wondering while reading this Getaway House review is how safe the cabins are!
I can say that I did feel safe inside of my cabin, but I was with my sister.
I'm not going to lie if I was doing this experience solo, like so many other travel experiences I have, I do think I would have been paranoid.
There are other cabins a few feet away from each other, so you are not completely alone in the woods, although your cabin will be away from the front building.
However, I barely saw anyone out where I was, so do with that what you will!
Overall, I really do think it is safe, but how comfortable you will feel depends on how you do in these types of settings.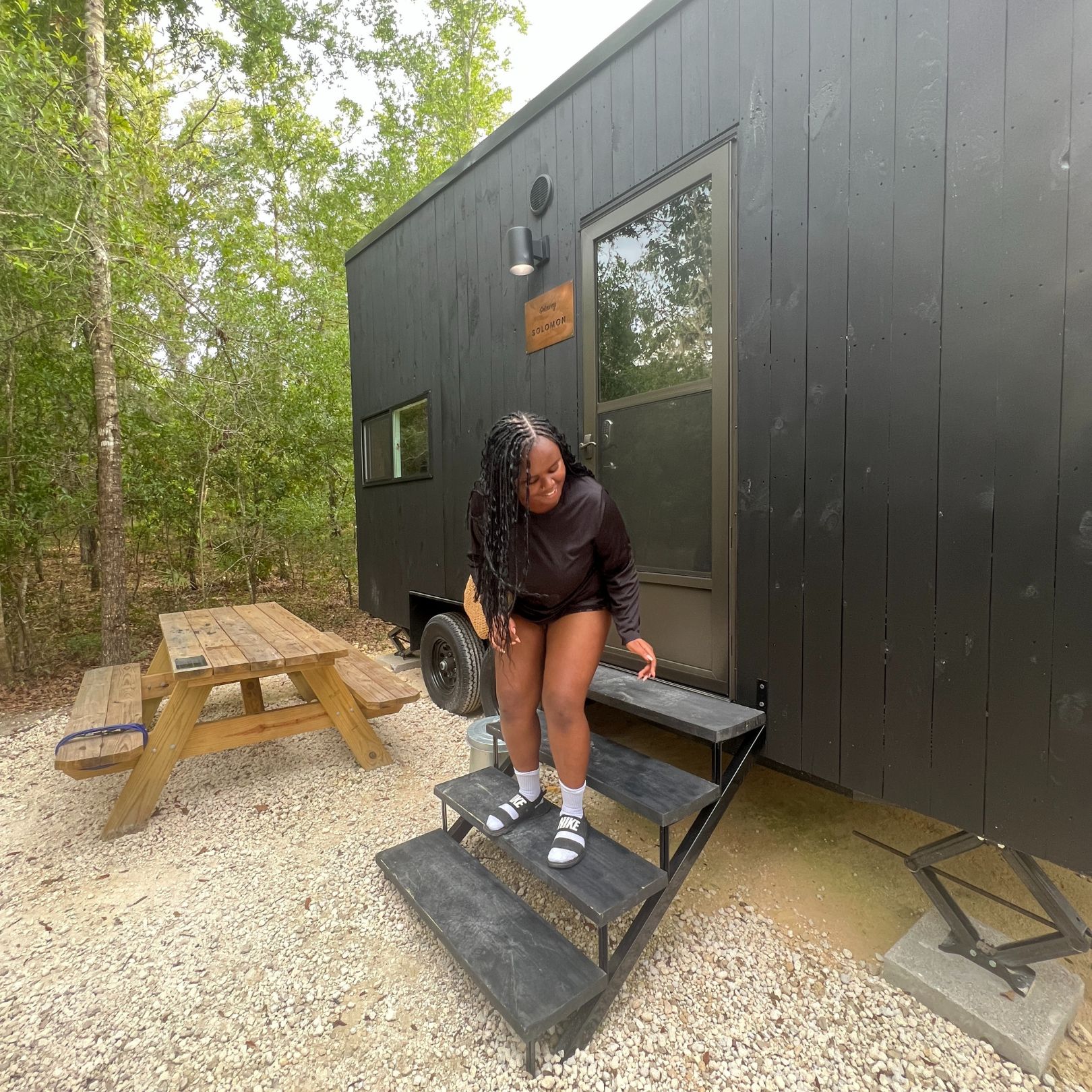 Bringing A Car: Parking
Is it worth bringing a car to a Getaway House?
I would say yes! For one, you are going to a location that is a bit secluded from the city or nearest town you are in.
Remember that Getaway cabins are designed to be placed 2 hours from the nearest major city, and you may not be familiar with those routes or areas.
It's best to bring your own car in case you need to leave the cabin for any reason, like to get food or have an emergency and have to leave.
Getaway does mention that many of its locations are accessible via public transit with a few extra steps.
The idea of coming without my car did not sit right with me, but then again, I do question everything, lol.
If you don't have a car and are using an Uber or another rideshare service, I honestly do think you will be fine, but I would try to get someone you know to drop you off or rent a car as a first option.
I know that I wouldn't want a stranger to know that I was in a tiny cabin alone or get any ideas even if I was with someone.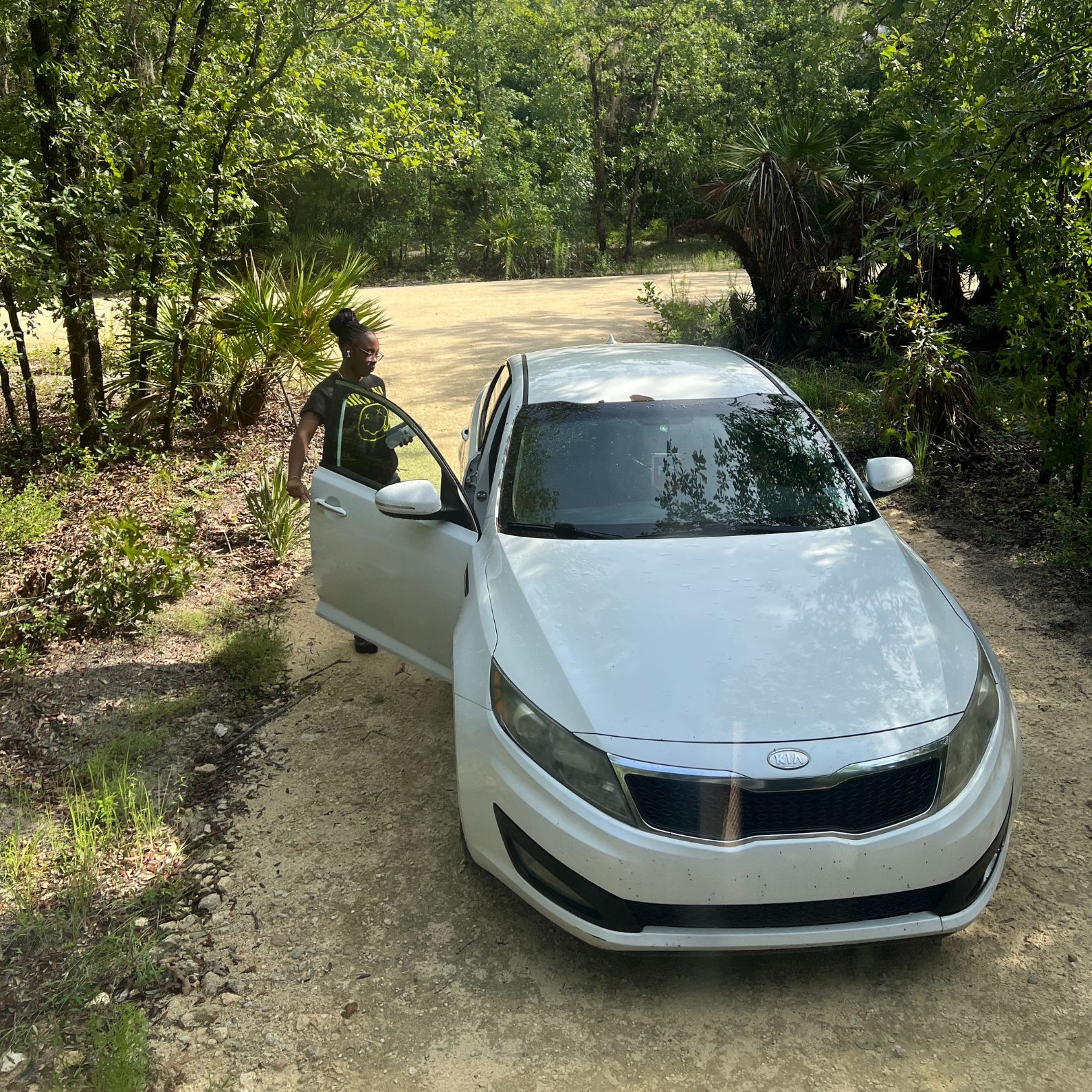 Parking At Your Cabin
I mentioned earlier that each cabin has a long driveway to the side of it that is big enough to fit two compact cars.
I have a 2012 Kia Optima, and it fits just fine. I did feel like my car was safe because I couldn't imagine anyone walking all the way to where my cabin was to do anything sketchy, so there's that.
I would make sure nothing of value is in clear view from looking into the windows and locking things in your trunk just in case, but I did not have any issues.
Things to Do Near the Getaway House in Gilchrist Springs
If you're staying for more than a night, you may not want to stay cooped into your cabin or the grounds of the outpost the entire time, so here are some things to do near the Gilchrist Springs cabin that I've included in this Getaway House review!
Poe Springs Park (8 minutes)
A public park located in High Springs that features a natural spring pool that is perfect for swimming, snorkeling, and diving. You can go hiking, play volleyball, or access the river for water activities.
Ginnie Springs (13 minutes)
Ginnie Springs is a popular natural spring known for its crystal-clear blue water and the several activities to do at the property. Covering over 200 acres, Ginnie has a river, underwater caves for scuba diving, kayaking, bathhouses, and more.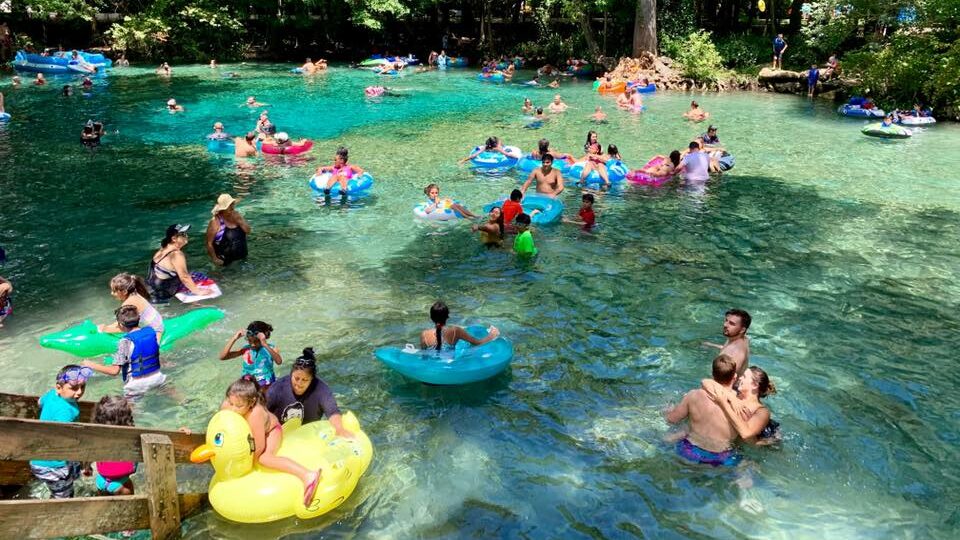 Santa Fe College Teaching Zoo (28 minutes)
Hosted and run by the staff members and students in the Zoo Animal Technology Program, the zoo has Bald Eagles, White-throated capuchin monkeys, American alligators, Matschie's Tree Kangaroo, and more to see.
Kanapaha Botanical Gardens (33 minutes)
At Kanapaha, you can explore over 68 acres of various plant collections, including bamboo gardens, herb gardens, and water gardens. The garden has walking trails, a butterfly garden, and a gift shop.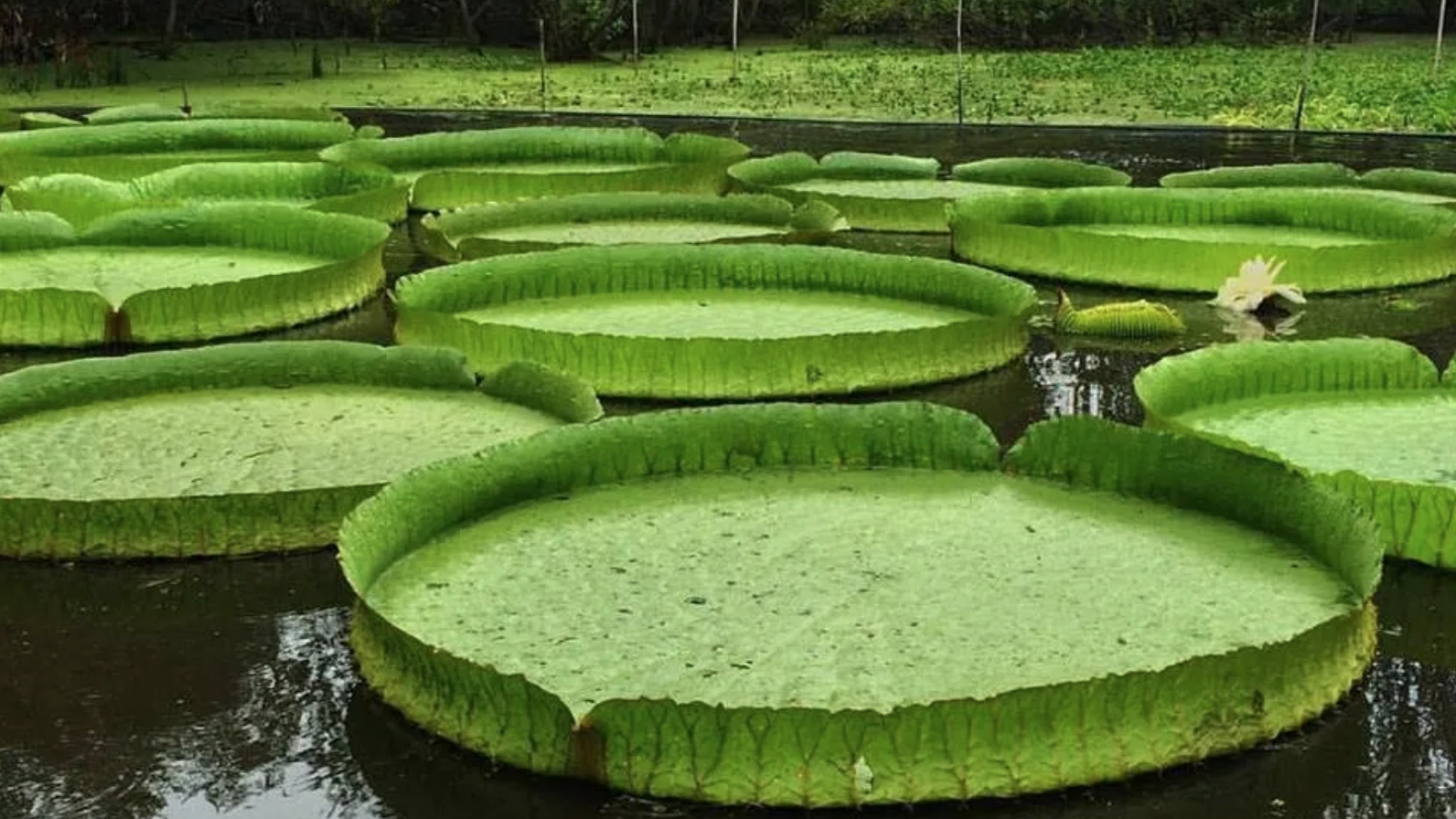 Butterfly Rainforest (36 minutes)
Located in the Florida Museum of Natural History, you'll have the chance to experience the exhibit that features hundreds of butterflies and birds from around the world, along with animals like turtles and fish.
What if I Need Additional Cabin Needs or Have An Issue While Staying?
Getaway claims to be available "all day, every day" through a phone number they provide you with once you book via text or call.
You should have everything you need inside your cabin, but in case of an emergency, you can contact a team member throughout your stay.
Accessibility
There are accessible cabins available at most of the Getaway House locations. The cabins include the following, according to the website:
A short ramp into the cabin
One queen bed
Easily navigable cooking, dining, and sleeping areas
A large bathroom with grab bars
A barrier-free shower
You can request an accessible room when booking your stay.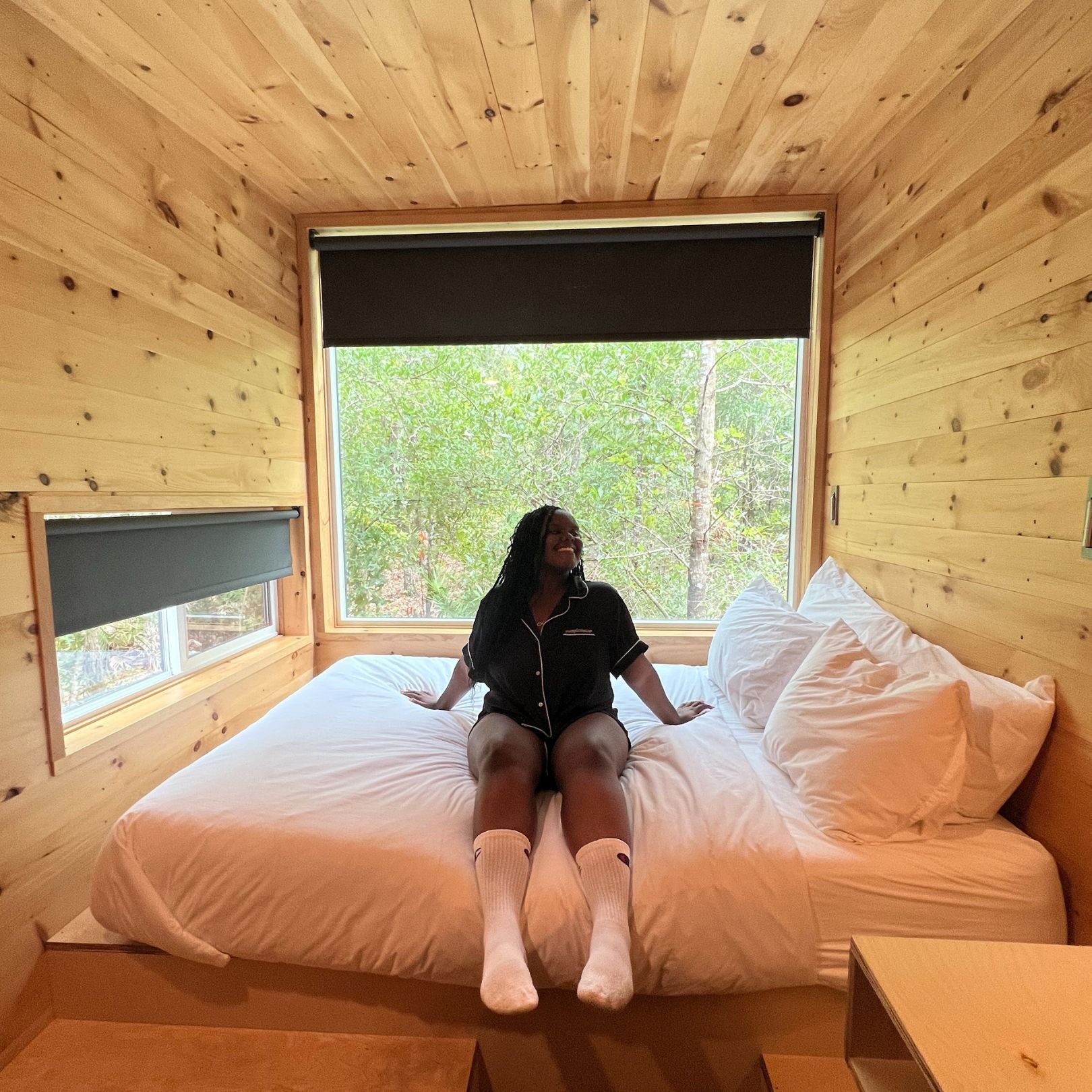 Frequently Asked Questions About Getaway House
How many people fit in a cabin?
Up to four people are allowed inside of one cabin.
How strictly this is enforced can vary. I mean, the cabin is self-check-in and check-out, so there likely won't be anyone scolding you if you go over the limit, but it is not advised.
Also, it's not like there is much moving room to begin with to be having a lot of people in there, to be honest. Two people per cabin is the sweet spot, in my opinion to, where everyone will feel comfortable.
Are pets allowed at the cabins?
Yes! You can bring your dog(s) with you to your Getaway experience.
There is a $50 flat fee for dogs that you can add on at the time of booking.
Getaway just asks that you stay with your dog at all times, keep them on a leash when outdoors, and always clean up after them.
They even wrote this blog post on tips for traveling with your dogs!
Do the Getaway cabins have WiFi and electricity?
There was WiFi at the Gilchrist Springs location that worked very well during my time there.
I'm not sure that all of the Getaway cabins have WiFi, so I would not expect it, but this is the U.S., and public WiFi is always readily accessible, so it's good to assume that there will be!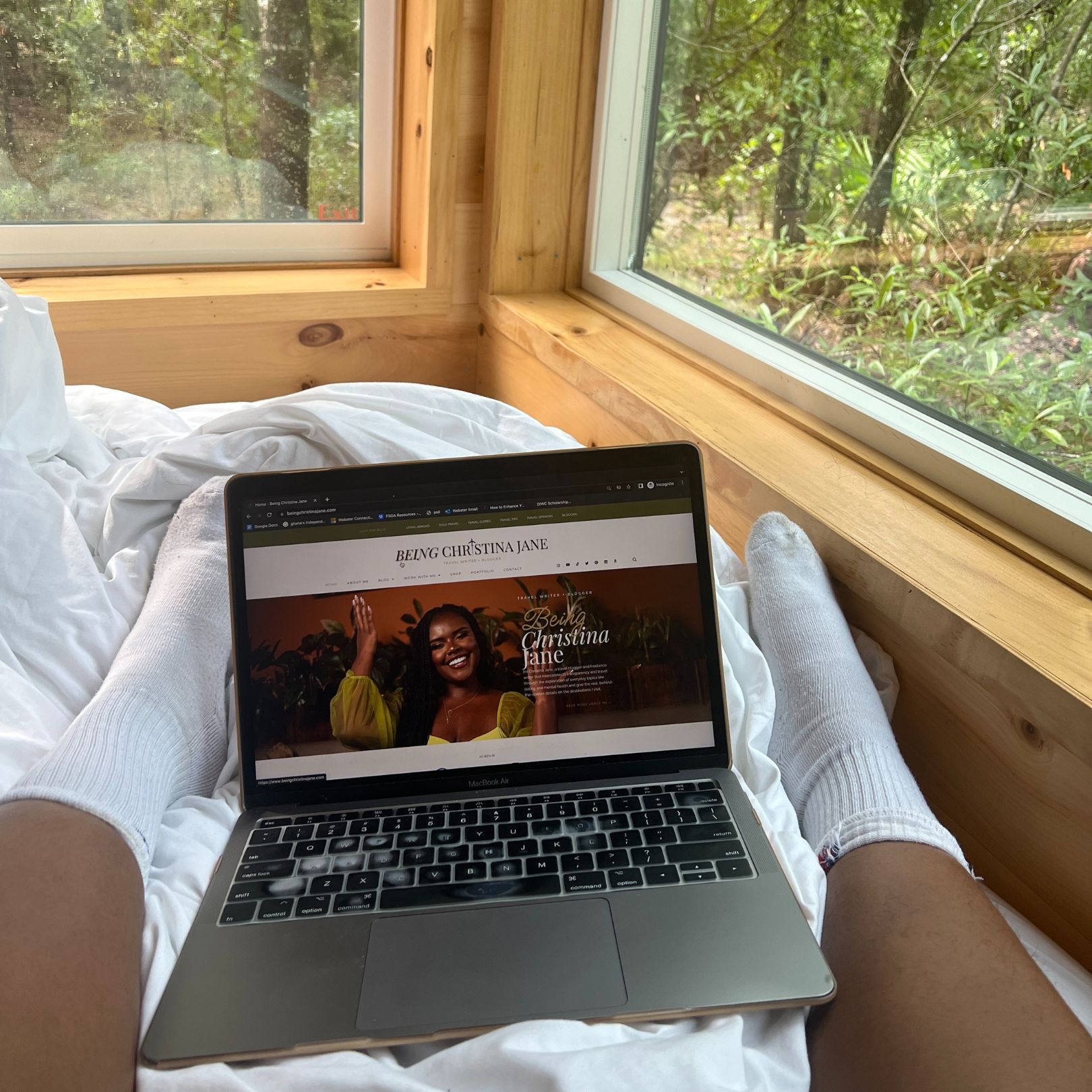 What is the reception like for cell phone service?
The reception you have while at the Getaway outpost depends on your cell phone service provider.
I have Visible by Verizon and always had signal while staying at the cabin.
My sister has MetroPCS and immediately lost signal from the entrance to the cabins and even the rural area leading to the entrance. So it's one of those things where you will have to wait and find out!
Checking Out
Leaving the cabin is just as easy as coming. Getaway just asks that you try to clean up by washing anything you used to help the team prepare for the next guests and leave your trash under the sink.
I fixed the bed and tied my trash in an organized fashion under the sink where the trash bin was and was on my way!
Using the pin pad, I pressed the lock button to lock the door and drove back to my hometown for another 4 hours.
Straightforward and easy!
Getaway House Review Final Thoughts
Would I do it again?
Yes! Staying in a Getaway cabin was a great experience for me. I love the concept of staying inside a tiny cabin away from the hustle of a city.
Staying in the cabin is a great way to bond with a loved one or someone you may be trying to get to know.
I'm not much of a camping girl, so Getaway is the perfect escape to get a taste of the camping, outdoor nature vibe without going completely raw into it lol.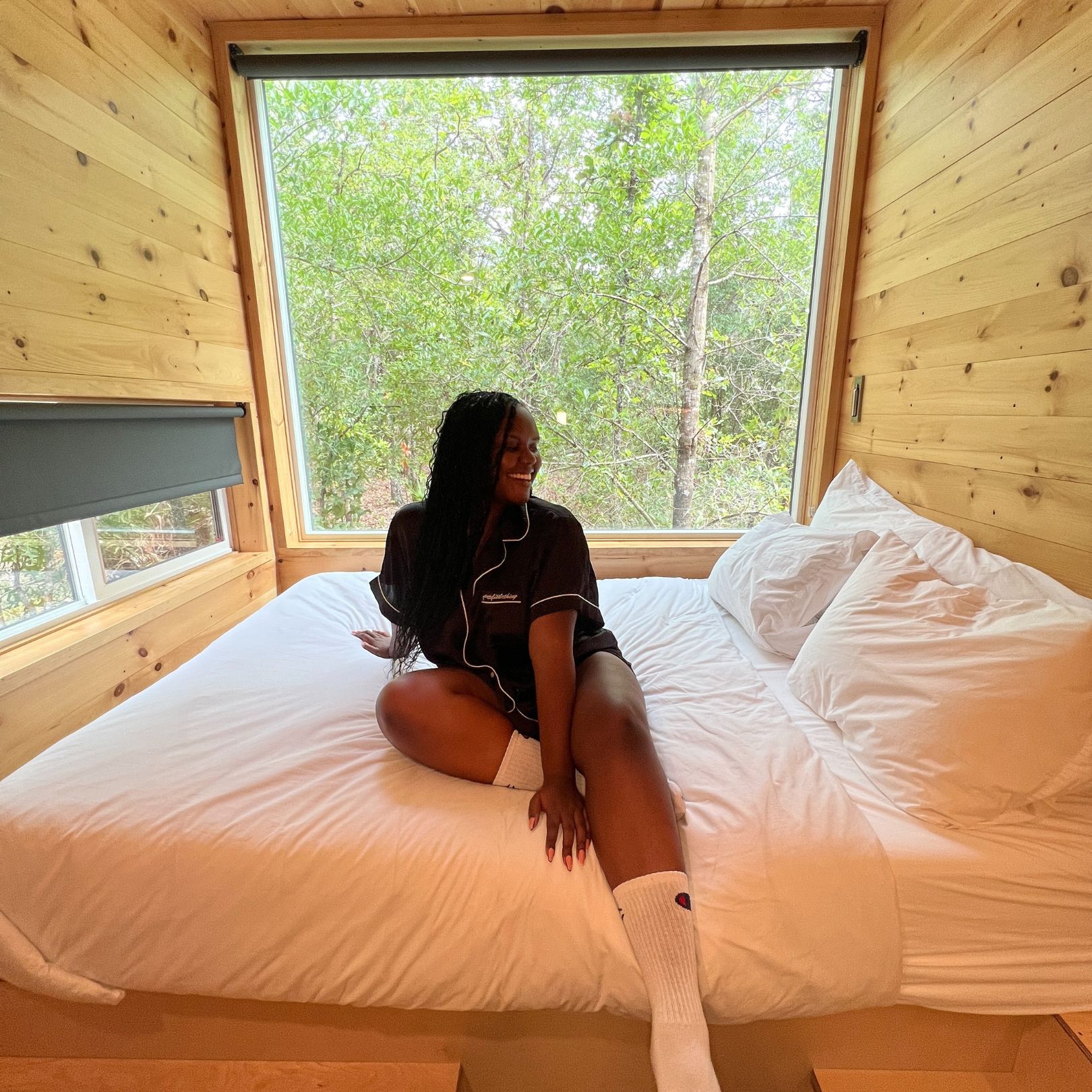 Is it worth the price?
For the price, it is worth it. I feel like Getaway did a great job at providing many amenities, making good use of the space, and incorporating elements into the cabin that make it accessible for all types of travelers and explorers.
This is definitely an experience I will be doing again in different cities around the U.S. if I get the chance, and one I highly recommend you put on your travel bucket list!
If this review inspired you to book a stay with Getaway, please use my link OR code (BEINGCHRISTINAJANE) at checkout to help me to continue reviewing places around the world as a blogger!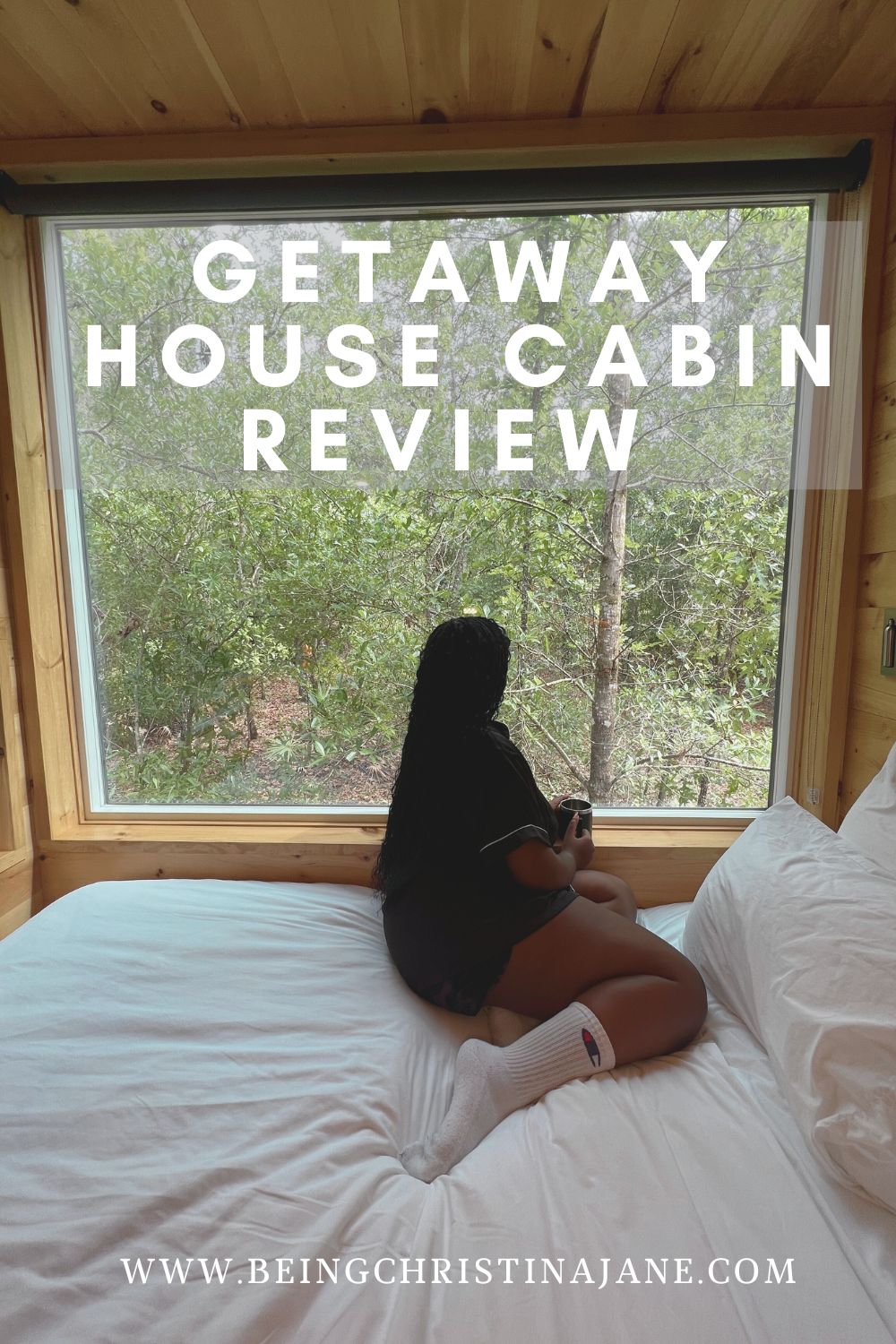 If you have any other questions about my experience that this Getaway House review did not cover or that I can shed more light on, please leave a comment below, and let me help you plan your next Getaway!