Finding reliable travel buddies is one of a traveler's biggest obstacles when wanting to get out there and see the world.
From getting canceled on frequently, to planned trips that never make it out of the group chats, it becomes tiring to constantly travel solo (when you don't want to) or beg the people in your life to get on board.
I started my travel journey as a solo traveler, embarking on my first solo trip to Bali and Thailand when I was 19.
Recently, I have found myself wanting to share my experiences while exploring the world with others.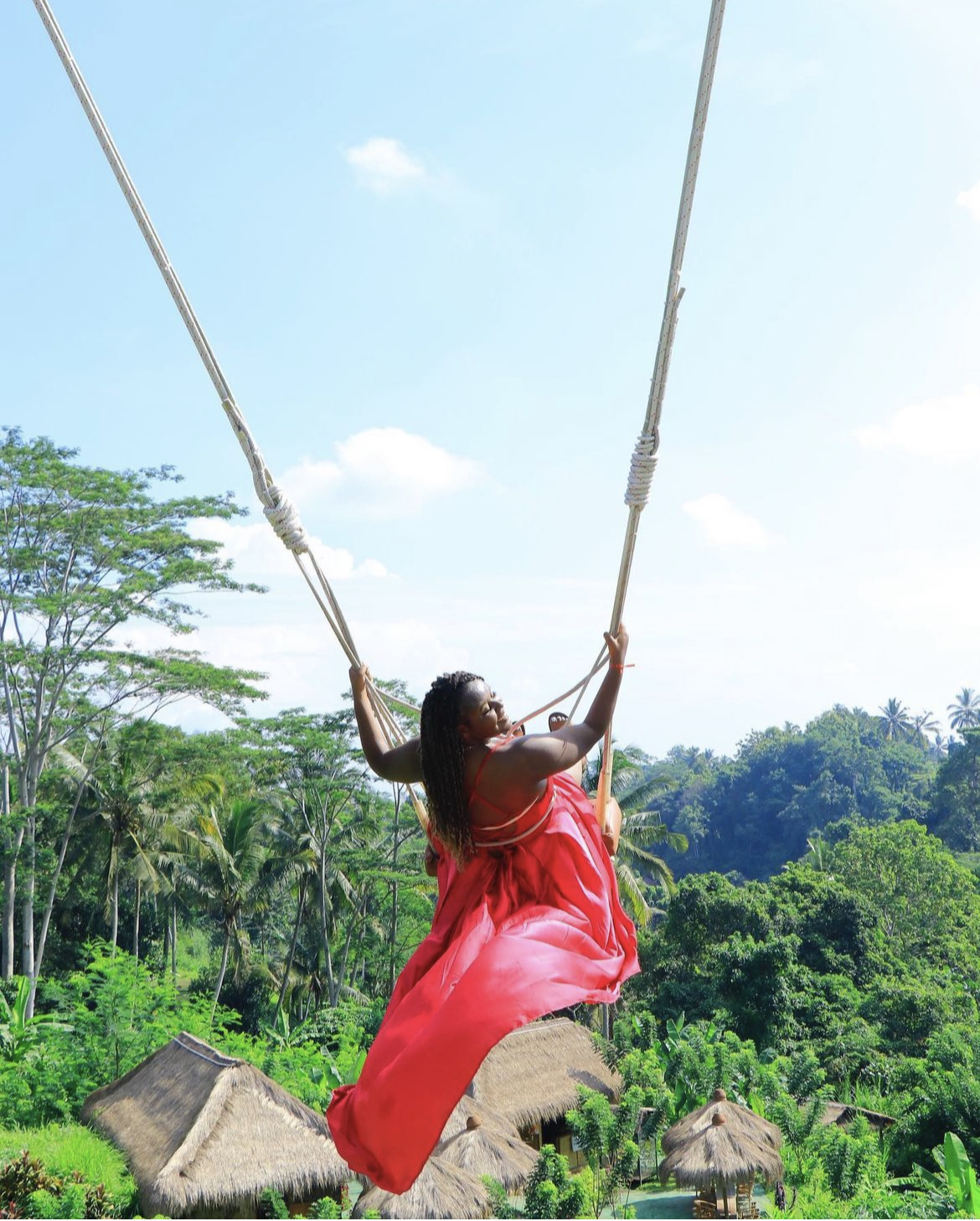 A few weeks ago, I went to Canada with someone I was Instagram friends with, whom I barely spoke to online and had never met in person. 
I am happy to report that it 100% worked out, and we had an amazing time exploring Toronto together.
While I had a great first experience with traveling with strangers, there are some things that I looked out for and kept in mind throughout the entire process.
In this blog post, I'll share my personal experience with traveling with a stranger for the first time, things you should look out for when traveling with strangers.
It will be a compilation of tips, red flags to be aware of, some things to consider when choosing travel buddies who are strangers to a certain degree, and more.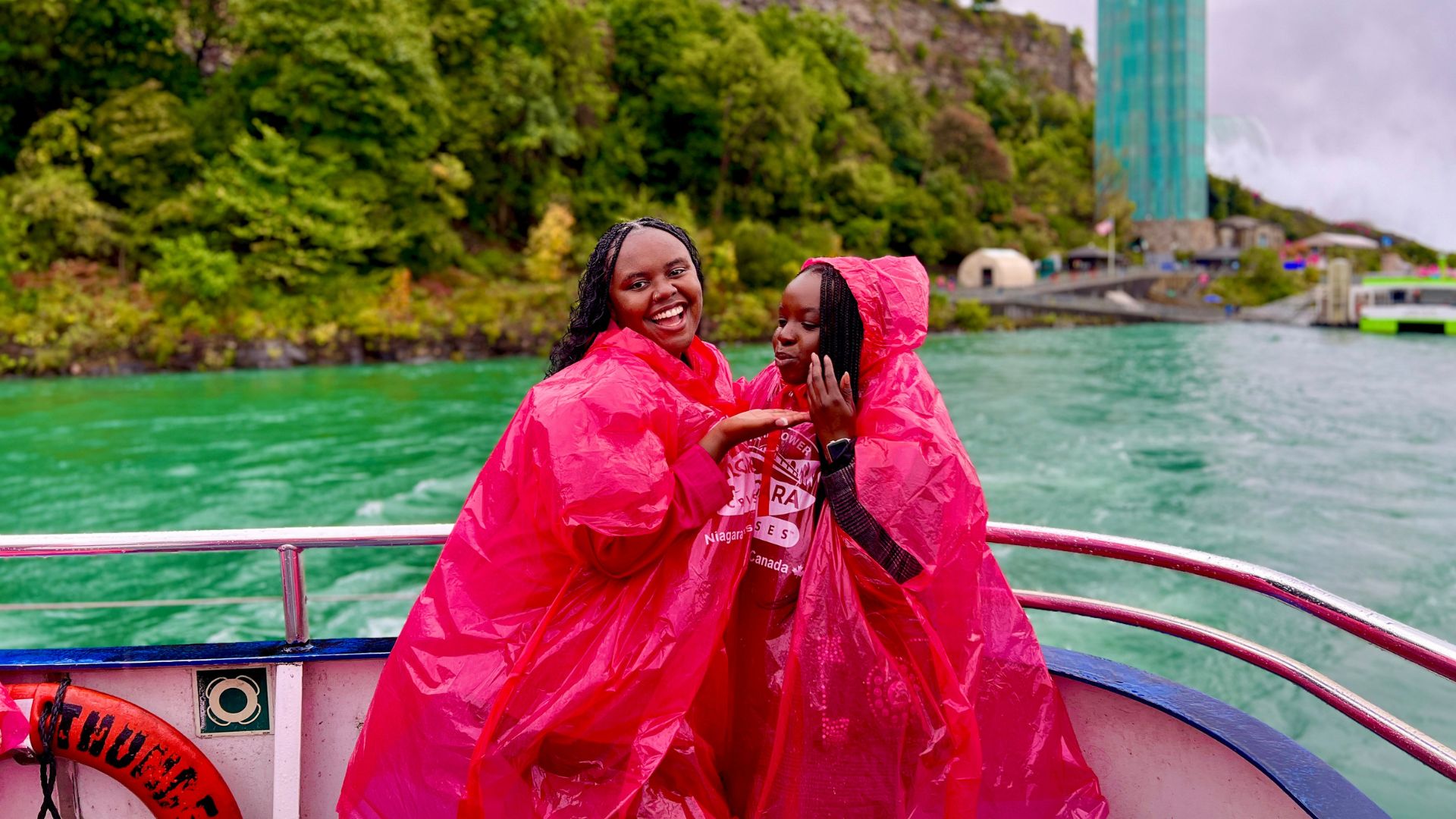 Disclaimer: All opinions expressed in this blog post are of my own accord.
Although I am sharing my personal experience of traveling with strangers in this blog post, this is not necessarily me telling you to travel with strangers.
If you choose to do so willingly, this blog post is meant to be an informative guide of things to be cautious and aware of!
Alright, let's dive in!
The Instagram Story That Made It Happen
I started solo traveling in 2020 and have been to six countries as a solo traveler since then.
Solo travel has given me so much and allowed me to learn so much about myself.
There is truly nothing like being able to hop on a plane and land in unfamiliar territory, knowing that you are about to shape priceless experiences all on your own.
My solo travel journey originally started as a very personal one with roots of depression and anxiety.
However, since overcoming the lowest points of that time in my life, I have been in a space where I am more willing to invite others on my journey(s) and enjoy the company of others on my adventures.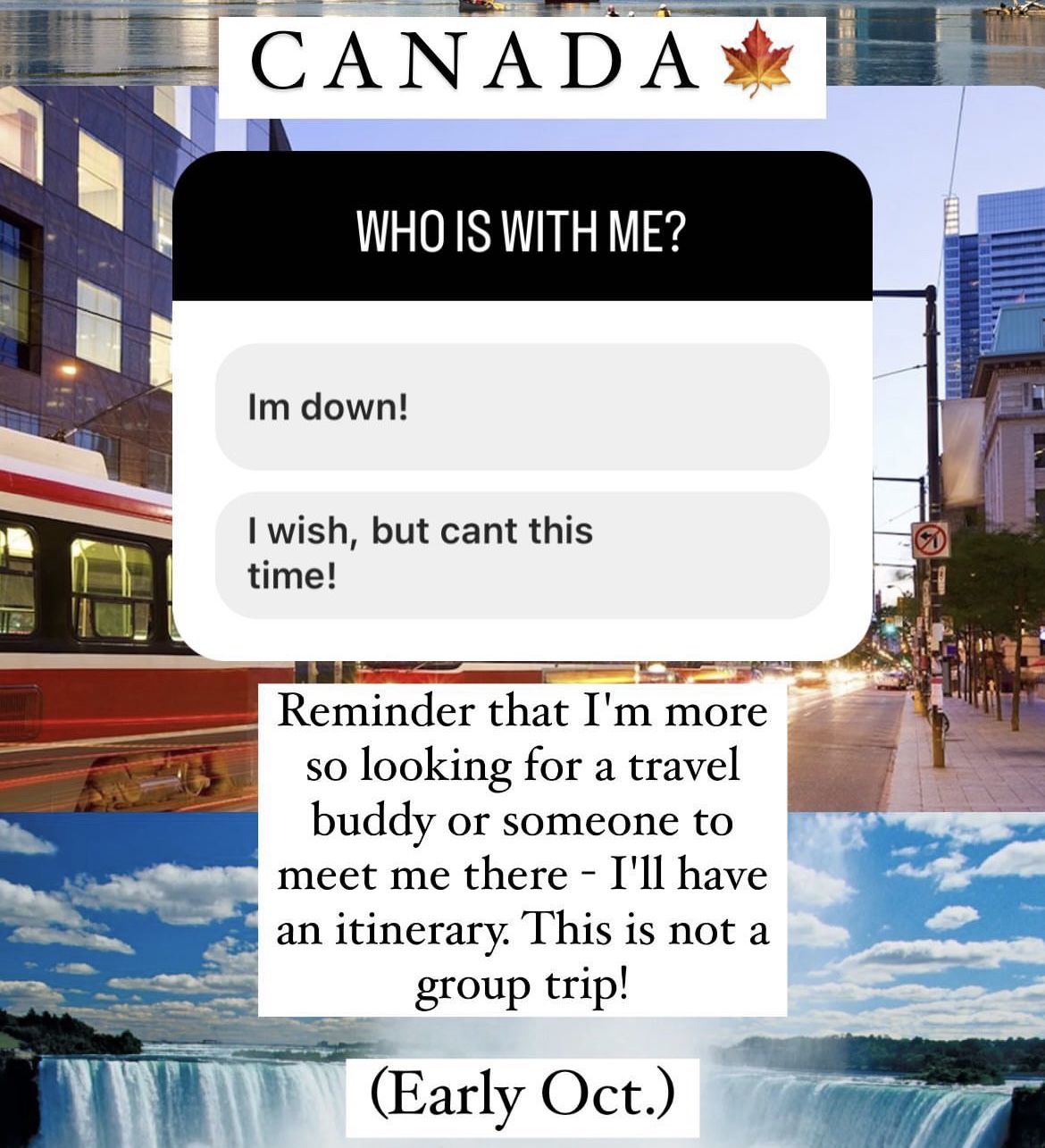 With a long weekend ahead, I decided to travel to another country and settled on Canada.
One of the perks of being a travel blogger and creator is that I have built an amazing online community composed of other people who also love to travel.
I posted a story asking who would be willing to go with me, explaining that it was a leisure trip for me, not a group one, and received a lot of interest.
I got a response from a woman whose name was also Christina (absolutely hilarious) and was down to book a flight.
I told her the dates I wanted to go and what city; we took the conversation to WhatsApp and started planning!
Before the Trip: The Planning Process
I was already planning my trip to Canada when I started looking for a travel buddy a month before my trip dates, so I naturally took the lead of planning most of the trip but made sure to run everything by her to see if she was okay with it.
I'll run through some aspects of the planning process that I believe made everything work smoothly:
I communicated my needs and gave her the room to communicate hers
I started the conversation by listing out my travel style and needs. Some of these include:
Needing my own room because I wake up super early (4 am) sometimes or go to sleep late at night to work.
I tend to plan a lot on my trips and like to have some downtime before dinner.
I take a lot of pictures and videos
I prefer hotels over Airbnb for this particular trip.
Next, I asked what her travel musts/preferences were, including accommodation preferences.
Her list was pretty easy as she is not usually a planner; she stated that she was flexible and likes to see the "must-see" places in a destination, which I had on my list of ideas for Toronto.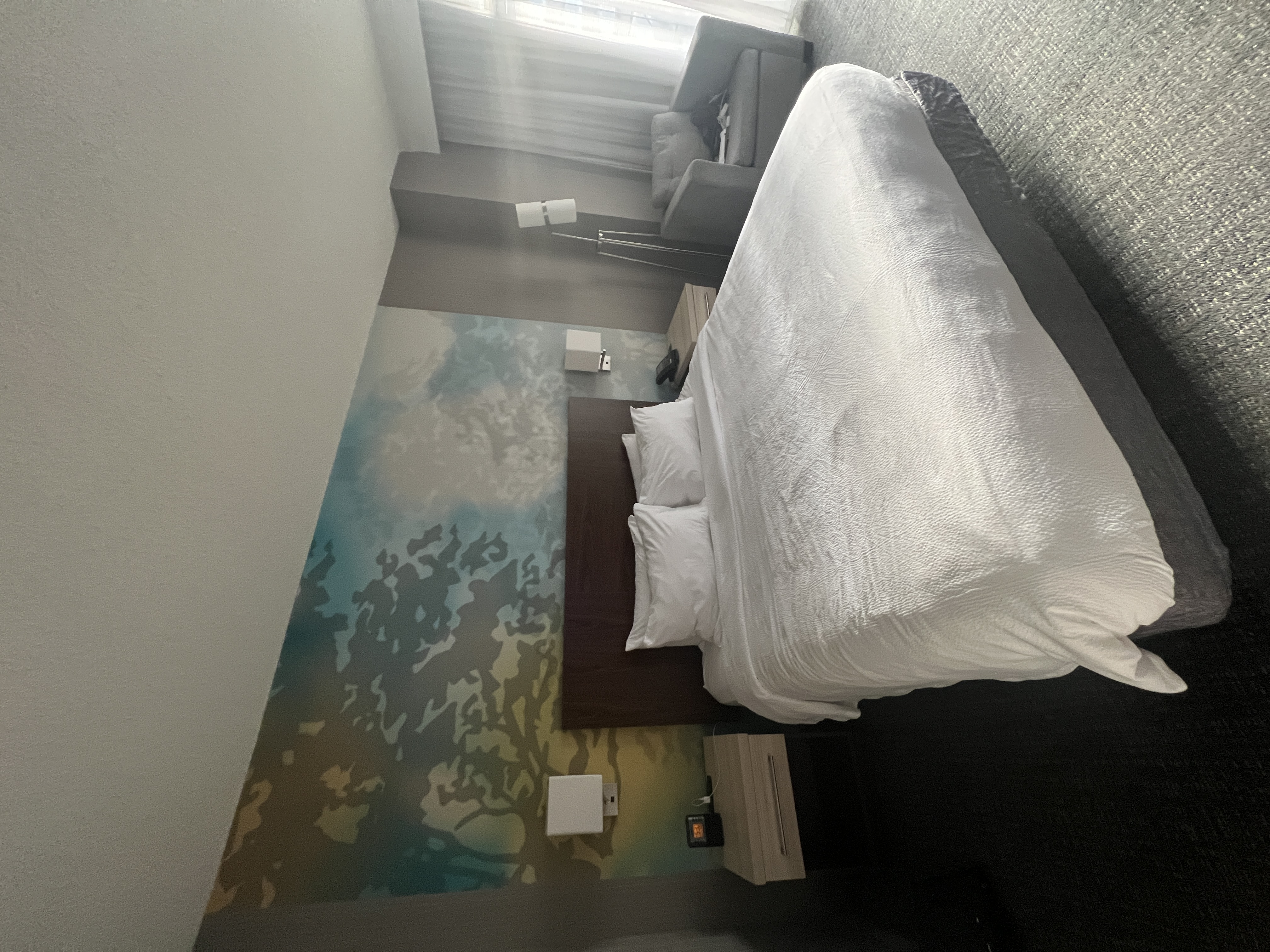 I sent a list of the activities and places I wanted to visit and asked if it was within her budget
I wanted to make sure that the things I wanted to do were of interest to her and aligned with her budget for this trip so there were no issues later with bookings, and that was an easy yes from her!
I am typically not huge on finding restaurants and nightlife places unless I see one that is super unique and popular, so I let her add those things to the itinerary to include her in the planning process. 
We were very transparent about money and bookings throughout the planning process.
Money is not always the easiest conversation to have when planning trips with other people because it can be sensitive and messy. Thankfully, it was such a positive experience with this trip.
Christina was really good about immediately sending her portion of the money for activities and bookings, which allowed me to book ASAP.
As soon as I booked anything, I would send a receipt, confirmation of the booking, dinner reservations, and activity details in our chat so she knew what was happening.
Anytime there was a change in pricing for something, I would send a refund back to her ASAP or inform her of the changes, like upgrades we could do, etc., and she was always responsive and onboard, making it super easy to plan.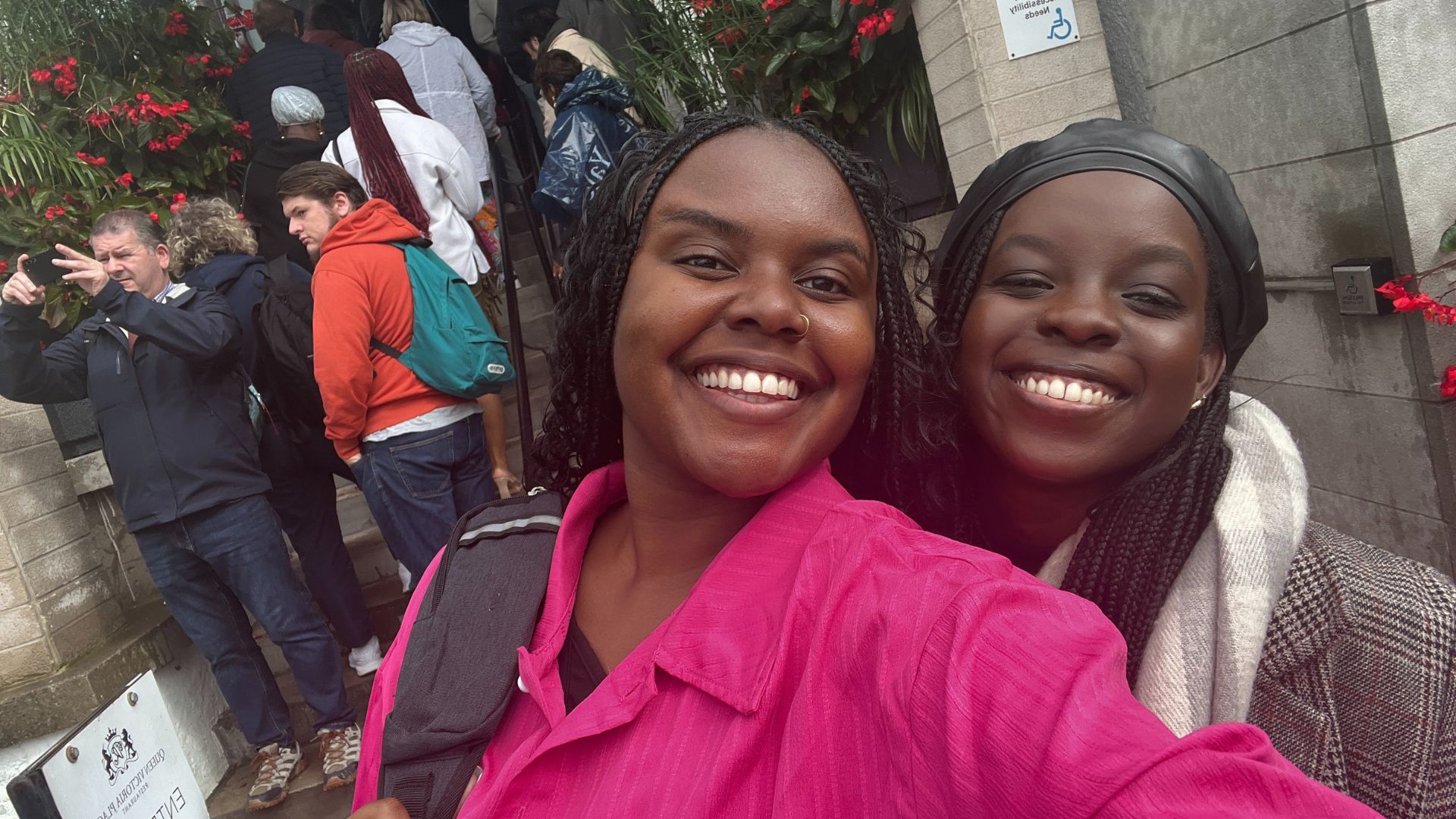 We both have busy schedules so being patient and understanding was key
I love that she trusted the process with me, never rushed me to respond not once, and was very patient. We both have busy jobs and demanding schedules, so leaving enough time to plan and not be stressed throughout, set the tone for a chill trip and how well we worked together personality-wise.
We even booked our hotel the same week we were leaving for our trip, which is not usually the norm for me.
I was waiting for a brand to get back to me on a potential sponsored stay, and she was understanding through it all and even helped find the hotel we stayed at, which was greatly appreciated.
I'm not going to lie; I would've been scared if I were her a few times, but I love that she was truly down for it all.
Meeting Each Other in Canada
I always get a little nervous meeting people for the first time from the online world because of the different personalities and expectations that people can place on you from what they see and interpret online.
But as soon as we met at the airport, there were great vibes and laughs, and I felt like I was reuniting with an old friend.
We shared great memories and stories, had many open conversations, and worked together so well to get around Toronto and bring our itinerary to life.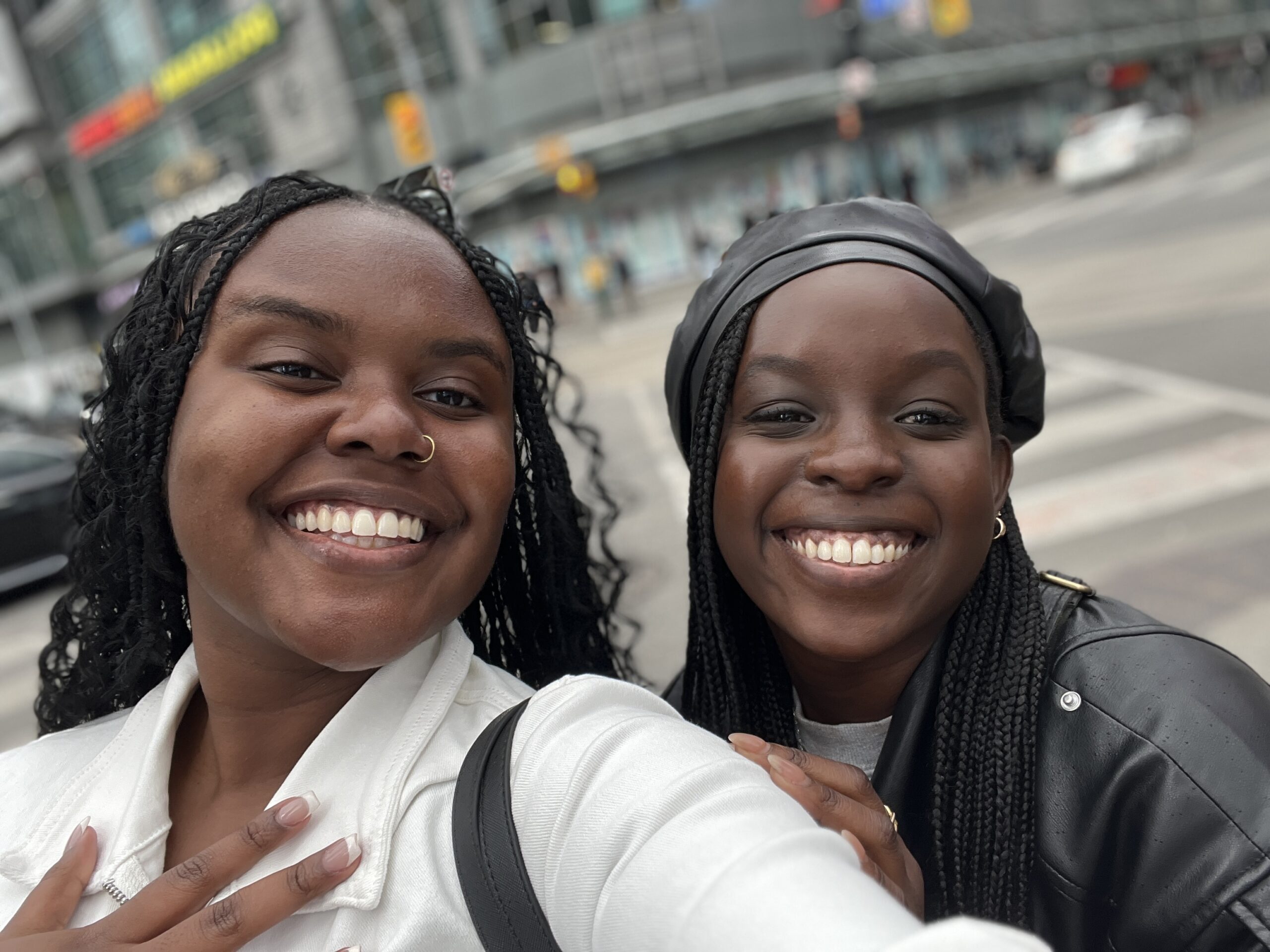 Our trip went amazing and even better than planned because of how we got along and vibed.
I prepared for the worst and to do my own thing if it didn't, but it warmed my heart that I took a leap of faith, which ended well.
This is what inspired me to write this blog post. I am incredibly hesitant about incorporating people into my plans for fear of failure, so this was a huge win for me as a travel blogger and on a personal level.
---
Things to Keep In Mind When Traveling With Strangers
It's safe to say that my first experience with traveling with a stranger was a success, but there are several things I kept in mind throughout the entire process that I want to share with you if you're thinking about doing the same.
Here are some tips and things to look out for when traveling with strangers:
Do not be willing to go on a trip with just anyone
While being a travel blogger and content creator means that I am plugged into an amazing network of travelers, that does not mean that I am willing to go on a trip with just anyone who asks or expresses interest.
I believe this has a lot to do with trusting your intuition and paying attention to red flags and things that don't make sense.
For example, someone who always asks me lots of personal questions and has made romantic advances that were not reciprocated, etc., are not people I would jump at the first opportunity to travel to an unfamiliar destination with.
It's best to aim to connect with someone you have had some connection with before, but this was not the case in my experience, and it worked out lovely.
Always trust your gut.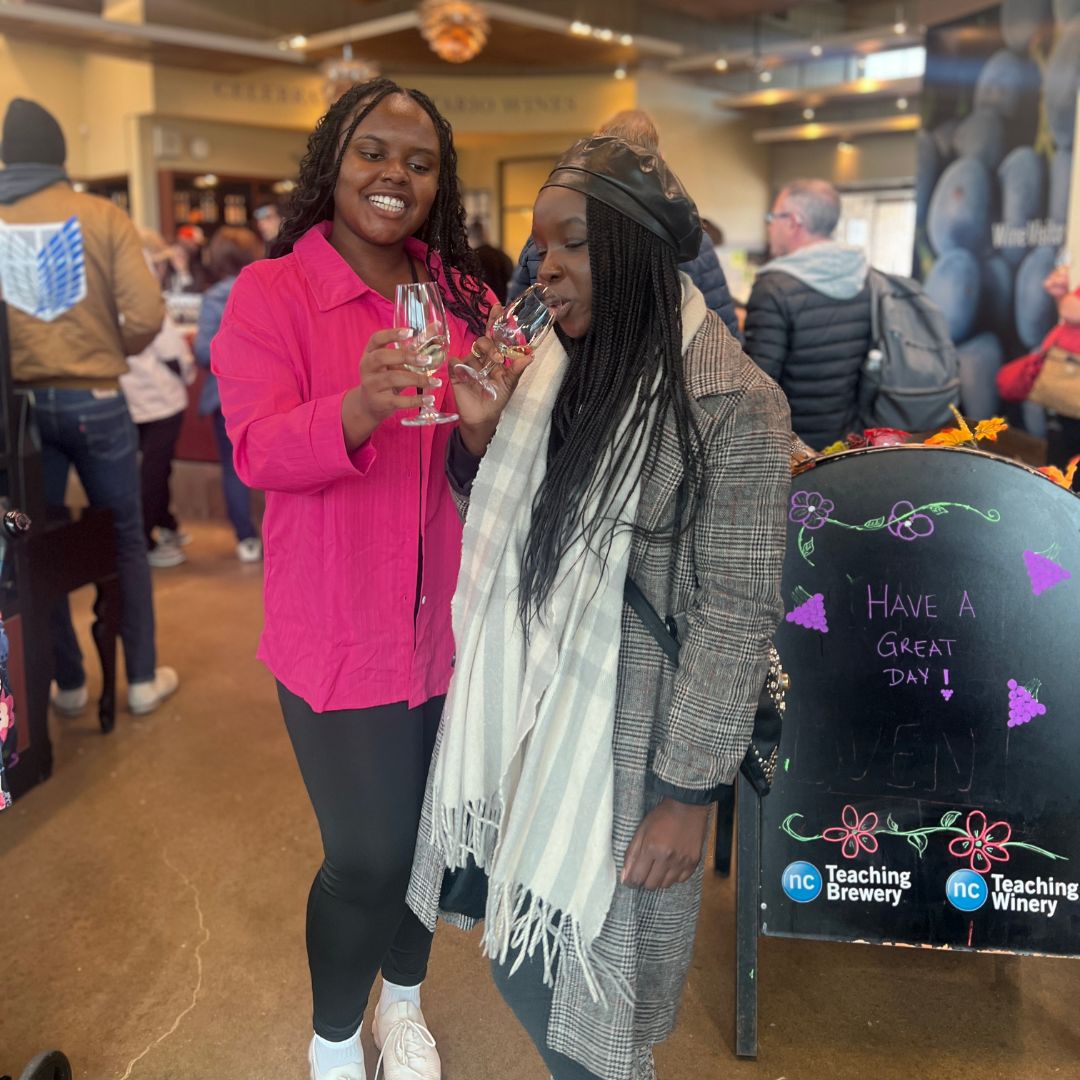 Communicate your travel style and preferences before booking anything
As you can see, I laid everything out on the table before moving forward with Christina as a travel partner. I wanted to make sure it was a good fit for both of us so it was an enjoyable experience.
I encourage you to communicate and ask the questions you feel are necessary to plan effectively.
Some questions and topics to consider are:
How early or late you like to wake up on trips
What your room and accommodation preferences are
What your nightlife preferences are
If you are big on pictures and videos
Transportation method preferences (public transport, rideshare, etc.)
Talk about money: Establish a budget for the type of activities and hotel accommodations
Money is an entirely separate topic on its own that can get very awkward or go very smoothly. Either way, discussing it before rather than on the trip is necessary.
Some questions and topics to consider are:
How much you each would want to spend on accommodations
The cost of activities and making sure it is possible for each participant
How you will split the cost of Uber/Lyft (taking turns, going 50/50)
Tip: I do not recommend canceling or not doing an activity you want to do because your travel buddy can't, if it is discussed and okay with them! It's all about communication and expectations.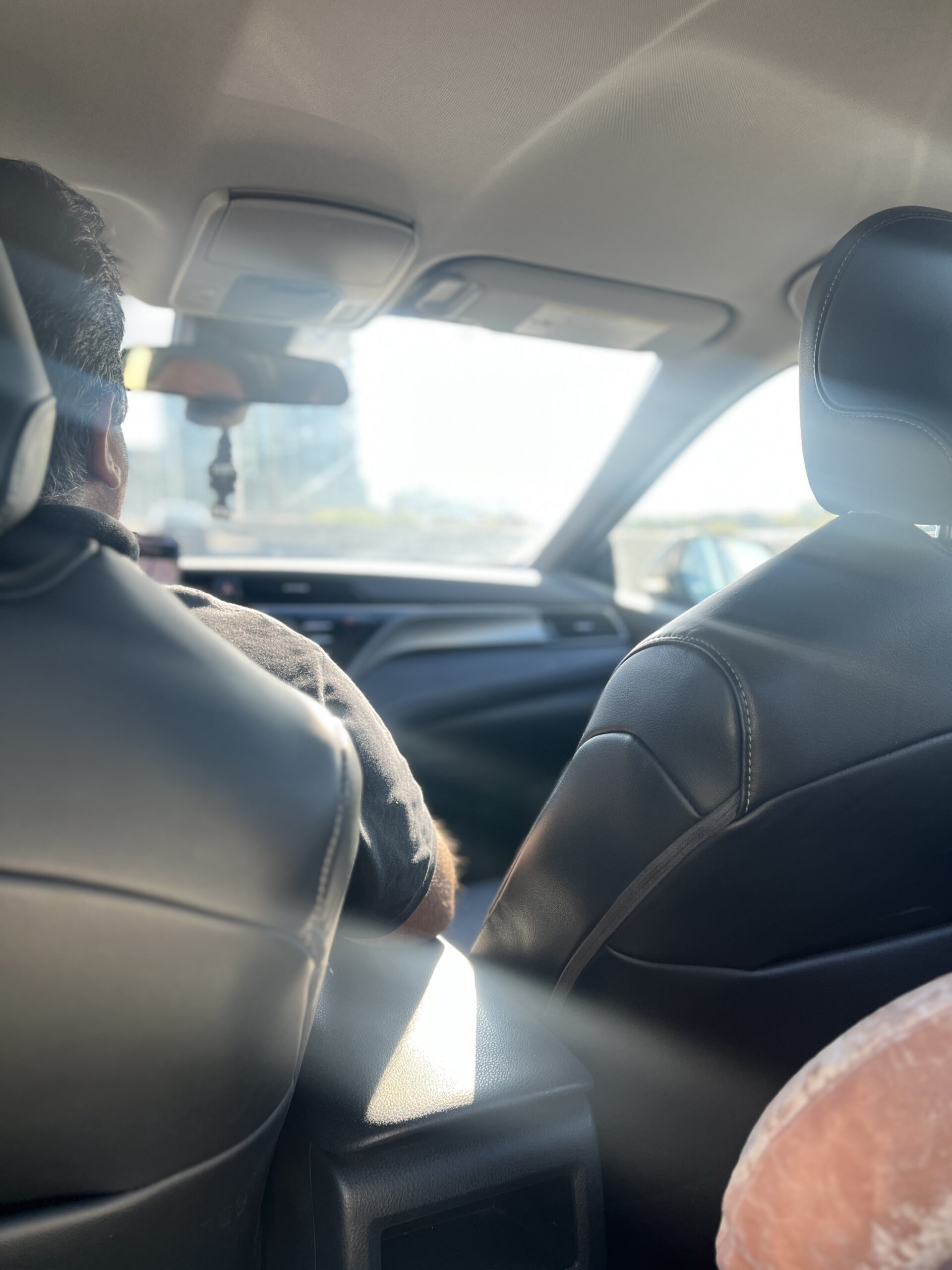 Be open minded and do not assume: ask and communicate
It may be best to approach situations with your new travel buddy(s) with an open mindset.
This is someone you do not know, so try not to assume anything, ask questions, and lean into communication before assuming for the best results while traveling together.
Stay in a hotel accommodation over an Airbnb or hostel-type of environment so you are in a more public space
Aim to stay in a hotel with separate rooms so that you are in a more public setting and can have some peace of mind as opposed to getting an Airbnb that is more private and closed-off.
This way, if anything goes wrong, you don't have to worry about sharing a home or apartment with someone you are not getting along with.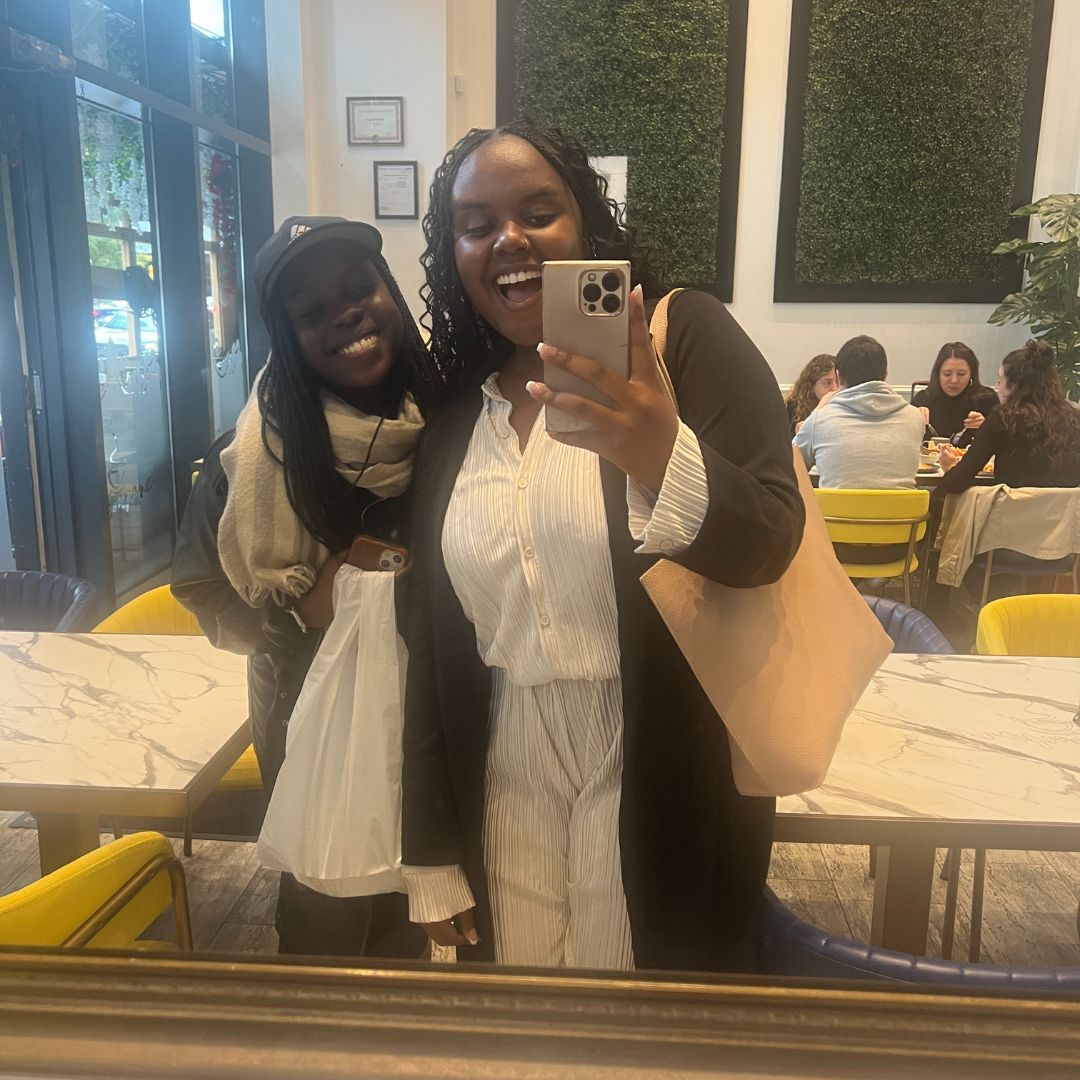 Be prepared to do your own thing if things don't work out when traveling with strangers
The reality of traveling with strangers is that you are taking a gamble that everything will go smoothly, which may not be the case.
Personalities may not align, plans may not fall through, and this can cause tension on your trip. It's best to be prepared and to have a Plan B if that is the case.
As a solo traveler at heart, I always have a Plan B when traveling with other people in general on what I will do if I have to navigate a city alone.
Create a separate itinerary you would feel confident sticking to if you have to venture on your trip alone.
Also, before getting to the point where this happens, if during the planning process you find that your travel styles do not align, take that as a sign that you probably should not travel with that person.
Share the person's profile/information with a trusted loved one
Before leaving for your trip, when traveling with strangers, it is wise to share your information about the person with someone you trust.
A picture of the person
Their name (I would hope you would have their first and last name), a social media profile if they have one,
And anything else you think would be essential to share, like the name of your hotel.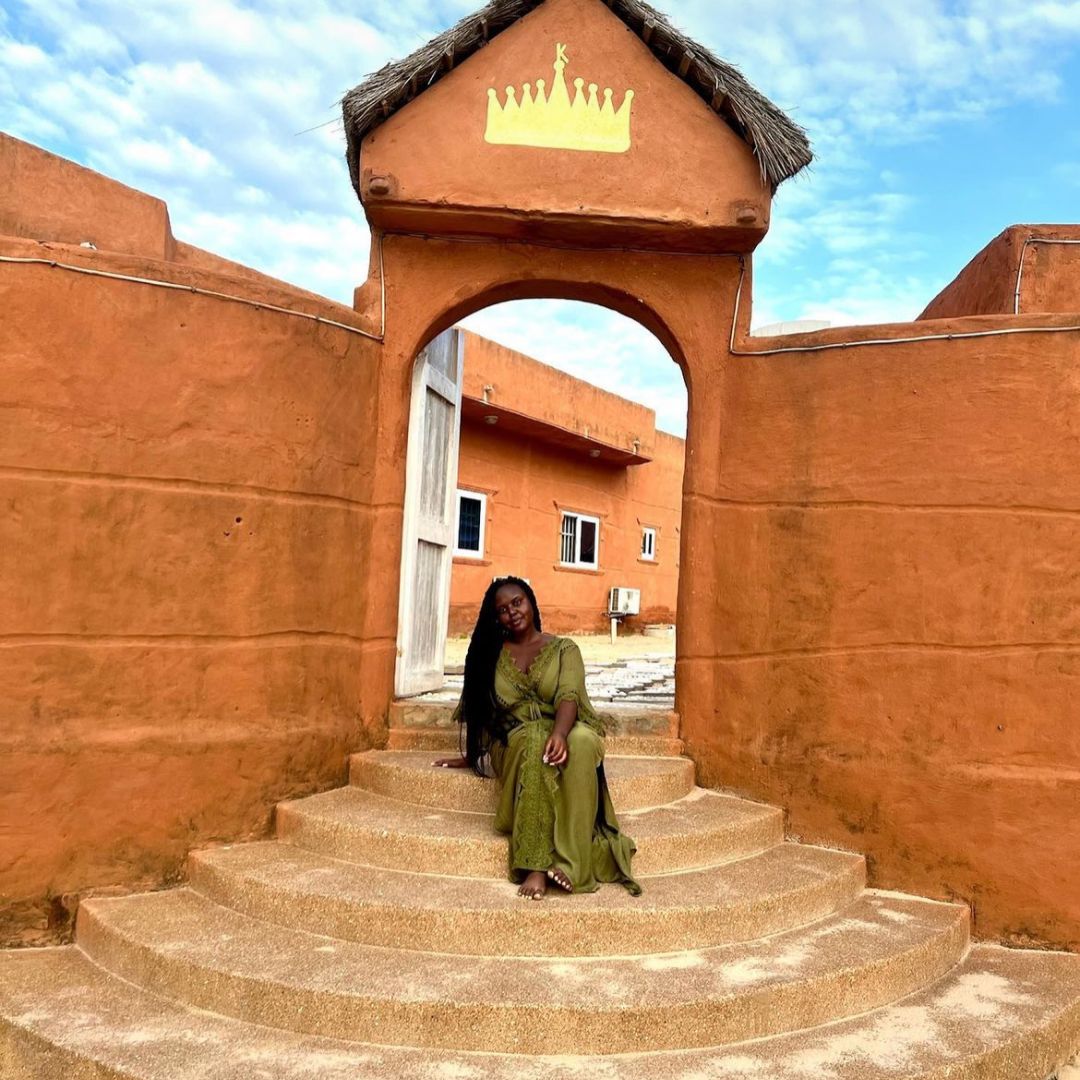 Avoid sharing too much personal information
If you are naturally a talker, this can be tricky, but when you are meeting someone for the first time, I believe there is a healthy amount of information you can be open to sharing to make introductions and break the ice.
For example, you can share your profession but not dive into details of where and who you specifically work for.
You can share what city and neighborhood you are from, but keep the name of your apartment unit private and avoid saying things that would indicate exactly where you stay.
I am naturally very strategic regarding what I choose to share in a way that can make it seem like I am sharing a lot without sharing much (lol), but it takes time.
Trust your intuition
Finally, you know what is best for yourself and what makes you feel comfortable. Trust your feelings through this process and put yourself first within reason.
Traveling, in general, can be stressful at times, and doing it with a stranger can come with challenges. It can also be one of the best experiences of your life.
Listen to your gut throughout your experience.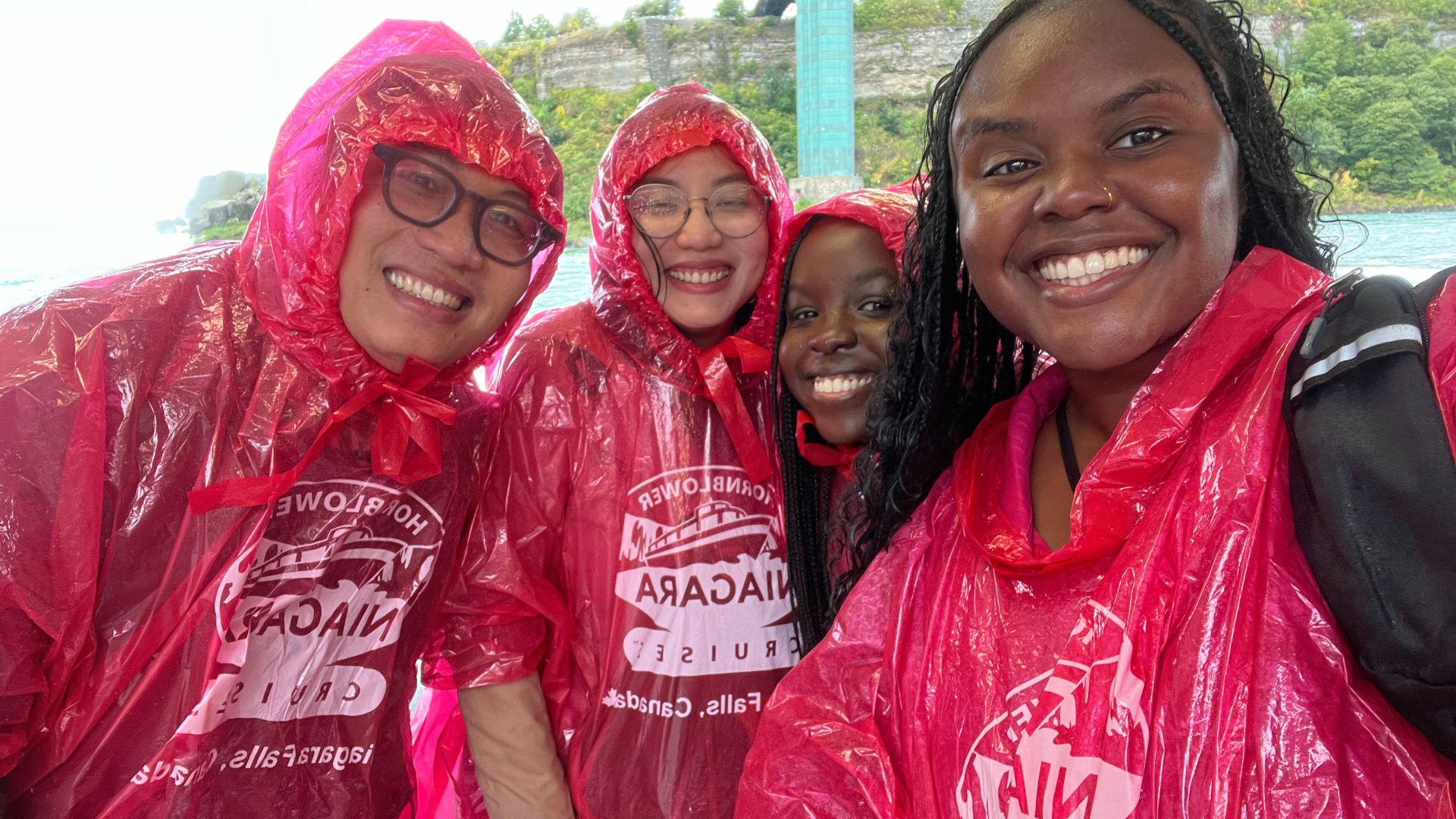 ---
Traveling with strangers can be an exciting new world that leads to new friendships, reliable travel buddies, and unforgettable memories.
It's still important to remember that you are traveling with a stranger and need to protect yourself and your interests throughout the experience.
Have you ever traveled with a stranger? Has this blog post convinced you to take a leap of faith? Let me know your thoughts in the comments below!