Nzulezu is a destination that has been on my Ghana bucket list for years. As my days living in Ghana as a graduate student slowly came to an end, I had to make the journey a reality with a day trip to the stilt village.
Researching Nzulezu since I first started calling Ghana home, I honestly found it extremely difficult to get reliable and consistent information as it relates to visiting the site on my own. Many websites, like the official Visit Ghana page, that speak on Nzulezu are outdated.
Travel groups like Mooove Africa offered some group tours, but I wanted to plan my own trip there for a more personalized experience.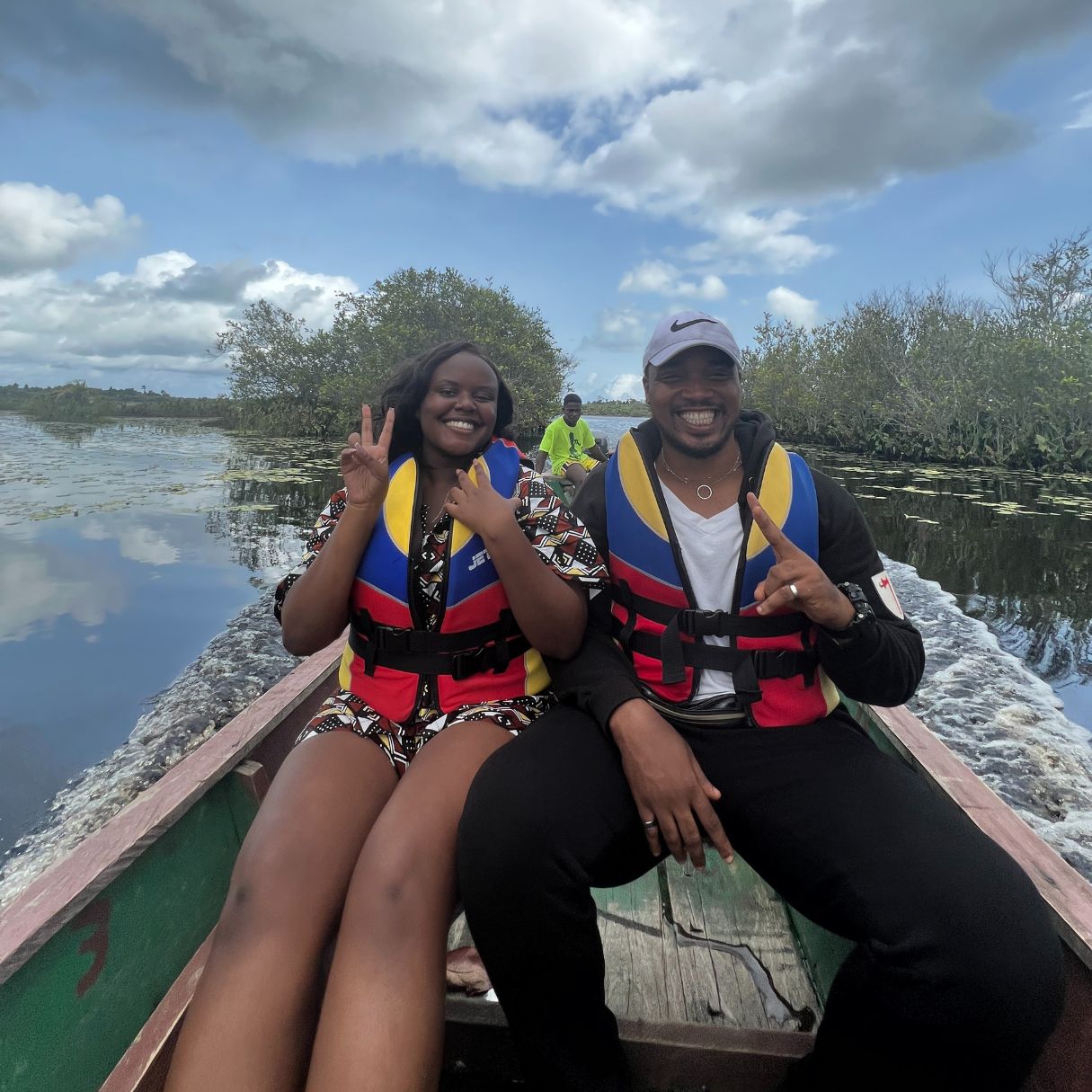 There is an undeniable ethical component to visiting places like Nzulezu. While the village has been deemed a "tourist attraction," it is very much still where hundreds of people call home.
In this blog post, I'll share what I learned from going to Nzulezu, the details of my trip, like the costs and the contact information of my amazing guide.
By the end of this blog post, you'll hopefully be able to duplicate my trip and learn more about the Nzulezu village community in Ghana.
About Nzulezu
Nzulezu means "on top of water" and is a village entirely built on stilts in the middle of a lake in the Western region of Ghana.
The village has a population of 510 people, including both kids and adults.
Located near the border of Ivory Coast, The village was constructed hundreds of years ago and is inhabited by the Nzema people.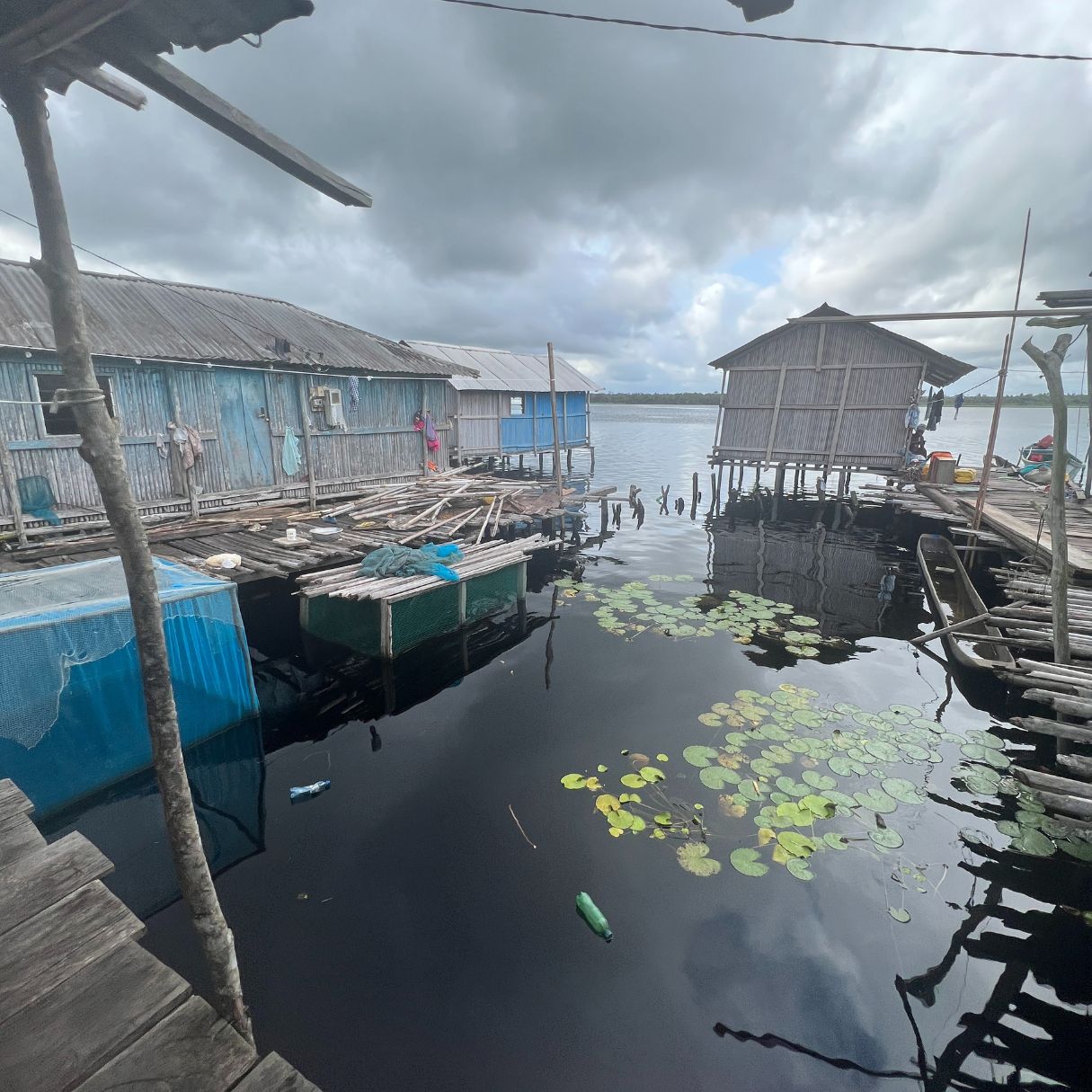 How to Get to Nzulezu from Accra
Taking A VIP Bus
To get to Nzulezu, you will want to make your way to Takoradi, a city located in the Western region of Ghana. Takoradi is about five hours away from Accra, and Nzulezu is a total of seven hours away.
There are several ways that you can get to Nzulezu, which I will outline in this section, starting with the method of transportation I took.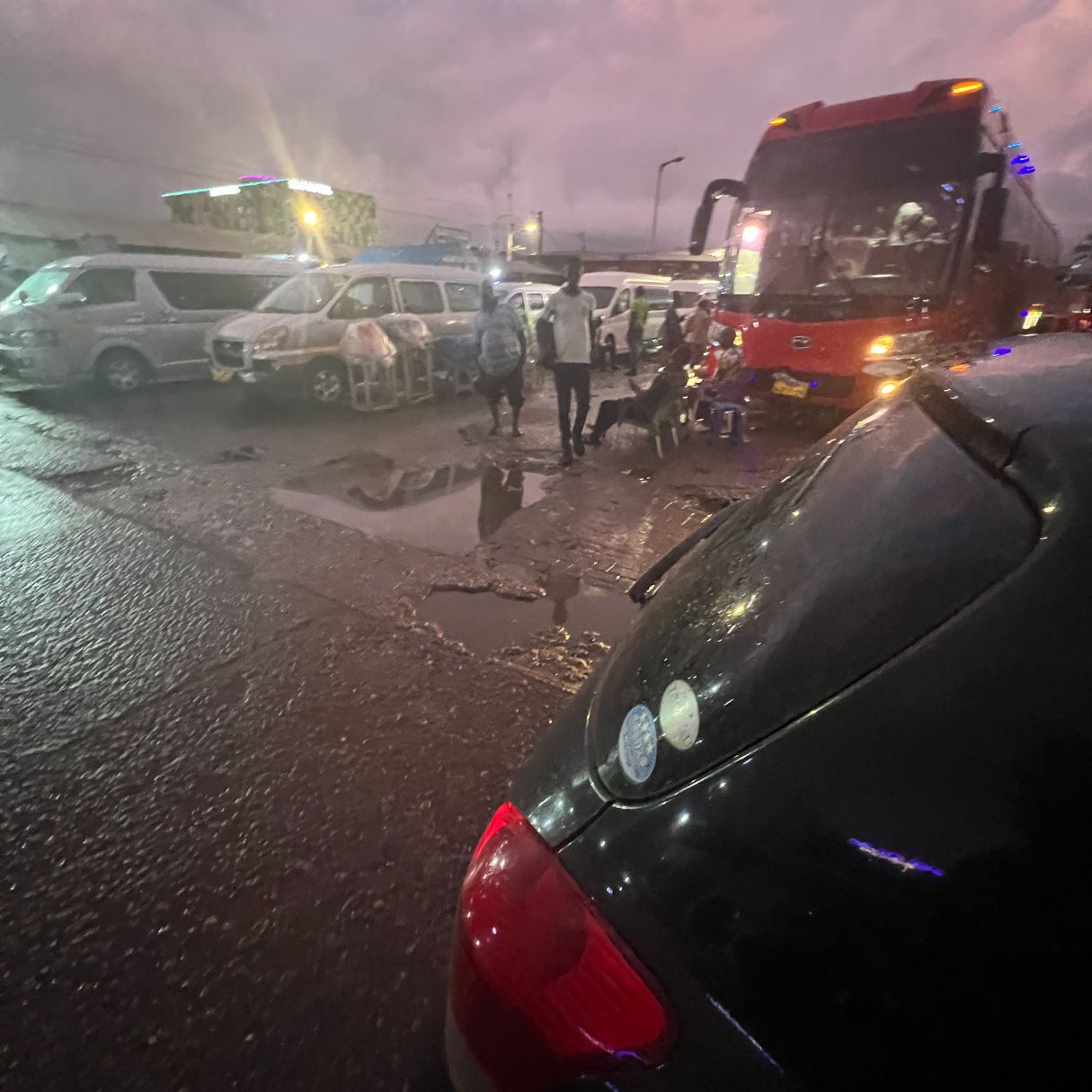 My friend and I woke up around 3 am and set off for the VIP Station in Kaneshie around 4:30 am using Uber. If you are not as familiar with Ghana, you can just confirm that you need to go to the VIP Station in Kaneshie to go to Takoradi with your Uber driver once they arrive to pick you up. They will make sure that you get to the right place.
Once we arrived at the VIP station, we just asked the men standing around who were in charge of issuing tickets to the different buses and which one(s) were for Takoradi. We paid 85 cedis each ($8.50) for a ticket and boarded a large red bus.
We were aiming to get a smaller white minibus, as they move faster in traffic, but there wasn't any loading.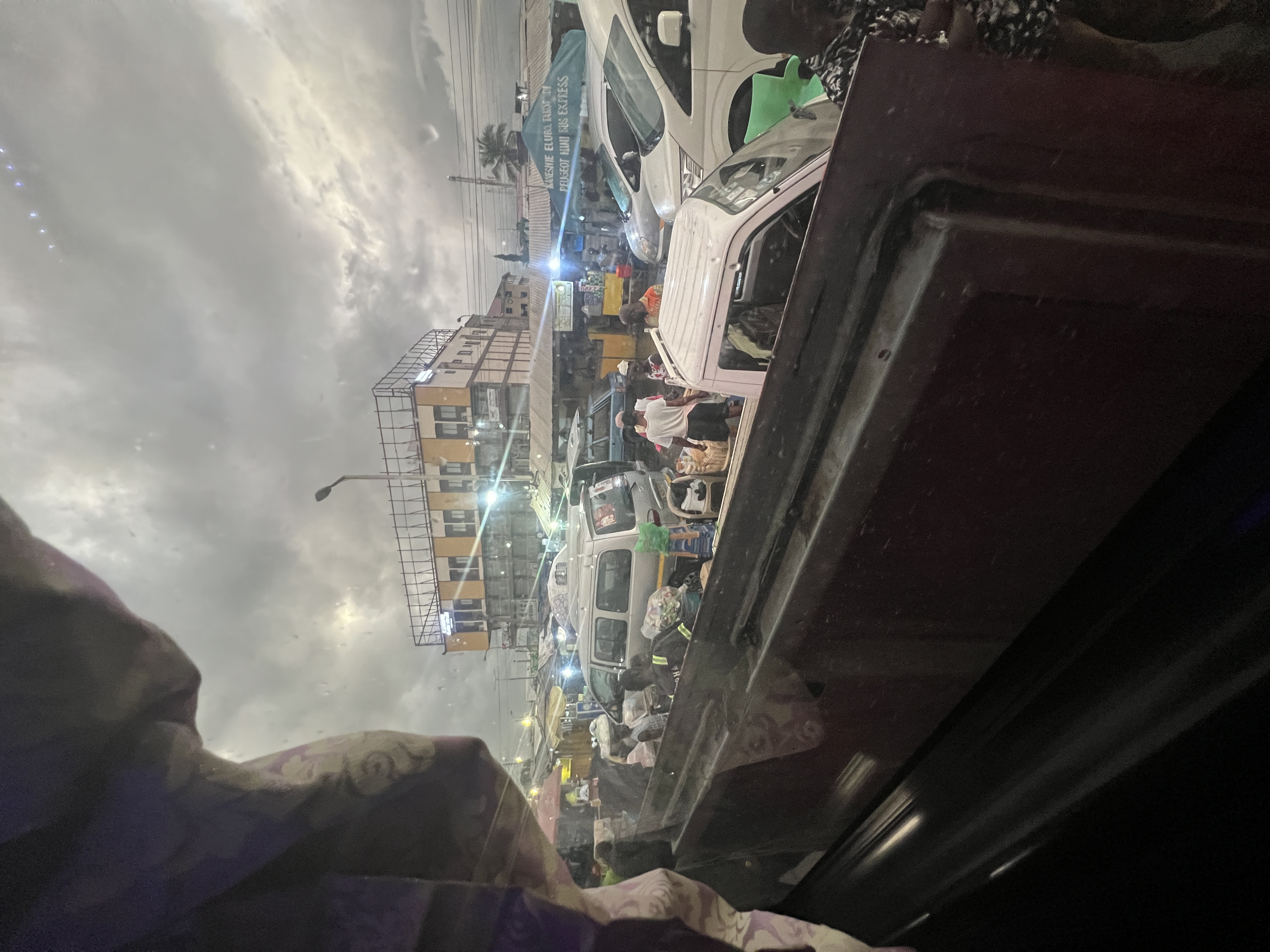 The downside to taking these kinds of buses in Ghana is that they do not depart until they are filled, or the seats are paid for. Due to this, we did have to wait an hour after boarding before the bus departed the station.
The bus doesn't stop at any rest stops or have a bathroom onboard, so if you take this route, be sure to bring snacks, water, and portable chargers.
Once we arrived in Takoradi, we took an Uber to Nzulezu, which is 2.5 hours away from the town.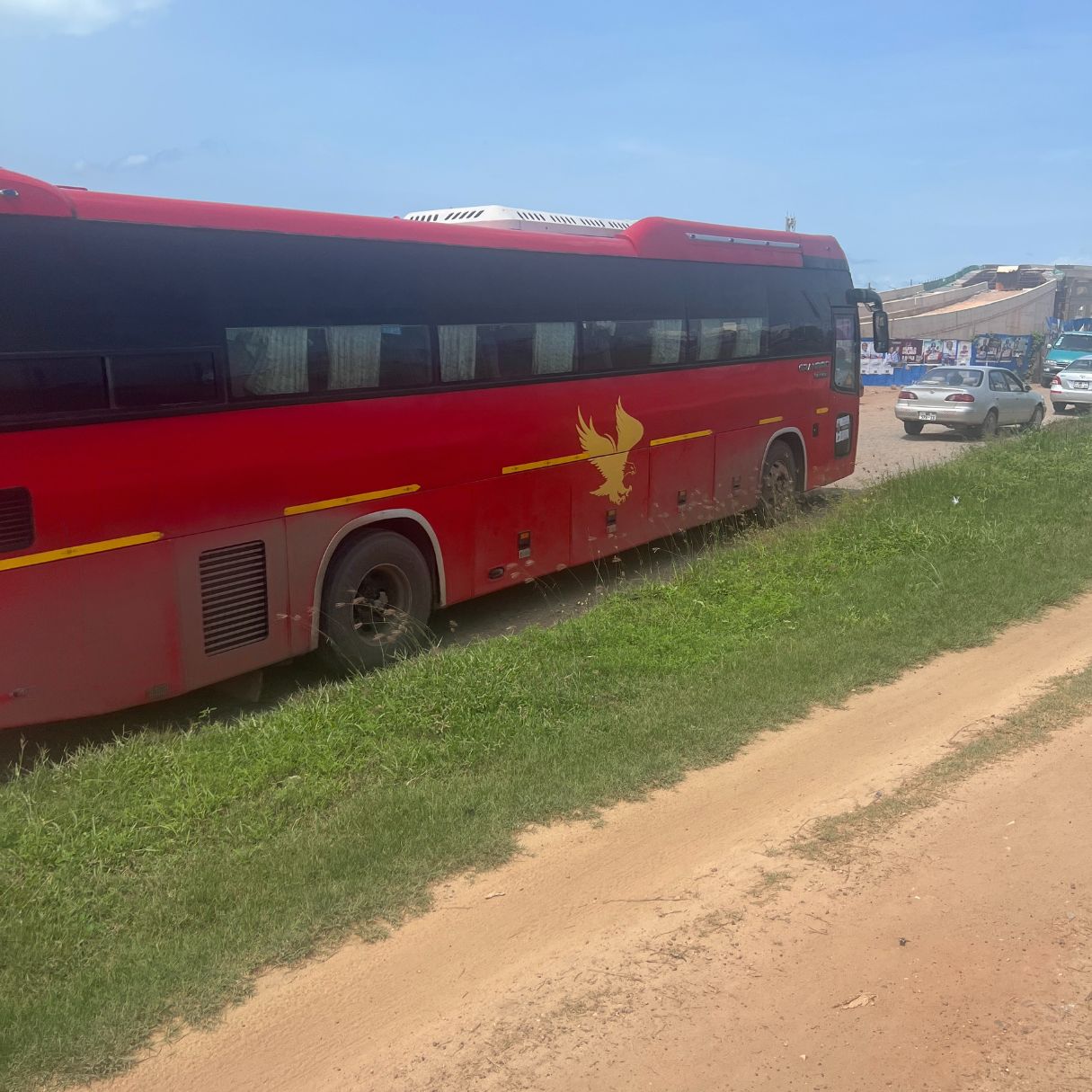 Most drivers will only go that far if they can guarantee that it will be a roundtrip so they can make 2x the money, so keep this in mind. You can negotiate the rate.
This is actually so much more convenient for you, as you don't have to worry about getting a ride back to Takoradi.
Flying with Passion Air or Africa World Airlines
Flying is the easiest way to have a stress-free and fast trip to Nzulezu.
Ghana has two airlines that operate domestically: Passion Air and Africa World Airlines (AWA).
Sidenote: When writing this, I noticed the website of Passion Air was redirecting to a clothing website. If it hasn't gotten fixed when you are reading this, know that you can always purchase a ticket directly from the Passion Air (or other airlines) office inside the domestic side of the airport at the counter.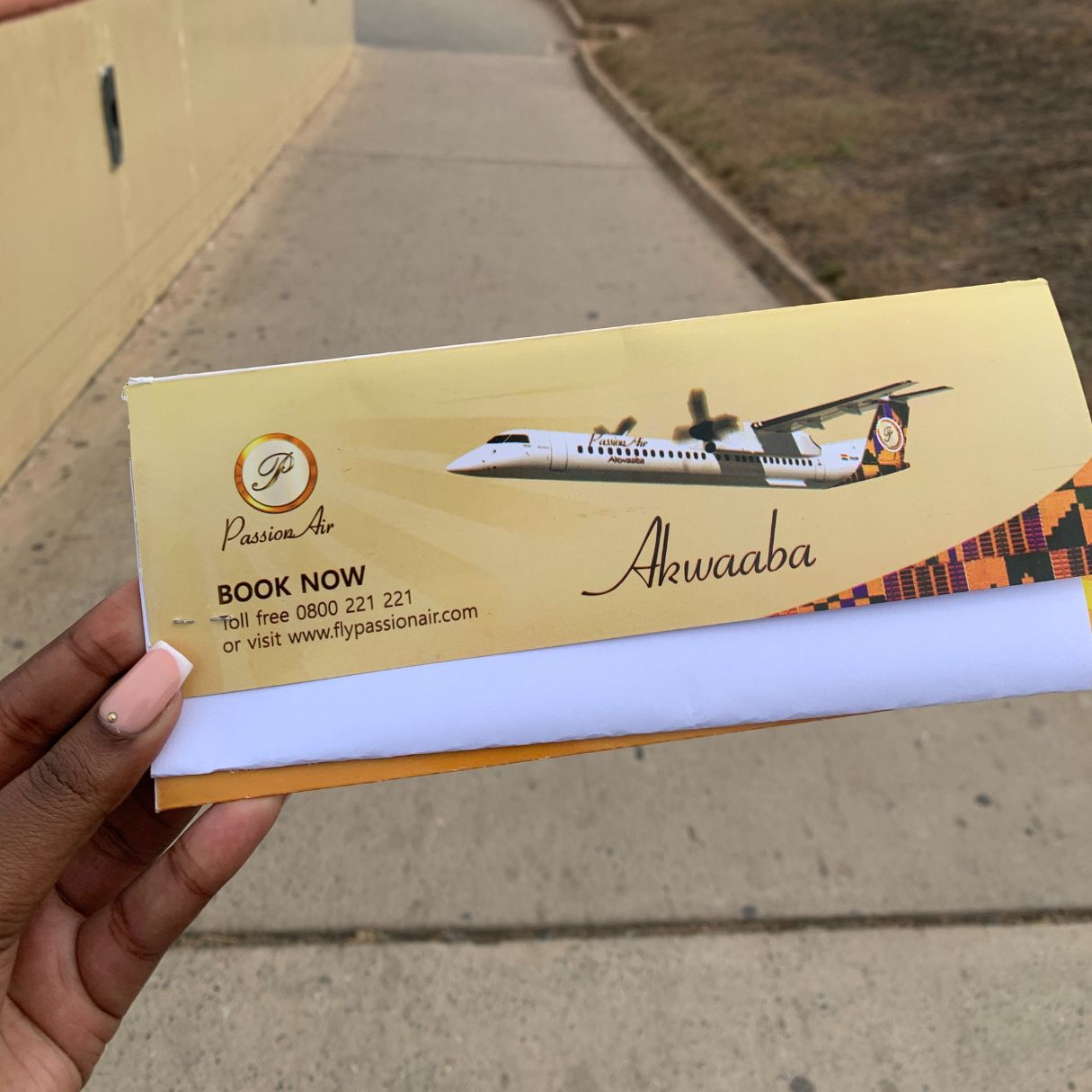 Airline tickets are typically around $100/each way when converted from the local currency, with Passion Air usually being the cheaper option.
The flight to Takoradi from Accra takes 40-50 minutes.
So you can see how having a 6-hour journey is undeniably better than doing the 14-hour one, although I saved a lot of money.
Hiring A Private Driver
You can also hire a driver to take you to Nzulezu from Accra directly. You can find a driver using Uber or Bolt, but you will for sure have to negotiate and agree on a price that is best for both of you.
The benefits of this are being able to decide when you will leave Accra (I recommend leaving as early as 4 am) and getting to plan routes as you go.
Buying A STC Bus Ticket
The STC Bus is a similar option to the VIP Station, except it is a bit more official from what I have experienced.
You can buy a ticket either online or in person before the bus departs, and the buses leave at set times, which, unlike the VIP buses, is great.
You can visit the website linked above to see the routes and prices.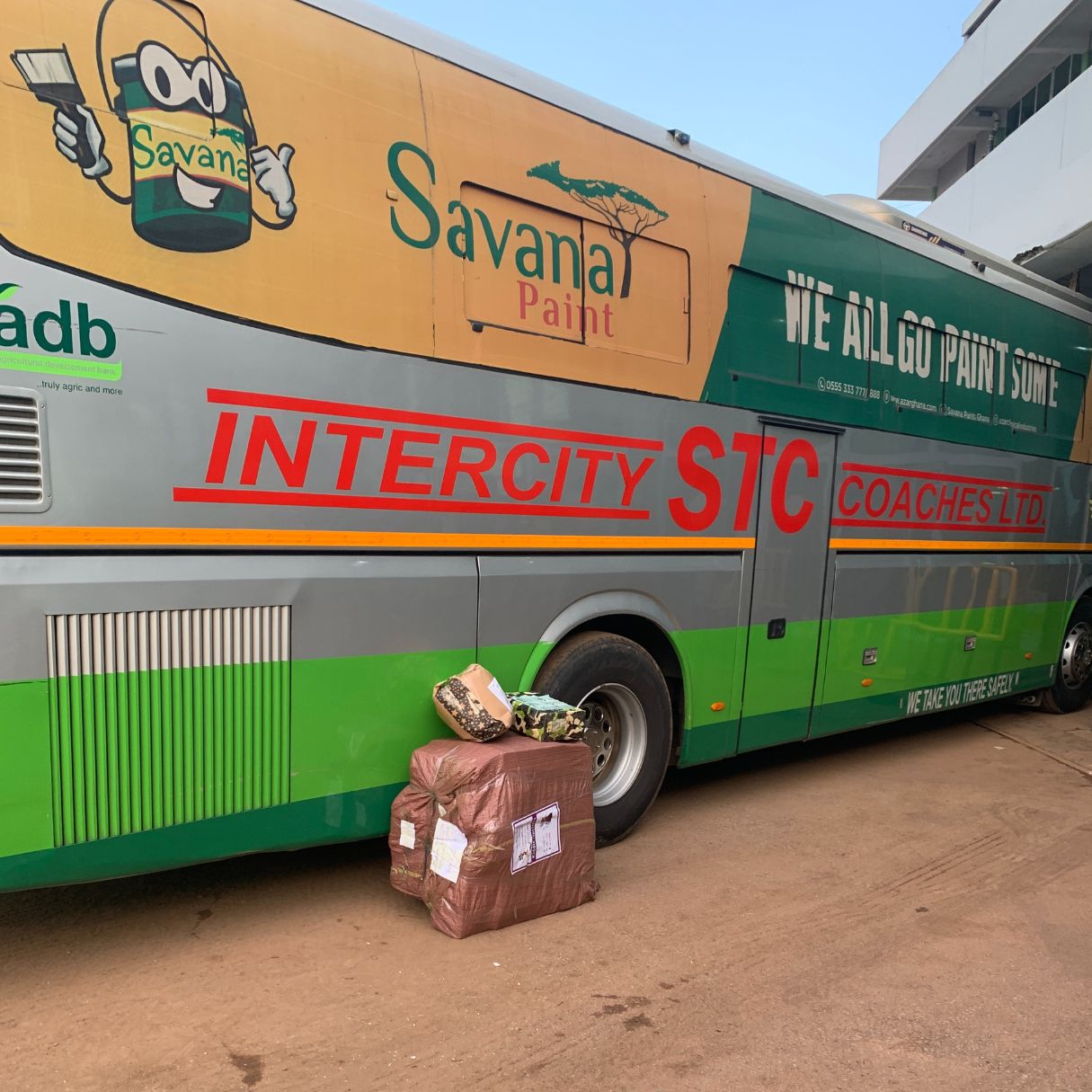 My Nzulezu Tour Guide
As I mentioned, finding information on Nzulezu was very difficult.
There did not seem to be an official point of contact for tourists who were interested in visiting the village, and I found a lot of outdated information while researching how to visit Nzulezu.
Thankfully on Facebook, I came across a local bar in the area with a Facebook Page, Nzulezo ECO Bar.
While the page focused on the bar that sells a variety of drinks and food, I reached out and was able to get in contact with Emmanuel, the owner of the bar who conducts tours to Nzulezu as a native of the village himself.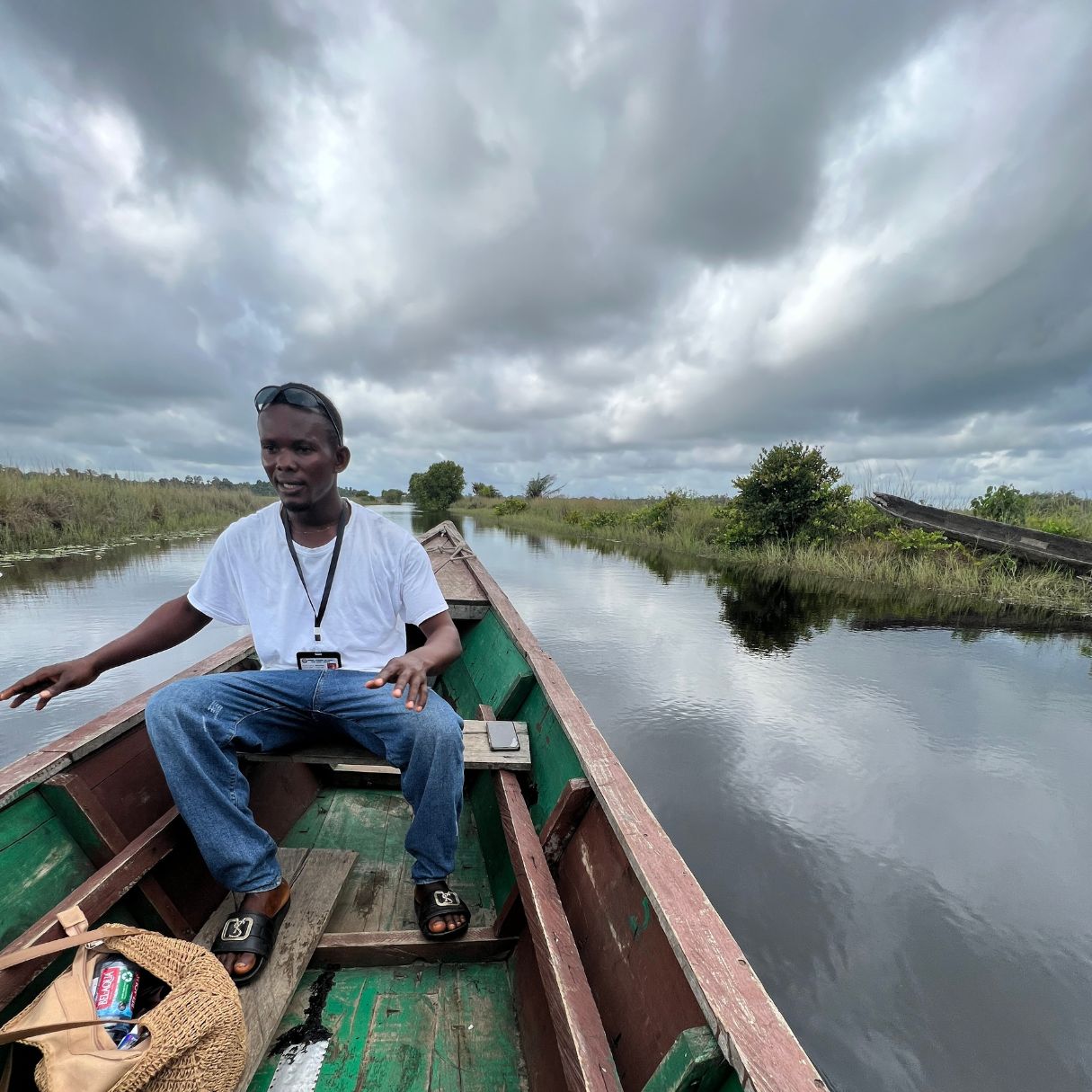 He told me the price, to let him know what day and time I wanted to come, and everything was sorted!
Emmanuel was a great communicator and tour guide. This is hands down one of the best tours I've received in Ghana.
He took his time to explain every aspect of the village and even answered our questions in great detail. No complaints!
A Look Inside Nzulezu: A Virtual Tour
The Boat Ride to the Entrance
Emmanuel led us down a pier-like walkway composed of wooden planks until we reached the shore of the lake Nzulezu sits above.
We entered a large canoe and began to make our way through thick mangrove forests and the open body of water until we reached the village. The boat ride itself is about 20 minutes and felt relaxing and captivating all in one.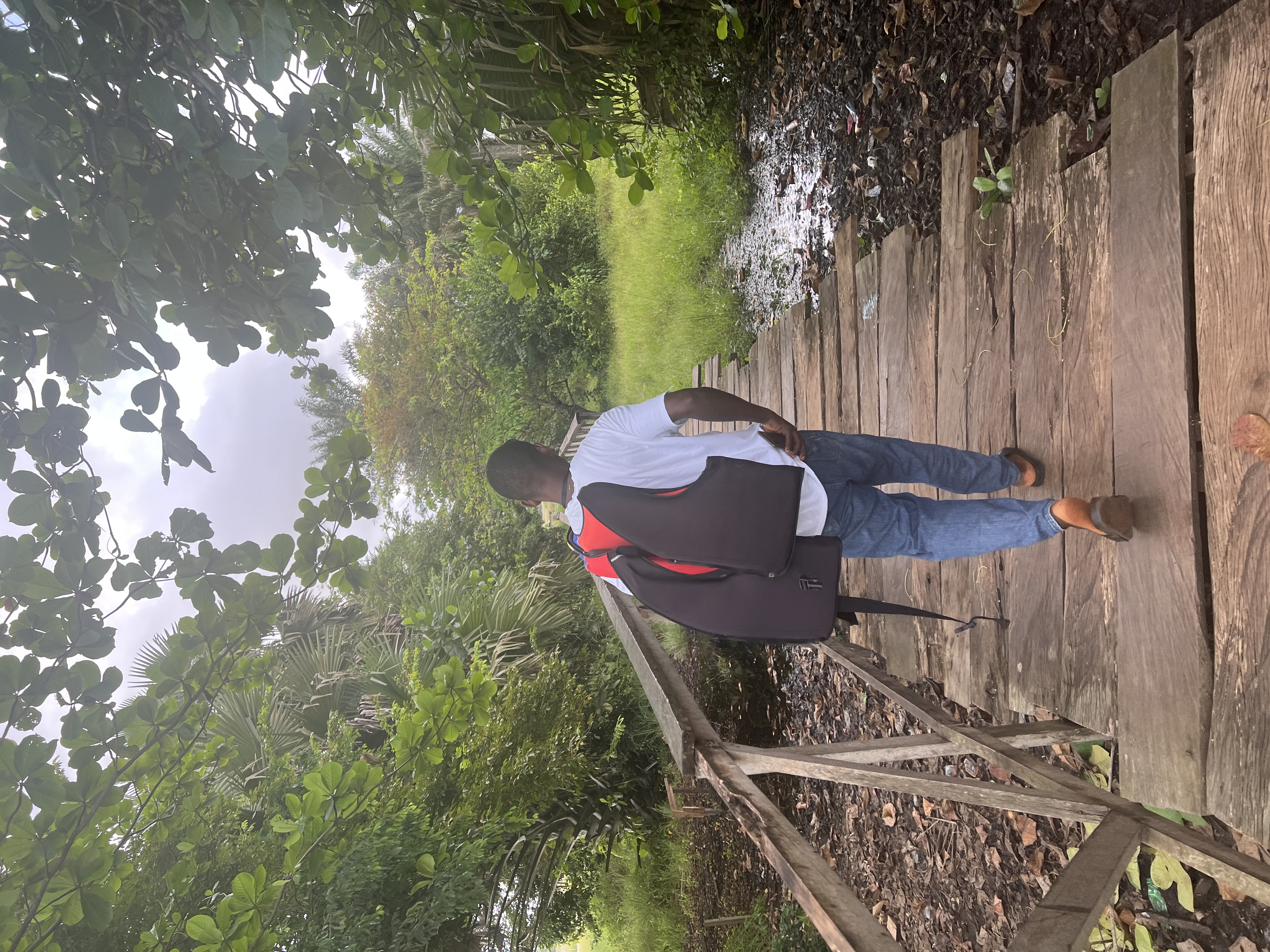 The feeling of the fresh breeze blowing in our faces as the boat gently rocked due to the force of the warm waters was unmatched. This is the first boat ride I've ever had where the feelings of nausea I typically have when on the water did not exist.
As the boat approaches the village, the homes built on stilts over the water come into view, and it's time to explore Nzulezu.
Arriving at Nzulezu
Arriving at Nzulezu, we saw kids running around, people diving into the cool waters for a swim, and entering their personal canoes to travel for wood.
The village is made of individual homes/rooms with narrow alleyways in between where we saw women pounding fufu, washing clothes, and the men working together to transport planks of wood from one end of the village to another.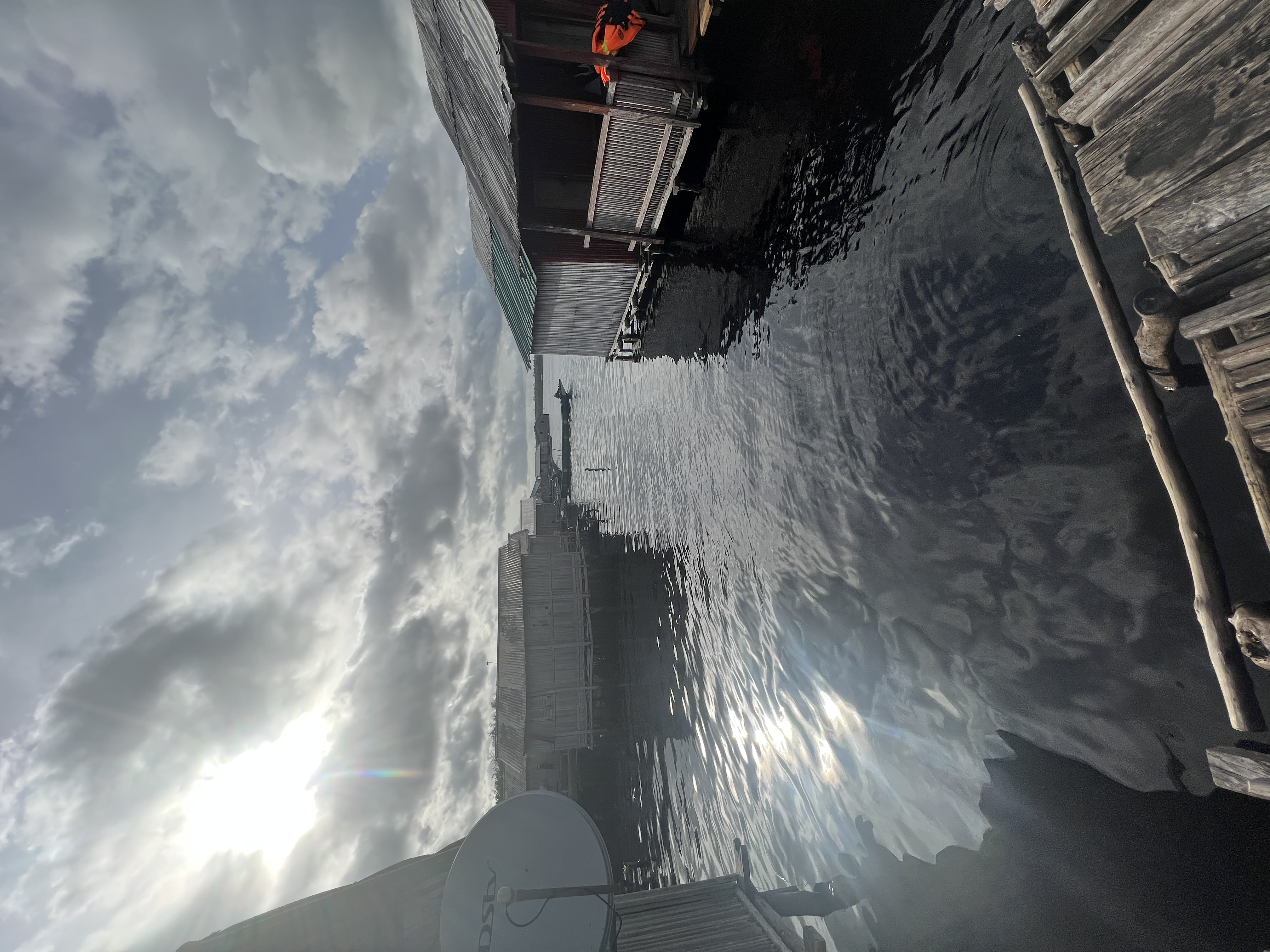 Mama Must Chop Shop
There is no hospital at Nzulezu, so there is a storefront shop by the name of "Mama Must Chop," where residents purchase local herbs for healing when needed.
For more serious medical needs, there is a hospital that is a 45 minutes journey away. Residents would be transported on a canoe to the parking lot area (15 minutes), then take a 30-minute car ride to get to the hospital in a nearby town.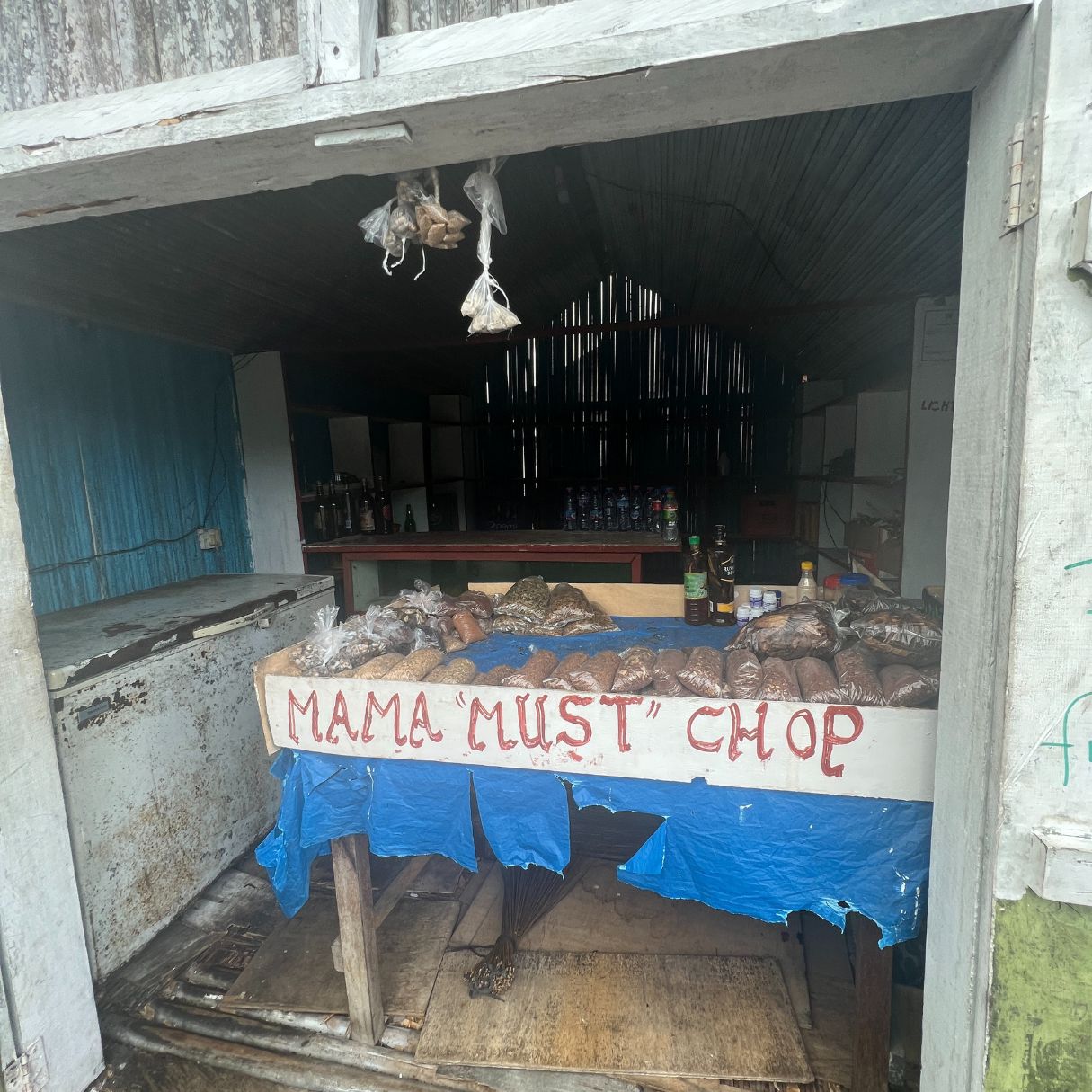 Primary School Building
There is a school at Nzulezu which goes up to primary education. Once those years are completed, the children tend to leave the village for secondary school.
Emmanuel explained to us that 1-2 teachers are assigned to the village by the government that end up leaving after a month or two. The rest of the teachers are from the community.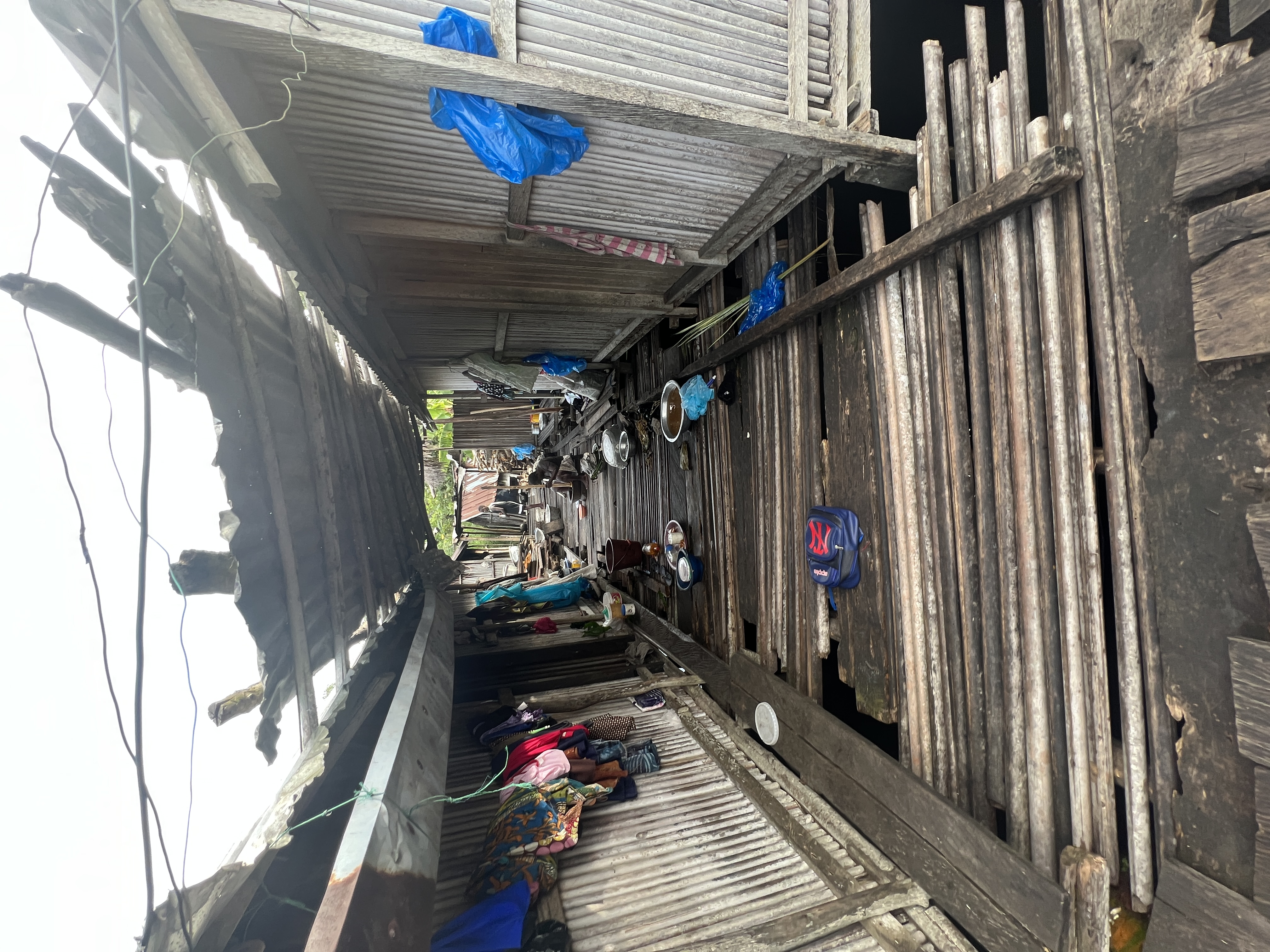 Community Cleaning Initiative (picture with caption)
Created a dumping site so the place can stay clean initially the trash would stay behind the houses.
Very big on community living. When something needs to be done they form groups to do it. There is help with the foundation.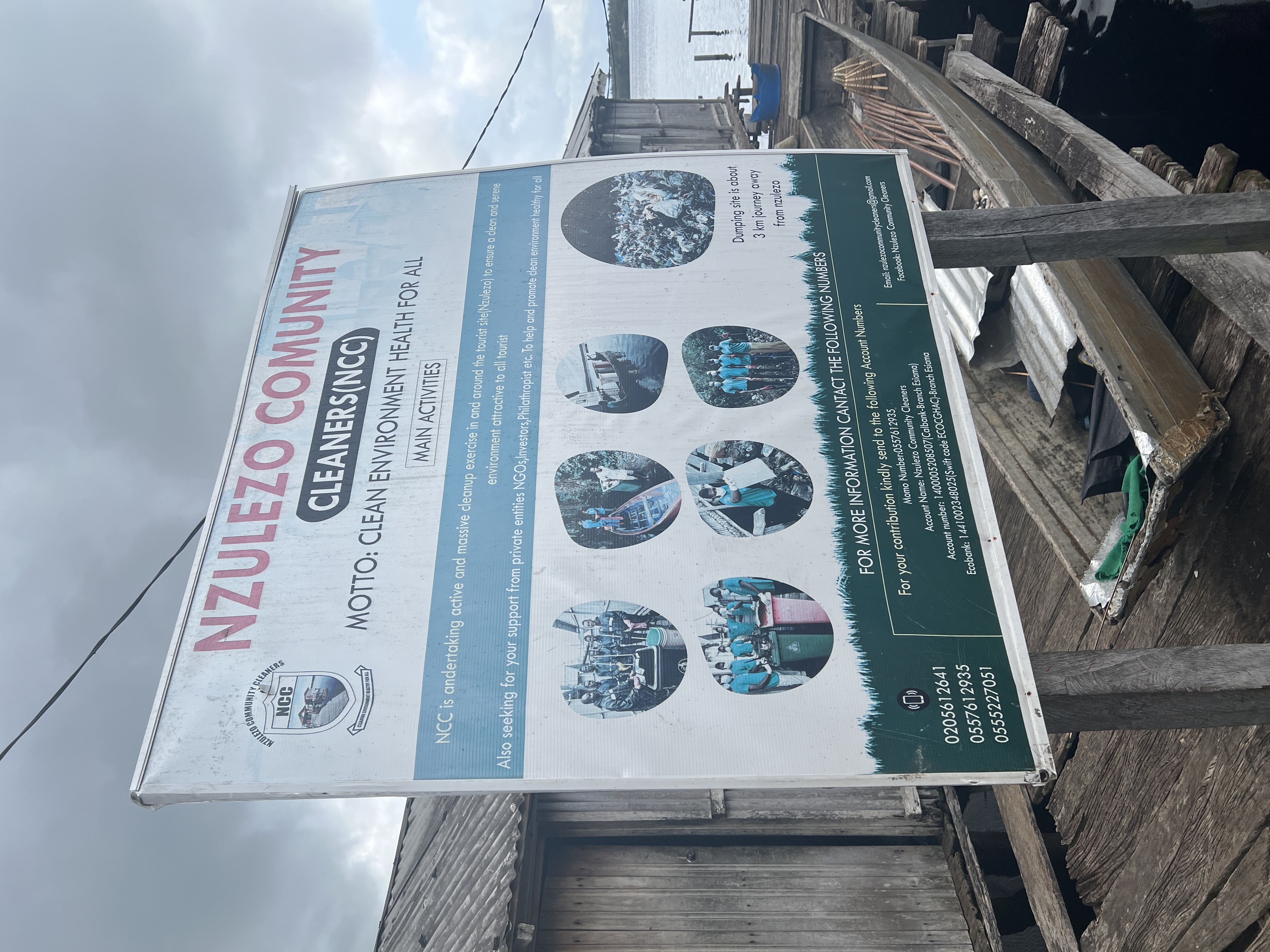 Community Center/Gathering Space
Toward the end of our visit, we visited the community gathering space and met with Mr. Atta, the man in charge of welcoming visitors to the village, who gave us a 20-minute brief on the history of Nzulezu, and we had the opportunity to ask more questions.
At this point of the tour, a tip donation is highly encouraged and something Emmanuel informed me about prior to arriving, so I was prepared.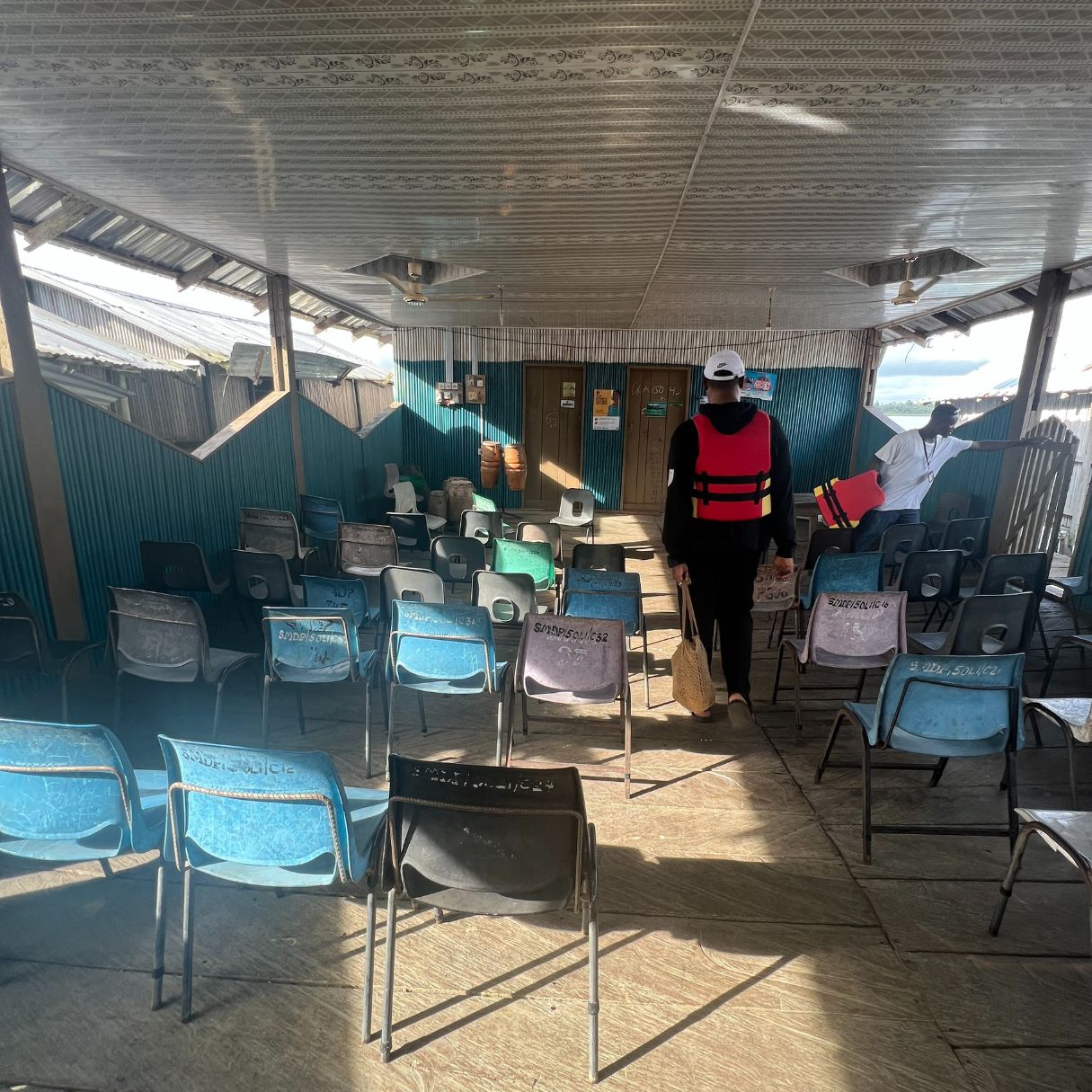 Entertainment Bar
Inside the village, there is a sports bar where residents can come to unwind and watch TV.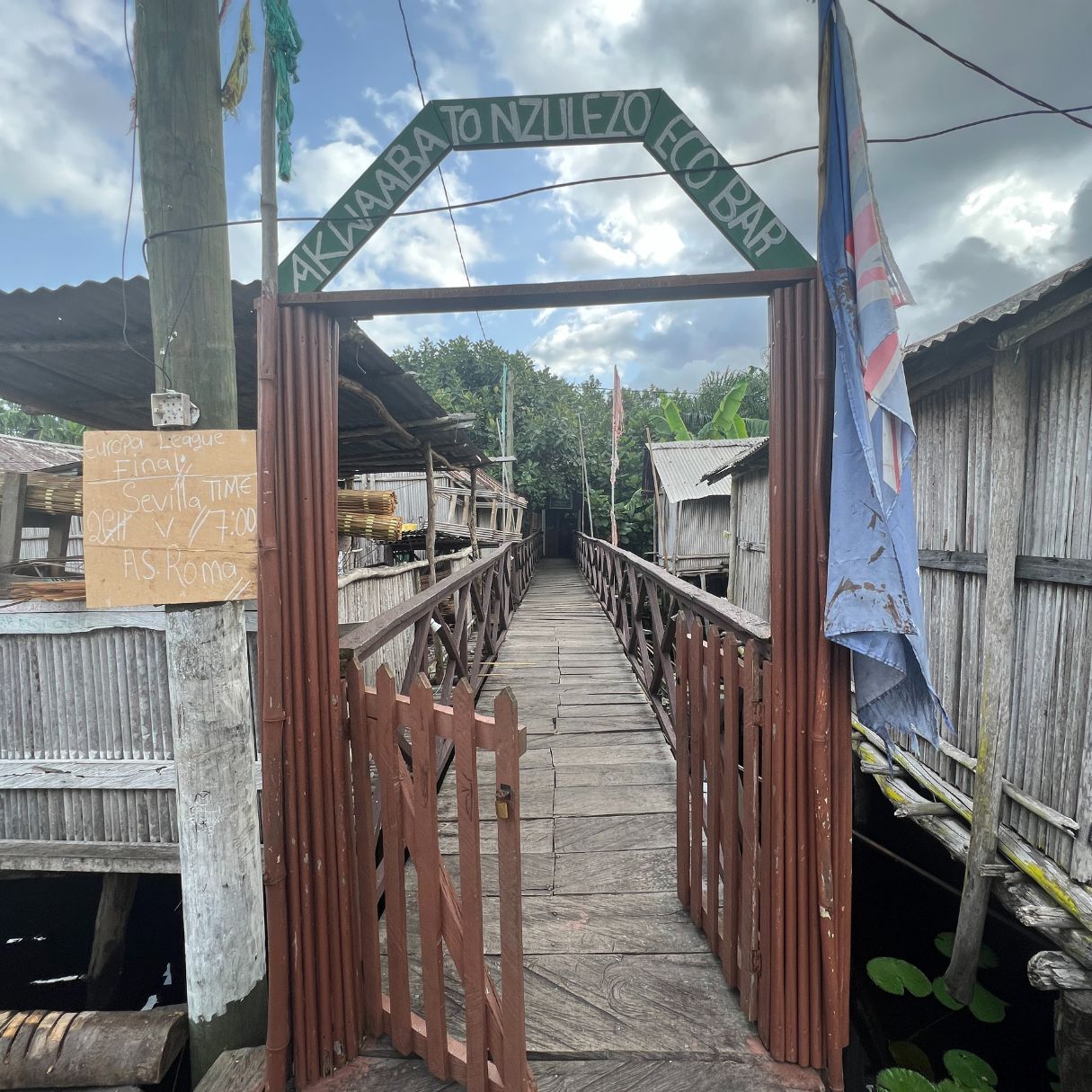 Aracuya Cafe
The on-site cafe is where you can stop for smoothies while touring the village.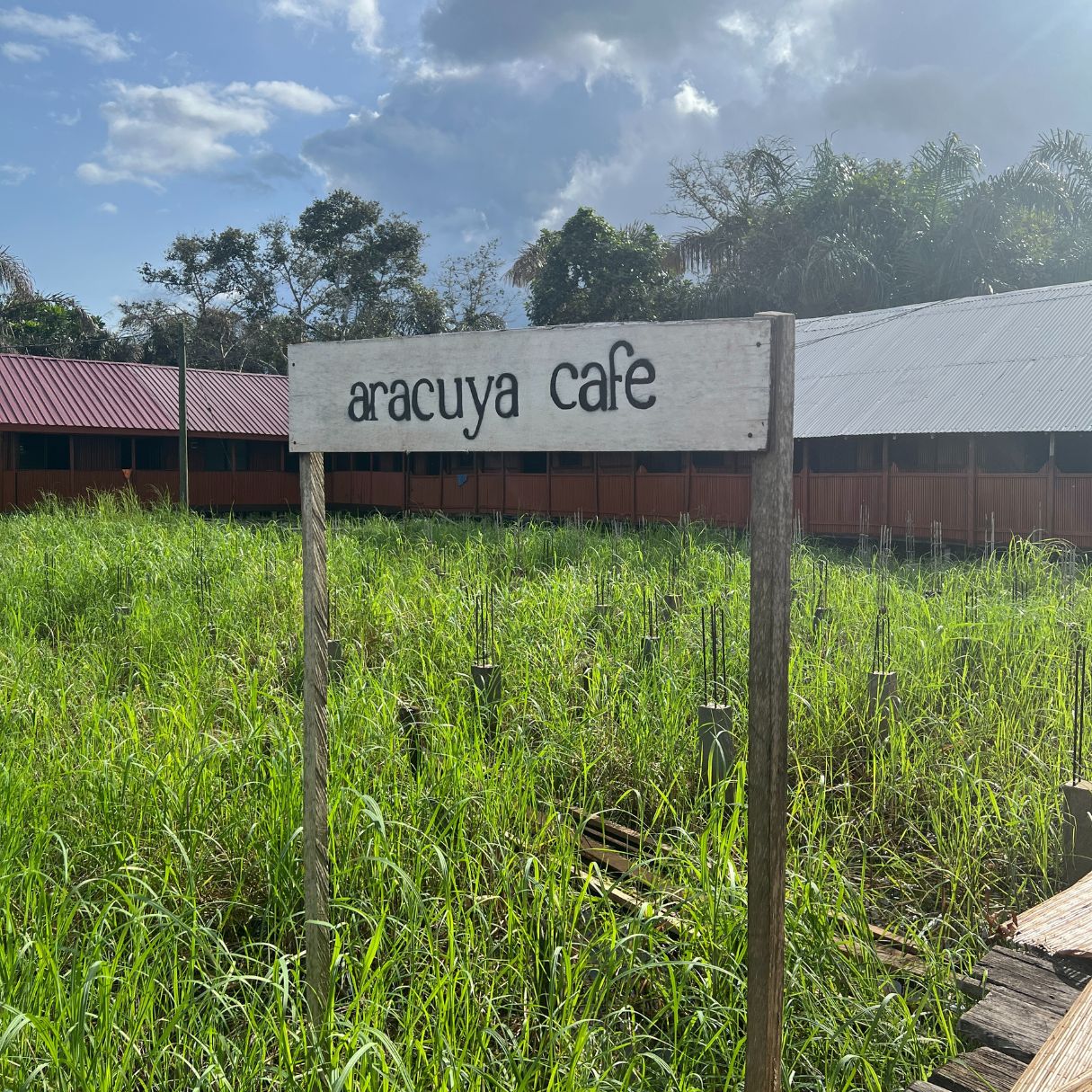 Guest House Construction
Members of the village have been working to construct a guest house for future visitors to stay in while visiting.
Considering the fact that the journey can be far from Accra, I think this is a great initiative and can serve as an additional source of income for the village.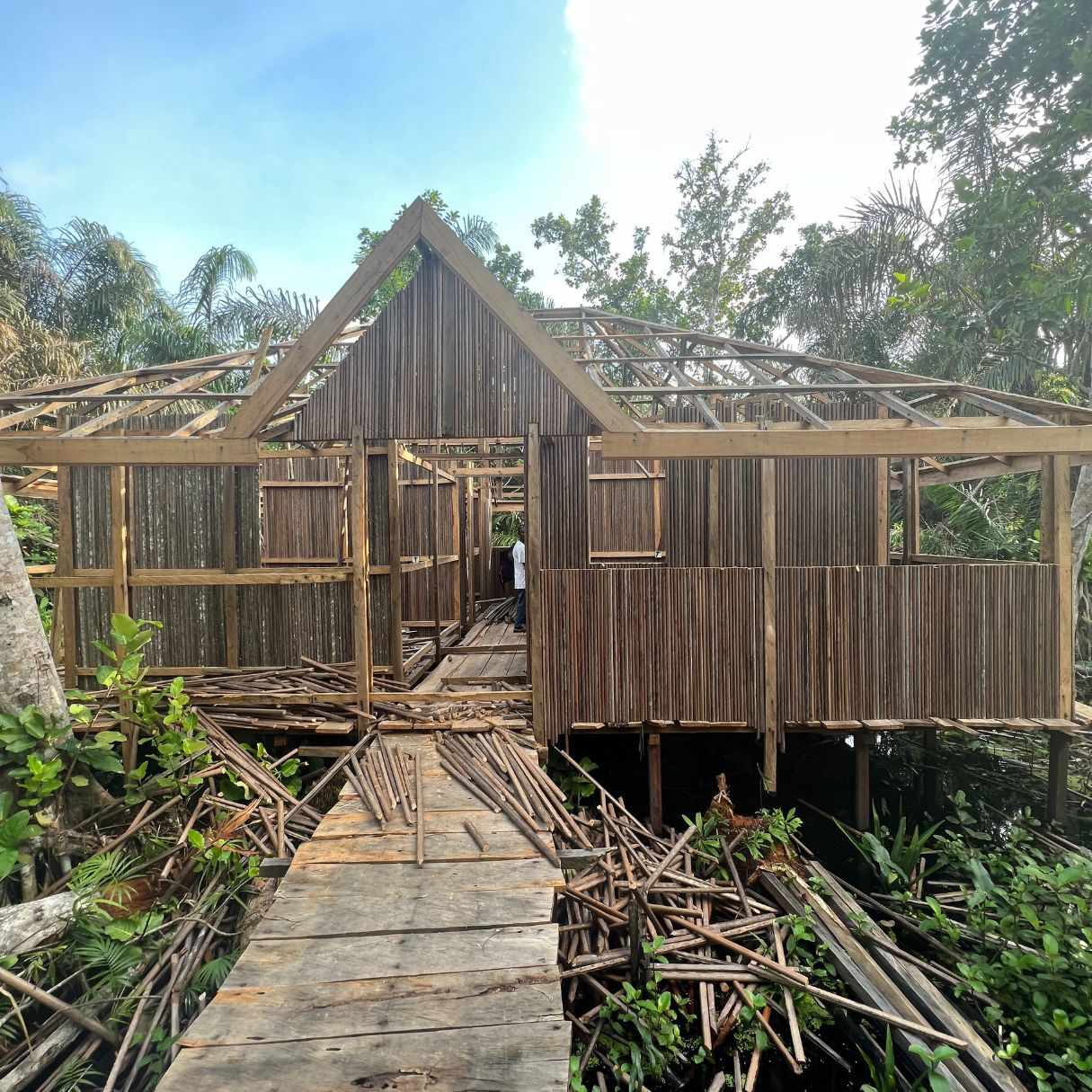 How Much Does it Cost to Visit Nzulezu?
The cost to visit Nzulezu is as follows:
* 100 cedis ($10) for foreigners
* 50 cedis ($5) for Ghanaians
* Boat Ride (Can fit up to 15 people): 100 cedis ($10)
The total amount I spent on this day trip in addition to the fees above:
* VIP Bus Ticket from Accra to Takoradi: 85 cedis each way ($17)
* Donation to the Village: 100 cedis ($10)
* Ride to Nzulezu from Takoradi: 500 cedis ($50)
Total Spent: $88.50
The price was not bad for a day trip, but considering what I went through to spend the least amount possible, it could have been better.
From a $ perspective, it was great, but knowing what I know about the value of a cedi due to living in Ghana, it was pricey to me.
Places to Stay Near Nzulezu
While I did Nzulezu in less than 24 hours, that was not originally the plan. I wanted to offset the long travel journey by staying close to the village at a local resort overnight so I would not have to go and come back to Accra the same day.
If this sounds like more of your speed, here are a few places you can stay at near the Nzulezu village I passed on my way there:
Maaha Beach Resort (15 minutes away from Nzulezu)
Tenack Beach Resort and Hotel (12 minutes away)
Beyin Eco Beach Camp (4 minutes away)
Frequently Asked Questions
Where is Nzulezu located in Ghana?
Nzulezu is located in the Western Region of Ghana. The nearest city you'll want to go to to get there is Takoradi.
Is Nzulezu a tourist site?
While the village has been deemed a tourist attraction, it is still where hundreds of people call home. It's always a great learning opportunity to visit places like Nzulezu, but being respectful in the process is necessary.
What is the entrance fee to visit Nzulezu?
Through my tour guide, the entrance fee to visit is 100 cedis for non-Ghanaians and 50 cedis for Ghanaians. The boat ride is 100 cedis.
Are photos and videos allowed at Nzulezu?
Emmanuel did inform us that photos and videos were allowed, but to ask permission before doing so as some of the residents, rightfully so, do not like their picture taken.
What should I bring with me to Nzulezu?
Some things you should consider bringing are:
Sunscreen
Cash
Close-toed shoes
Returning Back to Accra
We returned to Accra using the same methods of transportation we used to get to Nzulezu:
2-hour drive from Nzulezu to Takoradi
5-hour VIP station bus ride to Accra
Was it worth the 14-hour road traveling journey? For me, yes. There is so much more to Ghana beyond its popular capital city Accra. Every time I get to explore its various regions, I am amazed.
Ghana is a diverse and fascinating country. There's so much to see, learn, and unpack at every corner.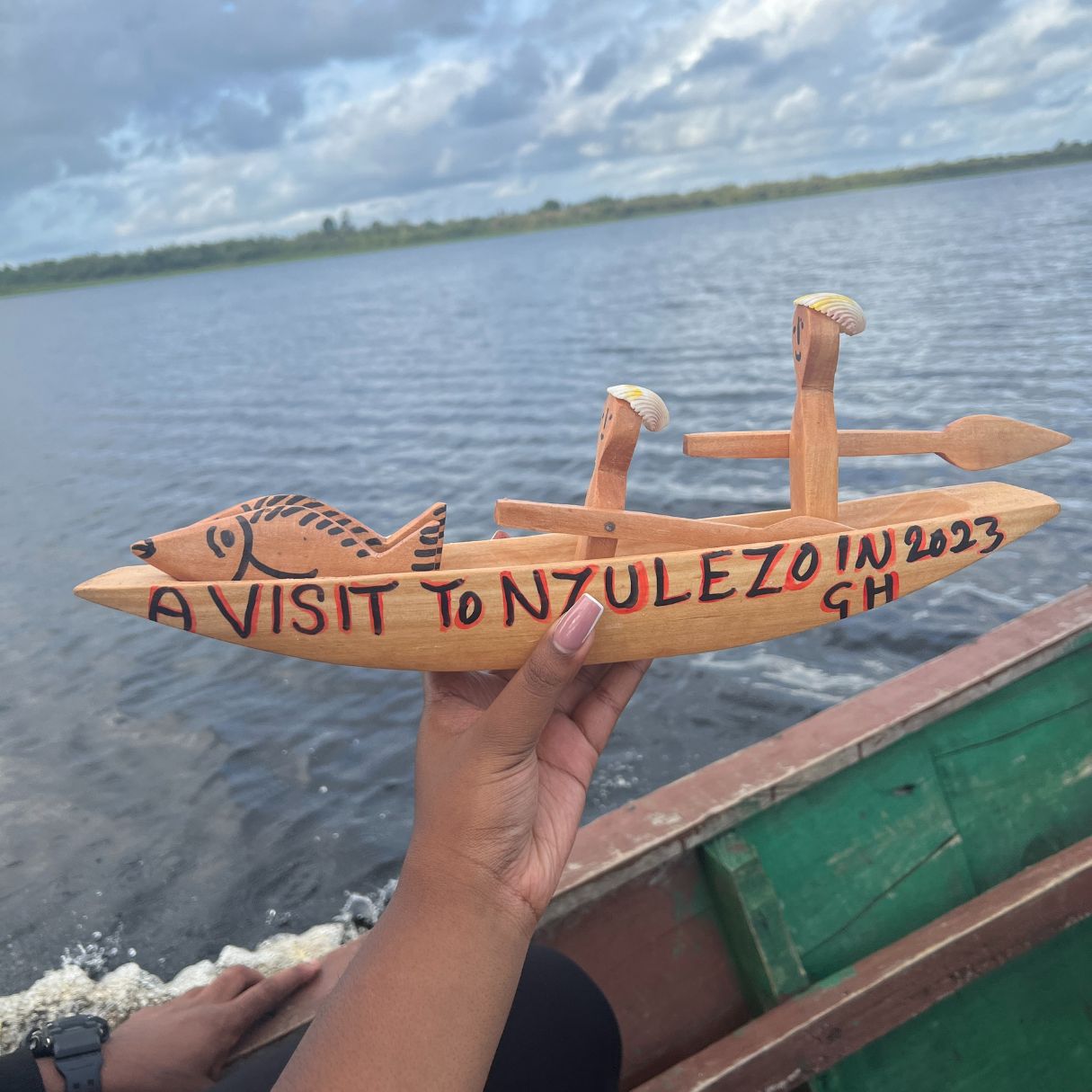 Have you visited Nzulezu? Does this sound like a journey you'd be willing to take? Do you have any questions about my experience I can answer to help you plan your journey? Comment your thoughts and questions about Nzulezu down below, and let's talk!