Ghana is my favorite country. My first time in Ghana was in 2019 on a solo summer study abroad program. Ghana was the first country I learned to travel solo in, and it was my first exposure to the world of traveling! In 2021, I received the opportunity to move to Accra in August for two years to pursue my Master's degree. As a study abroad student turned expat, I have been in awe of Ghana since.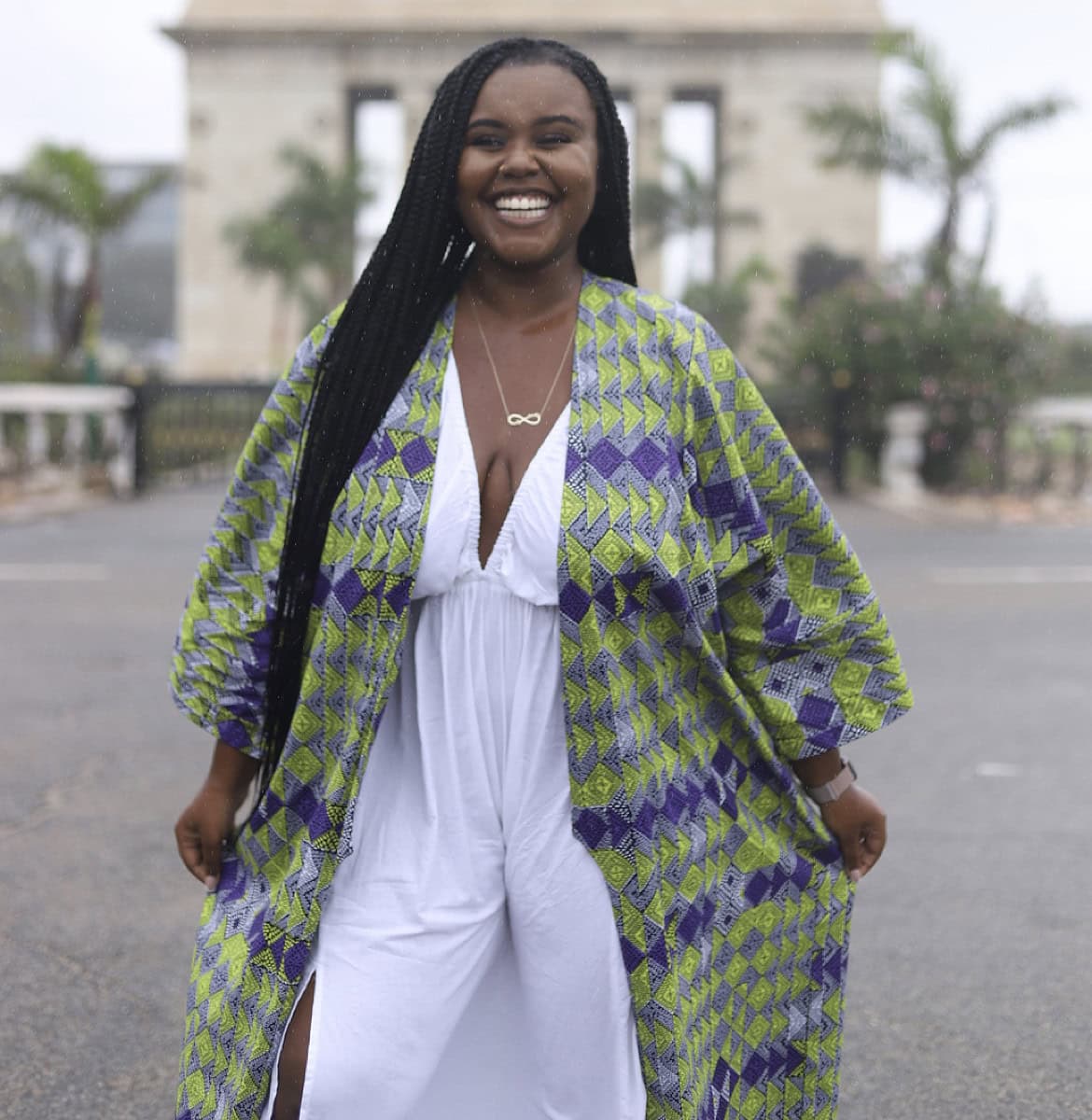 Every day is an adventure for me here, and I'm confident you will enjoy exploring the corners of Ghana on your visit. Accra offers its visitors a little bit of everything from cultural traditions to modern establishments. While Ghana has a great reputation, I'll be the first to admit that navigating the country can be tricky if you don't know certain things. This Ghana travel guide is filled with tips and everything you need to know about traveling to Ghana to make the most of your trip! 
Getting to Ghana
While Ghana is a destination that is high on the travel lists of many, the high price points for flights to get to Ghana from the U.S. and even flying from certain African countries deters the journey. Getting to Ghana from the States used to be a lengthy trip (20-30 hours). It was a long journey due to the layovers that are included in most flights. Thankfully, getting to Ghana can now be done in 12 hours with several direct flights offered by United Airlines. I took the United flight from the Washington Dulles International Airport (IAD) to Accra and while it was not the best flight in terms of comfortability, food, and entertainment options available, I got to Ghana quicker than I ever have so a win is a win!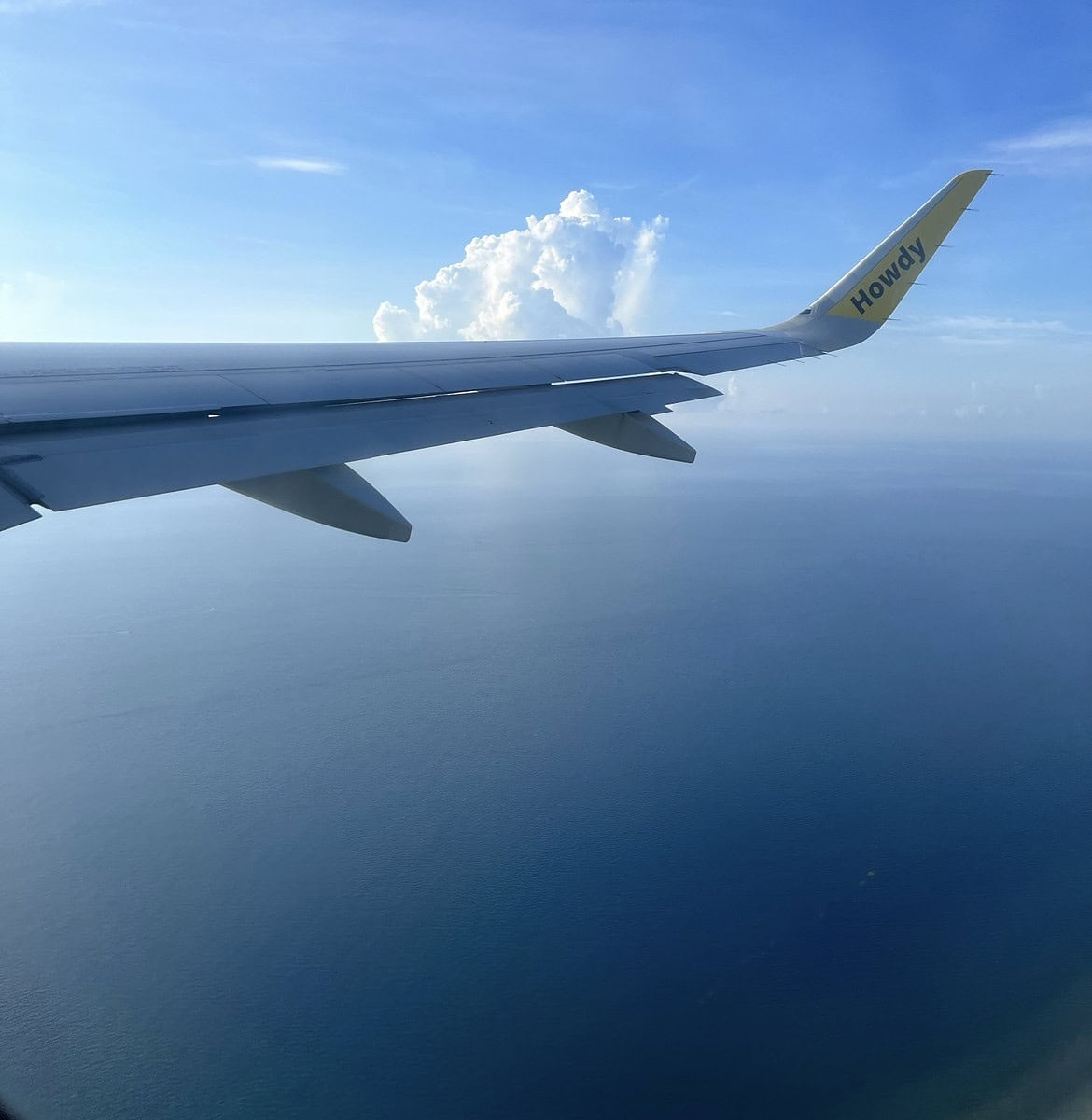 Buying Flights to Ghana
The cost of flights from the U.S. to Ghana is about $1,500 on average and can get as high as $2,500 for an economy seat ticket. However, there are small hacks to lessen the cost of airfare:
Choose Your Departure Airport Wisely 
Airports based in popular cities like New York and Washington D.C. tend to have the best flight options to Ghana. This is because the layovers are shorter, and ticket prices tend to be cheaper. Although I live in Southwest Florida, I often fly to Ghana from New York with a layover in Qatar because the price is always right. Booking two separate flights (one from Florida to New York, then New York to Ghana) is usually still cheaper, even with baggage fees. Compare the flights from different airports around your country and see which offers the best deal. 
Chase the Deals, Not the Dates 
Use apps and platforms like Google Flights, Skyscanner, and Skiplagged to track flights to Ghana from your preferred airports! I've gotten a roundtrip flight for $850 from the JFK Airport in New York with Qatar Airways. Cheaper flights may include long layovers and multiple flights, but it is still a money saver. Keep your dates open and flexible so you can book a flight once you find a great deal! 
Pay Your Flight in Installments 
Another great option for getting your flight to Ghana is using Airfordable. Airfordable allows you to book your flight by paying a portion of the ticket upfront and the remaining amount in installments. The company does charge a service fee but does not check your credit score! You have to use Airfordable at least 19 days before your departure flight, so keep this in mind if this sounds like an option you want to consider. 
Do I Need A Visa to Visit Ghana?
Whether or not you need a visa to visit Ghana will depend on your nationality and the agreements Ghana has with your home country. Nationals from Member states of the Economic Community of West African States (ECOWAS) are allowed to visit Ghana visa-free for up to 90 days. 
Can I Apply for a Visa Upon Arrival?
Citizens of countries in the African Union that are not part of ECOWAS can obtain a visa on arrival valid for 30 days after paying the required fee, usually $150. A full list of member countries can be found on the African Union website. 
How Do I Apply for a Ghana Tourist Visa as a U.S. Citizen? 
Unless walk-ins are allowed at specific embassy and consulate locations, you will most likely be sending your passport in the mail along with the other documents we will cover to get your visa placed inside your passport. For U.S. citizens, a visa can be applied for through the following embassies and consulates, each having their own set of requirements for how to apply: 
Decide on whether or not you want a single-entry or multiple-entry visa. If you are visiting Ghana and have no plans on returning after your trip anytime soon, a single-entry visa will be best and is typically around $60. A multiple-entry visa ($100) is best if you even think you will return to Ghana within the next few years, OR you plan on traveling to neighboring countries and then re-entering Ghana.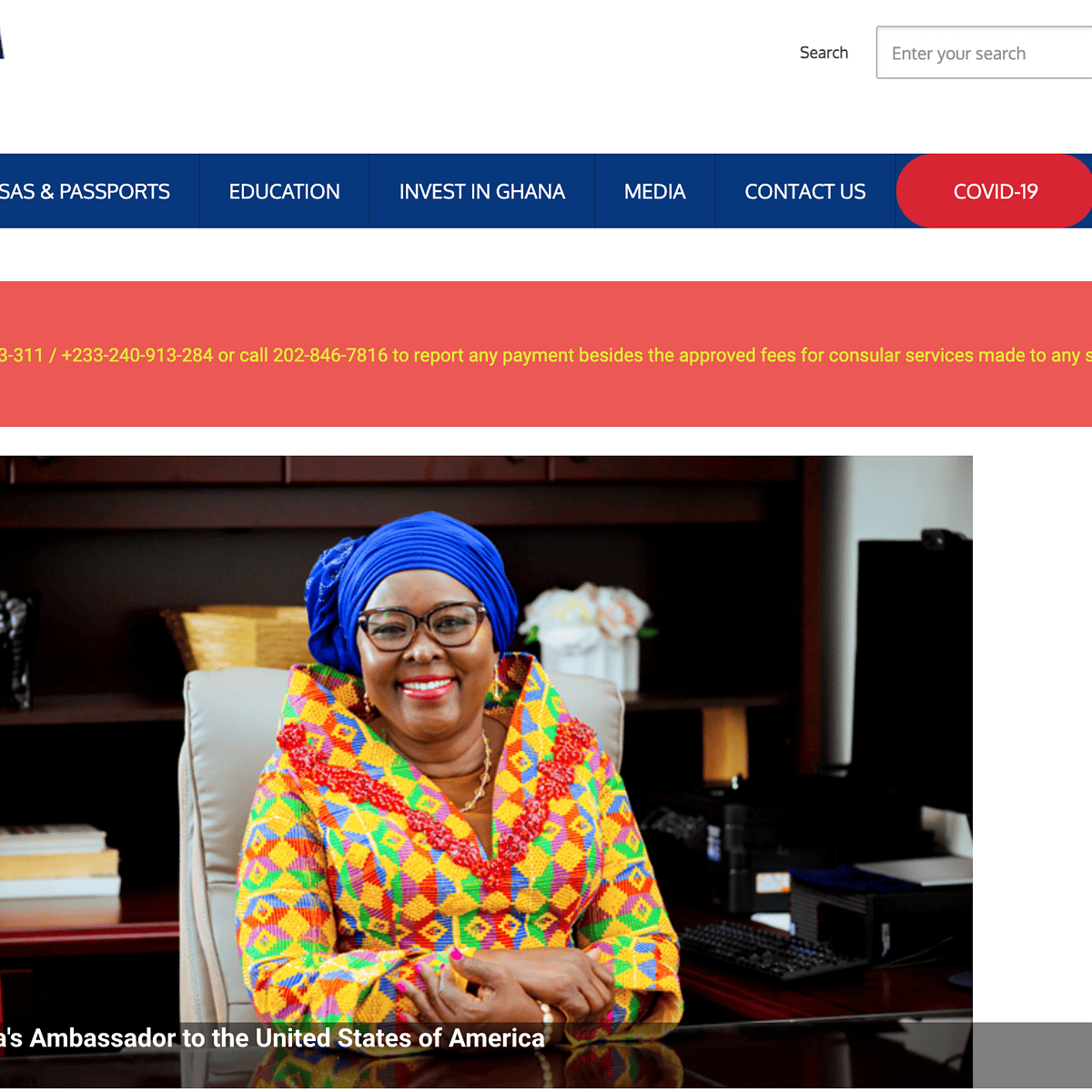 You will have to compile documentation and meet requirements like obtaining passport pictures, ensuring your passport is valid for at least six months and providing a copy of your flight itinerary that shows proof of your return flight. 
Ghanaian embassies and consulates are known for getting backlogged, especially around December and summertime. Be sure to send your visa application and passport at least 1.5 months before departure. Pay the rushed fee if you are not confident that your passport will come in time. Once you get your passport back, you are set to head to Ghana! 
What are the Entry Requirements to Visit Ghana?
Besides a visa, you must meet other entry requirements to visit Ghana. All visitors to Ghana must be in possession of a passport or legal travel documents of 6 months validity. The entry requirements for visiting Ghana are subject to change at any moment, and you can review the latest entry requirements on the State Department's website or your local Ghanaian embassy if you are not a U.S. national. 
Ghana COVID Regulations for Vaccinated Travelers 
Fully vaccinated travelers are able to enter Ghana without taking a COVID test prior to boarding their flight to Ghana.
Ghana COVID Regulations for Non-Vaccinated Travelers 
If you are not fully vaccinated (even if you have one dose), you must provide a negative PCR COVID test no less than 48 hours before the boarding time of your flight. You will also have to take an antigen test upon arrival in Ghana. 
Are there any vaccines I have to take to enter Ghana? 
Proof of yellow fever vaccination upon arrival in Ghana if over nine months old
Vaccination against malaria is not required, but it is highly suggested to get malaria pills before traveling to Ghana as a preventative measure.
Where is Ghana located?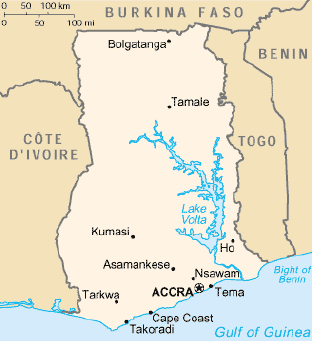 Ghana is located in West Africa and borders Ivory Coast, Togo, and Benin. 
Brief History of Ghana 
Formerly known as the Gold Coast, due to its abundance of gold as a natural resource, Ghana's history is often described as "rich," and it isn't without reason. Gaining its independence in 1957, Ghana became the first sub-Saharan African country to do so and set the tone for Pan Africanism and unity within the region. Today, Ghana receives over 300,000 international visitors annually, sharing its extensive history with guests worldwide. 
Helpful Things to Know Before Visiting Ghana 
Capital: Accra 
Time Zone: Greenwich Mean Time (GMT) or Coordinated Universal Time (UTC). 
Language(s) Spoken in Ghana: English is widely spoken in Ghana and is considered the official language, but the country is home to several ethnic groups. Languages such as Twi, Ewe, Ga, Krobo, Frafra, and more are spoken among members of the same ethnic groups. 
Currency: Ghanaian Cedi GH₵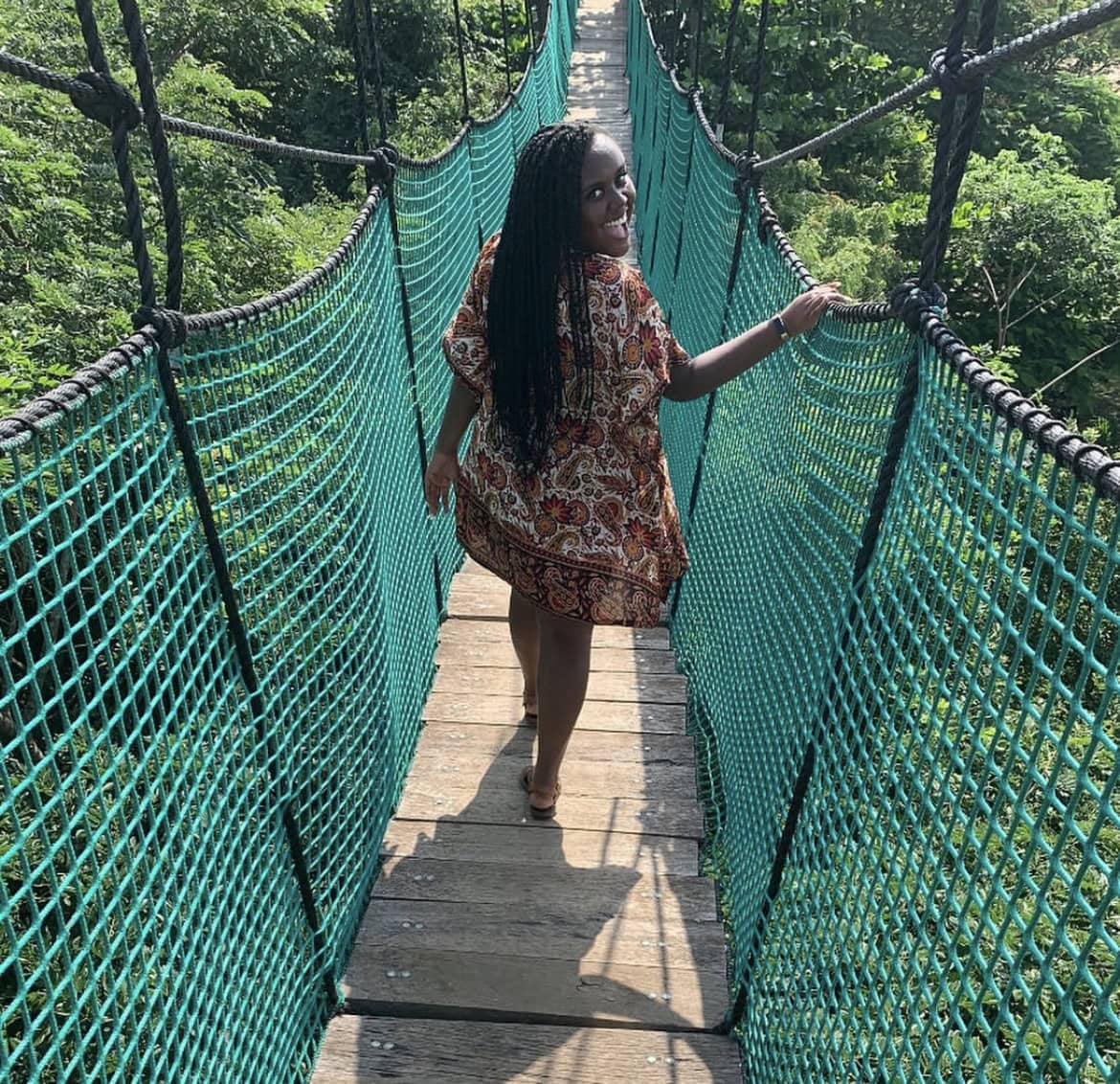 How Many Regions Are in Ghana? 
Ghana's rise in popularity can easily be accredited due to its booming capital, Accra, but you may be surprised to know that Ghana is composed of 16 regions as of 2018. Each region in Ghana has something to offer the country and is worth seeing. Greater Accra gives a busy city vibe with massive traffic, while the Volta region is known for its lush tropical landscape. Having visited 7/16 of the regions in Ghana, I highly recommend getting out of Accra during your visit and at least exploring Cape Coast thoroughly if you can. It will give you an entirely new perspective on Ghana.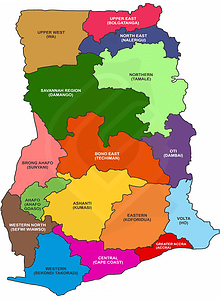 A list of the regions in Ghana and their capitals:
| Region in Ghana | Capital  |
| --- | --- |
| Ahafo Region | Goaso |
| Ashanti Region | Kumasi |
| Bono East Region | Techiman |
| Bono Region | Sunyani |
|   |   |
| Central Region | Cape Coast |
| Eastern Region | Koforidua |
| Greater Accra Region | Accra |
| North East Region | Nalerigu |
| Northern Region | Tamale |
| Oti Region | Dambai |
| Savannah Region | Damango |
| Upper East Region | Bolgatanga |
| Upper West Region | Wa |
| Volta Region | Ho |
| Western North Region | Sefwi Wiawso |
| Western Region | Sekondi-Takoradi  |
Money in Ghana 
The currency used in Ghana is the Ghanaian Cedi. You can use this currency converter to see how much your money is worth in cedes, depending on what currency you are converting from once you arrive in Ghana.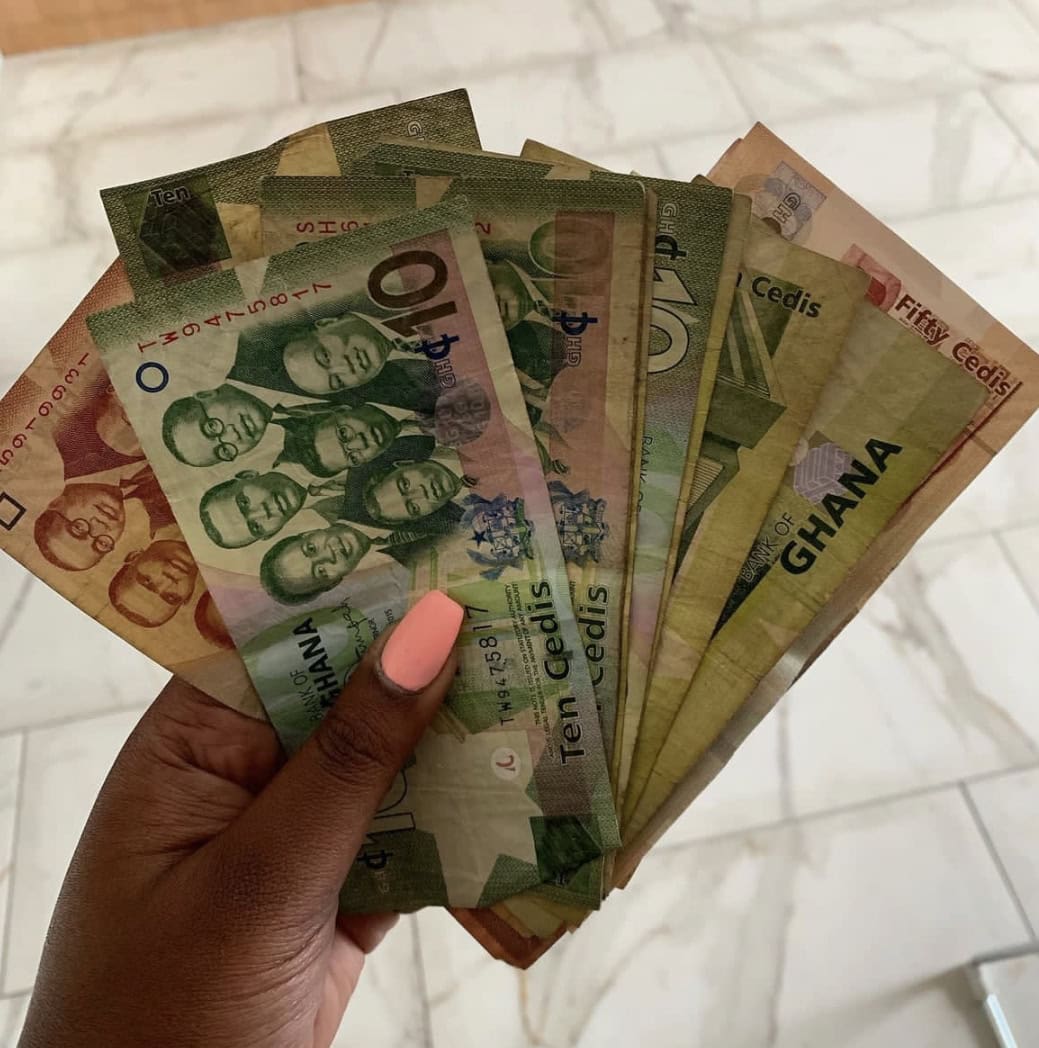 Where Can I Exchange My Money for Ghanaian Cedis? 
There are foreign exchange bureaus located around Ghana that exchange money in cash for Ghanaian cedis. You can ask around, will see the offices as you drive through different cities, or can search on Google to see which offices are located near you. If you use Forex bureaus in Ghana, be sure to have larger bills like 50s and 100s to get a higher exchange rate on your money. Smaller bills like 1s, 5s,10s, and even 20s (in U.S. currency) will get less of an exchange. 
The easiest way to get cedis is by using an ATM. There are a few ATMs you can use at the Kotoka International Airport in Accra, where you will most likely fly into. However, you can ask a taxi driver or even an Uber driver to stop at an ATM on your way to your accommodation if you do not have the local currency available. 
If you have left the airport or are not flying into Ghana, ATMs can be found at bank branches around Ghana. They usually charge a small fee to withdraw money but are reliable. If you know you will be in Ghana for a while or plan to spend like there is no tomorrow, withdraw a large sum of money to avoid these fees! Stanbic Bank is a great bank to withdraw large sums of money from, while many other banks will only let you withdraw up to 1,000 cedis at a time. 
How Much Money Should I Bring to Ghana? 
How much money you bring to Ghana depends on two factors: 1) How long you are staying and 2) The type of traveler you are. If you are a budget traveler, your money will last a while. On the other hand, if you want to live it up on your trip and do and see everything, you may find yourself running to the ATM every day. Regardless, I recommend bringing as much money as possible to Ghana, even if you do not intend to spend it all. The more money you have, the more you will be able to do! 
For a one-week trip, I recommend $1,000 (after your flight and accommodation), but it all depends on the experience you want in Ghana. For example, breakfast can cost $2 or $15 depending on if you eat from a chop bar or modern restaurant. Transportation can be $0.50 a ride or $5 depending on if you use a tro tro or an Uber. Read my "Ghana on a budget" article I wrote for Lonely Planet for more tips on traveling to Ghana on a budget.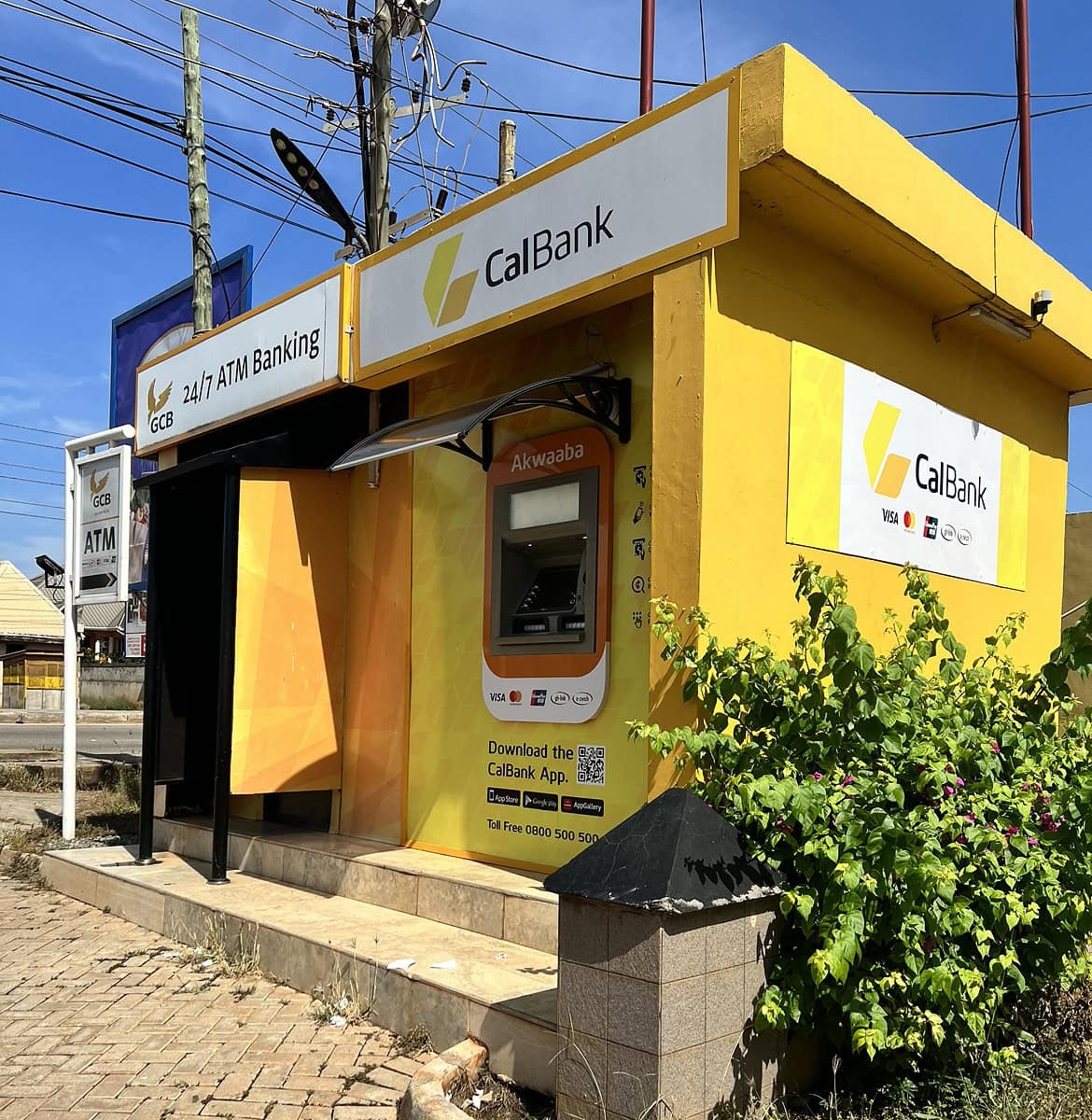 Using Cash in Ghana 
Cash is king in Ghana, and it is best to always have cash on you, as you will make most of your purchases with cash. Modern restaurants and other establishments like the Accra Mall accept card payments. WiFi connection in Ghana goes in and out, and network issues often cause card processing machines to be out of service. Try to make it a habit to ask staff members if their card machines are working before browsing a store, ordering at a restaurant, or accepting a service (like at a hair salon) to avoid any issues. I've had to run to the ATM many times after services because the store's machines were down! 
Using Credit and Debit Cards in Ghana 
When the machines are running, some stores only use card processors that accept debit cards, not credit cards. You may be used to being able to "bypass" entering your pin on a machine by pressing the enter button, but some machines in Ghana do not have this option. The staff member will inform you that it can only be used with a pin. I recommend carrying both a debit and credit card with you for this reason. 
As you can see, navigating money in Ghana can sometimes be tricky. It is best to always carry cash in Ghana and stay prepared with alternative payment methods. Don't forget to notify your bank that you will be traveling to Ghana, so your card does not get blocked abroad. 
Mobile Money 
Often referred to as "Momo Money," Mobile Money is similar to platforms like Cashapp and Venmo, except the money is linked to a digital wallet on the user's phone instead of a third-party app. As mentioned before, Ghana is a country that uses cash heavily, and this can be annoying at times, so many people prefer to use Mobile Money. The money is held in the digital wallet and is password protected. It eliminates the need for physical cash. Suppose you want to place a delivery order with a business. In that case, they will often ask that you send a deposit or the total amount to them before dispatching a driver to your location.
To use Mobile Money, it has to be installed while you are getting a SIM card with the telephone provider of your choice. Be sure to ask the representative helping you what the prompts are for checking your balance and sending money to others.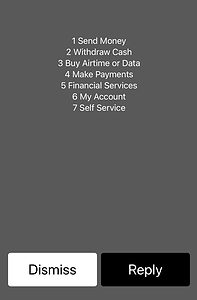 Alternatives to Mobile Money 
If you are visiting Ghana for a short time (2 weeks or less), I would not worry too much about Mobile Money. Instead, you can use apps like Western Union (use this link to earn a $20 Amazon gift card when you send $100 or more) to transfer money to the Mobile wallets of others or give the money to a Mobile Money vendor (which can be found along roadsides all around Ghana) to send it on your behalf. If you use vendors, double-check that your recipient has gotten the money before leaving the booth. Mobile money vendors can be identified by their booths which indicate that they are vendors or they usually have umbrellas with a small booth along the road.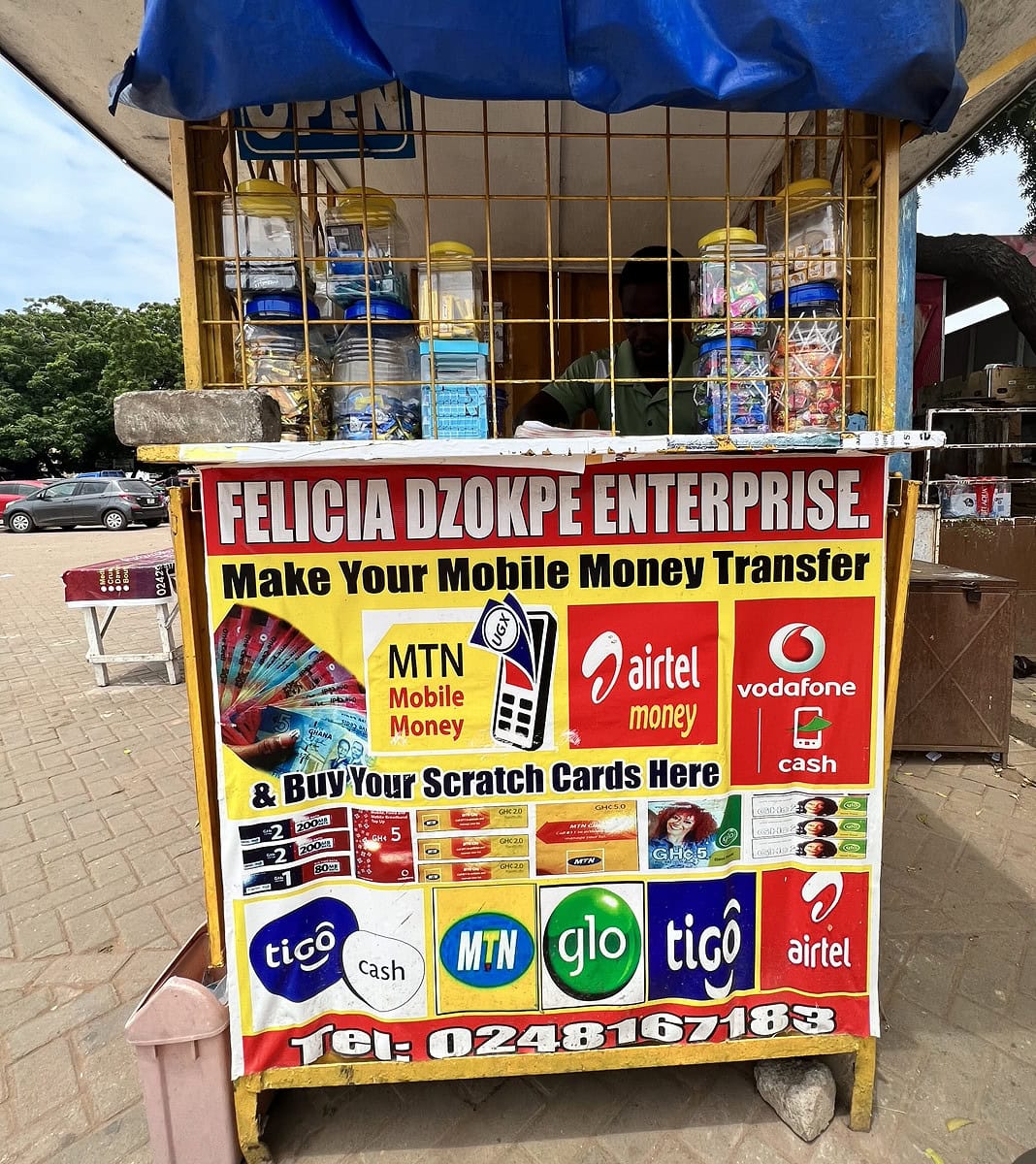 Getting a SIM Card
If your phone is unlocked, getting a SIM card in Ghana is something I recommend getting done on your first day in Ghana. A SIM card will give you a Ghanaian number that you can use to make phone calls and have data to stay connected while roaming around. Ghana is a very "speak to people to get things done" type of country, and you will constantly find yourself in communication with people. You will need to contact your drivers, call restaurants, give instructions to delivery drivers, and more. Having data is great for ordering rides, using Google to research, and receiving text messages as needed.
I got my SIM card from Vodafone, but some other common phone companies in Ghana are Airtel Tigo and MTN. You can walk into any phone company, tell them you need a SIM card, and they will register you for one. Don't forget to bring your passport as it is required to register a SIM card.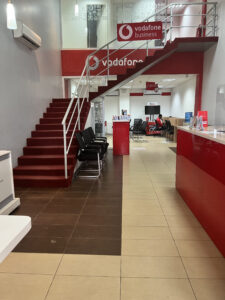 WiFi in Ghana 
Ghana is known for many great things, but unfortunately, WiFi is not one of them. WiFi in Ghana can be a hit or miss depending on your city's neighborhood and your WiFi provider. For example, MTN and Vodafone are popular WiFi suppliers. However, you may be in an area where MTN works perfectly, and Vodafone does not work at all, or the signal is very faint. As you can see, for this reason, WiFi can be a gamble dependent on factors that are really out of your control. 
Expect slow WiFi unless you stay at a hotel or signal-boosting location. If you need to do work and your accommodation does not have reliable WiFi, it is best to go to a cafe like Vida E Caffe and use the WiFi there. While it is possible to get work done while here, I would not come to Ghana with a lot of remote meetings to attend. Platforms like Zoom tend to lag, often disconnect during calls, and can overall be risky when you are in Ghana!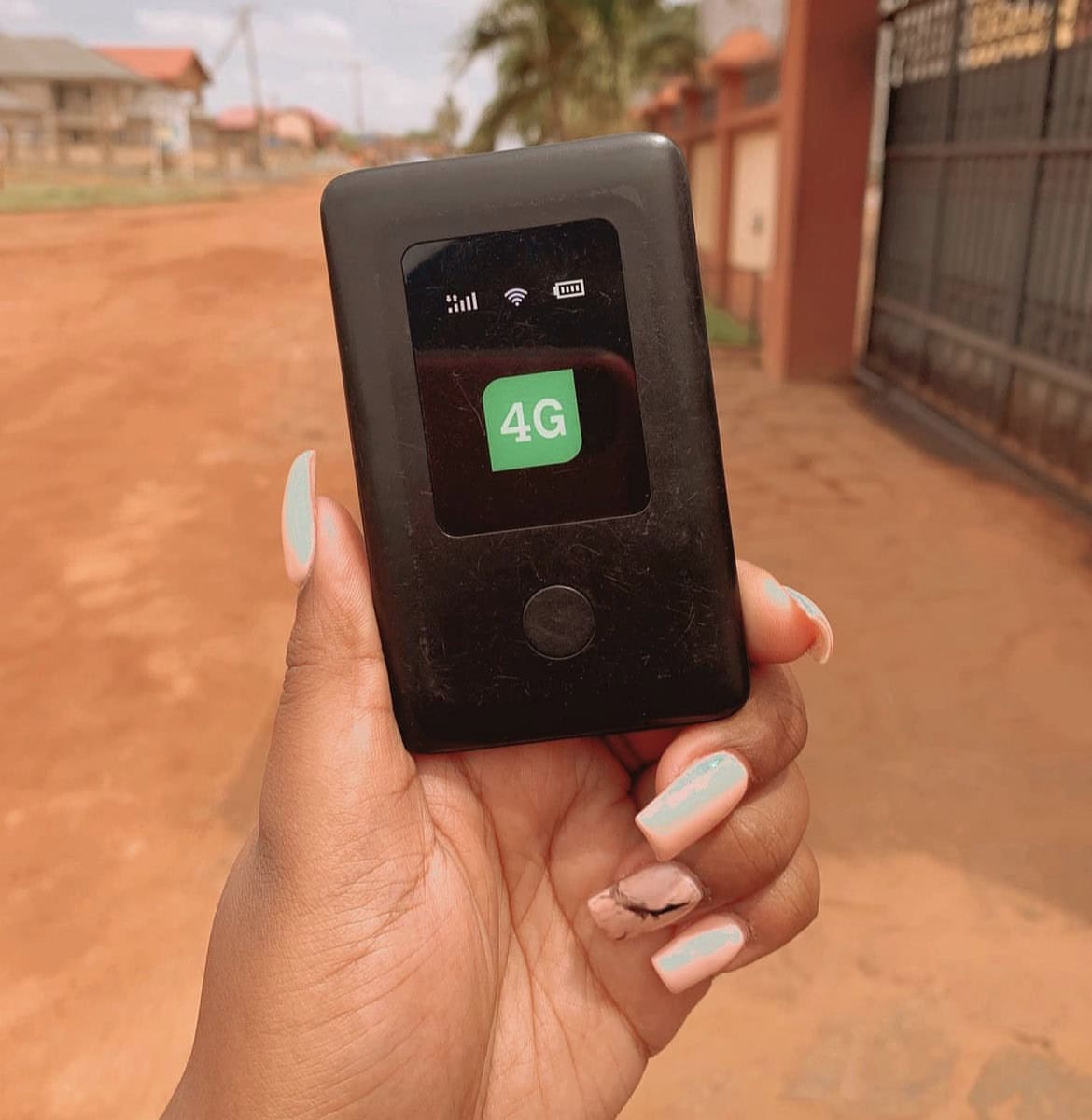 Is Ghana A Safe Country?
What makes Ghana such a desirable country to visit is its reputation for being one of the safest countries to travel to–even alone–in Africa. While Ghana is generally safe, crime does happen and this section of the Ghana travel guide will help you know what to look out for while visiting Ghana. 
Petty Theft in Ghana
Petty theft is the number one crime you will have to look out for as a visitor, especially in crowded areas like marketplaces. Pickpocketing is highly expected in the capital, Accra, and some people will steal from you if they get a chance. Like in any other major city, always be aware of your bag placement. Make sure it is zipped up and in front of you while walking.
If you are walking with your phone in your hand, keep a firm grip on it. Also, never stick your phone out of the window of a car or other moving transportation. Motorcyclists and their riders are known to snatch phones from hands and speed away before you can catch them! If a stranger asks you to give them your phone to make a phone call, only let them use it if you are in a controlled environment where they would not be likely to run away with it. 
Brutal crimes like gun violence and murder DO happen in Ghana (typically outside of Accra, from what I have read in the local news). As an expat, it is shocking to read these reports because physical safety in Ghana feels so secure that crimes like murder in the country can be unimaginable. However, it puts into perspective that anything can happen anywhere, so never let your guard down.  
Last Thoughts on Safety in Ghana
Now that you know what you should be aware of about crime in Ghana, I want to reiterate how safe Ghana can be. I have never had any crime or safety issues in Ghana, and that is by taking moderate precautions. Although it can happen anytime, one thing that draws me to Ghana is the lack of brutal crimes. Coming from the U.S., where gun violence runs rampant, it feels great to enjoy life every day without worrying if my life will end in the blink of an eye due to senseless violence. On a visit to Ghana, the biggest thing you'll have to worry about is your phone not getting stolen in passing, and that is a relief. 
Safety Tips in Ghana 
Try always to have the windows down when you are in Ubers and Taxis in case you need to leave one abruptly. 
Always keep your bag in front of you when walking in public and crowded areas.
Accra is a hustling city, and you should be aware of your surroundings at all times. Once you leave Accra, you can let your guard down a bit but still always be aware.
Register for the STEP and similar programs your country offers before traveling to Ghana. These programs notify you of any protests, safety status updates, evacuations, or any other major events happening in Ghana. 
Laws and Customs You Should Know About in Ghana 
As in every new land you visit, you should make yourself familiar with the local rules and regulations that would not be common knowledge. There are some laws and customs to know before visiting Ghana that will help your transition into the culture:
Laws and Rules to Follow in Ghana
Wearing camouflaged clothing in Ghana or any military style clothing is not allowed. 
Marijuana is not legal in Ghana.
Customs + Etiquette 
Use your right hand to give items like money to people, receive items, and eat. In Ghanaian culture, your left hand is considered dirty because it is taught that it is the hand used to go to the toilet. 
Greetings in Ghana are a big deal, and it's considered rude not to greet others. When you enter a room, you should say hello, good morning, good afternoon, or good evening. When you meet a group of adults and greet them with a handshake, start with the person on the farthest right.
Respect for elders is immense in Ghana. You should not greet elders with a hat on your head. If you are wearing a hat, take it off completely or lift it halfway while extending your greeting. Give up your seat on the bus for those older than you. 
Crossing your legs and having your hands in your pockets in the presence of elders are gestures that are frowned upon. 
Is Ghana LGBTQ+ Friendly?
Ghana is not an LGBTQ+ friendly country. Many Ghanaians look down on the LGBTQIA+ community. In some areas in Ghana, openly LGBTQIA+ individuals can be targeted and are victims of cruel violence. Members of the community are frequently subject to discrimination by police, family members, and society. 
In 2021 an anti-LGBTQ+ Bill, formally called the Promotion of Proper Human Sexual Rights and Ghanaian Family Values Bill 2021, was introduced that criminalizes same-sex relationships, advocacy for the LGBTQ+ community, cross-dressing, and other restrictions on the community. 
If you are a member of the LGBTQ+ community, I recommend being extremely careful when traveling to Ghana, especially as a same-sex couple. It is not recommended to outwardly display acts of affection towards a member of the same sex in this country. Many people claim to not mind it, but are very vocal about not supporting it and feel that it is something that should not be practiced in public. 
Local Terms to Know 
Akwaaba – "Welcome" in Twi! You may see these words spread across the entrances of some places or be greeted with these words upon arrival. 
Ɛte sɛn? (eh-te-sehn) – "How are you?" in Twi
Ɛyɛ (eh-yeh) – "I'm fine" in Twi as a response
Chale – While it may sound like "Charlie", chale means friend and is used commonly in dialogue. You will likely get called chale at some point during your time in Ghana. 
Medaase – Thank you.
Chop – To eat. You may hear people refer to local eateries as "chop bars" meaning places to eat. 
Abeg – In broken English/pidgin, it simply means please or to please. 
I'm coming – In Ghana this phrase means "wait a moment". It may be used when someone is taking their time to do something like give you change for your purchase.
Obroni – A white person, but sometimes used to describe foreigners in general.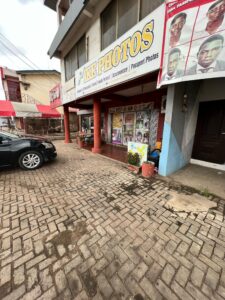 What is COVID Like in Ghana?
COVID in Ghana is very relaxed compared to many other countries. According to the World Health Organization, since January 2020, Ghana has had only 1,456 deaths from the virus. In 2020 and the beginning of 2021, many of Ghana's annual festivals and celebrations like Afrochella and the Chale Wote Street Art Festival were halted due to the pandemic but began to get back to normal towards the end of 2021 and coming into 2022. 
Many citizens have never even believed that the virus was real till this day and have ignored precautions. However, at the height of the pandemic, the wearing of masks was enforced in many establishments. Social distancing is never enforced in Ghana due to the close proximity that people usually find themselves in, like on public transportation. 
In March 2022, during his 28th national address, Ghanaian President Nana Akufo-Addo addressed the COVID-19 measures the government was taking. In his address, he announced that the wearing of face masks in public settings is no longer required but can be done by choice. Since then, people in Ghana have generally been more relaxed about wearing face coverings, and talk about COVID is little. 
Where Can I Get a COVID Test in Ghana?

There are many places where you can get a COVID test in Ghana. Many of these centers are aware of the quick turnaround times needed for those traveling back to their home countries and can meet those deadlines. Here is a short list of places where you can get tested around popular cities in Ghana: 

City in Ghana 

Testing Center 
Accra
LEDing Medical Laboratory – 27 PawPaw Street, East Legon 
Cape Coast 
Cape Coast Metropolitan Hospital – Assin South 
Kumasi 
The Kumasi Centre for Collaborative Research – Asuogya Road 
Takoradi 
Takoradi Veterinary Laboratory 
Tamale 
Tamale Public Health Reference Laboratory 
Some locations require you to schedule a slot to come in for testing, and others allow you to walk in without an appointment. I recommend calling before going to the centers and double check if you can use a card for payment or if you need cash. 
Where to Stay in Ghana
Ghana has several accommodation styles that are suitable for every kind of traveler. Whether you are looking to travel to Ghana with luxury or stick to a tight budget, there is accommodation that will fit your needs. This section of the Ghana travel guide will tell you the types of accommodation options available in Ghana and where to look for accommodation options available in Ghana. There are MANY options in Ghana so I'll list out 3 places for each accommodation option. 
What Kind of Accommodations Are Available in Ghana? 
There are many different types of accommodations in Ghana. I'm going to mention three well-known hotels under each of the sections. 
Hotels in Ghana
There are several hotels in Ghana scattered around most cities. Budget hotels can be as low as $30/night, while hotels on the higher end of the scale can get up to $200+/night.
AH Hotel – Accra, Ghana 
Jeyads Lodge – Tamale, Ghana 
Ridge Royal Hotel – Cape Coast, Ghana 
Hostels in Ghana 
If you are looking for a more affordable option, consider staying at a hostel in Ghana. There are stand-alone hostels and hostels apart from universities that rent out rooms to guests. 
Somewhere Nice – Accra, Ghana 
TUMI Hostel – Kumasi, Ghana
Belgha Bar and Hostel – Tamale, Ghana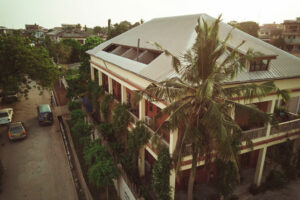 Airbnbs in Ghana 
Airbnbs are a popular option in Ghana because they are cheaper than hotels and provide much more flexibility date-wise. You can find some great stay options in Ghana through Airbnb, so I highly recommend looking through the listings. These airbnbs will be for Accra:
Booking.com 
Booking.com is also a great resource for checking out hotels in different cities in Ghana. Outside of Accra, it can be challenging to see what hotels are available through a simple Google search, making Booking.com very helpful.
How to Get Around: Transportation in Ghana 
Uber/Bolt in Ghana
Uber and Bolt are the most common apps for hailing rideshare in Ghana. While Uber is considered to be an expensive mode of transportation in other countries, in Ghana, most people use them to get from Point A to B. An average 5-15 minute ride with Uber or Bolt can range from ₵6-15 ($0.75 -$1.88). On the pricier end, a 30+ minute ride will be $8-$15. In cities like Accra, where the traffic is heavy, the fares will rise but will never be outrageous as traffic is often factored into fares. Uber and Bolt are the most efficient way to get around because a ride can be requested on demand. 
I recommend downloading both apps to compare prices and pick the platform that offers the best fare for that particular journey. Bolt is generally cheaper, but Uber sometimes wins that battle, so always check both to save some coins!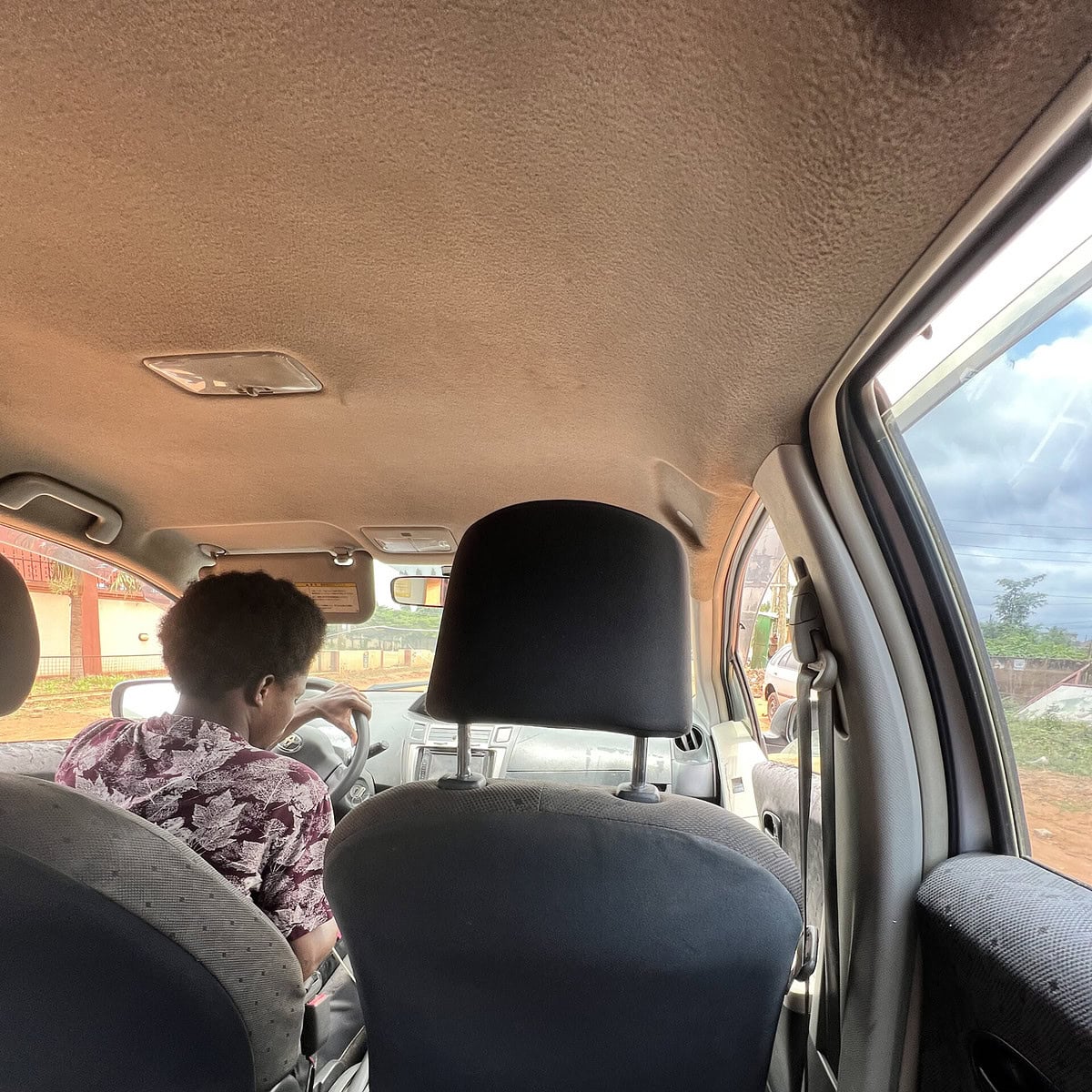 Uber and Bolt drivers prefer cash, so be sure to carry enough cedis to pay for your ride. If you try to pay with a card via the app, you may notice that your ride keeps getting canceled as drivers will keep declining your request for a ride if it is a car trip.
Bolt operates in Accra, Cape Coast, Kumasi, and Takoradi.
Uber operates in Accra and Kumasi.
Yango in Ghana 
Yango is another rideshare app used in Ghana that is similar to Uber and Bolt, but less used. The fares are usually significantly less than Uber and Bolt so it is worth using. If you download the app and schedule your first ride, use my promo code XOT75J93 for 10 cedis off of your ride!
Tro tro 
Tro-tros are small minivans or buses that can be found in most cities in Ghana. Tro tros mimic hop-on-hop-off public buses, stopping regularly along the way for passengers to board and offboard at stops around their cities. Tro tros are the cheapest and most local way to get around in Ghana. Rates vary depending on the route – a 30-minute ride will cost about ₵3.50 (US$0.44).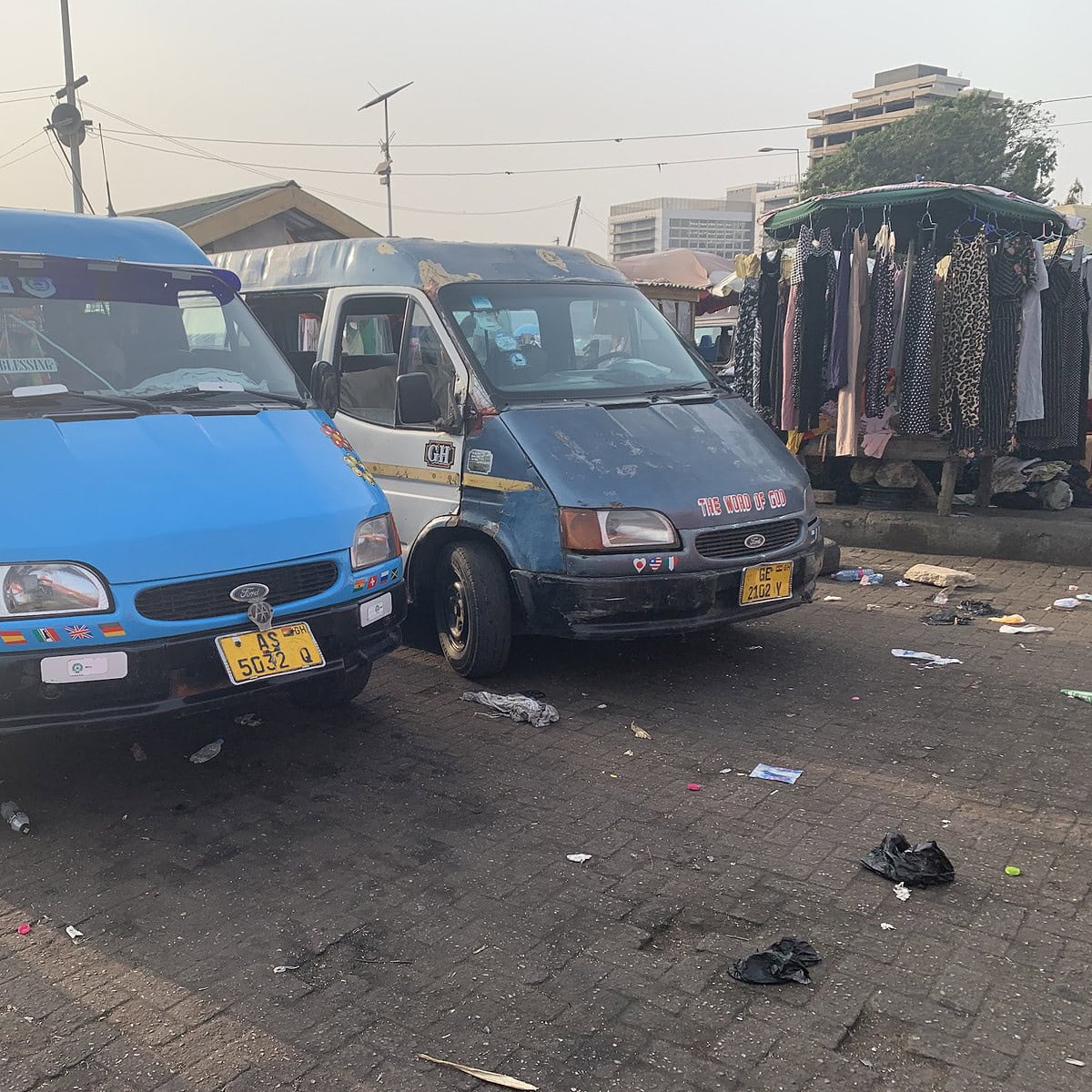 To flag down a tro-tro in passing, raise your index finger to indicate that you want to get on and tell the mate your desired destination so he can let you know when it's time to get off. You can also use Google Maps to see if the tro tro is headed towards your desired destination. Carry small bills on you – fares are low, and the mate may not have change for larger bills. Remember that tro tros constantly stop, which can significantly add to journey times. The lengthy rides are why although tro tros are cheap, they are not the most desired mode of transportation. They are also usually packed and don't typically have air conditioning. 
Taxi 
Ordinary taxis can be found all around Ghana and are also the most expensive way to get around. Taxis are not metered, so you'll have to bargain for a fare. Tell the taxi driver where you want to go, the driver will name their price, and you can either accept it or try to bargain for a lower fare. Taxis are generally safe to use in Ghana, but many people prefer to use Uber or Bolt because the app shows a map of the trip as it is happening, and you can share your location in real-time with trusted contacts. It's a good habit to check the fare on Uber or Bolt as a point of reference for how much you should be paying for a regular cab. However, because taxi drivers set their own rates, the fare will almost always be higher than for rideshare.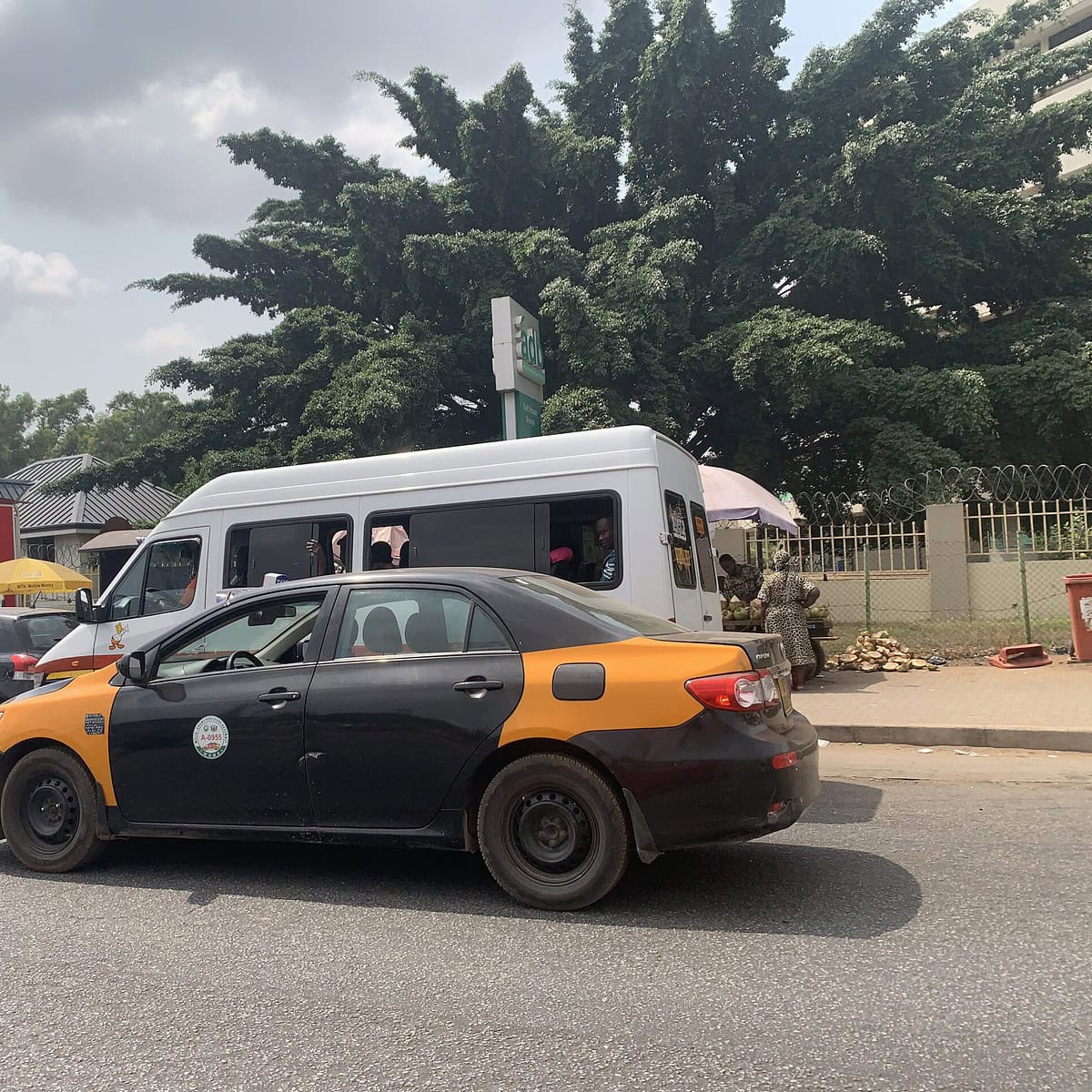 Motorcyles
Motorcycles are heavily used in Ghana but are more common in certain cities than others. Locals usually have their own motorcycles and use them to give rides. In busy areas such as markets, you'll spot groups of local motorcyclists waiting around for business; tell the driver where you want to go, bargain for a fare, and you'll be on your way. Motorcycles are not the safest options in cities like Accra but are common up north in Tamale.
In Tamale, driving conditions are less hectic, and riding motorcycles are safer. I recommend scouting the driving conditions of the city you're in to decide whether you feel safe riding one.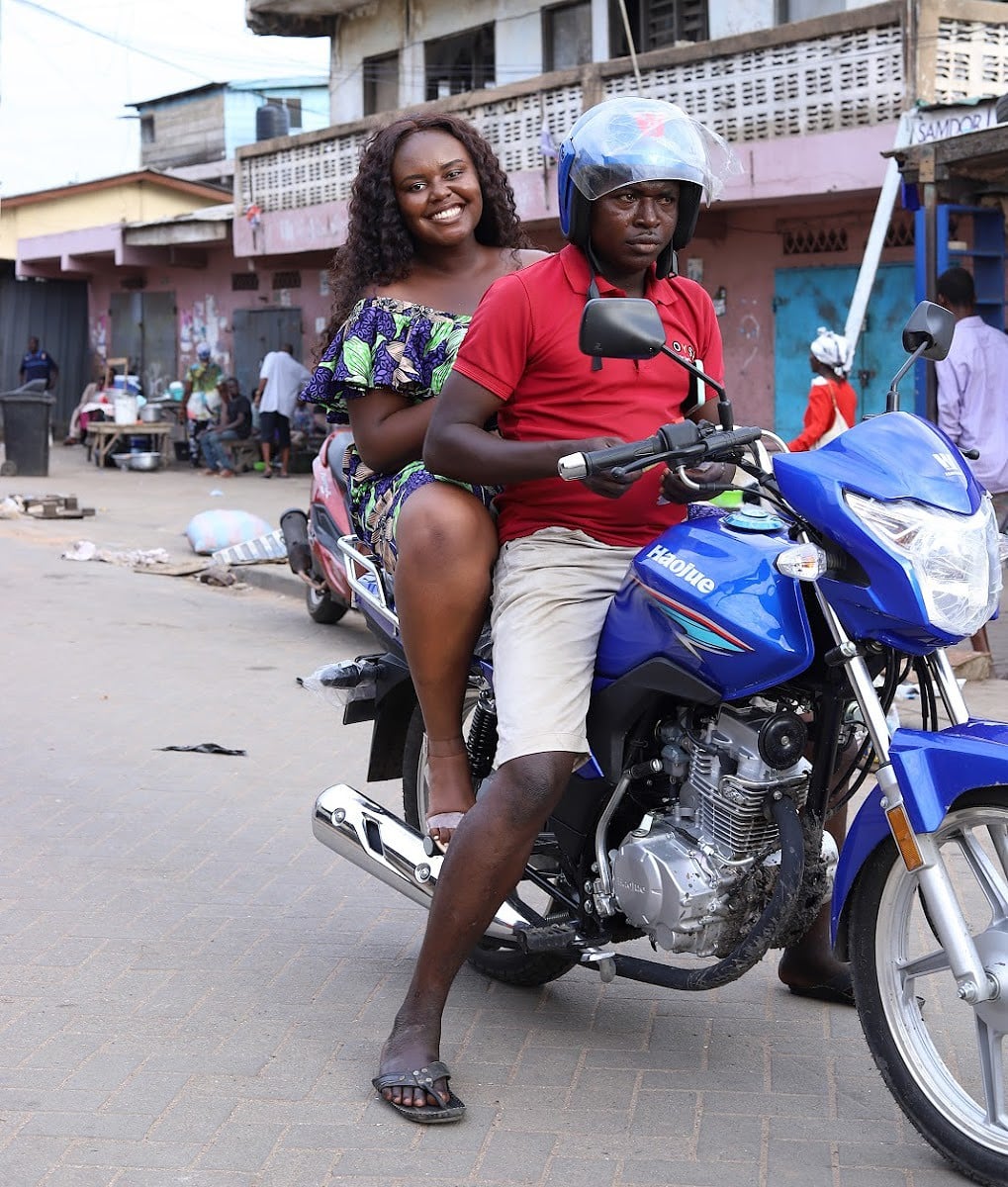 Tuk tuk 
Tuk tuks can be found in some Ghanaian cities like Tamale and Cape Coast, and these small, three-wheeled moto kart vehicles are a very efficient way to get around. It's easy to hail a ride –just catch the attention of a passing tuk-tuk driver by waving or raising a finger, and they will pull over, and you can discuss a fare for your journey.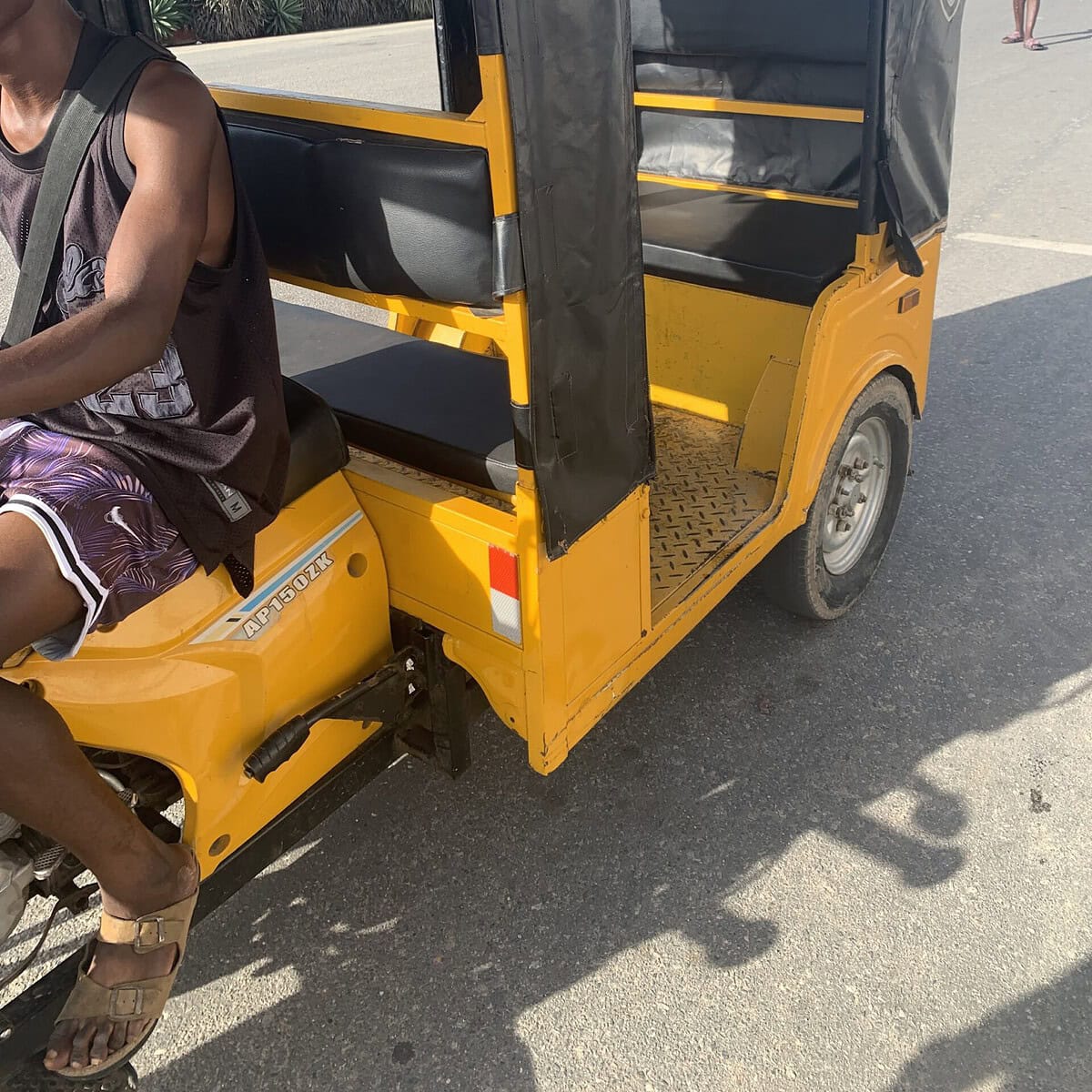 Driving 
Renting a car and driving in Ghana yourself is an option if you have an international driver's permit, in addition to your home license is an option if you are up for the challenge! There are a lot of potholes, and traffic rules are usually not followed, so if you are coming from a country that has strict road regulations, you'll be in for a treat. You may find driving more stressful than it's worth versus just ordering an Uber. If you've driven in foreign countries before, you should be okay. Many foreigners navigate the streets of Ghana just fine once they get the hang of it! 
Walking 
Depending on the Ghanaian city, walking in Ghana can be challenging. The rocky nature of roads, dirt paths, and potholes make it possible but challenging to walk long distances, especially if you are not wearing the right attire. Sidewalks are not always available, so you will find yourself sharing the road with speeding cars and even cows at times!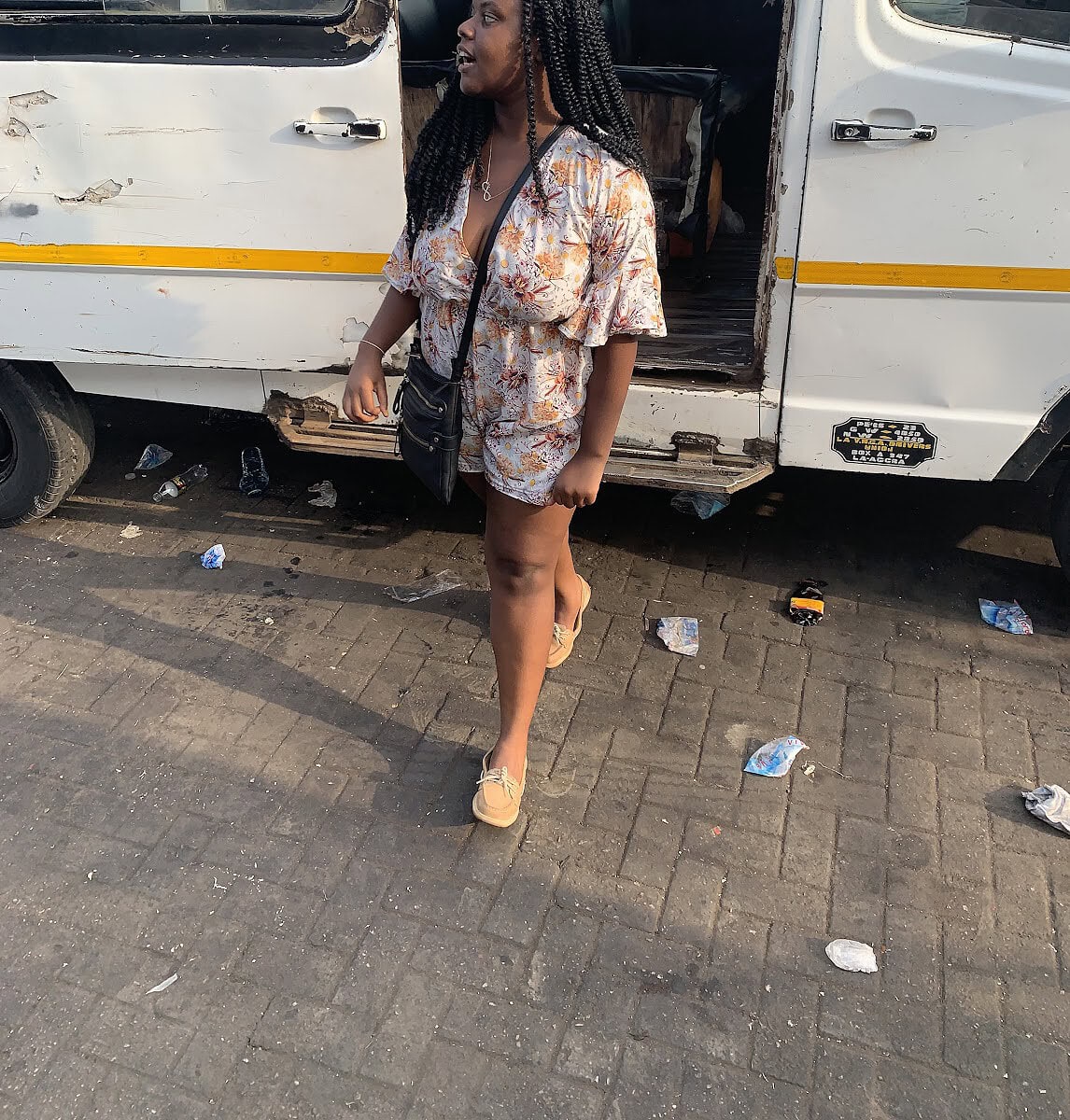 What is the Best Way to Travel to Other Cities in Ghana?
Intercity STC Bus
The STC Bus provides service to and from numerous cities in Ghana for a fare. You can purchase your ticket via the website or at the ticket booth at a station. The buses are a very efficient, clean, and reliable way to travel around Ghana.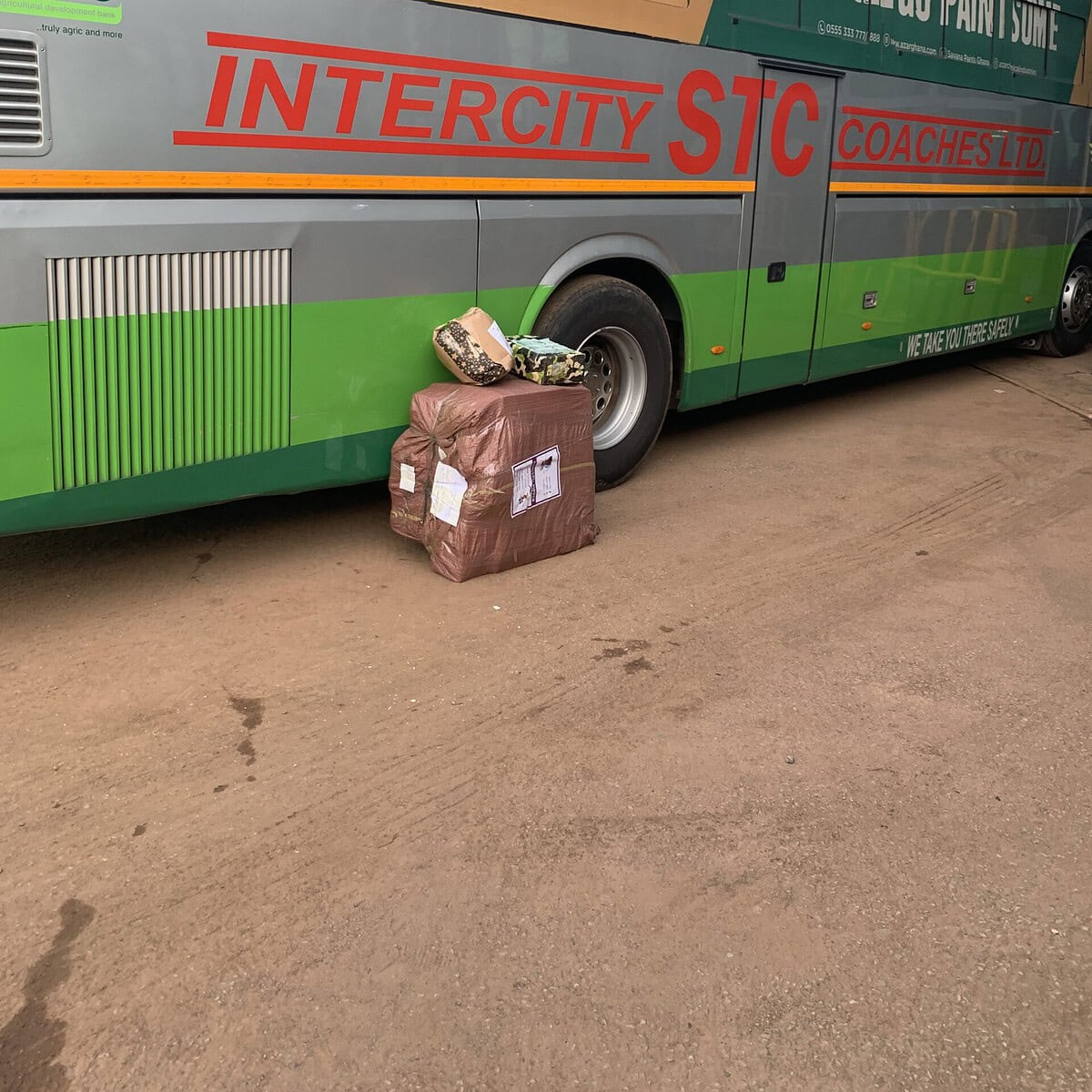 Plane 
Passion Air and Africa World Airlines are two domestic flight carriers that offer flights to cities in Ghana from Accra. Both airlines have several flights daily to Takoradi, Tamale, and Kumasi, and Passion Air also offers flights to Wa, Ho, and Sunyani. Tickets can be purchased at the local airport and online. Domestic flights are usually one hour or less and are fairly comfortable. 
Food In Ghana 
One thing you will do on your trip to Ghana is eat! Ghana has an array of worldwide cuisines offered by restaurants in addition to local dishes that you have to try before heading back home. Common dishes in Ghana are jollof rice and soups paired with a starch like "fufu" or yams. 
Local Dishes to Try in Ghana:
Jollof Rice – This dish is what you probably thought of when you think of food in Ghana! The tomato-based dish is often served plain, with vegetables, or with a side of meat and is always a good decision for a meal.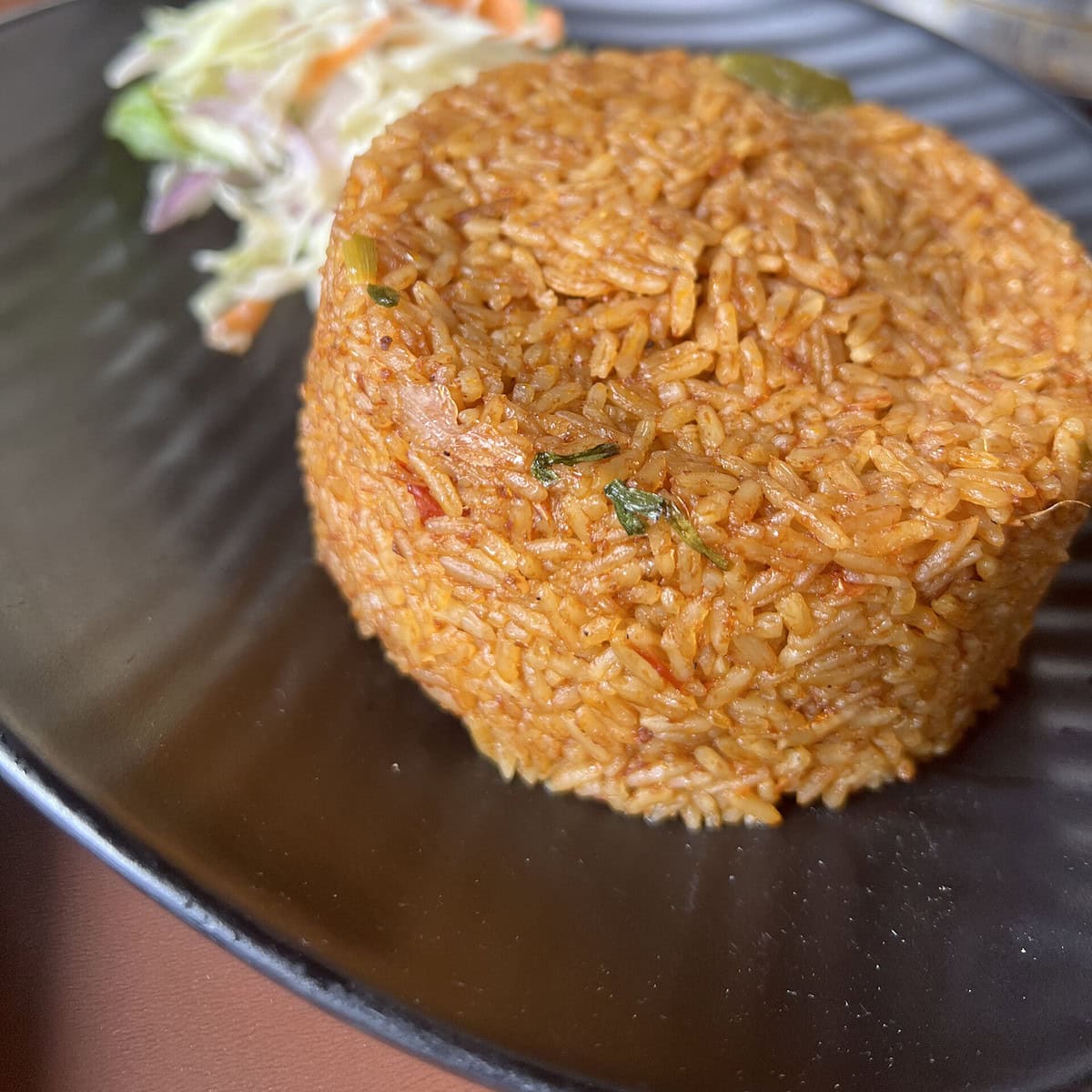 Groundnut Soup – Made from peanut butter and rich spices, groundnut soup is my personal favorite local dish in Ghana. It is served with fufu, banku, or omotuo (rice balls). I love it with rice balls and salmon!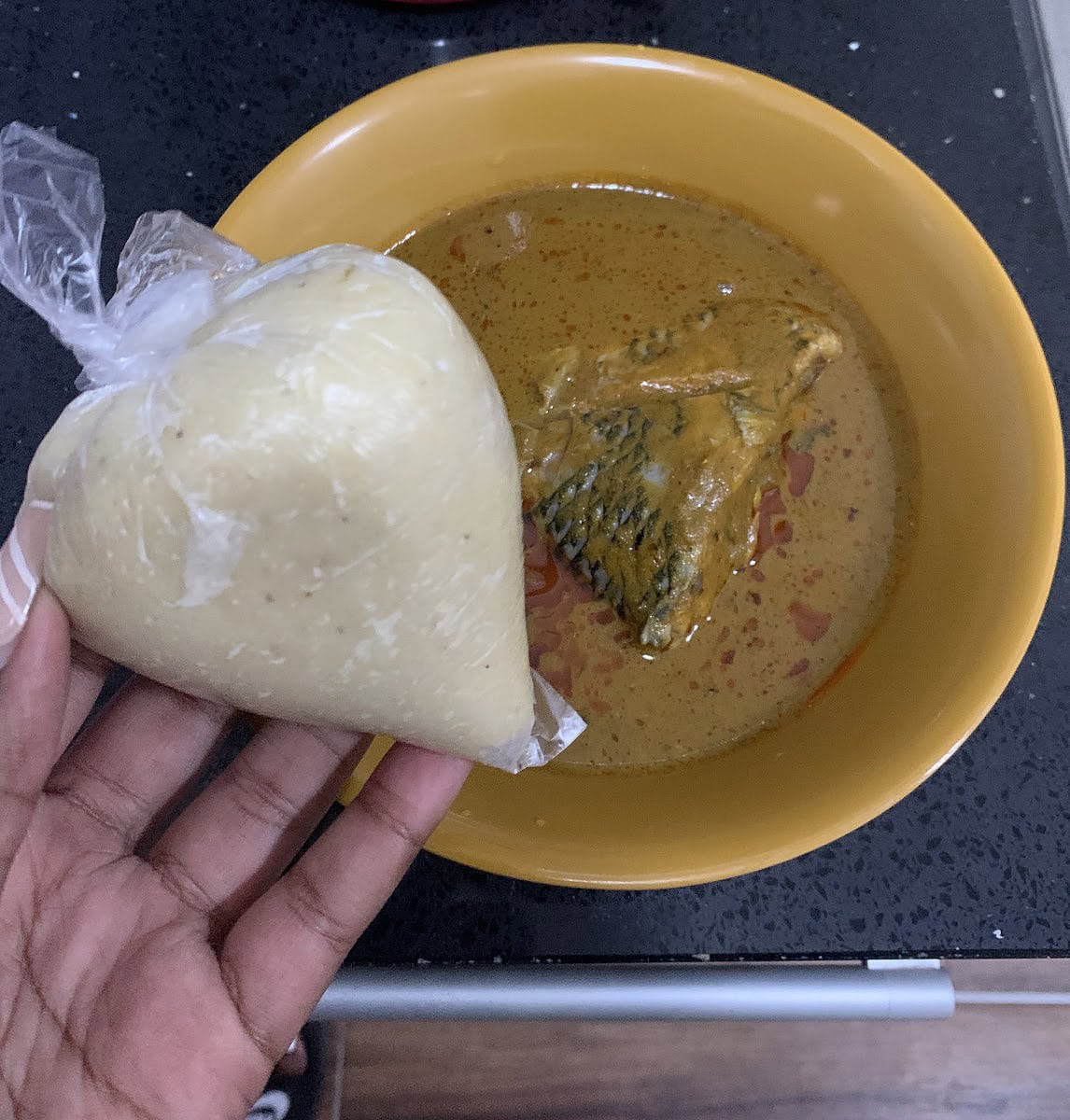 Waakye – Waakye is a mixture of rice and black-eyed peas. This meal is usually paired with sides like spaghetti, eggs, shito (spicy black sauce), and whatever else is being offered by the vendor.
Banku and Tilapia – Banku favors fufu, but is more rough in texture. Cooked from corn dough and cassava dough, banku is eaten with a large piece of tilapia topped with fresh bell peppers and shito sauce. 
Red-Red – Best described as black-eyed peas cooked in tomato sauce and served with fried sweet plantains, this dish is a staple in Ghana.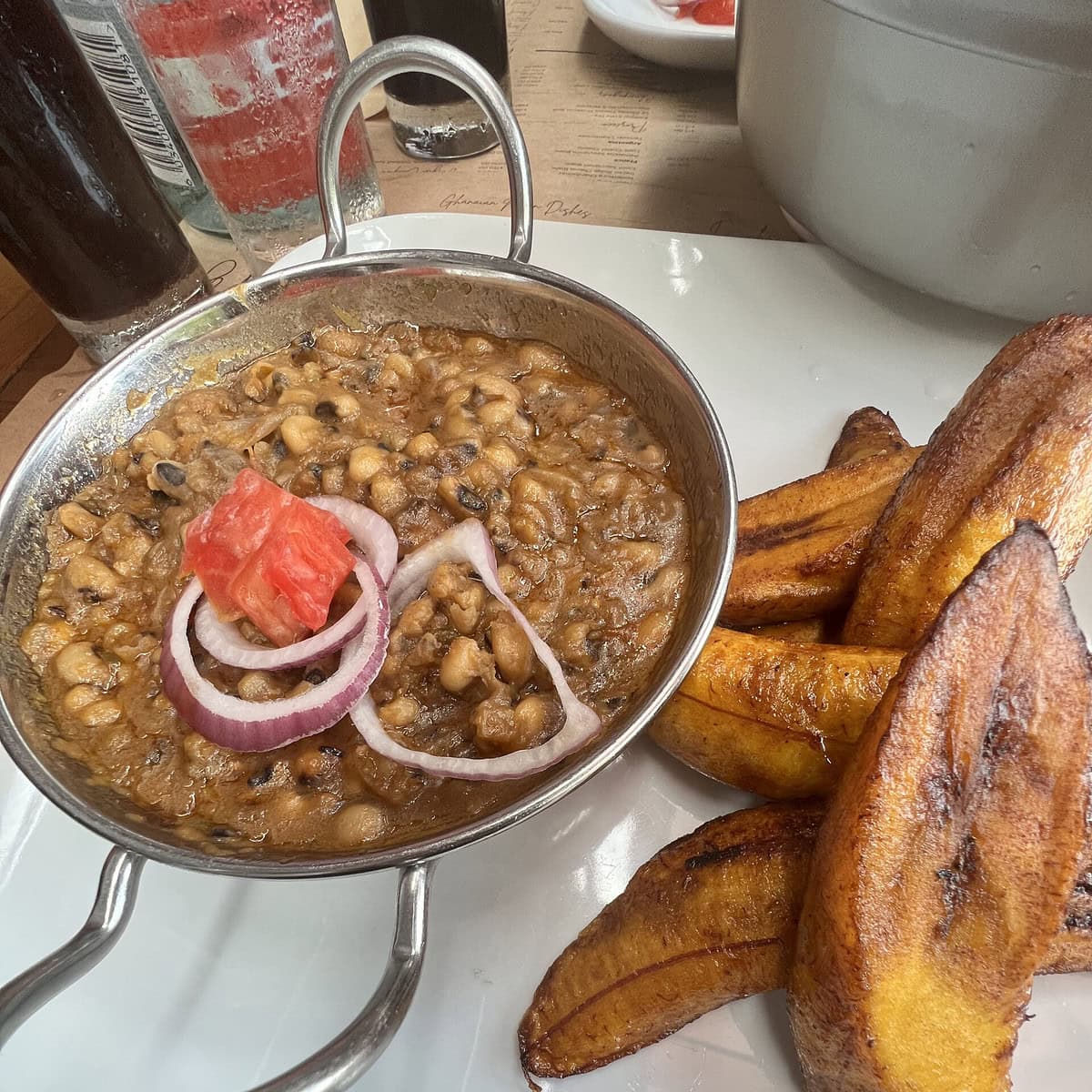 Rice Water – Ghana's breakfast foods are mainly porridge-based and rice water is my favorite! It is boiled rice water (cooked until soft) with milk, and sugar served with bread.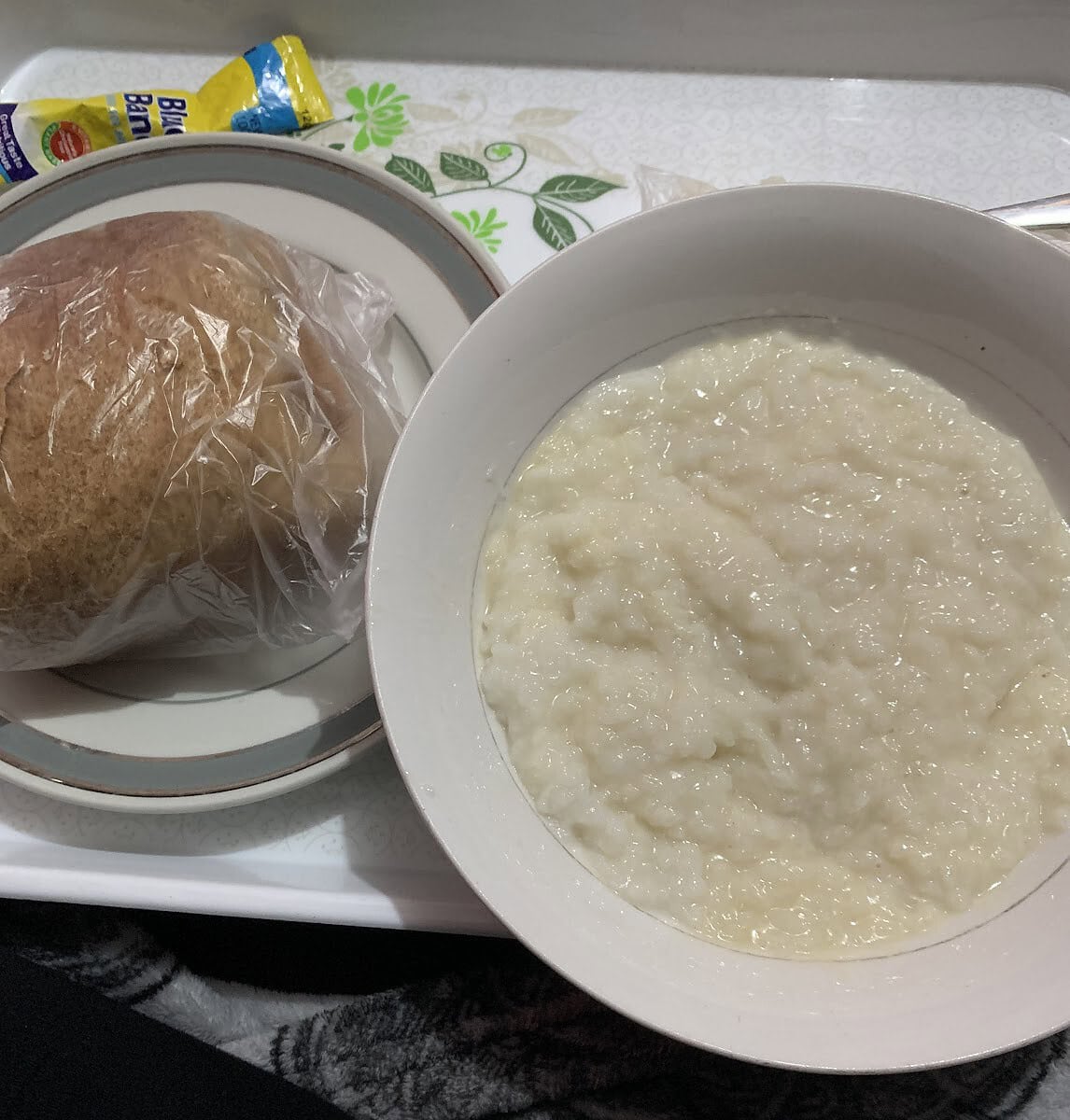 Plain Rice and Stew – White plain rice served with a tomato stew and meat of choice. 
Some Restaurants to Visit in Accra: 
Oseikrom Aduanipa – A 24-hour restaurant serving traditional Ghanaian foods at a cafeteria-style eatery.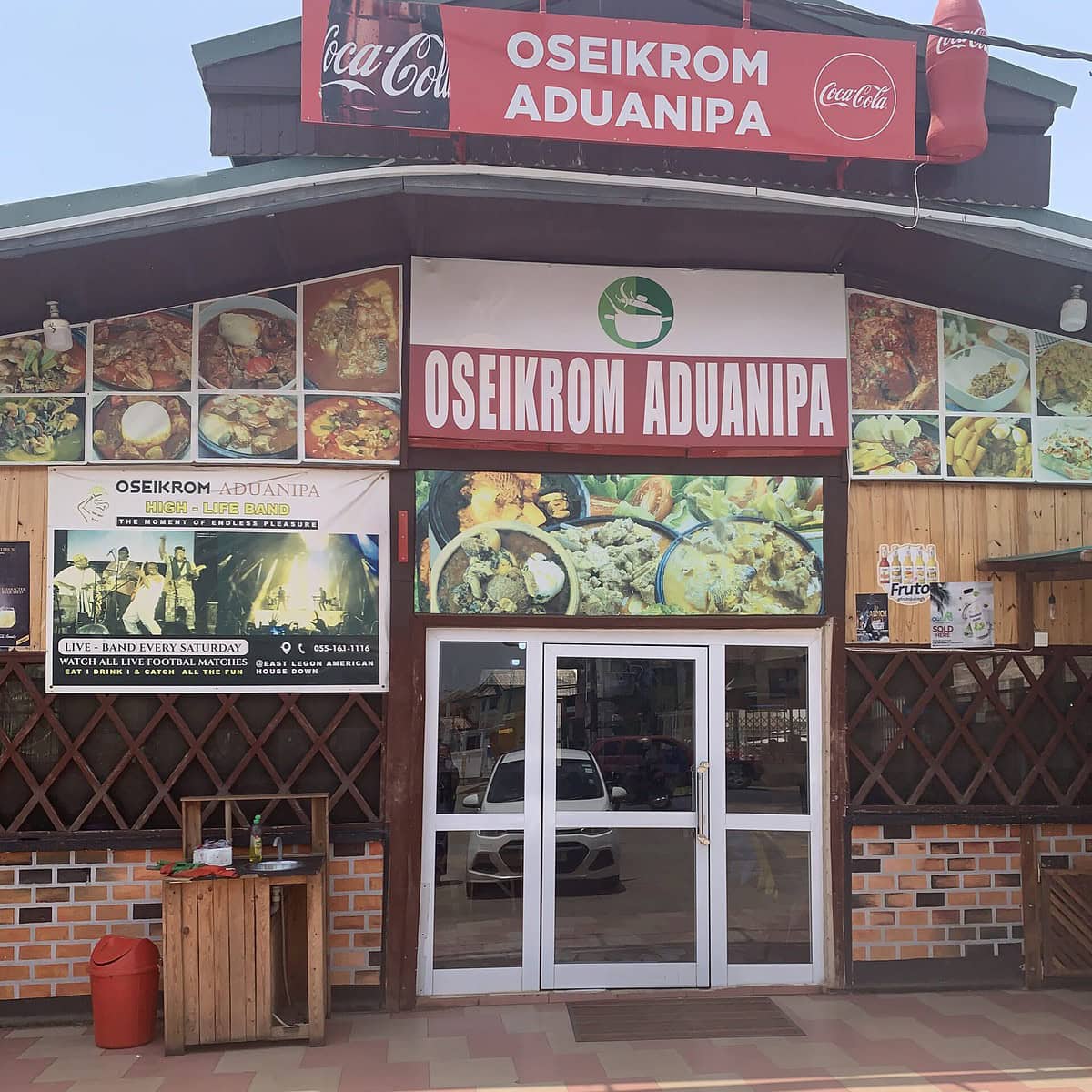 Starbites – With locations spread around Ghana (mainly Accra), Starbites serves breakfast, lunch, and dinner options. From joloff rice to pasta dishes, Starbites makes for a great place to eat with friends and has great vibes.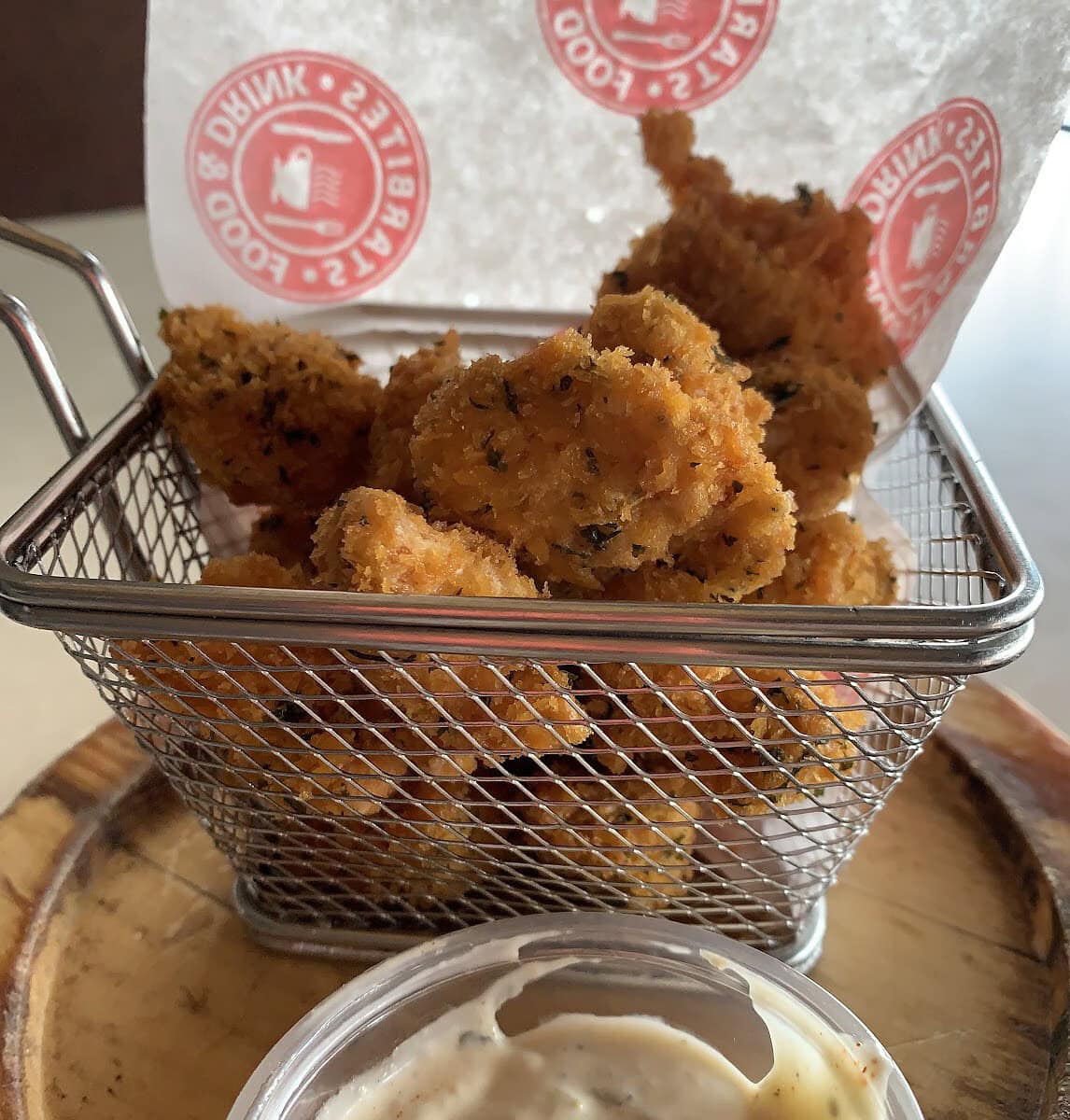 Noble Chef – A new restaurant located right above the popular nightclub Garage, Noble Chef is pretty lowkey, open 24/7, and has amazing dishes (both local and continental) for the low. 
Tatale – A vegan restaurant in Osu, Tatale replicates local dishes in Ghana but places a vegan spin on them. They have a great menu, and the owners have amazing energy!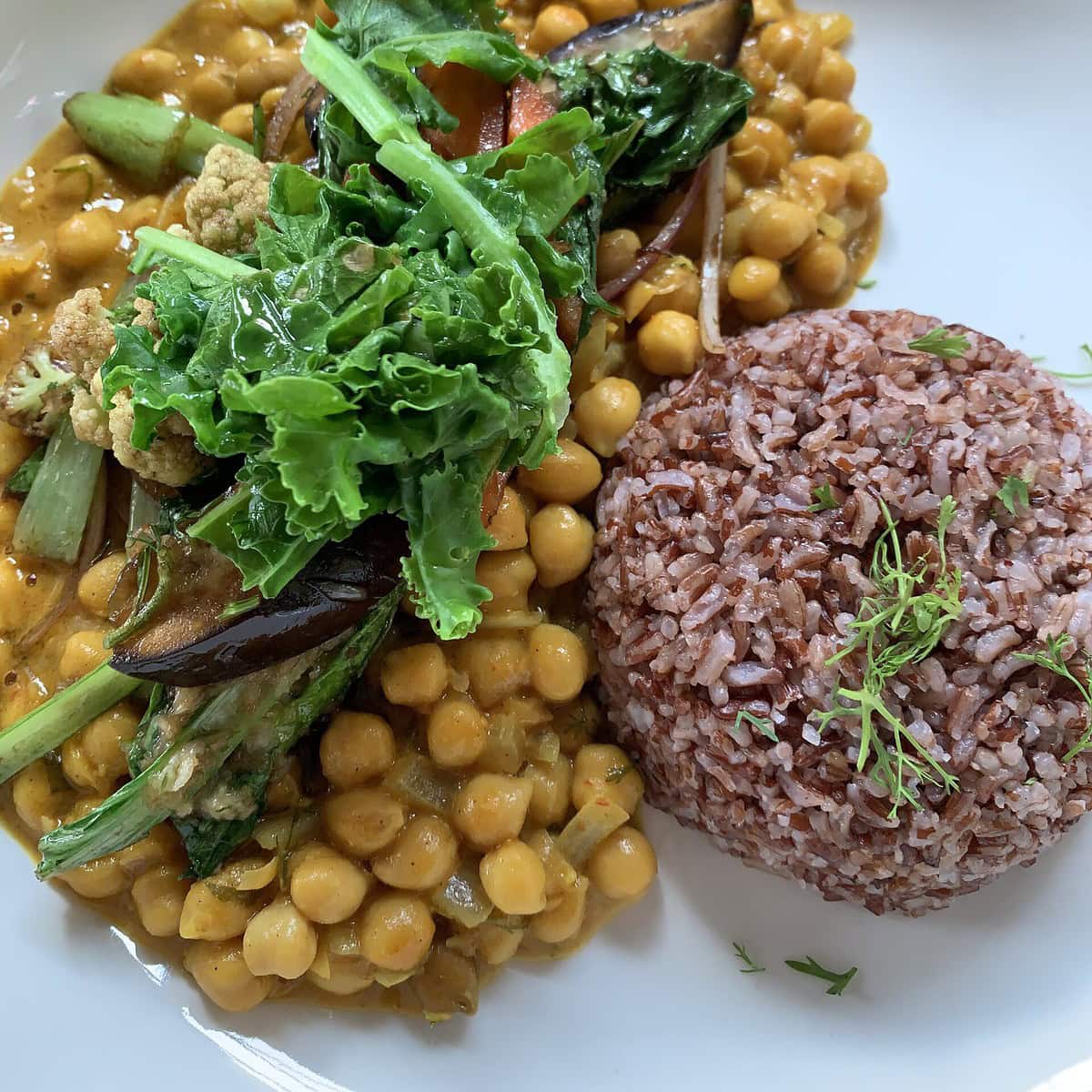 La Tante DC 10 Restaurant – The first airplane restaurant in Ghana. You'll get to dine inside of a restaurant and the waiters are dressed like flight attendants! 
Buka Restaurant – Buka sells a variety of local Ghanaian dishes in both outdoor and indoor seating. It is the perfect place to try your first Ghanaian dish and has a warm atmosphere. 
Bella Afrik – An outdoor boho-themed Italian restaurant in Osu.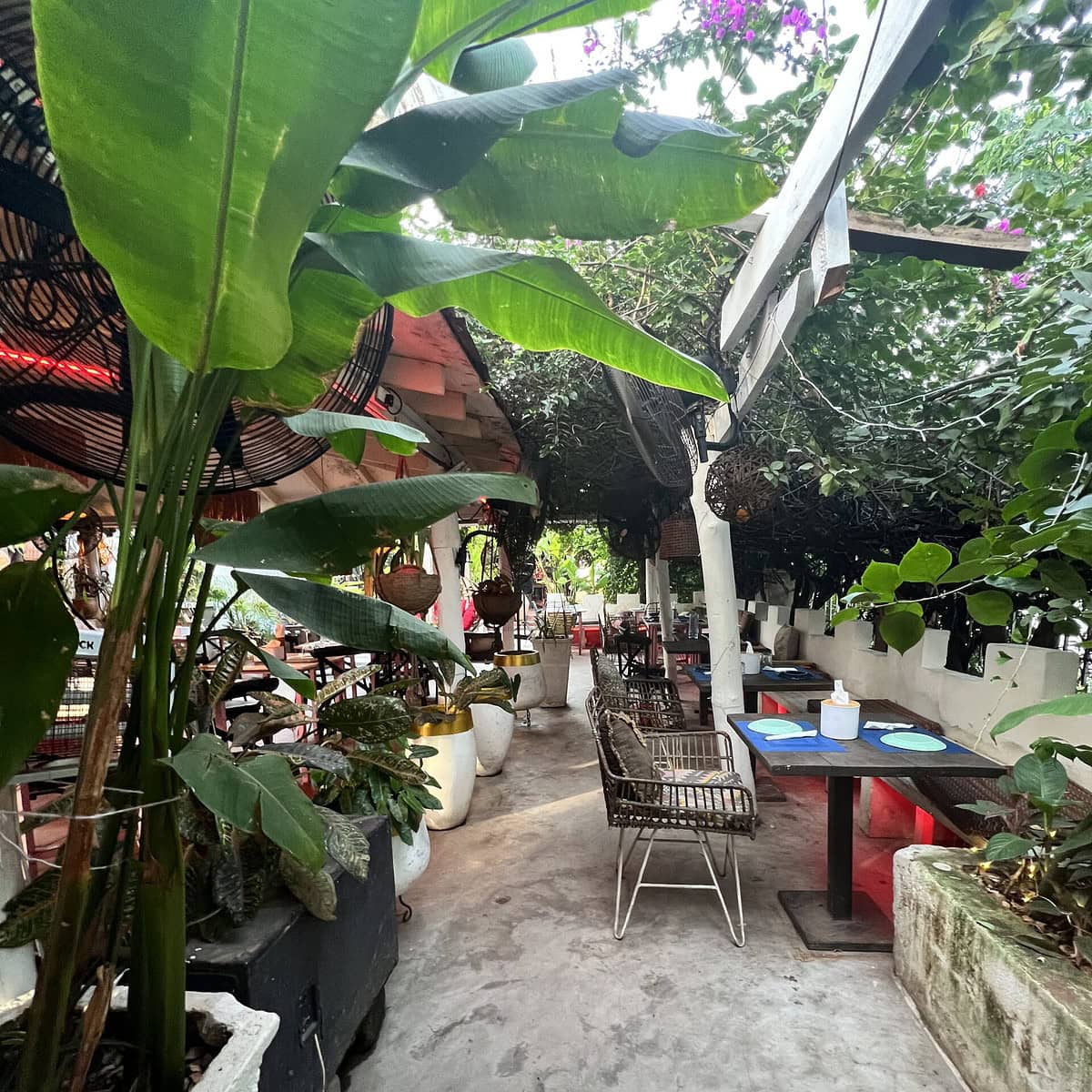 Tip:
@eatwithsophz on Instagram has great visuals of restaurants around Accra if you need recommendations for different types of restaurants and want to see what to expect before going. 
—
Also, when it comes to restaurants in Accra, expect slow service and mid to horrible customer service most of the time. I've noticed that the quality of restaurants tend to decline as time goes on and the industry does not have the best reputation. Everyone has a different experience and I have had great service at places known for bad customer service so take every review with a grain of salt!
Food Delivery in Ghana: 
Food delivery in Ghana is a convenient way of getting meals because most delivery drivers deliver using a motorcycle. There are many food delivery apps, but Glovo, Jumia Food, and Bolt Food are the most common.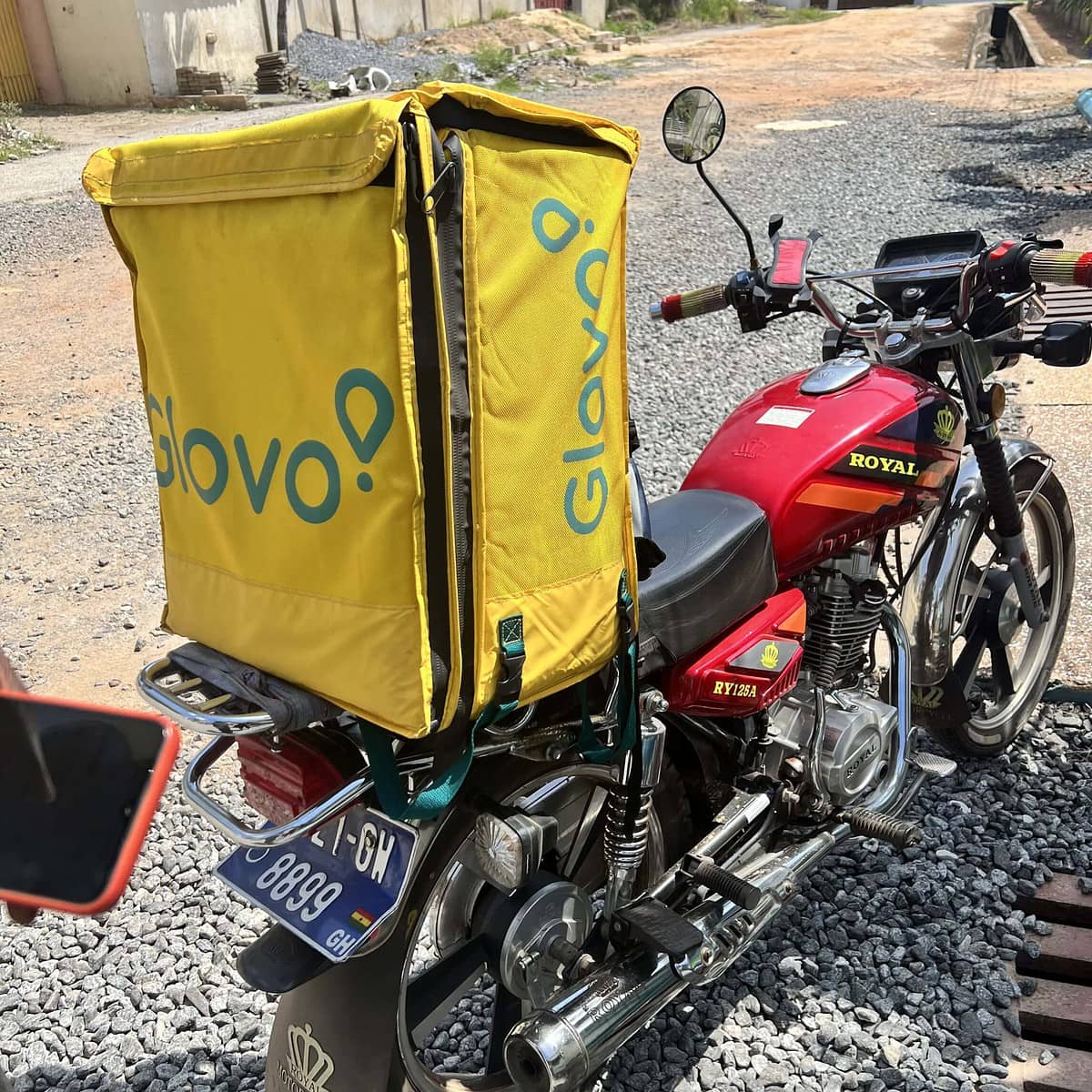 In Ghana, many places do not have official addresses, so you will have to use a nearby landmark or give the driver directions if your accommodation is not recognized on the app's map. This can make getting deliveries tricky sometimes, so try to have a local like an Airbnb host or hotel staff member speak to your delivery driver for you to make it smoother. 
Things to Do in Ghana 
There are an endless amount of things to do and activities to attend in Ghana. Here are a few key things to do in the popular cities: 
Things to Do in Accra 
Check out my list of over 50 things to do in Accra here.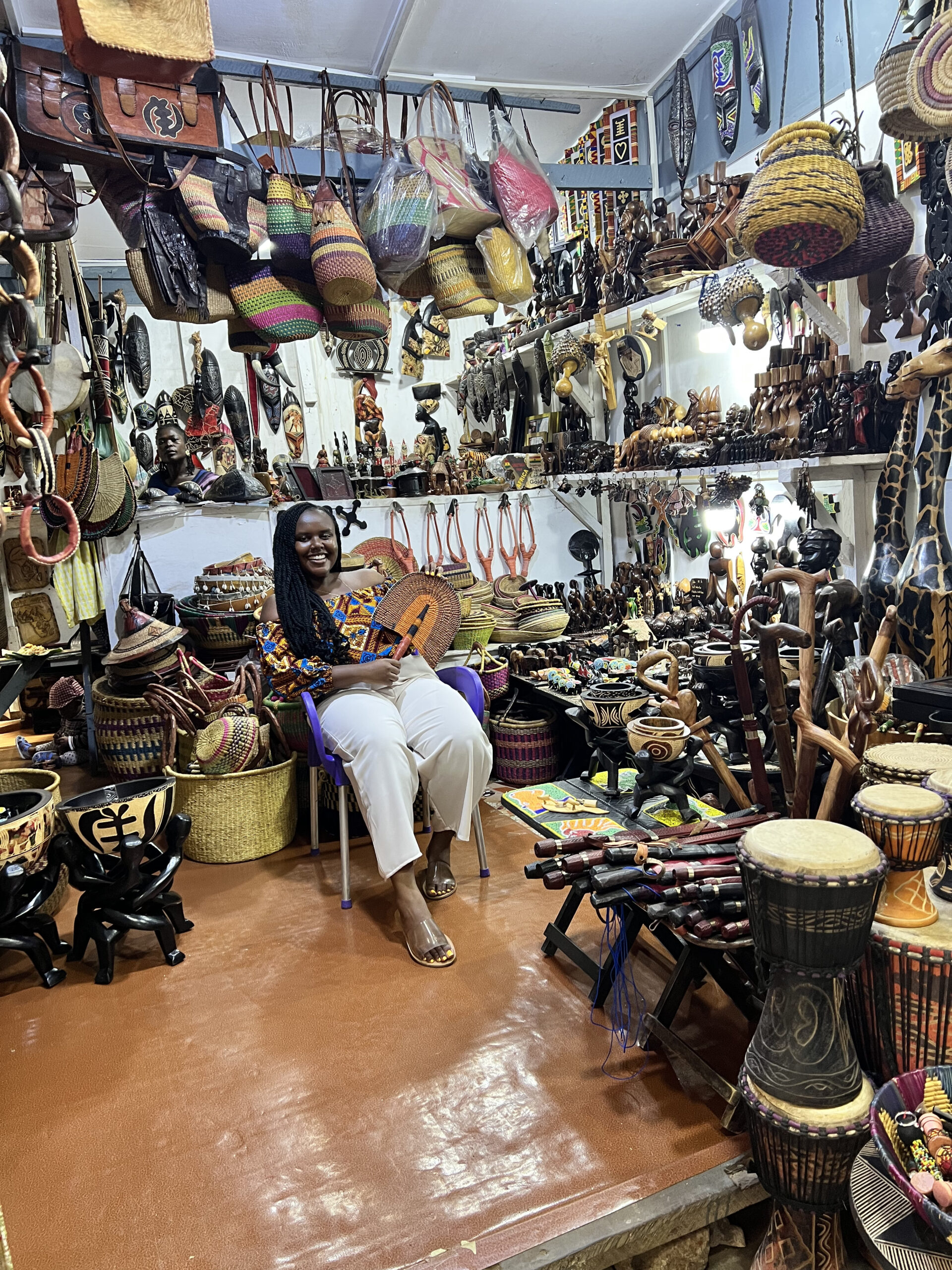 Things to Do in Cape Coast
Embark on the canopy walk at the Kakum National Park
Recount history at the Cape Coast Castle
Have lunch at the Oasis Beach Resort 
Ride a tuk tuk (called pragyas) around town
Visit a fishing harbor 
Check out my full list of things to do in Cape Coast here.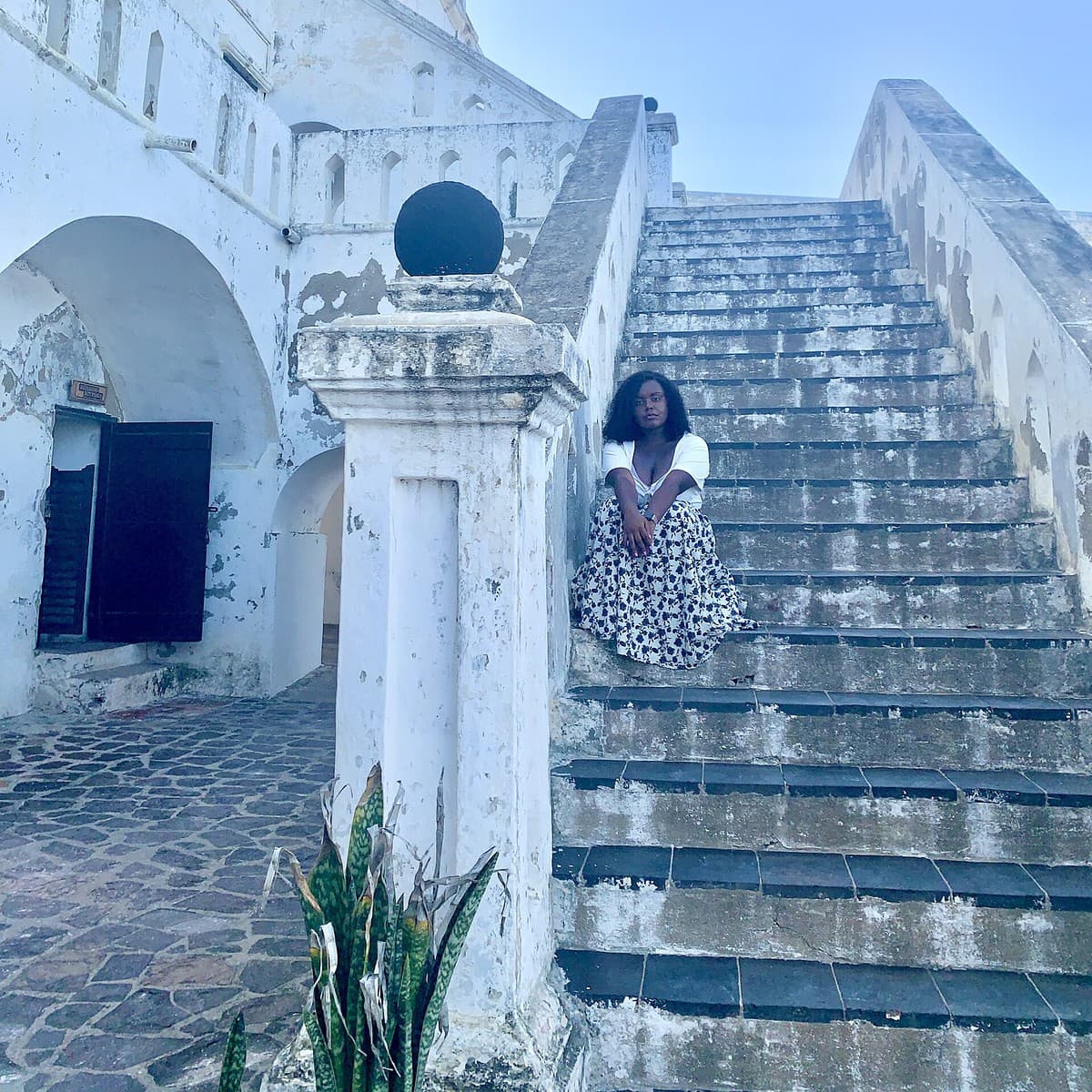 Things to Do in Kumasi
Tour the Okomfo Anokye Sword Site
See the animals of the Kumasi Zoo
Purchase colorful fabrics at the Kejetia Market 
Learn the history of adinkra symbols at the Adinkra House 
Weave kente cloth at the Adanmowase Factory
Things to Do in Tamale 
Cruise on a safari at the Mole National Park
Have lunch at Zaina Lodge 
Visit the Mognori Eco Village 
Learn the history of the Larabanga Mosque 
The Mystic Stone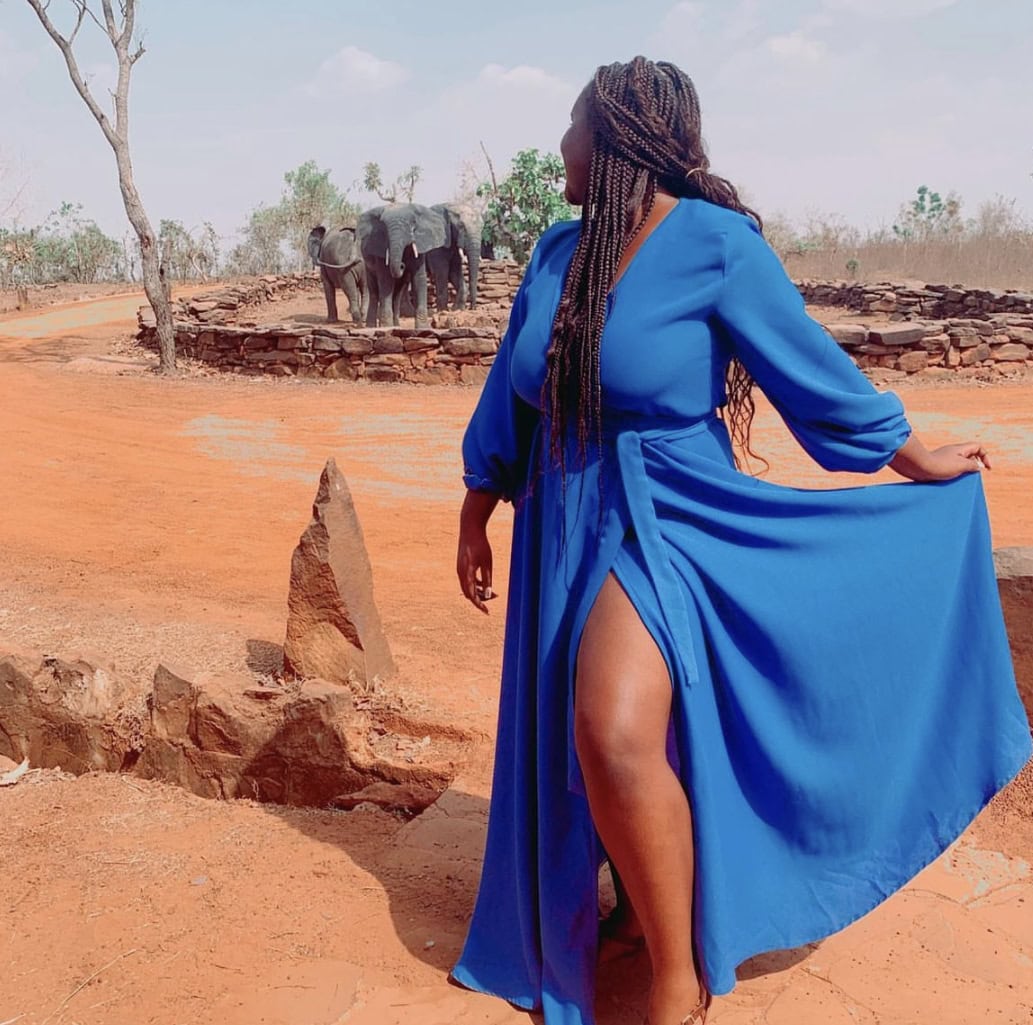 Things to Do in Takoradi
Visit the Takoradi Mall
Ride the Sekondi-Takoradi train to another neighborhood in Takoradi
See the Nzulezu Stilt Village 
Take a trip to the Lou Moon Resort 
Stop by Kwame Nkrumah's Home 
Ghana Tour Companies and Tour Guides
Mooove Africa – This company is great for day trips from Accra. They can also curate trips around Ghana.
Travel Time Africa – Private, group, honeymoon tours around Ghana
Shani Pino – Shani is a tour guide in Tamale that I use when traveling to Northern Ghana. He is great at helping me get around the region, negotiating, and is super chill! You can contact him via Instagram.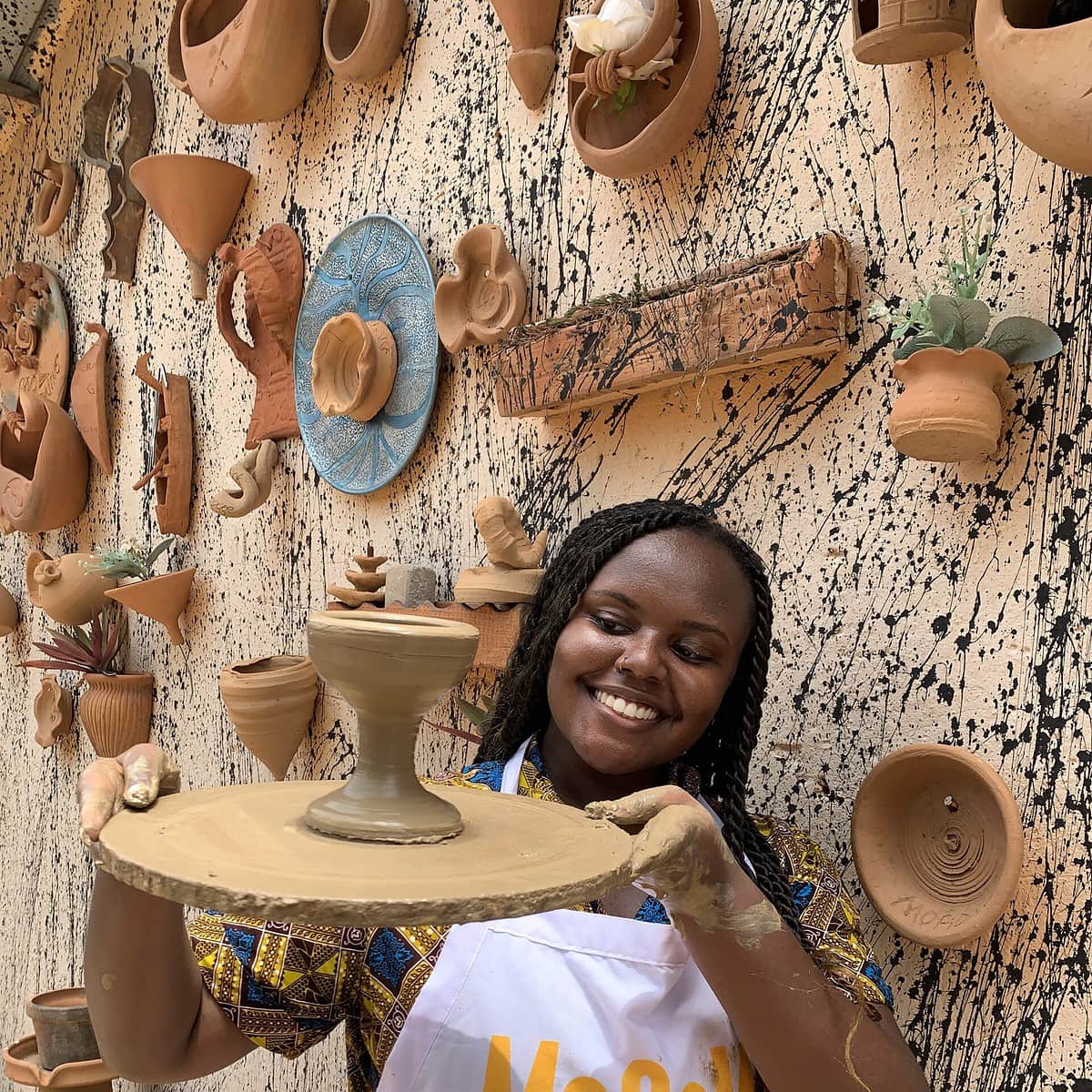 Nightlife in Ghana 
Nightlife in Ghana is a vibe, to say the least. Even if you are not a nightlife person I highly recommend having at least one night out in Ghana just for the experience. The booming sounds of Afrobeats, the elaborate footwork, and parties not ending until 5 am the next morning is something you have to experience just for the fun of it. Ghanaians know how to have a good time, and there is always a party or event happening. 
While you can relax at a lounge any day of the week, Fridays are the best nights to go out. That is when the scenes are booming, with people ready to let the steam they've accumulated from the work week out. Of course, Saturdays and Sundays are great nights to go out too, but there's nothing like a Friday out in Ghana! 
Nightlife venue options in Accra are endless, but in other cities can be harder to find depending on where you go. In these cases, the nightlife is usually a party on the beach or a local pub that people use to gather and have a good time. Going out solo for nightlife is generally safe due to Uber options available and many people being out at night. Use Uber instead of Bolt because it lets you see where the driver is headed on your way home.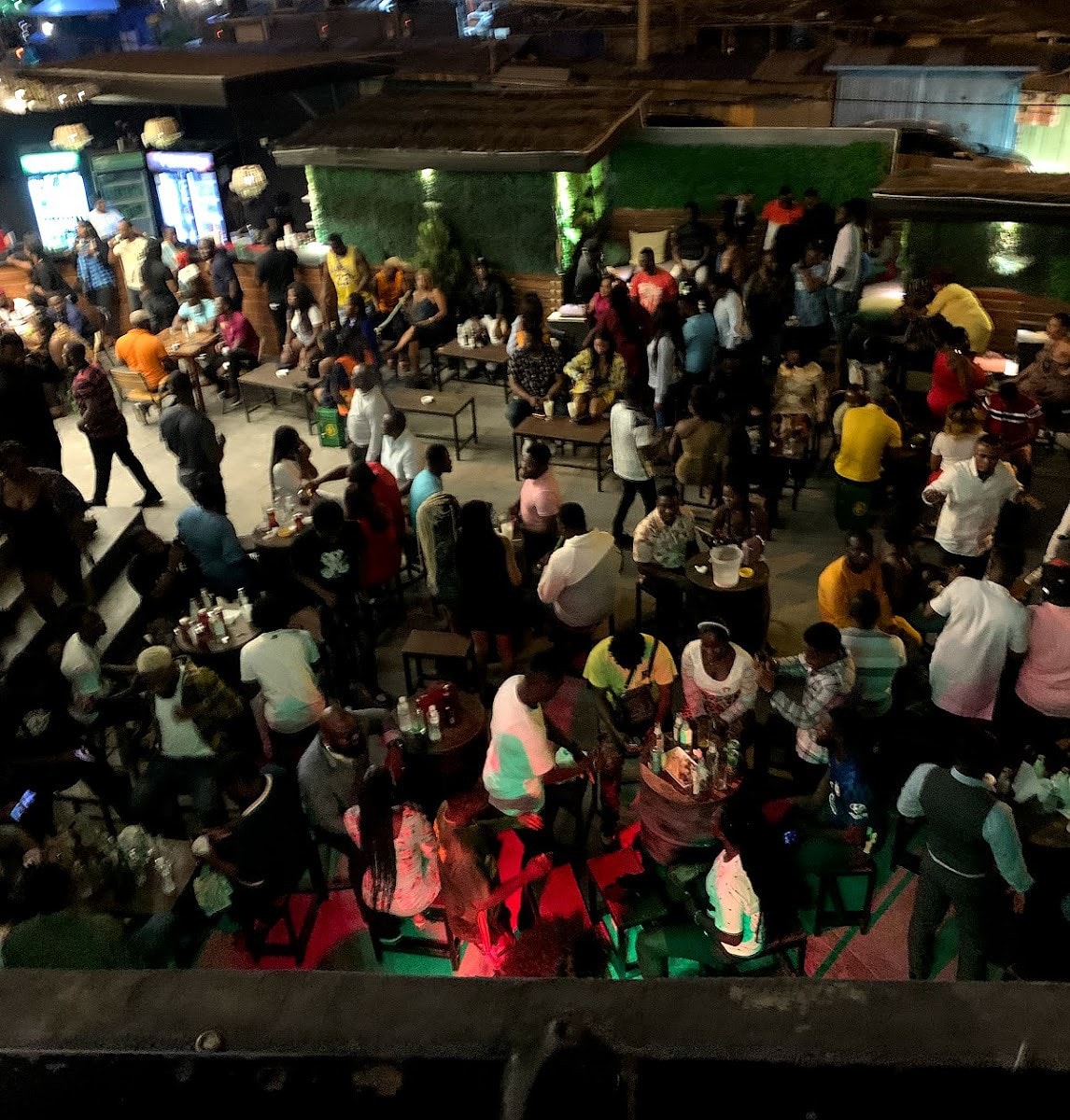 Views from the upstairs part of Kona, a nightlife venue in Ghana.
Nightlife Venues to Check Out in Ghana 
Garage – East Legon, Accra 
Firefly Lounge – Osu, Accra 
Republic Bar and Grill – Osu, Accra 
Hutchland Beach – Cape Coast 
Shopping in Ghana 
There are malls and markets located throughout Ghana where you can shop for clothes, accessories, groceries, and anything else you may need. A majority of your shopping can also be done on the roadside at stalls merchants usually have set up along the road. It is always best to have cash for this shopping and a variety of bills, as change is limited. 
Here are two common stores located around Ghana and what you can find: 
Melcom – A one-stop shop for groceries, beauty, home appliances, kitchen supplies, and everything else you will need. It reminds me of a Ghanaian Walmart! I recommend Melcom for things you may need around your house more than groceries.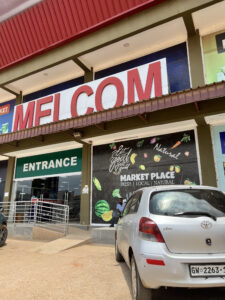 Maxmart – Maxmart locations sell mainly grocery items and are popular because they carry many American-name products that can be hard to find in Ghana. They also sell retail items (lower stock) like beauty and cleaning items.  However, in comparison to other shops in Ghana, Maxmart is pricey. 
Accessibility in Ghana 
Ghana is admittedly not the most accessible-friendly destination from what I have seen. However, it can be accessible depending on the establishments you visit. There are not many sidewalks readily available for wheelchair users, so it may be best if private transportation is utilized when visiting Ghana. The rocky roads and abundance of people everywhere make it even more of a challenge. Elevators are not available for most multiple-story buildings, as staircases are built in place. Many bathrooms do not have handlebars, and the list goes on. While the lack of certain structures can make certain activities challenging, I do believe that with proper planning, a trip to Ghana is more than possible for those with physical disabilities. 
I found this article from 2016 stating that "Less than 10 percent of all public buildings in Ghana are accessible for persons with disabilities. This means most buildings (90%) in the country are not easily accessed by persons with disabilities." While I struggled to find updated statistics from 2021, I still think Ghana has a long way to go before being considered inclusive in terms of accessibility.
Water and Electricity in Ghana 
Ghana is known for electricity and even brief (1 hour or less) water outages, so brace yourself! I recommend bringing at least 2-3 portable chargers to Ghana. One of which you save at your accommodation in case of a power outage, and you have to charge up your devices. If you are staying at a hotel, there is a high chance that there will be a generator, so you won't have to worry too much about the electricity going out, but this is something to be mindful of on this side of the world. 
Final Thoughts on Ghana 
Your trip to Ghana will be one to remember. Ghana is my favorite country to date. There is something about this country that will bring a calming spirit to you and make you want to return after your first visit. As a visitor, I do not doubt that you will have a great time in Ghana. 
I hope this Ghana travel guide has made you even more excited about the memories you will make during your time here in Ghana and has told you everything you need to know about visiting Ghana. 
Have you ever traveled to Ghana, or have you been waiting for your trip to happen? Was there anything surprising that I mentioned in this guide? Leave a comment below if you have any questions about traveling to Ghana!